Let's be honest. Not everyone is a runner. Some of us are just looking for good walking shoes to make all the difference for our next vacation. If this is you, read on.
Walking is a wonderful alternative to running. Not all of us are runners and you certainly don't have to be one to lead a healthy lifestyle. If you're anything like us, exploring a new city means you're going to be on your feet a lot. Who needs the Metro when you have two feet, am I right? You're going to need some good walking shoes. When you're on the go, you're going to need shoes that offer ample space, support, and are comfortable.
There Are So Many Reasons Why You Need Good Walking Shoes
A simple pair of Vans or Converse aren't going to cut it. Nope, not even if you slip in gel insoles. You'll need something with arch support, shock absorption, and that won't give you blisters when you're on the go. We'll go over a few reasons why you need good walking shoes and then show you some of our top picks for men and women.
1. It's Better for Your Body
You just won't get the same quality from regular shoes as you would good walking shoes. These shoes are specifically designed to meet the athletic needs of the wearer. By purchasing a pair of shoes with shock absorption, you'll save your knees and ankles from a lot of needless wear and pain.
This goes hand in hand with biomechanics. In fact, every movement your foot makes affects another part of your body. If you're exploring the concrete jungle of NYC and you're going to be walking for miles, you want something easy to wear. When shoes don't provide the necessary support for the arches and heels, they prevent the essential range of motion of your foot. When you're feet aren't working the way they are supposed to, the rest of your body overcompensates. This often causes pain in the heels, ankles, knees, hips, and lower back.
2. Endurance Is Involved
You need to be comfortable in some good walking shoes. How comfortable you are affects so many factors – distance, speed, and endurance. Walking when traveling greatly depends on how your feet are feeling and the amount of time spent when you are uncomfortable or in pain. Make sure to find good walking shoes that fit your feet. Having the correct shoes lends to preserving a healthy and injury-free lifestyle.
3. The Right Shoes
We've said it before and we'll say it again. Make sure you have the right shoes. This is actually surprisingly easy. Did you know that most shoe stores offer a free foot analysis? The staff are especially trained to advise you of the best type of shoe for you.
Another solid option for determining the types of shoes you need is to have a podiatrist or a sports medicine expert evaluate your foot type. They can then tell you the specific needs and shoes for your foot type. These professionals will assess your feet by determining the needs to support your arch and heel.
4. Cost
Paying for the right shoes can be expensive. Just a heads up. You will most likely end up paying more for a shoe that is tailored for your specific foot type. However, the price you'll pay does not compare with the cost you would have to disburse for injuries. Purchasing the correct shoes decides how your body is able to function without unnecessary injury or pain. Moreover, paying a bit more for good walking shoes is a valuable investment for your body's health and performance.
5. Replacing Your Shoes
Did you know that replacing your shoes regularly is important to avoid injury and pain? When you're traveling, you put a lot of wear and tear on your shoes. The American Academy of Physical Medicine and Rehabilitation says that you should replace your shoes every 350 to 400 miles, or about every six months. Pay special attention to the midsole, the part of the shoe between the bottom and upper body. The utility of this part can decrease in bad weather, on rough terrain, or under excessive weight.
Some Good Walking Shoes for Men
Men's MOHEM Poseidon Walking Shoes
Whether you're boating, fishing, hiking, or just generally getting out in the muck, these shoes will be your best friend. The Men's MOHEM Poseidon Mesh Walking Shoes aren't slip-on styles. They're a great combination of breathable lycra, leather, and cloth. This means they can withstand a lot of wear and activity, especially when it comes to water.
The number one thing to seek in a good pair of travel shoes is durability. We've read numerous travel reviews. Travelers laced them up and went kayaking, got them soaking wet crossing shallow streams and creeks, and used them for cliff diving. Despite their $25.99 – $35.99 price tag, these shoes hold up great. So the moral of the story is… Going to the beach? These are the shoes for you. Are you going boating? These are the shoes for you.
You need shoes you can count on. Whether you're hiking or backpacking during the heat of a European summer or exploring jungles, these shoes will get the job done. We swear by them.
For water resistant shoes, they're still very comfortable. Even when you put them on barefoot and splash around, they won't rub and cause blisters. We wouldn't recommend going barefoot for all day use though. The other thing is they dry very well; you can easily romp around the water with these and then wear them in the city a few hours later. While the company's tech specs don't specifically note it, the shoes feel like they offer pretty good shock absorption too.
Men's Ecco Cheja Sandals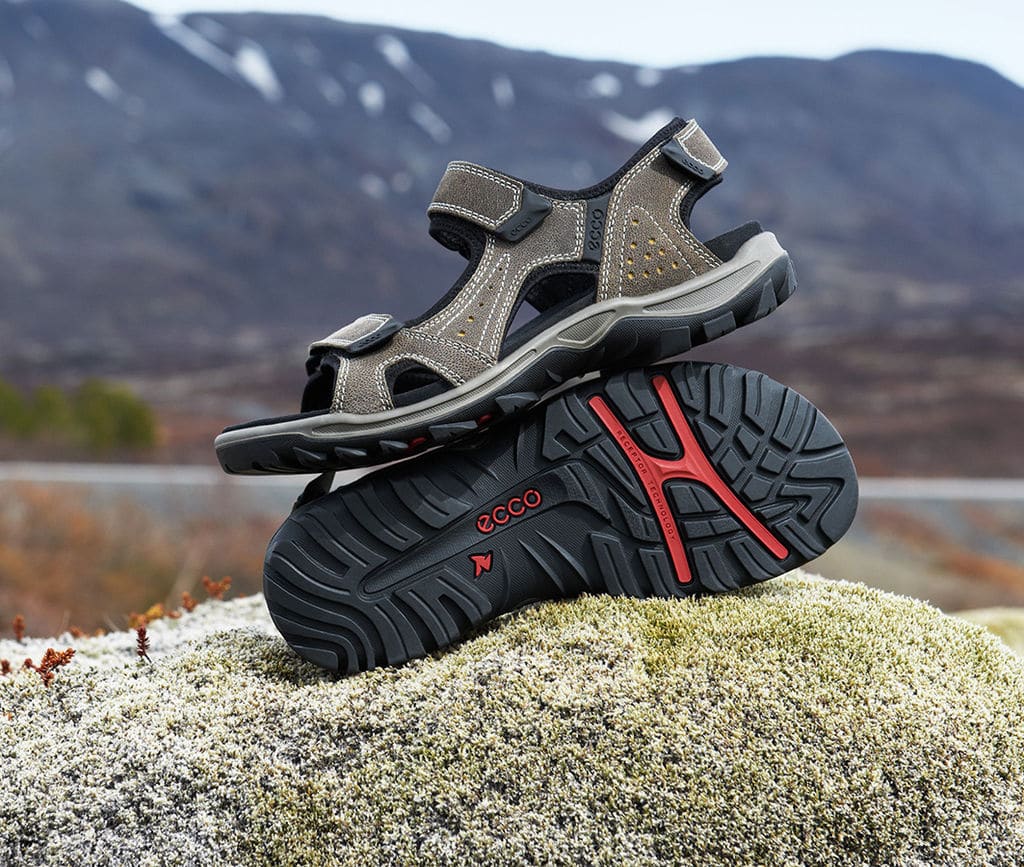 Credit: Ecco
Check out the Ecco Cheja sandals, featuring a camel leather upper and rugged sole. While the sole definitely reduces shock from pounding the trail, extra shock absorption and heel support are an added bonus for many hiking enthusiasts. Keep in mind that these shoes are sold with European sizing, so make sure to double check your country's size with EU sizing before you buy them.
The Ecco Cheja sandals are amphibious shoes with plenty of flexibility. A rugged outsole provides great grip and traction for outdoor use and slippery surfaces. Thanks to the midsole, the wearer can also enjoy great flexibility and shock absorption. These sandals feature a direct-injected PU midsole, a cushioned microfiber footbed, and receptor technology.
While conventional shoes fit across your feet at the toes, restricting your feet when you walk. The Ecco Chejas sandals freedom fit is completely different. You will enjoy a roomy toe box and a good medium with across the shoes from heel to instep. This allows your toes to spread naturally and support your weight evenly for a comfortable experience. Enjoy comfort straight out of the box.
Rockport Men's Eureka Walking Shoe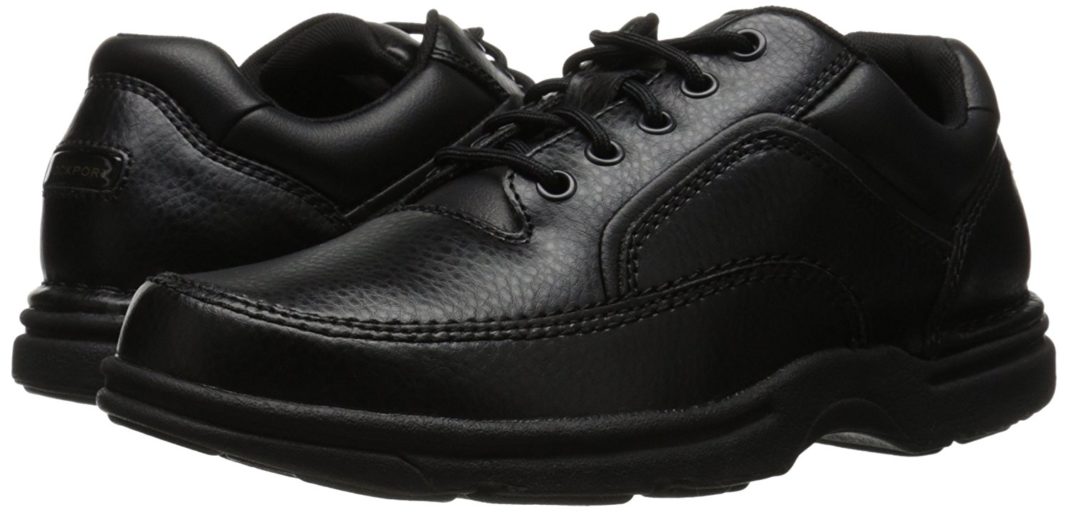 The Rockport Men's Eureka Walking Shoe is somehow both durable and attractive. Imported materials lend to a solid construction and give it a well-balanced look. The lace-up vamp provides a customized adjustment facility along with a heavily padded tongue so your feet feel nothing short of cozy. Additionally important to note, the shoes come in four different colors, including black, brown, chocolate, and chocolate nubuck.
Premium materials provide for an easy slip-on, glove-like fit. Biomechanically designed outsoles support your natural walking motion while providing the stability you need without limited freedom of movement. Stable for all life's unexpected movements.
Brooks Addiction Walker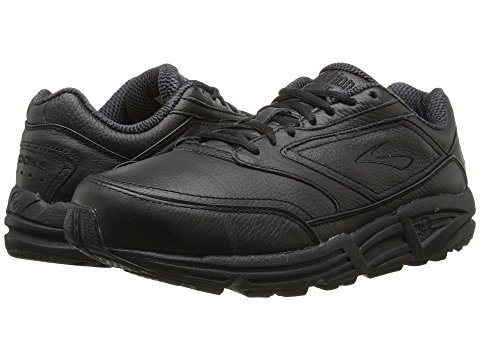 This clean style sneaker is perfect for those with minimalist fashion and who prefer functionality above style. A slip-resistant sole makes this shoe a great choice for nurses and those in the medical profession.
Furthermore, it's great for everyday wear. The minimal design makes for easy pairing with jeans, shorts, sweatpants, you name it. The shoe is offered in brown suede, white, and black. The upper part of the shoe is constructed from full grain leather. The Addiction Walker provides the wearer with a great deal of support. On Amazon, Men's sizes range from a US 7 to US 15. Different sizes are also sold for those with narrow, medium, or wide feet.
Brooks has always been associated with its high-tech footwear. This is also true for the Brooks Addiction Walker. Putting aside the leather upper, two other notable features include the skid resistant and eco-friendly HPR Green Outsole. In addition, this shoe is also well known for its durable and adaptable BioMoGo DNA MoGo midsole.
Loaded with support for your low arches and control for your overpronation, this casual yet contemporary walking shoe feels great whenever and wherever your everyday takes you! Supple full-grain leather or velvety nubuck upper affords durability and comfort. Fabric lining with removable sockliner for your convenience.
Good Walking Shoes for Women
Adidas by Stella McCartney Ultraboost Parley Shoes
When you're ready to go, slip on these shoes and you'll feel like you're walking on a cloud. No joke. This ingenious collaboration is the brainchild of Adidas and Parley from the Oceans, a company that specializes in repurposing materials from recycled plastics. Yarn made from these recycled materials makes up the upper knit. We just can't say enough about the Adidas by Stella McCartney Ultraboost Parley Shoes.
A floating arch allows the upper fabric to encompass the whole foot, delivering a comfortable and secure fit. Second, the midsole utilizes the Boost technology, a high-quality foam material comprised of thousands of pellets. Moreover, this full-length cushion unit serves for shock absorption when you're pounding the pavement.
The Adidas by Stella Mccartney Ultraboost Parley Shoes offers a full-length boost unit constructed from thousands of small pellets. As a result, the shoes carry your feet with care, delivering a cushioned feel and a spring in every step.
Adidas Prophere Shoes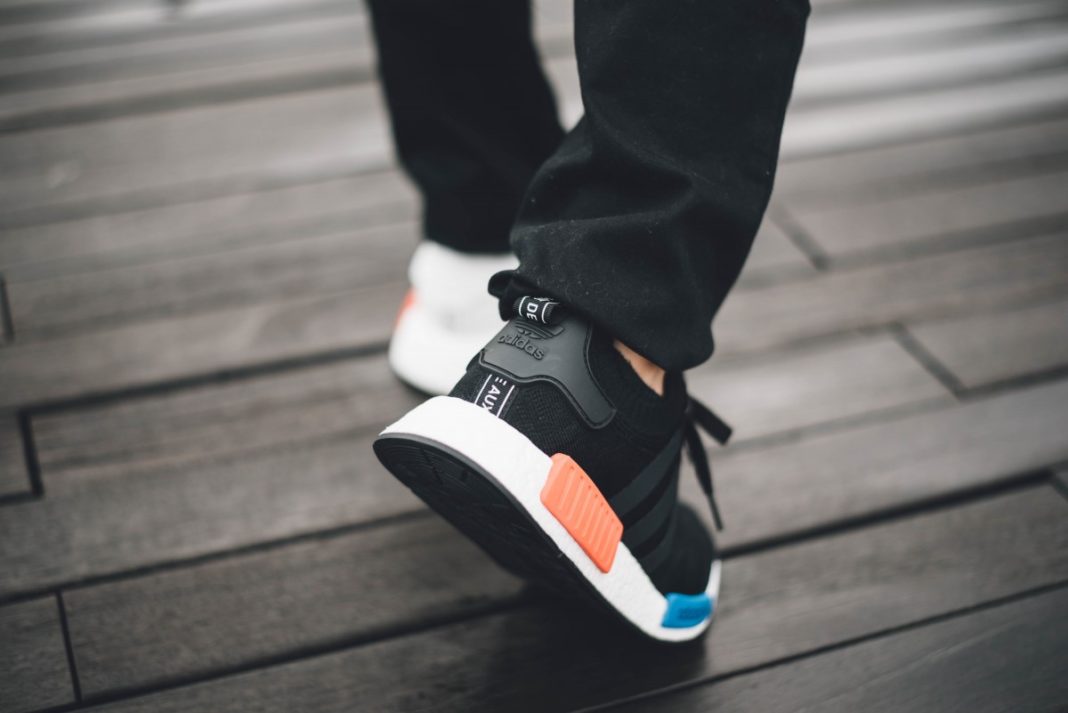 The Adidas Prophere shoes emphasize blending classic and trendy. These unique looking shoes are a great choice for the gym or for the athleisure style. It's more likely that you'll be wanting to wear them everywhere.  Not all athletic shoes are created equal. Sporting a contrasting midsole and a speckled upper design with a wide variety of style options, there is a look for every buyer out there.
It is a great walking shoe for travel and a great athleisure shoe for style. We're going for practicality here and the Prophere surpasses that requirement. We do have to give you a heads up though – the traction on these shoes is not the best.
Okay, so the Adidas Prophere shoes definitely look like they have some sort of Boost midsole. But it doesn't. Instead, the shoe features a thick midsole foam cushion. This is what gives the shoes their thick chunky appearance at the heel. Reviewers found the cushion about as comfortable of that of the popular Boost model.
The knit upper fabric and adaptive fit ensure breathability in these sneakers. If you ask us, it's one of the most important factors in choosing a good pair of travel sneakers. When you've been walking all day on a hot summer day and your feet get sweaty, there's nothing as great as good ventilation in your shoes.
Invest in a Pair of Good Walking Shoes
We hope you enjoyed reading this article and realized the importance of investing in a good pair of walking shoes for your travels. It really does make all the difference. Do you have a favorite pair of walking shoes that wasn't included on our list? Let us know in the comment section below.
Related Article: Most Comfortable Sneakers For Fashion-Conscious Travelers