Credit: Flickr, Pedro Szekely
A seismically-driven landscape and brilliant blue sea set the backdrop for the luxurious wh​ite-walled hotels in Santorini.
The Santorini island lies approximately 120 miles southeast of the Greek mainland in the southern Aegean Sea. Part of the Cyclades archipelago, Santorini's history owes much to the volcanos that birthed the Mediterranean majesty. This volcanic eruption brought forth breathtaking scenery and unmatched hospitality. It's no wonder that Santorini beckons to travelers from all over the world. In response, a thriving tourism industry emerged to meet the demand of globetrotters hoping to catch a glimpse of heaven on earth.
One important facet of the Santorini tourism industry presents itself in the form of the many luxury suites and inviting hotels. With the well-known Cycladic architecture among the randomly tiered village, Santorini luxury hotels generally have gorgeous panoramic views. From honeymooners to those celebrating milestone events, there are many hotels in Santorini sure to appeal to anyone in search of exquisite accommodations in one of the most beautiful destinations on Earth. We've compiled a list of our favorite hotels in Santorini, giving a nod to finer things in life. Consider these boutique options when making your reservations:
| Image | Hotel | Rating | Prices |
| --- | --- | --- | --- |
| | | 5 out of 5 | |
| | | 5 out of 5 | |
| | | 5 out of 5 | |
| | | 5 out of 5 | |
| | | 5 out of 5 | |
| | | 5 out of 5 | |
| | | 5 out of 5 | |
| | | 5 out of 5 | |
QUICK NAVIGATION
Why Stay in Santorini?
One search for Santorini yields tons of results. With its hospitable atmosphere, incredible scenery, and historical background, Santorini offers much to tourists. Even though the pictures of the island are probably enough to strike up your wanderlust by themselves, here are a few reasons Santorini should be on your travel bucket list:
1. Awe-inspiring Beauty
One of the most obvious, yet noteworthy, reasons to stay in Santorini is to absorb some of the most magnificent views in the world. Santorini as we see it today illustrates the powerful force of nature. Earthquakes and volcanic action have long shaped the coastline. While the island has been volcanically active for 3 to 4 million years, it was the Minoan eruption some 3,600 years ago that most recently molded Santorini. This eruption left the large caldera on the island, in addition to ash deposits.
When visiting, the crisp contrast of the white-washed houses against the deep blue sea and lush green foliage amaze travelers. For this reason, the best luxury hotels in Santorini generally feature a private balcony from which trekkers take in the sites. Santorini is beautiful in all regards, yet it is not the only reason to stay here!
2. A Warm Climate
The island of Santorini is the perfect escape from the cold drudgery of winter. Being that the island is located in the Southern Aegean Sea, Santorini boasts a semi-arid climate. We all know the benefits of the Mediterranean diet, and now Santorini wants us to also know the benefits of its climate. too. The warm, yet comfortable weather allows travelers to plan for a variety of activities, excursions, and sights. Sun and fun become one on Santorini, making it one of our top 2018 travel destinations.
3. Activities and Beyond
Last, but certainly not least, Santorini is full of fun and accessible activities. The aforementioned climate and beauty combine to make this destination one full of possibilities. For those interested in history, Santorini houses places such as the Archaeological Museum of Thera and the Museum of Prehistoric Thera. On the other hand, beach bums are never far from the sea, thereby making it exceedingly easy to get your daily dose of Vitamin D. Regardless of your interests, it is undeniable that Santorini appeals to all sorts of travelers. On such a beautiful and thriving island, you will definitely want to ensure you have enough time to do it all!
Common Features of the Most Luxurious Hotels in Santorini
When staying at a luxury hotel, there are a few components that travelers come to expect. However, the island of Santorini's unique geography and location bring novel features and benefits that aren't found at luxury hotels elsewhere. As you begin searching for a temporary abode for your Santorini adventure, you can expect to find that most luxury hotels include:
check-circle-o

Large suites with abundant light and incredible views. The best hotels have private balconies, although some of the smaller hotels feature semi-private balconies.

check-circle-o

Pools overlooking the vast sea.

check-circle-o

In-house dining and/or convenient accessibility to nearby restaurants.

check-circle-o

Unparalleled hospitality and customer service.

check-circle-o

Amenities such as fitness centers, spa treatments, and honeymoon packages.
Some may even include a Caldera view. Regardless of which of our eight luxury hotels in Santorini you choose, you can expect to receive first-class treatment at each. There are no large, chain hotels on the island. Thus, small locally-owned boutique hotels welcome travelers from all around the world. Be prepared to indulge yourself in the best of the best!
How to Choose the Perfect Hotel for You
Although you can't really go wrong with any of the hotels in Santorini, it definitely enhances your experience to stay somewhere that meets your expectations and requirements. Even still, the vast amount of boutique hotel choices often leaves travelers feeling overwhelmed. We've put together some information to get you started and ensure the best possible trip.
Questions to Ask Yourself Before Beginning your Search
Before attempting to book one of the best luxury hotels in Santorini, it is important to know what you're looking for. All travelers are different, and for this reason, it is essential to ask yourself these questions before you begin your search.
1. When do I want to go to Santorini and for how long?
When and for how long you plan to stay in Santorini are the most important considerations to make before beginning your search. This is because the hotels there fill up extremely quickly! As the island gains more notoriety from winning awards for such things as being one of the world's most beautiful islands, tourism is also on the rise. Experienced trekkers recommend that you book no later than six to ten months in advance to ensure you receive the hotel you want with suitable accommodations at the rate you are willing to pay. Besides, the further out you book, the more time you have to research great activities and sights!
2. What type of experience do I want?
While most luxury hotels are similar, not all are created equally. Similarly, travelers should choose their hotel based on the experience they hope to gain. For instance, those who desire to be pampered will want to ensure that their hotel has a spa center. Those looking for a more authentic vibe may want to stay close to Oia Santorini to soak up the vibe. The village of Oia remains a small coastal community rich with history.
On the other hand, honeymooners may want a hotel that is set a bit further out to ensure a quiet and romantic ambiance away from the hustle and bustle of town. The less crowded, black sand beaches of Perissa may appeal to those couples. Families in search of luxury treatment may have to search a bit more thoroughly to find a hotel that will accommodate all ages. No matter your interests or purpose for your trip, there are ample hotels in Santorini to host you
3. Am I financially prepared to stay in Santorini?
Make no mistake — staying in Santorini is not cheap! For classy travelers in search of the best luxury hotels in Santorini, the options are many. Your personal budget is an important facet to ponder when booking your trip. Some hotels offer extra amenities such as a champagne breakfast that other hotels may not. With the wide variety of luxury hotels in Santorini, be sure to scour the details to see what customizable options can be added or taken out to fall within your budget.
Things to Consider When Choosing
Once you have identified what you want and need out of the best luxury hotels in Santorini, there are a few additional factors to consider. Giving attention to these points guarantees you the best sleep of your life in this Mediterranean wonderland.
1. Location, Location, Location
We all have heard the phrase "Location, location, location," applied to real estate. However, it's also an important mantra when choosing a luxury hotel in Santorini. The best luxury hotels on the island are located on the caldera cliff and have views of both the volcano and sea. Most of Santorini's chic hotels are located on the west side of the island, where the towns of Fira, Firostefani, Imerovili, and Oia sit. The five-star hotels in these locales promise intense views and easy walking accessibility between each of the towns. Additionally, if you plan on sightseeing of visiting any of the local attractions, having a hotel in close proximity to these certainly helps.
2. Bang for your Buck
Even travelers with bottomless wallets love getting a good deal. Although price is an important consideration, do not allow it to be a deal breaker. Santorini is different than most other travel destinations in that you can soak up the scenery from the comfort of your hotel. Balconies and patios tend to be the favored spots of Santorini's visitors. That being said, the exquisite views and modern, sophisticated suites will likely be where you spend a great deal of time during your trip. For this reason, it doesn't hurt to splurge on your accommodations. After all, if you plan on staying for awhile, you want to do so in lodging that is not only well-maintained, but also brings more to the table than simply a bed. Right out of the gates, Santorini proves its worth by offering hotels with a view and the best service available.
3. Excursions
Swanky hotels aren't the only thing Santorini has to give travelers. In addition to beautiful photo-ops, Santorini is full of activities for travelers of all preferences. Moreover, most of the luxury hotels in Santorini will book excursions on your behalf or recommend must-try activities. History buffs will love the many museums, whereas wine lovers might prefer indulging their vino-tooth in Santorini's small, yet thriving wine industry. From nature lovers to those looking to blend in with the locals, there are plenty of hot spots with cool qualities from which you can choose. Be sure to take advantage of your hotel as a resource for finding out about these. Visitors can indulge their time at the popular Fira town attractions, explore the uniquely beautiful Kamari beach, or island hop to the uninhabited Nea Kameni; there are plenty of ways to seize the moment on Santorini.
The Official List of the Most Luxurious Hotels in Santorini
We researched the most chic and luxurious hotels in Santorini to make your job easier. Because the nicest hotels are on the west side of the island, we've chosen a couple of picks in each town that are sure to delight those with refined tastes.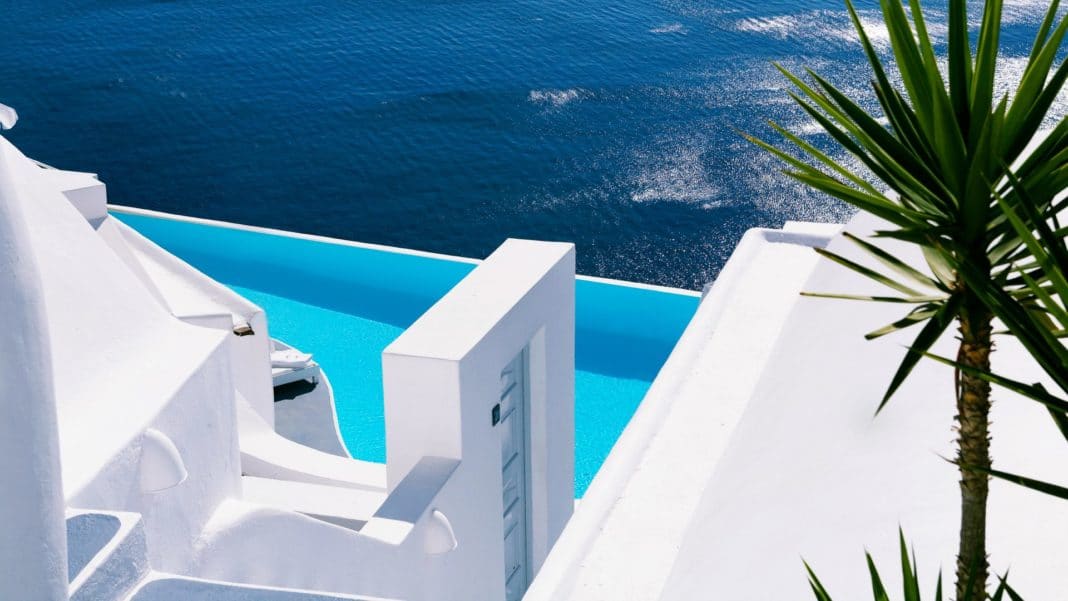 Katikies Hotel in Santorini is one of the best places to stay on the island! Located in Oia, this trendy and hip lodging option offers much to see and do. Sitting atop the cliffs of Oia, Katikies boasts a great vantage point, some 300 feet above the serene water below. Its optimal location makes this one of our favorite luxury hotels in Santorini.
Two onsite restaurants — Mikrasia Restaurant and Seltz Champagne Bar & Restaurant — serve up Turkish food and a smorgashbord of American, Greek, Asian, and European cuisines respectively. Mikrasia's intimate rooftop atmosphere is perfect for couples seeking to wine and dine each other. A daily champagne breakfast is available in your room or on your private porch. However, for those searching for other good eats, Katikies is in a great location and is accessible by taxi.
Private balconies are standard in the white-washed rooms. These overlook the waiting sea below and make for a romantic view, particularly at sunrise and sunset. The views are enhanced by three infinity swimming pools, a sun deck, spa, and library, ensuring that relaxation is first and foremost.
Those in search of adventure find that Katikies' central setting puts them nearby the hub of activity. To enumerate, trekkers find that the Naval Museum of Oia, Cape Columbo Beach, Skaros, Megaro Gyzi, and the Archaeological Museum of Thera area all viable destinations within close distance.
Katikies' famously friendly staff are always willing to make helpful recommendations and greet new guests with a wine and fruit welcome basket. Luxury and hospitality marry to make Katikies one of the best hotels in Santorini.
Pros
plus

Few steps and an elevator make this a great choice for travelers with limited mobility.

plus

Accessible via taxi

plus

Food on site
Cons
close

Not family friendly
Perivolas Hotel in Oia, Santorini is a unique and luxurious place to stay on the island. Travelers love the Perivolas for its value and offerings — this is one place that seeks to be a one-stop-shop for all of your travel arrangements and luxury accomodation. It's easy to see why trekkers love this hotel!
The Perivolas Hotel is unique in that it features traditional cave architecture with minimalist touches. Depending on which of the 20 different accommodations you choose, the suites include a private bathroom with a spa tub, bathrobes, free toiletries, and slippers. A sitting area and kitchenette with a coffee machine entice travelers to relax whilst taking in the amazing views. Some of the suites even have a private pool!
The suites aren't the only place to enjoy the scenery though. In fact, the seasonal infinity pool and sun terrace make great vantages points for photo-ops and sunset viewing with that special someone. For those looking for the total package, fitness classes, spa and beauty services, and a sauna make themselves available for your enjoyment.
Guests love the value they get at Perivolas Hotel. The hotel provides board games, dry cleaning, car rental, and even a free shuttle service. For an intimate, yet totally pampered experience, the Perivolas Hotel is one of the best hotels in Santorini.
Pros
plus

Unique design

plus Ample amenities​
Cons
close

Some of the hotel's services require an additional fee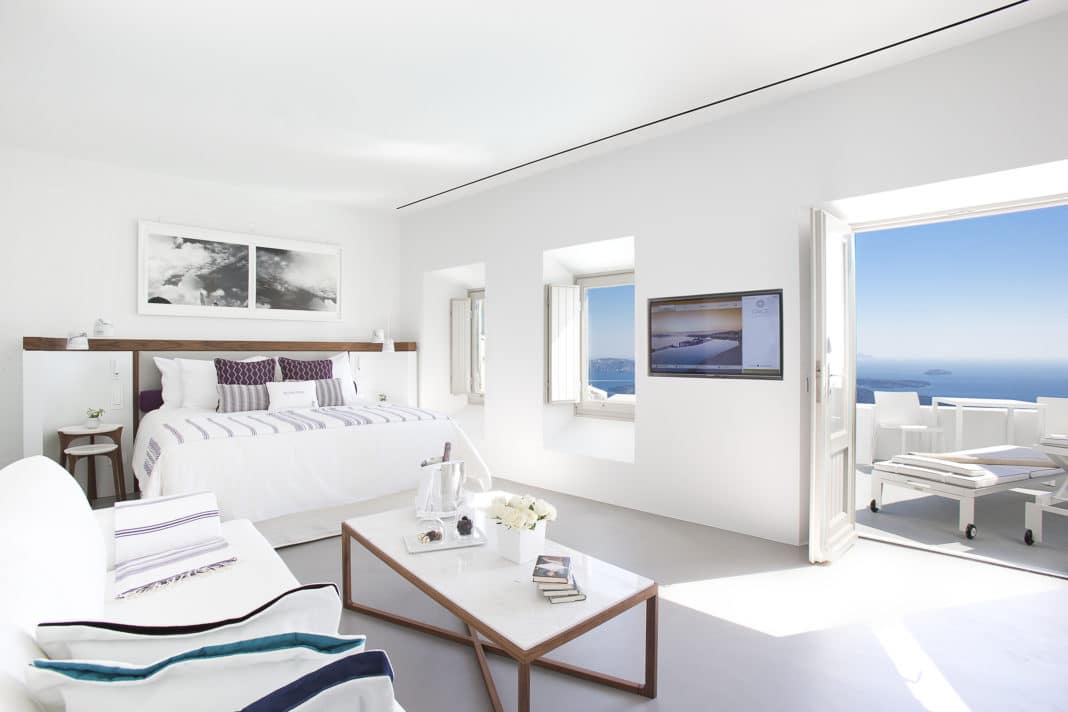 The Grace Santorini is located in the town of Imerovigli and is widely considered to be the locale's best hotels. With views of the caldera, Skaros Rock, and the sunset, the Grace Santorini spoils travelers with sights beyond their wildest imaginations. It isn't just the panoramic sea views drawing trekkers from around the world though.
Visitors can expect all of the comforts of home at the Grace. Stellar service enhances the already delicious Mediterranean fusion cuisine and breathtaking peeks at the sea. A daily champagne breakfast allows guests to start their day on the right foot — a feeling they can replenish throughout the day with the in-room drinks.
Private balconies overlook miles of Instagram-worthy scenery. If you find that you've got cabin fever (although, how could you at the Grace?!), the hotel arranges boat trips to nearby islands. Those more inclined to relax will be pleased to find that the Grace Santorini houses a fitness center and spa, in addition to having a 7-choice pillow menu.
The Grace Santorini conveniently sits near Skaros, Megaro Gyzi, the Archaeological Museum of Thera, and the Museum of Prehistoric Thera. With so many amenities, it's no surprise that this is one of the favored hotels in Santorini. That being said, be sure to book with plenty of time to spare as this hotel tends to sell out quickly, sometimes years in advance!
Pros
plus

Great location

plus

Delicious food

plus

Comfy beds
Cons
close

Only open April through October

Must book extremely far in advance
The Astra Suites is by far one of the most elegant places to stay in Imerovigli. Oft called the best hotel in Greece by magazines, Astra Suites takes the work out of traveling. Guests love that this hotel is open to requests and truly tries to anticipate the needs of trekkers. For this reason, it's a fan favorite!
Astra Suites boast enormous suites. Each room is tastefully decorated with art, candles, and ornaments. A bedroom, lounge area, kitchenette, and private terrace are standard in each option of lodging.
The food here is also amazing. Breakfast is served on your personal balcony or by the swimming pool, whichever you choose. For lunch and dinner, an on-site gourmet is available for those too hungry to leave the hotel. The staff is more than happy to arrange private dinners upon request.
At the Astra Suites, the infinity pool is built into the cliff side, as is the rest of the hotel, and overlooks the caldera. A spa offers special treatments for trekkers in search of relaxation. On the other hand, for those with an adventurous spirit, the hotel can arrange excursions such as sailing. Furthermore, bikes can be rented from the hotel and provide an efficient way to get around town.
With such a hospitable staff and comfortable accommodations, it's no surprise that the Astra Suites is one of the most luxurious and elegant hotels in Santorini. Travelers will not be disappointed!
Pros
plus

Huge suites with kitchenette in each

plus

Family friendly
Cons
close

Fee for airport shuttle
Cosmopolitan Suites is by far one of the premier hotels in Santorini. Travelers looking to enjoy the scenic views while also having access to the heart of Fira will love this choice. This hotel's prime location in the capitol of Santorini and its attention to the details make it one of the best places to stay on the island.
Of the accommodations on our list, the suites here are on the smaller side of what one typically considers posh lodging. However, trekkers should not be deterred by this aspect. The open and bright rooms offer astounding views nonetheless from private and semi-private balconies. Santorini style decorations give the suites a feel of authenticity and total immersion.
Situated on the cliff, Cosmopolitan Suites provides a glimpse into the finer side of Santorini. From the sunbathing terrace, visitors take photos of the caldera, volcano, and sea. In fact, the terrace is one of the prime spots to relax at this hotel. Moreover, Cosmopolitan Suites is home to one of the best pools in Santorini as the infinity style hangs from the cliff and overlooks your surroundings. However, whereas other hotels on our list feature a spa and fitness center, travelers must rely on outside activities and pure rest when booking Cosmopolitan Suites.
Although not fluent in all of the amenities of other hotels in Santorini, this particular option does not fall short on quality and customer service. This hotel is great for taking in the culture of the locals, as it is within close proximity to nightlife, shopping, and restaurants. Additionally, travelers will be delighted to find that the Dominican Convent, the Catholic Cathedral, the Archaeological Museum of Thera, Megaro Gyzi, Skaros, and the Museum of Prehistoric Thera are all within a short commute. If you need a hotel that affords you a place to lay your head and relax to the max, this is one of the most luxurious hotels in Santorini for those purposes.
Pros
plus

Location is nearby the bustling hub of town

plus

Unmatched views

plus

Delicious food
Cons
close

Smaller suites

Not all balconies are private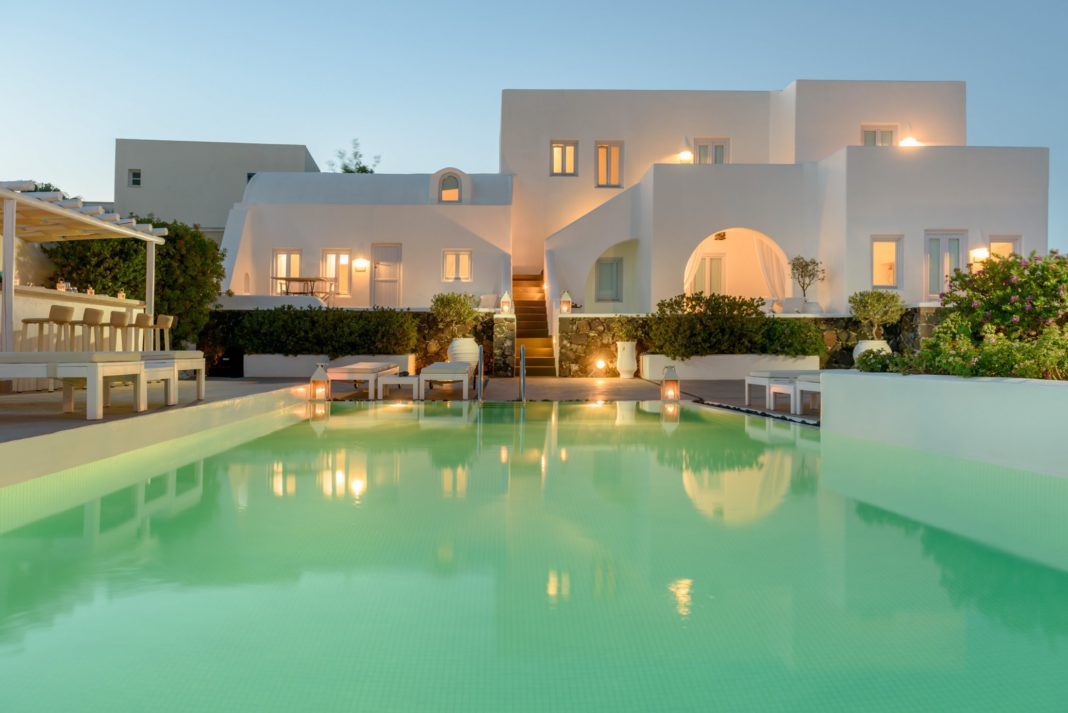 The Aria Suites in Fira is one of the only and best luxury hotels in Santorini for families. While other hotels enforce stipulations on the ages of children in your group, Aria Suites is suitable for all. With its prime location it would seem that this hotel is anything but relaxing, however nothing could be farther from the truth. Aria Suites is in the hub of Fira, yet still maintains its quiet ambiance. No wonder travelers are enthralled!
For starters, Aria Suites keeps its transitional ambiance with a small size. In fact, there are only a handful of chic suites from which trekkers may choose. Even still, the suites are pretty sweet. Each room features a mini-bar, fridge, and free Internet. Those traveling with children or extra guests will be pleased to know that with advance notice, staff accommodates additional beds and sleeping arrangements.
Four villas inhabit the Aria Suites. Each includes a private plunge pool and incredible views. For those in search of something other than good ol' R&R (especially those who opted to bring the children), Aria Suites delivers on nearby activities. Visitors find that many shops and food are within a three-minute walk of the hotel. Because the hotel offers babysitting services, this is the perfect opportunity for the parents to explore the local nightlife or enjoy a child-free and romantic evening.
Guests love the Aria Suites for its friendly service. Some were even shocked to find that with a simple request, the hotel is happy to accommodate massage and beauty requests, or even set up a candlelit dinner in your suite. With its hospitality and quaint, yet connected vibe, Aria Suites is the best hotel in Santorini for anyone who wants to treat the entire family to a sophisticated experience.
Pros
plus

Family friendly

plus

Close to shops and food

plus

Despite central location, it maintains a quiet ambiance.
Cons
close

Few suites

No spa or fitness center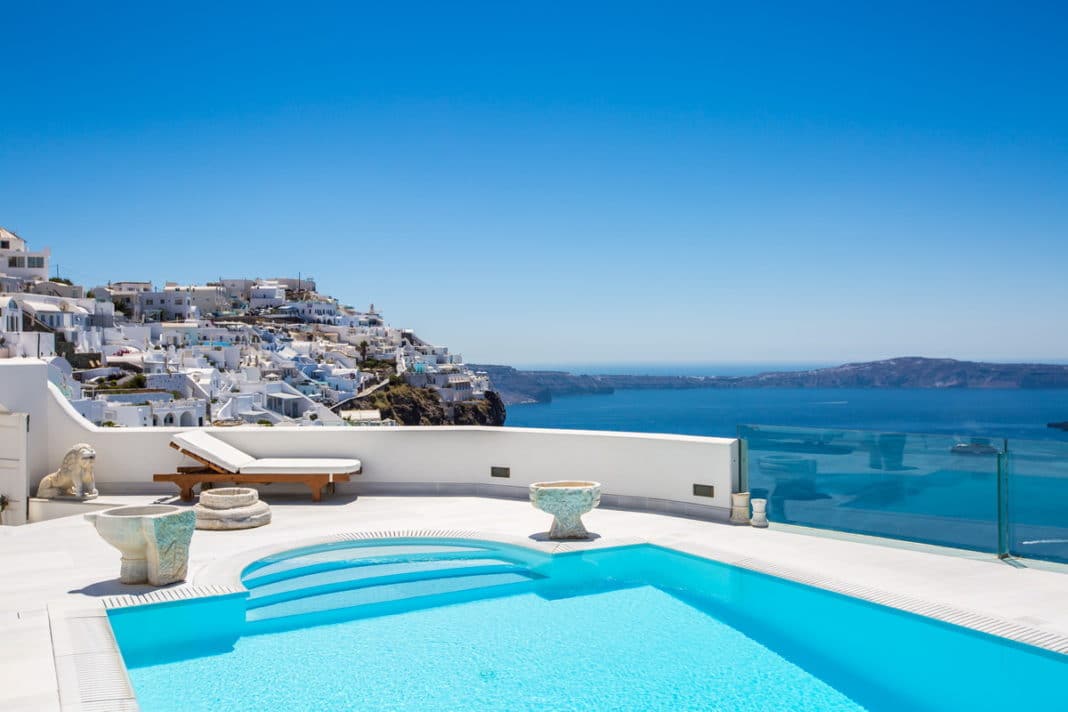 The Tsitouras Collection hotel is one of the best hotels in Firostefani, Santorini, as well as one of the most luxurious. The hotel is set in an 18th Century mansion and is an architectural vision to behold. Domes, vaults, and skylights greet guests with ample light and charm. However, the hospitality doesn't stop there — the hotel welcomes its guests at the airport with free pickup and a complimentary bottle of Santorini wine upon check-in. It's no surprise why travelers love Tsitouras Collection.
The suites at this hotel are abundant in antique artwork and appeal, yet still maintain the posh elegance of any exceptional luxury hotel. Free in-room Wi-Fi, a mini-bar, and a free breakfast with no time limits give trekkers the comforts of home. After a day spent overlooking the sea, nothing is better than unwinding with the Tsitouras Collection's complimentary evening cocktail.
A sun deck, terrace, and pool with exceptional views of local Santorini make this hotel one of the most luxurious in town. Better yet, this accommodation welcomes the entire family, even going so far as to provide babysitting services for couples in need of a romantic evening alone. Moreover, the hotel's free private transportation makes exploring and tasting the local cuisine possible.
Tsitouras Collection truly strives to take care of all guest needs. Once you are completely refreshed and ready to return home, the hotel is kind enough to take you back to the airport. However, with such great service, you won't want to leave!
Pros
plus

Family and pet friendly

plus

Few steps for those with limited mobility

plus

Free airport shuttle and local transportation
Cons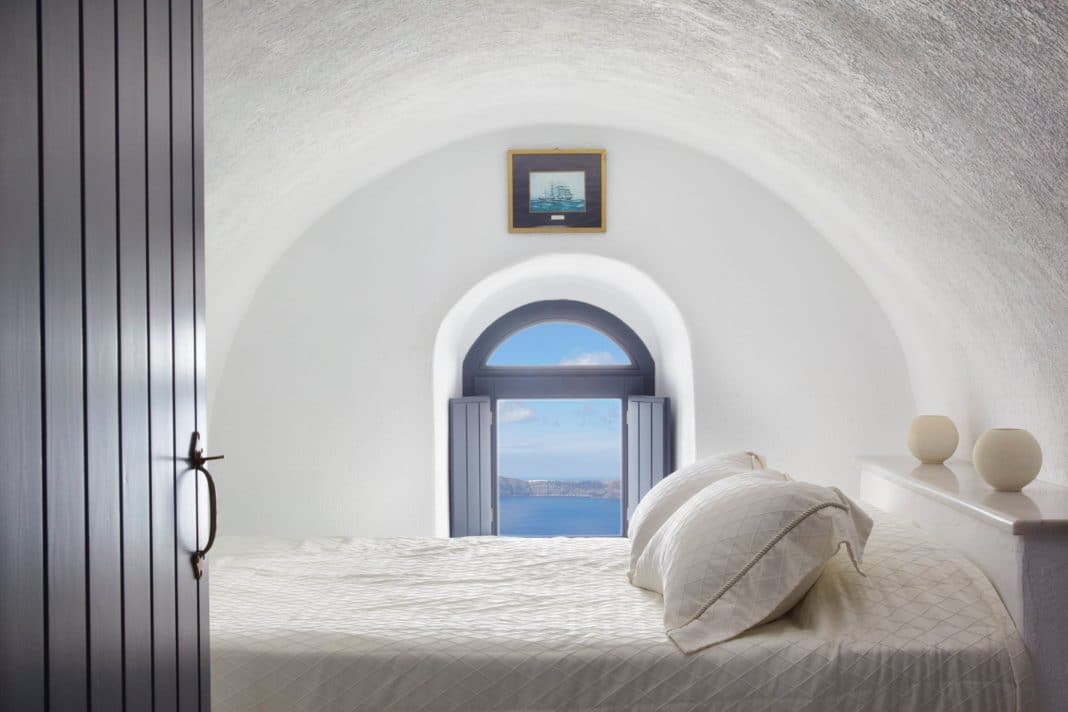 Homeric Poems is found in Firostefani and is one of the most luxurious hotels in Santorini. Coupled with its breathtaking views, Homeric Poems features first class service and hospitality in addition to its subtle and minimalistic elegance.
The suites of Homeric Poems are a sight to behold in themselves. All units come complete with a flat screen TV, free Wi-Fi, and soundproof walls. Depending on which suite you choose, the rooms have a sitting area, balcony, mini-bar, coffee, private bath, bathrobe, and slippers. With such class and sophistication, you won't mind being sent to your room!
To showcase its spectacular surroundings, Homeric Poems makes a seasonal outdoor pool with a bar, as well as sundeck available to travelers. For those in need of pampering, spa, massage, and beauty treatments are available on premises.
Homeric Poems is luxury at its finest, yet least pretentious. Visitors cite the great coffee, family rooms, and astounding customer service as reasons this hotel is one of the best and most luxurious hotels in Santorini.
Pros
plus Excellent coffee​
plus

Soundproof rooms

plus

Family suites available
Cons
close

Additional fee for airport shuttle
Common Questions
If you are in search of hotels in other hot destinations around the world, we've got you covered. See our reviews to find the best lodging accommodations –
No matter where your travels take you, trekbible is your official resource for reviews, travel inspiration, travel accessories, attractions, food and drinks, and more. Let us know what content you want to see!
Be sure to book one of the most luxurious hotels in Santorini.​
For an unforgettable vacation with impressive accommodations, Santorini is *THE* destination. Private suites with breathtaking views, impeccable customer service, gourmet food, fun, and sun are simply a few reasons to add Santorini to your bucket list. Travelers with a penchant for the finer things in life will marvel at the modern elegance this island has to offer.
We'd love to hear about your experiences at any of these hotels in Santorini! Leave us a comment with your favorite luxury hotel. Don't forget to read our reviews of hotels in other top travel destinations for all of the pertinent details to make your trips a success!
Related Article: ​​Amalfi Coast Hotels Guide: Top 5 Places to Stay​​​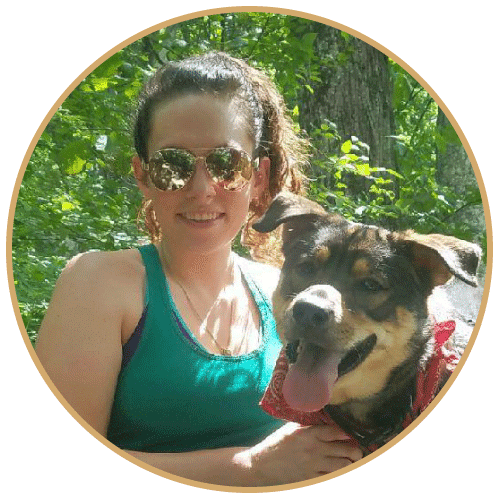 Kelsey Davis
On top of her day job, Kelsey is an academic, artist, avid stargazer, blogger, yoga enthusiast, and aspiring stay-at-home dog mom (a girl can dream, right?!). As a nomad, Kelsey enjoys spontaneous adventures and following wandering trails. Although she is up for anything, her favorite treks are local mountain and waterfall excursions with her boyfriend and puppy.