Luxury At its Finest
Spring is right around the corner and so are the plans you haven't yet made. Don't worry, as it isn't too late to plan the perfect romantic getaway that you've been dreaming of. If you are looking for the hands-down best place to spend this upcoming season, look no further than Katikies of Santorini, Greece. With its white-washed cave styled cottages to its infinity pools that cascade looking into the infinite waters of the Aegean Sea, you won't want to go anywhere else. Not only is Santorini itself an absolute jewel, its architecture makes for some of the best and most unique hotels you can find anywhere in the world.
Let's Talk Accommodations
Katikies Hotel offers a broad range of rooms, from large to small. Whether you're looking to stay in a small cave or villa-inspired suite with your own Jacuzzi, Katikies Hotel has it. While they all rate a whopping 5-stars, and all have private verandas with sea views, any room that you choose will blow you away. Here are the options.
Double Room
The first option is Katikies Double Room. Essentially, you get a 25-sqm space featuring a bedroom facing a private veranda with views of the Aegean Sea. The queen bed is fitting for either one or two people and the room also includes a full bathroom with showers. Even though the Double Room is the smallest of the options, guests have had nothing negative to say about the spaciousness.
Junior Suite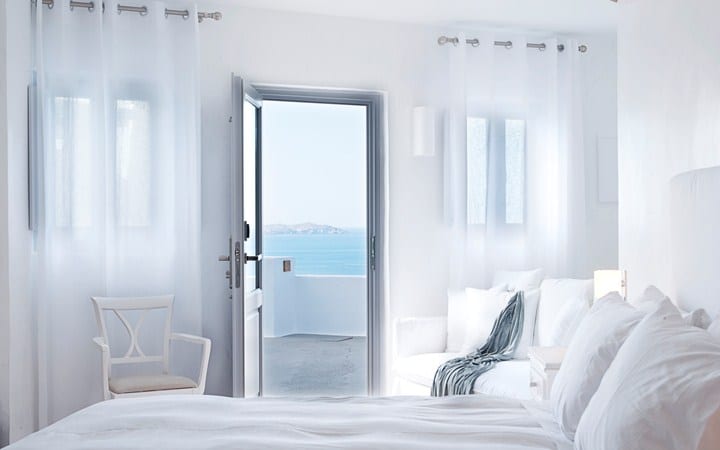 Credit: Katikies
Taking things up a level, Katikies Hotel upgrades their Double Room to the Junior Suite. Inside you will find an extra 5-sqm with more furnishings to elevate your comfort. If you book far enough ahead, you might just be able to snag a loft setup, but no guarantees. Right outside of the Katikies Hotel Junior Suite lies a slightly larger private veranda along with a sitting area. The bathroom is the same as the latter, offering a full setup. Consider the Junior Suite if you don't mind paying slightly more for a little extra space.
Senior Bedroom Suite
Judging solely by their images, Katikies Hotel has taken Santorini architecture to a whole new standard. In the Senior Bedroom Suite, you'll find yet again, another extra 5-sqm and with a bedroom partially separated from the living space. If make your request at the right time, you might be able to grab a loft with sea view window. However, no guarantees as Katikies Hotel keeps business running all year-round. The Senior Bedroom Suite's defining feature is its bathroom with Jacuzzi bathtub. There are not many other things I'd rather be doing on Valentine's Day then soaking up in a Jacuzzi. I'm sure many would agree.
If you happen to be one that doesn't fancy soaking in bubbles, you can take your jazz music outside on the private veranda and enjoy the breathtaking views just as well. You may want to jump on this ASAP if you plan to book a Katikies Hotel Senior Suite, as these tend to the most popular.
Superior Bedroom Suite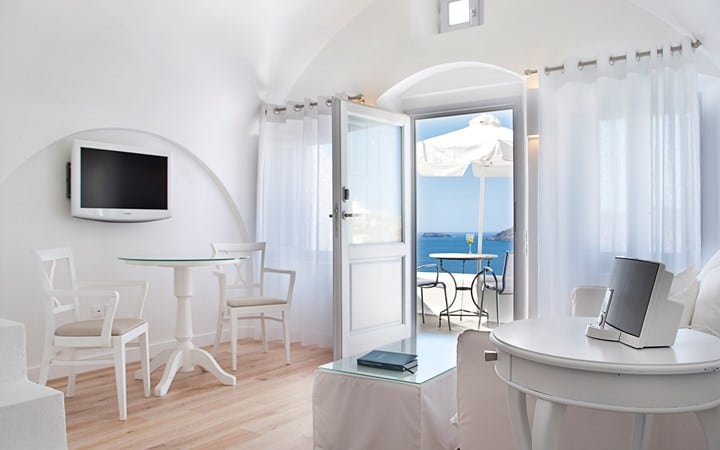 Credit: Katikies
Continuing to rise up the tower of luxury, Katikies Hotel delivers yet again with their 40-sqm Superior Bedroom. In this upgraded suite, you'll find more furnishings, both inside and out, but the majority of its features stick to the same pattern. Most likely you will have a greater chance at grabbing a loft with sea view window, although not all of the Superior Bedroom Suites offer them. You are guaranteed a bathroom with Jacuzzi bathtub and the same queen bed found in all the other suites.
Honeymoon Bedroom Suite
The Suite that every newly-wed couple dreams of staying in. Katikies Hotel thought of just about everything with the Honeymoon Bedroom Suite. Not only are you offered more privacy on the large panoramic veranda, but you'll find not one, but two Jacuzzis in this suite. The dining area is completely separate from the bedroom and keeps things breezy with its open-air dining space. It doesn't end there, as you'll also be able to bask on the sundeck or hang out in the veranda lounge. Honeymoon or not, Katikies Hotel planned every nook and cranny out to ensure your experience would not be one to forget.
Katikies Bedroom Suite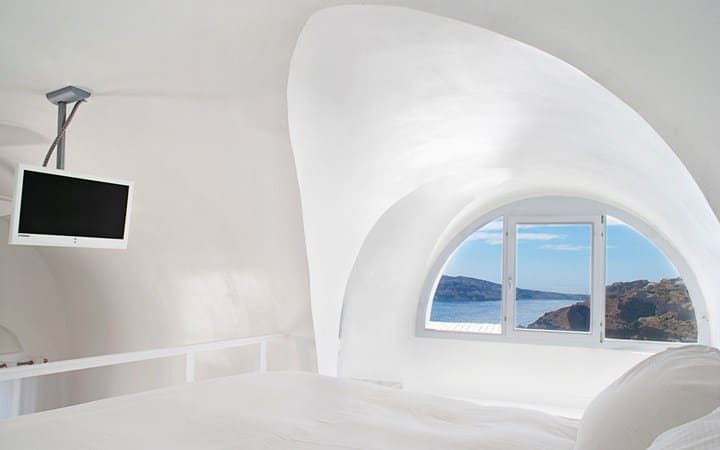 Credit: Katikies
The flagship of all of Katikies Hotel suites, The Katikies Bedroom Suite promises even more space with a 50-sqm floor plan. You'll find a bedroom in a loft, a spacious living room, and even a dressing room. Enjoy a cool breeze outside on the large panoramic veranda with a lounge, and order room service where you can dine overlooking the Caldera. To finish off your day, soak in the Jacuzzi, either outside or inside, and spoil yourself with the Hydro Massage Jet shower in the bathroom. Its space and features are truly worth it, as you won't find a more spacious suite around the whole town of Katikies.
Villa Double Room
If privacy is your number one concern, look no further than the Katikies Hotel Villa Double Room. While it is only an average of 25-sqm, the Villa itself is separated from the main hotel, offering more of a "getaway" feel. You'll have the same sea view and private veranda, but also an outdoor air-jetted tub. Consider the Villa Double Room if you want a bit more of an escape and wish for the incentive of the outdoor tub.
Villa Suite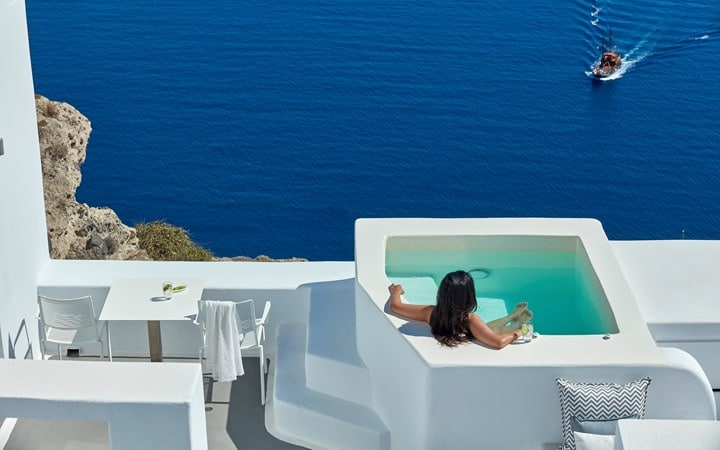 Credit: Katikies
Tipping the scales of utter luxurious prestige, you can book a Katikies Hotel Villa Suite for yourself and significant other. While it's only 30-sqm in size, Katikies Hotel has packed every possible luxury possible into the Villa Suite. Similar to the Villa Double Room, the Villa Suite also boasts the same open-air jetted tub. The views are even more spectacular at the Villa Katikies, but you'll have to see it for yourself.
Let's Talk Dining
It's no mystery that Greek food is amazing, but nothing quite compares to eating it in Greece itself. Katikies Hotel has two of Katikies highest rated restaurants, and certainly won't disappoint.
Seltz Champagne Bar Restaurant
Credit: Katikies
Katikies Hotel also offers a more simplistic take on dining. Chef George Iakovidis encourages you to come check out their selections. "An exquisite a la carte menu captures a lavish selection of luscious epicurean cravings complemented by a fine collection of prestigious cuvees." So whether you're in for afternoon tea or a more sophisticated candle-lit dinner, Seltz Champagne Bar Restaurant will captivate your tastebuds like never before.
The Pool Bar
You don't have to drink alcohol to enjoy the many drinks that the Katikies Hotel Pool Bar has to offer. A broad selection of fruit juices will ensure you're always refreshed and light gourmet snacks are available for purchase as well. The Pool Bar also offers contemporary cocktails and champagne, so no matter what you fancy, Katikies Hotel has got a selection for you.
Mikrasia Restaurant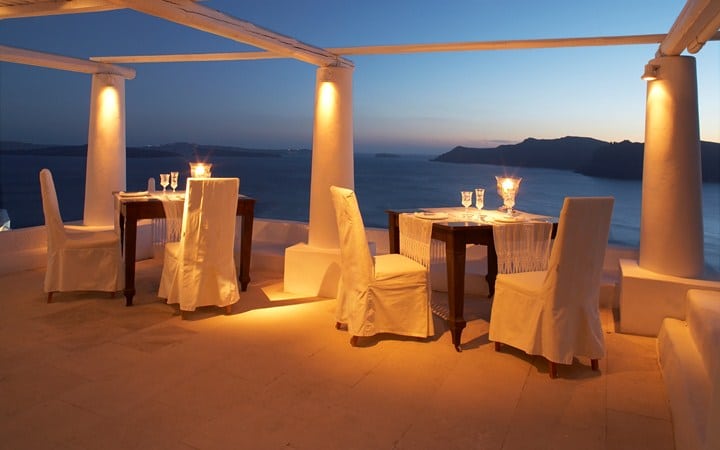 Credit: Katikies
According to the executive chef at Katikies Hotel, "From the distillation of the culinary traditions of Asia Minor, the famed cuisine of Constantinople compassed the traditions of what Greeks still call today "Politiki Kouzina" or "Food of Constantinople". Mikrasia is about redefining the classic Byzantine cuisine, fashioned in a different modern way." Mikrasia is open almost around the clock, so night or day, you can always get a gourmet fix.
Let's Talk Amenities and Activities
Pool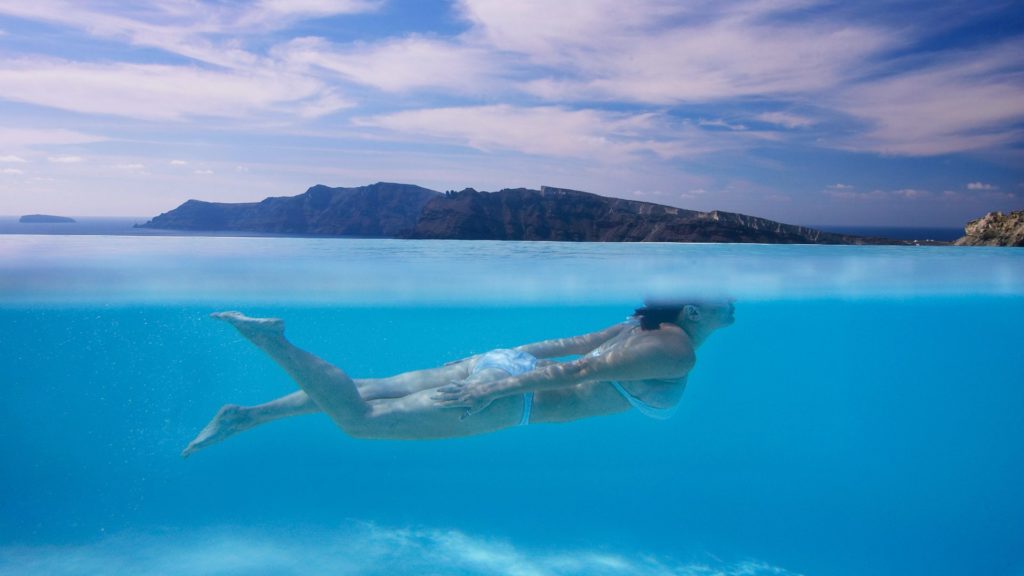 Credit: Katikies
With views spanning the Caldera, not one, but two infinity pools are available for your leisure at Katikies Hotel.
A.SPA
Dubbed the A.Spa, Katikies Hotel offers a unique holistic spa to ensure you receive nothing less than a an excellent experience.
What Travelers Are Saying About Katikies Hotel
Credit: Katikies
There's no question as to why Katikies Hotel rates 5 out of 5 stars. With exceptional facilitates and phenomenal service, here's why Katikies Hotel is one of the best. Rosa, an ecstatic guest left with nothing but good things to say about Katikies Hotel; "We chose to stay at the Katikies for our anniversary and from start to finish, it was an amazing experience. When we arrived, we were greeted with a cold drink and a personalized tour of the hotel by the wonderful Sofia, the assistant manager. Honestly, it felt like we were being treated like longtime friends, and not just first-time hotel guests. And that's how the service was our entire week at the Katikies. Especially from Antonis and Vagelis, who both provided outstanding poolside service, tending to our every need."
Another overly satisfied guest described how Katikies Hotel was quite possibly the best she's ever visited. "Easily the best hotel I've ever stayed in. Explaining myself how great the service, luxury, and overall feeling this place provides wouldn't compare to experiencing it firsthand. When everything you book has won countless awards, prepare yourself to be pampered and spoiled leaving you in a state of pure ecstasy." However, it doesn't stop there, as countless individuals have rated Katikies Hotel in flying colors.
As amazing as a place the Katikies Hotel is, keep in mind that it is closed from November to April due to the seasons. With a goal to keep the hotel at a higher level of intimacy, children under the age of 12 are not permitted on the property. However, there are certainly many other hotels in Santorini that welcome children.
Immerse Yourself in Santorini's Utmost Luxury
Now might just be the perfect time to pack your bags and head off to Katikies! With its luxurious suites and refreshing infinity pools, a trip to Katikies Hotel in this white-washed village will be one for the books.
Related Article: 8 of the Most Luxurious Hotels in Santorini