Let's be honest — what women really want is a travel accessory that is stylish, yet exceptionally functional, but comes at an affordable price.
Could such a product truly exist? Indeed it does. Enter: the best winter boots for women. All too often women's winter boots are warm and waterproof, or stylish- but are usually never both. This poses a huge problem in cold temperatures, but never so much exploring in deep snow.
To help strike a balance between looking good and being cozy while doing so, we've created a list of the best winter boots for women. Although there are plenty of choices available that are up for both jobs, we have included boots that are suitable for walking the wintery streets of your travel destination or getting off the beaten path to trek through some snow.
To help you choose your next pair of the best winter boots for women, we've included a guide of essential considerations to make before beginning your search and while comparing products. Even if it's been a while since your last major functional fashion purchase, we promise to guide you to your next go-to winter footwear.
| Image | Product | Rating | Prices |
| --- | --- | --- | --- |
| | | 4 out of 5 | |
| | | 4.5 out of 5 | |
| | | 4.5 out of 5 | |
| | | 4.5 out of 5 | |
| | | 4.5 out of 5 | |
| | | 4.5 out of 5 | |
QUICK NAVIGATION
Why You Need High-Quality Boots for Winter Travel
Shoes are essential for just about every place you travel. However, winter trekking requires a bit more thought. The best winter boots for women take the shoe to the next level. Here's why you need a pair of boots before snow fall:
1. Winter boots keep you warm.
Regardless of where your travels take you, choosing to wander in the winter will undoubtedly face bone chilling temperatures at some point. The average shoe offers some protection from the elements and hiking socks make a difference; however, it's likely these women's boots were not designed with the weather in mind. The best winter boots for women make use of materials like waterproof leather, suede, and fleece to block wind and moisture. With a pair of these babies on your heels cold feet are never an issue!
2. Water and air are no match for the best winter boots for women.
Through the use of water repellent materials, winter boots eliminate your fears of getting your feet wet. No matter whether it's a puddle you need to jump, slush to step over, or light snow to wade through, winter boots maintain dryness and warmth by keeping water out. Combine wet feet with freezing temperatures and icy winds and you've got yourself a recipe for potential disaster against warm and dry. Winter boots keep you prepped for even the slickest of conditions, ensuring that you stay safe and warm.
3. Contrary to what you may have thought, winter boots don't have to be an eye-sore.
The rise of the fashion-forward, independent woman prompted manufacturers to respond with shoes that meet our need for efficiency. Winter boots come in all different colors, styles, and specifications. Women can explore options including full-grain leather boots, over-the-knee boots, and lace-up boots! Thereby, it is ensured that there is a winter boot available to match all personalities and needs. The best part about the products on our list of the best winter boots for women though? These selections are functional for your winter travel needs, but also look pretty cute with any outfit combination in your suitcase. Finally shoes that can do it all! Winter boots fight the need to compromise at the expense of your feet.
Common Features of a Solid Pair of Winter Boots for Women:
While no two pairs of boots are the same, there are a few trusted features that go into the making of the best winter boots for women. Make sure your next pair checks the following boxes:
check-circle-o

Waterproof or water-repellent

check-circle-o

Many styles (ankle boots, calf length boots,etc.), colors, and materials (suede, leather, rubber, etc.)

check-circle-o

Traction on bottom to combat slick sidewalks

check-circle-o

Fleece, faux fur, or other insulation for extra warmth

check-circle-o

Removable and/or replaceable insoles
While some of the traits of winter boots come standard, it is worth noting that some boots may be better suited for specific conditions than others. For instance, one boot may be able to stand up to the grind of winter sports whereas another boot may be the best for walking the icy streets of your very own neighborhood. Regardless, there is a solution for your winter footwear woes.
How to Choose the Best Winter Boots for your Next Winter Getaway
With so many options on the market, you may be questioning the ability to find a pair of winter boots that sweep you off your feet. To ensure you find *the* pair that's a match made in heaven, keep the following in mind –
Questions to Ask Yourself Before Beginning Your Search:
Who knows your feet and their needs better than you?! Let these questions guide your tour of Amazon's shoe department:
1. What do I need from my winter boot?
Not all boots are created with the same expectations in mind. If you are traveling and need food and shopping accommodations within a walkable distance, a comfortable, ergonomic boot is key. However, if you are participating in a winter activity such as sledding, you will want a boot with great traction and that covers enough of your leg to prevent a snow breech. Although your priorities may vary, the best thing about all snow boots is the broad range of stylish and attractive options. There is truly something for everyone!
2. Where will my winter travels take me?
Consider the environment and and climate of your winter travel destinations. If the weather report calls for biting winds, opt for a boot with insulation such as fleece or faux fur to enhance your warmth. If you know walking on ice is inevitable, check for traction that will keep you stable at all times. No matter where your wanderlust takes you, the best winter boots were made for walkin'.
Things to Consider Before Buying
Before checking out, factor these aspects into your decision. Attention to these points helps prevent buyers remorse.
1. Function
Acknowledging which activities you plan to participate in while away from home assists in your purchase. A boot made by a renowned outdoor company will better meet the needs of winter trekkers involved in hiking. More mainstream brands will appeal to those more invested in adding a useful and stylish piece to their winter repertoire.
2. Quality
A pair of winter boots is if no use if they do not pass the test of time. Tight stitching, waterproof materials, and the ability to be cleaned all go into the making of a worthy pair of boots. Paying attention to the finer details now prevents a boot blowout in the middle of a blizzard. Look for zippers that do not catch fabric, quality materials, and functional design to ensure your next pair of boots is a good fit.
3. Price
Even the best winter boots for women come at some expense. Although you will need to factor quality into the cost equation, this isn't to say that you will have to shell out big bucks for a lasting pair of boots. In fact, the best winter boots for women cost the equivalent of making a worthwhile wardrobe investment. While you definitely can spend a few hundred dollars on your next set of boots, you certainly don't have to. We've included boots on our list that have been found to be affordable and accessible.
Trekbible's Official List of the Best Winter Boots for Women
Without further ado, here is our list of the best winter boots for women. Find a pair that suits you (or just buy one of each!).
1. Geo X – Women's Amaranth ABX Boot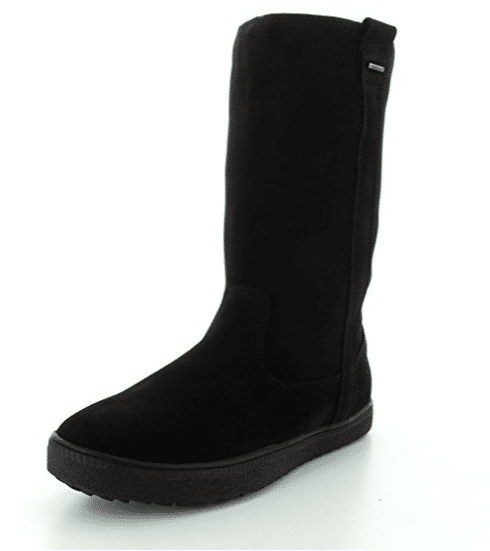 For any of the ladies that simply need a stylish boot that is comfortable enough for urban winter walking, this one's for you. Geo X's Amaranth ABX Boot features an URBAN dampness rating, meaning that these shoes are suitable for everyday life. The exterior is comprised of waterproof Ambibiox technology nylon repels water while a suede upper panel keeps the chic factor visible. This style features warm inner lining, removable cushioned insole, durable rubber outsole, and zipper for easy on/off- almost making it a pair of slip-on boots. Geo X's Amaranth ABX Boot is a winner for women trekkers everywhere!
Pros
plus

Warm, but doesn't make you sweat (some say you don't need socks)​

plus

Removable insole
Cons
close

Tight fit for those with wide calves
2. Salomon Women's Toundra Pro CSWP W-W Snow Boot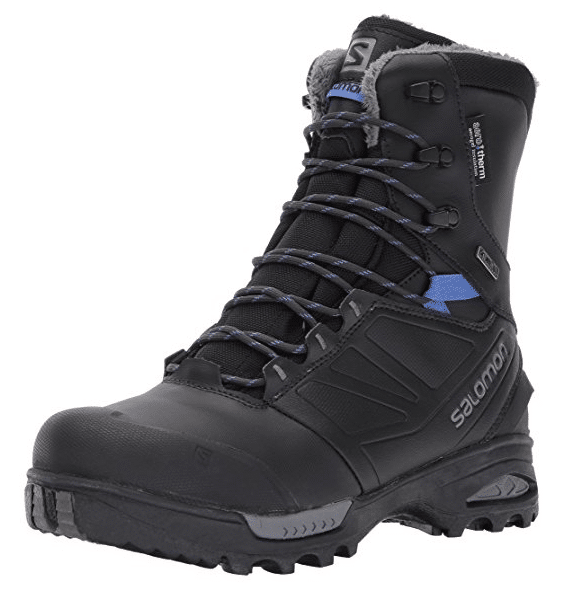 For women in need of a boot that is a bit heavier duty, Salomon's Toundra Pro CSWP W-W Snow Boot can handle it all. These boots are rough and tumble, yet still functional — a duo perfect for outdoor hikes and winter sports. The exterior includes a combination of leather and aerogel insulation. The rubber sole on these women's leather boots promises superior traction. This, coupled with the warmth and protection from conditions as lows as -40 degrees Fahrenheit make this boot one of the toughest competitors in the quest for naming the best winter boots for women.
Pros
plus Lightweight​
plus

Great for extreme conditions
Cons
close Shoe is stiff​

Runs small, size up
3. UGG Adirondack II Winter Boot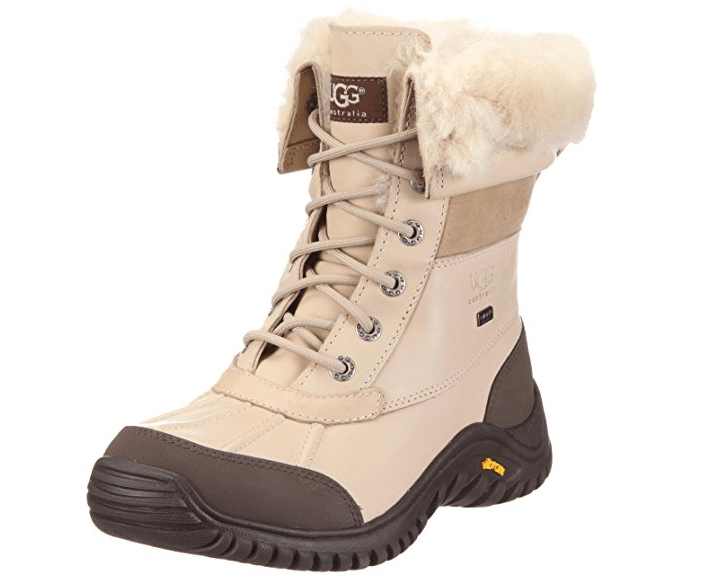 UGG's Adirondack II Winter Boots boast being able to do it all. That means these bad boys look good, feels good, and perform well. UGG pulled out all of the stops to combine an enerG comfort insole with micro-pod technology. Thereby, the top layer is open cell foam for a breathable and moisture-wicking layer that is also anti-microbial while the bottom layer provides cushion and support. Furthermore, Thinsulate technology utilizes a synthetic compression resistant fiber with thermal insulation to keep you insanely warm. However, the e-vent waterproof membrane prevents sweat and moisture through the use of microscopic pores to vent air. So, not exactly the dry and warm combo. On the bottom, the vibram outsole features a lug tread pattern for the ultimate traction in slick conditions. In addition to being able to do it all, this boot is easy on the eyes.
Pros
plus Fits like a glove​
plus

Extremely warm
Cons
close

Runs small

Feels a bit bulky
4. SOREL Glacy Explorer Cold Weather Boot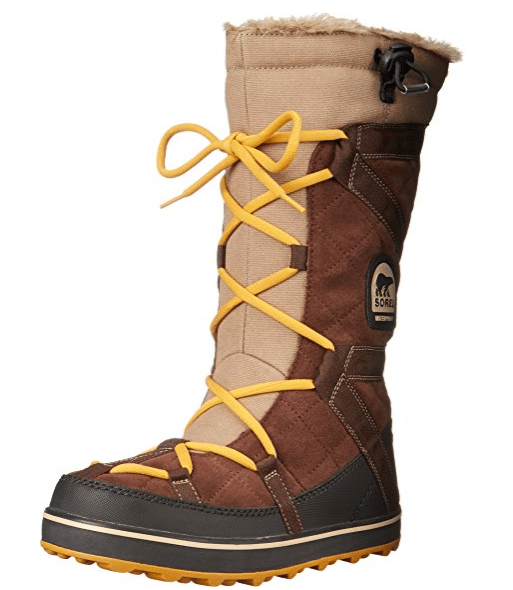 SOREL's Glacy Explorer Cold Weather Boot is the epitome of fashionable and effective footwear. The exterior is designed of waterproof suede and detailed with a web banding. Sorel women's faux fur trim marries with a thick fleece lining to retain maximum warmth even when traveling in the coldest of conditions. The lace up design with an elastic drawstring at the top and rubber outsoles with ultimate traction on the snow. Sorel boots touts this product as being ideal for active winter sports such as sledding or snowmobiling. Regardless of which activity you choose, at least you won't have to worry about looking good with these mid-calf boots.
Pros
plus Comfy​
plus

Warm

plus

Room for thick socks
Cons
close Tight on wide calves​

Somewhat clunky
5. Kamik Women's Snowvalley Boot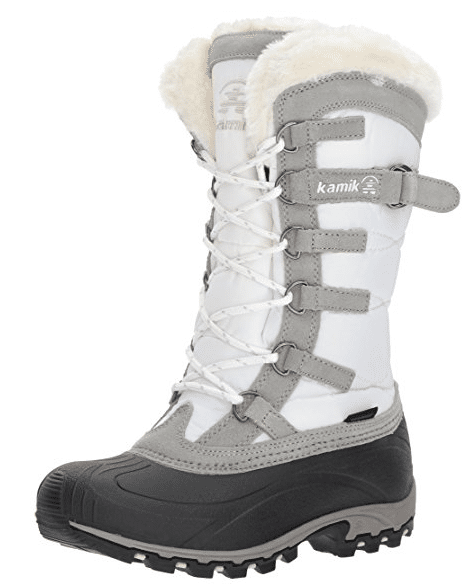 Kamik's Snowvalley Boot is one of the most versatile winter shoes on the market! The reason for this is the all-terrain and all-climate focus of the boot. Neither snow packed streets nor icy mountain inclines are a match for the Snowvalley waterproof winter boots. The design is that of a classic styled upper component with suede overlays. It isn't all about good kooks though. 3Mtm Thinsulate insulation retains optimal heat for avoiding hypothermia while not creating a heat wave for your ten toes. Seam sealed waterproof construction keeps snow, sleet, and rain out while the roomy heel and toe box keep you cozy inside. The attractive design and versatility make Kamik's Snowvalley Boot the perfect travel companion.
Pros
plus Warm​
plus

Waterproof

plus

Fit great on all calf sizes
Cons
close

Ankle and calf components not completely waterproof
6. KEEN Elsa Waterproof Winter Boot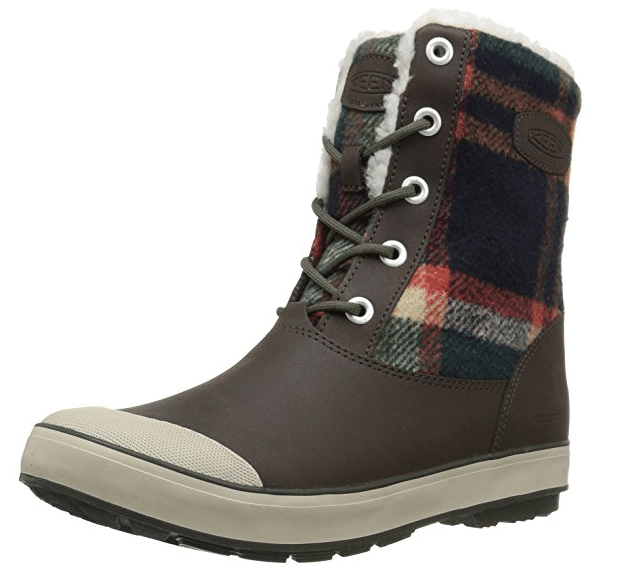 KEEN's Elsa Winter Boot is proof you can have your boots and wear them too. The pull tab at the top makes slipping in and out of these boots hassle free, a real challenge with most other products available to consumers. The laces are a box design which ensures the hold their shape and resist the urge to fray. A wide toe box and combination of rubber and flannel give you the ideal level of comfort while still eliminating moisture breaches. Furthermore, the color selection will delight fashionistas as the hues range from black to white and everything in between (think avocado and chili pepper). These winter boots are a win win!
Pros
Cons
close Not great on ice​

Some travelers may need to size up
Common Questions
Trekbible is built to be your resource on all of the latest and greatest travel intel. If you want more information on finding the greatest travel accessories, see our reviews:
No matter where your travels take you, we've got something for everyone! Let us know what you want to see more of.
The best winter boots for women prevent cold feet.
Traveling in the winter poses concerns that might not otherwise arise. Our list eliminates stress with regard to your footwear selections by highlighting shoes proven to withstand snow, sleet, ice, and rain anywhere in the world. Keeping your feet warm is the difference between a miserable trip and a positively memorable one. Head to Amazon to purchase a pair of the best winter boots for women!
Related Article: Best Winter Coats For Women (Plus How To Choose Yours)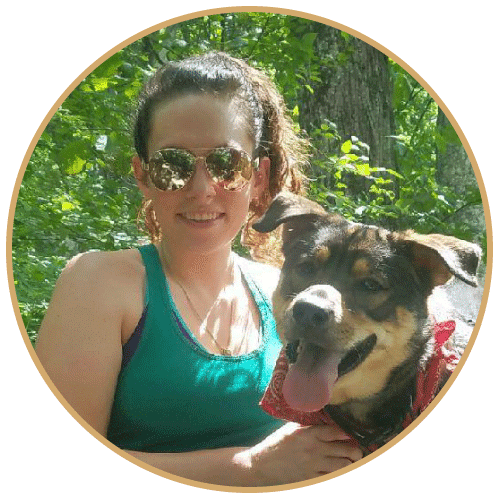 Kelsey Davis
On top of her day job, Kelsey is an academic, artist, avid stargazer, blogger, yoga enthusiast, and aspiring stay-at-home dog mom (a girl can dream, right?!). As a nomad, Kelsey enjoys spontaneous adventures and following wandering trails. Although she is up for anything, her favorite treks are local mountain and waterfall excursions with her boyfriend and puppy.