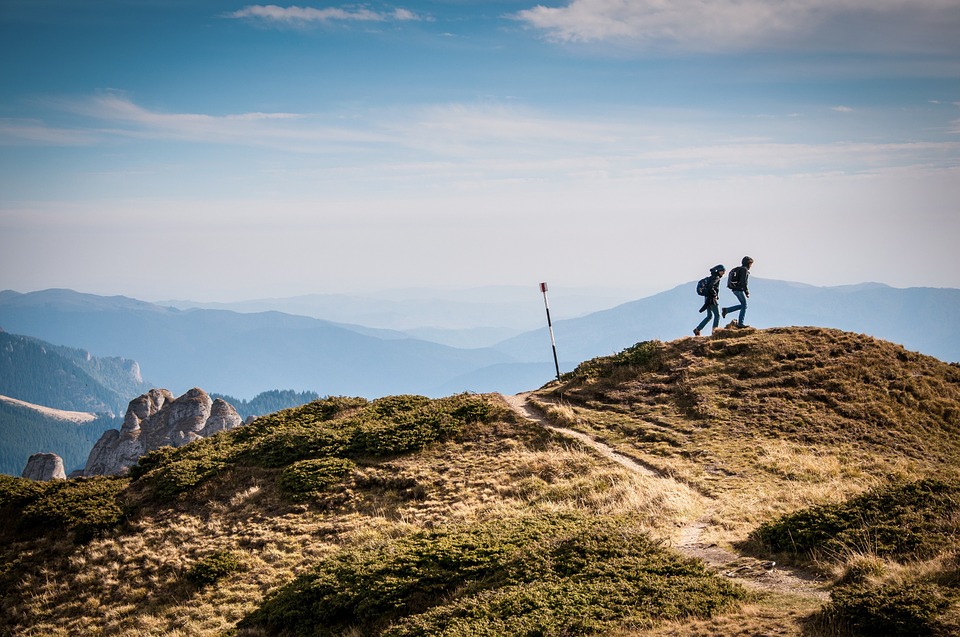 When you're planning for your next hike, sandals are probably not the first type of footwear that comes to mind. But did you know that some types of sandals are built just for hiking? They're particularly great for warm weather and tropical climates. No one wants to be caught wearing bulky shoes in a Balinese rainstorm. Furthermore, they're also a great option for a multi-day hiking or backpacking trip. So, what are the best hiking sandals? We'll show you.
We love making your life as easy as possible when it comes to traveling. In this article, we'll walk you through some of our picks for the best hiking sandals for men and women. And because fashion matters to, we'll try to keep them as stylish as possible.
| Image | Product | Rating | Prices |
| --- | --- | --- | --- |
| | | 4.5 out of 5 | |
| | | 4.5 out of 5 | |
| | | 4 out of 5 | |
| | | 4.5 out of 5 | |
| | | 4.5 out of 5 | |
| | | 4.5 out of 5 | |
Why You Should Be Wearing Hiking Sandals On Your Adventures
When it comes to finding the best hiking sandals, there are a few things you should consider before you make your purchase. No, a simple pair of flip flops are not going to cut it. Besides offering breathability, the best hiking sandals are water resistant, provide heel and ankle support, and are wonderfully lightweight.
Footwear is one of the most important pieces of gear to get right before you hike. Choosing the wrong shoes will not only leave you unprotected but ridiculously uncomfortable. No one wants wet, cold feet and blisters. Hiking sandals are a great option for those who prefer feeling a little more free. Plus, if your feet ever get cold, you can always slip on some hiking socks too.
Different Types of Hiking Sandals You Can Choose From
Water resistant material

Heel and ankle support

Toe protection

check

Stylish fabric and design

check

Durability
QUICK NAVIGATION
How to Pick Your Perfect Pair of Hiking Sandals
There are so many travel items and accessories on the market today. We understand how easy it is for indecision to strike when trying to choose the best hiking sandals for travelers. That's why we want to help ease the process.
Questions to Ask Yourself Before Beginning Your Search:
The best hiking sandals offer the best of all worlds. This means they have a non-slip sole, comfortable padding, and hopefully water resistant material. When it comes to choosing the best hiking sandals for the job, you should consider the following questions:
What Kind of Coverage Are You Looking For?
One of the main reasons why people opt for hiking sandals over boots is that less of their feet are covered. Most travelers who prefer hiking sandals appreciate the flexibility and breathable qualities of these shoes. Some people prefer a little fresh air for their feet, especially in the heat of the tropics or during summer.
If you're looking for a sandal with minimal material, check out styles from brands like Teva or Merrell. However, if you want something a bit more traditional, a closed-toe sandal will offer extra coverage for the toes.
Do You Need Water Resistant Sandals?
Are you're going to be in the water? Even in humid, tropical climates, this quality is a huge plus. You'll never know when you'll be caught in a mid afternoon rain. If you've ever lived or spent a decent amount of time in Florida, you know what we're talking about. While the state has plenty to explore, the weather is annoyingly unpredictable. Okay, moving on. All of the sandals we recommend will do just fine wet but wouldn't it be nice to have a pair of water resistant ones? This is something you should consider if you plan on going anywhere tropical with a chance of rain.
Are There Any Special Fit Needs You Should Take Into Consideration?
Keep in mind that different companies will offer different types of fits. The best hiking sandals will fit well (not too loose or too tight) and offer extra measures for comfortability. You are probably already familiar with the features you need. If your feet are on the wider side, Teva and KEEN are good brands for you. For those whose fight tend to be on the more narrow side, ECCOs and Chacos tend to run smaller.
Things to Consider Before Buying:
Hiking sandals have become very popular in the last ten years as experienced hikers gravitate towards ultralight backpacking. Even those who prefer hiking boots understand the benefit of having an extra pair of shoes at a campsite.
Before you buy the best hiking sandals, here are a few things you should consider.
When can I wear hiking sandals?
Hiking sandals are not recommended for super rough terrain but they are perfect for mild and easy routes. They're great for wearing around a campsite and since they're ventilated, they'll dry after you cross some streams in the backcountry.
Am I Trying to Pack Light?
For ultralight backpacking, sandals are a great pick. Just keep in mind that you don't want to pack heavy and wear light shoes. That would put an unnecessary amount of stress on your joints.
Do They Have Arch Support and Cushioning?
Do you have high arches in your feet? Unlike regular sandals, the best hiking sandals are equipped with great padding and arch support that enables hikers to explore their trails comfortably. A footbed that matches the shape of your foot will also add extra comfort.
Will I Need Shock Resistance?
If you're investing in a good pair of hiking shoes, consider finding a pair that is shock resistant. Sandals with ethylene vinyl acetate (EVA) and foam insoles absorb shock very well.
Make Sure They Fit Well
Make sure you get the right fit for your sandals before your hike. We highly recommend breaking them in on a day trip or wearing them for a day or two before the big adventure. Adjustable straps are a lifesaver. Not only are they great for fitting sandals properly but they also provide relief when your feet are swollen from the elevation. When it gets a bit chillier, just slip on a pair of Smartwool socks underneath them.
Do They Have Toe Protection?
If you plan on doing moderate to more difficult hiking, it's important that your sandals have protection for your toes. Exposed toes can be injured by rocks, roots, and other debris. However, if you don't plan on doing serious hiking, Teva is one of our all-time favorite brands.
Here Are The Best Hiking Sandals For Men and Women
In the beginning of the article, we shared a chart listing the best hiking sandals. There, you can find out today's current price for each pair of shoes. If you want to see a pros and cons breakdown for each style, then here it is:
KEEN Women's Clearwater CNX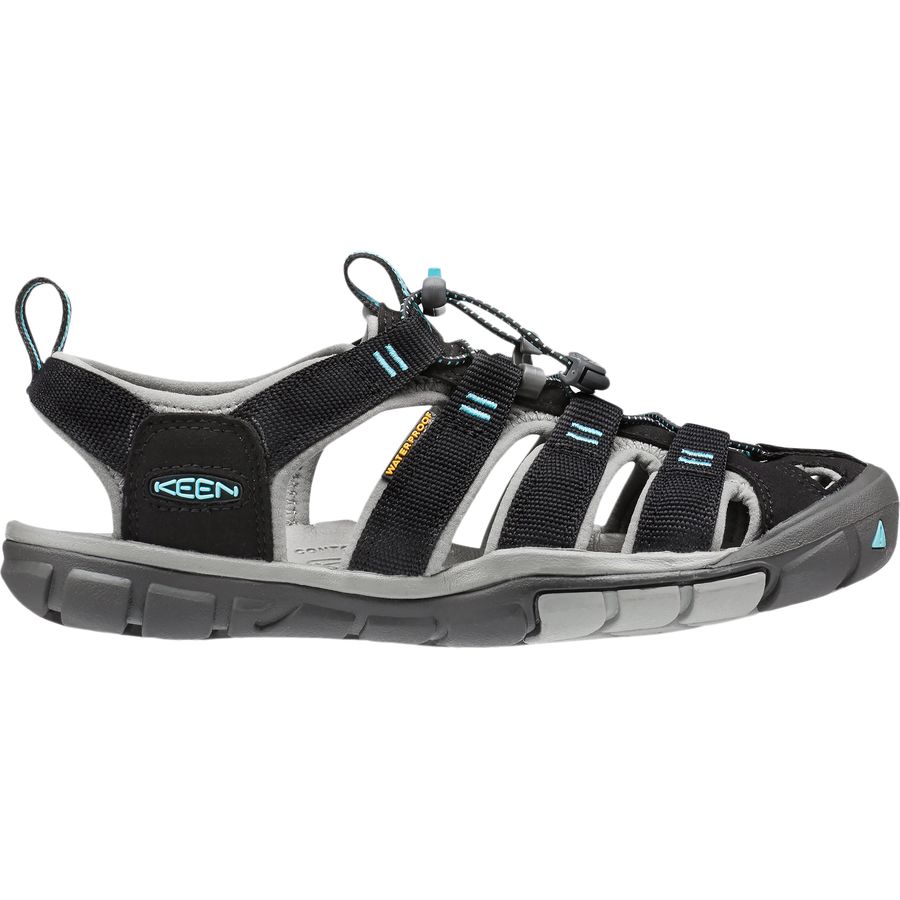 Thanks to a solid grip lightweight tread, these hiking sandals work well even on slick or uneven terrain. You don't need to worry about getting cold wet feet walking through water either. The body of the shoes are water resistant and designed to dry very quickly. KEEN sandals are widely recognized for having the best arch support on the market. Keep in mind that the sizing can vary from style to style. The women's Clearwater CNX comes in five different color options while the men's Clearwater CNX offers seven color options.
Pros
plus

Lightweight form and non-slip soles

plus

A wide selection of colors to choose from

plus

Men's and women's styles are available

plus

Stylish fabric and design
Cons
close

Expensive

close

Minimal padding
Merrell Women's Terran Lattice II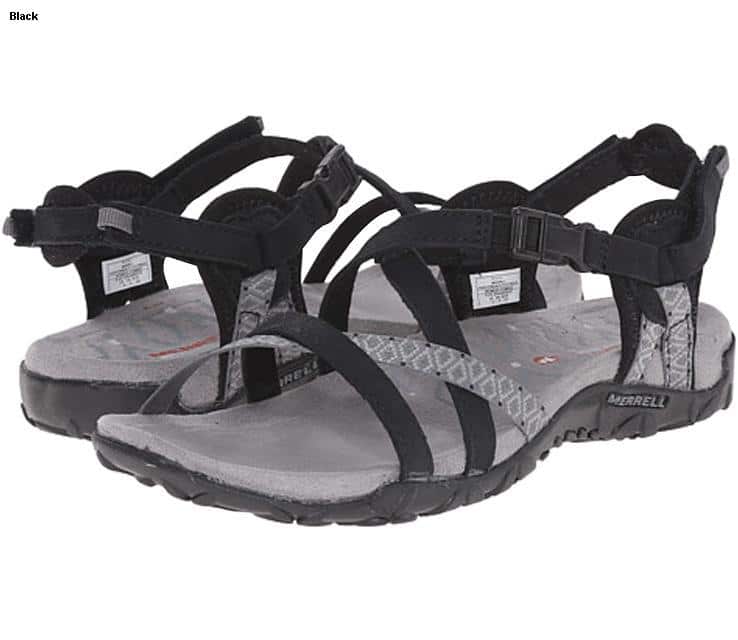 Slip into the Merrell Terran Lattice II, a soft strap adjustable hiking sandal. There are nine colors available ranging from a classic black to the more flash teal and lime. While these sandals are designed for hiking, they're cute enough to wear around town without giving it a second thought. While style is great, practicality matters more. Lucky for you, these sandals offer extra cushioning in the heel and full arch support.
Pros
plus

Nine different colors

plus

Cloth-wrapped straps provide extra comfort

plus

Fully adjustable straps

plus

Stylish fabric and design
Cons
close

Can run tight on the insteps

No half sizes are available
Teva Original Universal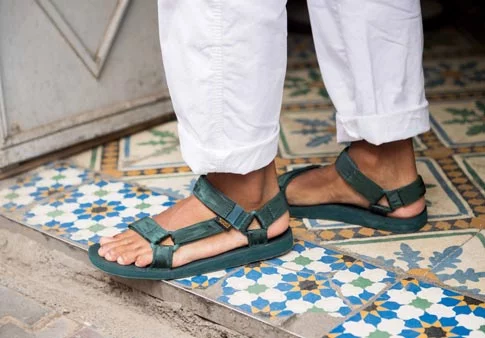 Looking for the best hiking sandals? Enter the amphibious Teva Original Universal. Not only are these shoes stylish but they are super comfortable too. The sole adds a cushioned step without absorbing water or adding extra weight. Furthermore, Teva's clever adjustable strap system allows for a more secure fit. Now, you'll never have to worry about trekking around with an annoying loose fit again. Keep in mind that Tevas are best-suited to those with wider feet.
Pros
plus

They stay in place when wet

plus

Do not absorb water

plus

Cushioned soles

plus

Adjustable fit
Cons
close

No toe strap

Can run wide and large

close

Some strap styles can be prone to fraying
Teva Men's Omnium Closed-Toe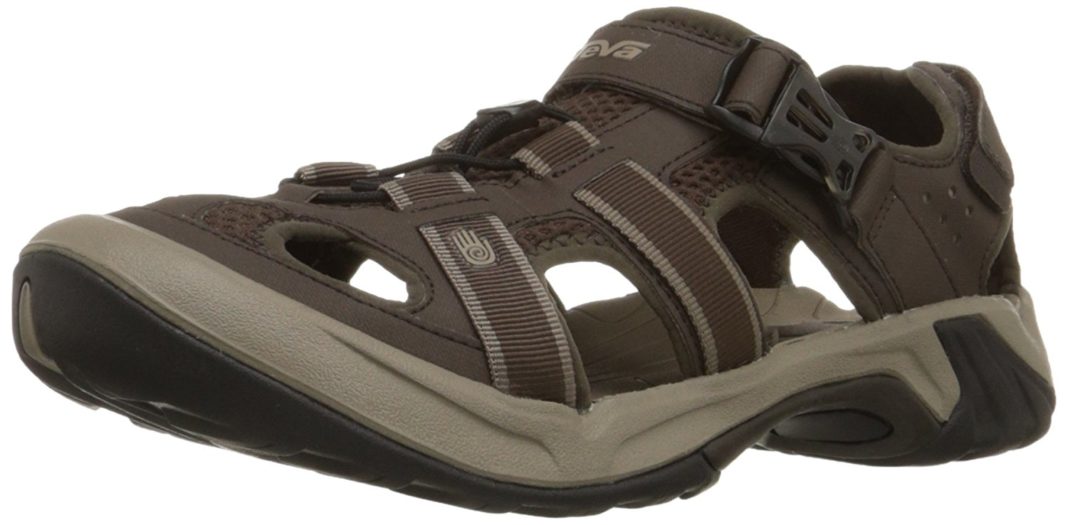 If you're looking for the best hiking sandals for men, you won't find better than the Teva Omnium Closed-Toe. Openings along the top and sides of the shoe allow for optimal air flow, while the thick heel strap provides more ankle support than many other types of hiking sandals. When it comes to finding your perfect fit, Teva offers this style in both regular and wide.
Pros
plus

Comes in both regular and wide fits

plus

Available in both men's and women's styles

plus

Lightweight with great coverage
Cons
close

The shoe's low profile can fit too tight on those with high arches

close

Sizing tends to run small (we recommend going up a half size)
Chaco Men's Z/2 Unaweep
We absolutely love the Men's Z/2 Unaweep. If you're looking for the best hiking shoes for men, you found them. The solid base is water resistant, so your shoes will stay lightweight and dry quickly. Non-slip soles give you all the traction you need to climb across slippery rocks and up moss-covered trails.
If this is your first pair of Chacos, we highly recommend getting a professional fitting. The brand tends to make products that run different than a regular shoe size. When you are ready to choose a pair from the Z/2 Unaweep, there are nine color and pattern combos to choose from.
Pros
plus

Nine

color and pattern combination options
plus

Good traction when wet

plus

Dries quickly
Cons
close

Sizing can be difficult; get a professional sizing opinion for your first pair of Chacos

Narrow foot bed
ECCO Men's Cheja Athletic
Guys, do you prefer the looking and feel of a stylish leather walking sandal? If so, check out the Cheja Athletic from ECCO, featuring a camel leather upper and rugged sole. While the sole definitely reduces shock from pounding the trail, extra shock absorption and heel support are an added bonus for many hiking enthusiasts. Keep in mind that these shoes are sold with European sizing, so make sure to double check your country's size with EU sizing before you buy them.
Pros
plus

Fully adjustable velcro straps

plus

Flexible leather upper

plus

Thick, shock-absorbent soles

plus

Extra shock absorption and heel support
Cons
close

Heavy

close

1 color available
We hope this article helped you to find the best hiking sandals for your next big adventure. Make sure to narrow down what your specific needs are before you make your big purchase.
Check out these other travel products that also make wonderful gifts for travelers.
Buy the Best Hiking Sandals for Your Needs
Should you have any questions or comments for us, please feel free to leave a message below. We will be sure to get back with you soon.
Related Article: Most Comfortable Sneakers For Fashion-Conscious Travelers
Danielle Dougall
Danielle Dougall is a photographer, avid writer, and traveler. Hailing from the rainy city of Seattle, WA she now lives in southern California where she enjoys longboarding, hiking, coffee shop hopping, and dreaming up destinations for her next international trip.