Sturdiness and style come together in the Keen Clearwater CNX. While the company is know for breaking the mold, these shoes take it a step further.
We particularly love how lightweight these shoes are. Even with its toe bumpers, the shoes remain nimble and sleek. You'll be impressed by their versatility. Be ready for whatever those back country trails and hiking paths take you in the Keen Clearwater CNX.
About the Brand
From beaches to mountains to city streets, Keen believes the outdoors is any place without a ceiling. Keen believes in living a hybrid life, which means being part of a greater community that is full of people who create possibilities, play in the outdoors and care for the world around them.
Updates to the Women's Keen Clearwater CNX Sandals
The CNX style provides lightweight comfort to the wearer. This technology cuts back on weight and delivers big on performance. The signature toe bumper protection is also featured in this sandal.
Women's KEEN Clearwater CNX Sandals Features & Benefits
In addition Keen has introduced the Cleansport NXT. This new technology is applied to various types of footwear to control odor. The Women's Keen Clearwater CNX utilizes this feature to keep feet fresh during the heat and free from perspiration.
Women's Keen Clearwater CNX Size and Fit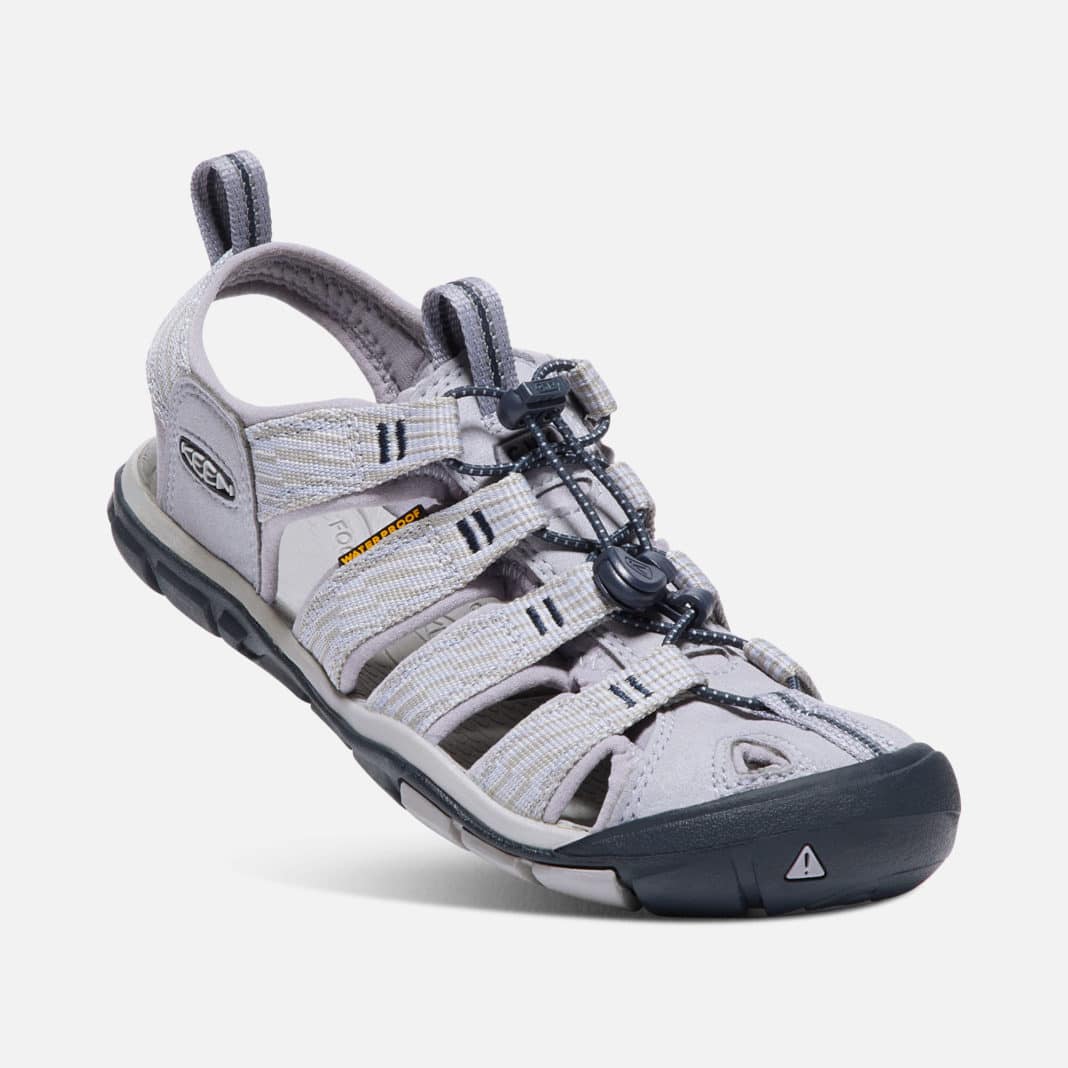 Credit: Keen
You'll be happy to know that these sandals run true to size. That means you won't have to go through the hassle of ordering a size up or down. Furthermore, even if you find yourself needing a smidge of extra room, the toe box of the Clearwater CNX is spacious enough to allow toe movement without cramping or pinching. The lacing system lends support to conforming the shoe to the shape of your foot without any pressure points.
Outsole
Credit: Keen
The natural flexibility and curvature of these shoes allow for great grip. You can take these shoes on a hike, slippery slopes, to the beach or really wherever you'd like. They hold up great.
Midsole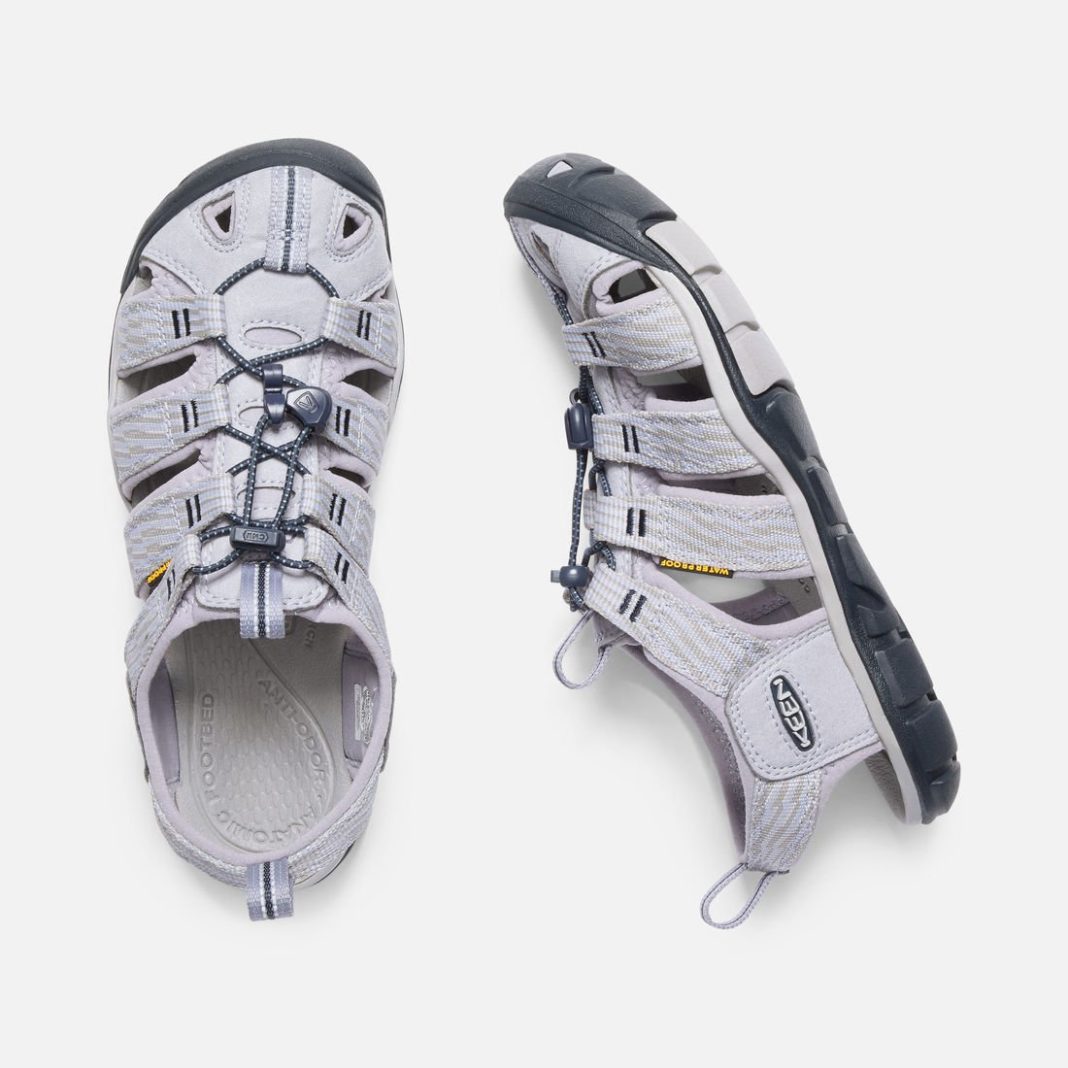 Credit: Keen
The Clearwater CX uses Keen's lightweight midsole for long-term comfort and support. Say goodbye to tired, achy feet after a long day of exploring. Furthermore, the PU midsoles are known for enhancing foot stability, providing additional support, and shock resistance. The shoe flexes just enough for natural foot movement without giving up support.
4mm Drop
The 4mm drop in the midsole offers a comfy fit and a more functional stride. Every inch of fabric is packed with microbes. They are bonded to the interior and lie dormant in the fibers until activated. Once they are activated through sweat, the microbes work round the clock to reduce odor through breaking down germs. Winning.
Upper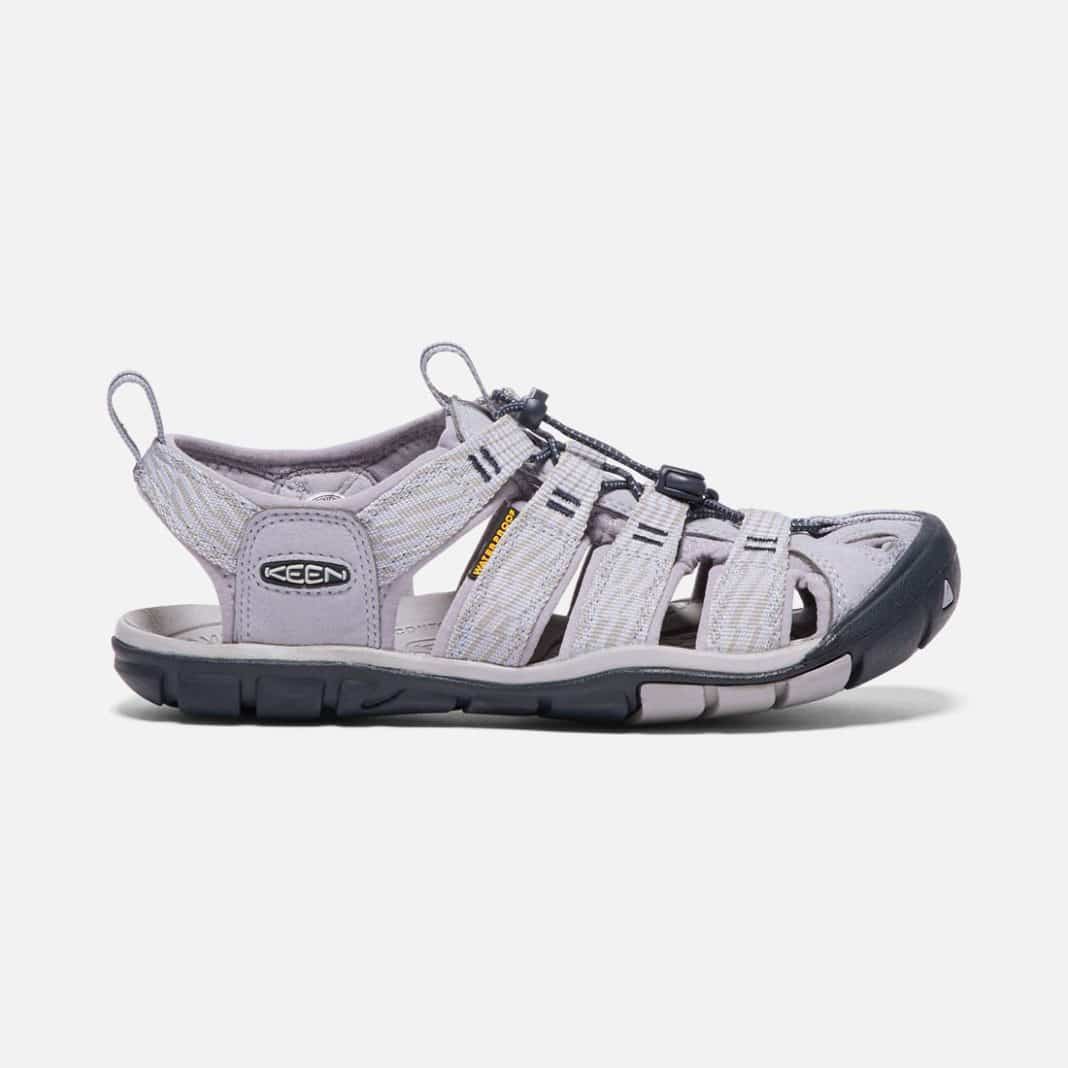 Credit: Keen
Okay, let's talk about the upper of the women's Keen Clearwater CNX Sandals. Made from a hydrophobic mesh fabric, they repel water with ease. That's just one of the many reasons why they make such great hiking and beach shoes. Furthermore, it's also lightweight and dries quickly. Breathability has never been easier.
We're Into It
While we're not sure we would have worn some of the older models, Keen has managed to clean up their style with the Clearwater CNX. They're not nearly as bulky as older models and maintain a much lower profile with a bungee lacing system. Pull tabs on the top of the heel make for it easy to slide on and off.
Additional Information
The Clearwater CNX are machine washable. You can toss it in the washing machine on a gentle cycle with cold water for easy cleaning. Allow the sandals to air dry.

Keen Clearwater CNX offers a leather version for both men and women.

Minimalists prefer low-drop footwear of this style.

check

Keen is proud to say the CNX sandals are now PFC-free.

check

Wanderlust Travel Magazine awarded the Clearwater CNX sandals the "Best In Test" award.
What Travelers Are Saying About the Women's KEEN Clearwater CNX Sandals
The Keen Clearwater CNX are great to use for everyday activities. You can wear these sandals almost anywhere.

Buyers were amazed at how lightweight the shoes are. You feel like you're walking on a cloud.

The Clearwater CNX can withstand everything from hiking, biking, walking to boating and more.

check

Stability is great even across uneven grounds.

check

There is a variety of colors to choose from.

check

Users were pleased with the support given by the Keen Clearwater CNX's thin midsole.

check

The shoes are machine washable.

check

You'll certainly get your money's worth with this sandal.

check

Users loved the minimalist feeling of these shoes.

check

The rubber toe box provides excellent protection, as remarked by several wearers.

check

Hiking enthusiasts loved the traction and tested it in various ground conditions.

check

Many users admired the comfort they received from the Keen Clearwater CNX.

check

Several users noted their appreciation for webbing, claiming that it allowed their feet to dry faster.
Other Comfortable Sandals That Are Perfect for Traveling
Want to shop around for other women's and men's travel sandals? Check out our picks of the best hiking sandals for affordable, durable options.
Merrell Women's Terran Lattice II
Are you looking for comfortable hiking shoes? Merrell is a solid company with a great reputation in the travel industry. Slip into the Merrell Terran Lattice II, a soft strap adjustable hiking sandal. There are nine colors available ranging from a classic black to the more flashy teal and lime.
Furthermore, while these sandals are designed for hiking, they're cute enough to wear around town without giving it a second thought. While style is great, practicality matters more. Lucky for you, these sandals offer extra cushioning in the heel and full arch support.
Teva Original Universal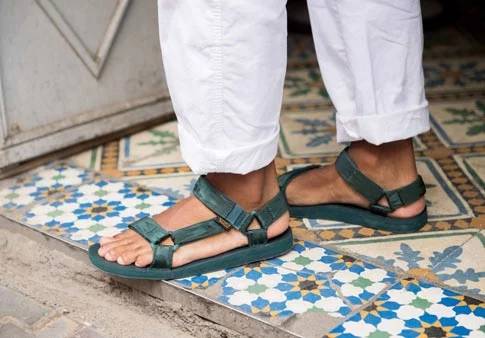 Have you been searching high and low for the best unisex hiking sandals? We've got just what you need. Enter the amphibious Teva Original Universal. Not only are these shoes stylish but they are super comfortable too. The sole adds a cushioned step without absorbing water or adding extra weight.
Special Feature
Furthermore, Teva's clever adjustable strap system allows for a more secure fit. Now, you'll never have to worry about trekking around with an annoying loose fit again. Keep in mind that Tevas are best-suited to those with wider feet.
Teva Men's Omnium Closed-Toe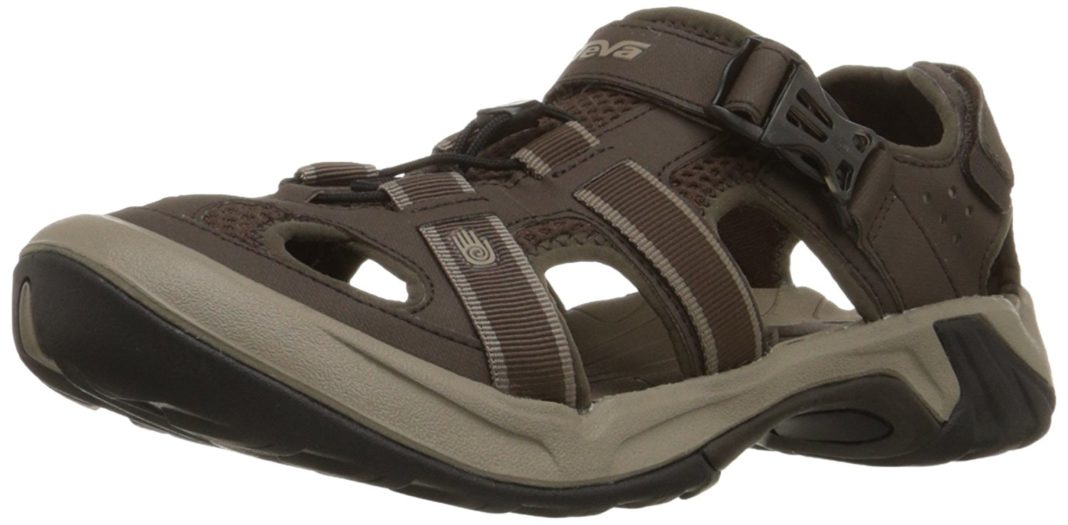 If you're looking for the best hiking sandals for men, you won't find better than the Teva Omnium Closed-Toe. Openings along the top and sides of the shoe allow for optimal air flow, while the thick heel strap provides more ankle support than many other types of hiking sandals. When it comes to finding your perfect fit, Teva offers this style in both regular and wide.
Chaco Men's Z/2 Unsweep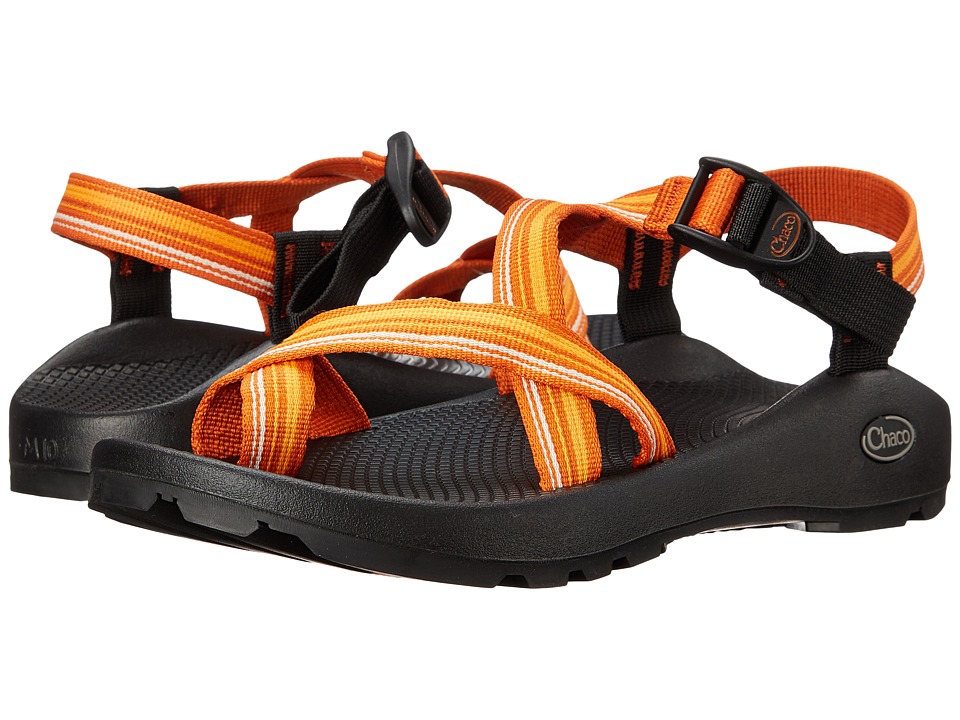 Finding men's hiking sandals can be hard. We absolutely love the Men's Z/2 Unsweep. If you're looking for the best hiking shoes for men, you found them. Furthermore, the solid base is water resistant, so your shoes will stay lightweight and dry quickly. Non-slip soles give you all the traction you need when you're climbing across slippery rocks and running up moss-covered trails.
Pro Tip:
If this is your first pair of Chacos, we highly recommend getting a professional fitting when you go to buy them. The brand tends to make products that run different than a regular shoe size. When you are ready to choose a pair from the Z/2 Unsweep, there are nine color and pattern combos to choose from.
ECCO Men's Cheja Athletic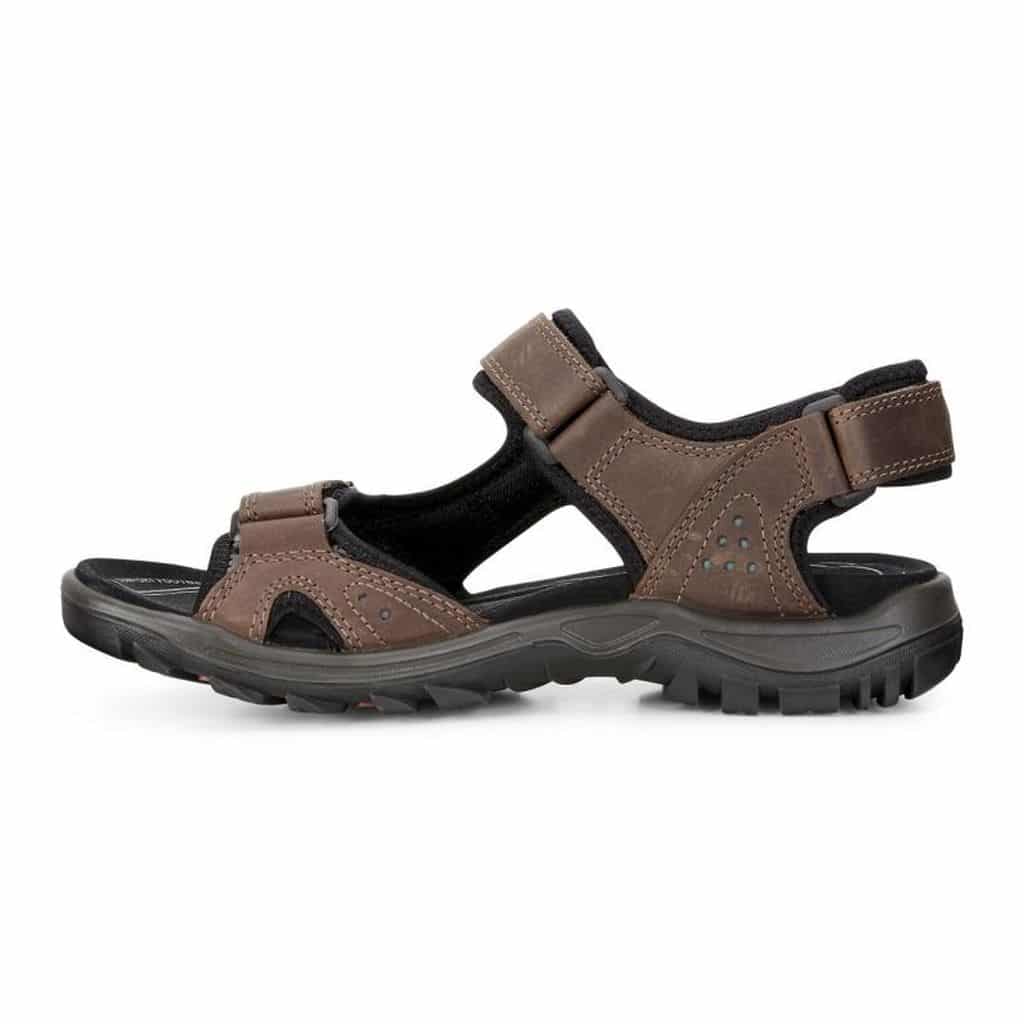 Here's another pair of great sandals. We know ECCO is a brand that stands apart. Guys, do you prefer the looking and feel of a stylish leather walking sandal? If so, check out the Cheja Athletic from ECCO, featuring a camel leather upper and rugged sole.
Pro Tip:
While the sole definitely reduces shock from pounding the trail, extra shock absorption and heel support are an added bonus for many hiking enthusiasts. Keep in mind that these shoes are sold with European sizing, so make sure to double check your country's size with EU sizing before you buy them.
Why You Should Be Wearing High Quality Travel Shoes On Your Adventures
When it comes to finding the best travel shoes, there are a few things you should consider before you make your purchase. If you're going hiking, a simple pair of Converse or Vans isn't going to cut it. You'll want sturdy, breathable shoes. Besides offering breathability, the best hiking sandals are water resistant, provide heel and ankle support, and are wonderfully lightweight.
Get It Right
Footwear is one of the most important pieces of gear to get right before you adventure. Choosing the wrong shoes will not only leave you unprotected but ridiculously uncomfortable. No one wants sweaty feet in the summer or blisters from shoes that rub. Sandals like the women's Keen Clearwater CNX are a great option for those who prefer feeling a little more free.
Questions and Comments
We hope this article helped to find the best travel shoes for your next big adventure. Make sure to narrow down what your specific needs are before you make your big purchase.
Should you have any questions or comments for us, please feel free to leave a message below. We will be sure to get back with you soon.
Related Article: ​Best Hiking Sandals for Your Adventures​​​