Are you looking for a good pair of women's travel sandals? Consider the Merrell Terran Lattice II.
These shoes take the definition of open to the max. With the Merrell Terran Lattice II, you can enjoy ultimate breathability. Furthermore, while you might think this quality would make the shoe less secure, it actually does the opposite. An array of decorative, adjustable straps lends your feet the ultimate support whenever you need it.
First Impressions
These shoes are designed for summer wear. Thanks to a breathable mesh lining, you can enjoy cool feet even in the hottest, stickiest weather. If you're looking for shoes to pack for that summer holiday, you won't find better than this pair from Merrell. The Merrell Terran Lattice promises to be a super comfy ride. Featuring a 'Remember Me' foam footbed with a nice soft base for max cushioning.
Merrell Women's Terran Lattice II Features & Benefits
In the heel, you'll find an air cushion for shock absorption for all the bumps in the road. In addition, a molded nylon foot shank conforms the Merrell Terran Lattice to support your arches and give you some much-needed assistance for long-day or all-day wear. Furthermore, this helps with the overall comfort and prevents unnecessary chafing. You could walk in these shoes all day without getting sore feet.
The Design
Credit: Amazon
In terms of looks, the Merrell Terran Lattice are definitely designed more for function than fashion. They're plain and simple in appearance but we can work with that. The shoes are two-toned in design, providing a touch of color to your outfit without being overwhelming. At the present time of writing, they are currently available in nine different shades on Amazon. Colors available include the following: Atlantis, Black, Dusty Olive, Navy, Slate, Taupe, Dark Earth, Fuschia, and Sleet.
The Fit and Wear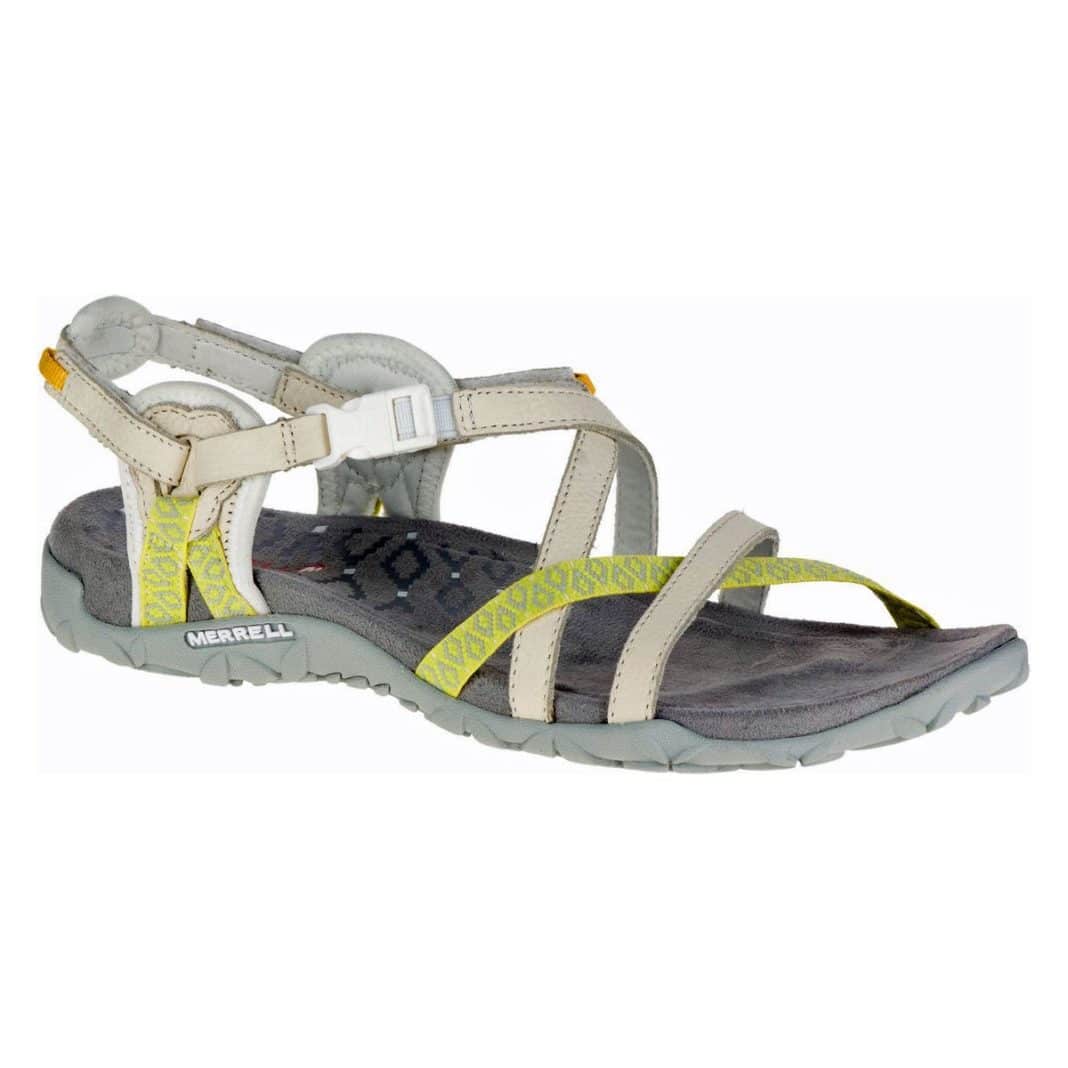 Credit: Amazon
We've said it before and we'll say it again. The most important thing about a pair of shoes is how comfortable they are and if they fit correctly. This is especially true for summer strappy sandals. Like most sandals, the Merrell Terran Lattice comes in a standard range of sizes from US to 5 to 11. As for width, they only come in a medium fitting.
The Comfort Factor
Merrell has done their absolute best to make wearing the Merrell Terran Lattice shoes a comfortable experience. The footbed is soft, breathable and conforms easily to the shape of your foot. Furthermore, the heel is equipped with a molded nylon arch shank for even more support. Unlike most strappy sandals, these straps are soft and don't cut into your feet.
Terrain
Credit: Merrell
Constructed from leather, these shoes offer a comfortable fit. You can buy various products to equip the Merrell Terran Lattice for waterproofing. Although we would not describe these shoes as being waterproof by any means, many customers did feel comfortable wearing them in wet conditions.
To prevent them from becoming waterlogged, clean them gently with a damp cloth or brush. Many travelers felt great going off road and walking for miles in these. Others thought they were better for every day walking. Either way, they hold up well under continuous use and after long hours of being on your feet.
What Travelers Are Saying About the Merrell Women's Terran Lattice II
These breathable mesh-and-leather sandals have a bright pop of color and keep your feet feeling as cool and carefree as you look wearing them. These shoes are comfortable and there's no breaking in needed. What we liked best was that there was no 'breaking in' time needed for this sandal.
Comfortabilty
The footbed is extremely comfortable and the straps are super adjustable, making for a perfect fit. This sandal is light but sturdy. Even if you're not a sandal kind of girl, these really are cute. The straps are thin and keep the sandal from looking clunky/chunky… you know what we mean. I walked for days in these without issue, and they looked great with shorts and skirts.
Stand Out Review
One review that stood out to us the most described these shoes as fantastic walking shoes. The reviewer said: "These shoes saved my feet. I bought these for a 2-week vacation to Europe where we were walking 20,000+ steps a day and I'm sure my feet would have been destroyed without them. They're comfortable & they didn't rub (except one day in Italy, but I'm blaming that on the crazy heat and sweat).
What Worked for Her
She said: "I went back and forth between these and a pair of Sketchers, and one day the Sketchers gave me a few blisters, so I switched to these and they didn't irritate the blisters at all. I'm so impressed with these I'm definitely getting some Merrell closed walking shoes for the next big vacation."
Other Comfortable Shoes That Are Perfect for Traveling
When it comes to finding the best travel shoes, there are a few things you should consider before you make your purchase. If you're going hiking, a simple pair of flip flops or Vans isn't going to cut it. You'll want sturdy, breathable shoes like the Merrell Terran Lattice. Besides offering breathability, the best hiking sandals are water resistant, provide heel and ankle support, and are wonderfully lightweight.
Keen Women's Clearwater CNX
Thanks to a solid grip lightweight tread, these hiking sandals work well even on slick or uneven terrain. You don't need to worry about getting cold wet feet walking through water either. The body of the shoes are water resistant and designed to dry very quickly. KEEN sandals are widely recognized for having the best arch support on the market. Keep in mind that the sizing can vary from style to style. The women's Clearwater CNX comes in five different color options while the men's Clearwater CNX offers seven color options.
Teva Original Universal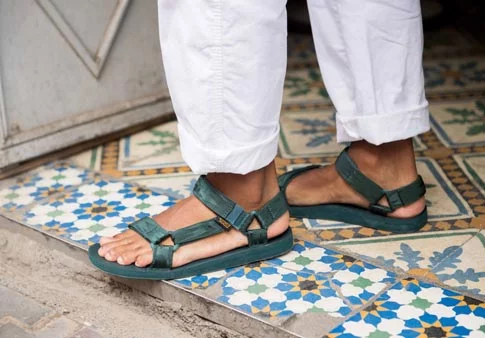 Credit: Teva
Looking for the best hiking sandals? Enter the amphibious Teva Original Universal. Not only are these shoes stylish but they are super comfortable too. The sole adds a cushioned step without absorbing water or adding extra weight. Furthermore, Teva's clever adjustable strap system allows for a more secure fit. Now, you'll never have to worry about trekking around with an annoying loose fit again. Keep in mind that Tevas are best-suited to those with wider feet.
Nike Air Max 97 Ultra 17 LX
Credit: Amazon
Are you looking for both style and a good travel shoe,  you're in luck. The unisex Nike Air Max is an amazing buy. We're absolutely in love with the vintage 90s and futuristic blend. Compare the new Nike Air Max 97 Ultra 17 LX to the original model and you can easily distinguish they belong to different eras.
The Details
Nike's Ultra employs the use of synthetic materials attached to the upper to keep it clean and sleek. The older model featured a heavily-stitched multi-layered element. Last but certainly not least, the new Nike Air Max style sports reduced volume in the midsole, putting your feet closer to the ground.
Another Key Point
Furthermore, another key point is that the upper body of the Nike Air Max 97 Ultra 17 LX  is made from a jacquard fabric. The material's woven texture design has a much more intricate appearance than your standard printed fabric. An interlaced solid pattern makes the upper shoe very durable. Don't even get us started on the arch support and shock absorption of these shoes. You'll feel like you're walking on a dream.
Tiosebon Casual Women's Walking Sneakers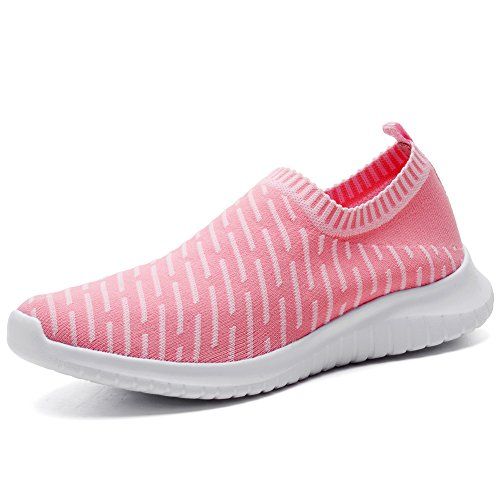 Cruise the streets for hours while your feet breathe easy. Tiosebon has created a simple, natural, comfortable, environmental shoe. They offer perfect accord with human body engineering, these casual mesh walking shoes sport a green, healthy concept design.
The Details
Have you seen the price? It's crazy cheap.  Take a look and you can tell a stretchy upper fabric makes the Tioesbon a very comfortable shoe. They're sleek and sophisticated-looking too. Since they don't have a zipper, you might need a finger to slide them on. You might even need to go up a half a size. This is a wonderful shoe and at only $19.99 – $29.99, you can't beat the price.
Wear Them Anywhere
Wear these anywhere. These shoes will hold up great for spring through fall travels. The only downer about them is that they won't be as sturdy as top-notch brands. Check out our full review of the Tiosebon sneakers.
Invest In the Most Comfortable Travel Shoes for Your Travels
When you're traveling, it is so helpful to have a good pair of shoes. The comfortable sneakers we showcased offer amazing picks in both style and comfort. Make sure to consider both when picking the best sneakers for your travels. We hope this article helped to narrow down your selection as you go to choose a good pair of travel sneakers for your next big trip.
Questions and Comments
Do you have a favorite pair of comfy travel shoes you take everywhere you go? We want to hear all about your top travel shoe picks. Additionally, if you have any questions or comments for us, please feel free to leave us a message below. We love hearing from you!
Related Article: ​​Best Hiking Sandals for Your Adventures​​​