Cobblestone streets lead you down old alleyways to classic pubs. Everything in this city teems with a vivacious spirit stemming from an old and proud history. You're in Ireland's capital city – exploring a whole world of things to do in Dublin.
Everywhere you look, there are layers of history. Traces of Ireland's Viking past have all but been washed away. However, the city still acts as a living testament to its evolution. Medieval castles and ornate cathedrals stand on grand display alongside architecture from the 18th century to modern day. You'll never run out of things to do in Dublin.
While some Dubliners say that their city isn't the prettiest, we heartily disagree. In the first place, its quirky charm goes a long way. Amiable and witty, Dublin locals are some of the friendliest people you'll ever meet. It's no wonder that tourism is on the rise in Ireland. Everyone you ask has their favorite joint, ranging from time-old classics to that shiny new pub that just opened right across the street. With more than 1,000 to choose from, it's safe to say your options will never run dry.
The 10 Most Fun Things to Do In Dublin, Ireland
Alright, let's get to it. Here are our top picks for the most fun things to do in Dublin, Ireland. Instead of going to all the touristy hot spots, we're showing you some time old favorites and historic relics.
1. Grab A Frosty Beer At the Temple Bar Pub
Even if you don't like beer, go here for the Instagram pictures. The cute old-timey red building of the Temple Bar is the quintessential Dublin. For those of you who actually do love the frothy good stuff, the Temple Bar Pub is the place to be. It's one of the most iconic buildings in the city, with tourists flocking from all across the globe to come and drink within its walls.
It's no wonder why. After all, the history of the bar dates all the way back to the 1300s. Today, it remains popular due to its famous cherry red exterior, central downtown location, and its place as an integral part of Dublin's nightlife scene.
2. Take A Photo At the Famous Spire of Dublin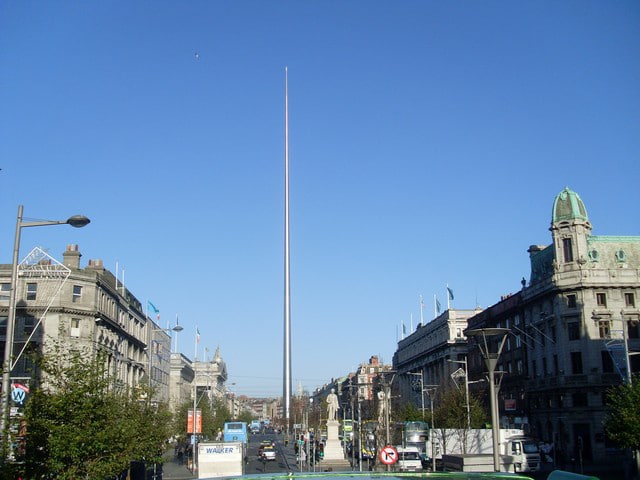 Okay, this is one of the touristy things to do in Dublin but you still have to do it. Don't tell us you haven't heard of the famous Dublin Spire. Standing 120 meters above ground, it towers above the center of O' Connell street. Stainless steel comprises the entire structure, spanning 3 meters at its base and 15 centimeters at the apex. Furthermore, on sunny days, the sun illuminates the exterior, lighting up this monument for everyone around. At night, the tip of the structure acts as a beacon in the dark sky.
3. Bask In the Glory of St. Patrick's Cathedral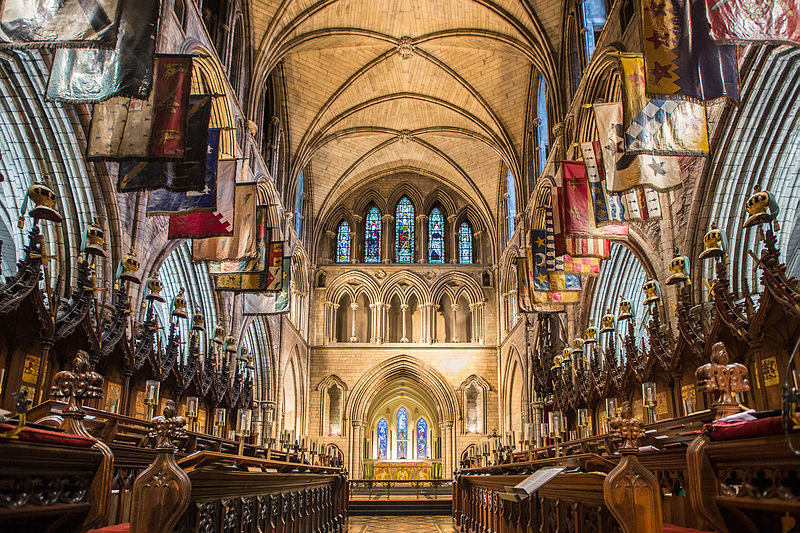 St. Patrick's Cathedral is widely known as the largest in Ireland. Constructed in 1191, the Cathedral has stood through more than 800 years of history, life, and culture. Come and marvel at the beautiful architecture within and without. It is also famous for being the resting place of Jonathan Swift, author of Gulliver's Travels.
4. Take A Morning Stroll Through Phoenix Park
This is one of our favorite things to do in Dublin. Come and visit the largest enclosed public park among the capital cities of Europe. Originally designed as a royal hunting park in the 1660s, Phoenix Park first opened to the public in 1747. A large herd of deer still remain on the grounds to this day. The park is also home to the gorgeous Zoological Gardens Áras an Uachtaráin, and Victorian flower gardens. It enjoys close proximity to the sites of downtown.
With this in mind, the Phoenix Park can be found just a mile and a half away from the popular O'Connell Street. Even in the early mornings, you'll see runners starting their day off with a little fresh air and a whole lot of the great outdoors. Other common recreational pursuits here include polo, cricket, hurling, and more. There are many walking and bicycling trails made available to the public.
Come and enjoy the greenery 24 hours a day, 7 days, a week all year long. The main gates of the park at Parkgate Street and Castleknock Gate are open 24 hours as well. The side gates of the park are open between the hours of 7 AM until approximately 10:45 PM.
5. Walk Along Ha'penny Bridge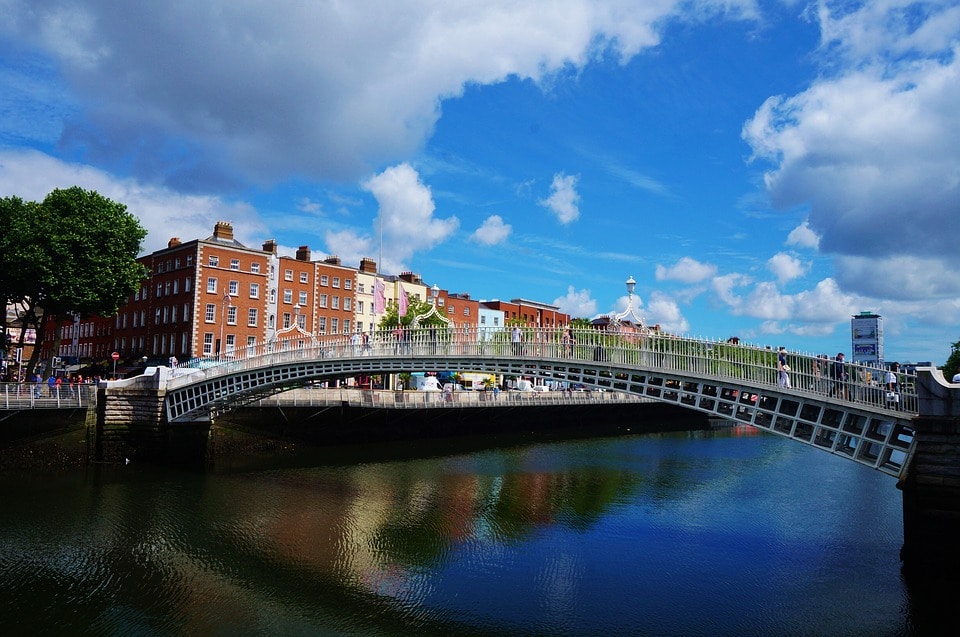 There's no better view of the River Liffey than the one from Ha'Penny Bridge. This strikingly beautiful white picket fence bridge has quite the history. It actually gained its name from the price pedestrians once paid (half a penny) to cross the bridge when it was first built back in 1816. Today, it is one of the famous landmarks home to Dublin appearing on tourism brochures, postcards, books, and other paraphernalia. Yes, it's another touristy spot but it's one of the musts on our list of things to do in Dublin.
6. Visit the Beautiful Christ Church Cathedral
The beautiful Christ Church Cathedral if yet another one of Dublin's beautiful architectural wonders. As Dublin's oldest building, you can learn a lot about the city's history from paying a visit. Furthermore, it has served as a place of pilgrimage for more than 1,000 years. Renowned for its beauty and exquisite architecture, it is home to the famous 12th-century Crypt, one of the oldest and largest in Britain and Ireland.
Sitriuc King of the Norseman founded the church in 1030. The Irish church incorporated it in 1152. Over the years, it has borne witness to many significant historical events, among which includes the crowning of Lambert Simnel as Edward VI in 1487.
In addition to the Crypt, it houses manuscripts and ancient artifacts as well as an exhibition of 16th-century costumes from the TV series 'The Tudors.' If you'd like, you can also get an audio tour in either Italian or English. If you're interested in checking out some epic Irish castles, click here.
7. Read A Book At Trinity College Library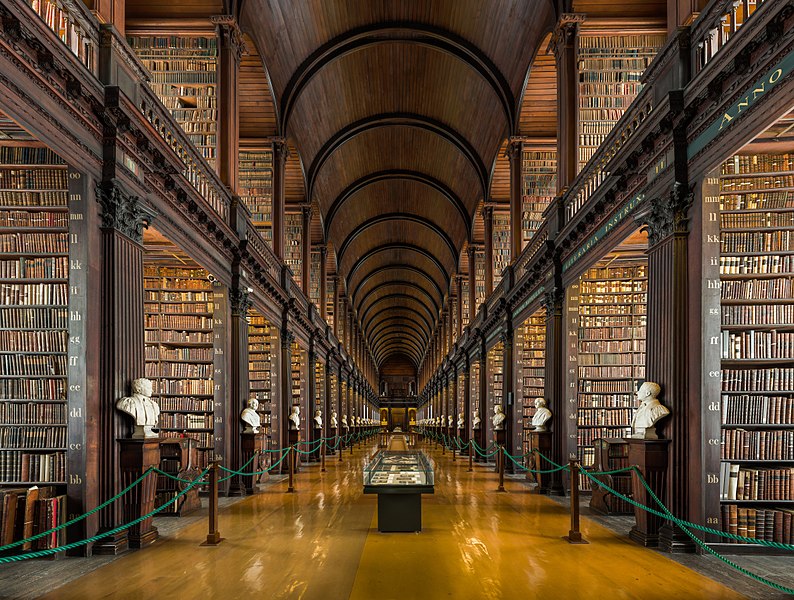 Go see this architectural wonder; it's one of the top things to do in Dublin. If you're short on time, skip the tours and go to the Long Room at Trinity College Library. Built between 1712-32, it houses the library's collection of 200,000 old books. Dark furnishings and rows of books line from the floor to the ceiling in a very Hogwarts-esque manner.
Before you walk around, stop and take a look at the beautiful barrel ceiling above you. It was actually added on in 1860 to make room for more works when the existing shelves became full. It's basically like a bibliophile's fantasy of the Gemino Curse. Marble busts of famous philosophers and writers line the central walkway of a nearly 200-foot long, narrow room.
Book Of Kells
A sweeping collection of works housed in the Long Room include a rare and cherished copy of the 1916 Proclamation of the Irish Republic as well as a 15th-century wooden harp. Last but certainly not least is the Long Room's most famous holding – the manuscript known as the Book of Kells. To say nothing of it would be a shame. Adorned with ornate Christian and Celtic iconography, the images throughout the text have become synonymous with Irish identity.
The text was created around 800 AD by Christian monks residing in Scotland's Isle of Iona. The Book of Kells is composed of four gospels, all of which were transcribed by hand. Its name was derived from the monastery at Kells; this was a place where many monks sought refuge following a Viking raid. As a result, Kells became the manuscript's place of holding for centuries. The sacred text was conferred to Trinity College in 1661, following the Cromwellian attacks on religious institutions.
8. Take A Day Trip to the Cliffs of Moher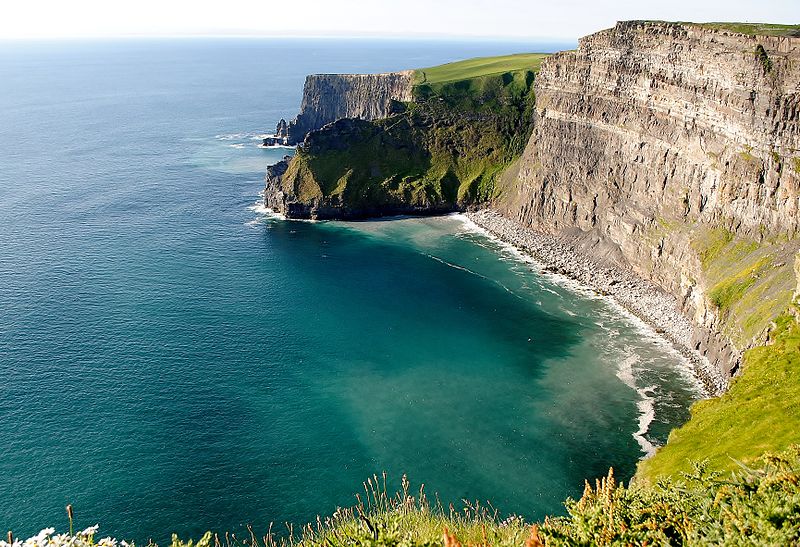 We don't care if this is a bit out of the way. If you don't visit and take a thousand pictures to send home, you must be crazy. The Cliffs of Moher are easily one of the most beautiful places to visit on the planet. These natural wonders were a shooting location for various films including Harry Potter and the Half-Blood Prince and the Princess Bride.
What to Bring
They are a breathtaking place to see in person. Bring some food with you, spread out a blanket, and have the most epic picnic in the world. To plan your visit, stop by any tourism center in the city. Depending on the season and tourism levels, your visit will cost you anywhere between 15 to 40 Euros. They truly are a must-see. Due to popularity, we highly recommend booking in advance so that tickets do not sell out.
9. Grab A Cup of Coffee At Love Supreme
Love Supreme first opened their doors in 2014 and the coffee has been flowing ever since. Here, you'll find the absolute best pastries made in an on-site mini bakery. The piping hot joe served up is given courtesy of Koppi Fine Coffee Roasters in Sweden. They absolutely love working with this roaster and their fantastic selection of beans. Their food is absolutely delicious as well, using only the finest produce. As far as coffee shops go, Love Supreme tops our list of things to do in Dublin.
10. Explore the Natural Beauty of the Nearby Wicklow Mountains National Park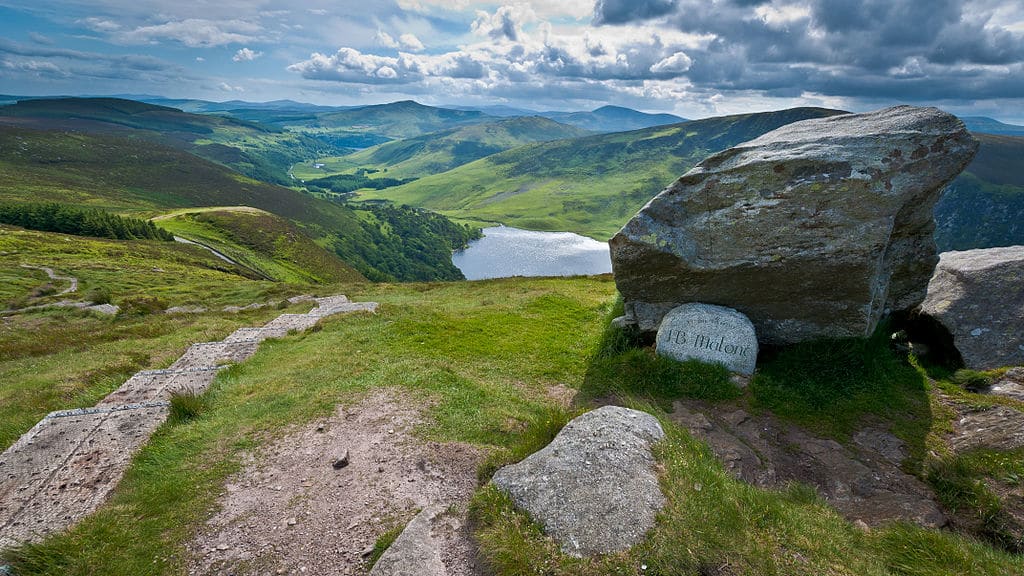 This is another day trip outside the city but it's so worth it. If you're visiting Dublin in the spring or summer, the weather at Wicklow Mountains National Park is great for hiking, camping, picnicking, and more. It's also been a filming site for some popular movies. As a matter of fact, it was a filming location for the popular romance film P.S. I Love You. However, it looks even more beautiful in person than on the big screen.
If you want to get a basic tour, it costs around 22 Euros, which will cover your transit to and from Dublin. You'll also learn a brief history of the area, get treated to a traditional Irish lunch, and have some free time to roam and enjoy the land's natural beauty. Just make sure to bring a good travel camera.
Book Your Dream Vacation to Visit the Best Things to Do In Dublin
Go visit Dublin! Spring and summer are great times to visit. The best times are between May and August when the weather is a bit warmer than the rest of the year. It's also peak time for festivals. If you want to skip the crowds and peak season prices though, perhaps you should consider visiting in the shoulder season. Check out the best Irish travel deals here.
There's some kind of magic in this city that will bring you back again and again.
Have you been to Dublin before? Comment below with some of your favorite places in the city.
Related Article: Things to Do in Belfast, Ireland: History, Adventure, and Culture