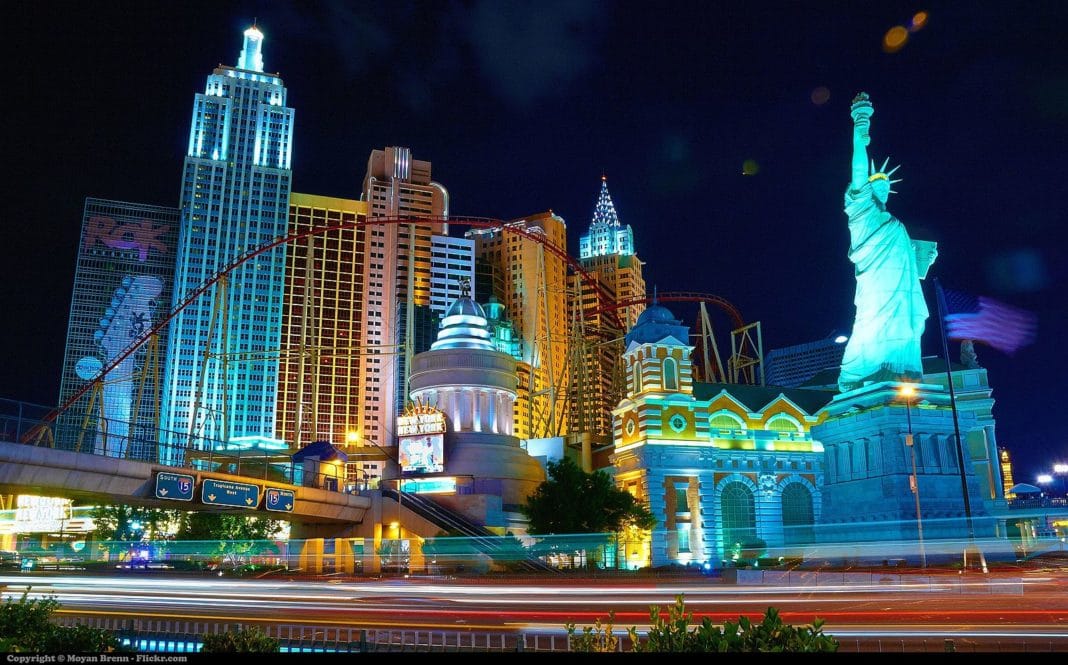 Let's explore the best hotels in Las Vegas.
The Strip promises adventure, entertainment, and for the lucky ones – maybe even a chance at fame. You're traveling for luxury. That's why we're here. Roll the dice until sunrise in Sin City. Welcome to an oasis of indulgence in the desert. The excitement, glitz, and glamor of Las Vegas are unrivaled.
There are very few places outside mega-cities like London, New York, Los Angeles, and Paris where you can pay to see A-list celebrities and million-dollar shows. Here, it's the norm. Some of the best hotels in Las Vegas feature stellar magic shows, concerts, and entertainment nearly every night.
Driving down the streets, you'll see signs advertising JLO, Celine Dion, and the Backstreet Boys headlining a local event. Top it all off with performances from Cirque du Soleil, the Blue Man Group, and Steve Aoki and you'll have a jam-packed schedule.
| Image | Hotel | Rating | Prices |
| --- | --- | --- | --- |
| | | 4 out of 5 | |
| | | 4 out of 5 | |
| | | 4.5 out of 5 | |
| | | 4.5 out of 5 | |
| | | 4.5 out of 5 | |
| | | 4.5 out of 5 | |
QUICK NAVIGATION
Why You Should Visit Las Vegas
With all this info, your head is probably spinning. We bet you're wondering 'Where should I go, what should I see, and most importantly – where should I stay?' Don't worry. We've got you covered. Let's take one thing at a time. As crazy as it sounds, chances are, all those things can be found in the best hotels in Las Vegas.
With all this info, your head is probably spinning. We bet you're wondering 'Where should I go, what should I see, and most importantly – where should I stay?' Don't worry. We've got you covered. Let's take one thing at a time. As crazy as it sounds, chances are, all those things can be found inside the best hotels in Las Vegas.
The Best Hotels in Las Vegas
There's a perfect hotel out there for every Vegas visitor. When you travel to a normal city like Austin or Portland, how do you choose your hotel? You look at a list of places that seem to be downtown and fairly close to the activities you want to choose, preferably within walking distance.
But Las Vegas is not your normal city. Everything you could find is located on that one big brand central Strip (except for the magical drive-thru coffee Dutch Bros). Even so, it's impossible to see it all. Here, the resorts are the size of your average city block. The casinos are so big that you can get lost in them. Yes, this has happened. Let's put it this way. Walking from your hotel room through the casino to the blackjack table next door could take you a half an hour.
This is why you need to give a lot of thought to where you want to stay. What kind of amenities do you want? Did you come to see specific landmarks or to enjoy a specific show? Consider the following
check-circle-o

Location

check-circle-o

Theme and vibe

check-circle-o

Price points

check-circle-o

On-site amenities

check-circle-o

Surcharges
How to Choose The Best Hotel in Las Vegas for Your Stay
If a friend asks you where you're going to stay in Las Vegas and you reply 'I don't know,' they're going to think you're crazy. While there's plenty of places to choose from, the options are plentiful enough to get your head spinning. The fact of the matter is where you stay can significantly impact your Vegas experience. Take it from people who've been a few times. There are many factors to consider before you book.
It's All About the Location
First things first. Without hesitation, all of the best hotels in Las Vegas are on the Strip. Stay where the action is at. Why is this so important? We'll tell you. Everything is massive and overwhelmingly exciting. Hotels tower above the rest of the buildings, multi-colored ornate casinos line the streets, and the properties are all garishly flashy.
You can spend five minutes walking along the street and still be in front of the same casino. We told you they take up a city block, remember? Due to the sheer size of the Las Vegas Strip, it's easy to spend a good amount of time in your hotel or visiting casinos in close vicinity. Hotels on the Strip are actually extremely cheap.
In the off-season, you can book one of the nicest ones (four to five stars) for about $24. It's crazy. Don't be fooled though. Vegas will take your money in other not-so-sneaky ways. The margaritas, penny slots (which don't really take pennies), and late night eats all add up. If you choose to stay off the Strip, we don't understand you. You're going to spend a fortune in taxi and Uber fare to get anywhere.
Choose the Theme and Vibe You Want In A Hotel
Vegas hotel themes run the full gambit. Do you want to pretend you're on a chic European vacation? Would you like to sleep in a castle? Are you looking for a more luxurious experience or a flashy, flirty escape?
Think about it this way. Do you want to be able to run downstairs at 2 AM in your pajamas for a bottle of water or would you prefer a place where the party is just getting started at that time? While we're partial to luxury stays without pretension, we do appreciate a little fun too. The choice is entirely up to you.
You Get What You Pay For
As annoying as it is, this old cliche is true. Most of the time, you get what you pay for. If you're traveling during peak season, you won't find a $24 hotel in the city. The best hotels in Las Vegas are not bargain basement deals. You might think you're not going to be in your room that much.
Even so, you don't want a musty-smelling room that feels like your Grandma's attic. If you're traveling with friends or your significant other, split the costs and go for something nice. Plus, when you're in the city, everyone wants to feel like a baller. Live a little!
Think About the On-Site Amenities
Is there a casino in your hotel? While there's a 90% chance there is, it's worth checking. After all, if there isn't a casino, is it really Vegas? While we're not much of gamblers (or good ones anyway), we do love the ambiance. Nothing makes you feel cooler than wearing a plastic black visor and dealing out poker chips. Or maybe that's just us. Moving on.
Make sure to also check out the pool scene. What's it like? Is it filled with screaming kids who probably peed in it? That's disgusting. Move right along. This is where it's okay to be that picky person. During pool season (aka May through September), the deck is where you'll spend most of your time.
Here's A Pro Tip
Makers of a good pool include cabanas, lounge chairs, and plenty of palms. Some pools also offer a swim-up blackjack section. How awesome is that? Does the hotel host an epic pool party? Djs, drinks, and a little fun in the sun are never a bad combo.
Restaurants, coffee shops, fitness centers, social spaces, and entertainment are all factors you should consider when choosing a hotel too. They all add up to creating a much more convenient stay for you.
Things to Consider When Choosing the Best Hotels In Las Vegas for Your Stay
After some serious vacay reflection, it's almost time to move on and book that Vegas trip. We've broken down the hotel options into an easy-to-read list just for you. Now, you can stop stressing and start strategizing. Let's go.
1. How Long Should You Go For?
Take it from us, after you've been in Vegas three or four days, you are dead tired and more than ready to go home. All that lounging by the pool and losing money in craps really takes it out of you.
2. When Should You Go?
Well, it depends on whether you prefer traveling in the off-season, shoulder season, or high season? While most people say any time of the year is great to go, we think April and early December are the best. You'll beat the heat and a lot of the crowds.
Here Are Some Tips You'll Need to Know
When you get to Vegas, stop by a grocery store and fill up on water bottles, coffee, drinks, and snacks. You'll save a fortune. Don't buy these at your hotel. A Starbucks latte will set you back about $7 in the lobby. Just saying.

Check with your phone carrier to see if your data plan covers this area. Making phone calls from your hotel room is ridiculously expensive. The only number you should dial there is room service.

Pack at least one pair of comfortable walking shoes and one pair of flip-flops. The flip-flops are only for the pool. If you walk the Strip with them all day, your feet will ache for days.

check

Are you traveling any time between late October through early April? Bring clothes for both cool and warm weather.
Here Are the Best Hotels In Las Vegas
Where would you like to spend the night? Inside a pyramid, Venice, Paris, or NYC? Well, you're in luck. The best hotels in Las Vegas offer all of the above. Our picks for the top hotels have unique personalities and quirks of their own. Like we said, there's something here to please all kinds of travelers. Here they are, in no particular order.
1. Stratosphere
Credit: Booking.com
Come stay in the center of the action. The Stratosphere Casino, Hotel & Tower is conveniently located between downtown and the Strip. It is close to prime shopping, the monorail, and the Convention Center with easy access to I-15 and free valet and self-parking.
Enjoy one of the best hotels in Las Vegas and discounted access to some of the most iconic landmarks on the Las Vegas Strip, the Stratosphere Tower. As the tallest freestanding observation tower in the country, it offers stellar views of the city (make sure to bring a good travel camera), award-winning fine dining and lounges, specialty retailers and more.
Oh yeah, there's also the Chapel In the Clouds (where we think Rachel and Ross should have gone), the country's highest thrill rides, and Jump Las Vegas.
The hotel also features 2,429 spacious guest rooms and suites, an 80,000 square foot casino equipped with popular themes games, slots, and a newly-renovated Race and Sportsbook. You'll also find themed restaurants, two rooftop pools, a fitness center, over thirty retail shops, live DJ entertainment every night, and more. Feel free to check out their website for additional details. It's one of the best hotels in Las Vegas.
Pros
plus

Amazing views

plus

Decent prices

plus

World-class dining and entertainment
Cons
close

A fairly far walk from the Strip

Small windows in room

close

Long walk to the hotel pool from most rooms
2. Golden Nugget Las Vegas Hotel & Casino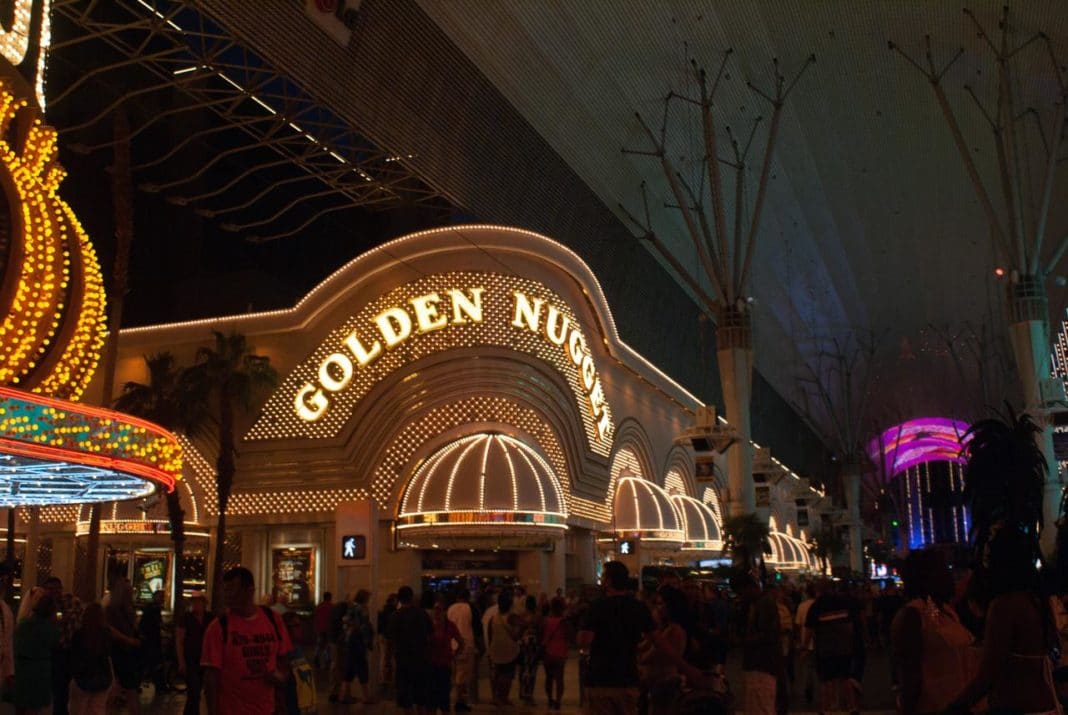 Credit: Booking.com
For that winning feeling, come stay at the Golden Nugget Las Vegas Hotel & Casino. Overlooking the Fremont Street experience, this classic casino hotel downtown has been pleasing guests since 1946. Here, modern rooms offer all the amenities you could desire. Suites in the hotel's four towers come with marble bathtubs, 42-inch flat screen TVs, club rooms with whirlpool baths, and floor-to-ceiling windows for an amazing skyline view.
Added perks include a bustling casino, an outdoor pool with a waterslide that shoots you down through a shark tank, a fitness center, spa, live entertainment, and several dining options. There's also a renowned steakhouse and amazing Mexican tequila bar. Best of all, there's no resort fee.
Pros
plus

Located on the Strip

plus

45,000 square foot casino

plus

Two pools
Cons
close

Smoking is permitted in all common areas

Carson rooms need to be updated

close

Charge for WiFi
3. The Palazzo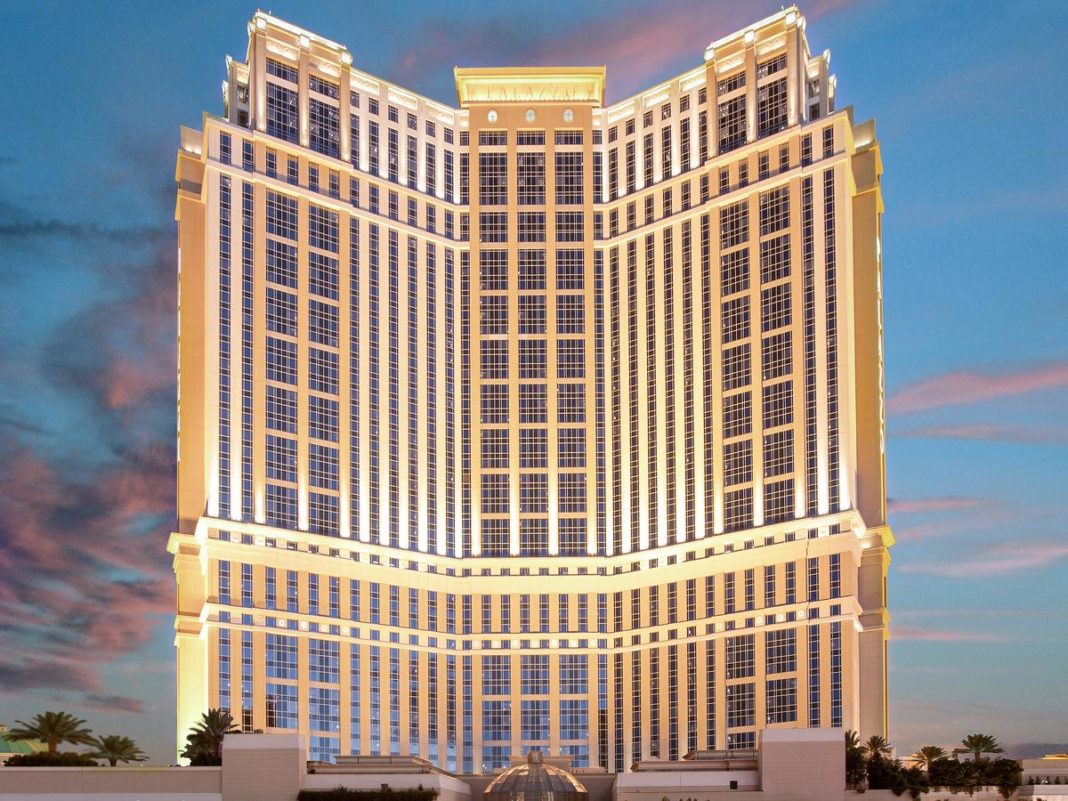 Credit: Booking.com
Check out the Palazzo, one of the best hotels in Las Vegas. Nearly double the size of your average Las Vegas room, the Palazzo kicks everything up a notch. Their suites have everything you need and more. Celebrity Radio UK calls them "…Divine, elegant, spacious, perfectly-designed, and offer the epitome of decadence, indulgence, and luxury." We couldn't agree more. This hotel delivers unparalleled hospitality for a once in a lifetime experience.
Pros
plus

Spacious rooms

plus

Courteous and helpful staff

plus

Complimentary valet parking
Cons
close

Resort fee

Old furniture
4. The Venetian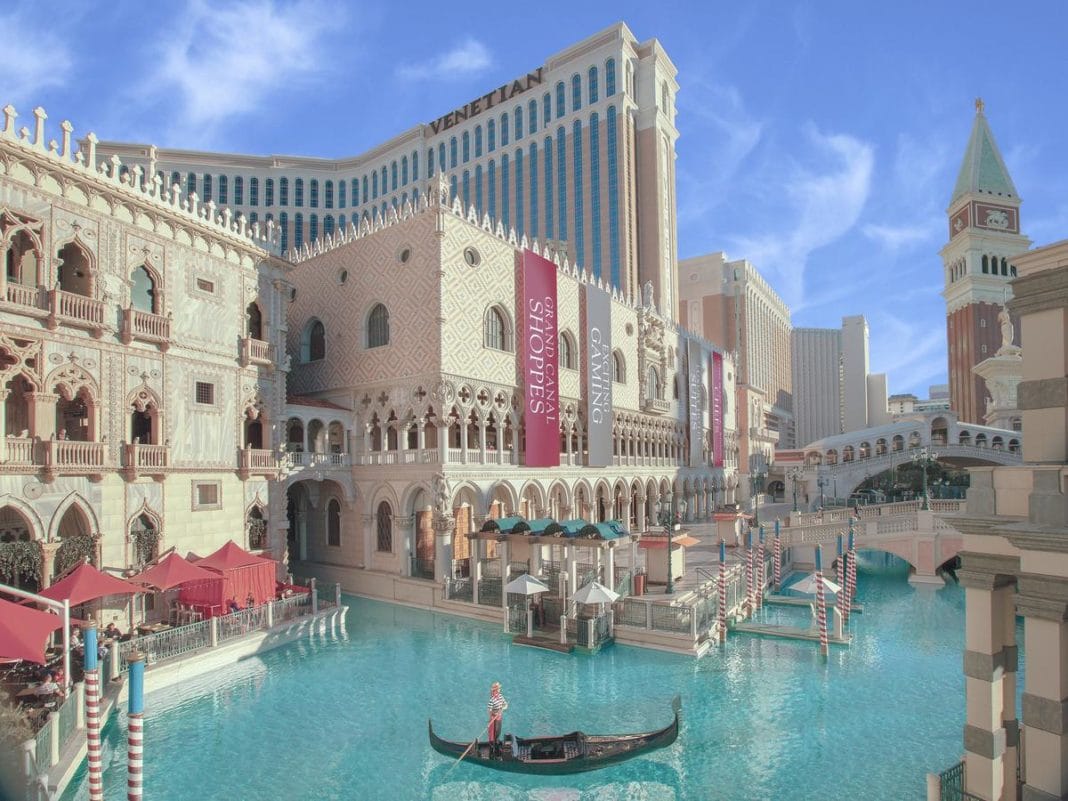 Credit: Booking.com
Kid-friendly luxury in Las Vegas? Could that even be real? Well, it is at the Venetian. Here's the bottom line. Like the Paris and NYC hotels lining the Strip, the 5,030-room Venetian hotel offers a sweeping and extravagant escape from the desert heat. Gondola rides and a replica of St. Mark's Square are just an added cherry on top.
The Venetian sets itself apart from other theme-driven hotels with its massive guest room sizes, a world-class spa with 90 different treatment rooms, and a myriad of premier restaurants to choose from.
Pros
plus

Some of the biggest hotel rooms in Vegas

plus

More than 20 restaurants on-site

plus

Gondola rides

plus

World-renowned Canyon Ranch Spa Club
Cons
close

Less attentive service due to resort size

Crowded with non-hotel guests

close

Resort fee

close

Extra fee for Aquavana areas of the Canyon Ranch Spa Club
5. The Cosmopolitan Las Vegas
Credit: The Cosmopolitan Las Vegas
The Cosmopolitan is a unique luxury resort and casino unlike any other in Las Vegas. Book your stay to enjoy spacious residential-style living spaces with private terraces and breathtaking city views. Dine in style at their one of a kind restaurant with culinary creations from world-famous chefs. Let style and design exhilarate your love for culture and the nightlife capture your imagination.
Here, you'll find an eclectic mix of boutiques, a stunning Pool District, and a 100,000 square foot casino. When you're ready to wind down, book a spa treatment at the Serene Spa & Hammam for a treat you'll never forget.
Pros
plus

Balcony rooms

plus

Casino party atmosphere

plus

Good hotel bars and choice of restaurants

plus

Location
Cons
close

Expensive

Service is hit or miss

close

Loud
6. Aria Resort & Casino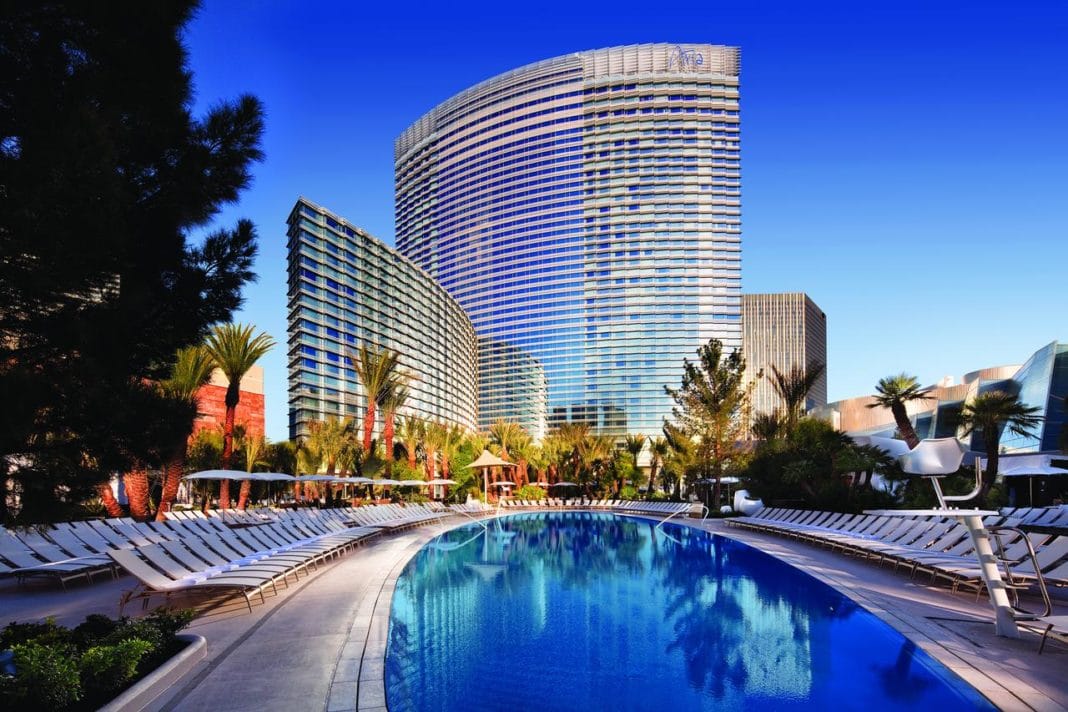 Credit: Booking.com
Come enjoy the epitome of luxury casino resorts, featuring gorgeous suites, expansive views of the Strip, and a great central location. Whether you choose Deluxe Rooms, Tower Suites, or Sky Suites, your stay at Aria Resort & Casino will include a world of pleasantly unexpected amenities.
Pros
plus

Modern facilities

plus

Wonderful staff

plus

Fun casino

plus

Quiet rooms
Cons
close

Hit or miss technology in rooms

Inconvenient baggage storage room in lobby
Common Questions
If you are in search of fun things to do and see in the Las Vegas area, we've got you covered. See our reviews to find the best places to go and where to eat in Sin City.
No matter where your travels take you, Trekbible is your official resource for reviews, travel inspiration, travel accessories, attractions, food and drinks, and more. Let us know what content you want to see!
If you have any questions or comments for us, please feel free to leave a message below. We will be sure to get back with you soon.
Be Sure to Book One of the Best Hotels In Las Vegas.
For an unforgettable vacation with impressive accommodations, Las Vegas is the destination. Private suites with breathtaking skyline views, impeccable customer service, gourmet food, fun, and adventure are just a few reasons to add Las Vegas to your bucket list.
We'd love to hear about your experiences at any of these hotels in Las Vegas! Leave us a comment with your favorite luxury hotel. Don't forget to read our reviews of hotels in other top travel destinations for all of the pertinent details to make your trips a success!
Related Article: ​Fun and Free Things to Do in Las Vegas
Danielle Dougall
Danielle Dougall is a photographer, avid writer, and traveler. Hailing from the rainy city of Seattle, WA she now lives in southern California where she enjoys longboarding, hiking, coffee shop hopping, and dreaming up destinations for her next international trip.