So you're on the go and you still want to look stylish. Stop lugging that old Jansport backpack around. When you're going on the ultimate weekend trip, you're going to need the best weekender bags. Lucky for you, we've scoped them all out.
Save Money and Pack Smart
As much as we'd love to be jet setting off to Europe for a month trip, not every traveler is that lucky. So, instead of spending big bucks on a matching luggage set, hold off and invest in one of the best weekender bags. Furthermore, even the most chronic over-packers admit you won't need that much for a quick jaunt. Weekends? Those we can do.
Things to Keep In Mind
Enter the prized possession of fashionable road trippers and quick trip lovers: the weekender. The ideal pick is not too big – you don't want to be weighed down in life. It's also not too small – you never know when you'll need to bring an extra pair of shoes.
With this said, we've curated a list of the best weekender bags for every type of budget and taste. Intrigued? Read on.
Best Weekender Bags for Travelers
QUICK NAVIGATION
Advantages of Getting Yourself A Weekender Bag
When you need a bag to throw all your things into for a short trip, a weekender bag is the best option. While a lot of duffel bags look like gym bags, the ones we selected are both stylish and practical.
The best thing about a weekender bag is they're all about room. The middle compartment is always the largest one and no matter how many extra pockets there are, you can hold a good amount of content inside. Just remember not to over stuff them.
Common Features of Weekender Bags
Quality material: waterproofed canvas, nylon, leather, polyurethane, etc.

Strong build quality (e.g. thickness of leather, steel used on zipper, etc.)

Large main compartment

check

Inside compartments for electronics and other valuables

check

Luggage tags

check

Outside pockets for convenience

check

Adjustable straps

check

Ribbing to provide extra structure
Questions to Ask Yourself Before Beginning Your Search:
If you need a starting place, then it will help you to begin by considering a couple of questions. When looking for the best weekender bags, here are some questions to ask yourself. They will help point you in the right direction
How much do you want to spend?​​​​​
Knowing your budget will be key to finding the weekender bag. Whether you are looking for a small or large one, knowing your budget will help narrow down your options. There are items on this list that are below $50 and products that are above $300.
We suggest approaching this search with a price limit in mind. That way, you will be able to knock off all the items that are out of your price range much faster and, subsequently, locate your perfect bag that much faster as well.
How Long Are You Traveling For?
Don't try to use a weekender bag for a month long backpacking trip across Europe. This might sounds silly to some but believe it or not, people have tried it. And failed. For a weekend trip, you can definitely fit everything you'll need into the carry-on bags we selected. For longer trips, consider rolling luggage.
Things to Consider Before Buying:
In addition to the questions noted above, there are two things you absolutely must keep in mind. Those include, the style of the bag you want, how much you are willing to spend, the activities you'll be partaking in, and the type of travel you'll be doing.
Consider the Style
Knowing the style of the bag you are shopping for is a must. Many of the bags we feature come in various colors and styles. The loud, colorful travelers in your life will love the brightly colored travel bags from Ban.do, whereas the simpler travelers will appreciate neutral color schemes like Herschel offers. Knowing your sense of style helps tremendously in the selection process.
Type of Travel
Will you be camping in off-the-grid locations or staying in a nice hotel? Does your journey include train and bus rides? Do you have multiple layovers? If you'll be on the go a lot, you definitely need a light weekender bag that can easily fit in bins and overhead compartments.
Activities
What types of activities will you be doing on your weekend trip? How do you need to pack for them? Depending on where you're traveling to, the type of gear you bring can vary greatly. Take this into consideration when you're choosing between sizes of our best weekender bags.
Here Are the Best Weekender Begs
In the beginning of the article, we shared a chart listing the best weekender bags for travelers. There, you can find out today's current price for each travel item. If you want to see a pros and cons breakdown for each bag, then here it is:
Madewell The Transport Weekender In Canvas
Credit: Madewell
This is one of the best weekender bags on the market. The oversized (but not too oversized) version of Madewell's famous Transport Tote has fashionistas running to fill their online shopping carts. It's a neutral bag with a cool, toned down classic look that you could bring pretty much anywhere.
Features
We love that it not only has more space than the Transport but it's got a lower price tag too. A waxed finish gives this bag an extra perk – water resistance. Side note: Chronic coffee spillers, this one's for you. Overall, it's a lighter, more flexible alternative to leather and is still durable enough to handle chronic overpacking (you know who you are).
Pros
plus

Affordable

plus

Durable

plus

Lightweight

plus

Attractive

plus

Versatile
Cons
close

Tears easily if mishandled
Sole Society Lacie Faux Leather Duffel Bag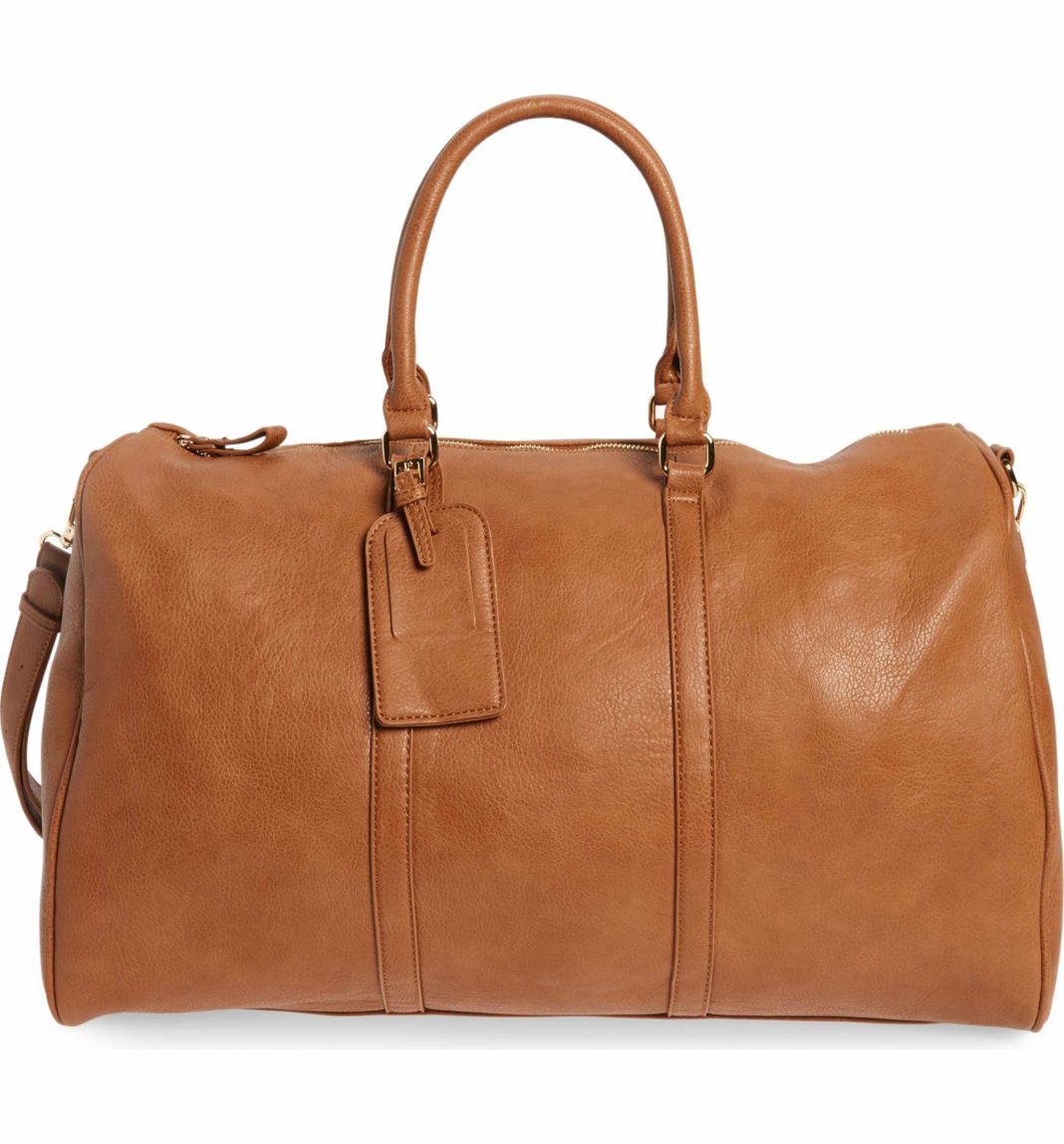 Credit: Amazon
Faux leather has come a long way. Gone are the days of peeling poor quality bags. Sole Society offers a cruelty-free way to own a leather-look bag. Thanks to the dynamic walnut color and overall sleek build, it's a top pick on the market right now. Swipe it on Amazon for only $84.
Pros
plus

Unisex

plus

Vegan leather

plus

Roomy

plus

Functional and stylish
Cons
close

Not very structured

Fake leather smell when first purchased
Fjällräven Unisex Duffel No. 4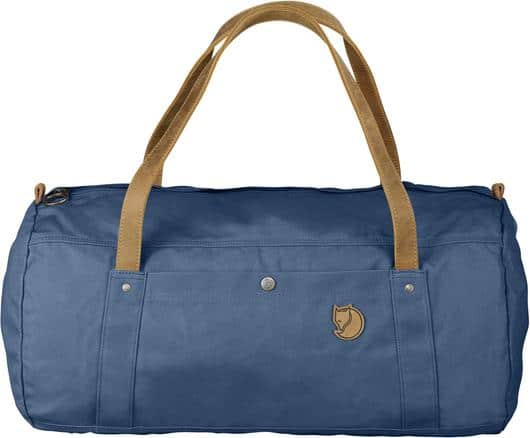 Credit: Amazon
Fjallraven's first duffel bag, Sailor Bag 214, was released in 1973 and Duffel No. 4 has been developed in the same spirit with versatile functions and a classic, clean design. The bag is perfect both for short weekend trips and for carrying your work-out clothing on a daily basis.
Features
A large zippered main opening with an easy-to-grip pull makes it easy to pack and unpack, and an inner safety pocket holds small items. Two outer pockets, one zippered and one with a push button, and double layers of fabric on the bottom for reinforcement.
The straps are designed so they can be carried in the hand, on the shoulder or across the back. The strong, waxed G-1000 HD fabric and leather straps mean that this bag will stay with you for years and become more attractive the older it gets. It's no wonder why the No. 4 is a top-seller in best weekender bags.
Pros
plus

Stylish

plus

Durable

plus

Practical

plus

Clunky zipper
Cons
close

Not waterproof

Nothing else! This bag really is great
Everlane The Twill Weekender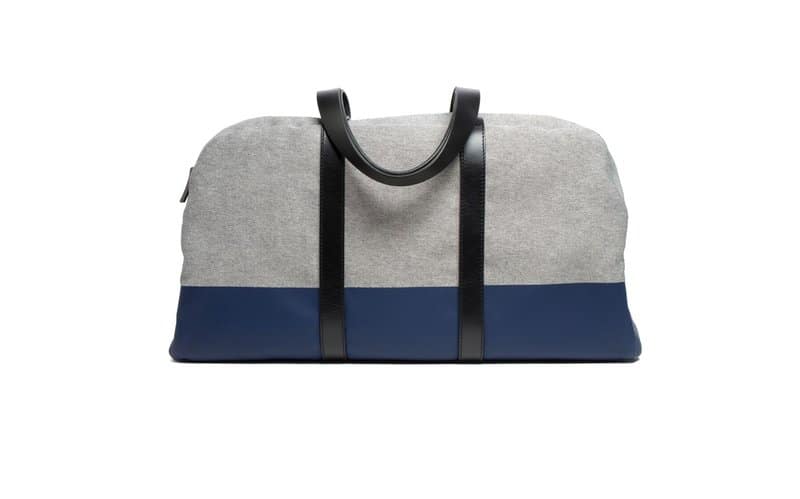 Credit: Everlane
We absolutely love the brand Everlane. If you've never purchased from them before, you're in for a treat. This company embodies an admirable transparent pricing model and ethically-sourced products. In addition, they offer a transparent pricing model, so you know what you are paying is fair. This little bag comes in a black and color dipped version. It's gender neutral and suited to a range of tastes.
Features
In addition, the size is just right for bringing everything you need for a quick getaway. You'll never have to struggle to fit your bag into the overhead compartment again. Add it to your list of favorite best weekender bags.
Pros
plus

High quality

plus

Durable

plus

Easy to handle

plus

Affordable

plus

Stylish
Cons
close

Attracts a large amount of lint
Bluboon Women's Canvas Weekender Bag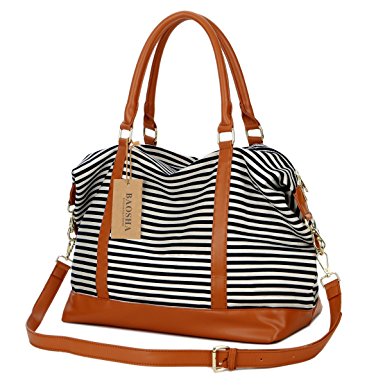 Credit: Amazon
This company is a new find for us. And we've got to say, we're smitten with this little tote bag. There is a zip pocket inside designed to slide over the handle of your carry-on suitcase. You know what this means? You don't have to be that person trying to pull their luggage, find their passport and sling their small personal item over their shoulder all at once. Blueboon has got you covered.
Features
There's a reason why we included it on our list of the best weekender bags. Well, actually there's quite a few. It's fashionable, durable, and the perfect carry-on size for most airlines. For anyone looking for pack two to three days worth of gear, know that it will hold up well.
Pros
plus

Very affordable

plus

Fashionable

plus

Back side sleeve allows you to slide it over the standard handle of a rolling suitcase or luggage
Cons
close

Fake leather peels after a while

Not machine washable
Under Armour Women's On the Run Weekender Tote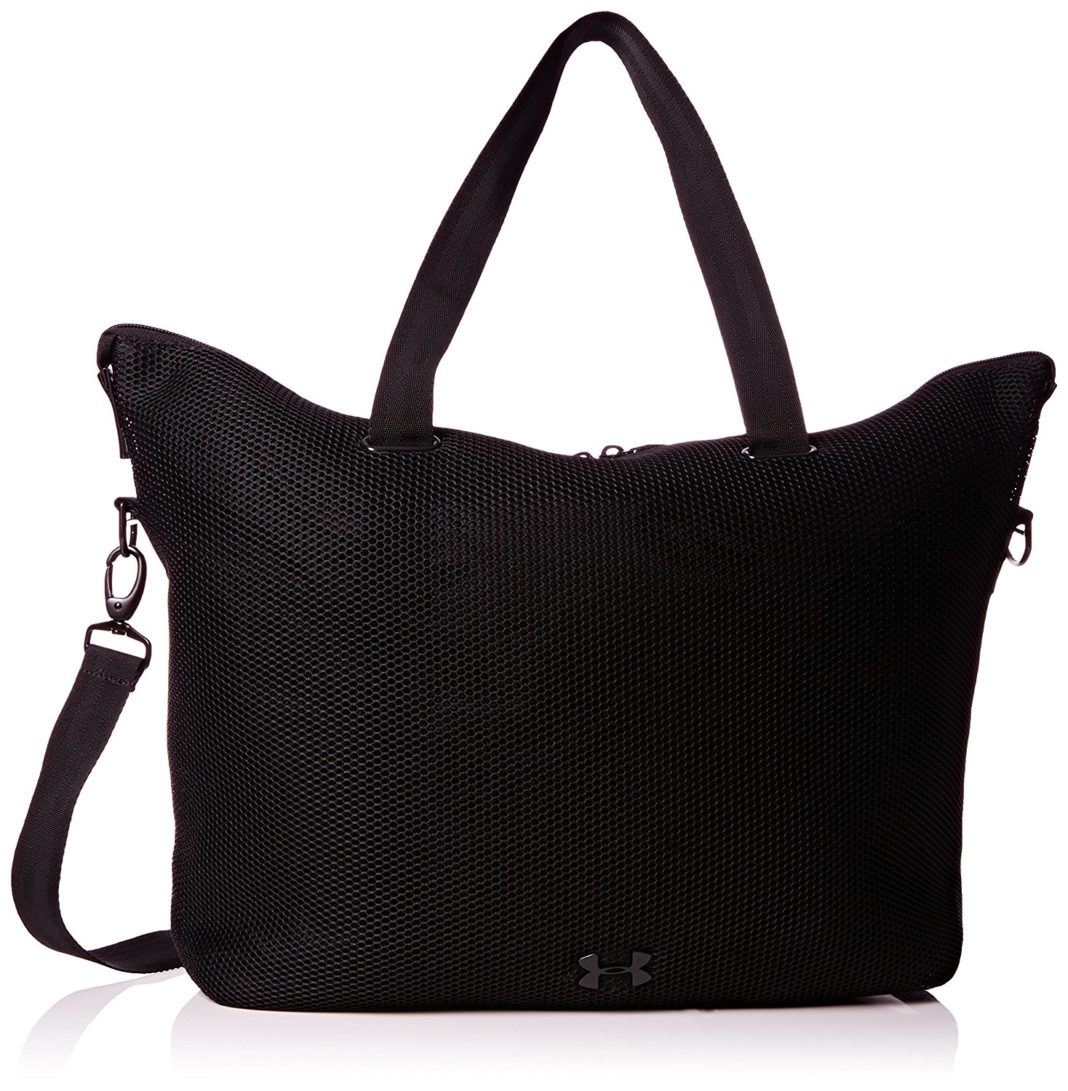 Credit: Amazon
This bag can fit everything. And we mean everything. Don't be fooled by its compact appearance and sleek black detailing. This little tote will have you wondering how you could have ever fit so much stuff in just one bag.
Features
What do we love about it? It comes with a soft-lined pocket for your electronics and everything is water resistant.
Pros
plus

Lightweight

plus

Water resistant

plus

2 pockets

plus

Long carrying handle
Cons
close

Shoulder strap is thin
Herschel Supply Co. Novel Duffel Bag 1-Piece, Raven Crosshatch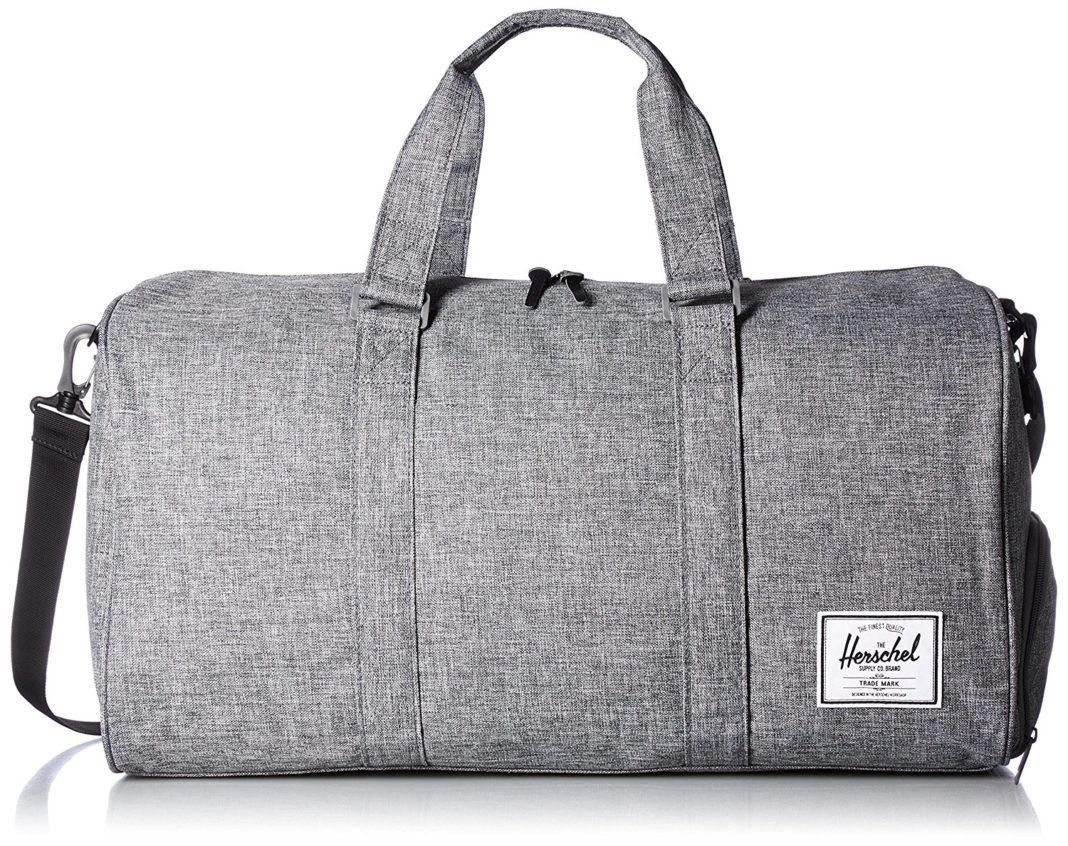 Credit: Amazon
Herschel Supply Co. is based in Vancouver, Canada and manufactures the finest quality backpacks, bags, travel goods, and accessories. Our goal is to create timeless product with a fine regard for detail.
Features
The Novel Duffel is one of Herschel supply's most popular duffel silhouettes. It features Herschel supply's signature shoe compartment for easy and organized travel while keeping to Herschel supply's classic styling. This bag is great to take to the gym or for a short weekend away. Furthermore, the Herschel Novel duffel is an ideal weekender that features plenty of storage, including a convenient shoe pocket.
Pros
plus

Lightweight and comfortable fit

plus

Easy to carry

plus

Stylish

plus

Affordable

plus

Durable
Cons
close

Strap may be bothersome to travelers
Ban.do Getaway Duffel Bag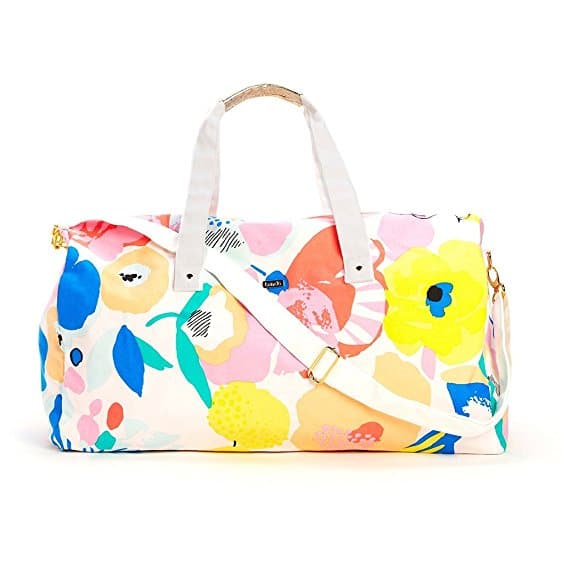 Credit: Amazon
Fun and cheeky, this bright Ban.do bag is sure to lighten up even the dreariest of days. Do you love fun colors and bold prints? Well, then this is the bag for you. Everything about it shouts 'vacation!' If there was never a better reason to love packing, it's this insanely cute little duffel. The best part is that this bag is huge! It's one of the best weekender bags for fun-loving people.
Pros
plus

Stylish

plus

Affordable

plus

Comes in a variety of fun colors and prints

plus

Good quality
Cons
Filson Duffel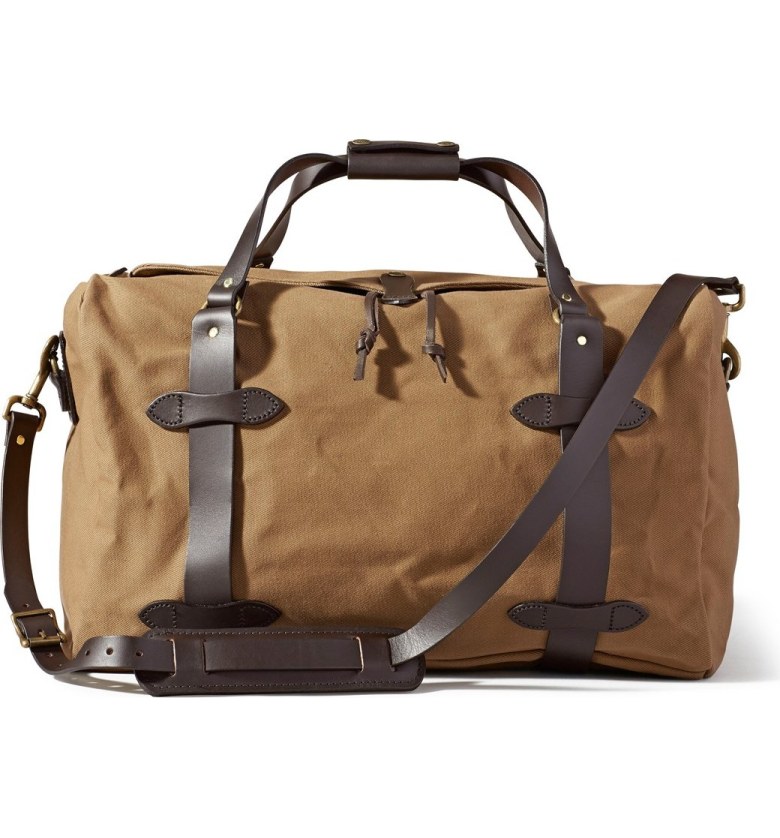 Credit: Nordstrom
For a timeless feel and durable quality construction, you won't find a better weekender bag than the Filson Duffel. This brand tests their gear out on real-life customers who provide honest feedback. Needless to say, this bag has withstood the tests of time and is guaranteed to hold up under any weekend trip you take it on for years to come. Just don't get too crazy.
Pros
plus

Stylish Fabric Design

plus

Sturdy construction

plus

Spacious
Cons
Designlovefest Travel Duffel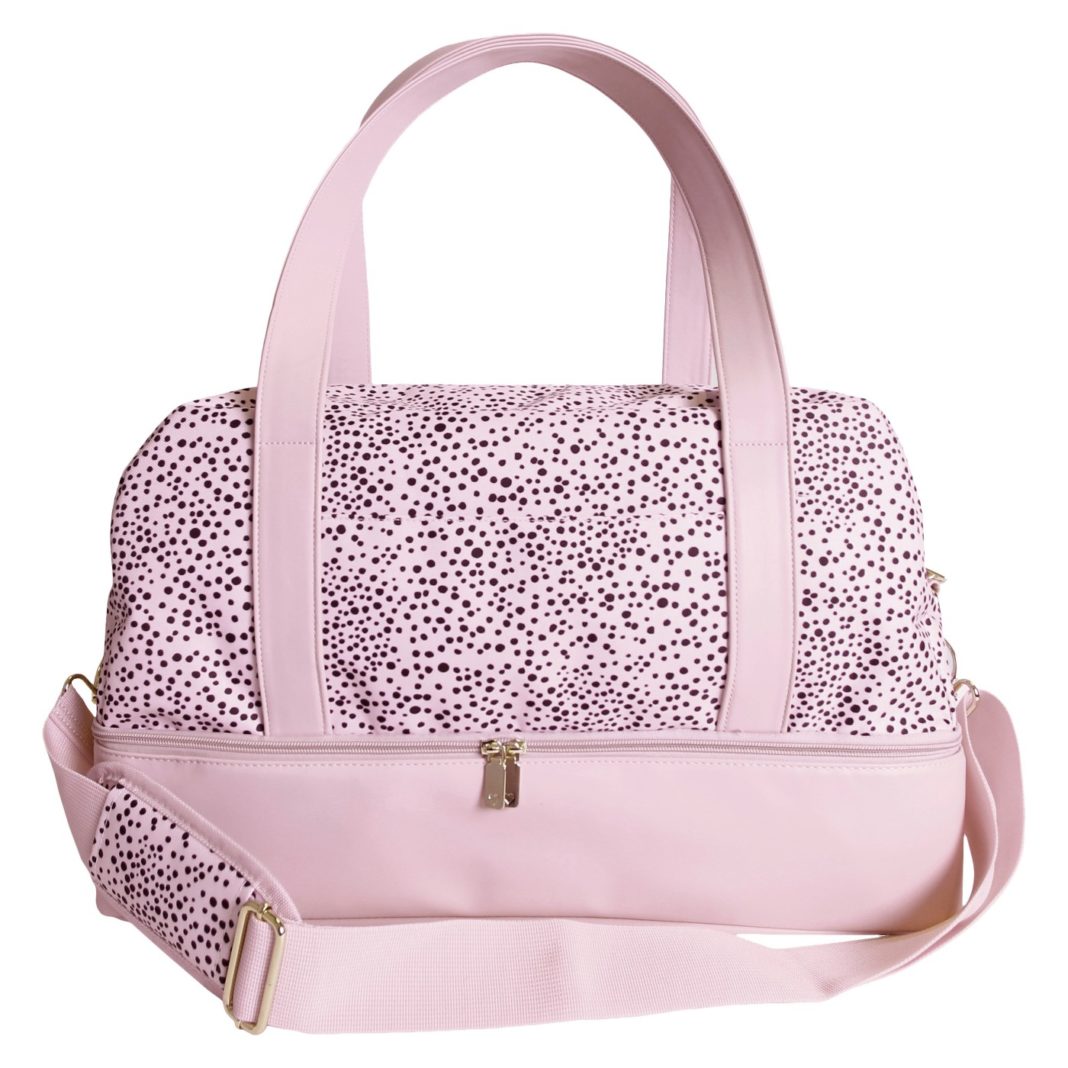 Credit: Target
Travel the weekend in style and comfort with the Nylon Weekender from Mossimo Supply Co. In a pretty shade of metallic pink with blush-tone and gray accents, this large weekender is the perfect companion to keep yourself nice and organized while on the go.
Features
The full zipper opens up to a roomy interior with added pockets to hold all of your belongings. Comfortably walk around with the adjustable shoulder straps crossed on your body or laying on your shoulders, and pick up the weekender with ease using the shorter handles.
Pros
plus

Stylish Fabric Design

plus

Two carry handles

plus

Adjustable/removable cross body strap

plus

Trolley pass-through pocket to attach to your luggage's handle

plus

Bottom zippered storage compartment
Cons
close

Mediocre construction and durability
Vera Bradley Iconic Weekender Travel Bag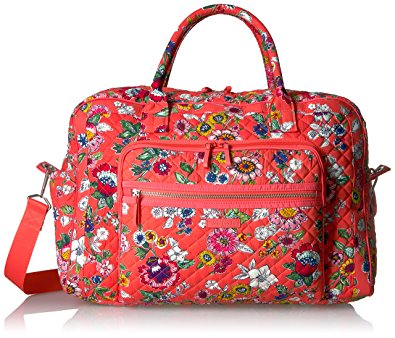 Credit: Amazon
Bring a little light into your life with our bright Vera Bradley colors and patterns! Find the perfect accessories to match your winter fashion this year, or search our collection for the perfect holiday gift! The genuine Vera Bradley Weekender will warm up your sense of style this season with the fun and considerate designs they are known for.
Features
This bag features an extra wide opening to make packing and unpacking a breeze with an exterior zip pocket for keeping some essentials accessible. It's got a whopping total of five inner pockets for your storage convenience, with a travel-ready trolley sleeve and compliant with the carry-on standards of most major airlines. The ample space is perfect for travel.
About Vera Bradley
It's a perfect fabrication for the customer who wants solid colors in her bags and accessories. The quilted stitching sewn in tight configurations make up the iconic Vera Bradley Signature Diamond Stitch, which not only adds an element of embroidered appeal and aesthetic but also enhances the durability of your favorite bag.
Common Questions
Check out these other travel products:
Snag the Best Weekender Bags for Your Next Trip
We hope you enjoyed reading our picks for the best weekender bags. Throughout this list, we tried our best to incorporate choices for every taste and budget as well as inform you on the background and vision of some companies.
Questions and Comments
If you have a favorite brand or style that's not on our list, let us know! We love hearing from you.
Related Article: Best Carry-On Luggage: We Have a Bag to Meet Each Travelers' Needs
Danielle Dougall
Danielle Dougall is a photographer, avid writer, and traveler. Hailing from the rainy city of Seattle, WA she now lives in southern California where she enjoys longboarding, hiking, coffee shop hopping, and dreaming up destinations for her next international trip.