We've come a long way from the unstylish days of the duffle bag. The Weekender Bag is the new go-to luggage for your quick excursions.
We all have that old bag that has treated us well over the years. However, it's time to move past the nylon gym bag that we've been pretending is retro enough to call hip these days. Thankfully, there is a new bag on the horizon that will solve all of our weekend packing woes. The Bluboon Women's Canvas Weekender Bag is stylish, functional, and won't break the bank. With its myriad of color options and large capacity, you're all set for whatever this weekend has in store. Whether you're toting it around the airport or throwing it in the trunk, this durable bag is ready for your next adventure.
Bluboon Women's Canvas Weekender Bag Features & Benefits
Durable Canvas Material and PU Leather
It is good to invest in quality things so that you don't have to repurchase them in a few months after they get worn out. Bluboon understands that. So, they've made their Bluboon Women's Canvas Weekender Bag with durable canvas material in a myriad of colors. From bright teal to black with polka dots, whatever style you choose will last quite a while. The small legs on the bottom of the bag additionally help the bottom of the bag to have less wear and tear over time. Take note that this bag is not made with real leather, but rather PU leather. This will not last quite as long as a real leather counterpart, but Bluboon has made theirs quite durable still. So, if you're just using this as an occasional weekend or overnight bag, you can't beat it for the price.
Roomy Interior to Hold All Your Things
No weekend bag could be considered sufficient if it didn't hold enough clothes for the whole weekend! Luckily, the Bluboon Women's Canvas Weekender Bag has quite a bit of space inside. The dimensions are 16.2" long x 14.5" high x 8" wide. This allows enough space for all of your things and up to a 15.6-inch laptop. It is small enough to be considered your personal item when boarding a plane. That means if you're needing more than what you can fit in here, you can still bring a stellar carry-on luggage option as well. This size can also easily make it double as a work bag, gym bag, yoga bag, or diaper bag. So, enjoy the chic yet perfectly sized Bluboon Women's Canvas Weekender Bag today.
Back Side Sleeve for Attachment
We've all seen someone trying to juggle their carry-on and personal item while talking on the phone or grabbing a drink. It often does not go well for them. The Bluboon Women's Canvas Weekender Bag helps alleviate any travel stress by having a side sleeve which fits a luggage handle perfectly. So, you can set this weekender bag just on top of your suitcase and slide the luggage handle through the bag. Ta-da! You have a secure and one-handed way to transport all of your things flawlessly. So, don't fret about it falling on the ground in the bathroom or not being accessible. We are grateful to Bluboon for including this feature on their bag without compromising on style.
Three Carrying Straps for Versatility
There's a time to throw on the cross-body strap and book it to the other end of the airport. There's also a time to have your new, cute bag in the crook of your arm and walk confidently into a room. Thankfully, you can do both with the Bluboon Women's Canvas Weekender Bag. With two permanent PU leather straps attached firmly to each side of the bag, you'll always be able to quickly scoop it up. By being sewn down the whole side of the bag, the handles are both sturdy and add the perfect accent to the bag. The cross-body strap is adjustable and detachable for versatility. If you need it a little longer or completely off, that can happen through a quick and simple adjustment. So, however you like to carry your weekender bag, you can make it work with this one!
Three Interior Pockets for Organization
The Bluboon Women's Canvas Weekender Bag finds a happy medium between having too many and too few pockets. With one medium-sized zipper pocket, you can be sure your keys, wallet, and cell phone are safely tucked away at all times yet easily accessible. The two small open pockets opposite the zippered one on the inside allow for quick access to other things as well. So, slide a pair of cheap sunglasses in there or maybe your favorite chapstick. You'll probably need both if you're heading to the beach for your weekend getaway. Whatever you choose to throw in these handy organizers, you'll be glad they're there.
What Travelers Are Saying About the Bluboon Women's Canvas Weekender Bag
This bag ends up receiving quite good reviews from travelers, especially given the price. If you understand what you're buying: a simple yet chic weekender bag made from canvas and faux leather, then you're all set. Aside from the few reviewers who commented that the leather wasn't real, there are very few complaints. A few travelers mention that the zipper got off track after a few uses or they needed to put a new hole in the shoulder strap to make it the right length for them. While these are valid negative points, they are easily fixable.
The most loved thing about the Bluboon Women's Canvas Weekender Bag is the roominess of it. Travelers loved being able to have ample room inside for all their things without sacrificing for the style. A few reviewers commented that the bag colors were not as bright as they imagined after seeing the pictures online. This being said, all travelers loved the designs and style. Most travelers used this bag as a personal item when flying somewhere for the weekend. Overall, the Bluboon Women's Canvas Weekender Bag is a great low-cost option for your weekend luggage woes.
Other Weekender Bags You May Like
Under Armour Women's On The Run Tote
This sporty version of a tote or weekend bag has caught our eye. If you're looking for a bag that can go from work to the bar and a plane flight after, this is your bag. It is incredibly versatile and durable, coming with the fantastic Under Armour name. For just a few dollars more than the Bluboon Women's Canvas Weekender Bag, you will get a bag with many of the same features. It has many interior pockets and the same three carrying straps for versatility. The main pocket easily zips shut to keep your valuables safe, and even has a specific laptop sleeve inside. Made from polyester and getting a consistent 4.5 out of 5 stars, you can't go wrong with the Under Armour Women's On The Run Tote as an alternative to the Bluboon Women's Canvas Weekender Bag.
Filson Medium 25″ Duffle Bag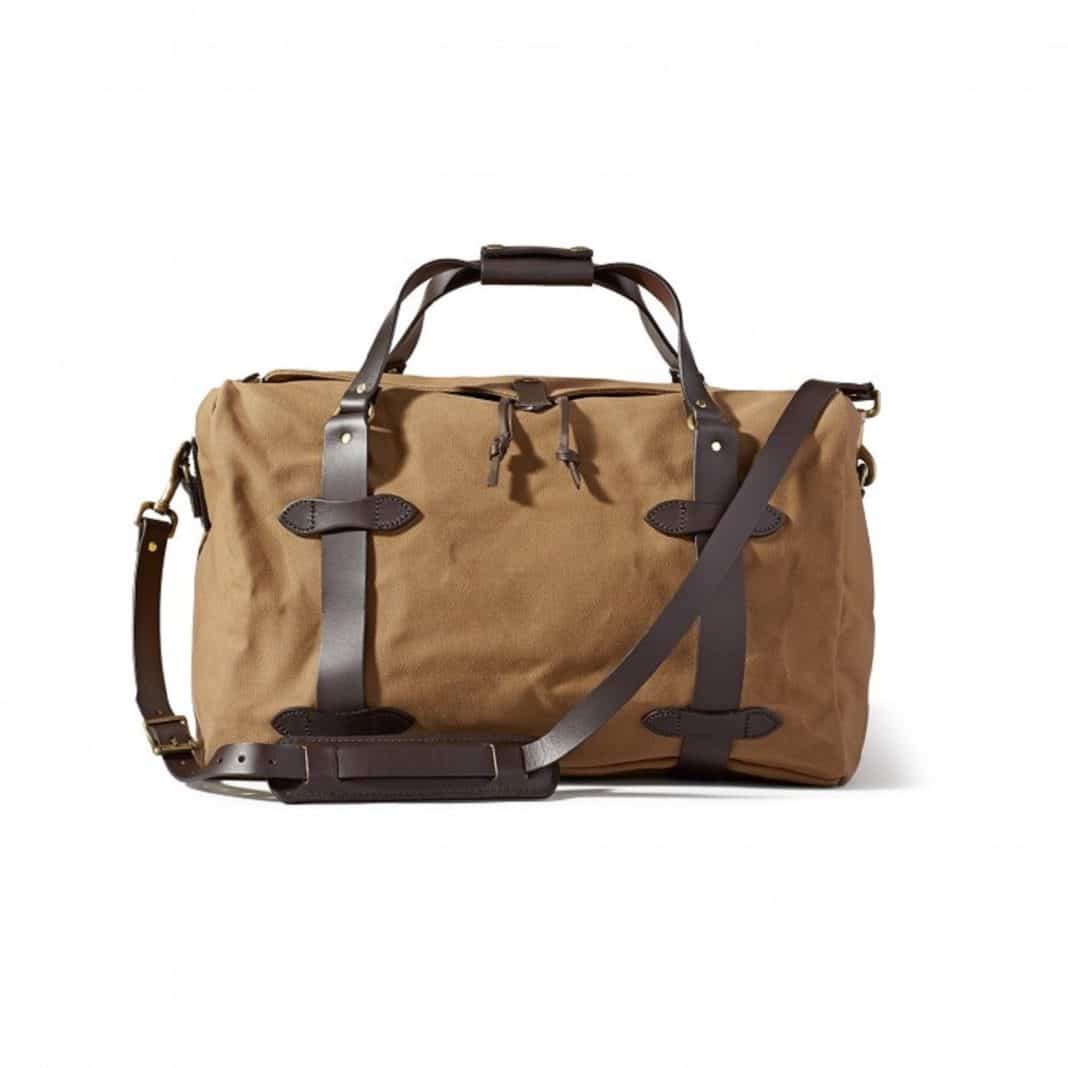 For a little more space and a lot more durability, check out the Filson Medium 25″ Duffle Bag. While the price point is much higher than the Bluboon Women's Canvas Weekender Bag, it is for good reason. Made with 22-oz. Rugged Twill and Bridle Leather, this bag will be nearly indestructible. It easily wipes or brushes clean and has a storm flap closure over the zipper to keep everything inside safe and sound. The two interior pockets help you organize this roomy bag as well. The Filson Medium 25″ Duffle Bag also have three carryings straps, just like the Bluboon Women's Canvas Weekender Bag. however, the two carrying straps also have a snap attachment in case you need to keep them together for easier transport. So, for an incredibly durable and good looking alternative, check out the Filson Duffle Bag.
Herschel Supply Co. Novel Duffel Bag
For another similar option to the Bluboon Women's Canvas Weekender Bag, look to the Herschel Supply Co. Novel Duffel Bag. A unique feature that sets this bag apart is the shoe garage. Whether its a cute pair of heels that needs to stay unscuffed for the wedding or your smelly running shoes, you can tuck them away in the shoe compartment without worrying about them or the cleanliness of everything else. This bag also comes in over thirty colors, so it can be adapted to your style. It also has a two-way waterproof zipper to keep everything dry. For carrying, enjoy the two normal straps or a removable padded shoulder strap for crossbody or side wear. Overall, the Herschel Supply Co. Novel Duffel Bag gives the Bluboon weekender a run for its money.
If you're needing an inexpensive but durable and cute bag to get away this weekend, look no further than the Bluboon Women's Canvas Weekender Bag.
This bag will work perfectly for any bachelorette party, a day trip to grandma's, or romantic weekend getaway. Its versatility lets you carry it from work to school across the country without worry. The price point on the Bluboon Women's Canvas Weekender Bag is the best on the market right now as well. So, if you're needing a quick fix for your upcoming weekend luggage issues, this is it. Let us know what you think of this bag as well!
Related Article: Best Weekender Bags for Travel in 2018