Perivolas beckons you to come and relax in Santorini's most luxurious retreat.
Grecian islands have long been known as a phenomenal place to get away and unwind. With so many different hotels and resorts to choose between, it can be hard to narrow down the choices. At the Perivolas Hotel, you will have traditional greek architecture, outstanding attention to detail, and unmatched views.
Nestled within walking distance of Oia, Greece, the Perivolas Hotel provides exceptional hospitality. It is one of the best hotels in Santorini with its landscaped terraces, breathtaking views, and tranquil setting. You will be set apart from the rest of the world whether you choose their selection of gorgeous suites or the extravagant private house that is offered.
Let's Talk Accommodations
The Perivolas & Luxury Suites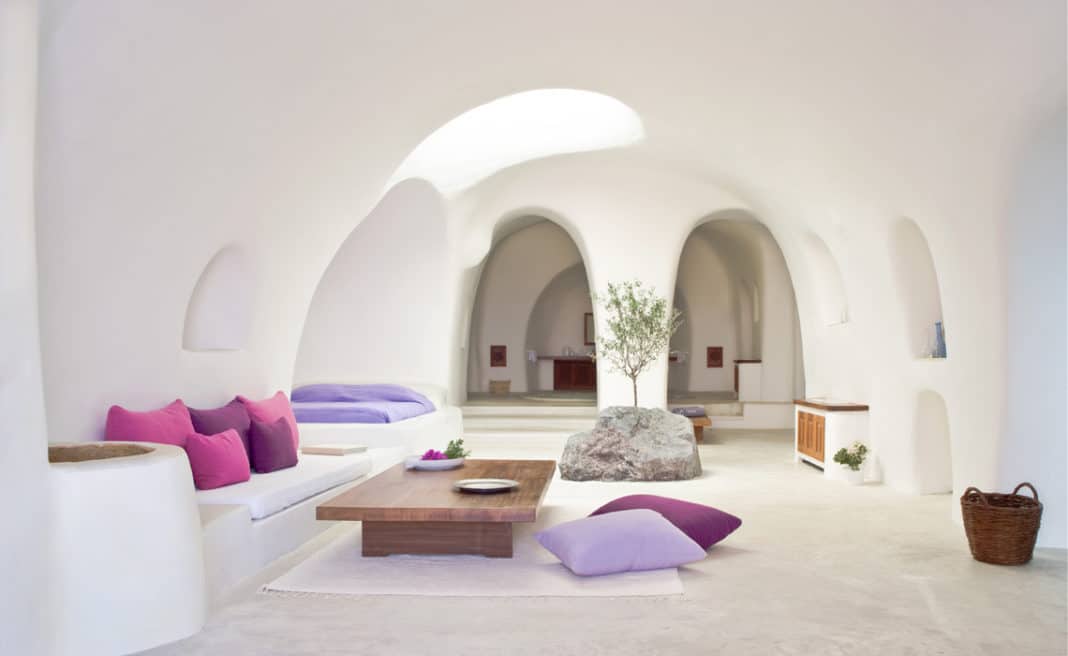 Credit: Perivolas Hotel
With a wide variety of suites to choose from, you have the freedom to personalize your stay at the Perivolas Suite. Here you will find the the quintessential picture of relaxation and luxury. It is the culmination of all things exquisite and romantic, complete with a steam bath and hydrotherapy massage pool. Your breathtaking panoramic view of the sea is the perfect backdrop to your romantic stay. For one step further, ask for the Luxury suite which has a personal infinity pool and garden terrace overlooking the islands and sea. No detail is overlooked in these two suites.
Each suite is a stunning example of Grecian architecture. With beaming, smooth, white-washed walls and bursts of vivid color from hand-woven tapestries, the suites are showcase simplicity. You won't find any TVs here either. Instead, take the chance to unplug and invest in your loved ones.
The Superior & Junior Suites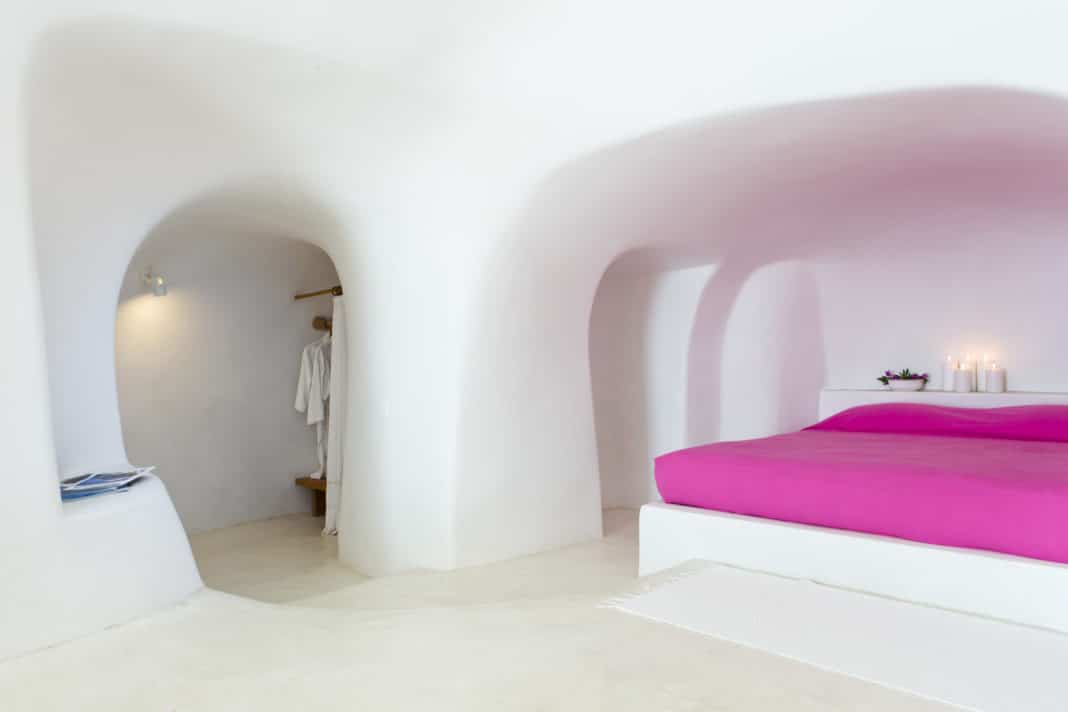 Credit: Perivolas
If you enjoy having a little more room to spread out and take time for yourself, enjoy the Superior suites. With luxury and terraces throughout, they will dazzle you. On the other end, you can enjoy the cozy, warm atmosphere of a Junior suite if you'd like something a little smaller. While they are smaller, Perivolas never wavers on giving the utmost in customer service and attention to detail.
The Lifestyle Studio Suites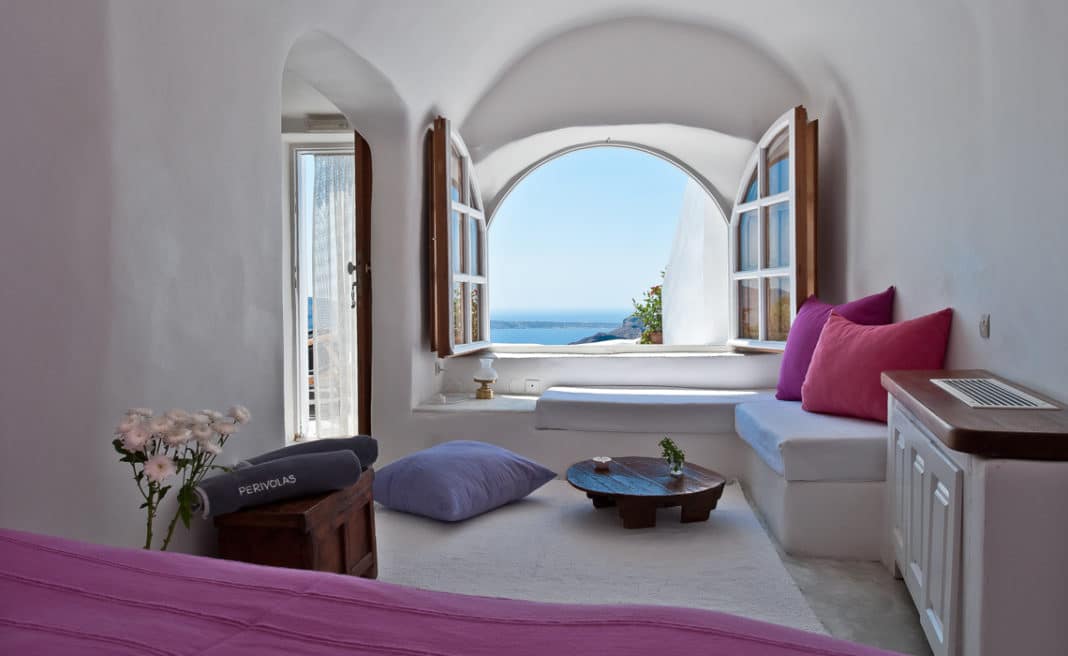 Credit: Perivolas
The Lifestyle Studio Suites are similar to the Junior Suites in their size. Enjoy an open seating plan and queen size bed built naturally into the architecture of the building.
One of the details that sets Perivolas apart is the clean and simple lines of their decor. The beds are often built the beds in alcoves and the seating into the walls. With recessed cove windows and smooth, domed ceilings, the structure of the rooms seem to roll your cares away.
Let's Talk Dining
Perivolas Restaurant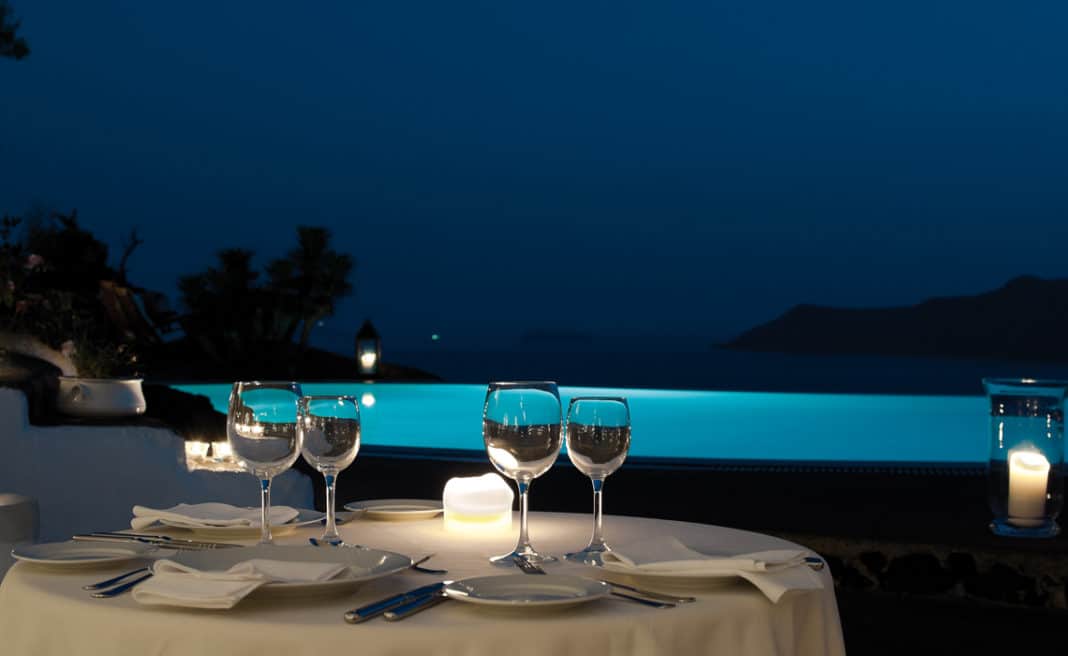 Credit: Perivolas Hotel
A dining experience is so much more than just what is served. Any food will appreciate the the Perivolas Restaurant. The atmosphere, wine, service, and presentation all interact and compliment each other to create a truly divine experience. It is an exclusive, fine dining adventure waiting to blow you away. The executive chef, Theodoros Kakoulis uses his experience and heritage to bring you on a Mediterranean journey. The local harvest and guest's desires are what each dish is based upon. With their in-house oenologist, Panos Zoumboulis, you will have a perfectly curated wine list to compliment any menu choice.
To make your romantic dinner unforgettable, reserve a private terrace overlooking the sea. The candle light bouncing off the white sand walls will be the most meaningful place to show your devotion. If you can schedule a stay during the full moon, Perivolas Hotel pulls out all the stops. This is the time they truly celebrate the delectable food of Santorini. They will serve you an exclusive five course meal, complete with complimentary sangria and an amuse-bouche platter. This experience can be easily and expertly sculpted to your needs and desires.
Perivolas Signature Degustation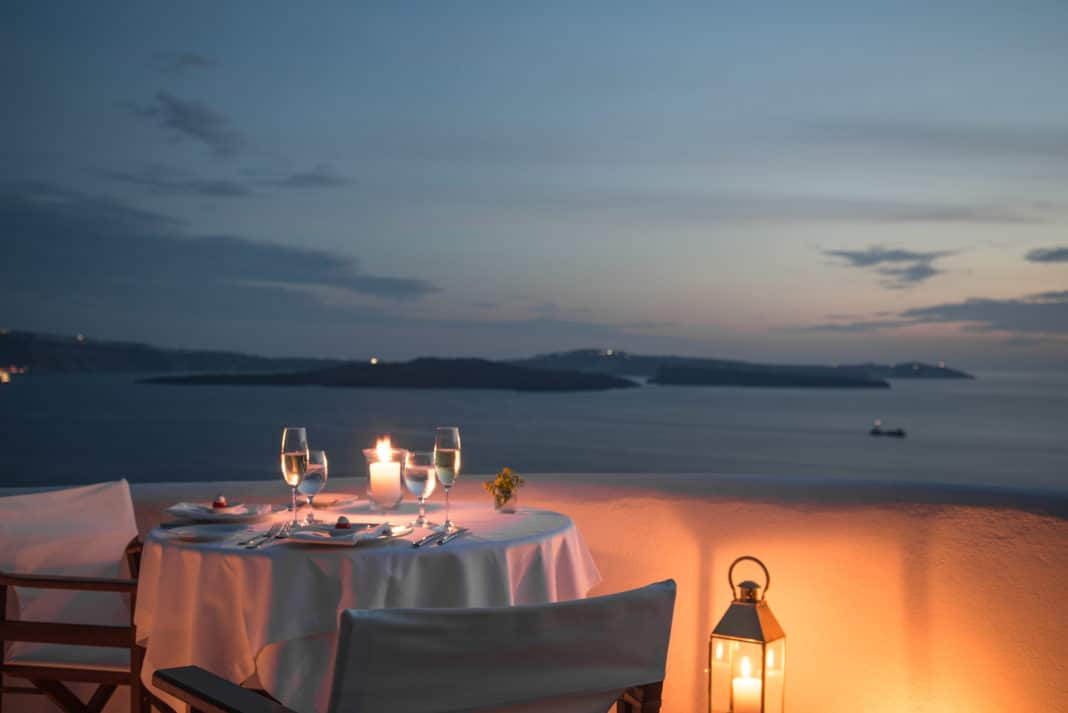 Credit: Perivolas
If you are ready to step up your degustation game, Perivolas Hotel's chef can prepare you his signature experience. The multitude of petite tasting plates will tantalize your taste buds. The irreplaceable detail and wine pairings of this experience will leave you with a new sense of appreciation for food.
Let's Talk Amenities and Activities
Tours
Credit: Stijn te Strake / Unsplash
By boat or land, the best way to explore the local landscape will be through a tour. Go by sea and collect shells and oysters along the rocks, or pursue a speed boat ride to see all that you can. Being in the center of the sparkling sea is an experience above all else.
By land, you can travel trails along cliff sides for beautiful photo ops. Take in the local church architecture while explore the deep history of Oia. Venturing down to the port to see the vibrant fishing boats and shops is a must. Whatever part of the island you want to explore, Perivolas can provide you with a personalized tour.
Infinity Pool & Gym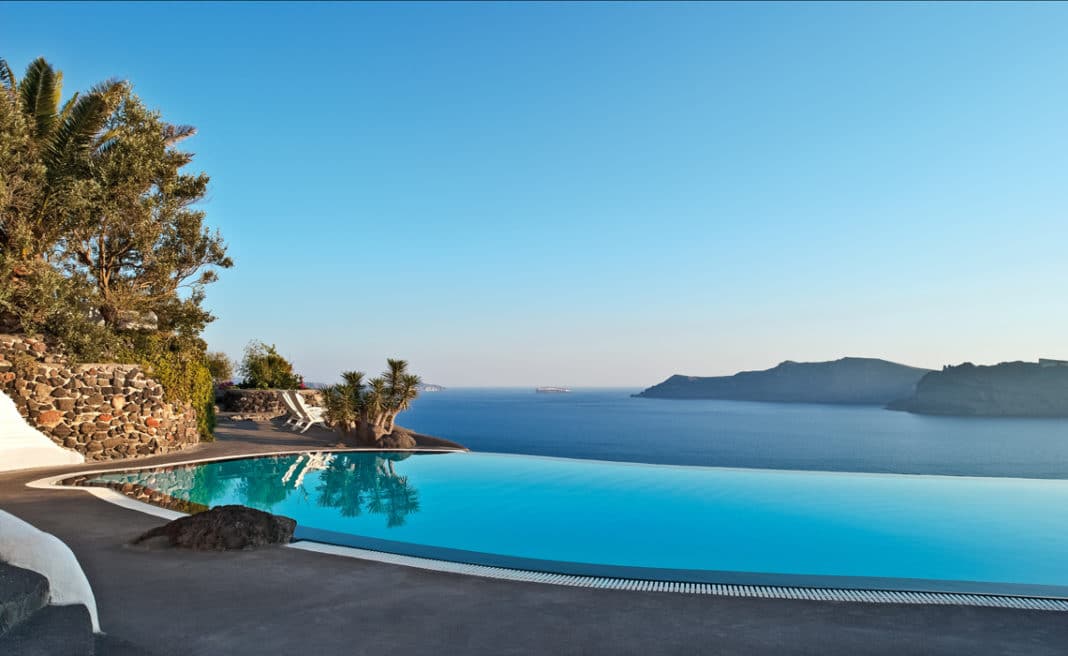 Credit: Perivolas Hotel
Perivolas Hotel focuses on a holistic relaxation experience for you. The infinity pool exudes luxury and an escape from anything holding you down. Overlooking the stunning Aegean sea, this may be one of the most photographed pools in the world. While many Perivolas suites contain jacuzzis and hydrotherapy tubs, this infinity pool exceeds all for its' stunning beauty.
For those who need to be active to relax, Perivolas Hotel provides a world class fitness center to work out in as well. Making sure you have access to whatever is necessary to provide you with the perfect stay is the constant goal of the staff here.
The Perivolas Spa
Credit: Perivolas Hotel
Once you have taken time to unwind poolside, the hospitality of the spa will captivate you. Focusing on your wellness, they offer many mind-calming and pampering services.
When you have just arrived, enjoy the jetlag relief massage. The therapuetic essential oils will calm your mind and spirit after long travel days. Using specific strokes and reflex points, your masseuse will revitalize circulation for more energy. This will help you acclimate to your new timezone.
If you come to Perivolas to maximize your time in the sun, make sure to schedule a sundown pampering package. With a full body massage and aloe vera wrap your skin can soak up Vitamin E and be ready for another day. From head to toe, every ache and worry can drift away.
Weddings & Celebrations
Credit: Sweet Ice Cream Photography / Unsplash
Are you looking for a place unlike any other to declare to your love for your partner? The staff at Perivolas is prepared to help orchestrate every detail to present the perfect atmosphere for a proposal. The intimate, incredibly romantic of this hotel and Oia is a great choice to build a future on.
If you would like a small, intimate, and elegant wedding, this is also a wonderful choice. You may also choose to review your vows to one another here. With a fresh, personalized cake from the chef and food of your choosing, it can be your perfect date.
Simple, unforgettable celebrations are also the Perivolas speciality. Whether it is a fifty year anniversary or a thirtieth birthday, you can make it exactly what you have always wanted. Their wedding and celebration assistant is ready and waiting to help you plan the day of your life.
What Travelers Are Saying About Perivolas Hotel
Credit: Perivolas Hotel
With so many incredible Santorini hotels, it can be hard to decipher the best option for you and your beloved. When searching Tripadvisor Santorini, it is clear that Perivolas comes out on top. There are many stories of staff going above and beyond, and everyone exclaims praise for the beauty of their private sunset. Often described as 'Heaven on Earth' and well loved by couples, Perivolas has exquisite service and amenities.
With five stars on Google Reviews and 9.4/10 on booking.com, hundreds of people have experienced the exceptional quality. The Perivolas Hotel is the pinnacle of Grecian hospitality and care as shown and reviewed by those who have gone before.
Perivolas presents the most stunning balance of Oia's natural beauty and exceptional hospitality.
Nothing is overlooked or overdone at Perivolas Hotel Santorini. The minimalist design begs guests to relax and unwind. The stunning views melt away your worries. From when you are picked up at the airport, to the food and wine you will enjoy, you will experience relaxation, refreshment, and dreams come true at the luxurious Perivolas Hotel. 
Related article: 8 of the Most Luxurious Hotels in Santorini