Play it cool in South Beach. Check into the Kimpton Surfcomber, a trendy hotel located right in the heart of Miami.
While the Magic City is known for being a party hot spot, the Surfcomber operates by a different motto – taking it all in stride. While its art deco architecture certainly blends in with the rest of the Miami skyline, the hotel sets itself apart from all the rest in a few key ways.
First and foremost, they emphasize the importance of refined style and a friendly, sociable atmosphere. Walk along the pool deck lined with palm trees and take in the sandy silk beaches of your new backyard. From the lively day life activities, communal outdoor settings, and a daily wine hour, the Surfcomber is the place to be for a fun, flirty escape.
Features & Benefits of the Kimpton Surfcomber Hotel
Hotels in South Beach have a lot to offer their guests. But the Surfcomber offers more than just a stylish hotel. Its surf-inspired modern flair and pops of color put a smile on your newly sun-kissed face. After a day on the shores, come back and relax in luxurious linen beds and enjoy signature amenities. If you really want to live large, ask for an oceanfront balcony room or suite. You'll have everything you want and more right from your balcony.
Take your time and unwind. Guests can choose from three different types of rooms. There are guest rooms, speciality suites, and accessible accommodations. Let's take a look and see what they have to offer.
Guest Rooms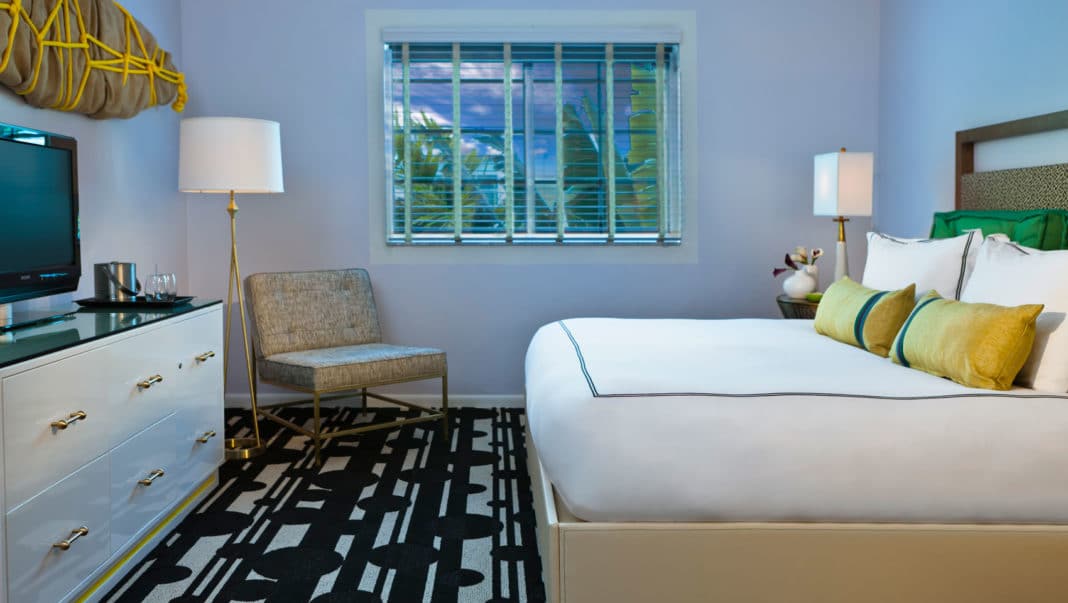 Credit: Kimpton Surfcomber
Retro art deco designs are a part of every guest room at the Kimpton Surfcomber. Whether you opt for a water or city view, each of the hotel rooms offer beautiful, minimalist styles. Pops of color and modern decor keep things interesting. Since comfort is key, you will enjoy a plush pillow-top king, queen, or double twin beds, super soft linens and dreamy bath products.
Each room offers a 40 inch high definition flat-screen TV and iHome stations. You can choose to enjoy a movie night or simply enjoy the quiet. The waves have a soothing voice of their own. Guest rooms range from a King Deluxe Room (275-290 sq. ft.) to an Oceanfront King Premier Room (480 sq. ft.). There are six different types of guest rooms you can choose from according to your needs.
Specialty Suites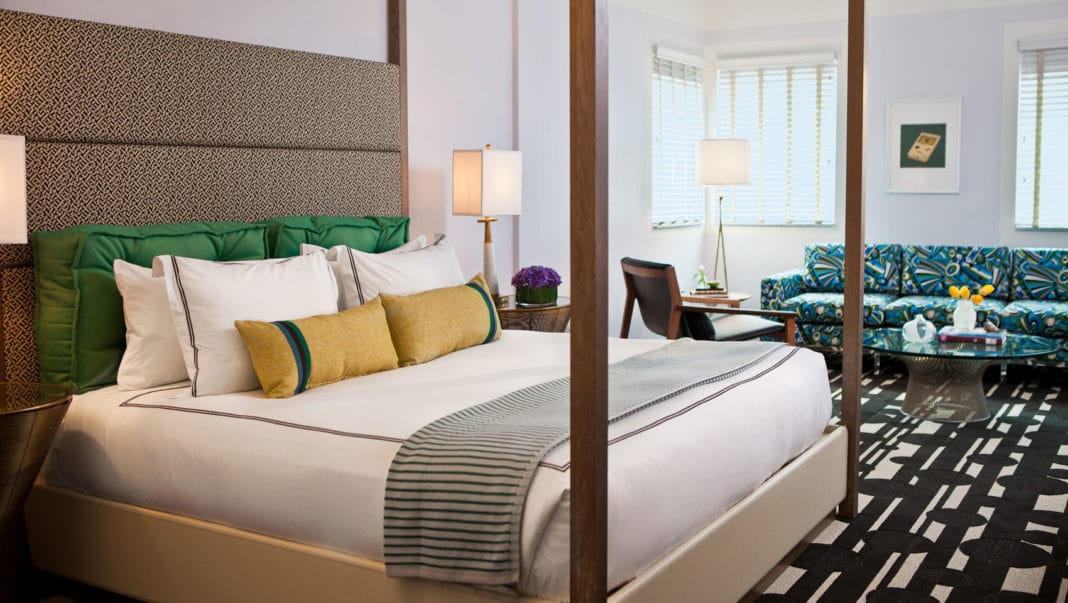 Credit: Kimpton Surfcomber
If you'd like a little more elbow room, the Surfcomber Hotel Suites do just the trick. Enjoy a little more room to live in these luxury suites on the beach. Stretch out in your robe, order room service and a fresh cup of coffee, and soak in all the views from your oceanfront balcony. Meditate on the sound of the rolling waves. Take in the colors of a spectacular Miami sunrise.
Choose from three different types of rooms: Oceanview Balcony Luxury Suite, Oceanview Luxury Suite, and City View Luxury Suite. The possibilities are endless from your specialty suite.
Accessible Accommodations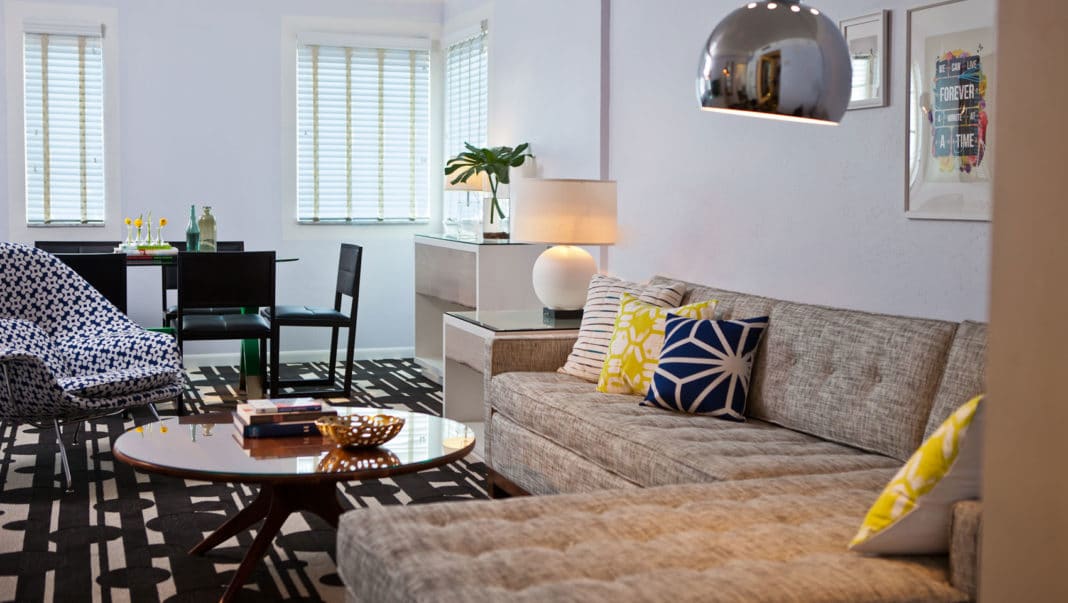 Credit: Kimpton Surfcomber
Enjoy rooms with a little extra thoughtfulness. There are features that meet your needs. Guests who require special accommodations can be assured that the Surfcomber offers special rooms with them in mind. From roll-in showers to TTY capabilities, the Kimpton is more than happy to provide reasonable accommodations to make your stay the most enjoyable. A full list of features are available on the website.
Let's Talk Dining
You can have it all and more at the Surfcomber. Check out these options for unique cuisine and social dining.
The Social Club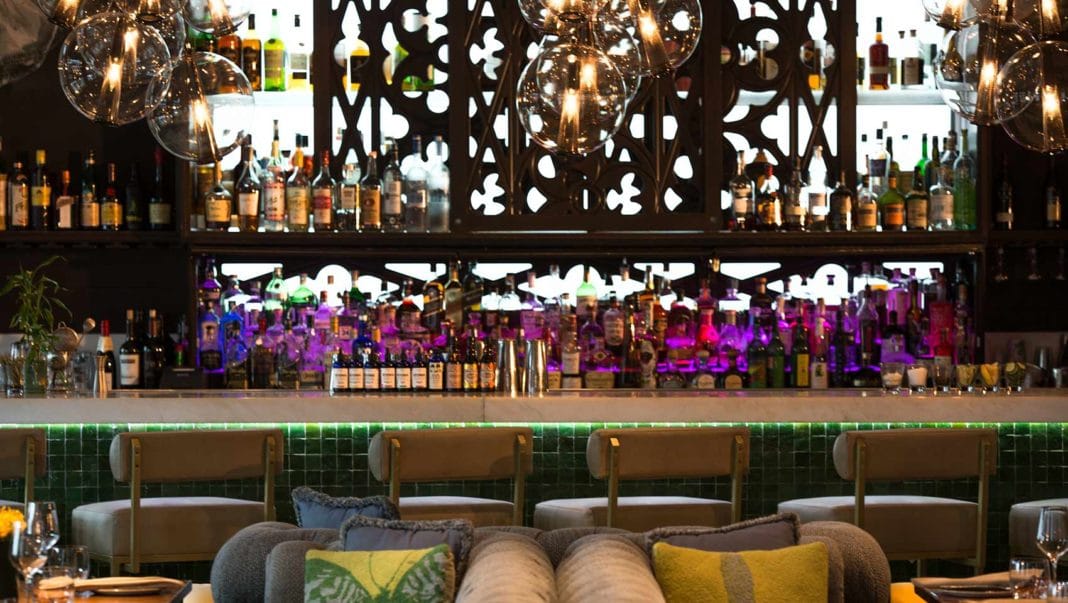 Credit: Kimpton Surfcomber
South Beach dining means great vibes and even better food. Experience inspired dining at the Surfcomber's very own restaurant, the Social Club. Everything about the place is designed to encourage community. The ambiance gives off a subtle sexiness with sky lights, and an open-air terrace overlooking Collins Avenue.
Enjoy locally loved social plates that come with a creative twist. Handcrafted cocktails, micro brews, and curated wines are all waiting to be poured. They say the best thing about Social Club is you don't even have to leave to get social.
High Tide Bar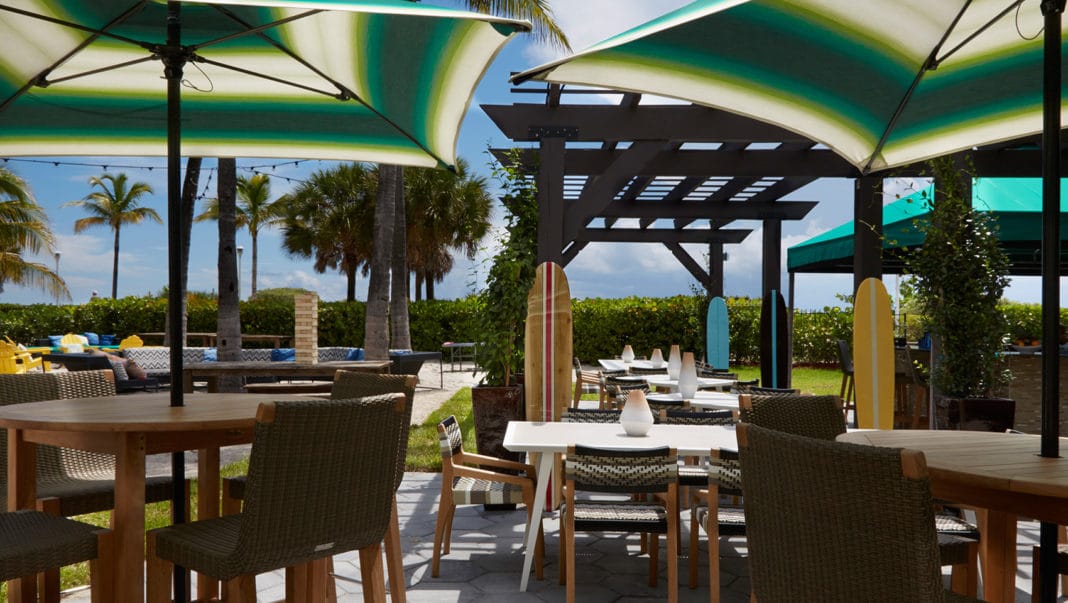 Credit: Kimpton Surfcomber
Are you in the mood for something a bit more beachy? Nestled between the Surfcomber and the beach, High Tide Bar offers a place for locals to rest easy and grab a drink and bite. Kick up your feet and prepare to stay a while. Take your time choosing one of many hand-crafted cocktails from expert mixologists.
Whether you want a white sangria, spiced rum punch, frozen cappuccino, or a classic margarita, they've got it all. If you want more, order a pitcher and pass it around. But let's not forget about the food. From delicious spicy wings to smooth hummus and ceviche, fresh salads, and fish tacos, High Tide hits the spot. Beyond the food and drinks, stay for the live music, occasional movie screenings, and a shorts and sandy feet only dress code.
Private Dining
Credit: Kimpton Surfcomber
You have the occasion and the guest list. Now, where to go? Are you looking for something a little more exclusive? Enjoy private dining, complements of the Surfcomber. Enjoy an array of indoor or outdoor options from an intimate dinner with close friends in a poolside cabana to a large family reunion at the Beach at High Tide.
Guests have the choice of American-inspired dishes or to craft an original menu of their choice for the special event. Private dining in Miami has never been this good.
Let's Talk Amenities and Activities
Pool, beach, spa, repeat. Experience dreamy boutique hotel amenities at the Kimpton. With a zip code in the South Beach, you don't need much else to lure guests in. Still, the Surfcomber goes above and beyond to make sure you will love your stay.
While other hotels have pools, the Surfcomber has a pool framed by swaying palm trees and a creative, social Daylife. Spa services, a fitness center, and a private sandy oasis surround you, beckoning to join in the beachy lifestyle. Treat yourself to alluring amenities.
Sandy Playground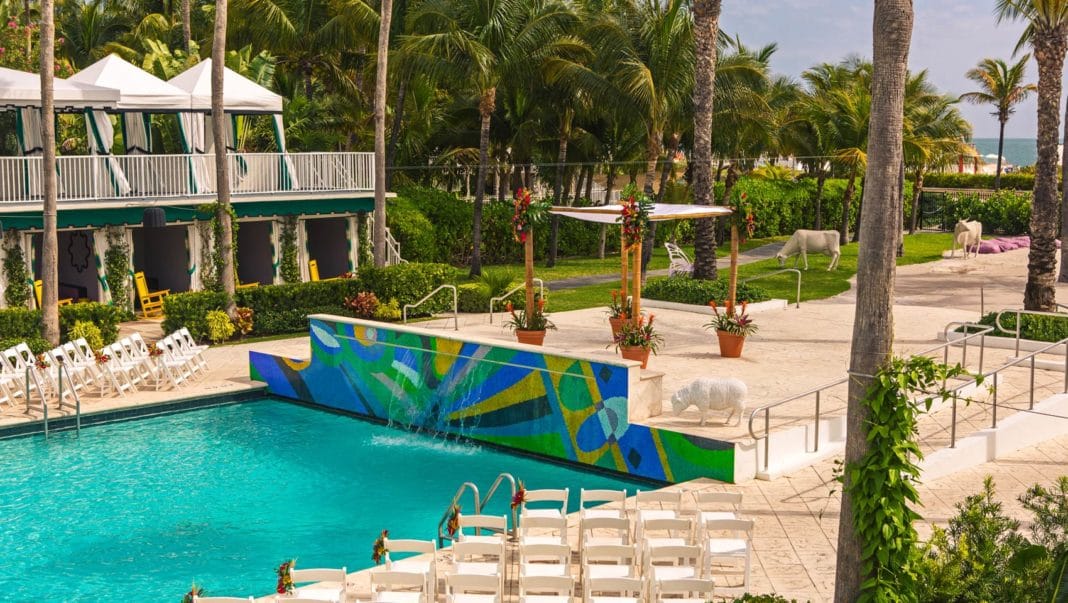 Credit: Kimpton Surfcomber
Have you ever wanted your own private playground? Well, it's here, and it's all yours. Tucked right between the beach and the shimmering pool is a perfect sandy oasis. Welcome to the Beach at High Tide. Get some shade under the tall, swaying palm trees.  Relax by the fire pits on cozy sofas and comfortable chairs. This is where guests come to play games like bocci ball, a life-size Connect Four, bean bag toss, and even hula hoop.
Just steps away, you can enjoy a lovely dinner with long communal tables and string lights overhead. Whatever is happening down at the Beach at High Tide, you can count on a good time.
Spa Services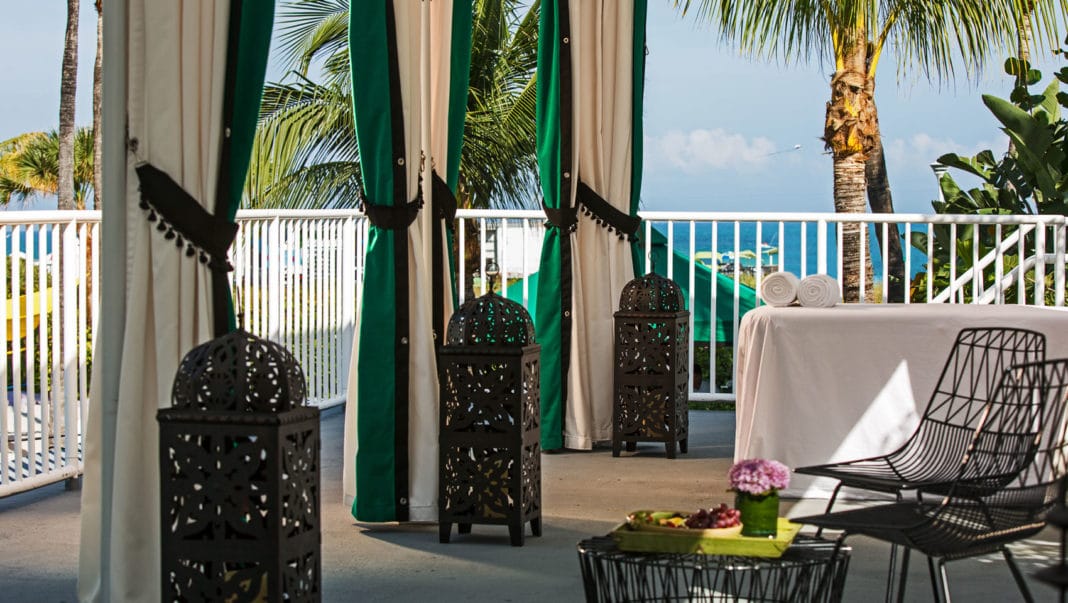 Credit: Kimpton Surfcomber
Welcome to a stress free zone. Rejuvenate with South Beach spa services, whether it's poolside or in your own room. The Surfcomber knows where you're coming from. Life, constantly being  on-the-go, and multi-tasking can induce stress. Here, you can leave your worries behind you and hold your calls. The Kimpton Surfcomber offers wonderful spa packages and services as the perfect remedy.
Enjoy a mojito scrub – an invigorating body scrub of mint, sugar cane, and lime-infused oil. Relax your muscles and wake up your skin with an antioxidant massage cream made from organic coffee beans.
Have you heard about the Moon Over Miami Massage? Ideal for couples, you can enjoy massages under the stars in a beautiful open-air cabana. Did we mention that facials, mani-pedis, and customizable spa packages are also available? A world of luxury and comfort awaits you at the Surfcomber spa. We could go on, but that's what their menu is for.
The Pool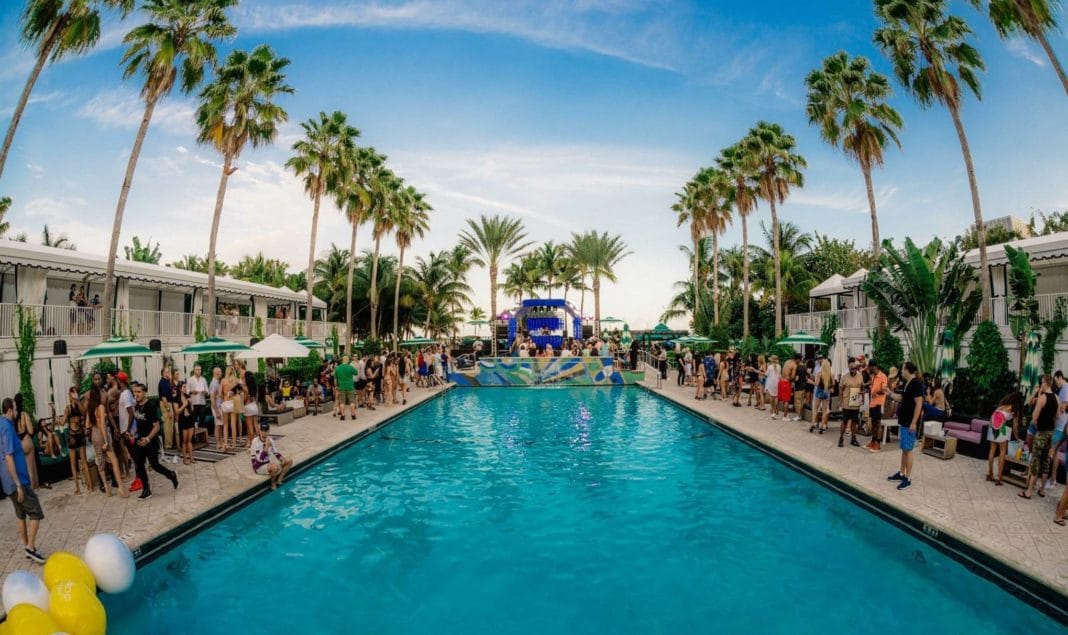 Credit: Kimpton Surfcomber
Let's talk about the pool, shall we? While South Beach is celebrated for its nightlife (with good reason), the Surfcomber didn't want to limit themselves to just there. So, they designed a gorgeous pool inspired by the sun. Come and enjoy the day life, a wonderful excuse to soak up some sun and play in the pool.
Treat yourself to an ice cream sundae, work on your tan, and cool off in the refreshing water. Just steps away, you can join your friends in a bocce ball tournament, take a bike tour of the Art Deco District, or take a mixology class under the comfort of a shady cabana. What would you like to do?
Pet Friendly
Wagging tails are welcome at the Surfcomber. So stop worrying about leaving Benji behind. At every Kimpton hotel, feel free to bring your furry friend. No matter their size, weight, breed, or type, they can come at no additional charge. There's a no fuss, no worries policy. In fact, they've got all the goods you need to keep your pets pampered. Say hello to the Directors of Pet Relations to learn more.
What Travelers Are Saying About the Kimpton Surfcomber Hotel
Location, location, location. This is what guests love the most about the Surfcomber. Paired with a friendly staff and comfortable amenities and you can't really ask for much more. Those who stayed highly recommend the ocean view suites. The only complaints guests seemed to have were the room sizes and that there were not many kid-friendly activities offered at the hotel.
We don't know about you but with all the things to do in South Beach, we wouldn't be spending that much time in our suites anyways. If you're looking for a kid-friendly hotel, there are probably better options out there for you in Miami. But, if you're looking for a relaxing, quiet getaway, the Kimpton Surfcomber is a perfect oasis.
Book Your Stay At the Kimpton Surfcomber Hotel Today
Book your stay at the Surfcomber and enjoy a home away from home. South Beach, Miami is one of the most fun places to be on the east coast. You can't beat the shimmering white sand and warm turquoise waters. There's great nightlife, amazing dining options, and so many activities to choose from.
The Kimpton Surfcomber is one of the best places to stay in the Magic City, offering luxurious amenities, a pet-friendly stay, and a quiet oasis amidst the Art Deco District. Perhaps what we love the most is their day life activities. From spa days, mixology classes, and a private stretch of sand to call your own, the Kimpton has a lot to offer. We highly recommend this hotel.
Related Article: The 10 Best Hotels In Miami