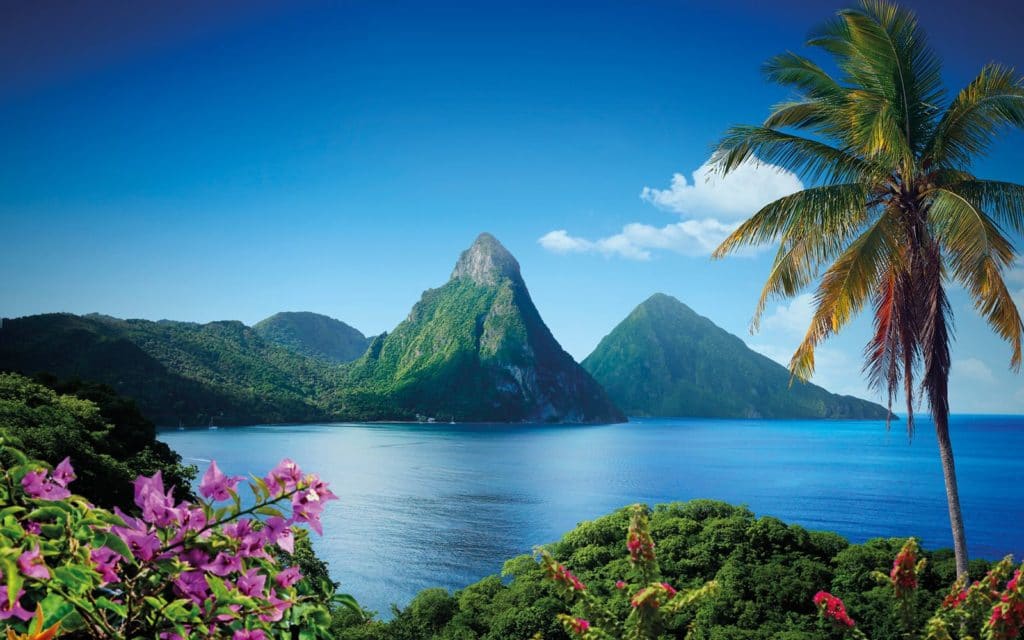 Take your pick from the ultimate couples resorts of your dreams. There are beautiful hotels all around the world built just for lovebirds like yourselves who want to relax, explore, and just get away. What do the resorts all have in common? They have everything you need. From drinks to beaches and incredible views, everything is included. What is the number one place on your list to go?
We've curated a list of the world's best couples resorts based on your must-haves, from stunning views, relaxing spa treatments, and all-inclusive packages. So sit back and grab a pina colada. All you have to do is pick one.
| Image | Hotel | Rating | Prices |
| --- | --- | --- | --- |
| | | 4.5 out of 5 | |
| | | 4.5 out of 5 | |
| | | 5 out of 5 | |
| | | 5 out of 5 | |
| | | 4.5 out of 5 | |
| | | 5 out of 5 | |
| | | 4.5 out of 5 | |
| | | 4.5 out of 5 | |
| | | 4.5 out of 5 | |
QUICK NAVIGATION
Common Features of Couples Resorts
check-circle-o

Adults-only resorts and a quiet, peaceful atmosphere

check-circle-o

Infinity pools overlooking the ocean and beautiful beaches

check-circle-o

Gourmet dining under candlelight and a stunning setting

check-circle-o

Unparalleled hospitality and customer service.

check-circle-o

Amenities including fitness centers, spa treatments, and honeymoon packages.
Location, style, and budget probably all come into play when you're planning a vacation. But when you're booking a couples resort, some things are more important than others. Can you really find the resort that has it all? Maybe you've found several couples resorts that seem dreamy but you just can't seem to narrow it down.
While some couples resorts charge for water sports and fine dining, others are all-inclusive. Finding your perfect couples resort comes down to one question. What kind of vacation are you looking for? Whether it's relaxing on the sand, enjoying speciality couples massages, or embarking on a thrill-seeking adventure with your partner in crime, you're in look. We've scoured the net and the globe for the world's best couples resorts. So, sit back, rest east, and help yourself to that pina colada. All you have to do is pick one.
Why Stay at a Couples Resort vs. a Normal Resort?
We could pretty much answer your question in two words – no kids. Haven't you always wanted a romantic getaway with just the two of you? While that's a great start, there's more. Picture secluded beaches, with open expanses of pristine, white sand. Take a late night dip in the glistening sea under a welcoming moon. Warm yourselves up in cozy, candlelit cottages.
Couples resorts offer a mix of a perfect ambiance and luxurious amenities that will surely light that romantic spark during your next vacation. Now there's only one question you need to ask yourselves? Where in the world do you want to go next? Dream big and live larger.
1. A Quiet, Peaceful Time to Relax and Rejuvenate
At couples resorts, all guests are seeking the same thing. Whether you're new lovebirds, newlyweds, or celebrating your golden anniversary, you're all looking to get away from the crowds and reconnect with each other. Couples resorts offer a quiet, serene environment to do just that.
Couples resorts are built around a holistic concept of health, wellness, and getting back to good romance. Without the kids around (or let's face it, other people's kids), you can rest easy and just focus on the two of you. Let's face it, you probably don't get to do that enough. Treat yourself. You can thank us later.
2. Reduce Stress and Improve Your Overall Health
It's good for your mind, body, and soul to take some time out to rest. Pamper yourselves. Studies have shown that people who give themselves time to take a break and have some fun are actually healthier than those who don't. Taking care of yours and your partner's health and well-being is beneficial for both of you.
So if your boss asks if you can cut your break short or push that vacation back, feel free to say no. Do this for yourselves. Regular romantic getaways actually lead to a better quality of life and improved work performance. You can't argue with that. Go ahead and treat yourself at one of these ultimate couples resorts.
How to Choose the Perfect Couples Resort for Your Special Occasion
It doesn't have to be a special occasion to get away. But in the chance that it is, congratulations. You're going to fall in love with the resorts we've chosen for you. From romantic dinners for two, sexy dips in the ocean, and stunning oceanfront rooms, you'll find you never want to leave. So, no matter what you're celebrating, there is the perfect resort on this list for you.
Be a little adventurous. Go somewhere new. Book two international plane tickets. No one has ever regretted the trips they've taken. Live a little.
Questions to Ask Yourself Before Beginning your Search
What are you looking for in a vacation? Rest and relaxation? White beaches and crystal clear waters? The adventure of a lifetime. These resorts have all of the above and more. Don't worry. Now, get back to that pina colada and just keep scrolling. Who knows? Maybe you won't be able to settle on just one place. You might just have to pick two.
1. Is There A Beach?
What's better than a beachside resort? Nothing. While resorts and beaches usually go hand in hand, not all resorts are right on the sand. It's important to check out the proximity of your hotel to the beaches and places you want to go see. Beachside resorts usually include or partner with water sports companies for adventures including swimming, snorkeling, jet skiing, and surfing. What's a better way to have fun with your partner? Other than this, ask the resort if they have a private beach. If they do, you'll enjoy more exclusivity and be able to escape the crowds.
2. How's the Service?
Read up on all the reviews you can. If you're going to be spending money on a vacation, nothing is worse than snobby staff. The services offered and staff at an all-inclusive resort can make or break your experience. Couples that go on vacation leave to catch up on their R&R. Good service is prompt, informative, and friendly.
With this said, you should keep in mind that generally speaking, you get what you pay for. Before paying for a resort, call and see how the staff respond to your inquiries. Look them up online. Reading reviews helps you get an understanding of what the resort excels at and what it is lacking. Last but not least, don't forget about tipping. While it's not expected at all resorts, it is definitely how the staff at others make a living.
3. What Is the Atmosphere Like At the Resort?
Most couples choose a resort based on the quality of the amenities and peaceful atmosphere they provide. With this said, make sure to choose a location that gives you the peace and quiet you're seeking. If the resort lies in a touristy area or big city, you'd better believe there's going to be noise. Some resorts are blaring loud party music all the time and others let the melody of the oceans guide them.
4. Consider the Accommodations and the View
Why do you want an all inclusive resort? Well for the accommodations, amenities, and the view of course. What's better than eating free food three times a day and taking advantage of all there is to offer? Go for a resort that offers splendid views. Don't settle for anything less. Some hotels will charge you a higher price tag for a room with a great view, so make sure to look into this. With this said, make sure the rooms are spacious enough too. Most hotel rooms start at 250 square feet and go up from there.
If you're staying at a resort with your partner, a swim-up bar, fitness center, and romantic dinner never hurt. Ask around and find out if there are any couples' specials or water sports you could do together. Some hotels have a resort fee while others are all-inclusive resorts for couples. See if there are any special events at night and make the most of them. If you're specifically looking out for a resort with such activities, call and see what they have to offer. One of our favorite activities at a tropical resort are glass-bottom boat tours.
5. Where Is It Located?
Location… We can't overemphasize its importance enough. We're sure you think a lot about the vacation where you want to head for your next vacation. Remember, where you decide to go plays a big factor in the price you'll pay. People often choose to plan their trip around a festival or a concert. Anything touristy like that is going to cost more.
Before you book your couples' resort, make sure it's not too far from the airport – unless you're really seeking a remote getaway. Do you want to hit up museums and rooftop bars within the big cities? Or would you rather be surfing somewhere in Costa Rica? Choose properly. Flexibility when booking is also important to save some cash. If you can, try to avoid peak season. Booking your stay during the shoulder and off season will help you save big.
6. What About the Meals?
A good meal sets the mood. If you can, make sure the resort you choose includes complimentary meals. If you're ready to splurge on one of the enticing honeymoon packages, keep in mind that free stuff never hurt anyone. Ask questions about the food services. Read more reviews. Ask if the items in the mini-bar are free. Find out if there's a dress code such as no flip flops, short pants, or swimming suits on the patio.
7. Find Out If There Are Any Extra or Hidden Costs
Most resorts have vacation packages. Even so, you might need to cash out for extra activities. For example, club rooms are mostly available for exclusive guests who paid more for the premium rooms, pool views, and restaurant access. For the spas, you might have to pay a bit more but you can almost always use hydrotherapies and the sauna.
8. What Does Your Budget Look Like?
How much money do you have saved for your couples/ vacation? How much are you willing to spend? These questions are important when you're planning out your vacation. Perhaps you're willing to spend more on flights to get to a unique destination or maybe you're willing to spend more on a luxury hotel. Do you have money for any unexpected expenses that might arise on the trip or would you rather know up front what you are going to be paying?
9. What Activities Does the Hotel Offer?
Think activities and adventure. As a couple would you prefer having more time to relax on vacations or would you rather embark on a whirlwind action-packed trip? Is your dream honeymoon or couples' getaway about a luxury resort or would you rather enjoy quiet evenings away from the crowds and the party scene?
Many all-inclusive hotels offer both relaxing spa treatments, mellow activities like yoga, and more adventurous activities like rock climbing, water skiing, and more. Last but not least, consider entertainment. Do you love the nightlife scene or would you rather enjoy evenings away for just the two of you?
So What Is Your Dream Couples Resort Vacation?
Based upon your answers to these questions, you can tell what your best option is. If your most suitable option is an all-inclusive resort, look carefully. Not every all-inclusive resort is created equally. Many vary in terms of amenities, dining options, spa options, pool quality, room size, etc.
Whatever type of resort you choose, make sure to do your research and read up on some reviews before you commit and pay for one. Another good rule of thumb is to call ahead and make sure the resort is not under partial construction when you go. Nothing is more disappointing than finding out the lagoon-style swimming pool is actually filled with cement.
Here's the Moment You've Been Waiting For. Take Your Pick From the World's Best Couples Resorts
White sand. Clear water. Luxurious amenities. Stunning views. Adventure awaits. Dive in.
1. The Caves Jamaica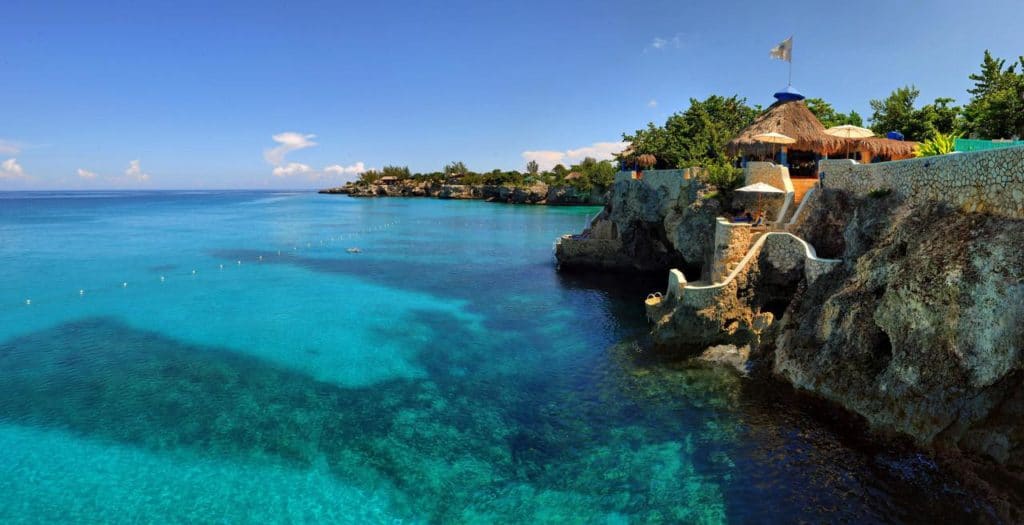 Blue skies, bright nights, and special moments await you at the Caves Jamaica couples resort. Combining all the glamor of Negril, Jamaica with a modern attitude, you'll find a wonderful blend of local culture and pure luxury. This natural preserve turned honeymooners nirvana is located just minutes away from a serene 7-mile stretch of beckoning white sand. Here, enchantment and adventure are yours to take.
The Caves is the ultimate couples resort getaway to rest, revitalize, and experience pure romantic bliss. You'll soon fall in love with its idyllic cliffside cottages, a grand villa, two stunning dining gazebos, and a signature Blackwell Rum Bar. This is what heaven must look like. When you want to wind down at night, choose from a relaxing spa, jacuzzi, private hot tub, and saltwater swimming pool. Everywhere you turn, you'll be enchanted by the glittering sapphire sea.
Pros
plus

Amazing personalized service

plus

Beautiful location

plus

Food on site
Cons
Welcome to private stunning beaches and breathtaking ocean views here at Secrets Playa Mujeres Golf & Spa Resort. This AAA Diamond winning suites-only couples resort is a short ride from the Cancun International Airport, 10 minutes from downtown Cancun, and in close proximity to an 18-hole signature golf course. Enjoy an unlimited luxury escape in a sublime tropical location. Indulge yourself in delicious food from nine restaurants, choose from seven bars, and explore two protected flora and fauna reserves. Treat yourself to world-class luxury.
Pros
plus

Adults Only Resort With Close Proximity to Airport and Downtown

plus

Ample amenities
Cons
close

Mediocre Restaurant Food
In the south, Bora Bora invites you to immerse yourself in a secluded, tropical paradise. The Four Seasons Resort offers an unparalleled luxury in the world of couples resorts. As the most famous island in French Polynesia, Bora Bora was recently awarded the title of "Most Epic Stay in the World" by AFAR. We can't think of a better place than the Four Seasons for a tropical vacation.
Wrapped by majestic views, this luxurious couples resort is surrounded by inlets on an outer coral reef, enclosing a perfect turquoise lagoon. Come. Steep yourself in the island's traditions and make some of your own. Book a bungalow suite overlooking the gentle waters. Dive with rays in an underwater adventure. Spend the evening on a sunset cruise. Get your breakfast delivered to your suite from an islander in a ceremonial Polynesian canoe. Fall in love with the Four Seasons.
Pros
plus

Amazing, relaxing location

plus

Wonderful staff and local culture

plus

Stunning suites
Cons
Organic architecture celebrates nature's stunning settings at Jade Mountain. Rising majestically above the 600 acre beach, Jade Mountain stands in harmony with the local beauty. Walk one of many individual bridges to exceptional pools.
Rugged stone columns lead you reach towards the sky, framing your spacious living space. From the bedroom, to the living area, to an extravagant private infinity pool, everything glides seamlessly together. Experience St. Lucia's only property with iconic views of both the Piti and Gros Piton Mountains. It doesn't get any better than this.
Pros
plus

29 stunning suites

plus

Exquisite food
Cons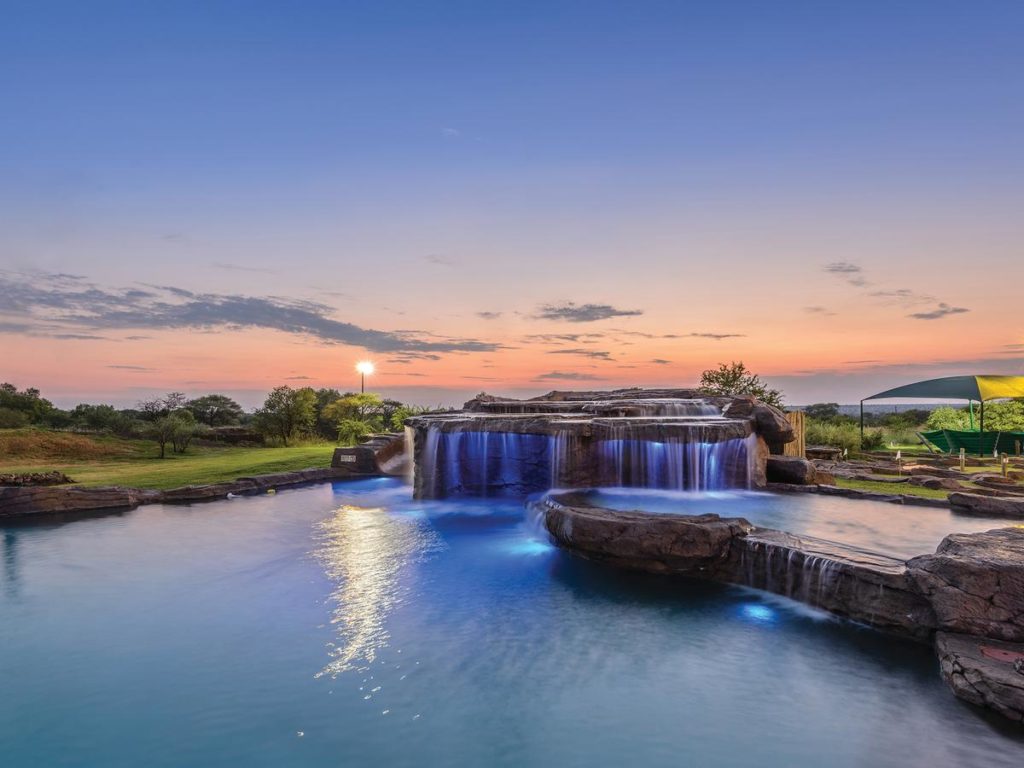 Located in the Pilanesberg National Park, the Kingdom Resort is just a stone's throw away from some of the most spectacular landscapes in South Africa. Set in the crater of an extinct volcano, the Pilansberg region is a feast for your eyes.
It's no wonder this setting was chosen for a luxurious couples resort. Here, you'll find syenite koppies, thickly-forested ravines, and breathtaking grasslands. Wake up to an African sunrise and enjoy an all-encompassing experience complete with exciting onsite activities. It's all at your fingertips.
Pros
plus

Great Location

plus

Unmatched wildlife views

plus

Delicious food
Cons
Credit: Charisma Suites
Welcome to the best couples resort in all of Santorini. Famed for its stunning architecture and exquisite views, it's no wonder that travel influencers Lauren Bullen (aka Gypsea Lust) and Jack Morris (aka Do You Travel) chose Charisma Suites for their Greek getaway. Charisma is an all-suites hotel, meaning that when it comes to rooms, you'll get nothing but the very best.
We can't think of a better place to wine and dine than the cliffside of Oia. From your private balcony, cozy up and watch the sun set into the endless expanse of the Aegean Sea. Your romantic hotel is a portrait of perfection. From the hotel's main pool, you'll enjoy spectacular caldera views. Here, style meets nature in the best way and luxury suites hold a special allure.
Pros
plus

The view, hands down

plus

Wonderful staff

plus

Free, cooked-to-order breakfast
Cons
close

There are a lot of stairs. No special accommodations for those with mobility issues.

close

Small main pool area. You can pay extra for a room with a private pool.
7. Couples San Souci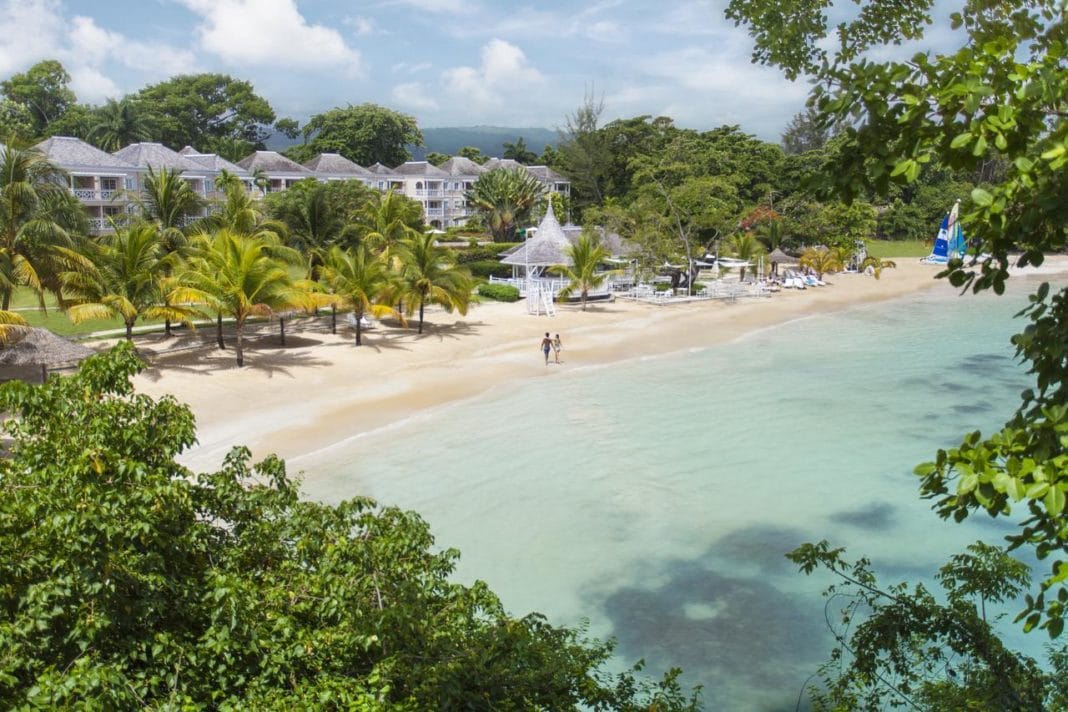 At the Couples San Souci, staff go above and beyond meeting your expectations. Nestled away amongst the natural beauty of Ocho Rios, you'll find the quintessential Caribbean experience. By offering exceptional five-star service and world-class amenities in Jamaica's most idyllic setting, the result is a carefree and enchanting environment. Forget about everything and focus on one another. This is your time to get away. It's the best of the best among luxury resorts.
Pros
plus

All-inclusive resort: meals, activities, etc.

plus

Good sized guest rooms

plus

Super friendly staff

plus

Glass-bottom boat tours
Cons
close

No bottled water

Food is average
8. Couples Negril
We don't have to be mind readers to know how much you'd love to stay at Couples Negril. It's a little bit of everything you're longing for and more. Whether it's a nightcap under the stars, tossing another log onto a roaring bonfire, or enjoying a romantic champagne sunset cruise fit for two, Couples Negril has it covered. Everything is a wonderfully over the top couples all-inclusive experience. Because Jamaica should always include more than your mind could even imagine.
Pros
plus

Beautiful location and lovely climate

plus

Great main pool

plus

Comfortable rooms
Cons
close

No palapas or umbrellas

Crowded
9. Spice Island Beach Resort
Come and enjoy the spice of life at Spice Island Beach Resort in Grenada. Every visit to this luxurious boutique resort is an experience to be discovered. Renew your body and soul at a spectacular spa. Come for the tropical beauty and stay for the all-inclusiveness of it. An all year-round rating with an AAA Five-Diamond Rating, this sprawling eight-acre property is located just ten minutes from the airport.
Pros
plus

Great location and room views

plus

Friendly and attentive staff

plus

Open air dining
Cons
close

A little pricey

On a busy section of the beach
Common Questions
Are you looking for more activities to do for a couples resort getaway? Perhaps you're looking for a few getaways a little closer to home or you want to find the perfect cruise. Here are two options to get your adventure started.
Be Sure to Book Your Stay At One of the World's Best Couples Resorts
For an unforgettable romantic getaway with stunning views and luxurious accommodations, these romantic couples resorts offer it all. Private views lead the way to breathtaking scenery, wonderful service, and gourmet dining. Your time of love, fun, and adventure are just a moment away.
We would love to hear about your favorite places to go for a romantic couples resort getaway! Do you have a favorite city to visit or hotel to stay in? Let us know in the comment section below.
Related Article: 6 Best Cruises for Couples in Need of a Romantic Getaway
Danielle Dougall
Danielle Dougall is a photographer, avid writer, and traveler. Hailing from the rainy city of Seattle, WA she now lives in southern California where she enjoys longboarding, hiking, coffee shop hopping, and dreaming up destinations for her next international trip.