Welcome to the most famous sunset spot in all of Santorini. When it comes to luxury, Charisma Suites is in a world of its own.
Charisma Suites, an all-suites hotel located in Oia is nestled away amongst the natural beauty of the Greek island. There are so many amazing things to do in Santorini. Perched atop a cliff, guests get the best views of the stunning endless blue Aegean Sea. This romantic hotel is the dictionary definition of perfection. Located right in the heart of the town of Oia, Charisma Suites is conveniently located 29 km away from the airport.
While taking a refreshing dip in the hotel's main pool, guests enjoy spectacular caldera views. As the evening rolls in, you'll see the spectacular sky turn a myriad of vivid colors. Here, style meets nature in all the right ways. These luxury suites symbolize the typical Cycladic allure. Each suite offers a private balcony to soak in the views, while others feature a private outdoor jacuzzi or private pools.
Let's Talk Accommodations
The Charisma Suites offer four different types of accommodations for their guests: The Senior Suite Caldera View, Honeymoon Suites with Jacuzzi and Caldera View, Charisma Pool Suite with Caldera View, and the Charisma Infinity Pool Suite with Caldera View. All rooms offer a private balcony overlooking the gorgeous natural beauty of Santorini. In addition, all rooms are sound-proofed, offer free WiFi, iPod loading docks, 24-hour room service, and flat-screen TVs. Also, important to note – the hotel is pet-friendly. So bring Fido along. We're sure he'll love Santorini too.
Let's take a look and see what each of these suites have to offer.
1. Senior Suite Caldera View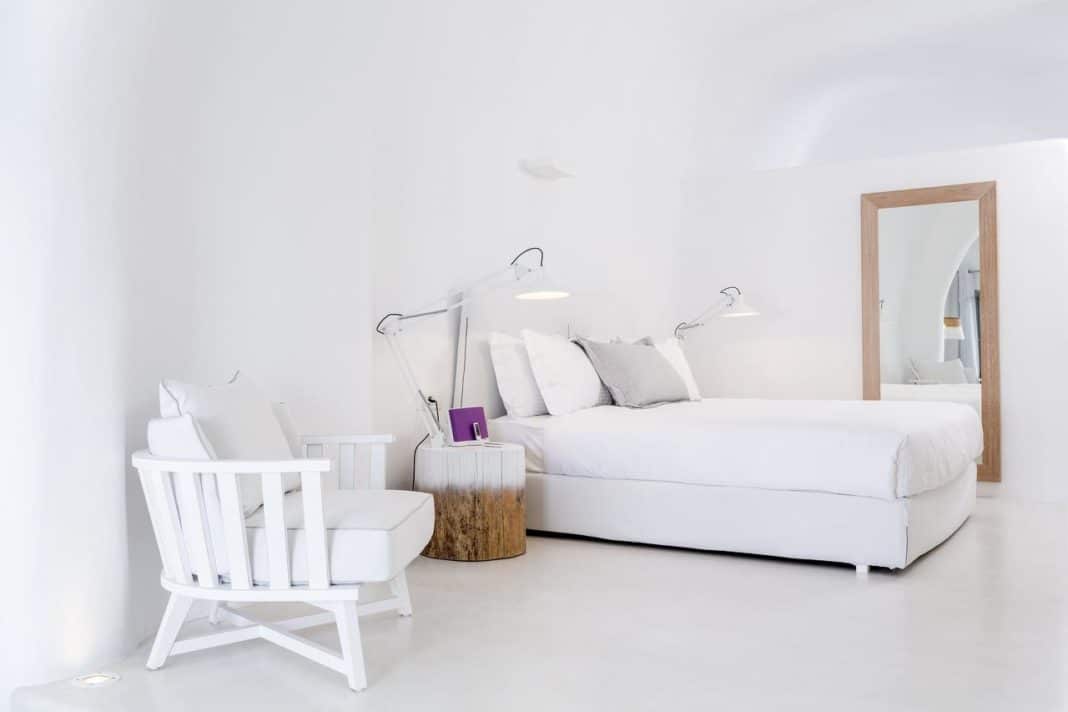 Credit: Charisma Suites
The Senior Suite Caldera View offers a spacious bedroom with king-size beds, an open plan living room, and bathtub with a shower or bathtub. The fully furnished private veranda provides sweeping views of the caldera and the famous Santorini sunset. This suite accommodates up to two people.
2. Honeymoon Suites with Jacuzzi and Caldera View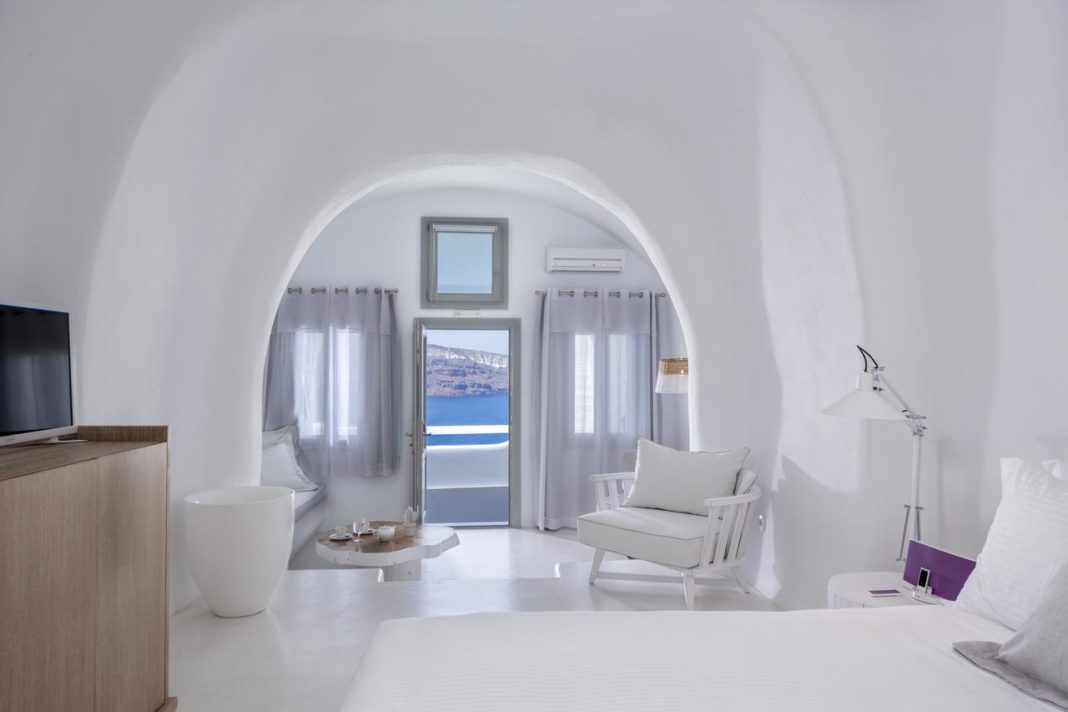 Credit: Charisma Suites
Welcome to the luxury honeymoon escape of the Charisma Suites in Santorini. This lovely space offers guests a king-size bed, open plan living room, and a bathroom with a shower or bathtub. Private verandas provide spellbinding views of the coast below along with a glistening jacuzzi. Grab a glass of champagne and set your mind at ease.
3. Charisma Pool Suite with Caldera View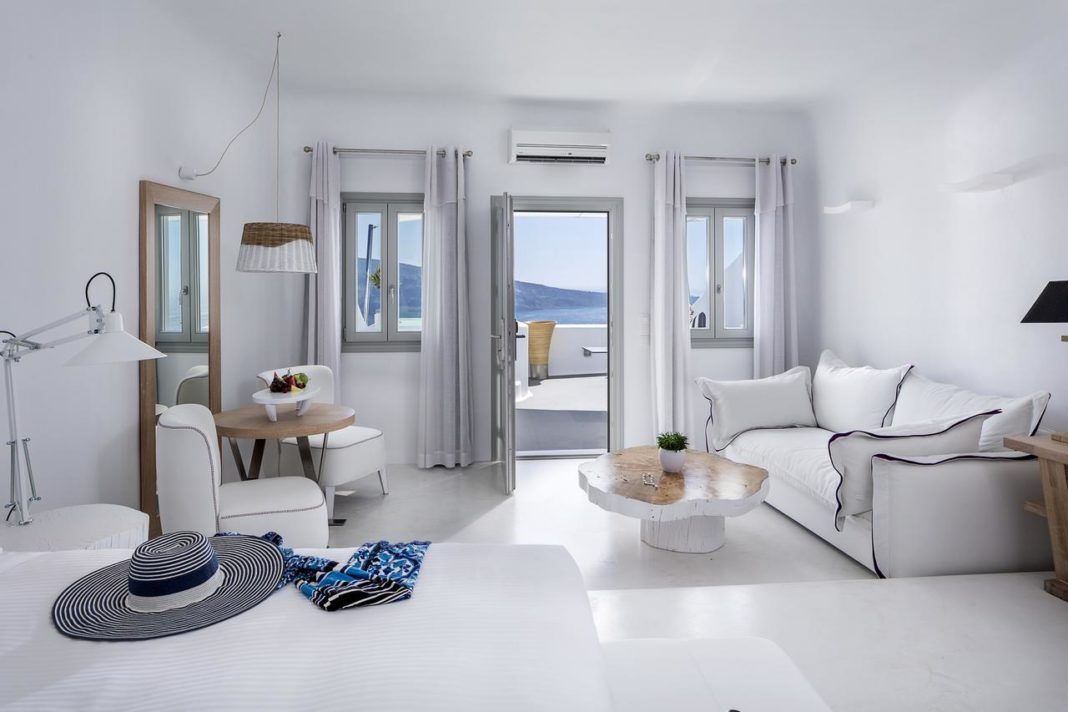 Credit: Charisma Suites
First things first. This amazing suite offers views of the volcano and enchanting Oia sunsets. The Charisma Pool Suite is the ultimate exclusive experience. An open plan living room gives way to a spacious bedroom with a king-size bed, walk-in closet, and a luxury bathroom. Want to know our favorite part? It's the private cave plunge pool, hands down. This suite can accommodate up to three people.
4. Charisma Infinity Pool Suite with Caldera View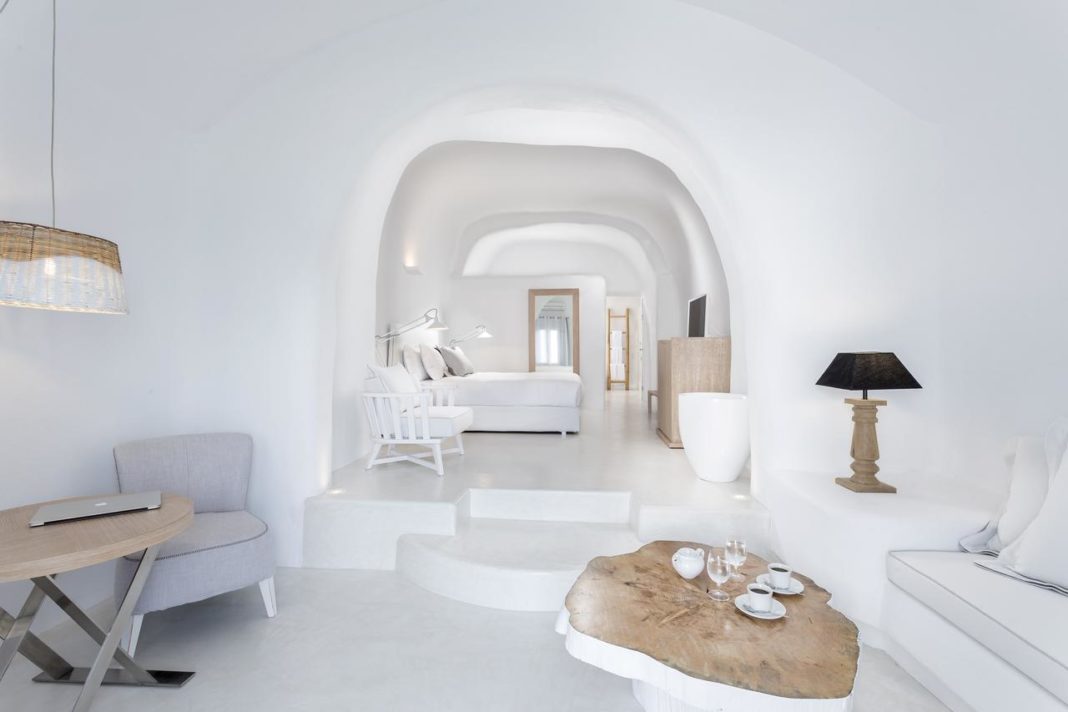 Credit: Charisma Suites
As the newest addition to Charisma Suites, the Charisma Infinity Pool Suite offers a spacious bedroom with a king-size bed, open floor plan sitting, and a luxury bathroom equipped with a large bathtub. Don't forget about the lovely veranda with the sea view too. This visually stunning room accommodates up to two people.
Let's Talk Dining
While you won't find information on their site, Charisma Suites does offer a full-service restaurant, along with a bar and lounge. Free cooked-to-order breakfast is also provided. Other amenities include a poolside bar, 24-hour room service (think waffles and OJ) and complimentary concierge services.
Let's Talk Amenities and Activities
The Charisma Suites are unpretentiously luxurious. Soak up the sun by the infinity pool while taking in the spectacular caldera and sunset views. At the elegant poolside bar and restaurant, you'll indulge yourself in a range of beverages and gourmet light fare. When you're ready to wind down, choose from a variety of spa treatments and massages to enjoy – all from the comfort of your suites.
But before we get to the facilities and services, let's talk activities. While the hotel does not list vacation activities on their site itself, there are plenty of well-known things to do in Santorini. Think fishing, water sports, snorkeling, and enjoying the outdoor pool. Here are our picks for some of the best things to do and see in the area.
Explore Ancient Akrotiri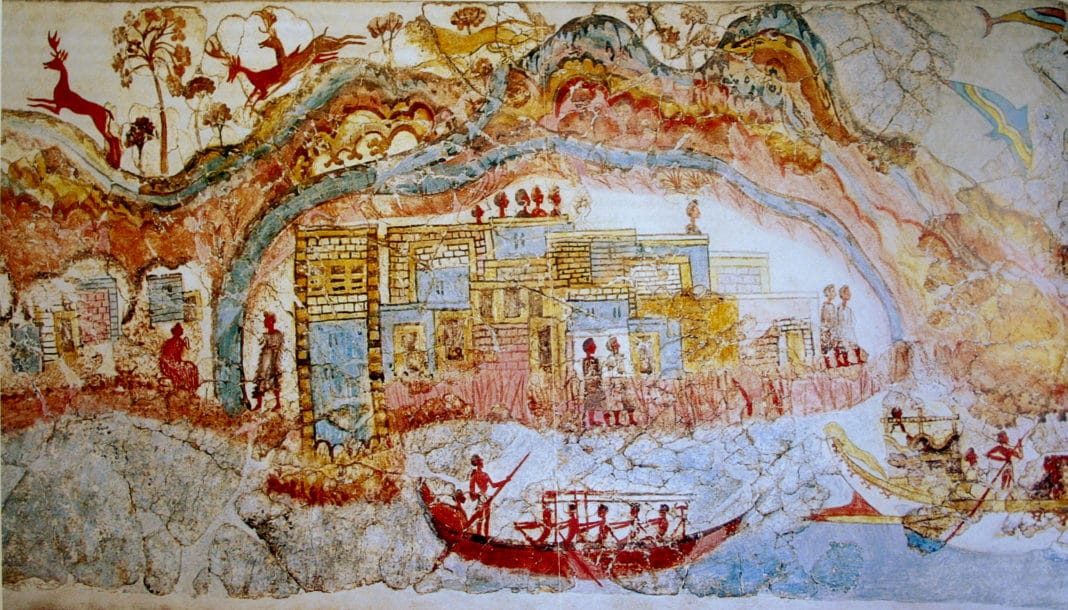 Credit: Charisma Suites
In 1967, archaeologists uncovered remains of an ancient Minoan city buried deep beneath volcanic ash from a catastrophic eruption in 1613 BC. Enter Akrotiri. Wooden walkways allow travelers to walk through the city and peek inside three-story buildings that somehow survived the blast. A vibe of excitement runs all throughout the site, with continual excavations and discoveries continually made. It's one of the coolest places to see on our list.
Visit the Art Gallery, Argyros Canava
On the way to Kamari, you'll find one this little art gallery tucked away inside one of the oldest wineries in Santorini. Superb artworks hang on the walls while sculptures fill corners of every room. The collection at Argyros Canava includes works from some of Greece's finest artisans. While the store's primary focus is winemaking, a large part of its appeal is the collection of fine artwork. We're not going to lie though. The five euro tastings certainly enhance the experience.
Explore Ammoudi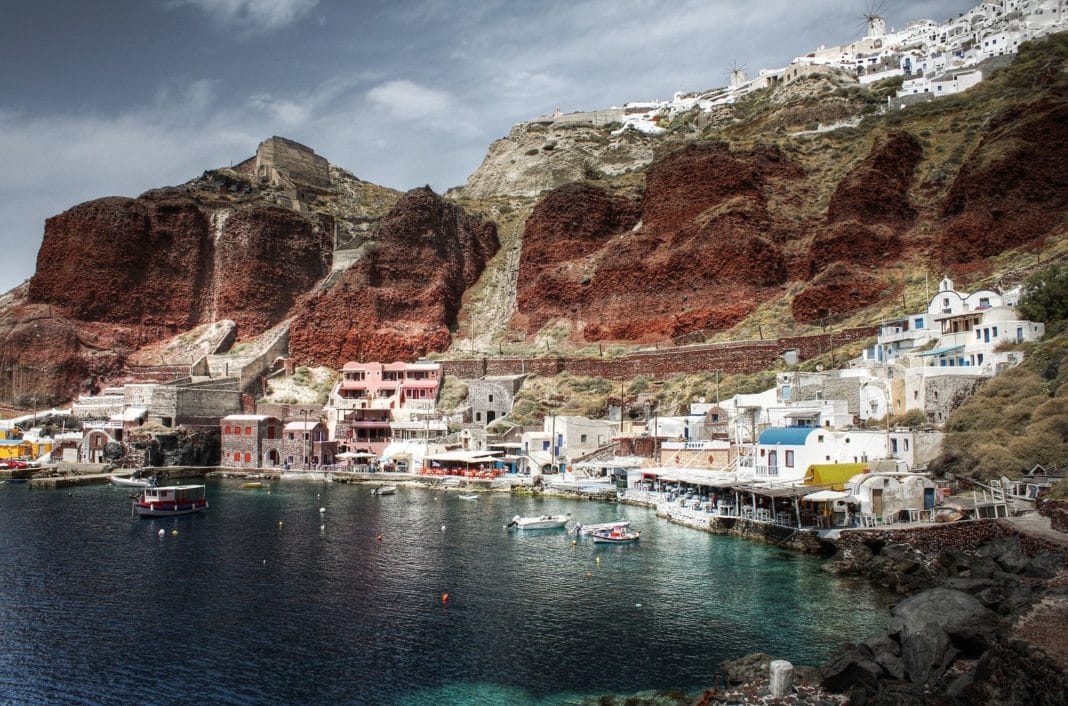 Credit: Charisma Suites
Just three hundred steps below Oia lies Ammoudi, a charming port of colorful fishing boats. While it's a hot hike back up the hill, the views certainly make it worthwhile. Once you're down there, make the most of it. Enjoy lunch at one of the lively fish tavernas on the water's edge. Or you can pack a picnic. Take a walk around the harbor. Go for a swim. Lay out. Talk up the locals. Enjoy it all.
During the summer heat, boats and tours travel back and forth from Ammoudi to Thirasia daily. Just make sure to check in with the travel agencies in Fira for their departure times.
Theoni's Kitchen
Okay, we know there's a restaurant inside the Charisma Suites but you've got to go out on the town sometime. Enter Theoni's Kitchen. While this restaurant certainly isn't fancy and you won't have a caldera view, we honestly don't care.
This is the best, mouth-watering Greek food we could dream up. Expect smiling owners, amazing grub, and fast service. Take it from us, the gyros will have you returning for more (and more). Sometimes the hole in the wall places are the very best ones.
Watch A Movie In the Park At CineKamari
This is a close second to the caldera sunset. Along the road to Kamari, you'll find this open-air cinema – a perfect park paradise and spot to lounge in the summer. Pull up a deckchair, bring a blanket for when it gets a little chilly, and relax. Drinks and snacks are available at stands and booths nearby.
Facilities and Services
Charisma Suites offers the following facilities and services:
checkInfinity pool
check

Pool Bar & Restaurant

check

24-Hour Front Desk

check

Concierge Services

check

Massage & Beauty Treatments

check

Laundry Service

check

Free Wi – Fi

check

Bell Boy Service

check

Transportation Services

check

24-Hour Room Service
What Travelers Are Saying About the Charisma Suites
The Charisma Suites are just a six-minute walk from the beach. Located on a hilltop in Oia village, they offer guests an outdoor pool, snack bar and Cycladic-style accommodations overlooking the caldera and the Aegean Sea.
The property and its suites feature a whitewashed interior and exterior, providing a bright cheerful space where sunshine can pour in along with a breeze from the salty ocean air. Travelers loved the stunning rooms and private pools in their suites. We can't think of a better way to greet the day. Massages can be arranged on request (also popular in reviews) along with ticket and tour services.
Most travelers prefer exploring for themselves. Do the same. Wander the town and get a little lost. Chances are, you'll stumble on some of the most beautiful places you've seen and find the cutest cafes too. There's a reason the Charisma Suites have a five-star rating. This property is one of the top-rated locations in Oia and the guests' praise goes to show that.
Our Take on the Charisma Suites
This is definitely one of the best places to stay in Santorini. While booking a stay at Charisma Suites is pretty pricey during peak season, you can save hundreds of dollars by booking a few months ahead or after the tourist rush. Not only will you enjoy more peace and quiet but you'll also be able to roam the town without having to wait in as long of lines or snap pics without selfie stick users in them.
Okay, so we got a bit sidetracked. The hotel services are beyond your expectation and the suite are way larger than they look – and they look pretty big. Classic and modern elements combine to form an elegant design, capturing the soul of Santorini style. The private cave jacuzzi is spectacular. We could go on forever. Let's just say that Charisma Suites will be our top choice stay in Greece for a long time.
In the case that you'll be stopping a few other places along the way, read this article on where to travel in Crete.
Related Article: Couples Resorts: Take Your Pick From The World's Best Romantic Getaways