Checking out the culinary scene is a must. The best restaurants in Austin offer something for everyone.
Come check out this big-time city with a small town charm. What do we love most about the food scene? You'll find that people here don't take themselves too seriously. Just take a look at the rickety road-side food trucks dishing up some of the best bites in the country. Some of the best restaurants in Austin are the ones you'd least expect.
Here, you'll find the best BBQ joints are hole in the wall locations. Menus at farm-to-table restaurants are nothing short of magical. You won't find a lot of chic food snobbery like you would at some locations in LA. The best restaurants in Austin are down to earth eateries and social hangouts – all in the local know how. We've scoped out hot spots, holes in the wall, and everything in between. Are you ready? Let's go.
Here Are Our Picks for the Best Restaurants In Austin
1. Bird Bird Biscuit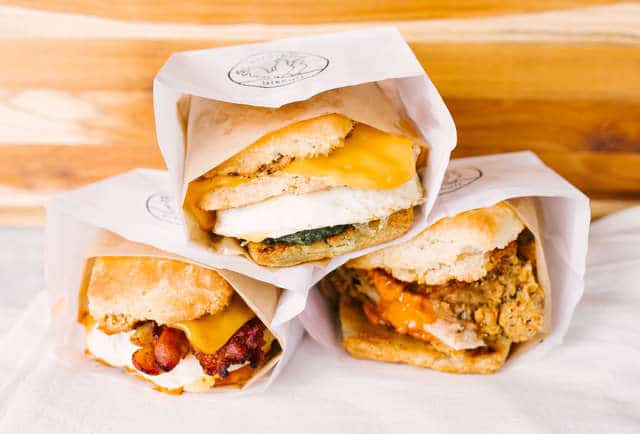 Credit: Bird Bird Biscuit
It all started with some biscuits and a dream. This lovely little eatery is one of the best restaurants in Austin. In 2016, Brian and Ryan, owners and operators of Thunderbird Coffee, became inspired to start a breakfast and lunch joint. Their obsession with sandwiches and biscuits. From there, the idea quickly turned to starting a restaurant entirely based off of biscuit sandwiches. While this was no easy task, word spread like wildfire throughout the city and now Bird Bird Biscuit is a beloved spot among locals and travelers alike.
Their mission is to bring joy to the city – one biscuit sandwich at a time. And it looks like they're doing just that. When you visit, we highly recommend the Bird Bird Bacon Sandwich. It's got crispy bacon, an organic egg, cheddar cheese, and is dripping in savory bacon-infused chipotle mayo. Yum. P.S. their cinnamon and sugar biscuit donut holes are absolutely amazing.
2. Hank's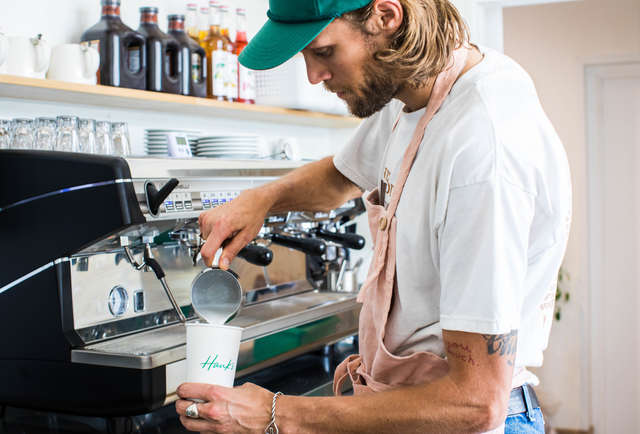 Credit: Hank's
If you're in the area, go check out Hank's. This neighborhood bar and cafe is one of the best restaurants in Austin. You'll find it in the Windsor Park neighborhood, serving up some of the best California style comfort food like grain bowls, gourmet burgers, wood grilled salmon, and more. The best part is they make everything in-house, including their bread, pastas, and pastries.
The modern minimalist interior gives off a cheerful vibe, featuring plants, oversized windows, and a cool wrap around bar. The spacious interior offers plenty of seating while the outdoor patio offers cozy booth and chair seating. Whether you're looking to grab a quick coffee and pastry,
meet up with friends for happy hour, or host your own event, this is the place to be. If you're an Austin native, Hanks will soon become your go-to spot. And if you're a tourist, well – let's just say you'll be back.
3. Loro
Credit: Loro
Think Asian smokehouse meets Texas barbeque. This rustic spot offers some of the best beer, wine, and cocktails (along with great eats of course) plus a giant patio. This smokehouse is brought to you by James Beard winners, Chef Tyson Cole of Uchi and Aaron Franklin of Franklin Barbecue. Take a look at their menu and it's clear to see that they know what's good. Want some insider recommendations? Start off with some bar food – aka the wonton chips and dip.
Next, work your way over to the appetizers – the snacks and veggies. The green papaya salad and garlic rice noodles are both incredible. Last but not least, if you have some room, go for the Thai green curry sausage sandwich.
4. 40 North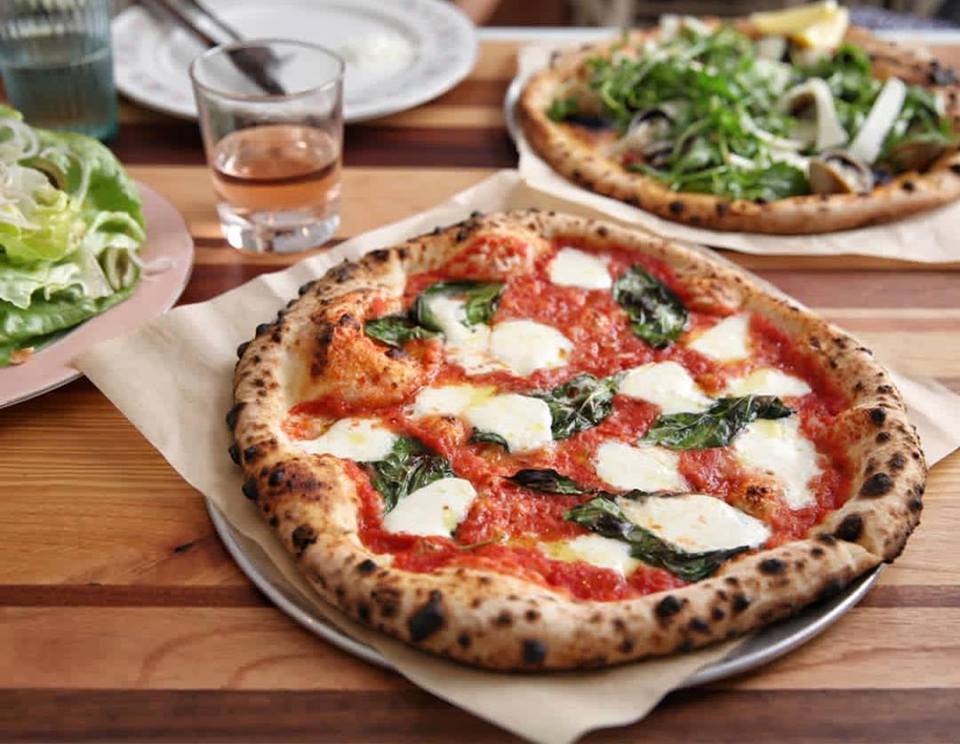 Credit: 40 North / Facebook
This is one of the best restaurants in Austin; seriously, you could scarf down an entire pizza. Anybody sitting outside the restaurant at one of those picnic tables can attest to that. Offering a famously charred, thin crust and flavorful toppings, it's easy to see why it has become a quick favorite among the locals. After their grand reopening, they also offer a menu with a new sandwich, burger, dessert, and wine list. Our favorite items on the menu will always be the pizzas though. We highly recommend either the Hot Honey or The Barbe. Whatever you choose though, you really can't go wrong.
5. Suerte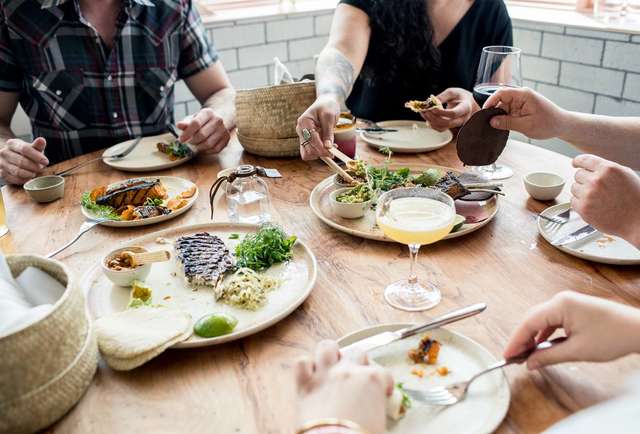 Credit: Suerte
This chic east Austin eatery mixes modern Mexican cuisine with fresh local ingredients. Grab your friends and join in the fun. Suerte is one of the best restaurants in Austin. Executive chef Fermin Nunez and the kitchen team whipped up a menu that truly highlights Mexico's unique cultural flavor. From the full bar with tasty beverages to their patio overlooking East Sixth Street, this is the perfect spot for anything from date night to a big fiesta.
6. The Brewer's Table
Credit: The Brewer's Table / Facebook
This swanky spot offers elevated farm-to-table dining plus 24 craft beer taps, a patio, cocktails and wine. Here, you'll find a spot where the food and beer are so good that they both share the spotlight. Enjoy a full lineup of signature beers brewed in-house.
You'll find it situated in an old military building from the 1950s. This brewery has created the most unique menu. Grains from the brewery can be found in the bread and leftover fruit peels add some fun hints to the beers. Some of the menu highlights include hearth bread, aged pork ribs, and delightful drinks like the idee fixe.
7. Roaring Fork
Wood-fired steaks & slow-roasted pork, amazing cocktails and dessert can be found in this joint in the InterContinental Hotel. This eatery captures the spirit of bold American cuisine, creating flavors with an edge. Freshness and flavor are at the heart of every dish that they serve. Choose from lamb, beef, chicken, pork, and fresh fish entrees. All are perfectly prepared by wood fire rotisserie, open flame grill, and wood oven roasting.
Add in the impeccable service and an atmosphere as inviting as the food. You've got a dining experience that will keep you coming back again and again. This eatery's ideal blend of energy and intimacy creates an experience that is quite unlike any other.
8. Sour Duck Market
Credit: Sour Duck Market
From coffee to pastries to smoked meats and a beer garden, there's nothing quite like the Sour Duck Market around town. That's why we've added it to our list of the best restaurants in Austin. We appreciate their commitment to ethical sourcing and approachable menu sourced by local farmers. Austin natives know and love it as the perfect bakery, cafe, restaurant, and bar combo. The menu offers an easygoing list of soups and salads, as well as some amazing sandwiches and the critically acclaimed Wagyu burger.
9. Fareground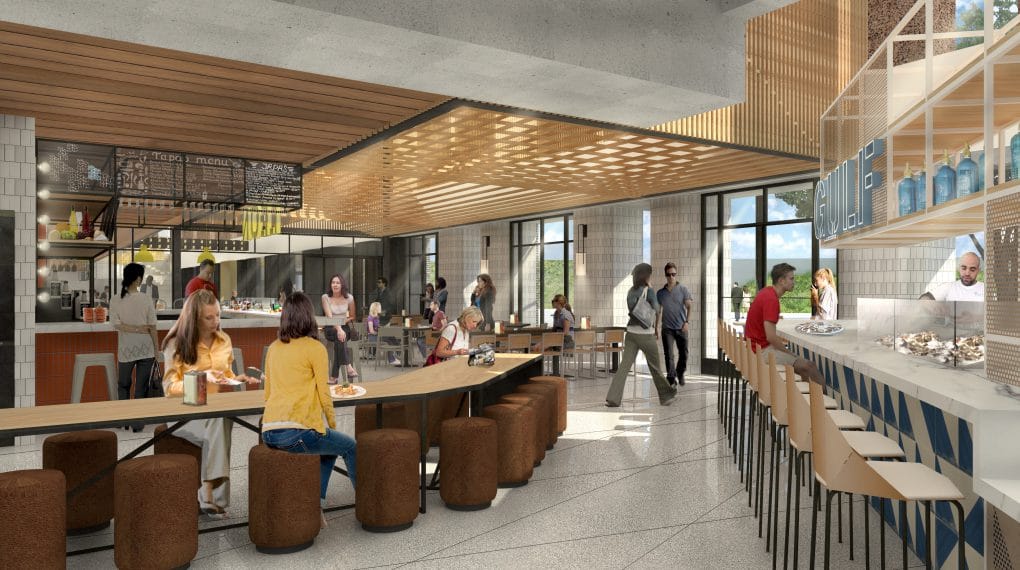 Credit: Fareground
Downtown, you'll find the Fareground. This modern food hall offers six permanent restaurants, beer, wine, cocktails, and an outdoor picnic area. Here, business people, students, travelers, and local foodie connoisseurs alike gather to delight in a wide array of cuisines. At Austin's first ever food hall, you will find Antonelli's Cheese, Contigo, Dai Due Taqueria, Easy Tiger, Henbit, and Ni-Kome. What are some of our favorites? Highlights include Dai Due's wild boar al pastor taco, Antonelli's famous mac and cheese, and Henbit's lemongrass shrimp bowl. Some of the best restaurants in Austin can be found right here.
10. Emmer & Rye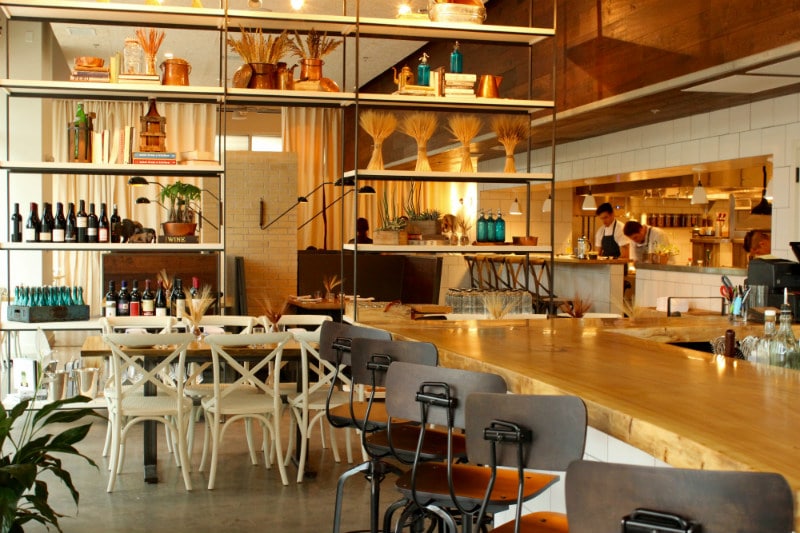 Credit: Emmer and Rye
This new American restaurant places the emphasis right where it should be – fresh, local ingredients. Emmer & Rye introduces unique dining to Austin. The restaurant is the city's first to introduce small seasonal American plates on circulating carts as a part of their meal.
Guests can choose from these items or select ones off them rotating menu of fresh farm to table ingredients. Ever since they opened in 2015, they have been racking up the accolades, including having been named as one of Food and Wine's best new chefs and also as one of the best new restaurants of 2017 by Bon Appetit. While the menu does change, you can always find some steady fan favorite options like the fresh farmer's cheese and the White Sonora Agnolotti that you can count on.
11. June's All Day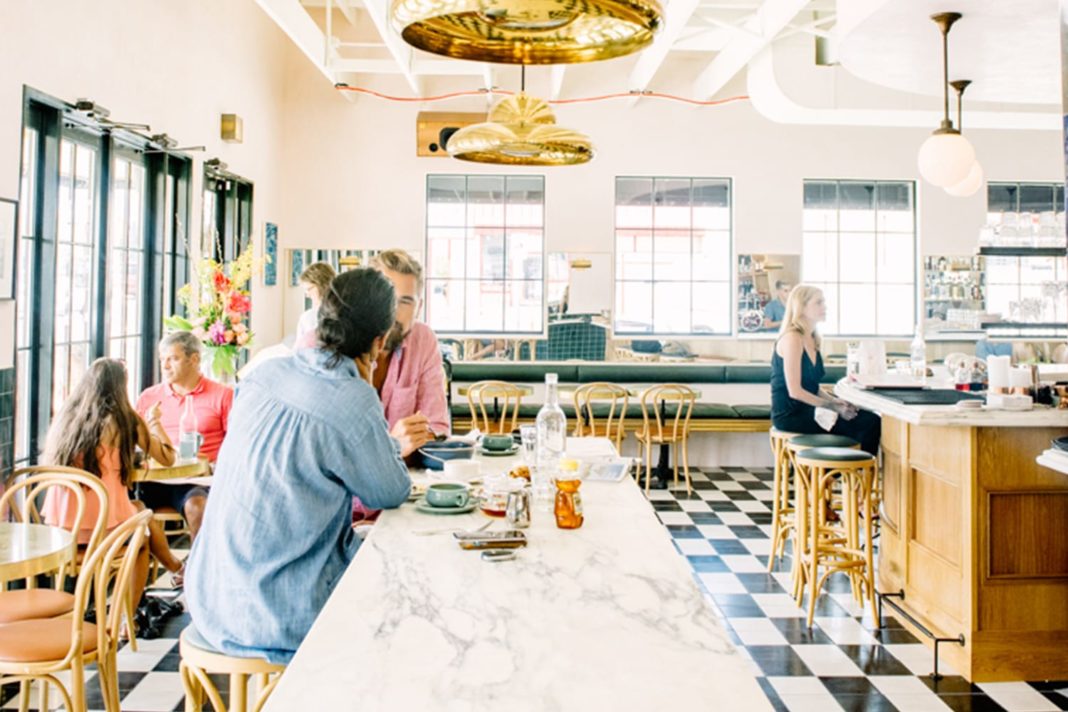 Credit: June's All Day
June's All Day is a chic option for inventive New American fare, cocktails, beer and wine in a bright space with a patio. Situated on a sunny corner of South Congress, June's offers breakfast, brunch, grab-and-go pastries, and coffee by morning. Into the evenings, you can order off an all day bistro menu.
The food is complemented by Master Sommelier June Rodil's ever-changing wine and bar program. The restaurant offers a petite patio, perfect for people watching and relaxing with your pup. Inside, you'll find classically styled interior, a jukebox, cozy seating, and a long marble bar.
12. Leroy and Lewis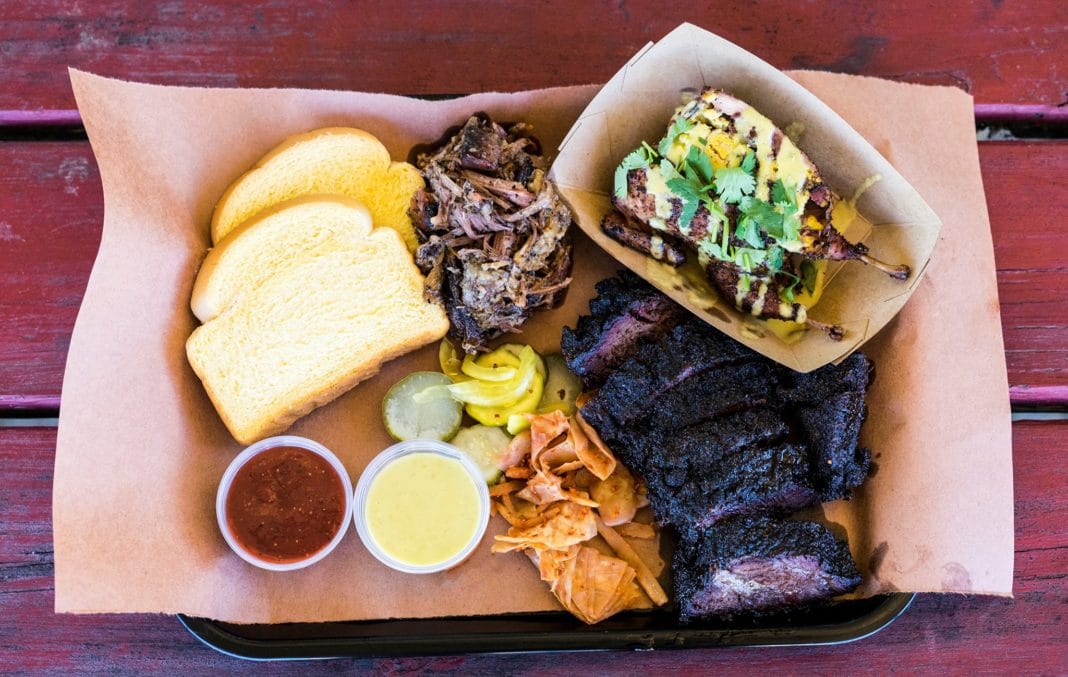 Credit: Leroy and Lewis
This smoked meat trailer highlights unusual cuts of meat and locally sourced seasonal side dishes. Known for their innovative takes on Texas style BBQ, chef Evan Leroy mixes in elements of fine dining and family style from scratch cooking into the menu too.
Locals keep coming back for the old-school market-style of service meats sliced to order and served up by the pound. Seasonally-inspired picnic-style sides accompany the meats, including rich desserts and even something as crazy as barbecue bagels for breakfast – What? You'll find this lovely little joint on Pickle Road; it's one of the best restaurants in Austin.
Book Your Vacation and Take A Foodie Tour of the Best Restaurants in Austin
Alright. Now, it's time to hit the road. Or book that flight. The best restaurants in Austin have your name on them. As you can see, this city offers a diverse culinary scene that runs the gamut of styles and tastes. Whether you're traveling with your family, friends, or that special someone, this city offers a wide spectrum of options. From authentic Mexican cuisine to Asian fusion and classic American eats, you will really find it all here. Which one of the restaurants on our list stood out to you the most?
If you've ever been to Austin and have some recommendations for places to eat, stay or where to grab a drink, we'd love to hear them. We especially love hearing from the locals. There's nothing quite like the local know-how.
Questions and Comments
Do you have any questions or comments for us? If so, we would love to hear them. Feel free to leave a message for us below. We will be sure to get back with you shortly.
Related Article: Try These Best Restaurants in San Antonio