​

Whatever the occasion, we want to show you the best bars in Austin for your next outing.

There's a variety to choose from, whether you want to unwind from the work week or build excitement for something special. The bar scene in Austin continues to grow and almost feel a bit much to try and choose from. The tastes range from curated craft cocktails to simply good booze, and everything in between. We have collected a consensus on the best bars in Austin, because discerning ahead of time brings smooth sails for bar hopping.

Austin's bar list hold a bit of everything. Expect a place with all the shiny bells and whistles, but also expect the local dive that are favorites for a reason. Of COURSE some of these places have a larger hipster vibe, but no acting surprised when ranchers come through. Everyone can find something to sip on and vibe to in the best bars in Austin.
Backbeat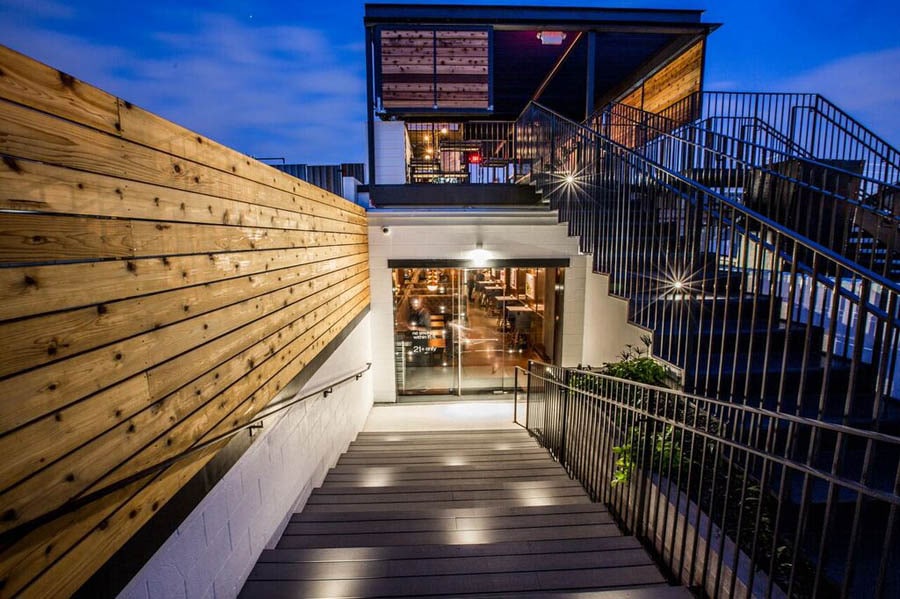 Credit: Backbeat
Hello rooftop bar dreams! This sleek modern place located in South Lamar does not miss any details. The wood panelling, steel accents, and the city skyline set the tone for why Backbeat made one of the best bars in Austin. The two story bar tends to gather a creative crowd around an intentional selection of drinks and food. Backbeat wants to match what speaks to your taste. The wine selection and cocktail concoctions are carefully considered; and they range from indulgent flavors to fruity notes.
Little bites are also available to pair and include items like Moroccan meatballs to charcuterie boards. This place is ideal for pre-dinner or post-eat drinks. The polished bar gives this venue the ability to provide a quick stop in between plans. However, the lounge area and covered rooftop entice definitely guests to stay awhile.
Kitty Cohen's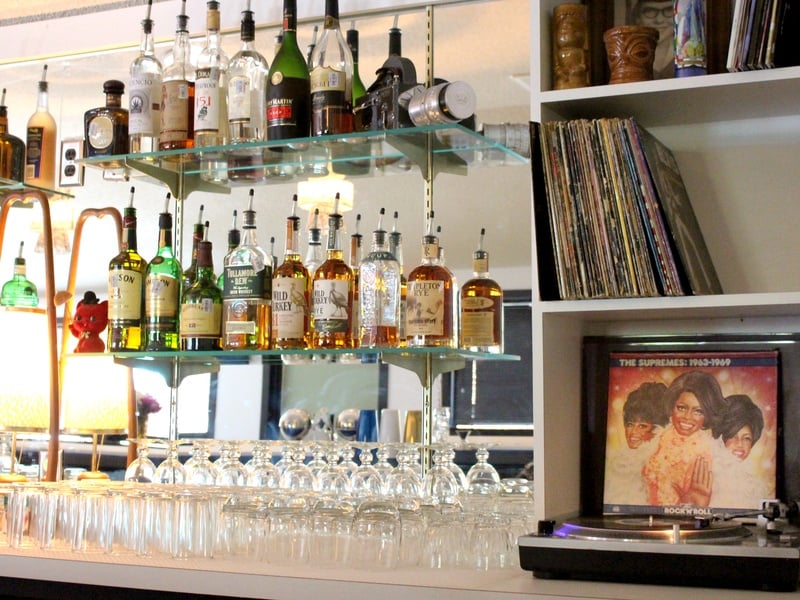 Credit: Kitty Cohen's
East Austin residents love this kitschy, 70s inspo bar. This spot goes against the grain in the mix of the best bars in Austin. The retro tropical vibe carries throughout the floating spaces. Guests can grab a cocktail by the pool and appreciate the unique atmosphere. You'll definitely get an ultra femme feel from their setting and social media. Sit on the gorgeous patio and request the shareable Key Party with your friends; it's a delicious combo of Waterloo gin, lemon, cucumber, dry prosecco and some sweet sugar. Key Party comes served in a vintage punch bowl too.
We will not judge you if you get something for yourself though. People can also order Texan beers, tiki cocktails, and a variety of different tropical drinks. Go ahead and enjoy the Palm Spring vibes with the flamingo wallpaper and throwback sounds; but make sure to check their events page online. Things are happening in the life of Kitty Cohen's!
The White Horse

Credit: The White Horse
It is a no brainer that The White Horse made the list of the best bars in Austin. This cool and lively place gives newbies a glance at classic, friendly Austin. The continuous energy ties in with the full bar that serves whiskey on tap. Grab your friends and two-step to the live music! Shy people can breathe with ease knowing that everyone there just wants to have a fun time. There are also other areas aside from the dance floor and bar top.
The White Horse has a small yard where people can enjoy warm nights. Memories can be documented with the cute photo booth, or groups can even start a game of pool. You'll see and interact with a mixture of people of all styles and backgrounds here. Everyone can enjoy the multi-genre band up on the red velvet stage! Make sure to refuel with all this energy spent; their taco truck, Bomb Tacos, can hook you up.
The Roosevelt Room
Credit: The Roosevelt Room
Hands down, this has become one of the best bars in Austin due to their craft cocktails. This two-level venue is reservations recommended. Features like the industrial downstairs area and upstairs chic lounge give a great balance for all guests. The owners are both experienced and highly-respected bartenders who have managed to shift millennials' taste buds. Their knowledge trickles down to their educated staff who are connoisseurs in the cocktail game.
The menu extends from pre 1880 to modern day drinks. The Roosevelt Room  has put the power into their guests hands by letting them get creative with the classics. This crowd dresses a bit more swanky. You will want to show up in a clean fit with a feature of maybe some heels or a blazer. Say hello to a nice night out where everyone cleans up and enjoys excellent drinks!
Garage
Credit: Garage
Garage definitely feels like the hidden spot with the major clean aesthetic. It makes the list for the best bars in Austin because it is a true diamond in the rough! This hidden treasure is literally inside a parking garage on Colorado street (formerly the valet office). You will find it, promise- it is marked with a neon blue sign. You will be impressed with the shift in atmosphere when you step inside Garage.
Guests can experience a vibrant mix of Calvados, lemon, Malbec, and de-cantered bitters with their Apple and Vine. Their most popular choice is the Indian Paintbrush: vodka, rosemary, and grapefruit. They even have select Japanese whiskies if it fits your fancy. Set your palette and your hunger in place with the blue crab toast in between drinks.  Garage may end up becoming your next best kept secret.
Whisler's
Credit: Whisler's
Whisler's brings such a wonderful historic and modern twist to their design. The unique western pieces and vintage light fixtures compliment the walls of stone and concrete. Despite Whisler's decor blend, their drinks are kept simple and sweet. It is fitting that they are in the heart of hipster happenings! You will see a lot of faces donning mustaches and skinny jeans.
The mixologists know the vibe; so drinks are balanced, creative, and strong. Whisler's is definitely more relaxed and intended for a good night out with friends. Together, you and your group can experience the seasonal flavors in drinks. The most popular drink is Whisler's version of the classic Old Fashioned- rye whiskey,  angostura bitters, and demerara sugar. Don't miss out on that and the delicious food truck on the back patio, Thai Kun.
Related Article: ​The Top Things To Do In El Paso, Texas​​​
Milonga Room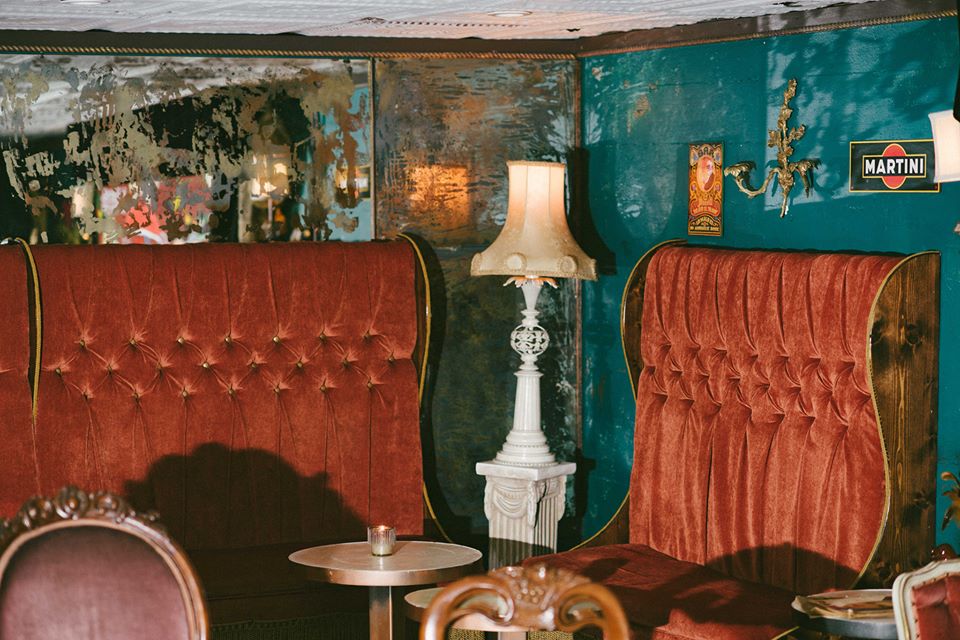 Credit: Milonga Room
Milonga Room meets the best bars in Austin list for obvious reasons. There's truly nothing like this speakeasy saloon that sits underneath Buenos Aires Cafe. The entire spot is inspired by Argentinian eatery. Once guests check their reservation in, they are greeted with Art Deco and turquoise paint. The walls are full of attention grabbing artwork and underneath them sit vintage velvet couches.
After taking in the strong design elements, you will have your chance with delicious tapas and Argentine fernet. Paola, daughter of the chef, and owner, Reina, truly transformed a former storage space into Milonga Room. There are events that occur regularly here that can be found on their events page. The mix of Argentinian culture, rare antique spirits, and a welcoming environment mix for a special night out.
Half Step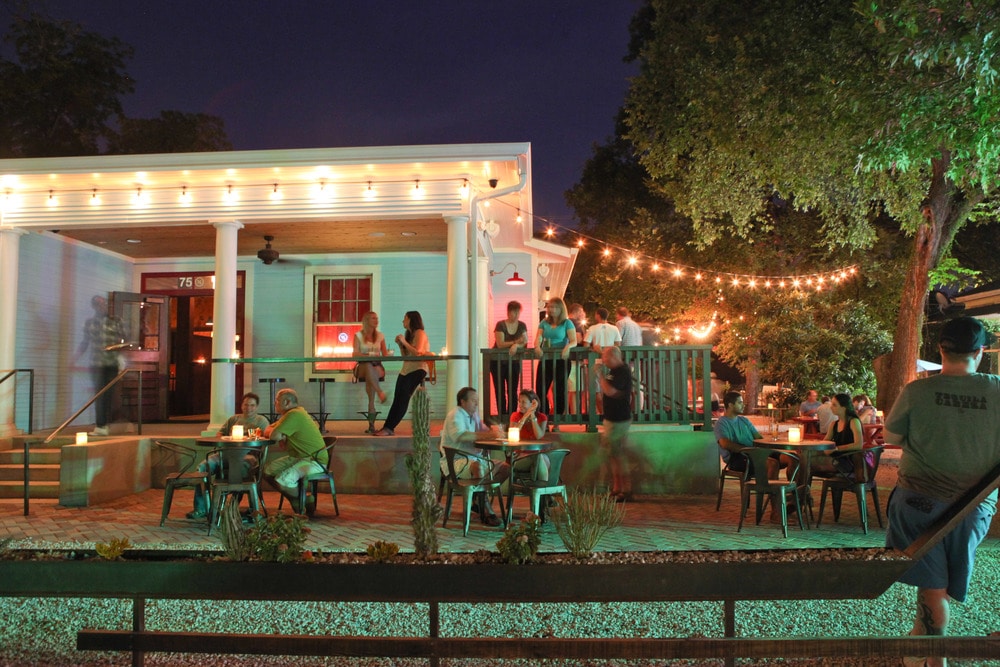 Credit: Half Step
Neighborhood cookout or Austin bar? Half Step makes you feel at home with the Craftsman-era building, cozy front porch, landscaping, and living room style interior. Either that or it can remind you of an older southern church. Either way, it is a comfortable space to kick back and create friendships. At the bar, you can expect  the staff will take care of you.
The bartenders are quick and flawless when creating customer's drinks. The Prescription Julep is recommended, which has a blend of rye whiskey, cognac, mint, and sugar. Occasionally, live country music or eating contests happen. Half Step also hosts other events that you can find out more on through their events page. The feel of Half Step was meant to lean towards a house party more than an established bar. It brings a sense of familiarity and comfort when people are able to go and hang out on a backyard banister.
Firehouse Lounge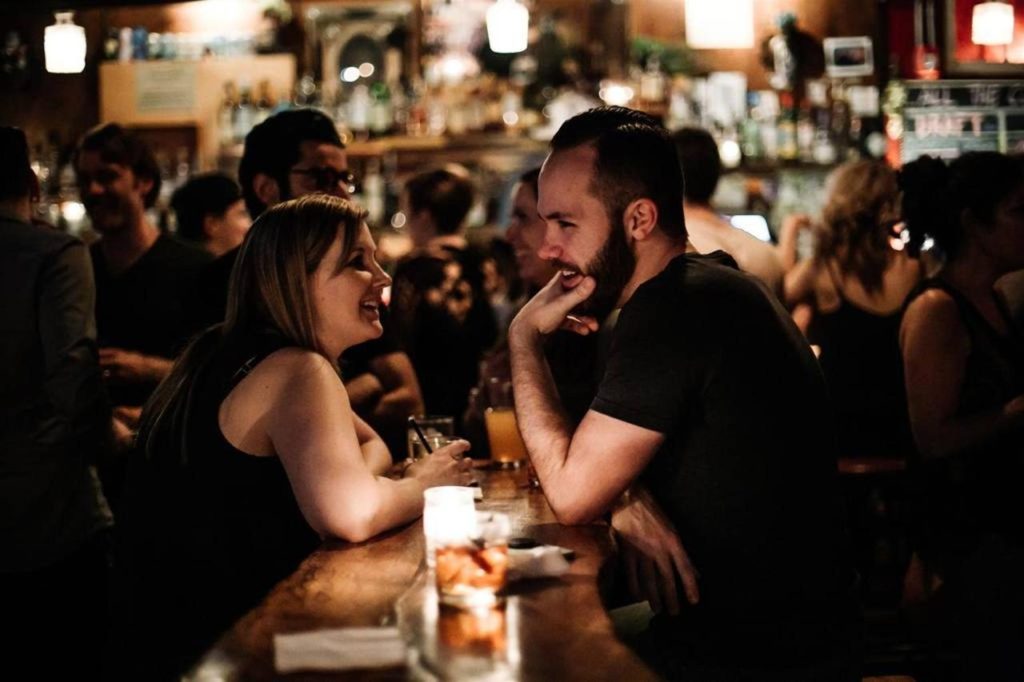 Credit: Firehouse Lounge
Firehouse Lounge is Austin's oldest standing fire station, built circa 1885. Aside from being a piece of history, Firehouse has other reasons that it is one of the best bars in Austin. It is craft cocktail bar, but it also runs as a hostel for travelers who do not mind bunking up. Even the lounge provides a little escape from the craziness of Dirty Sixth, the entertainment district in Austin.
The decor still lingers what used to be with the old world charm and exposed wood. The stage is set for live music, usually ranging from jazz to blues and rock. The bartenders create cocktails known globally and even mix seasonal libations. When winding down from the crowd, the entrance of the hostel lobby lies beyond the sliding bookcase. Guests can expect both great care and excellent drinks at Firehouse Lounge.
The best bars in Austin are collectively eclectic, unique, and excellent in service.
The best bars in Austin are collectively eclectic, unique, and excellent in service. These bars are not listed in any specific ranking or order. All of these places bring something distinctly theirs to the table. They have become a place for locals and visitors alike to enjoy great drinks and great atmosphere. From the simple inexpensive drinks to the rare hand selected spirits, communities have like what these bars have to offer.
Austin's bars, and specifically 6th street Austin bars, can offer a variety of different tastes. To cultivate a 70s kitschy poolside vibes,manage a hybrid bar hostel, dig out an Argentinian speakeasy, or squish a bar into a parking garage- each creates a unique story. Austin bars have people who are passionate about their craft! We definitely know that there are no shortages of great places to grab a drink in Austin.
Have you been to any of these spots? Do you recommend any others? Leave a reply below!
Related Article: National Parks in Texas: Here's Our Picks for the Top Two