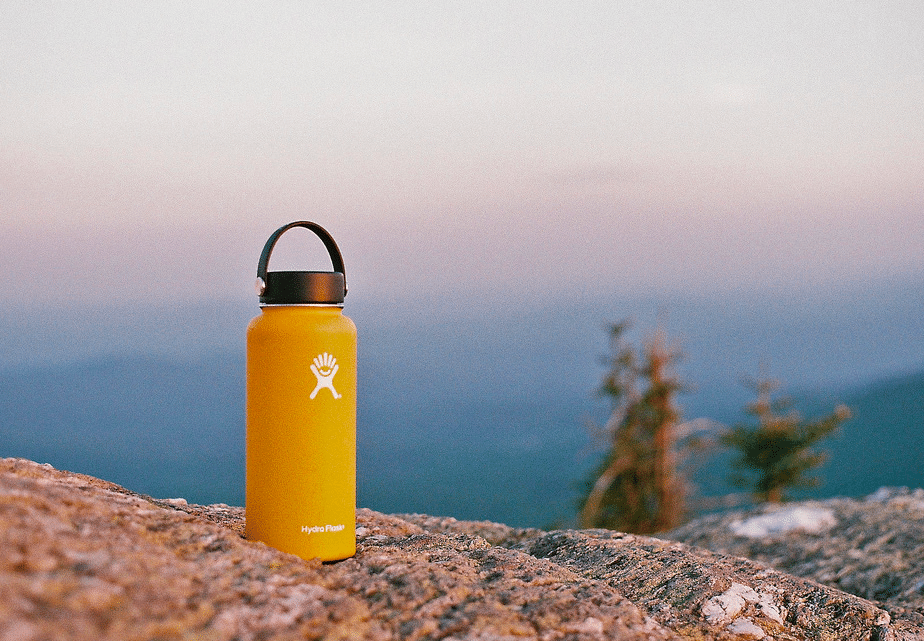 Credit: Flickr
You're a traveler. Therefore, exploration and adventure seeking is in your DNA. For all the backpacking, hiking, airplane flying, train riding, suitcase carrying, passport-stamp-collecting globe trotters out there, your number one travel essential has to be a decent, faithful water bottle. For so many reasons, an investment in a solid water bottle is crucial for travelers. Raise your hand if you have ever spent one too many dollars (or other currency) on plastic water bottles during your travels. Our hands are raised. We assume many of yours, regrettably, are raised too. To save money, save time, save the environment, and save your health (goodbye dehydration), consider purchasing a reusable water bottle. Don't go on your next adventure without one of these cool water bottles in hand.
Top Functional & Cool Water Bottles That Are Ideal for Travel
The chart below displays 8 cool water bottles that we love right now, along with their ratings. Click "See Today's Price" if you want to know the current price for each of these cool water bottles.
QUICK NAVIGATION
Why You Need a Water Bottle When Traveling
check-circle-o

Staying hydrated is always important, yet it is even more so when traveling, exploring, hiking, and adventuring across the globe.

check-circle-o

It's an environmentally friendly alternative to purchasing a copious amount of plastic water bottles.

check-circle-o

Most airports allow you to fill up your water bottle free of charge.

check-circle-o

If traveling to a country where you need to be conscious about drinking purified water, having a water bottle on hand is helpful. Fill it up whenever you have access to purified water.

check-circle-o

Bottom line: Owning a water bottle saves money, saves the environment, and keeps you healthy.
How to Choose the Perfect Water Bottle for Your Travels
There are too many water bottles to count on the market today. They come in all sorts of shapes, sizes, colors, and they each claim to be the "most innovative" and "technologically advanced." We understand how easy it is for indecision to strike when trying to choose the perfect water bottle for your travels. That's why we want to help ease the process.
Questions to Ask Yourself Before Beginning Your Search
If you need a starting place, then it'll help you to begin by thinking about what you really want and need in a water bottle. Here are some questions to ask yourself to point you in the right direction.
1. Do you want an insulated water bottle?
Insulated stainless steel water bottles allow for cold drinks to stay cold and hot drinks to stay hot for an extended period of time. Purchasing an insulated bottle will mean that after you hike to the top of the mountain, your water will be just as cold as it was at the foot of the mountain. Nowadays, water bottles come in mainly glass, BPA-free plastic, and insulated stainless steel. Knowing which you prefer will help to narrow your options. If keeping cool drinks cool and warm drinks warm is a priority for you, then you want an insulated water bottle.
2. Do you want a lightweight and easily packable water bottle for your travels?
If you are a light packer and light traveler, then chances are you want a lightweight water bottle. Knowing you want a lightweight bottle that can easily pack into your backpack or carry-on suitcase will knock off all glass water bottles from your list of options. Some of the cool water bottles featured on our top 8 list will fall under the lightweight category. The Vapur Element Bottle is one in particular that you should highly consider. No water bottle compresses into a more convenient size than this water bottle.
Things to Consider Before Choosing Your New Cool Water Bottle
Don't compromise water bottle function for style
When it comes to choosing a water bottle, many customers can be distracted by the design and external appearance of the bottle. And that is not bad. However, if you know you want a glass water bottle or you know you need an insulated stainless steel bottle, but the turquoise plastic bottle is just too darn beautiful, we want to remind you not to compromise what you need for what looks the best. This is particularly important for travelers looking to purchase a water bottle with a built in filtration system or some other unique feature. If you know those features are necessary for you travels, then do not compromise water bottle function for style.
The investment is worth it
Water bottles last. It is as plain and simple as that. Some may be higher in price than others, but unless you misplace your water bottle, it will last as long as you do. Plus, when you factor in how much you would spend on plastic water bottles here and there, your wallet will certainly be thanking you in the long run.
8 Cool Water Bottles That You Must Consider
In the beginning of the article, we shared a chart listing the top 8 cool water bottles. There, you can find out today's current price for each water bottle. If you want to see a pros and cons breakdown for each bottle, here it is:
Hydro Flask Vacuum Stainless Steel Leak Proof Sports Water Bottle

Pros
plus

Keeps icy cold drinks icy cold and keeps steamy hot drinks steamy hot

plus

Does not leak

plus

Bottle does not sweat
Cons
close Not lightweight​​​​​

Bottle can dent when dropped
S'well Vacuum Insulated Stainless Steel Water Bottle
Pros
plus

Keeps cold beverages cold for 24 hours

plus

Keeps hot beverages hot for 12 hours

plus

S'well bottles come in an array of colors
Cons
close

Not dishwasher safe

Not lightweight
Grayl Ultralight Water Purifier Bottle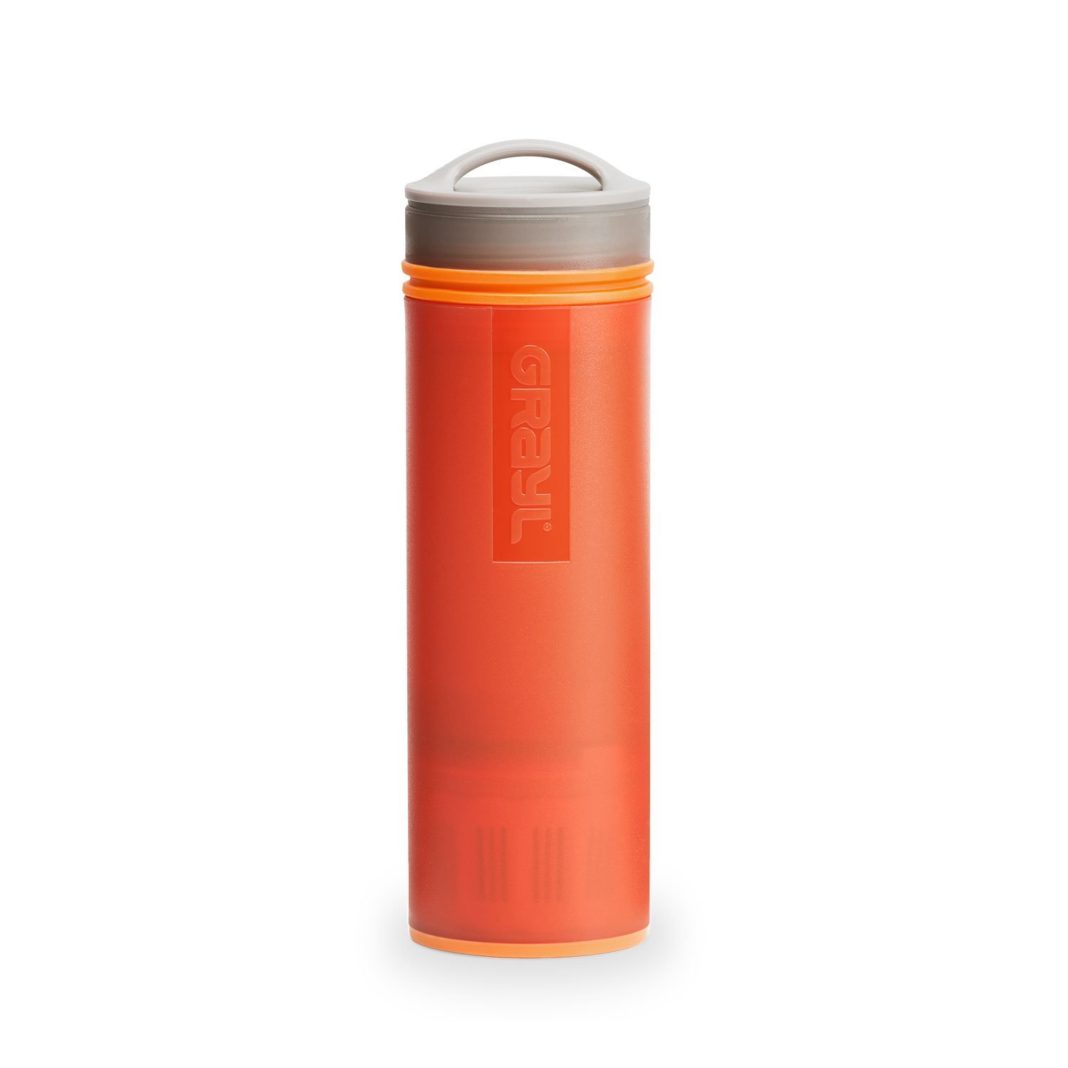 Pros
plus

Built in filtration system allows for clean, safe drinking water in 15 seconds

plus

Lightweight bottle

plus

Purifies fresh water only
Cons
close

Can be difficult to use

Customers have reported leaking from this water bottle
ZingAnything Aqua Zinger Double Loop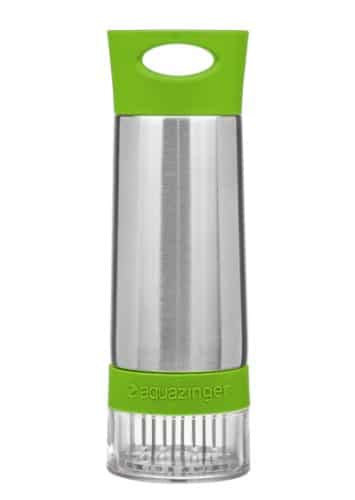 Pros
plus

Bottom compartment holds fruits and vegetables. Will infuse water with flavor

plus

Stainless steel

plus

Keeps hot drinks hot and cold drinks cold
Cons
close

Difficult to clean

Slight metallic flavor from the bottle's stainless steel interior
Dopper Water Bottle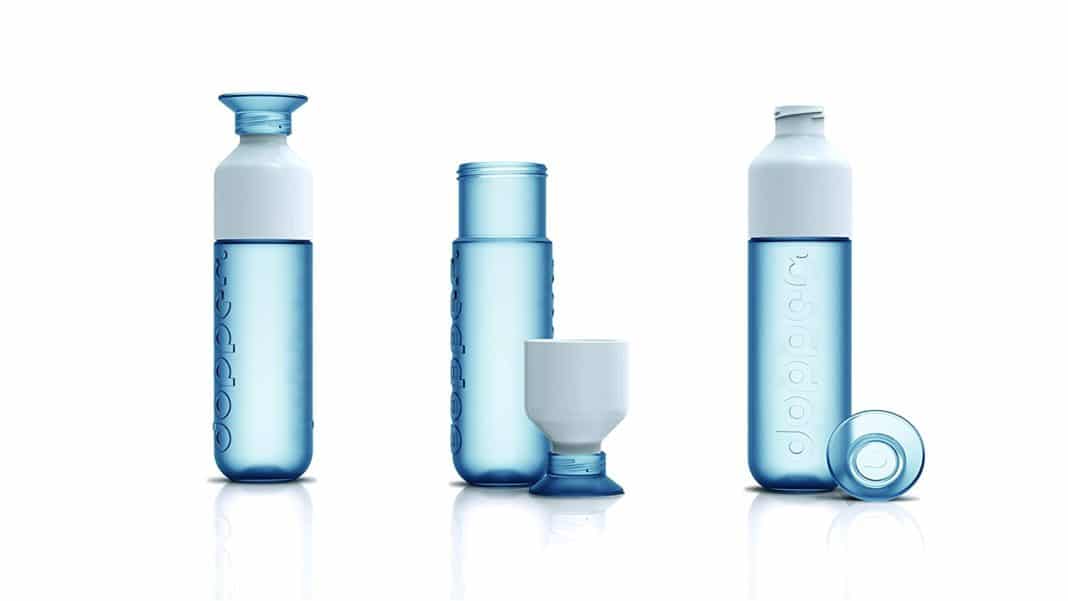 Pros
plus

Drink from Dopper as a bottle or as a cup

plus

BPA-Free

plus

Dishwasher safe
Cons
close

The plastic of the bottle can affect the water's taste

Bottle been known to leak
Vapur Element Bottle
Pros
plus

Foldable and flexible, so it can compact to a very convenient size

plus

BPA-Free

plus

Freezable
Cons
close

Can be difficult to fill

Water bottle stands upright when full, but once you drink from the bottle it will not stay standing upright
Thermos Nissan Intak Hydration Bottle with Meter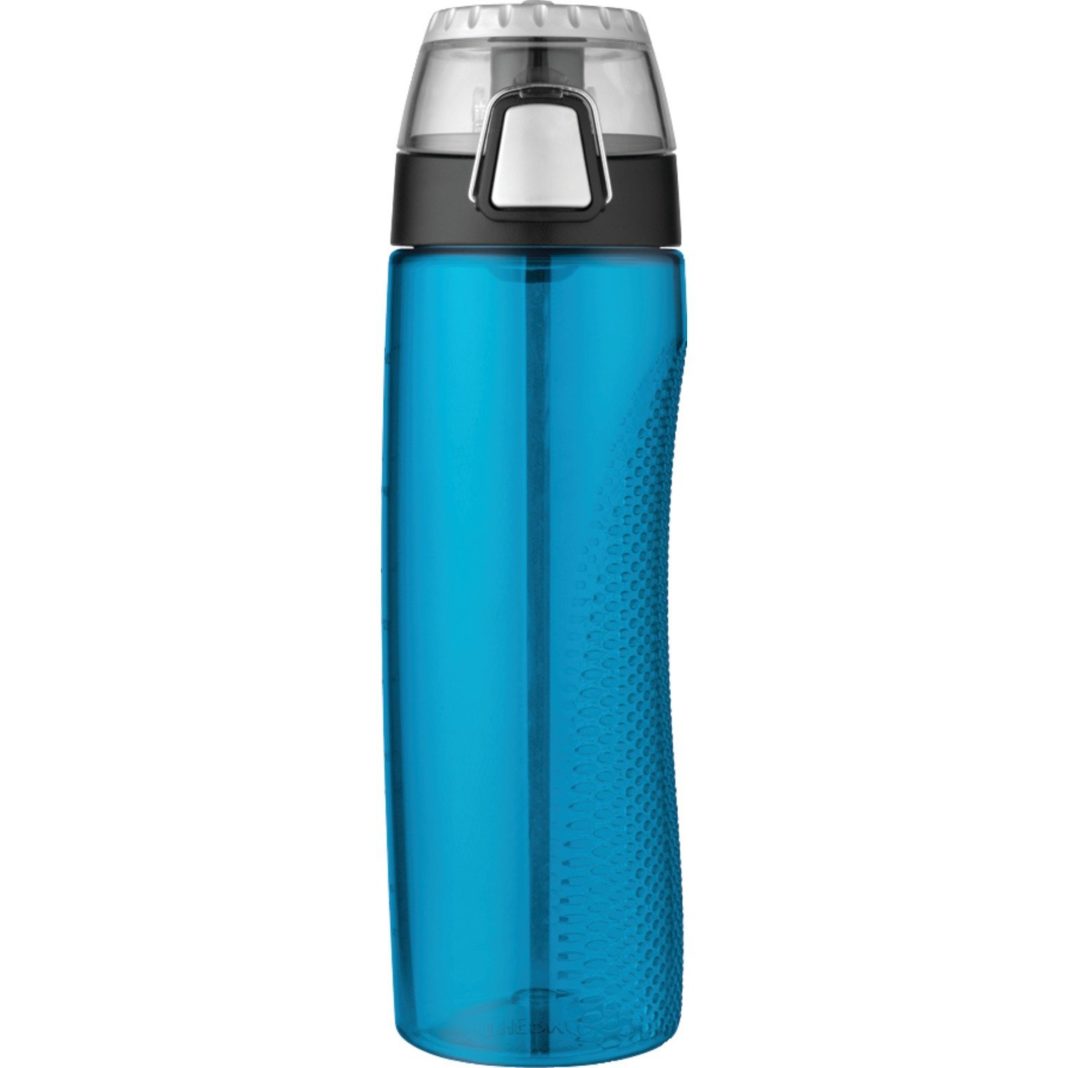 Pros
plus

BPA-Free

plus

Can monitor water intake with meter

plus

Does not leak
Cons
close

Customers have had trouble with the lid either falling off or not working properly
Lifefactory Glass Bottle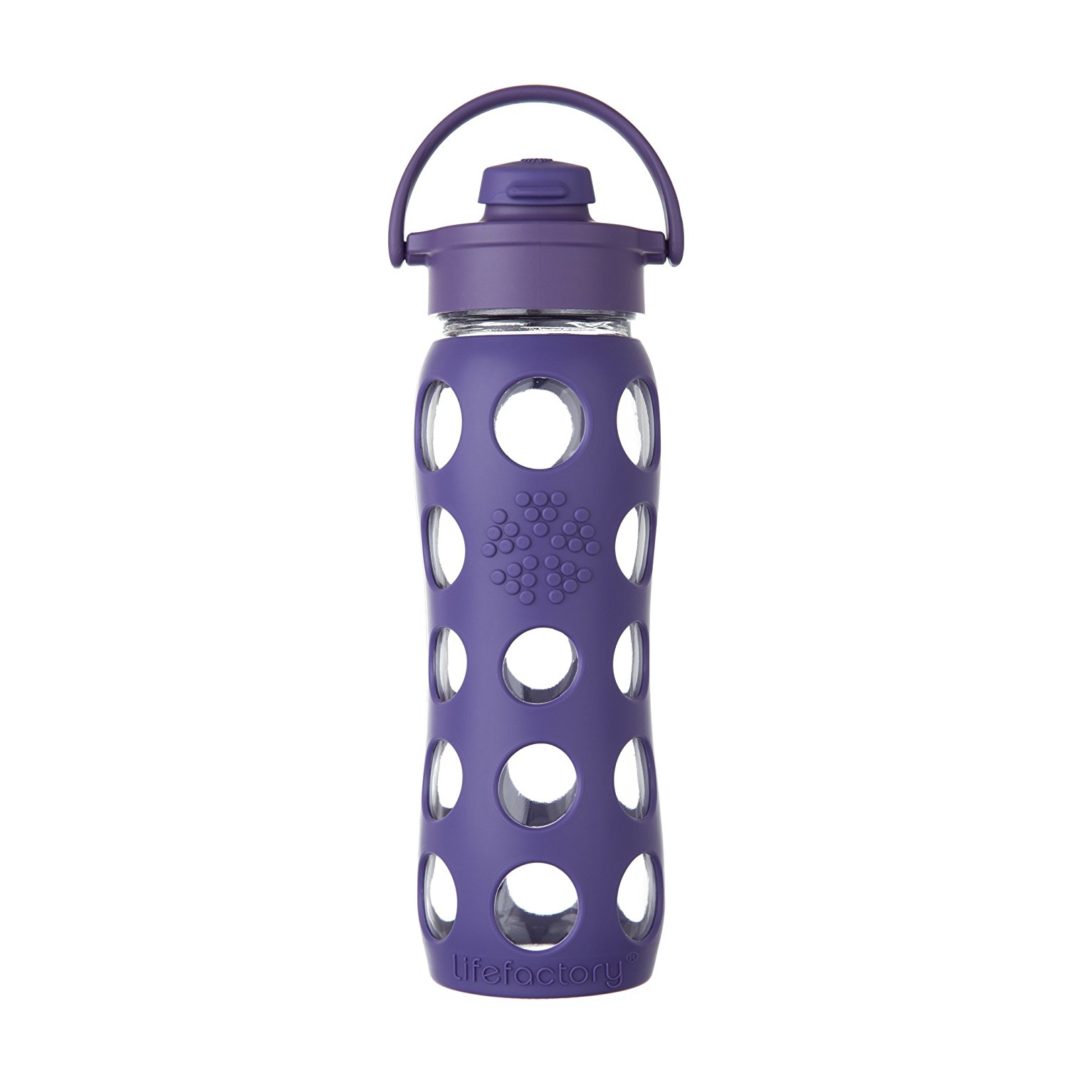 Pros
plus

Glass bottle means no more tasting plastic or metal with your water

plus

Flip cap keeps the mouthpiece germ free

plus

Pivoting handle makes the bottle easy to carry
Cons
close

Easily breakable if you drop the water bottle

Not lightweight
Other Recommended Best Sellers
| Water Bottle Image | Water Bottle | Our Rating |
| --- | --- | --- |
| | | |
| | | |
Related Travel Products
Check out these other travel products that will pair well with your new, cool water bottle:
Water Bottles Make the Best Travel Companions
Having a water bottle nearby while traveling is always a good idea. To quench thirst no matter where you are in the world, consider investing in one of these top cool water bottles. Choose from filtration water bottles, easily packable water bottles, stainless steel bottles that will keep your beverage chilled for long periods of time, and more! Your new water bottle will make the best travel companion. Don't forget to purchase one of these top 8 cool water bottles before your next trip.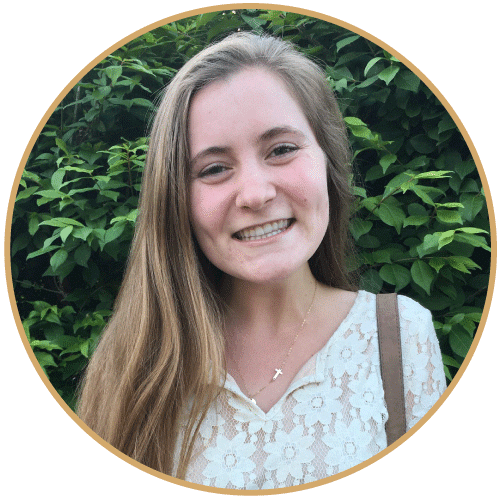 Riley Loftus
Riley is a creative who is fascinated by the details of life. She feels most at home in an airport and cares most deeply about culture, exploring the world, and global justice. Riley also believes in the power of storytelling and in a love that has no limits. Keep up with Riley on her Instagram page where she contemplates grace and writes her raw thoughts on life, faith, and the world around her.