A Review of Samsonite Luggage
Many luggage brands are tailored to a specific group of people. Some companies make excellent products for business professionals. Others, make excellent products for the fashionistas. Samsonite luggage is for the simple at heart. Namely, the simple wanderlust travelers–those that aren't constantly on the go (though they wish they could be) but are still in need of dependable bags for those occasions in which they do travel. However, when it comes to Samsonite backpacks, businessmen and women should also take note. If you need a commuter bag that can store your laptop, electronics, business notes, and more, then Samsonite could be a good (and comfortable) fit for you too. Samsonite bags range of color and design styles. If you are looking for a luggage brand with variety, then this brand may be the brand for you. Let's get into the full review of Samsonite luggage to hear more about why this luggage brand may be a great option for you simple, wanderlust travelers.
Why Samsonite Luggage?
Like we mentioned, Samsonite luggage may be perfect for the average, simple, wanderlust traveler. Who makes up this category of travelers? First of all, they are minimal and practical. They dream of traveling around the world, but typically have jobs and responsibilities that tie them down to a particular place that prevents this dream from becoming a reality. Though they may not travel as much as they wish they could, when they do they need a faithful travel companion (suitcase). You can always find them scrolling through Pinterest and Instagram to plan their next vacation destination. Any opportunity they do have to fly on a plane or go on a road trip, you will find them to be the first person screaming, "I'm in!" If this is you, then stick around. Samsonite might be worth your consideration.
Samsonite makes carry-on luggage, checked luggage pieces, backpacks, garment bags, and totes. Whether it be for family vacation, a girl's weekend getaway, or a road trip across state/country lines, Samsonite luggage is great for any occasion. Some bags are more funky and unique in style, whereas others are sleek and slim. And if you are a business professional, don't exit out of this review just yet. Samsonite has options for you too. The commuter bags, in particular, are highly worth considering.
All that to say, Samsonite really has it all. Whether you need luggage for a business trip or for a family vacation, let's take a closer look at the key features and benefits that this luggage brand provides.
Samsonite Features & Benefits
Carry-On Luggage
Most Samsonite carry-on luggage pieces come in a four-wheel spinner design. However, there are a handful of carry-on duffels to choose from as well. Carry-on bags also come in both hardside and softside styles. The softside suitcases have convenient exterior pockets for easy-to-reach small items.
One of our favorite carry-on suitcases is the Samsonite Freeform Hardside 21″ Spinner. The 21″ height fits within most airlines size restrictions, which means it can be easily stored in the overhead compartment. What we love about the Freeform Hardside Spinner is its strength and lightweight. The bag weighs in at 6.5 pounds.
This carry-on suitcase is hard on the outside and soft on the inside–able to keep your clothing and belongings well protected during your travels. If you are an organized traveler, then you may be very pleased with this suitcase. The interior of the bag has ample space and multiple pockets for greater organization. What's more is the bag is expandable. There is also a TSA combination lock attached to the suitcase, as well as a built-in ID tag. This spinner comes in a number of colors including white, black, pine green, plum, and red. When it comes down to it, this spinner is a smooth ride with a tough exterior that can withstand any beating it might take while on the road (or in the overhead compartment when turbulance comes).
Checked Luggage Pieces
This brand carries checked luggage pieces that come in hardside and softside designs, just like their carry-on pieces. One fan favorite checked luggage piece is the Samsonite Winfield 2 Fashion 28″ Spinner. As the name states, this bag is very fashion-forward with its sleek exterior. The bag comes in different colors including charcoal, deep blue, orange, purple, and black. The unique brush-stroke coloring makes this bag stand out among the rest. It can be particularly helpful when trying to locate your bag at baggage claim.
This square, hardshell suitcase weighs in at 11.5 pounds. It has an expandable feature to provide even more space for travelers, as well as a side-mounted TSA combination lock for more protection. With four wheels, this spinner can easily haul your belongings to your travel destination. The 28″ is the largest of the Winfield 2 spinners. However, this design comes in a 20″ carry-on size and a medium-size 24″ suitcase. If you are searching for a luggage set, you might consider purchasing all three sizes in the Samsonite Winfield 2 Fashion 3 Piece Spinner Set.
Backpacks & Briefcases
Businessmen and businesswomen, right now is when you need to come close. Samsonite makes quality laptop bags and over-the-shoulder laptop briefs that we have to talk about. One of these top backpacks in the Samsonite Openroad 14.1″ Laptop Backpack. This bag is made up of nylon and polyester and comes with a laptop compartment lined with memory foam padding. There is also an additional tablet pocket in the backpack. With internal organization and external pockets, commuters will be able to easily access the items in their bag. The bag is lightweight too, weighing in at 2.8 pounds. Those traveling with laptops larger than 14.1′ can opt for Samsonite's Openroad 15.6″ Laptop Backpack. It is the exact same design, but offers more space.
Business folks, if backpacks don't suit your fancy you may think about the Samsonite Openroad Laptop Brief Expandable. Coming in chestnut brown, jet black, and space blue, this brief is flexible and durable. Like the large Openroad 15.6″ Laptop Backpack, this brief can fit up to a 15.6″ laptop and up to a 10.1″ tablet. And when you don't want to carry this bag over your shoulder, this brief can slide over suitcase handles and be rolled along on top of your luggage.
What People Are Saying About Samsonite Luggage
So, what are customers saying about this luggage brand? What exactly are the pros and cons of choosing a Samsonite suitcase, carry-on bag, garment bag, or backpack? First of all, customers enjoy the various sizes that suitcases come in. The interior of most luggage pieces is fit with many compartments for great organization, which is also a benefit. Overall, customers are pleased that Samsonite luggage comes exactly as it is advertised. In terms of cons, the hardside suitcases have been known to scratch easily. Also, some customers have reported issues for the zippers on Samsonite suitcases. However, these issues are few and far between. In general, customers rave about their experience with Samsonite luggage.
Alternative Luggage Brands
DELSEY Luggage
If you want luggage that is more sophisticated and classy than Samsonite, DELSEY is one of your best alternatives. DELSEY is truly made for the fashionista. If you are one that is fashion-forward, then your luggage should be that too. DELSEY makes carry-on bags, checked luggage pieces, garment bags, and totes. Like Samsonite, DELSEY suitcases come with a built-in TSA combination lock. Some even have an overweight indicator to let you know when your bag goes over 50 pounds.
TUMI Luggage
TUMI luggage is similar to DELSEY in its professional style. Business people will enjoy the collection of luggage pieces offered at TUMI. Bags come in many classic styles and all are made with an attached TSA lock. Backpacks, duffle bags, carry-on bags, medium-size suitcases, and large-size suitcases are all made by TUMI. Check out their sleek designs if you are in need of more professional luggage pieces. If you are constantly going on business trips from one place to another, consider checking out TUMI luggage.
A Recap on Samsonite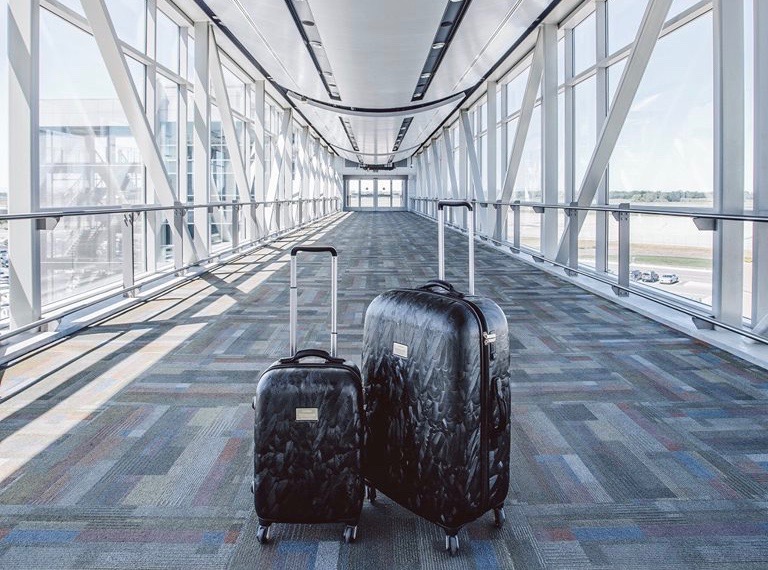 All you wanderlusters planning your next vacation (by surfing Pinterest and Instagram for the best places, of course), you will need sturdy luggage to take with you. We find that Samsonite luggage is ideal for virtually any traveler. Nowadays, many luggage brands are whipping out expensive bags with all sorts of built-in gadgets and gizmos. It can all become too much. Some of these extra add-ons are not even necessary. For those of you who truly just want a lightweight and capable bag that can store your belongings, Samsonite luggage is definitely worth your consideration. Those of you that only need a suitcase that is simple, affordable, and durable, then Samsonite might be the pick for you.
What is your opinion of Samsonite luggage? If you are a fan, then share with us why in the comments section below. If you are not a fan, we want to hear from you too in the comments below!
Related Article: ​​Best Lightweight Luggage Reviewed (Plus How to Choose Yours)​​​