A Review of DELSEY's Sophisticated and Classy Luggage
There is a classic design to DELSEY luggage that makes their suitcases, totes, and duffels stand out in a crowd (or on a baggage claim conveyer belt). If you are searching for a new piece of luggage that can withstand miles of travel, you might consider purchasing your next suitcase from luggage brand. Should you be curious about DELSEY, stay tuned for our in-depth review of the luggage brand. We are laying out all the pros and cons of purchasing a carry-on bag, checked suitcase, or another luggage piece from DELSEY. Let's get into it.
Why DELSEY Luggage?
DELSEY has been refining its brand for the past seven decades. Within the last seven decades, DELSEY has maintained its classic, chic, and clean design, al while improving the features of their luggage pieces. If you are a business professional or someone who is constantly on the go, this reliable and functional luggage brand may be a wise consideration for you. Some highlights of this luggage brand are the included TSA combination lock, the interior organization, the overweight indicator, and the super lightweight design. As for the cons of DELSEY luggage, several customers have reported problems with the TSA lock attached on the suitcase. We will expand upon the pros and cons of DELSEY luggage further on in the article.
The ideal customers for DELSEY luggage are the business professionals and the chic world travelers. We believe these customers will find the most delight in the design and function of DELSEY luggage. The brand sells carry-on luggage (suitable for domestic and international flights), large checked suitcases, duffle bags, and tote bags. Should you be traveling with formal attire for business meetings or special events, you might consider a DELSEY garment bag as well. All of these luggage options also come in a range of colors for customers to choose from. Most of these colors fall within the neutral color scheme.
Let's take a closer look at some of DELSEY's top products to see what makes this brand stand out for the business travelers and the fashionistas.
DELSEY Features & Benefits
Carry-On Luggage
DELSEY carry-on bags come in hardside options, softside options, and an array of colors. Some of the rolling carry-ons have two wheels, whereas others have four-wheels for more flexible movement. In addition, many, including the Longitude Carry-On Expandable Spinner Luggage, come with a TSA-accepted lock. Speaking of the Longitude Carry-On Expandable Spinner Luggage, this 22.5″ bag fits within the carry-on size and weight restrictions for most airlines. This hardside bag (pictured above) expands for more internal storage as well. The pros of this bag include its light weight (7.4 pounds), sleek design, TSA-approved built-in lock, and four-wheels for smooth mobility. One con would be that the bag's exterior is prone to scratches.
Another unique pick from DELSEY carry-on bags is the Chatillon 2 Wheeled Carry-On Luggage. This bag particularly stands out for its padded front pocket that fits a laptop up to 14″. If you are a traveler that frequently reaches for your laptop, then this carry-on may be worth considering. With this carry-on spinner, your laptop will be placed in a convenient location for easy access. Below the padded front pocket, there is even a zipper pouch for additional cables or electronics. Toiletry items could also be stored in this external compartment. The Chatillon 2 Wheeled Carry-On is 21″ tall and weighs in at only 4.9 pounds. The main section of the suitcase is expandable for more space as well. However, we advise travelers to be careful because if the suitcase is stuffed too full it may not fit within your airline's weight and size restrictions.
Checked Luggage Pieces
Many of the DELSEY checked suitcases are larger versions of the carry-on designs. One stand out suitcase is the Delsey Luggage Chatelet Hard+ 28 inch 4 Wheel Spinner. In addition to this 28″ suitcase, this bag also comes in a 24″ size. Made of a polycarbonate fabric with faux leather accents, this bag would be a great consideration for the traveler who loves anything chic. One feature that makes this suitcase stand out is the brake system that locks the front two wheels. Of course, the unique appearance of the bag makes it stand out as well. The Chatelet Hard 28″ Spinner also weighs in at 12.6 pounds. If you are one who frequently travels, this durable bag might be the choice for you.
There are so many other DELSEY styles for travelers who want a different look than the Chatelet Hard Spinner. DELSEY softside suitcases, hardside suitcases, and duffel bags are all available. Some products come with small external pockets for you to store cables, chargers, toiletries, or other small items. Larger external pockets make great spots for books, magazines, or clothing items. Another highlight feature of several DELSEY checked suitcases is that some have an overweight indicator. The checked Chatillon luggage pieces and the checked Cruise/Cruise Lite pieces have these built-in overweight indicators. The indicators will conveniently let you know when your bag weights over 50 pounds. Goodbye overweight chargers. Thank you, DELSEY, for thinking ahead and saving us from showing up scattered at the airport and having to pay that extra fee.
Garment Bags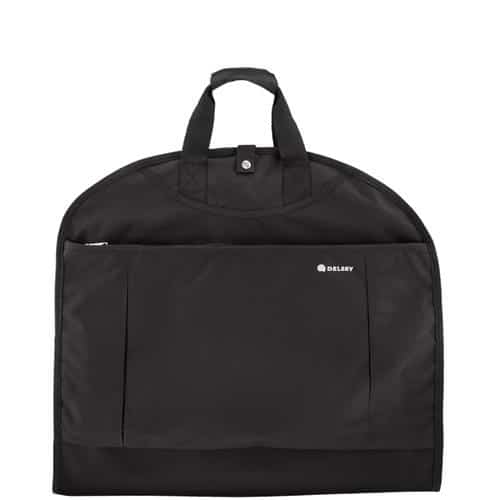 If you are one that often travels with formal attire, the DELSEY garment bags are worth looking into. Whether your formal attire is for business meetings or other special occasions, these sleek black bags could be the ideal pick for you. DELSEY sells hanging garment bags and a spinner garment bag that is spacious and can be easily wheeled through the airport. The Chatillon Spinner Garment Bag comes with convenient corner pockets to store small items, such as ties, belts, and accessories too. The bag weighs in at 10.4 pounds and fits within most carry-on size and weight restrictions.
What People Are Saying About DELSEY Luggage
Overall, travelers speak highly of DELSEY luggage. The bags are pricey, but you get durability, style, and additional benefits that make the price worth it. Most travelers say that their DELSEY bags are worth every penny. Those additional features that travelers enjoy about DELSEY bags include the TSA lock, overweight indicator (on several suitcases), and the internal and external organization.
While most travelers give the appearance of DELSEY luggage a 10/10, there are a few common concerns to consider before purchasing a new carry-on or checked bag from DELSEY. One of those corners is that some of the hardshell suitcases can be easily scratched. Of course, any luggage piece will gather its fair share of bumps and bruises. Even then, some travelers wish for their bags to always be freshly polished and scratch free. If this is a priority for you when it comes to purchasing a suitcase, you might consider purchasing from a similar, alternative luggage brand, such as…
Alternative Luggage Brands
TUMI Luggage
TUMI luggage also gives off professional and classy vibes for the sophisticated/business traveler. Selling backpacks, duffels, carry-ons, and large-size suitcases, TUMI offers many bags similar in style and function to DELSEY. TUMI luggage pieces also have the TSA zipper locks to prevent others from snooping through your bags (well, except TSA, of course. They have a master key, should they need to check the inside of your suitcase).
American Tourister Luggage
Most DELSEY bags have a neutral color scheme. Should you be desiring a suitcase that is bolder in color, American Tourister may be the alternative luggage brand for you. Colors range from hot pink to turquoise to yellow and beyond. Some say these bags are less business professional. We say, who sets the rules on what's acceptable for business travel? If you wish to show up to a business meeting with a purple American Tourister carry-on, then more power to you. We aren't one to stand in the way of your style dreams.
A Recap on DELSEY
If you are in the market for a new luggage piece, then you might highly consider DELSEY luggage. These bags can certainly keep up with travelers who are frequently on the go. The fashionable and simple style of DELEY bags is suitable for any fashionable or simple-styled traveler. These bags are also professional enough for businessmen and businesswomen to take with them on their travels. The stable wheels make for a smooth ride and the multiple exterior compartments provide convenient space to store laptops, electronics, books, snacks, and other items.
In terms of customer service and warranty, all DELSEY product comes with either a 2-year, 5-year, 10-year, or lifetime warranty. This warranty covers any defects in material that your carry-on, checked suitcase, duffle bag, or garment bag may face. While DELSEY's products may be prone to accumulate scratches, it is important to note that the warranty does not cover normal wear and tear.
What are your thoughts on DELSEY luggage? If you are a fan, then tell us why in the comments section below. If you are not a fan, then we want to hear from you too in the comments section below!
Related Article: ​​Best Lightweight Luggage Reviewed (Plus How to Choose Yours)​​​