With an American Tourister Luggage Piece by Your Side, You Will Be Traveling in Colorful Style. Look out World.
Whether you are zooming off to Florida for a family vacation, France for your honeymoon, or New York City for a business trip, American Tourister luggage will be the faithful travel companion you are looking for. Most notably, this brand stands out for its bright color and design. This company sells turquoise, purple, bright yellow, and hot pink suitcases that awaken any jet-lagged traveler. Bags also come in standard black and gray colors for travelers who aren't quite ready to make the leap towards the bold color options. American Tourister is unique in that it offers Disney, Marvel, and Star Wars luggage designs as well. These suitcases aren't only for children, but adults too! Though, speaking of children, American Tourister makes small suitcases for the little ones that your children will squeal with delight over. Disney princesses, Nemo & Dori, Elsa & Anna, Mickie & Minnie, the kid's luggage designs are plentiful.
For a fun fashion statement, check out American Tourister Luggage. We are revealing this company's best carry-on bags, checked suitcases, and kids luggage. These bags are available on the American Tourister website, Amazon, Macy's, Target, Walmart, and a variety of other locations. Travelers searching for a colorful, yet dependable piece of luggage must take a closer look at American Tourister bags.
American Tourister Carry-On Bags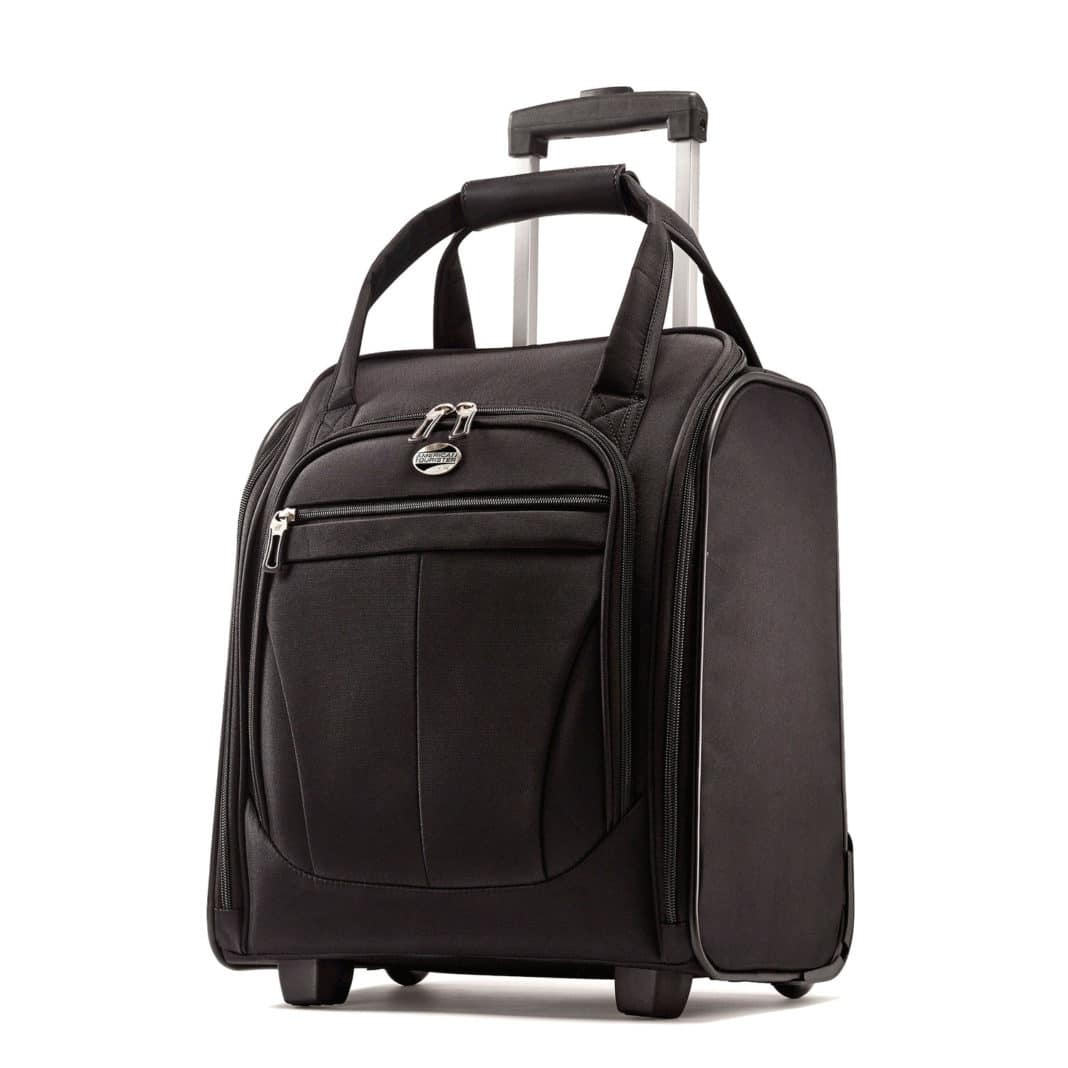 Material
American Tourister carry-on bags range in style and material. The company offers standard four-wheeled spinners that are available in 20″ and 21″. This luggage height fits the carry-on size requirement for most airlines. Many of the carry-on bags also come with an attached TSA lock for travelers to secure their belongings. Concerning the material, carry-on spinners come in either hardside or softside designs. The hardside spinners have a plastic shell that is strong and lightweight. It is also water resistant. The softside carry-on options have a flexible soft exterior made up of a polyester and nylon blend. Some carry-on bags are also expandable.
While most of the carry-on options have the standard four-wheeled suitcase design, American Tourister offers a 22″ Wheeled Duffel as well. Another unique piece by American Tourister is their Underseater Bag. The Underseater Bags are made of polyester fabric and are an ideal size for quick trips. Whether traveling for business or pleasure, all carry-on bags provide the space travelers are looking for. Coming in not only a variety of material, but also a variety of color, the American Tourister carry-on bags are reliable, stylish, and lightweight.
Weight
Speaking of lightweight, just how lightweight are American Tourister carry-on bags? The weight largely depends on the material used. For instance, hardside suitcases tend to be more lightweight than the softside suitcases. To give you a range, carry-on bags tend to fall between 3 pounds and 8 pounds. Needless to say, all of these bags will be easy to roll around with their lightweight design.
The Zoom 22″ Wheeled Duffel is merely 3.5 pounds. A 20″ hardshell spinners fall between 5 and 7 pounds. The Underseater Bags are 5.7 pounds. The softside spinners hover around 7 pounds. As you can see, the weight fluctuates, but whose weight doesn't?
Best American Tourister Carry-On Bags
None of the American Tourister carry-on bags will disappoint. Some of our top recommendations include the Topsfield Underseater Bag and the American Tourister Triumph DLX 21″ Spinner. The Topsfield Underseater Bag conveniently fits under most airplane seats. This is good news for those of you who dislike schlepping your bag overhead. The Underseater Bag also has several internal separators to make packing easy. Choose from color options such as purple, teal blue, and black when picking a Topsfield Underseater Bag.
Those wishing for a tad more luggage space can opt for the Triumph DLX 21″ Spinner. This four-wheeled suitcase rolls smoothly and comes with plenty of pockets to store books, magazines, clothing, and toiletries. This suitcase is on the larger size, so refer to your airline's carry-on restrictions before assuming this bag will fit in the overhead compartment.
American Tourister Checked Luggage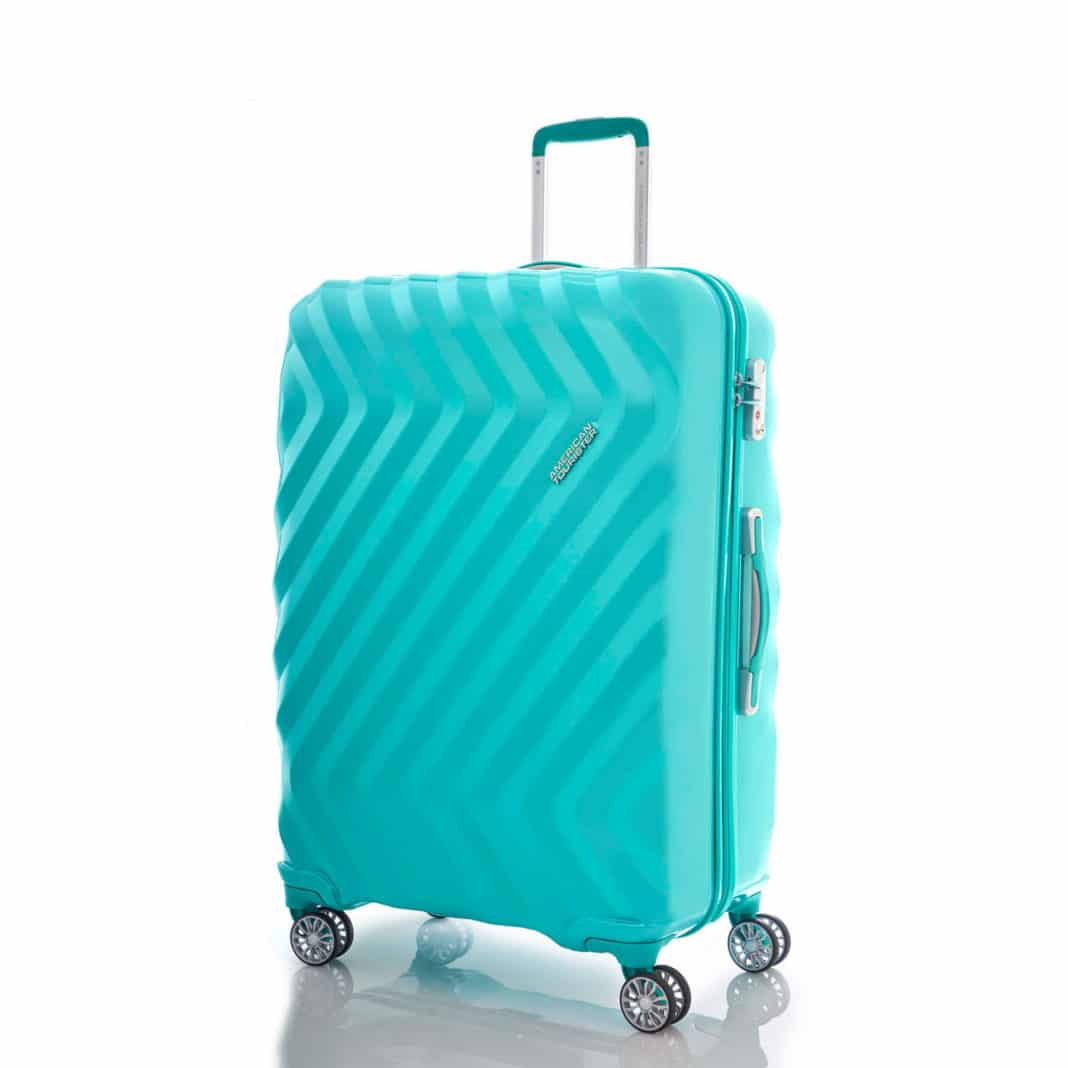 Material
Concerning checked luggage, American Tourister offers fashionable medium-size and large-size checked luggage. Again, all come in a variety of colors and materials. Travelers will be able to find hardside and softside checked suitcases with American Tourister. The bags with a soft exterior have the benefit of extra pockets and compartments to store belongings. On the other hand, the perk of having a hardshell suitcase is that they tend to be lighter in weight. Most softside bags are composed of a polyester and nylon blend. This blend is strong and will keep up well over the years. Hardside luggage pieces are made of a polycarbonate that keeps bags lightweight and durable. Many of the medium and large checked bags are also expandable, so travelers who tend to overpack do not have to fear fitting all of their clothes inside American Tourister suitcases. Everything will fit. These bags are spacious as can be.
Since we cannot discuss American Tourister bags without talking about color, let's get into all the options you have. Checked luggage pieces come in the signature bold, vibrant colors. However, that is not all. Large checked suitcases also come in Disney, Marvel, and Star Wars designs. Travelers can purchase a red and white polka dot Minnie Mouse bag, or Mickey Mouse's face plastered on their luggage. Star Wars fans will be pleased by the array of designs available as well. If you enjoy Dinsey, Marvel, and/or Star Wars, these American Tourister luggage pieces are for you.
Weight
Depending on material and size, the weight of this brand's checked luggage differs. For instance, the American Tourister Technum 24″ Spinner is 7.2 pounds, whereas the iLite Max 29″ Spinner is 10.4 pounds. Naturally, as the size of the suitcase goes up, so will its weight. However, you can rest assured that all of the medium and large suitcases will comfortably roll alongside you.
Best American Tourister Checked Luggage
In terms of the best checked luggage options, we have to cast our vote for the Z-Lite DLX 24″ Spinner. The bag also comes in a larger 28″ design. Pick from your choice of purple, gray, teal, or pastel red and cruise in fashionable style to your gate. The Z-Lite DLX features a zigzag patterned exterior that will catch anyone's attention. The stand-out design will be particularly helpful when you are waiting at baggage claim trying to locate your bag. This 24″ Spinner weighs in a 7.7 pounds, whereas the 28″ Spinner weighs in at 9.25 pounds. Both come with an attached TSA lock for greater security.
American Tourister Kids Luggage
Material
American Tourister has a line of kids luggage that is tailored to your little ones' favorite movies and characters. Coming in soft and hardshell exteriors, kids can bring their favorite Disney, Marvel, and Star Wars friends with them on their travels. The kids luggage pieces are all 18″ of pure fun and adventure. Pick from options such as Nickelodeon's Teenage Mutant Ninja Turtles, Disney's Cars, Finding Nemo, Frozen, and the classic Mickie & Minnie Mouse. With a plethora of designs, kids will have an enjoyable time picking out their favorite bag. Plus, packing is always made more exciting when you are pilling clothes into a stylish Disney Princess suitcase. We think your little ones will agree.
Weight
These 18″ suitcases weigh in around 4 pounds. For specifics, the hardside suitcases are 4.5 pounds and the softside suitcases are 4.2 pounds. Young explorers and travelers will have no problem rolling around these lightweight bags (and oh, the compliments their stylish suitcases will receive from fellow travelers…).
Best American Tourister Kids Luggage
When it comes to the design of these kids luggage pieces, the two options include an 18″ Softside Upright or an 18″ Hardside Upright. The prints on each bag alter, but the two basic designs boil down to softside and hardside. When it comes to picking out which is better, it depends on the traveler. Your kids will gravitate towards whichever bag features their favorite Disney, Marvel, or Star Wars design. Who are we to tell them to pick Elsa & Anna over Teenage Mutant Ninja Turtles? Honestly, the decision is a tossup even for us… Both the Softside Upright and the Hardside Upright will get the job done.
Bold, Bright, Beautiful, and Well-Built. Grab Yourself an American Tourister Bag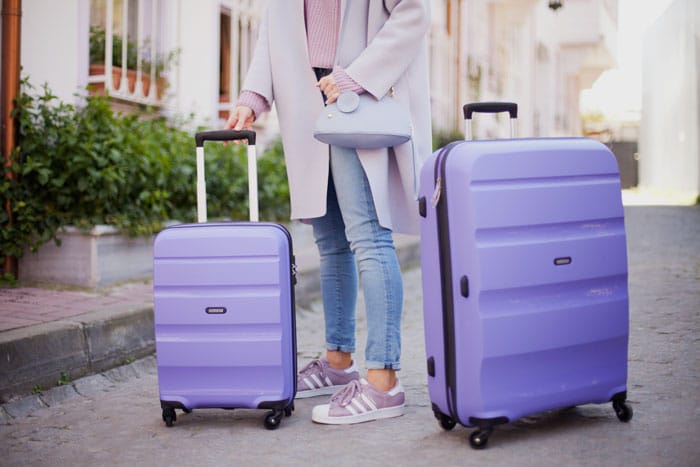 If you are in the market for a new carry-on or checked bag, consider purchasing an American Tourister piece. Their suitcases are affordable and will keep up well over years of traveling from one place to another. Luggage is available at Walmart, Target, Macy's and online at Amazon and the American Tourister website. If you are on the fence about purchasing a new carry-on bag, checked bag, or kids luggage piece, hurry over to your nearest Walmart, Target, or Macy's and take a bag for a spin around the store. We will call this taking a test drive/spin/roll. After you see how smoothly these suitcases run, you just might leave the store with a brand new bag rolling behind you.
What has your experience been like with American Tourister luggage? We want to hear about it in the comments section below!
Related Article: ​​Best Lightweight Luggage Reviewed (Plus How to Choose Yours)​​​