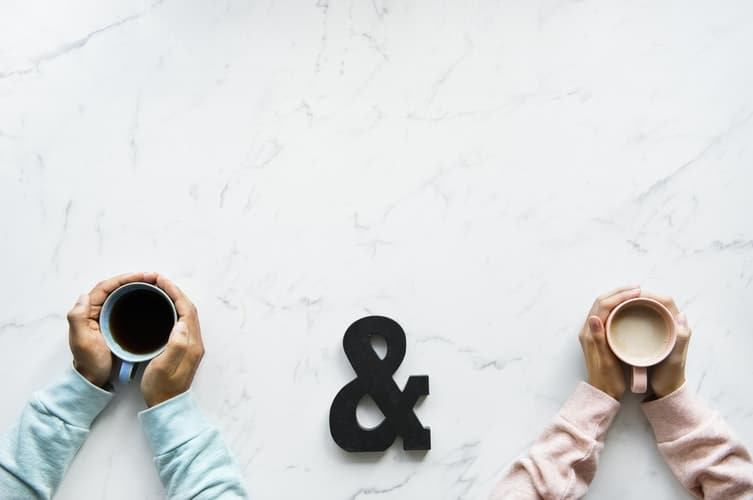 If you're like me, you're not a morning person. Nothing motivates me to get up like a good cup of coffee though. That's where the best travel mug comes in.
Rise and shine a little easier with some hot coffee poured into the best travel mug. There's nothing quite like starting your day off with a hot cup of joe. Did you know that there are scientifically-backed health benefits to drinking coffee? Even on those mornings when you're waking up in London, you're going to need something to help you start the day. It's even harder to get up when you're jet-lagged. Don't sweat it though. These spill-proof, leak-proof cups of joy will help you get through the day.
Alright, let's get to the good stuff. It's time to pick the best travel mug for your next adventure. I have a feeling you're going to love these.
QUICK NAVIGATION
What to Look for in a Travel Mug
So how do you find the best travel mug? Well, there are a few things to look for. When you narrow down your search, make sure your travel mug offers the following qualities:
Retains heat or cold well for liquids

Leak-free

Spill-free

check

Does not easily break or dent
Questions to Ask Yourself Before Beginning Your Search:
When it comes to picking the best travel mug, there are a few questions you should ask yourself before beginning your search.
Does It Retain Heat?
Scope out mugs that actually keep your drinks hot (or cold). You're going to want something that has great insulation properties. There is no point in buying a mug if you pour yourself some coffee and it's cold five minutes after you step outside.
Will the Travel Mug Leak?
You need a travel mug that is leak-free. Let's be honest. When you're running to catch the train in the London tube, it's going to be jostled around a bit. Sometimes, you'll even drop it. It happens.
Is It Easy to Hold and Drink out Of?
Can this travel mug be safely washed in your dish machine? Is it easy to clean out manually on the go? Will you be able to get into the nooks and crannies of the lid?
Here Are Our Picks for the Best Travel Mug
In the beginning of the article, we shared a chart listing the 7 choices for the best travel mug There, you can find out today's current price for each travel item. If you want to see a pros and cons breakdown for each mug, then here it is:
1. Thermos Stainless Steel 16 Ounce Travel Mug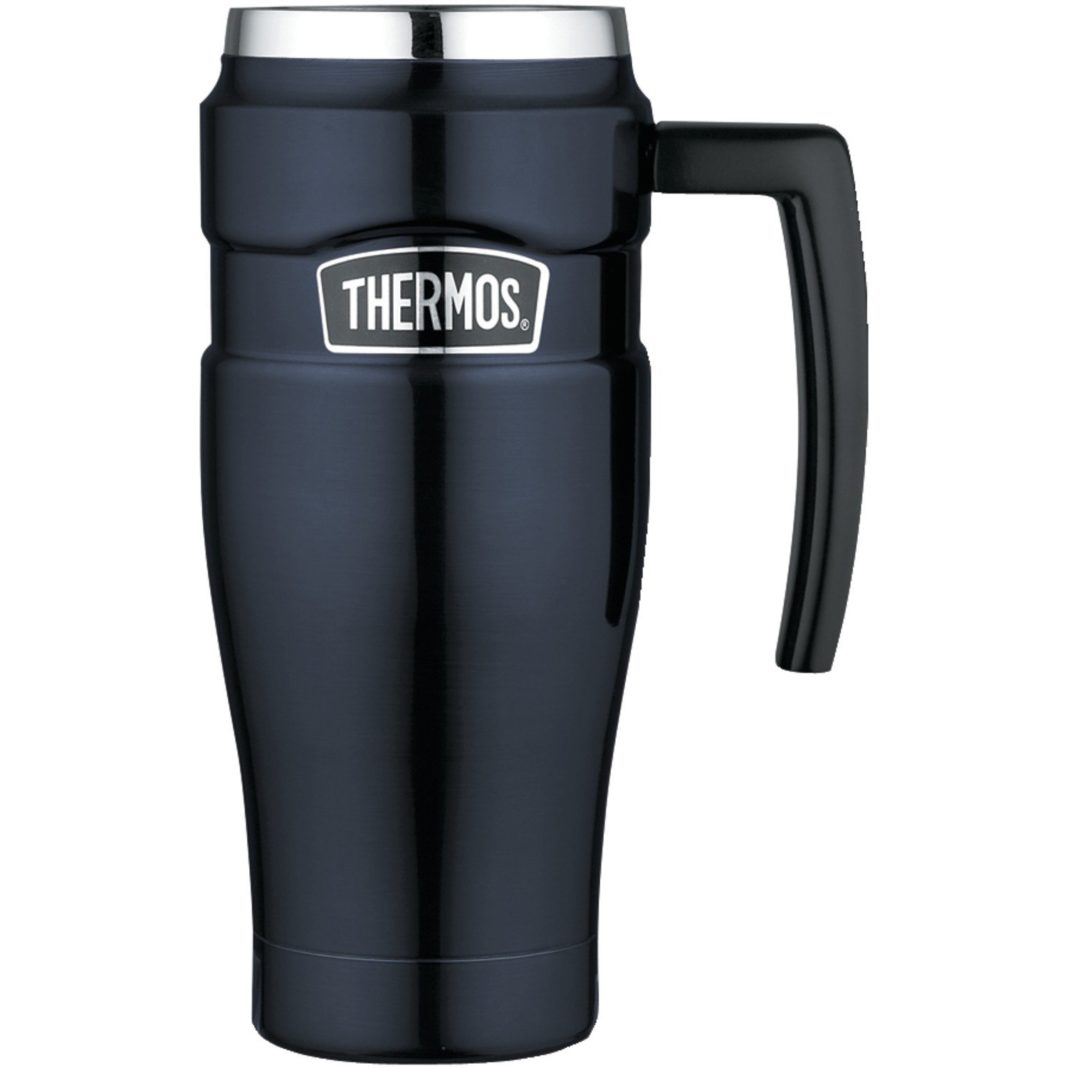 Everyone knows the Thermos brand. They've been around for more than 110 years. Like traditional containers, heat and cold find their way in through convection. Once you pour your hot tea, coffee, or cold water inside, the heat or cold is retained in your mug through vacuum insulation. Your drink will stay steamy or icy no matter what the forecast says. Take that, weather app!
Before you use it and as soon as possible after each use, make sure you wash all parts of the mug with warm, soapy water. Rinse all parts thoroughly and let them dry. While this mug is easy to wash, I'm conflicted about the assembly. There are several moving parts you have to put in place for it to function before each use. Overall though, this mug has more pros than cons. It's also top-rack dishwasher safe.
Tech Specs:
Ultra-durable travel mug with handle for hot and cold beverages; 16-ounce capacity

Durable stainless steel interior and exterior

Leak-proof Drinklock sealing lid

check

Stays cool to the touch with hot liquids and is condensation-free with cold

check

Hand wash only
Pros
plus

Durable

plus

Stainless steel

plus

Vacuum insulation
Cons
2. AA Products Tumbler Vacuum Insulated Double-Walled 18/8 Stainless Steel Mug
If you're looking for the best travel mug, you've found one of them here. This high-quality stainless steel mug will not break; it's designed to last and resist rust and corrosion. The capacity is large enough to fit your coffee or hydration needs.
I love that the stainless steel repels any lingering flavors. Do you know that gross taste when you realize there's still remnants of your hazelnut coffee floating around in your earl gray tea? Well, that won't happen here. Slip this travel mug into your gym bag, backpack, or briefcase as your daily companion. It won't leak. Furthermore, it fits perfectly into your cup holder, making it the perfect road trip companion.
Your cold drinks will stay cold for up to 24 hours. Your steamy beverages will stay hot for up to eight hours. This easily portable bottle can be brought just about anywhere. Take it while you're hiking, camping, biking, or around the streets for your city explorations. A signature powder coat offers slip-free grip and extra durability.
Tech Specs:
Double wall vacuum insulated 18/8 stainless steel tumbler, with crystal clear lid (tritan), spill proof

Naturally bpa free, highly resistant to rust and retaining beverage taste, great for health and environment

Keeps perfect temperature of your beverage. Cold for 24 hours, hot for 8 hours

check

Top rack dishwasher safe tumbler, easy to clean and fits any standard size cup holder
Pros
plus

Stainless steel

plus

BPA free

plus

Rust resistant

plus

Great insulation
Cons
3. Bottlebottle 20 oz Insulated Tumbler Cup Stainless Steel Coffee Mug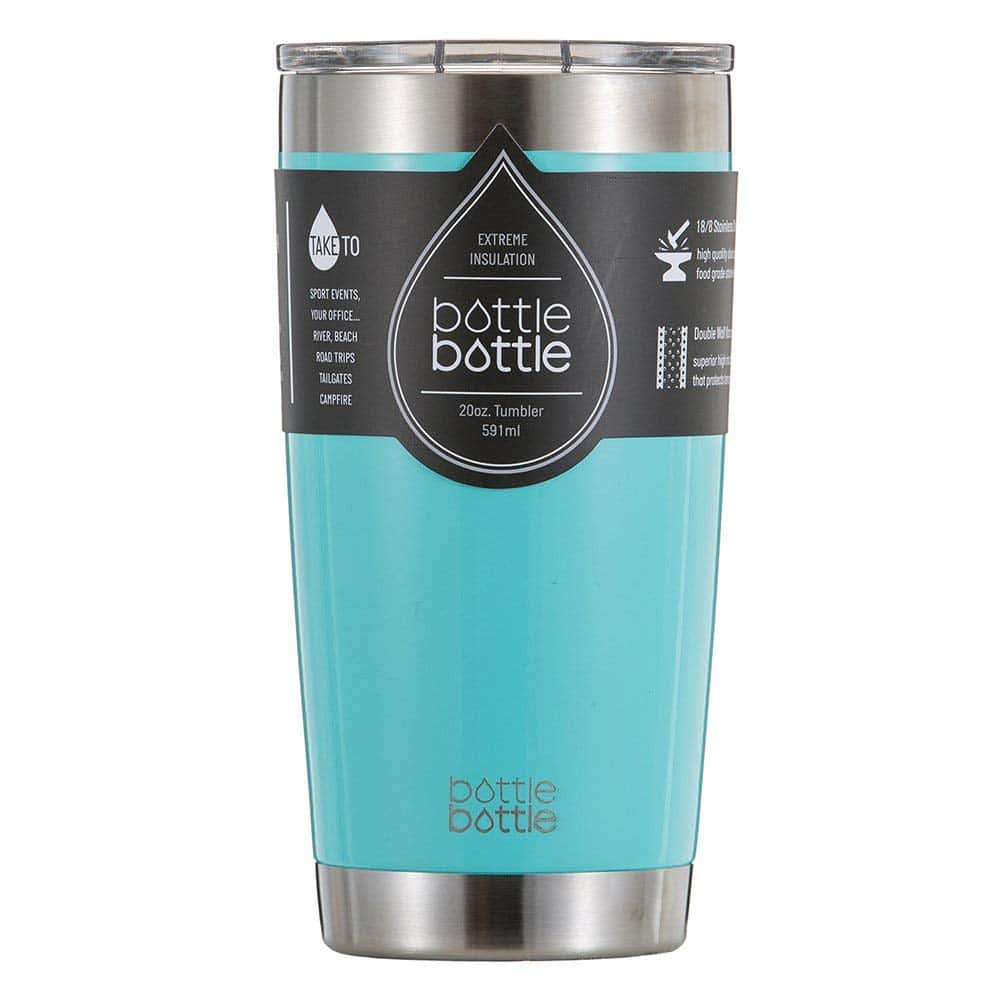 This Bottlebottle tumbler is made from double wall stainless steel. What makes this a good choice for the best travel mug? Well, the inner wall and shell are combined together by welding technique, then condensing the air in the interlayer of the inner wall and the outer shell to achieve the effect of vacuum insulation. Your beverage will keep hot and cold as long as possible.
Thanks to vacuum insulation technology, no matter how cold or hot your beverage is, the exterior of your tumbler will stay dry and mild to hold. It won't leak or spill in your car, bag, or on your desk. It's important to note that this travel mug is not dishwasher, freezer, or microwave safe. The exterior is finished with gloss/matte colored powder. It is BPA free, durable and sleek. I love the variety of color choices it comes in. This is such a fun mug to take for your adventures on the go.
Tech Specs:
Superior Temperature Retention: This travel mug is designed to keep your beverage ice cold up to 24 hours and warm up to 8 hours. Double wall vacuum insulation technology eliminates the transfer of temperature to the outside

Drinking friendly and BPA Free Lid: I love that this clear lid is BPA free, designed for either sipping directly or using a straw; Large open mouth allows adding ice into the tumbler and makes it easy to clean

Food Grade Stainless Steel: Made from 18/8 stainless steel with super thick structure, highly resistant to rust, absorbing odor, and retaining taste. Reusable, great for health and environment

check

No-sweat Exterior: A double wall vacuum insulation ensures the tumbler condensation and sweat free regardless of the temperature inside, guarantees a mild temperature for you to hold. No messy moisture or water stains will be left on table, car holder & bag

check

Colorful Powder Coating: Powder coated with gloss/matt finish, stylish tumbler of various color are available, durable, provides a comfortable touch feeling, makes your tumbler distinct in the group of your friends
Pros
plus

Amazing temperature retention

plus

Drinking-friendly lid

plus

Food grade stainless steel

plus

Spill proof and leak-proof
Cons
close

Hand wash only

Do not freeze or microwave
4. Contigo Autoseal Transit Stainless Steel Travel Mug 16 oz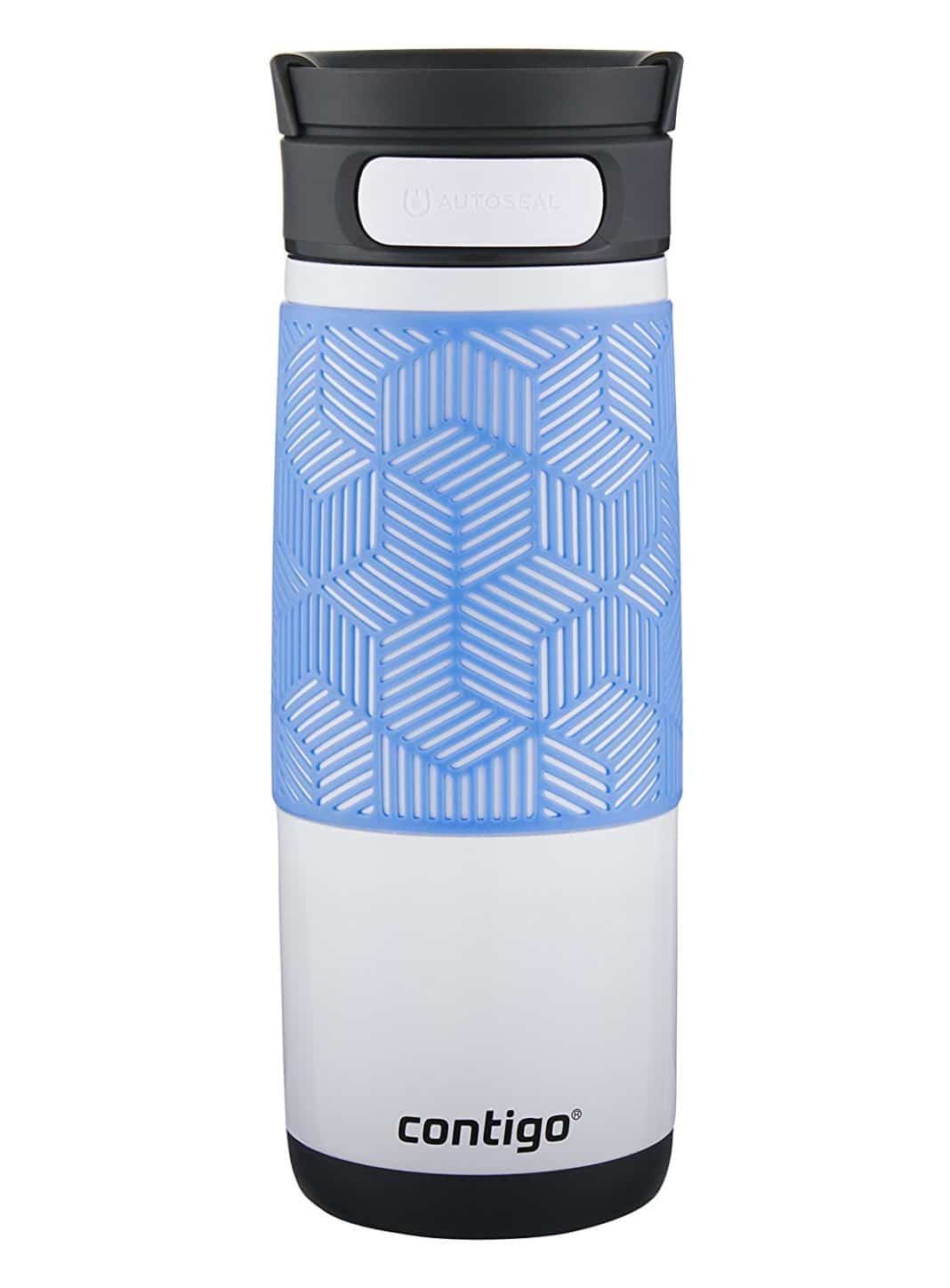 I hate spills as much as the next person. Whether it's a coffee stain on your favorite sweater or a sticky mess all over your car's interior, you don't need the hassle. That's where the best travel mug from Contigo comes in handy. Thanks to their autoseal technology, you can enjoy a spill and leak-proof design that eliminates the possibility of spilling anywhere.
This autoseal stainless steel travel mug is the ultimate travel companion. The Transit mug has all of the features you know and love – and more. So what makes it so great? Besides being spill-proof, drinks stay hot for up to 7 hours and cold for up to 12. Thanks to the clean guard lid, it's easier to wash than ever and the spout keeps gross germs and dirt out.
Tech Specs:
Sealed Lids – No leaks, no spills, no accidents with Autoseal lids

For the Long Haul – Drinks stay hot up to 7 hours and cold up to 12 hours with Thermalock Vacuum Insulation

Lend a Hand – Easy one-handed drinking with the push of a button

check

Cleaner Drinking – Newly engineered Clean Guard lid protects the spout to keep out gross dirt and germs

check

Squeaky Clean – Easy clean lid completely opens for an extra squeaky clean with no separate parts to take apart or misplace

check

Lock it Up – Clean Guard lid also rotates to lock the Autoseal button lock for added peace of mind
Pros
plus

BPA free

plus

Stainless steel

plus

Top-rack dishwasher safe

plus

Lifetime guarantee

plus

Autoseal lid
Cons
5. Contigo Snapseal Byron Stainless Steel Travel Mug, 16 oz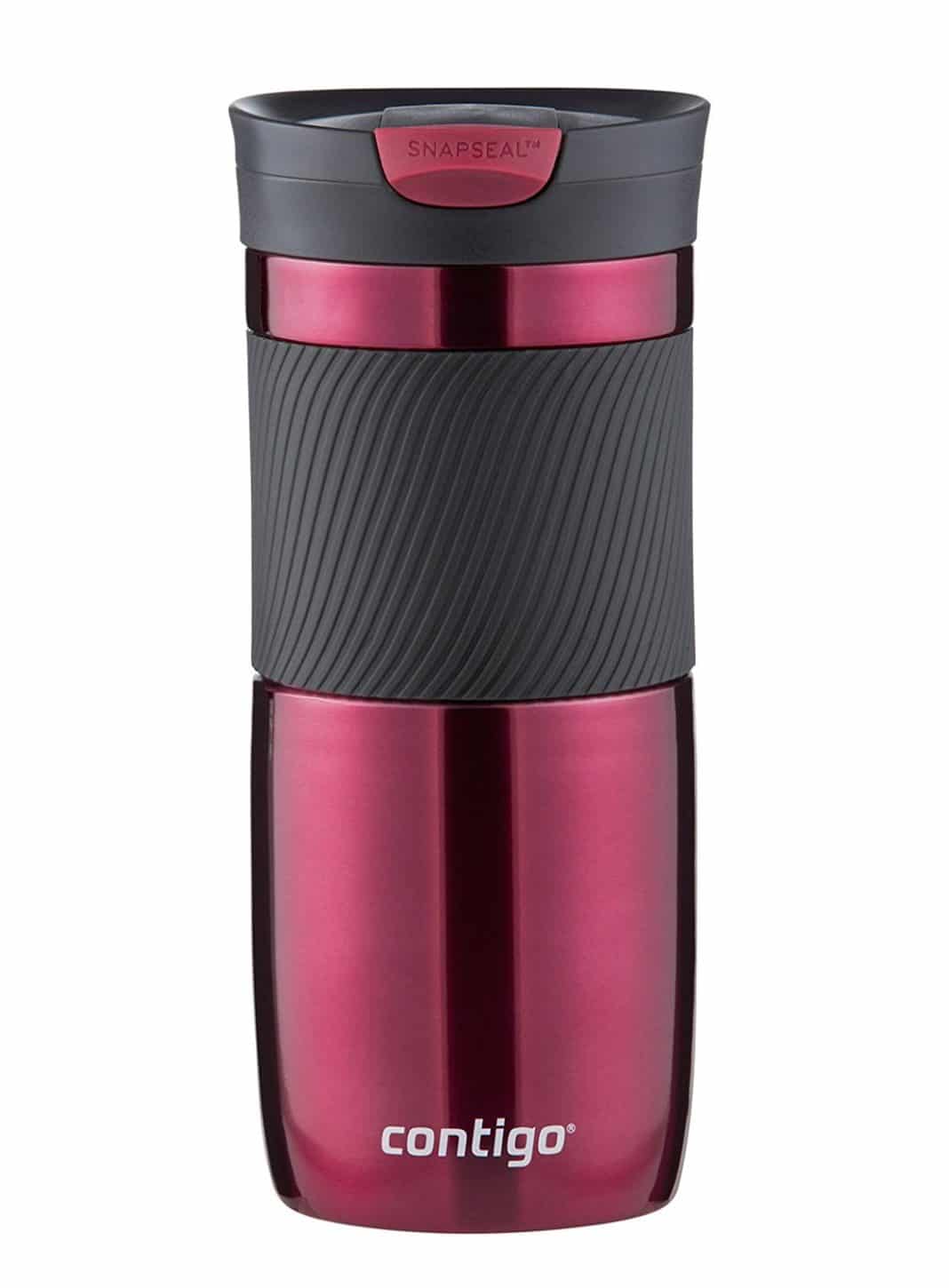 Can you tell I love the Contigo brand yet? Take your coffee on the go in this lovely snapseal style mug. This large capacity mug does the work so you don't have to. Just snap the mug's lid open and closed and then it's sealed shut. Goodbye spills, I won't miss you.
If you're a slow coffee drinker, you can enjoy your hot cup of joe 7 hours after you've poured it. I also love that its top-rack dishwasher safe and BPA free. Last but certainly not least, you have a lifetime guarantee when you buy from this brand. Material issues, workmanship issues, defects, and replacements are all available if something goes wrong. Now, this is a deal I can get behind.
Tech Specs:
Do not use cleaners containing Chlorine, bleaches, abrasives and/or other harsh chemicals

SnapSeal lid features a 1-piece leak-proof lid

Easy, one-handed use

check

Double-wall vacuum-insulated stainless steel keeps beverages hot for 6 hours or cold for 12 hours; 100% BPA Free

check

Fits most single-serve brewers and car cup holders

check

Top-rack dishwasher safe lid

check

Lifetime Warranty
Pros
plus

Leak-proof lid

plus

Bottle is BPA-free and freezable

plus

Great insulation

plus

Fits most cupholders

plus

Top-rack dishwasher safe

plus

Lifetime warranty
Cons
6. Ello Cole Vacuum-Insulated Stainless Steel Travel Mug
This vacuum-insulated stainless steel travel mug by Ello is perfect for your on-the-go need. Thanks to a newly patented slider lid, it's 100% leak-proof and easy to use. Furthermore, the vacuum insulation keeps your beverages hot for up to five hours and cold for up to ten.
The cork composite base is more than just cute. It protects your tabletop and fits in most cup holders. Last but not least, the Ello is 100% BPA/BPS free and dishwasher safe. All in all, this stylish dishware is sure to brighten up your day.
Tech Specs:
New patented slider lid is 100% leak-proof for easy transport

Built-in cork composite coaster base protects surfaces and fits in most cup holders

Vacuum insulated stainless steel keeps beverages hot for 5 hours, cold for 10

check

All parts BPA/BPS free

check

All parts top rack dishwasher safe

check

Do not microwave
Pros
plus

Leak-proof slider

plus

Built-in coaster

plus

Dishwasher safe

plus

Drinks stay hot for up to 5 hours
Cons
7. Yeti Rambler 20 oz Stainless Steel Vacuum Insulated Tumbler with Lid Sleep Mask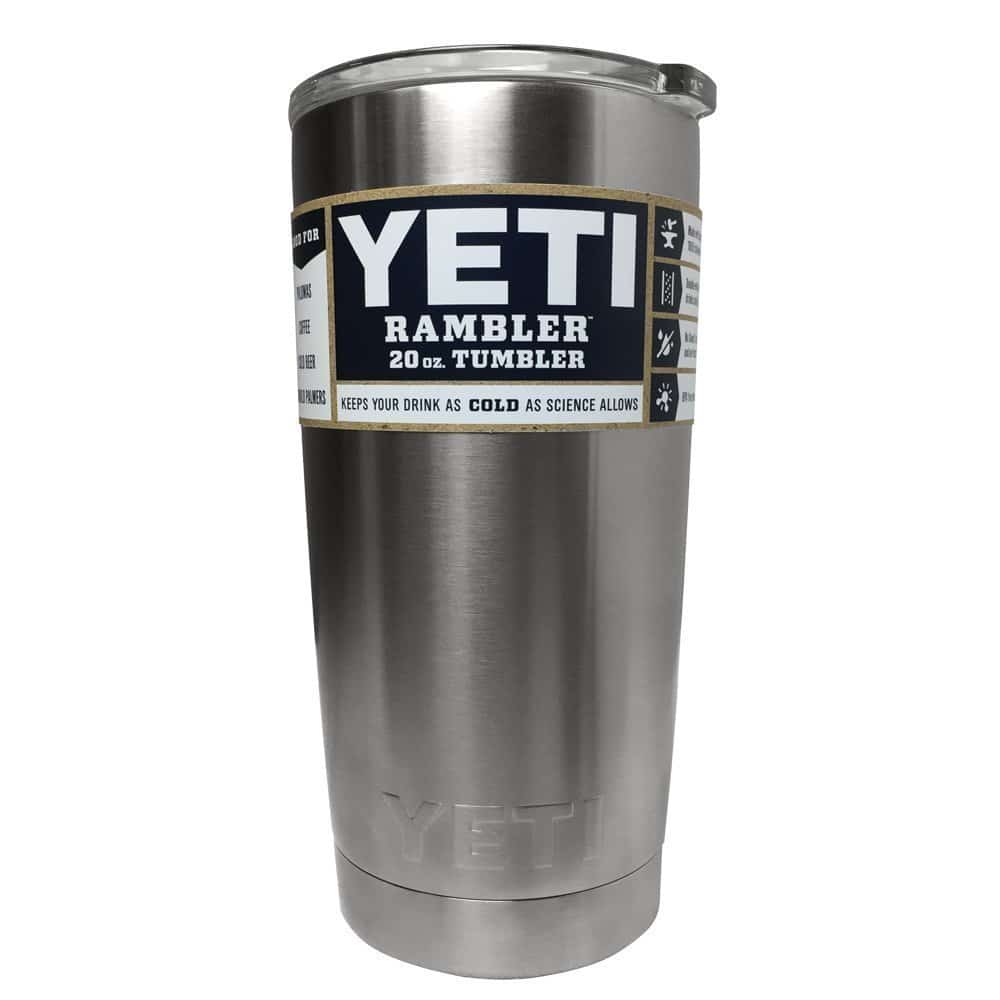 Okay, I'm sure you've seen this in every REI store you've walked into. But have you tried them? They're amazing. This Yeti mug is definitely geared more for those who are doing some heavy duty hiking, camping, or backpacking. If you're looking for the best travel mug, it's a top contender on the market.
With an 18/8 stainless steel construction, double wall vacuum insulation, and a no sweat design, it's a fuss-free way to start the morning.
Tech Specs:
With the YETI Rambler 20 oz. Tumbler, your beverages will stay ice cold or piping hot longer

They over-engineered these double-wall insulated tumblers with an 18/8 stainless steel body, which means your drink still keeps its temperature no matter how much of a beating this cup takes

They're BPA-free (obviously), have a No Sweat Design to make sure your hands stay dry, and are dishwasher-safe

check

Its crystal-clear dishwasher safe shatter-resistant lid lets you check your drink status in a flash. Refill, anyone?

check

The YETI 20 oz Rambler Tumbler stands 6 7/8 in high and has a lip diameter of 3 1/2 in. All YETI Tumblers are sized to fit in standard sized cup holders
Pros
plus

Great insulation

plus

BPA free

plus

Carrying pouch and ear plugs are included

plus

No sweat design

plus

Dishwasher safe
Cons
8. CamelBak Forge 16 oz Vacuum Insulated Travel Mug
Trek on without any spills in the morning. Camelbak knows that sometimes, water isn't enough. That's why they re-invented the travel mug for a better on-the-go coffee and tea experience. This double-walled vacuum-insulated vessel will keep your 16 ounces of joe piping hot for up to six hours. Better yet, the impact cap prevents dents or cracks in the event you drop it.
While the Forge is designed to fit in most cup holders, you can also toss it in your bag without it messing up your gear. When you need to keep your eyes on the road, it's the perfect size to hold one-handed. The self-sealing cap is easy to use and snaps back into place to prevent leaks and spills. Last but not least, the lid won't collect grime and it's easy to clean if you just pop it in the dishwasher.
Tech Specs:
Stainless Steel

Imported

Cap is designed to be easy to clean and dishwasher safe

check

Stainless steel vacuum insulation keeps beverages hot 4+ hours

check

Durable, impact-resistant construction and finger carry loop so it can go where you do

check

CamelBak Got Your Bak Lifetime Guarantee

check

Leak-proof, self-sealing cap eliminates spills with intuitive one-handed drink lever
Pros
plus

Leak-proof

plus

Stainless steel

plus

Dishwasher safe

plus

Durable construction

plus

Lifetime guarantee
Cons
Common Questions
Check out these other travel products:
Invest In the Best Travel Mug for Your Next Big Adventure
I hope you enjoyed reading our article on the best travel mug choices for your next adventure. When you go to pick one out, make sure it meets the qualifications we listed above. Having a spill-free, good quality mug that keeps your drinks hot (or cold) really does make all the difference.
Related Article: The Best Portable Travel Coffee Makers For Your Caffeine Cravings
Danielle Dougall
Danielle Dougall is a photographer, avid writer, and traveler. Hailing from the rainy city of Seattle, WA she now lives in southern California where she enjoys longboarding, hiking, coffee shop hopping, and dreaming up destinations for her next international trip.