While the market is full of vacuum-insulated vessels, the YETI Rambler 20 oz offers standout properties that set it apart from the rest.
YETI is best known for its coolers. As you can see, the company calls Rambler Tumblers "personal drink coolers." Made from an 18/8 stainless steel with vacuum-insulated walls, the YETI Rambler 20 oz regulates ambient liquid temperatures inside. The lid is made from BPA-free plastic that snaps onto the 20 oz or 30 oz version of the cup. You can also use the snap-on lid with the Rambler Lowball, a mini version of the cup we've grown to love.
A Little About YETI
In 2006 YETI Coolers was founded with a simple mission: To build the cooler you'd use every day if it existed. It would be one that was built for the serious outdoor enthusiast rather than for the mass-discount retailers. It could take the abuse we knew you'd put it through on camping trips and on the water.
The goal was to make a cooler that simply wouldn't break. They decided early on that product innovation would come from necessity and firsthand experience — not from market research and data analysis. And they'd never sacrifice quality for a few extra bucks. Because having your cooler's lid cave in when using it as a casting platform should never be part of anyone's fishing trip.
Today it is the cooler of choice for outdoor enthusiasts, pros, tailgaters, and backyard barbecue kings. And that still gets us fired up. Ultimately, life is about having a good time doing what you love. And for the folks at YETI, that's being outdoors hunting whitetail, catching a tarpon on the fly, and spending time with families and buddies. They're wild at heart. So their coolers couldn't be anything less.
YETI Rambler 20 oz Stainless Steel Vacuum Insulated Tumbler Features & Benefits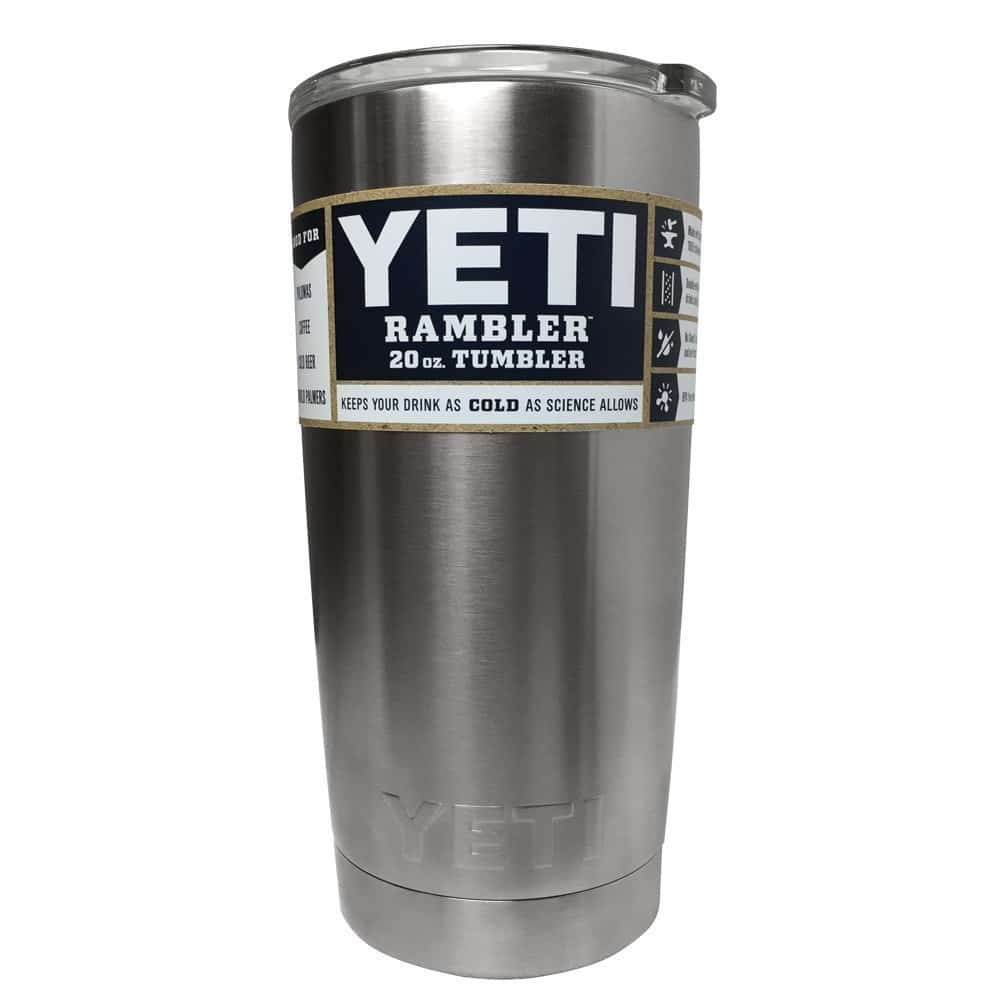 Don't you hate it when your favorite beverage loses its frosty (or piping hot) goodness before you have a chance to fully enjoy it? We sure do, and that's why we love YETI's over-engineered our Rambler Tumblers with kitchen-grade 18/8 stainless steel and double-wall vacuum insulation.
The result is a tough, hard-wearing personal drink cooler that maintains ice twice as long as plastic tumblers – and it works just as well for hot beverages. The lid that keeps your liquid in its place is easy to clean, shatter-resistant and crystal clear so you know exactly how much of your drink you still have to look forward to. It's dishwasher safe too.
20 oz Tumbler
With the Rambler 20 oz. Tumbler, your beverages will stay ice cold or piping hot longer. They over-engineered these double-wall insulated tumblers with an 18/8 stainless steel body, which means your drink still keeps its temperature no matter how much of a beating this cup takes. They're BPA-free (obviously), have a no sweat design to make sure your hands stay dry and the design is dishwasher-safe. Plus its crystal-clear lid lets you check your drink status in a flash. Refill, anyone?
18/8 Stainless Steel
The stainless steel on-the-go cup solution. Kitchen-grade, durable, and rust-proof material that lasts a lifetime.
Double-Wall Vacuum Insulation
The insulation keeps your drink as cold as science allows. It also keeps hot drinks hot.
No Sweat Design
The no sweat design makes for a secure grip with no condensation. Keeps fingers dry and you won't need a coaster.
Hats off
The lid is dishwasher-safe and shatter-resistant. Construction is heavy duty. The lid's suction is so effective that you can pick it up by the lid and it doesn't come off of your cup. All in all, this is a great purchase. The only thing that we would have you keep in mind is that it's perfect for cold weather, as hot beverages take a very long time to cool down inside the mug.
The Rambler Series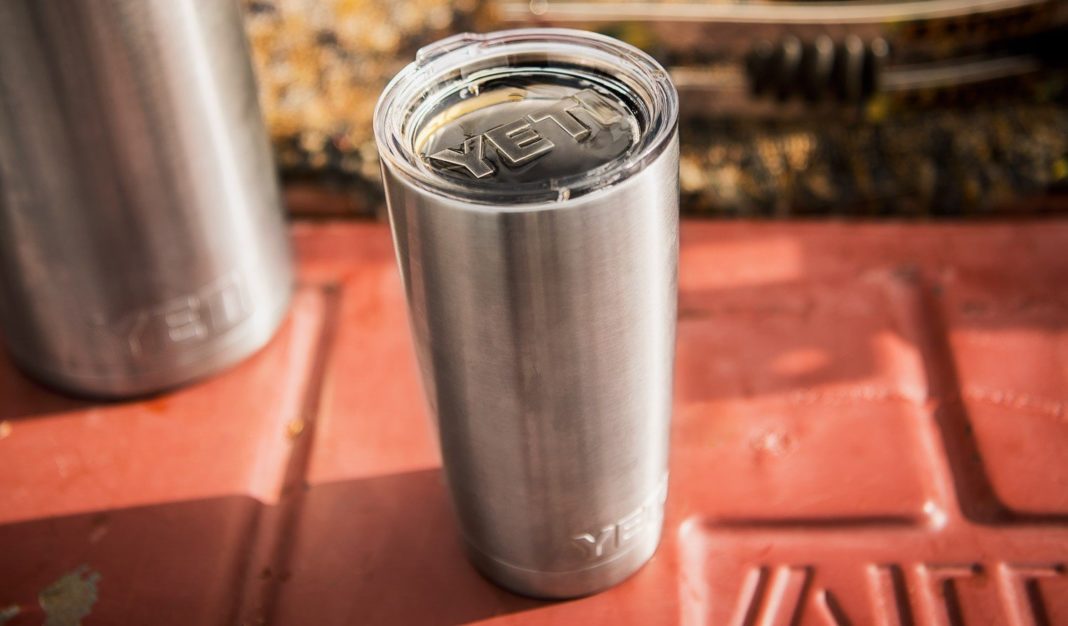 Did you know that the Rambler series of drinkware is the first line of YETIs you can fit in your hand? And, yeah, they over-engineered these YETI Tumblers to be virtually indestructible and keep your drink as cold (or hot) as science allows. With 18/8 stainless steel construction, double-wall vacuum insulation, and a no sweat design, they're perfect for the deer lease, cleaning table, or just the times in between your outdoor adventures.
Tech Specs:
With the YETI Rambler 20 oz. Tumbler, your beverages will stay ice cold or piping hot longer

We over-engineered these double-wall insulated tumblers with an 18/8 stainless steel body, which means your drink still keeps its temperature no matter how much of a beating this cup takes

They're BPA-free (obviously), have a No Sweat Design to make sure your hands stay dry, and are dishwasher-safe

check

Its crystal-clear dishwasher safe shatter-resistant lid lets you check your drink status in a flash. Refill, anyone?

check

resistant lid lets you check your drink status in a flash. Refill, anyone?

check

The YETI 20 oz Rambler Tumbler stands 6 7/8 in high and has a lip diameter of 3 1/2 in. All YETI Tumblers are sized to fit in standard sized cup holders
We Tested It Out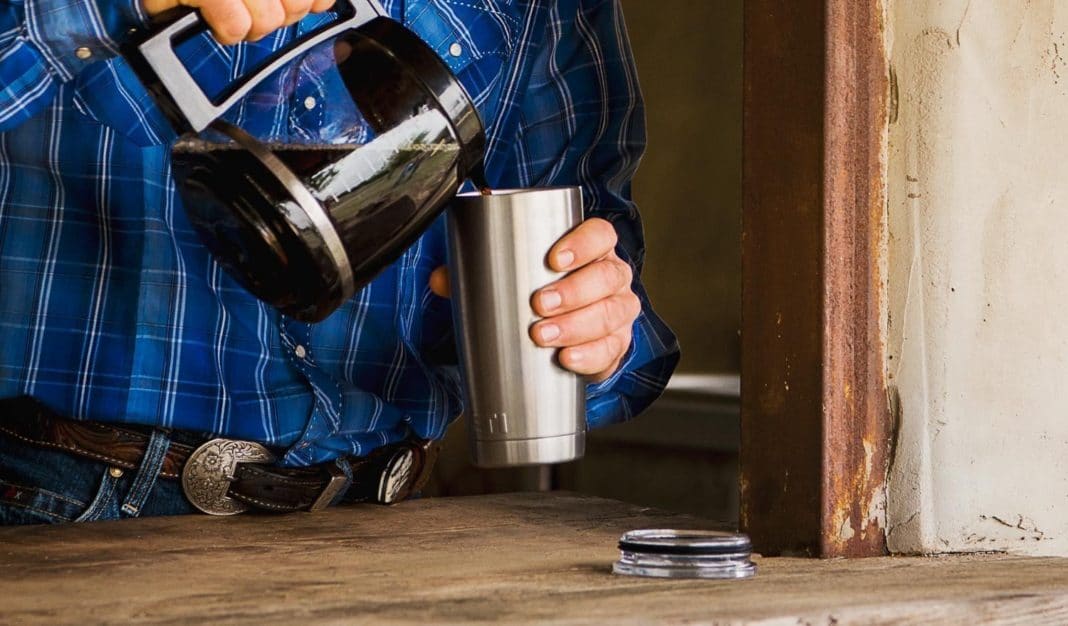 We had to see for ourselves if the YETI Rambler 20 oz was as good as the reviews said. And we've got to say – we were pleasantly surprised with what we found. The perfect on the go cup is one that can hold both hot and cold liquids and keep them at their desired temperatures. We took the rambler out for its first test, coffee.
The Hot Coffee Test
If you're anything like us, you drink way too much coffee in the morning – about three cups to be exact. During cold winters, nothing is better than pouring your coffee into a travel mug and having something warm and caffeinated to accompany you on your way to work. Want to know the best part about using the YETI Rambler 20 oz? You won't have to reheat your coffee. If anything, your coffee will probably be too hot by the time you get to work. This mug seriously delivers when it claims to hold temperatures.
The Cold Drink Test
Do you also pour a drink and then forget about it when you're doing something around the house? We've always thought of ourselves as multi-taskers but maybe this is the area where we fail. You come back and your drink is all warm. But hey, don't worry too much. The YETI Rambler 20 oz has solved this problem for the both of us. How? It actually keeps cold drinks cold. Walk away and forget about it for hours. It won't matter. When you come back, your drink will be just as cold as when you first poured it. Magic.
Minor Flaws
The only minor flaw we noticed in the YETI Rambler 20 oz is the design of the lid. It spilled a few times while we sipped; some sort of closing mechanism would be helpful. If you're taking this tumbler along on a road trip just don't fill your cup to the bring and you should be fine. Avoid the sloshing around.
What Travelers Are Saying About the YETI Rambler 20 oz Stainless Steel Vacuum Insulated Tumbler
At the time of writing, the YETI Rambler 20 0z Tumbler has over 5,300 reviews on Amazon with a four and a half out of five-star rating. This is such a great cup for when you're on the go. Fill up some hot coffee in the morning or bring something cold with you on a hot summer's day. Overall, travelers absolutely love this Tumbler. As far as the coffee temperature maintaining capabilities, we were impressed.
Other Options
While the YETI Rambler 20 oz is the perfect size for an on the go drink, YETI also offers the rambler in two other sizes that really come in handy. Check out these tumblers.
10 oz Lowball
The Rambler 10 oz. Lowball is the ideal drinking companion at the deer lease or around the campfire. Whether it replaces your morning coffee cup or serves as your nightly whiskey glass, the Lowball's double-wall vacuum insulation will keep your hot drinks hot and your cold drinks cold far longer than standard drinkware. And unlike your favorite bourbon glass, this Lowball will never shatter or leave a ring on your coffee table.
30 oz Tumbler
Days on the dock are made better with the Rambler 30 oz. Tumbler. It'll keep your dinnertime drink cool well past sundown or your coffee nice and hot throughout the morning. The Rambler 30 oz. Tumbler is made of 18/8 kitchen-grade stainless steel, has double-wall vacuum insulation, and no sweat design. This means that you've got one heavy-duty, over-engineered stainless steel tumbler on your hands with the Rambler. It's dishwasher safe, BPA-free, and ready for just about anything.
Alternative Travel Mugs You May Like
Do you want to look around a little longer? No worries. We've got you covered. Here are some picks for travel mugs. We're pretty sure you will love them just as much as we do.
Thermos Stainless King 16 Ounce Travel Mug with Handle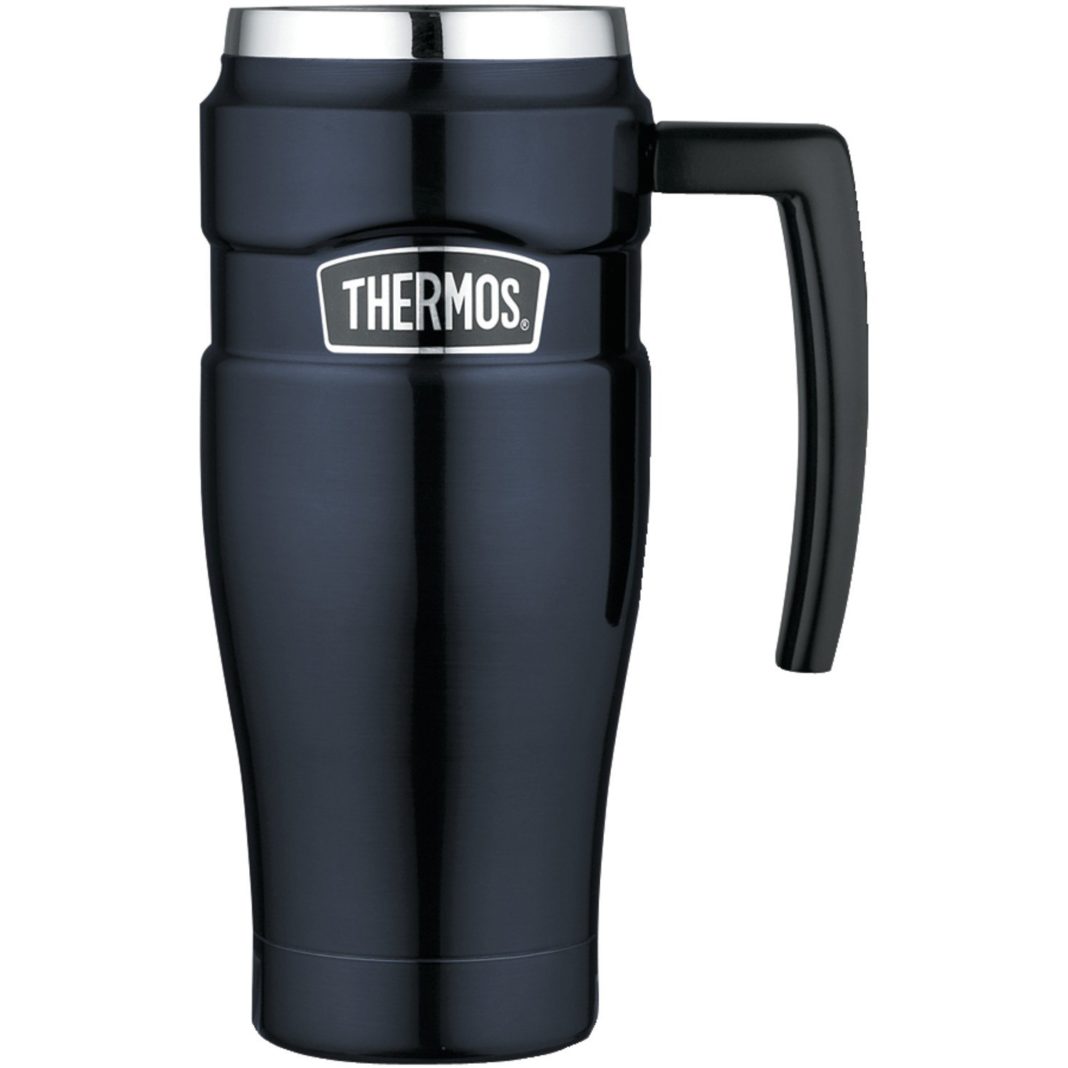 We're sure you know all about the Thermos brand. After all, they've been around for more than 110 years. Just like traditional containers, heat and cold find their way in through convection. Pour yourself some hot tea, coffee, or cold water inside, the heat or cold is retained in your mug through vacuum insulation. Your drink will stay steamy or icy no matter what the forecast says.
Make sure that before you use it and as soon as possible after each use, make sure you wash all parts of the mug with warm, soapy water. Rinse all of the parts thoroughly and let them dry. While this mug is easy to wash, I'm conflicted about the assembly. There are several moving parts you have to put in place for it to function before each use. Overall though, this mug has more pros than cons. It's also top-rack dishwasher safe.
Tech Specs:
Ultra-durable travel mug with handle for hot and cold beverages; 16-ounce capacity

Durable stainless steel interior and exterior

Leak-proof Drinklock sealing lid

check

Hand wash only

check

Stays cool to the touch with hot liquids and is condensation-free with cold
AA Products Tumbler Vacuum Insulated Double-Walled 18/8 Stainless Steel Mug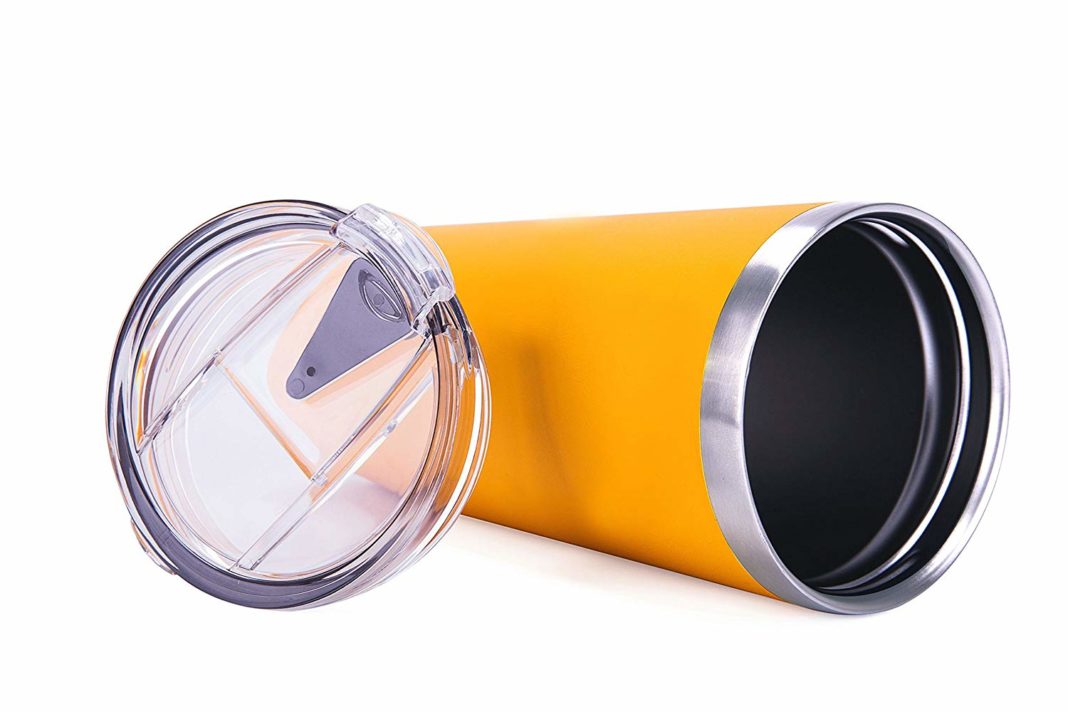 Are you looking for the best travel mug? Well,  you've found one of them here. The AA Products Tumbler is a  high-quality stainless steel mug that will not break. It's designed to last and resist rust and corrosion.
We particularly love that the stainless steel repels any lingering flavors. Slip this travel mug into your gym bag, backpack, or briefcase as your daily companion. It won't leak. Furthermore, it fits perfectly into your cup holder, making it the perfect road trip companion.
Your cold drinks will stay cold for up to 24 hours. Your steamy beverages will stay hot for up to eight hours. This easily portable bottle can be brought just about anywhere. Take it while you're hiking, camping, biking, or around the streets for your city explorations. A signature powder coat offers slip-free grip and extra durability.
Tech Specs:
Double wall vacuum insulated 18/8 stainless steel tumbler, with crystal clear lid (tritan), spill proof

Naturally BPA free, highly resistant to rust and retaining beverage taste, great for health and environment

Keeps the perfect temperature of your beverage. Cold for 24 hours, hot for 8 hours 

check

Top rack dishwasher safe tumbler, easy to clean and fits any standard size cup holder
Bottlebottle 20 oz Insulated Tumbler Cup Stainless Steel Coffee Mug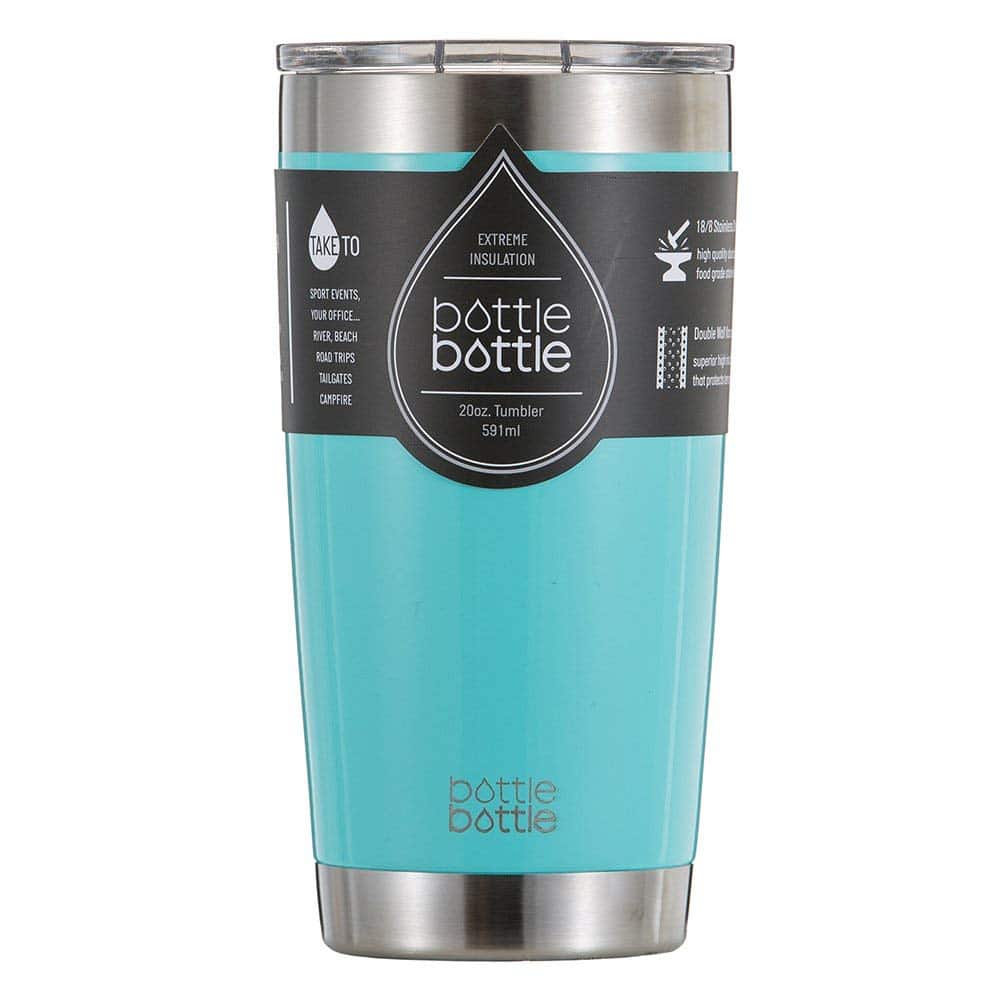 Yes, the Bottlebottle tumbler is also made from durable stainless steel. But what makes it a good choice for the best travel mug? The inner wall and shell are combined together by welding technique, then condensing the air into the interlayer of the inner wall and the outer shell to achieve the effect of vacuum insulation. Your beverage will keep hot and cold as long as possible.
Vacuum insulation technology comes in handy too. No matter how cold or hot your beverage is, the exterior of your tumbler will stay dry and mild to hold. It won't leak or spill in your car, bag, or on your desk. It's important to note that this travel mug is not dishwasher, freezer, or microwave safe. The exterior is finished with gloss/matte colored powder. It is BPA free, durable and sleek. I love the variety of color choices it comes in. This is such a fun mug to take for your adventures on the go.
Tech Specs:
Superior Temperature Retention: This travel mug is designed to keep your beverage ice cold up to 24 hours and warm up to 8 hours. Double wall vacuum insulation technology eliminates the transfer of temperature to the outside

Drinking friendly and BPA Free Lid: I love that this clear lid is BPA free, designed for either sipping directly or using a straw; Large open mouth allows adding ice into the tumbler and makes it easy to clean

Food Grade Stainless Steel: Made from 18/8 stainless steel with super thick structure, highly resistant to rust, absorbing odor, and retaining taste. Reusable, great for health and environment

check

No-sweat Exterior: A double wall vacuum insulation ensures the tumbler condensation and sweat free regardless of the temperature inside, guarantees a mild temperature for you to hold. No messy moisture or water stains will be left on table, car holder & bag

check

Colorful Powder Coating: Powder coated with gloss/matte finish, stylish tumbler of various color are available, durable, provides a comfortable touch feeling, makes your tumbler distinct in the group of your friends
Invest In A Great Travel Mug for Your Next Adventure – aka the YETI Rambler 20 oz
We hope you enjoyed reading our feature on the YETI Rambler 20 oz Stainless Steel Vacuum Insulated Tumbler. As you can see, this travel mug is equipped with so many great features that make it perfect for on the go use. After all, what's better than a hot cup of coffee in hand in the morning or a cold drink on a hot summer's day?
Stainless steel and vacuum insulation technology come together to keep your hot drinks hot and your cold drinks cold. YETI is an iconic, dependable brand. You know you'll be getting a high-quality travel accessory that will be with you for years to come. 4
Last but certainly not least… Are you interested in some portable coffee makers? We've found a few that we are obsessed with. Their perfect for frequent travelers and people on the go.
Questions and Comments
Do you have any questions or comments for us? If so, we would love to hear them. Feel free to leave us a message below. We will be sure to get back with you soon.
Related Article: Choose The Best Travel Mug For Your Next Adventure | Review