Heading to Puerto Rico? Here are the top 10 best beaches in Puerto Rico to include on your trip.
Summer would not be complete without a trip to the beach. Bypass your local beaches and pay a visit to Puerto Rico this summer for some of the best beaches Puerto Rico has to offer. The Puerto Rican island is the perfect getaway island because everything you need to have fun is right on site. If Puerto Rico is on your list of travels this summer, here are some of the best beaches in Puerto Rico that you have to visit.
1. Flamenco Beach, Culebra Island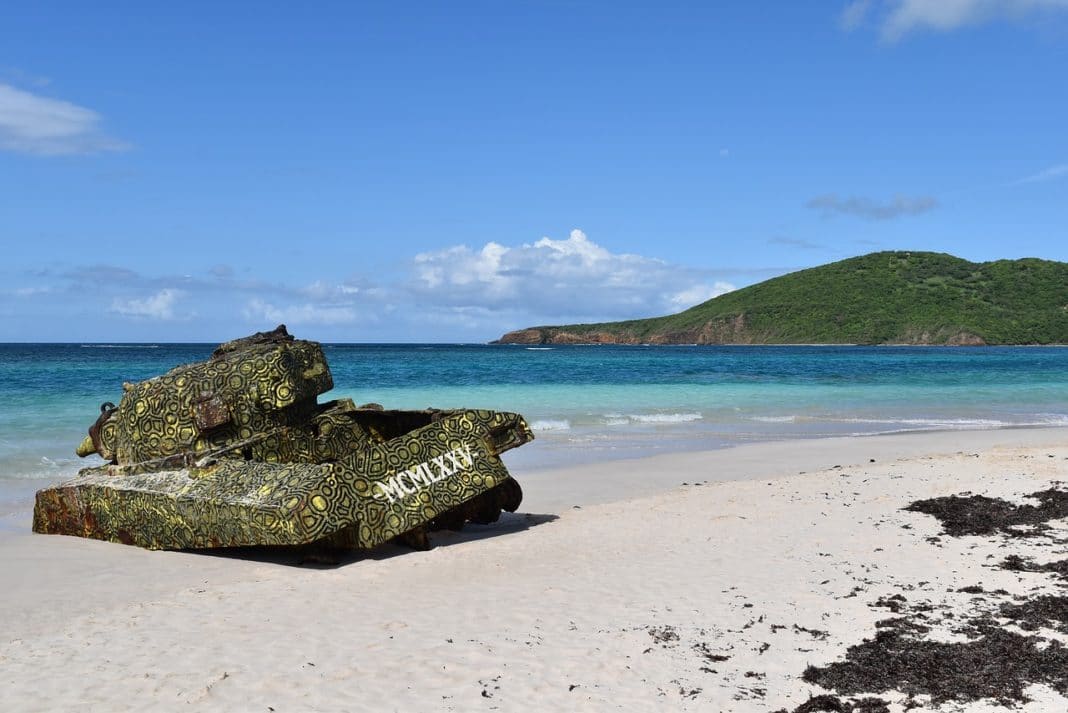 Ask any local and they will be sure to tell you that Flamenco Beach is the best beach the island has to offer. The crystal clear blue waters are home to some of the islands most majestic creature; the sea turtle. In order to experience this beach, you will need to be very diligent on your planning because getting here can be a bit tricky.
Flamenco beach is the main destination in Puerto Rico, but it's not located on the island itself. Flamenco beach is located on a smile island on the western part of the mainland. This island is Culebra Island. Ask anyone and they will tell you that Culebra Island is notoriously difficult to get to. The main method of transportation is taking the ferry that docks at the mainland in Fajardo. From here, you will be able to head straight to the island.
The ferry goes out a couple times during the day, but you want to catch the earliest departure in order to enjoy Flamenco Beach to its fullest. If you do choose to take the ferry, be sure to get your tickets online. You can purchase the tickets in person at the ferry station, but be warned. The first departure to the island is usually at dawn, but the line to buy tickets usually starts forming earlier than that. During peak season, tourists and locals start lining up as early as three in the morning. Do yourself a favor and purchase your tickets beforehand.
Before you head out to Flamenco beach, be sure to pack everything you need. Pack a good picnic that will last you the whole day while you are on the beach. After the beach, you can enjoy some of the local cuisine by visiting some of the food joints available.
If you are a water enthusiast, you are sure to love this beautiful beach in Puerto Rico. Make sure to invest in a good snorkel set to really enjoy the ocean life. You can look forward to seeing and array of tropical fish including the Blue Tang fish and the Sergeant Majors. Time it right, and you may even get a glimpse of some of the majestic sea turtles that call this island home.
2. Luquillo Beach
If you find yourself on the east coast of the Puerto Rican mainland beach, then you will want to pay a visit to Luquillo Beach. This beach is one of the best beaches in Puerto Rico if you are traveling with family. The shallow waters are warm year round and the waves are far and few in between. Relax and enjoy as your kiddos splash around in what is one of the safest beaches the mainland has to offer.
You may want to center your Puerto Rican stay near this beach if you are traveling with family. The glitz and glam may not be as fabulous as San Juan, but you can count on the relative affordability of this area. The ease of access to the national forest of Puerto Rico, El Yunque, is and added plus.
When you do head down to this beach you don't have to stress if you didn't pack a lunch. There are plenty of vendors that line the main roads selling everything from cold pops, to ice cream, to the Puerto Rican national national food, mofongo. If you haven't had mofongo, you are missing out. It is literally anything fried in plantain.
3. Dorado Beach
If you are looking for a stay that is equally luxurious as it is somewhat remote, then Dorado Beach should be on your list. Dorado Beach is easily one of the best beaches in Puerto Rico. The calm waters entice beach goers with their crystal cleary blue green hues.
Make your stay at one of the best beaches in Puerto Rico one to remember. While you are here, consider staying at the luxurious Ritz-Carlton reserve that houses literally everything you need to enjoy yourself. There is so much more to here than just lounge around at the beach. Scratch off a day in your travels and make it a point to explore the Rockefeller Trail.
Fun fact, before this part of the mainland was converted into a tourist destination that boasted one of the best beaches in Puerto Rico, it was plantation. The history of this land includes a sugar plantation that was over 1,400 acres in land. Once the sugar plantation was shut down, it was bought over by none other than the American environmental lawyer, Laurance Rockefeller. Yes, of the Rockefeller family. Rockefeller left his mark on the island with his Rockefeller trail, an 11 mile long hike.
Once you are done hiking, stop by Mi Casa, the fabulous restaurant owned by the equally fabulous Jose Andres. Grab a bite to eat here if you want some Puerto Rican cuisine that just warms up your soul. The good eats Mi Casa has to offer is an upscale mix of many tastes that will accomodate everyone in your travel group.
Dorado Beach is the one of the best beaches in Puerto Rico is you are looking to get away. The beautiful calm and quiet of the beach is a stark difference from the business of the main beaches found in San Juan. Be sure to visit this Puerto Rican beach is you are looking for a luxurious, calm getaway.
4. Bahia Beach
This quiet golden crescent stretch of beach is another one of the best beaches in Puerto Rico. Not only that, but it is the ideal place for families and couples. The beach itself is lined with coconut trees that are straight out of a postcard. You will find only one resort on this beach. St Regis Bahia Beach is a luxury location that serves the many guests that visit this beach each year. Not surprising, considering this is one of the beast beaches in Puerto Rico.
Some of the amenities this Puerto Rican beach has to offer are sure to entice any adventure seeker. There is water skiing available to those looking to go fast. Beach goes that want to explore the ocean can do so through the snorkeling and scuba diving that is also available. Once you are done exploring this beach, El Yunque National Rainforest is just a drive away. And if you time your trip just right when then is no moon, enjoy the magic of the Fajardo Bioluminescent Bay.
Bahia Beach is the one of the best beaches in Puerto Rico. If you are looking for a wide array of adventures, then be sure to call this beautiful beach in Puerto Rico your home base.
5. Icacos Island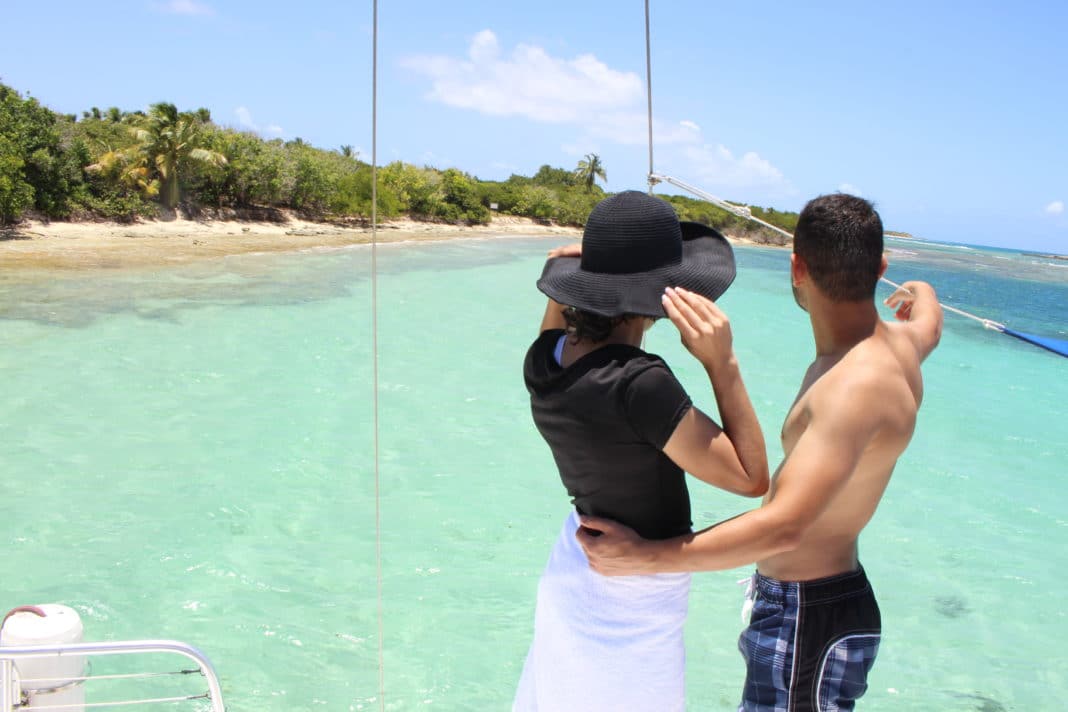 This next beach is hands down one of the best beaches in Puerto Rico. Although technically it's not a beach. Itstad, it's a small little island situated in the heart waters of the Caribbean. You will want to stay here if you are looking for a full day of complete lounging around and being lazy.
Getting There:
​To get to this beach you will need to use a little street smarts and get to know the locals. First, you will need to make it to Fajardo, the western part of the mainland that is also the docking port. There are two ways to get to this island, you can either go with a group on an excursion, or you can get there by one of the local fisherman.
If you choose to go by way of group excursions, we recommend the East Island Excursion company. You can find tons of their available excursions here. If you choose to take an excursion out to this beach, you can look forward to traveling with a group of fifteen to twenty fellow travelers. Here are some pros and cons to consider if this is they way you to choose to get to the island.
Pros
​The excursion fees are relatively fairly priced, and you do tend to get a bang for your buck. Lunch and snacks will usually be provided in your excursion fee. (Some packages require an additional fee for food). If you are looking to stretch your dollar, we recommend holding off on spending your money on a big breakfast. Instead, make room in your tummy for the endless lunch and snacks that will be provided in your excursion. Transportation is taken care of for you, so you just have to sit back and enjoy the ride. And finally, the catamarans that will take you to the island will have you feeling like a celebrity. Enjoy the mesh hammocks that overlook the crystal clear waters as you lounge on your ride to paradise.
Cons
​Fortunately, there are less cons than pros. There are specific time frames that your excursion group sets sail. Unfortunately this means you may not be able to spend as much time as you would like on the beaches. (The time flies by when you are on Icacos, trust me). If traveling with strangers is not something you are comfortable with, then this option may not be for you. The excursions typically include a lot of people, and this can be daunting for some.
Go Solo
If you don't want to go by way of excursion, then there is always the option of hiring a local fisherman to take you to what is arguable one of the best beaches in Puerto Rico. Personally speaking here, this method of transportation gives you an opportunity to interact with the locals. Something that all travelers should aim to do. The great thing about hiring a fisherman to take you out to the island is that you can set your time limits. This means less time shuttling in and out of excursion boats, and more time enjoying the crystal clear waters. If you do choose to go this path, keep your eye open for the yellow boat that is Captain Mingo's. Although Captain Mingo prefers to get his clients on site as opposed to online, you won't want to go with anyone else. Keep your eyes for his bright yellow boat and you should be all set.
However method you choose to get there, be sure that before you head out, you pack some food. Especially is you are not booking a tour that includes food. This island is pretty much isolated. There are no restaurants, vendors, or really any sign of civilization. Don't make the mistake that so many do. Bring along food, and plenty of water if you want to enjoy one of the best beaches in Puerto Rico.
6. Black Sand Beach, Vieques
Plan a day trip to Vieques Island if you want to experience some of the best beaches in Puerto Rico. If you have ever dreamed of going to a black sand beach, then you don't have to go far. Vieques Island is home to one of the world's most beautiful black sand beaches. If you are lucky, you might even spot some wild horses riding around. It is no wonder Black Sand Beach, (or Playa Negra as the locals call it) is one of the best beaches in Puerto Rico.
7. Mosquite Bay, Vieques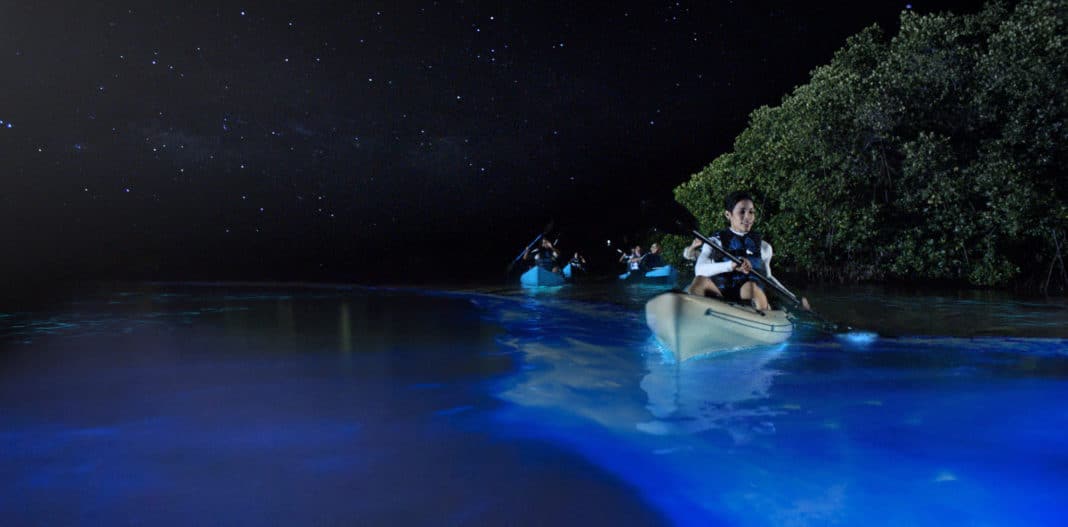 Credit: Puerto Rico Tourism Company
While you are at Vieques Island, you will need to find time in your trip to visit Mosquito Bay. Mosquito bay is one of five bioluminescent bays in the world. A bioluminescent  bay is a body of water that contains special microorganisms. These microorganisms let off a bioluminescence when they are agitated. The resulting effect is literally a magical blue glow in the water when you disturb it. If you want to experience this magic, then you need to time your visit correctly. The best time to visit this bay is when there is no moon. The darker the night, the more vibrant the bioluminescent will be.
8. La Monserrate
For travelers who are mindful of the environment and want to contribute to keeping the beaches clean, then this is one of the best beaches in Puerto Rico for you. La Monserrate is a great family friendly beach that is also a Blue Flag Beach. This means that this beach is under constant attention to be kept clean. Not only is this one of the best beaches in Puerto Rico for its cleanliness, it is also incredibly safe and family friendly. Enjoy the beautiful blue waters as the kiddos run around.
Once you are done lounging around, be sure to grab a bite to eat. You don't have to worry about packing a lunch because there are plenty of food vendors that line the entrance of the beach. Take your pick of authentic Puerto Rican food. There is also a wide array of fresh seafood that will absolutely not disappoint.
9. San Juan
If you are staying in San Juan, then the San Juan beach is for you. The proximity to literally everything makes the beaches at San Juan Probably the best beaches in Puerto Rico. There are a variety of hotels to choose from. This is perfect if you are looking to plan your stay on a budget. You can be sure to find a hotel that works for you. Whether it is right on the shore, or a little ways away inland.
To find the best spot on the beach, you will want to get there relatively early. The spots do fill up rather quickly. So be sure to head out in a timely manner to claim your patch of sand. You don't have to worry about packing an umbrella and lounge chair for this beach either. There are plenty available for rental if you do not want to bring your own.
Once you are done lounging around the beach, take your pick of where to eat. Practically any restaurant that you can think of here in the states is easily found in San Juan. So take your pick from Subway to Pizza Hut. A quick disclaimer though: you might find that your favorite restaurant may taste just a tad bit different than back home. So be aware of that. If you want a taste of local cuisine, you can find some of that too. The variety of options available make this easily one of the best beaches in Puerto Rico.
10. Playa Borinquen
For the traveler that is always looking for an adventure, this one is for you. Playa Borinquen is another one of the best beaches in Puerto Rico. There is only one negative to this beach: it's accessibility. The downfall to this beach is that it is a little more difficult to get to. Playa Borinquen is located in the in the northwest town of Aguadilla. Despite the downside, the super bonus is that because this beach is little hard to get to, you can count of the beach being one of the less crowded beaches in Puerto Rico. The natural crowd control factor make this easily one of the best beaches in Puerto Rico.
For thrill seeking adventurers, then this is one of the best beaches in Puerto Rico for your enjoyment. When the tide is low, you can walk for about seven minutes or so to your right, and you will be at the well hidden Punta Borinquen. This stretch of land is home to some really cool caves that are just waiting to be explored. If you do choose to go on this hidden adventure, be sure to do so with caution. The seclusion of this beach, makes your attention to safety that much more important.
Final Thoughts
There are many destinations that you can't go wrong with when you choose to travel. Puerto Rico easily tops as one of those destinations. If you are looking for some of the best beaches in Puerto Rico, you don't have to go far. You can practically go to any shore on the island and take your pick. If you happen to find yourself in this beautiful territory, be sure to check out some of the beautiful beaches that that top this list.
Related Content: Top 10 Puerto Rico All Inclusive Hotels