One of the best ways to dive into a country's culture is through its culinary scene. While this approach is informative it's delicious too. Today, we're taking you on a foodie journey to sample the best Puerto Rican food.
We bet you didn't know but traditional Puerto Rican food is heavily influenced by many different cultural roots. The cuisine is a fascinating blend of African, Taino (indigenous), and Spanish roots, along with ingredients found on the island. Let's take a look at some of the best recipes that distinguish Puerto Rican cuisine. Here are some of our favorite dishes in no particular order.
1. Mofongo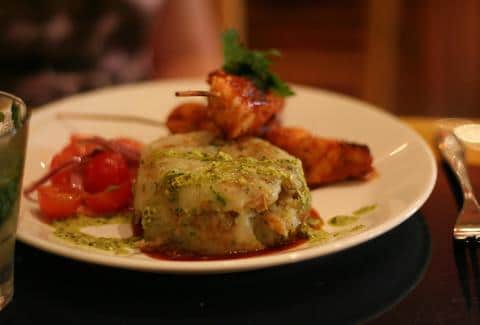 Everybody's talking about Mofongo. If you've ever been to Puerto Rico or been lucky enough to sample some traditional cuisine, you'll know this is the most popular dish. Green plantain is the main ingredient in this dish, accompanied by a healthy lean meat such as fish, beef, or chicken.
To make mofongo, cut up the plantain into small pieces, fry it, and then mold it into the shape of a bowl. The chef places the meat in the middle of the plantain. If you choose to keep the plantain whole, the meat is dished atop or around the plantain. You'll find Mofongo at many different types of restaurants and food trucks. Do your research and make sure you're getting the real deal.
2. Tembleque
Credit: Goya
Who cares if this isn't a meal? You need to treat yourself every now and then. No matter what time of day it is, we could always go for some tembleque. This delightful coconut pudding derives its name from the word "tiembla," meaning shakes. The dessert does just that.
To make tembleque according to the Goya recipe, you'll need coconut milk, cornstarch, salt and sugar. Cook and stir it repeatedly until the mixture is smooth and thick. Then, refrigerate it for three to forty-eight hours. Flip it over out of the pan once it's done. Finally, add a topping of your choice. Fresh fruit, anyone?
3. Mamposteao
This tasty dinner dish is actually pretty easy to make. A world of flavors come together with green peppers, olive oil, cilantro, beans, tomato sauce, and onions. Mix these ingredients slowly and cook them in one pan. This allows the flavors to permeate throughout and blend with ease. Mamposteao is also available to order in many different restaurants and at food trucks.
4. Arroz con Gandules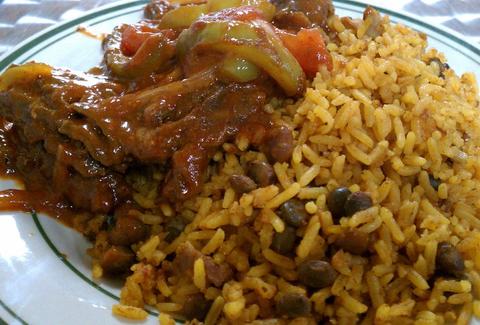 Mofongo is the unofficial standard of Puerto Rico; Arroz con gandules is the island's national dish. While pigeon peas with rice have distinctly Caribbean roots. The secret sofrito sauce adds a distinctively Puerto Rican twist.
Arroz con gandules is typically cooked up using ham, chorizo, pork, red peppers, and olives. The dish shows some clear Spanish influences, who introduced some of these ingredients to the island. Here's a pro tip: If you like rice and beans, don't ask for arroz con gandules. Ask for arroz con habichuelas instead.
5. Asopao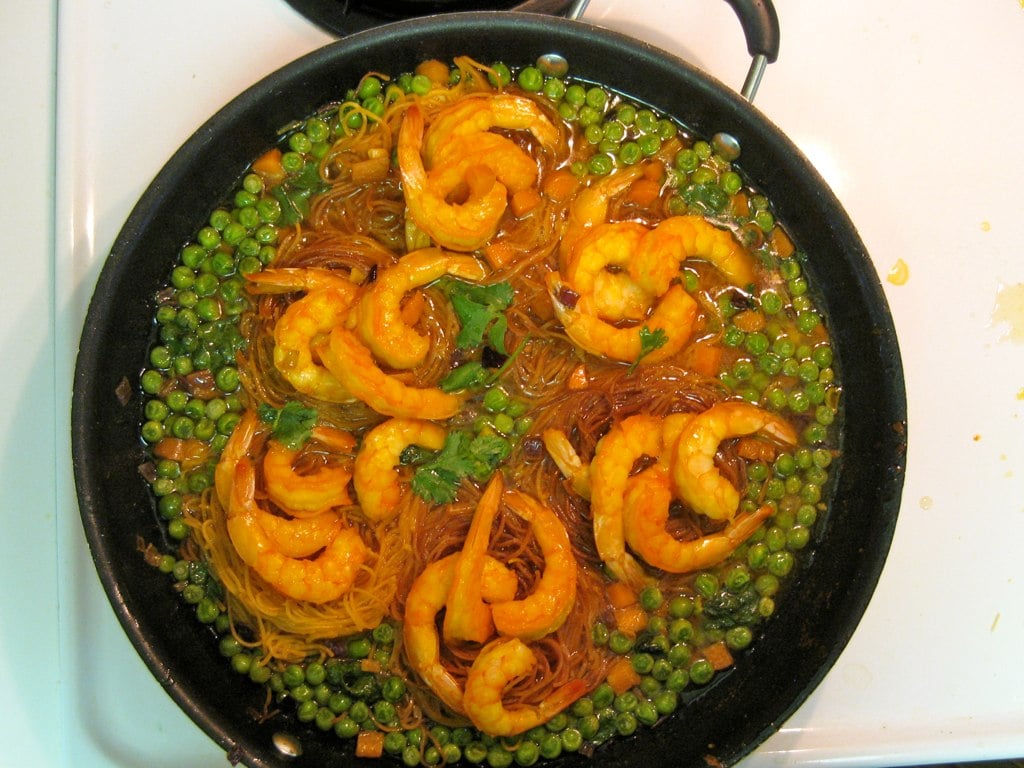 As far as Puerto Rican food goes, asopao is a better version of chicken noodle soup. Dish up this homemade classic comfort food with chicken and rice. Lucky for you, many restaurants have this dish on their menu; it's a perennial favorite among islanders.
Just a heads up though. It's a lot more like a gumbo than it is a soup. You can order asopao in multiple variations. The hard part is just picking which one. Choose from chicken, shellfish, ham, pork, peppers, olives, pigeon peas, and tomatoes.
6. Alcapurrias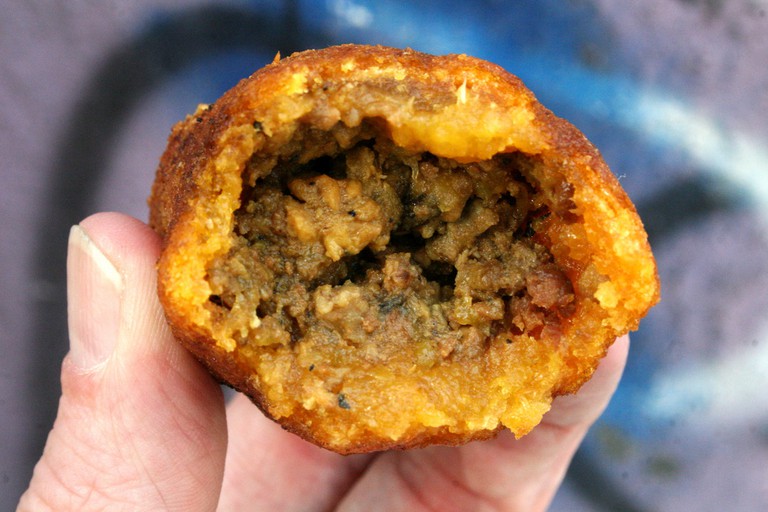 You haven't lived until you've tried these deep-fried stuffed fritters. The outside is made from green plantains or yucca, while the interior holds a savory beef or pork. Like bacalaitos, these fritters are generally found in food trucks and kiosks road-side.
7. Tostones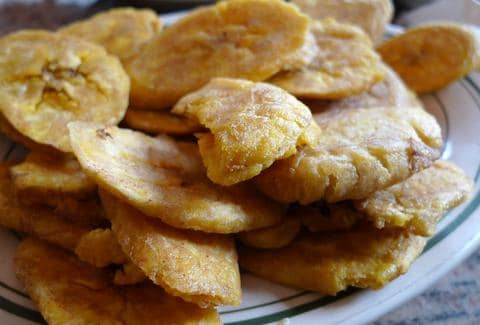 Here's yet another delicious dish made from green plantains. These slices have been deep fried, flattened using a tostonera, and then fried again. Various dipping sauces are spread out for use. The most popular – and surprisingly amazing one is a blend of ketchup and mayonnaise, aptly called mayoketchup.
8. Pasteles
Have you ever had a pastele? If not, you're really missing out. These sweet treats are made from yucca or green banana and then stuffed with meat or pork. To make pasteles, wrap them in green banana leaves and boil them until they're ready. This gives off a nice, subtle flavor. Finally, peel the leaves off and they're done!
9. Arroz con dulce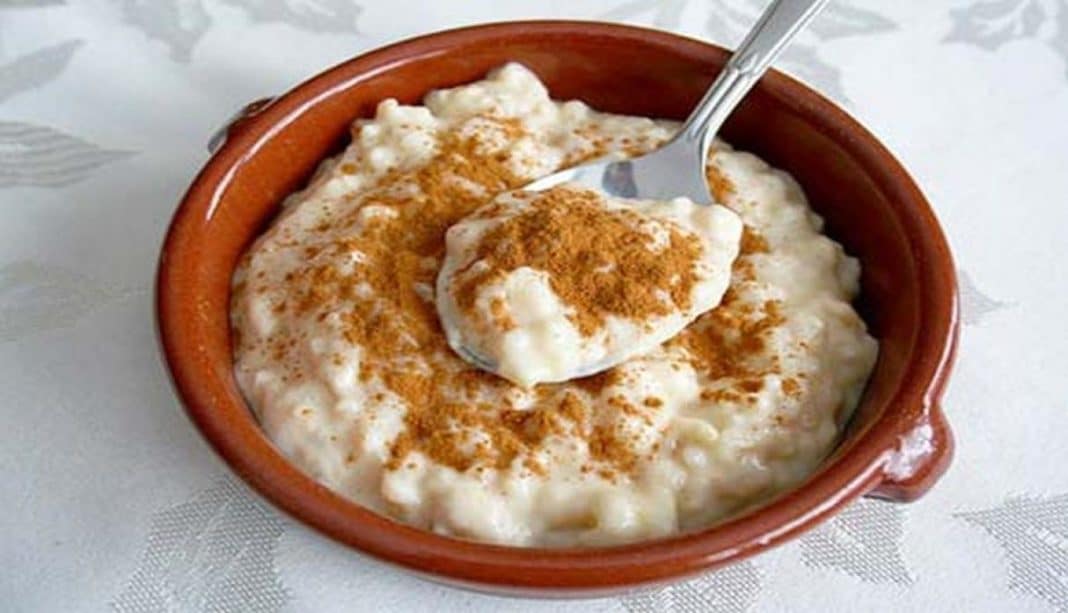 You can never sample too many types of rice pudding. At least that's our motto. To make arroz con dulce, start by soaking rice for a few hours. Add coconut milk or cream that has been boiled twice with various spices. Next, add raisins and let the rice absorb the water in the pan and cool. For a final touch, sprinkle a dash of cinnamon on top. This dessert is typically enjoyed cold after being refrigerated.
When preparing any of these dishes, keep in mind that to season some meat and try it alongside this dish. Plantain peels and green leaves are never consumed; they're just used in the cooking process.
10. Bacalaitos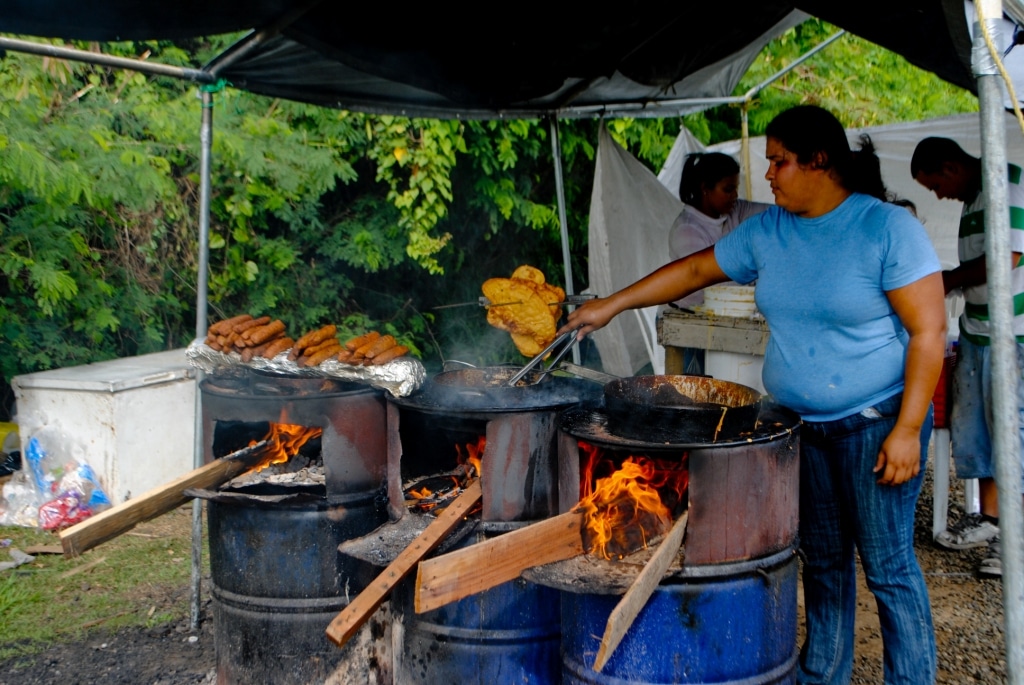 A popular local food, bacalaitos consist of codfish skitters. Mix boiled, deboned, and skinned fish fillets with a batter of flour, Adobo (seasoning), baking powder, and water. They're then fried in a pan until they're fully cooked. You can find these popular dishes throughout the island; it's one of the most popular types of Puerto Rican food.
11. Lechon
Roast suckling pork is a special treat among Puerto Ricans. Serve lechon on special occasions such as a Sunday family gathering or for a guest of honor at a Christmas dinner. In fact, this dish is so revered that it has a road dedicated to it. No joke. Roasted to perfection and well-seasoned, this is a must-try dish for meat lovers. Vegetarians, look elsewhere.
12. Pina Colada
So this is obviously a cocktail, not food. But we need to give credit where it's due. Thanks to Puerto Rican culinary culture, we can all enjoy one of the best and most refreshing cocktails in the world. Inside one of the island's popular restaurants, Barrachina Restaurant, a plaque proclaims this famous drink was invented here in 1963. The pina colada is Puerto Rico's national cocktail drink. Enjoy it anywhere on the island.
13. Chillo Frito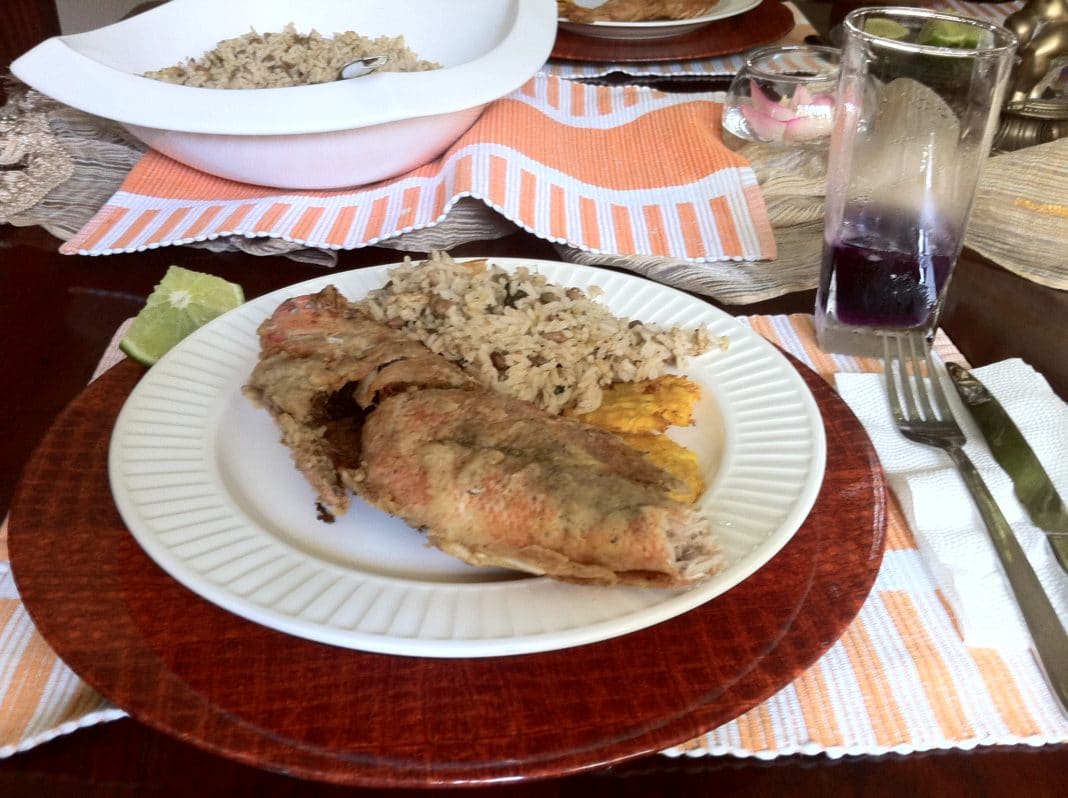 Sometimes, the most simple dishes are the best ones. A no-fuss dish, the chillo frito presents a healthy option in the form of fried red snapper. Locals recommend that you order the fish fried whole or do so when you're cooking it yourself. This helps keep the meat tender and the crunchy skin well-seasoned. Chillo frito pairs well with tostones (those sliced fried plantains we talked about).
14. Aranitas
Kids love aranitas. Even if your little one is more fussy, we've never seen a child turn these down. Aranitas are made from shredded plantain strips, grouped together and fried. The name means "little spiders."
When you pull them out of the oven, these crispy little treats are ready to be munched on. We all know that plantains are a ubiquitous ingredient in Puerto Rican food. But aranitas are a really fun take on that staple ingredient.
15. Salmorejo de Jueyes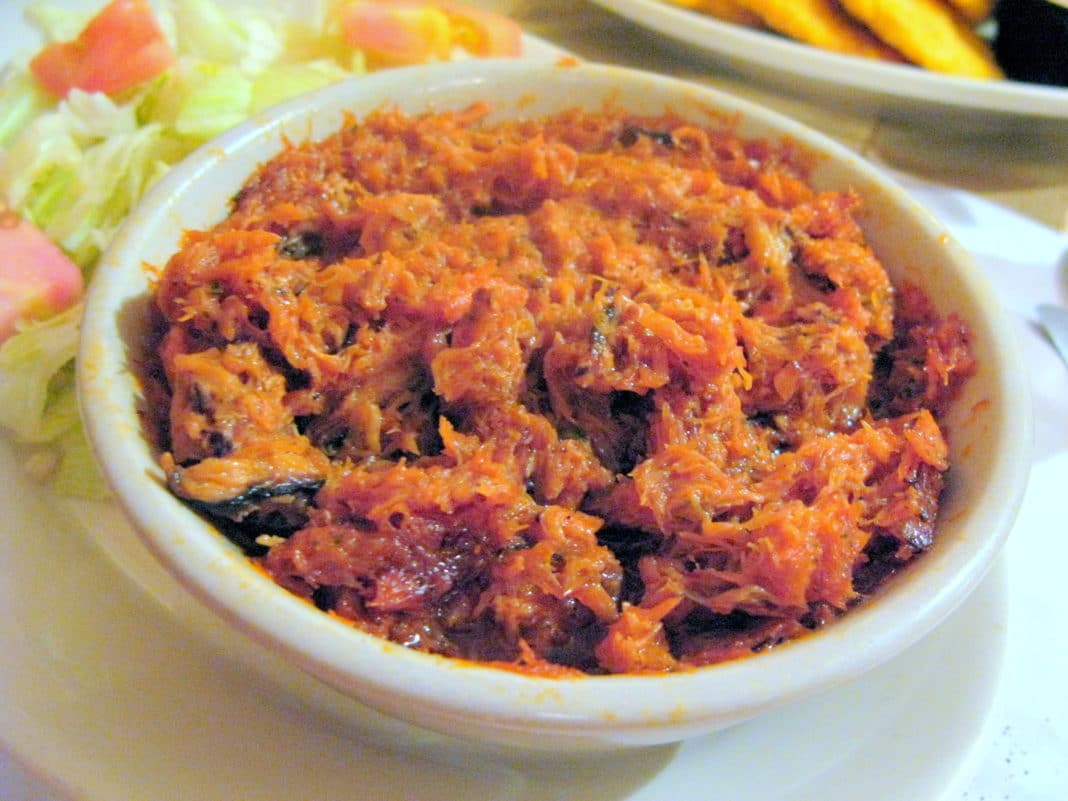 Did you ever study Spanish in school? Do you remember how they teach you that the word "crab" translates to cangrejo? Well, in Puerto Rico, it's juey. Dishes like this are what made us fall in love with Puerto Rican food in the first place. What's so good about it?
This rich stew blends together some of our favorite ingredients: crab meat, tomato, garlic, onion, and peppers. While it certainly sounds like a simple recipe, these flavors come together in a way that's nothing short of magical. Go ahead and taste it for yourself. When you're driving, keep your eyes peeled for some good roadside kiosks. You won't regret it.
16. Cuchifrito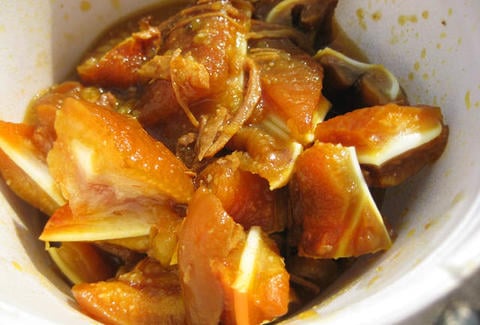 This dish isn't for people with queasy stomachs. If that's you, then move right along (*waves hand* … this is not the dish you're looking for). On the other hand, if you're a meat lover and think lechon sounds great, chances are you'll enjoy this dish too.
Cuchifrito is essentially the discard parts of the pig that people typically don't eat. Think ears and tail. These parts are deep fried and typically served up crunchy along with a couple of frosty beers. If you haven't caught on, deep frying is the way to do it around here. Basically anyone on the island who eats pig trimmings themselves seems to have a deep fryer. So, you won't find any shortage of places to sample this dish.
17. Morcilla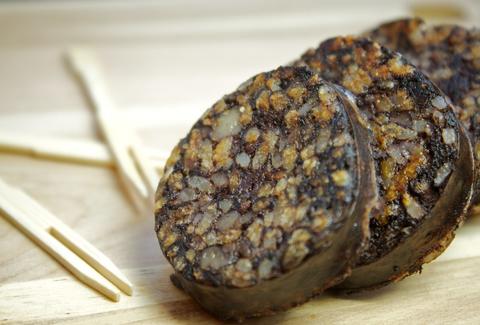 The pork theme continues with this unique blood sausage. You can find morcilla pretty much anywhere. It's often served up with rice or just grilled on its own. Once you get past the concept of what you're eating, we've heard it's actually pretty enjoyable. Love them or hate them, these morsels make a filling meal.
Go On A Foodie Journey to Taste Test the Best Puerto Rican Food
We hope you enjoyed reading our article of the best Puerto Rican food to try. Now, it's time for a taste test. While you can certainly try your hand at these recipes at home, we recommend the real deal. Go visit the island. Besides, your tourism dollars help the local economy while you travel to recover from Hurricane Maria and let's be honest – who doesn't want to be laying on one of their beautiful beaches? Now's the time to go.
Related Article: Top Chilean Foods You Need to Try When Visiting Chile