Life Hack: Save yourself some time in the morning and pick up some of the best instant coffee.
So I've got a little story to tell you. I was rushing in the morning trying to catch an early train to Austria. I packed everything up, got dressed, put some dry shampoo in my hair, and had a quick breakfast (aka leftover mini muffins from the day before). But since there was no coffee in the hotel room, I was running on a serious caffeine low.
Want to know some good news ? You can skip the stress and caffeine withdrawal headaches. Here's my life hack. Buy some of the best instant coffee packets. I swear, it's like a little packet of magic. Here's all you have to do. Bring along a thermos bottle and add some hot water. The best instant coffee picks offer a bold, delicious taste just like the cup of coffee you'd buy at your favorite local shop.
Even better, they're portable, easy to throw in your bag, TSA-friendly, and won't spill out all over your bag. Next time you're on the plane, skip out on the gross cup of free coffee. Just ask for a cup of hot water and mix your own. You're welcome. Without further ado, here are my picks for the best instant coffee packets in no particular order.
The Best Instant Coffee Packets You Need to Buy
1. Mount Hagen Organic Instant Regular Coffee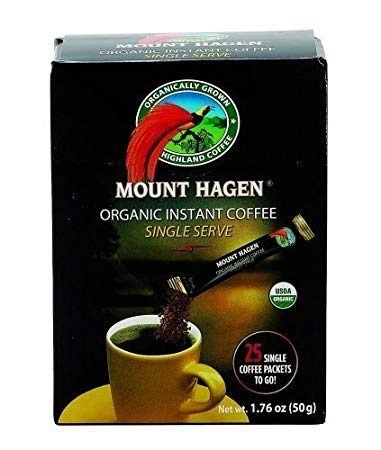 Here's 25 packets of goodness. Mount Hagen offers some of the best instant coffee out there. What's so great about it? The coffee from this lovely brand is organically grown using 100% Arabica beans. It's the world's first freeze dried coffee in the world. Did we mention that Mount Hagen is 100% organic certified by EcoCert in accordance with the organic standards of the U.S. Department of Agriculture? The products been carefully selected and separately harvested to bring you the highest quality, mild and naturally rich in flavored coffee.
We love that the freeze-dried coffee process is achieved without the use of any form of preservatives or additives. The coffees are from plantations of the best cultivation areas in the world. These highland coffees are quarantined to be organically grown without the use of any artificial chemicals such as herbicides, pesticides, fungicides or fertilizers.
About the Product
Mount Hagen: Organic Instant Coffee Single Serve (1 X 1.76 Oz)

Made From 100% Highland Arabica Coffee Beans
2. Cafe Tastle Gold Freeze Dried Instant Coffee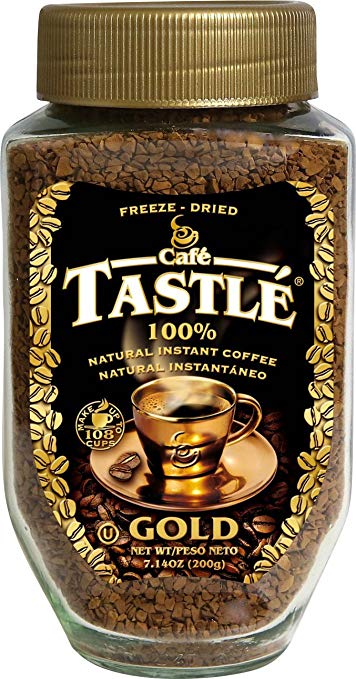 This isn't your average cup of joe. Cafe Tastle is made from only the finest premium roasted beans. Enjoy the sumptuous taste of freshly-brewed coffee in the morning without having to hassle with a machine. It's clear to see that this company strives to ensure the best quality roast and maintaining a superior taste. With great quality Arabica beans, the raw coffee is roasted to perfection. The result? A bold and exquisite flavor and aroma.
After the roasting process, the coffee is then ground perfectly and brewed through a series of many sterilized percolators. Then, the coffee is brewed to specific quantities at 180 Degrees C with natural pure spring water. A 'freeze drying' preservation process provides a much finer higher quality instant that dissolves much more efficiently, delivering the great taste that Tastle promises with every product.
About the Product
Freeze Dried

This provides a much finer higher quality instant that dissolves much more efficiently

Makes 108 cups

check

Enjoy the amazing smooth taste of tastle coffee that you will never forget

check

Tasted the rest now taste the best
3. Alpine Start Premium Instant Coffee, Original Blend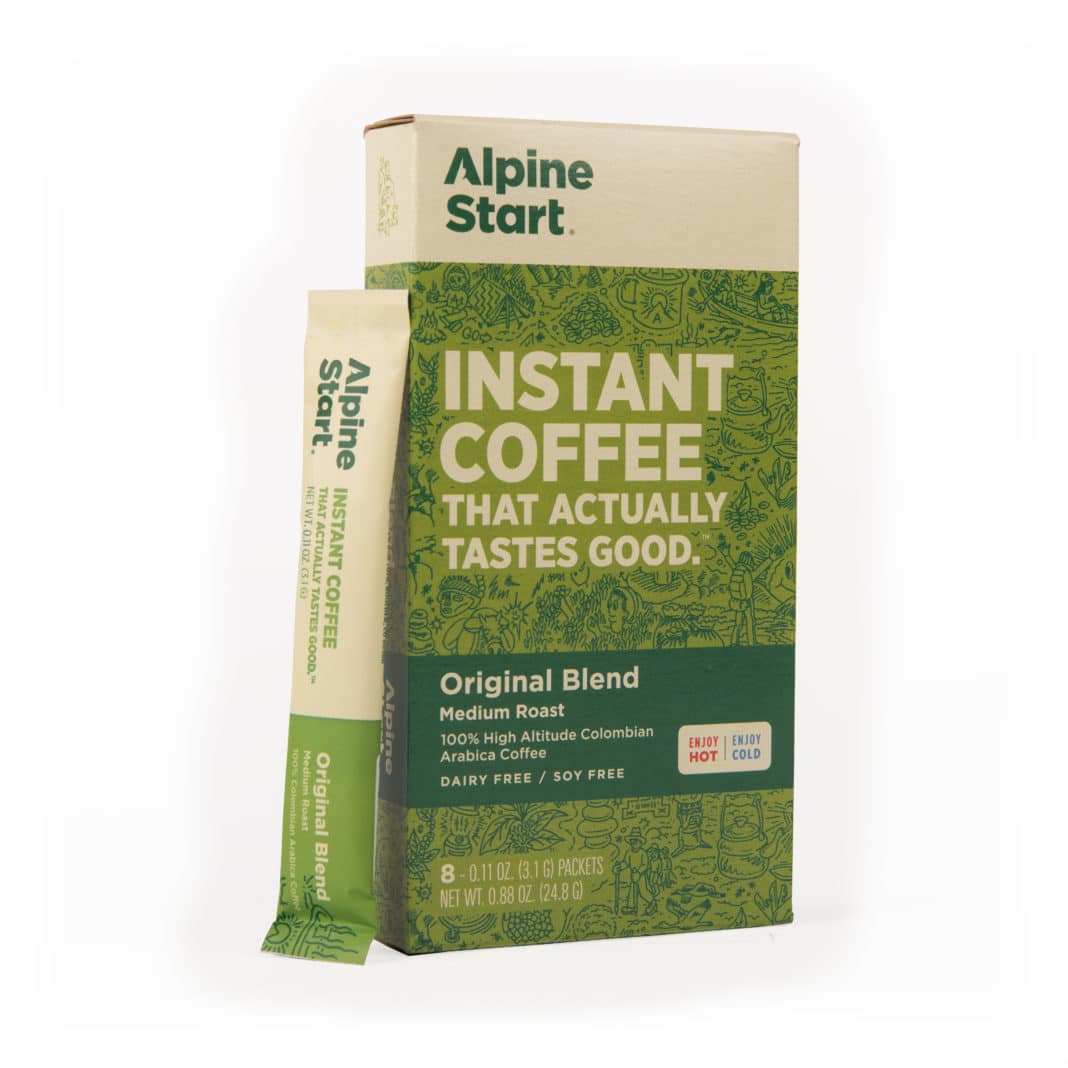 Credit: Alpine Start
This isn't your grandpa's instant coffee. Tired of K-cups? Try the Alpine Start Original Blend. It's a premium medium roast and some of the best instant coffee we've ever sipped. The owner, Matt Segal, came up with the idea for Alpine Start when he was on a camping trip to the Bugaboos in Canada. As a lifelong climber, he was tired of lugging around a coffee grinder and pour over everywhere. He talked to his friend and co-founder Alex Hanifin and the company took off from there.
Alpine Start's quality instant coffee is a great way to start the day. They know that a well roasted batch of beans makes for a good cup of joe. That's why they use 100% elevation grown Arabica coffee from Columbia. We love that these instant coffee packets are so easy to take around. Just throw a few in your bag, bring your thermos, and you're ready for an adventure!
About the Product
Dissolves in Cold Water Too: If you're looking for a quick coffee, Alpine Start Original Blend dissolves instantly in cold water. It also dissolves into any other liquid, like almond milk or half and half!

Works Great for Baking and Cocktails: Many baking recipes require cold coffee, Alpine Start is an easy way to make a quick cup. Need something for a coffee cocktail? Try Alpine Start Original blend mixed into a liquor or mixer!

check

Alpine Start instant coffee is available in three varieties: Original Blend, non-dairy Coconut Creamer Latte and non-dairy Dirty Chai Latte.
4. Four Sigmatic Mushroom Coffee
Kickstart your morning with this flavorful mix from Four Sigmatic Mushroom Coffee. This is the perfect mix to promote productivity, focus, and creativity. If caffeine isn't doing the trick these days, how about pairing it with some of the most energy-supportive mushrooms, cordyceps? This coffee energizes the body by stimulating the central nervous system and adrenal glands.
About the Product:
100% Organic arabica coffee with two functional mushrooms. And no, this coffee does not taste like mushrooms.

USDA Certified organic Lion's Mane mushroom to support your productivity and focus. Wild crafted, organic Chaga mushroom to help support immune functions.

Every batch tested against pesticides, mycotoxins, and much more. Blend in coconut oil or ghee for a creamier texture.

check

Perfect to kickstart your morning or power through your workday at the office or at home. Contains 10 instant packets.

check

They add wild rhodiola root, an adaptogen known as 'the golden root', making this the most creative cup of coffee yet.
5. Folgers Classic Roast Instant Coffee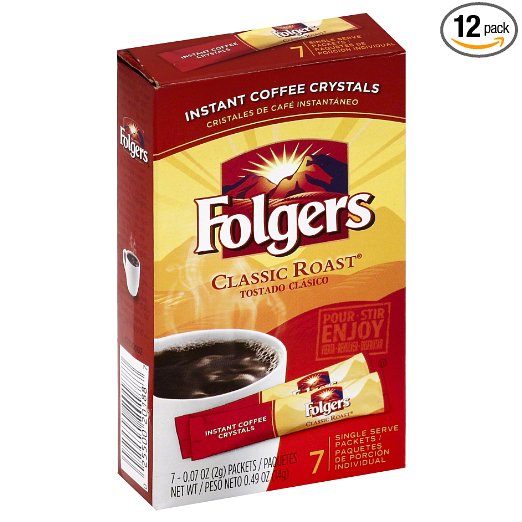 There's nothing better than waking up to the smell of an instant cup of coffee. Folgers offers some of the best instant coffee packets for your on-the-go needs. The single serve packets serve up everything you love about your favorite cup of brew. Enjoy full-bodied flavor and rich aroma in every cup. Just pour, stir, and enjoy! The coffee crystals dissolve smoothly in drinks, batters and sauces without adding extra liquid.
We particularly love their business model. By working with coffee suppliers who are equally passionate about human rights, environmental practices, and safety procedures, Folgers exemplifies an ethical business mode. Additionally, through their work with UTZ Certified to make green coffee purchases, they are continually introducing sustainable coffee practices to enable a better future for all.
Delicately balanced and perfectly blended, these packets offer an aroma that will instantly delight your senses. Whether you're brewing a whole pot or just a single cup, you can find Folgers coffee in a form that's right for you.
About the Product
7 count box, pack of 12

Mountain grown beans, roasted to perfection

Fresh, bold satisfying coffee

check

On the go packets

check

Made in USA
6. Café Bustelo Instant Coffee Single Serve Packets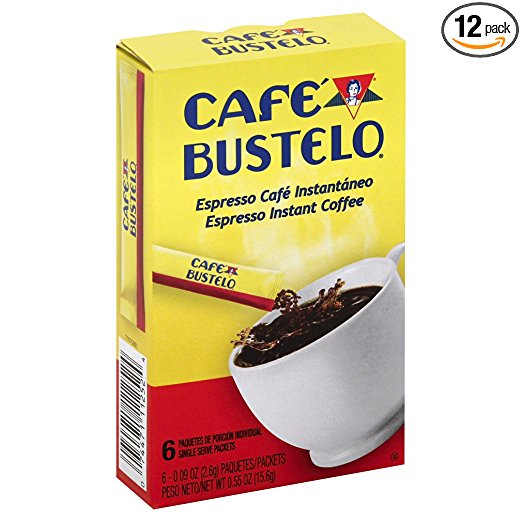 Indulge in the delicious espresso style instant coffee from Cafe Bustelo. Offering short of exceptional taste and aroma in every sip, this instant coffee requires no brewing – so you can go about your day without ever missing a beat. It's so easy to make. Just add hot water or milk and stir. These travel-friendly simple-serve packets are an ideal on-the-go choice for any coffee lover.
Café Bustelo has been perfecting the art of gourmet coffee roasting for more than 80 years. The brand takes pride in its distinctive Latin roots, and its rich, eclectic heritage is evident in every product it creates. From irresistible dark roasts to delicious decaffeinated blends, each coffee is crafted and roasted with passion to give you an authentic taste of Latin culture.
Regardless of the form you choose, you'll enjoy the signature 'Sabor Latino' that has made Café Bustelo an international favorite. With a diverse selection of blends and roasts to choose from, there is a Café Bustelo coffee to suit every coffee lover's taste.
About the Product
Pack of twelve, 6 Count (Total of 72 Counts)

Bold, rich flavor in an instant
Buy Some of the Best Instant Coffee Packets for Your Next Trip
I hope you enjoyed reading my feature on the best instant coffee packets. As you can see, there are so many different options on the market for flavors, styles, and tastes. These little packets really make all the difference when you're traveling. Life is better with a cup of coffee in the morning. Why not make it easy on yourself when you're on the go?
Common Questions
Are you looking for some other great life hacks and travel tips? Check out these articles for the little things that make your trip better.
Questions and Comments
Do you have any questions or comments for us? If so, we would love to hear them. Feel free to leave a message for us below. We will be sure to get back with you soon.