The Florida Keys are known for having the best key lime pie on the planet and a flourishing seafood scene. We're exploring the best Key West restaurants.
Foodies will fall in love with all the Key West restaurants. Why? Because they're not touristy. Good luck finding any chains besides maybe a Starbucks out there. It just won't happen. Instead, it's filled with independent establishments each with a fresh interpretation of island cuisine.
Chefs take pride in creating innovative dishes. Fresh local flavors and Cuban influence can't be missed. Cafe eateries and walk-up coffee shops exhibit its laid-back culture. All in all, no matter where you go, the best Key West restaurants never cease to inspire every time. Without further ado, here are our top picks in no particular order.
1. El Siboney
Credit: El Siboney
Come and enjoy traditional Cuban home cooking & housemade sangria in a casual, family-friendly setting. This family owned and operated restaurant has been proudly serving their local community since their doors first opened in 1984.
In 2004, the shop changed ownership. They are now owned and operated by the de la Cruz family along with the employees who helped make it the popular site it is today. El Siboney has received distinction as Key West's Best Cuban Restaurant every year since 1993. The owners take great pride that so many locals and visitors have had a rewarding experience at their restaurant.
When you're in the area, come and order some authentic Cuban food, Paella, and local seafood. You'll love the food, the service, and the friendly atmosphere that customers have come to expect at this restaurant. El Siboney is one of the best Key West restaurants.
2. Onlywood Pizzeria Trattoria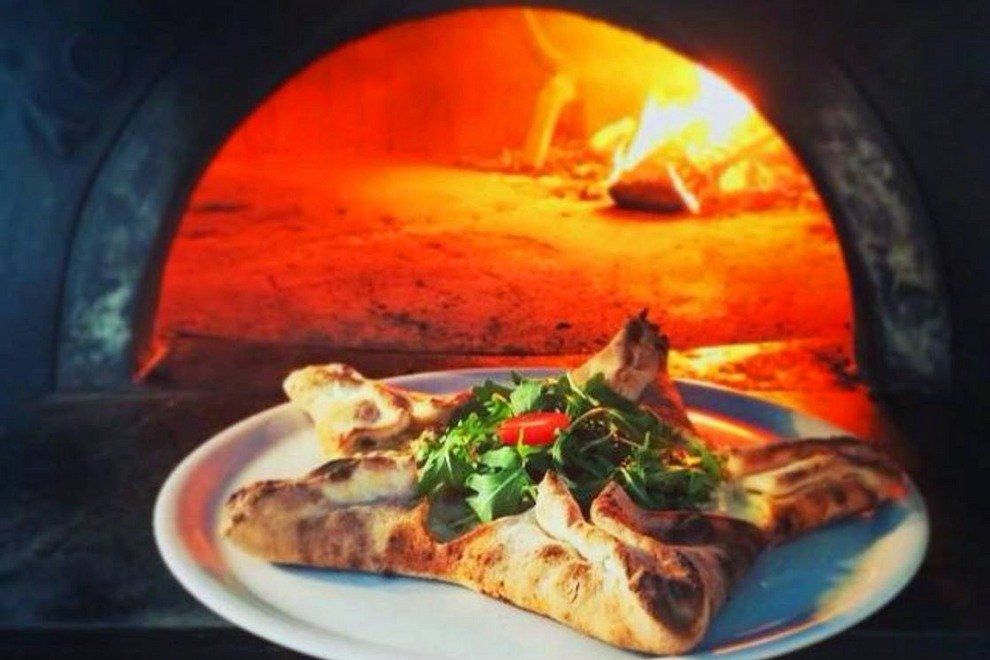 Credit: Onlywood
Onlywood is one of the best Key West restaurants, hands down. Tucked away in a small walkway off of Duval, you'll discover this little gem. Owners Davide Cremascoli and Alessandro Piazzo grew up in a small town in Napoletana, Italy. They've brought nothing but the best and most authentic traditions with them to this Key.
Sit inside and watch your pizza be made from scratch and baked in a two-ton wood-fired oven imported from Italy. Both the flour and tomato sauce are imported as well. The cheese is a handmade mozzarella following an ancient recipe.
If you still have room for more after a few slices, choose from homemade gnocchi, fresh fettuccine, lasagna, homemade meatballs, bolognese sauce, and more. Their special plates change every day, always in the Italian style.
3. Hogfish Bar and Grill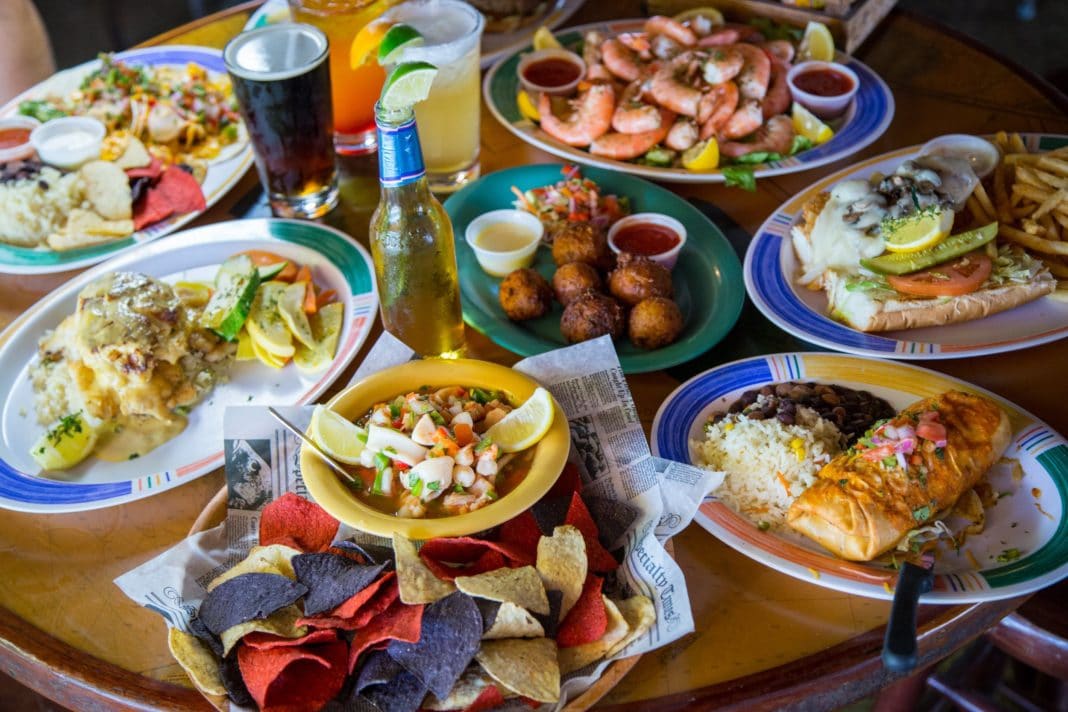 Credit: Hogfish Bar and Grill
Take a step back in time and experience traditional cuisine in the way the Key West used to be. Located just five minutes away from Old Town, you'll find the amazing Hogfish Bar and Grill. Follow the signs along the road until you're in Stock Island at the Safe Harbor Marina. Here, you'll find fresh seafood (obviously), strong drinks, and panoramic water views.
This isn't your average tourist joint, it's where the locals hang. Dodge the pretense of flashy food joints and enjoy unique fare straight from the boat to your plate. You can't go wrong with anything name with their namesake specialty (aka the "killer" hogfish sandwich). Just come hungry. This sandwich is smothered in swiss cheese, onions, and mushrooms, and served up on a soft Cuban roll.
Hogfish fingers and fried hogfish tacos are some of the other favorite choices. All dishes call for an ice-cold beer. This open-air restaurant is the quintessential Key West experience. You can see the owners strive to maintain an old-world vibe and it's truly appreciated. Hogfish is one of the best Key West restaurants.
4. Hot Tin Roof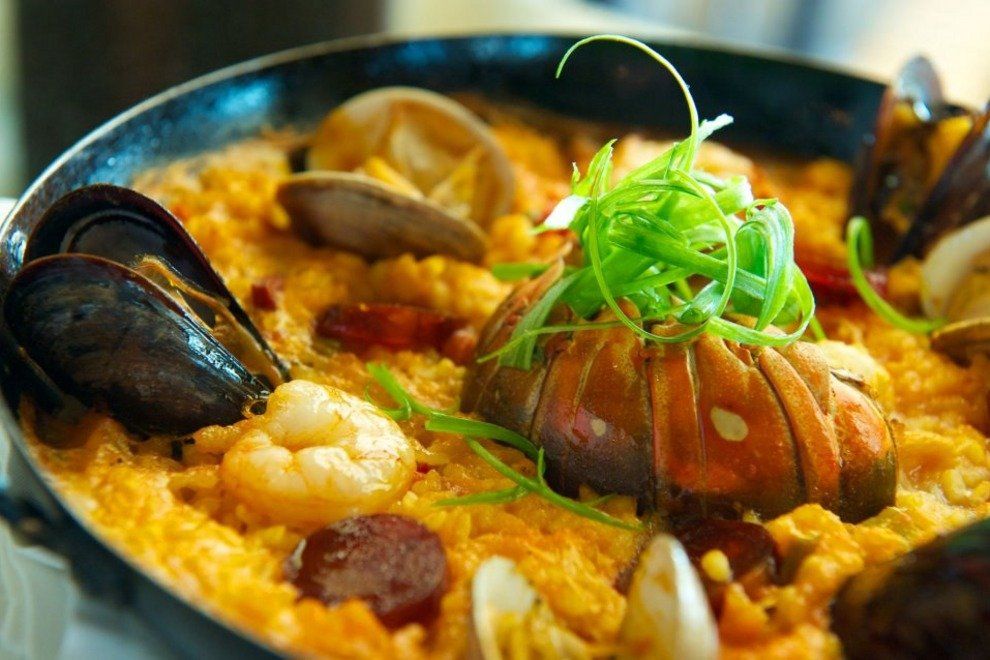 Credit: Hot Tin Roof
This charming seaside eatery offers open-air patios, serving up a menu of Latin American-style small plates. While most of the best Key West restaurants are joints you can show up to in board shorts and flip-flops, Hot Tin Roof offers a refreshing, casual elegance.
The restaurant pays homage to Tennessee Williams, a frequent Key West guest. Its name references one of his best-known plays, Cat On A Hot Tin Roof. The menu is a mix of seafood and land fare prepared with a conch-fusion culinary style. The result is a melange of tastes and fragrances, effortlessly blending traditional Florida and Caribbean influences.
Enjoy the best of island dining styles in their lounge and dining room. Embrace the vibrant community of Key West. Even the ambiance oozes a laid-back cool. Detailed teakwood is complemented by hand-painted murals and ceiling panels. White leather seats and wire sculptures add a level of whimsy. You really can't go wrong with anything on the menu. Hot Tin Roof is one cool place to dine on a hot little island.
5. Bo's Fish Wagon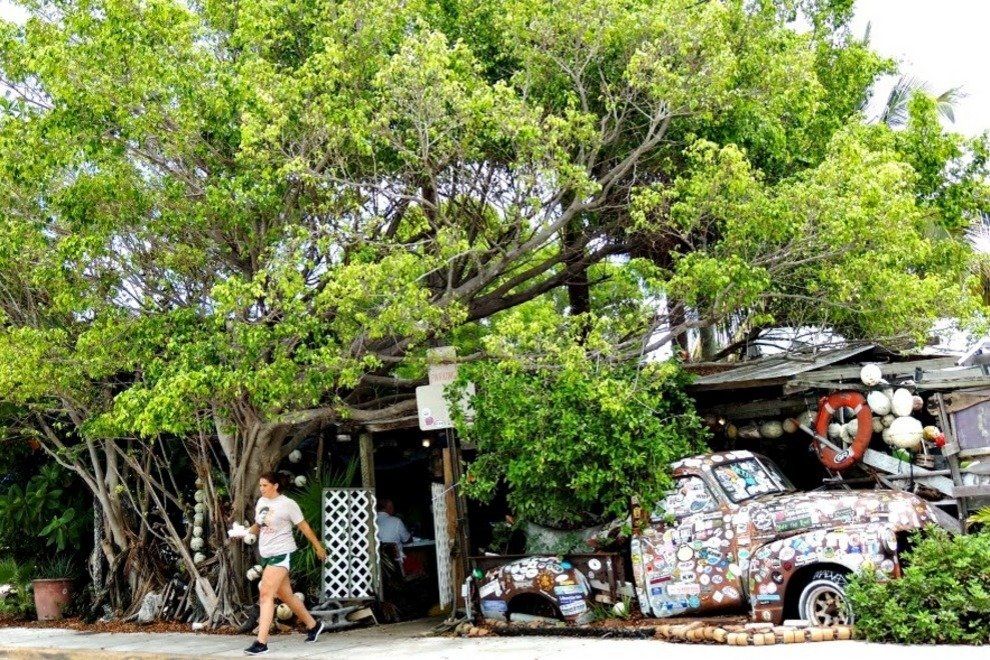 Credit: Bo's Fish Wagon
At first glance, it would be super easy to drive past this little wagon like it's nothing. That would be a mistake. Sure it looks like it's barely standing but the food certainly holds its own. Head straight from the beach, salty hair and sandals in hand to Bo's Fish Wagon. We love this hopping open-air shack.
If you want food without fuss and good music on a Friday night, this is the place to be. Buddy Owen, the owner, is something of a local legend. He started this join 25 years ago; the food and good vibes have been drawing people back ever since. Last year, even Food Network had to stop by and see what the commotion was all about. The eats are just that good.
While you're there, don't miss out on the cracked conch sandwich. This midday meal offers up thin slices of fried conch stuffed between slices of Cuban bread and served up with Key Lime mayo. Sure it sounds simple. But it's actually heaven in a bite.
6. Blue Heaven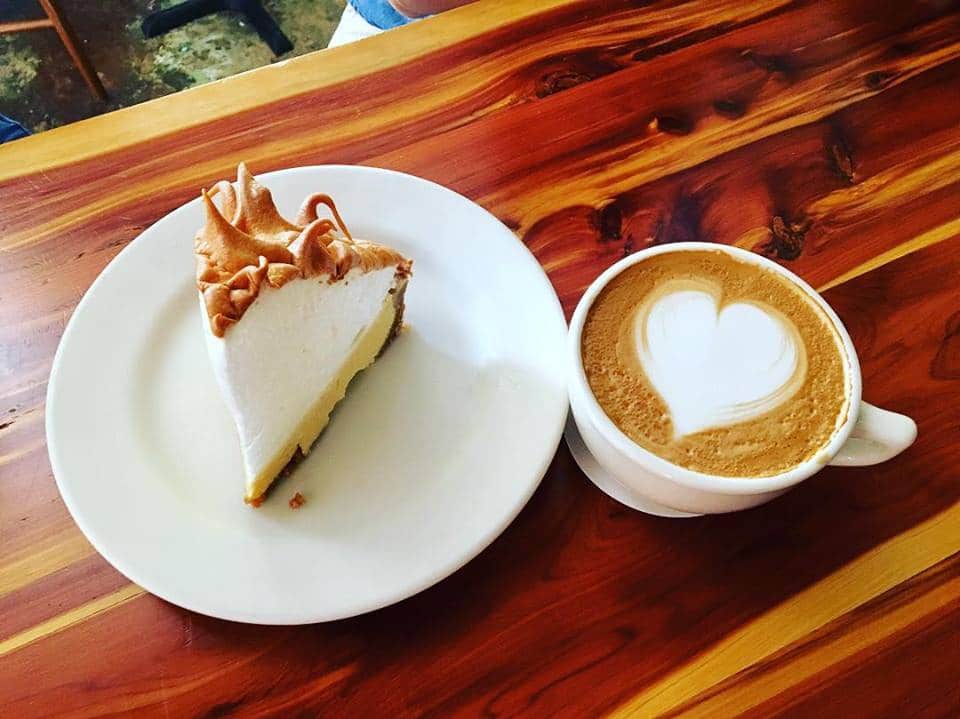 Credit: Blue Heaven / Facebook
Among the locals, Blue Heaven needs no introduction. It's one of the best Key West restaurants. Once home to Ernest Hemingway's private boxing matches is now filled with roaming Key West chickens and lounging cats soaking up the afternoon sun. Grab yourself a seat outdoors under the shade of a canopy, indoors in the "tree house" or in the dining room.
If you want to get there for breakfast, you've got to wake up bright and early. The place is always jam-packed. It mellows out a bit for lunch and dinner. Get ready for some Caribbean jerk sandwiches for lunch and snapper in a citrus sauce for dinner.
Whatever time of day you choose to come, make sure you save room for dessert. Their famous key lime pie has been featured on countless TV shows and is also a Kenny Chesney favorite. Just a heads up – parking is very limited, so walking and biking are encouraged.
7. The Cafe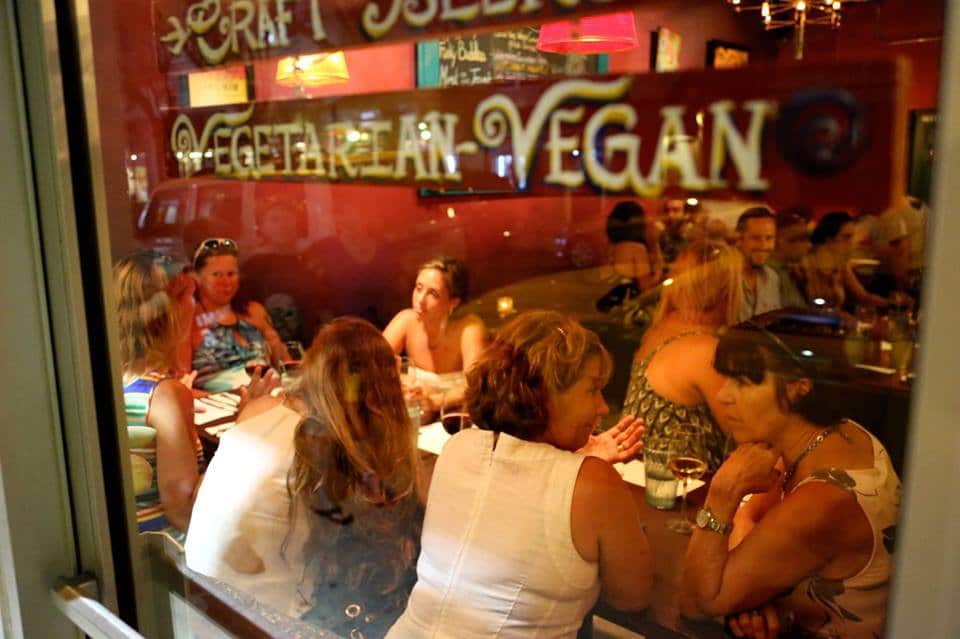 Credit: The Cafe / Facebook
Looking for some semi-vegetarian fare? We've got you covered. This chill spot adorned with local art serves globally inspired veggie and seafood eats, plus beer & wine. A warm bohemian decor invites you in and the menu keeps you coming back. Here, you'll find a lot of options that even health food restaurants don't typically offer.
Gluten-free craft beer and homemade sangria keep the conversations flowing. Choose from dishes like blackened mahi-mahi and P.E.I mussels. For a side, we highly recommend the falafel served with bean salad, cream of tomato soup, and sweet potato fries. Always make room for the vegan Key Lime cheesecake.
Everything is made from scratch, so be sure to check out their specials. Grab a comfy cushioned seat near the window and get ready for some of the best food you've had in a long, long time.
8. Caroline's Cafe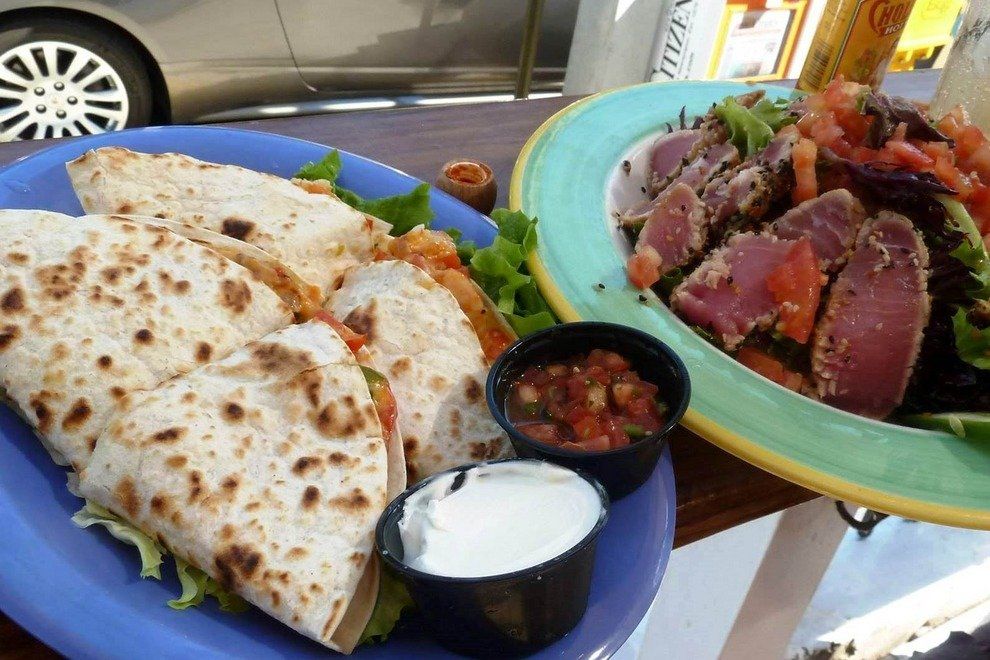 Credit: Caroline's Cafe
This American cafe serves po' boys, conch fritters and the like in a circa-1838 house with outdoor seats. Great food, attentive service, and a fine location come together to create a scene that is a favorite of locals and tourists alike. Here, you can order some of the best hamburgers in town alongside a shrimp and bacon club sandwich. You'll also find fan favorites like jambalaya and jerk chicken.
For a lighter bite, choose from appetizers including conch fritters, dolphin fingers, and more. Its location along one of the main streets ensures there's almost always a crowd waiting to get in. Try to get there early and beat the rush. But hey, if you can't, the people-watching is always good entertainment. Keep your eyes open for Abby the Rooster, your unofficial welcoming committee.
9. The Flaming Buoy Filet Co.
Credit: The Flaming Buoy Filet Co.
Ask the locals anywhere and this is their top pick for Key West restaurants. This charming home turned eatery offers ten tables among simple wood furnishings with splashes of color. We love sitting on their outdoor patio and soaking up a little local color. Here, you'll find gourmet home-style cooking with a focus on fresh, local ingredients. Grab a seat.
Honestly, you feel more like you're having brunch with a friend than eating out when you visit the Flaming Buoy. Owners Scott Forsche and Fred Isch take turns cooking up family recipes and entertaining diners with witty stories. Start your meal off with the trio appetizer. These delightful eats consist of Key West grilled pink shrimp with lime chutney, watermelon tuna ceviche, and hearty Florida lobster mac and cheese. Save room for dessert (or steal a bite of your friend's). You're not going to want to miss the Tahitian vanilla ice cream from Flamingo Crossing.
10. Latitudes
Revered as one of the fanciest Key West restaurants, Latitudes is the perfect place to watch the sun go down. Getting there is no simple drive. Guests are shuttled in via a private resort boat to Sunset Key. Once you step foot on the island, you'll be seated at a fresco table overlooking the Gulf of Mexico.
While we prefer outside seating, dining indoors is an option too. You can choose to sit in the Ernest Hemingway Room, filled with photos and information about his life in Key West. Last but certainly not least, you can also enjoy your dinner on the sand, complete with candlelit tables lined with tiki torches. An eclectic menu from Chef Jerry Crocker offers seafood adorned with fresh tropical fruits.
Book Your Vacation and Enjoy the Best Key West Restaurants
Two days ago marked the official day of summer. It's time to make the most of it. Book yourself the dream beach vacation you deserve and enjoy the best Key West restaurants. There are so many things to do here in the south of Florida. From camping, beach hopping, to amazing aquatic activities, the Florida Keys have it all. Don't forget Miami is just a short jaunt away.
Questions and Comments
Do you have any questions or comments for us? Perhaps you've been to Key West before and have some favorite Key West restaurants that didn't make it on our list. Whatever it is, feel free to leave us a message in the comment section below. We love hearing from you.
Related Article: Best Restaurants In Orlando You Need to Try In 2018