Explore white sand beaches, take a dip in beautiful blue water, and pitch your tent. We're here to tell you the best spots to go camping in the Florida Keys.
Camping in the Florida Keys is truly the best way to experience the wonders of these islands. By day, take a nature walk near swamps, mangrove estuaries, and tie your hammock between two palms. By night, set up shop and grill some dinner under the sparkling stars.
For a picture-perfect camping experience, you can't get better than the Florida Keys. The name itself brings to mind vibrant turquoise waters, drinks served up in coconuts, and fascinating wildlife. Each of the Keys offers something different to its visitors. Are you looking to fish, swim, snorkel, or dive? Do you want to catch a glimpse of local wildlife? Maybe like us, you want to experience all of the above. Want to know the best ways to cross these epic islands off your travel bucket list? Grab a tent and hop in your RV!
Whether you're looking for an off-the-grid adventure or more of a luxury camping experience, the Keys' campgrounds have it all. These campgrounds are as diverse as the islands themselves, offering up all you need to get your outdoor fix. Be sure to book your trip early because these spots fill up fast. So, read on. Take your pick from these sites for an incredible experience camping in the Florida Keys.
Where to Go Camping In the Florida Keys
Bahia Honda State Park
Located along both the Atlantic and the Gulf of Mexico, Bahia Honda is often-noted as one of the best beaches in southern Florida. Due to its prime location, the water is perfect for swimming, snorkeling, and catching some fish. The tiny island spans just 500 acres, sitting offshore from Mile Marker 37 along the long Overseas Highway.
Whether you're looking to bring an RV or pitch a tent, the site hosts spots for both. If you want, you can even rent a cabin. The site hosts three duplex cabins overlooking the bay. Each is equipped with kitchen appliances, utensils, and linens. Reservations can be made up to eleven months in advance of your trip through ReserveAmerica.
If you prefer the traditional experience, the campsite offers 80 sites to choose from. Don't tell, but we've heard you can catch the best ocean views from sites 64 to 72. Amenities include bathrooms and hot showers. A concession stand is not far away.
John Pennekamp Coral Reef State Park
One of our favorite places to go camping in the Florida Keys is John Pennekamp Coral Reef State Park. Deep in the heart of Key Largo, you'll find this site is famous among seasoned snorkelers and divers. This park serves as the only point of entry into the Florida Keys National Marine Sanctuary and is home to the only living coral reef in the U.S. Pennekamp features 47 campsites for both RVs and tent camping. Each offers a picnic table and grill. Access to toilets and hot showers are also available.
In the summer, the campground is packed with RVs and tour groups. But it's definitely worth the visit. Perhaps the best thing about the park is you can book a diving or snorkeling trip directly through the park's concession. If you do book a tour, make sure it offers the opportunity to see the Christ of the Abyss. In shallow water adjacent to the Coral Reef State Park, this eighteen-foot-tall bronze statue rests approximately 25 feet down at a site called the Key Largo Dry Rocks. It is absolutely breathtaking.
Curry Hammock State Park
The Florida Keys are a prime real estate site. So, finding any spot that's entirely secluded is pretty rare. Curry Hammock is a world of its own. Campers will find themselves whisked away to the quiet sounds of a mangrove swamp, chirping birds and a private stretch of white sand. The peaceful lull of the gentle waves only adds to its allure. If you're looking for a quiet spot to go camping in the Florida Keys, Curry Hammock is the place for you. As the sun dips behind the horizon and the day trippers leave, you'll be glad you stayed.
Although there are only 28 campsites available, this lends to its atmosphere of solitude and exclusivity. Each site is within a great view of the ocean and comes with a picnic table, charcoal grill, access to clean water, and electrical service. There is also a main restroom center and wonderful solar-powered hot showers.
Boyd's Key West Campground
Perched right along the waterfront, lies Boy's Key West. In the summer, this family-owned campsite bustles with families and adventurers, eager to explore the islands. Perhaps what makes it most popular is its close proximity to the Key's famous Duval Street. Since the 1960s, Boyd has been a favorite spot to go camping in the Florida Keys. Why, you ask? It is home to exceptional amenities, including a heated pool, Wi-Fi, the beach, and a convenience store for those light night candy cravings. When you're not grabbing drinks at a bar on Duval Street, make sure to check out Boyd's ice cream socials, family movie nights, and enjoy the live music.
Long Key State Park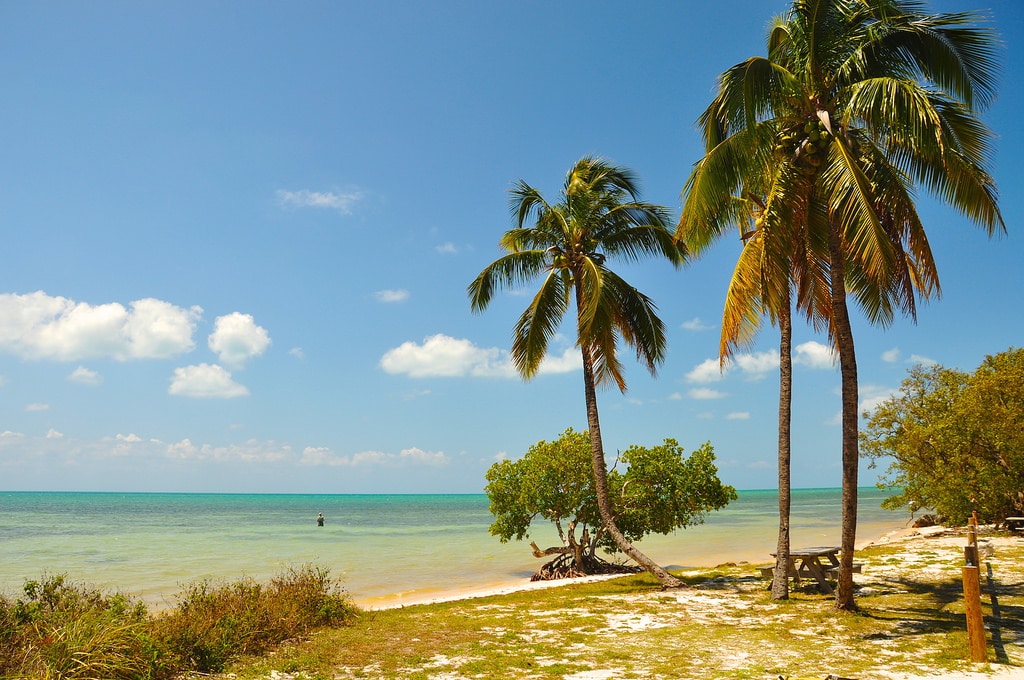 Should you find yourself wanting to explore the middle Keys, stop at Long Key State Park. It is conveniently located between Islamorada and Marathon at mile marker 67.5. Here, you'll find some of the best fishing in all of the Keys. When you're ready to choose a spot, the campsite offers sixty-six full facility sites. All include picnic tables, grills, water, and electricity. For a particularly spectacular view of Long Key, make your way over to the observation tower 1.2 miles north of Golden Orb hiking trail.
Knights Key RV Park and Marina
For those looking for an RV-only camping spot, look no further. Located in the charming town of Marathon, this mellow park has been a prime camping destination for more than fifty years. It offers guests an old town Florida vibe and access to the Gulf and Atlantic. Travelers looking for a laid-back spot to go camping in the Florida Keys will appreciate its peaceful atmosphere. When you're ready to get out on the water, book a trip on the Pigeon Key ferry boat. Tour the historic waters of the Pigeon Key.
Sugarloaf KOA
Just a half-hour north of Key West lies Sugarloaf. This is an amazing spot for camping in the Florida Keys with plenty of sites for tents and RVs. For those looking to explore both Key West and the surrounding middle Keys, you can't beat this location. It also offers campers a number of fun features, including an interactive park for your pup, bike rentals, and a convenient tour shuttle. Do you want to stay in an Airstream trailer? Sugarloaf KOA offers several classic silver trailers fully-equipped and ready for you to rent.
Bluewater Key RV Park
Credit: ?Blue Water Key
This is no ordinary campground. Just 14 miles north of Key West, you'll find the most luxurious camping site in all of the Florida Keys. You will not find more clear waters, bluer skies, and happier people than here in this park.
Bluewater Key is a favorite amongst RV vacationers looking to spend time exploring, diving, fishing, and relaxing in the Keys' coral archipelago. Due to its proximity to the town, visitors are also welcome to enjoy local sights, culture, and plentiful entertainment options.
All of the sites in Bluewater Key RV Park are privately owned. If you really fall in love with this park, some are available for purchase. Make sure to check in with the owners if you would like to reserve a private boat dock during your stay.
A Heads Up
While the Keys are beautiful islands, they are also home to beautiful indigenous wildlife. Make sure you keep your eyes open for alligators, snakes, and campsite critters. At night, clean up all food and trash remains, tying them above the reach of the local animals. If you respect them, they'll respect you.
If you want to get up close with these local inhabitants, there are plenty of boat tours and nature walks to choose from. These attractions offer unique and safe ways to catch a glimpse of the sometimes elusive local species. Maybe if you have enough time, head down to the Everglades and explore. It's well worth the trip. Last but not least is our most important piece of advice. Perhaps, the most important rule of Florida camping is to bring the bug spray, but you can get an even more comprehensive camping checklist here.
Book Your Trip: Go Camping in the Florida Keys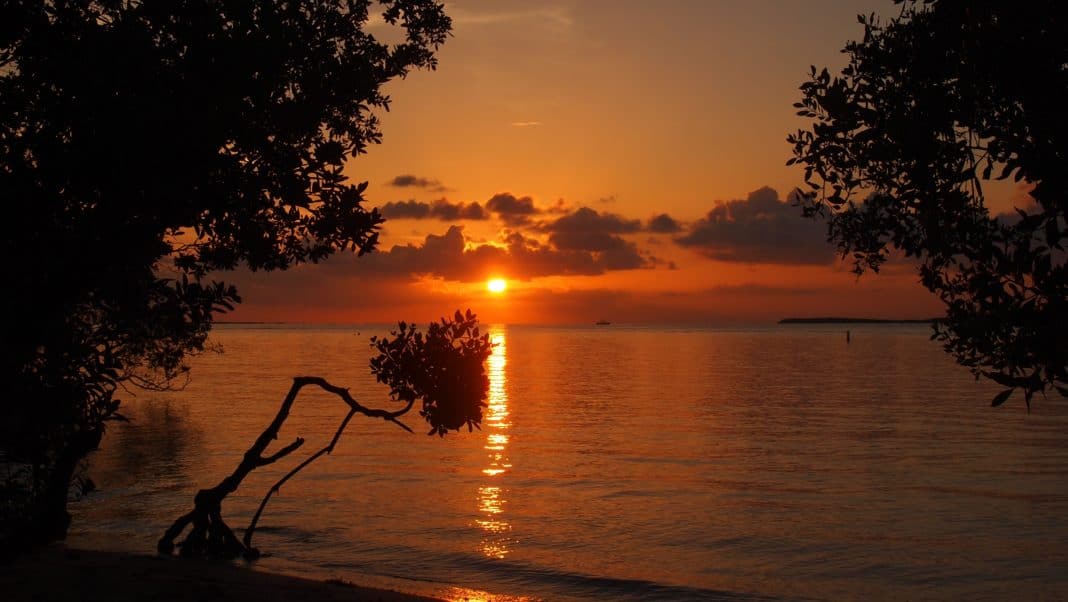 Now that you know where to go, take your pick and book your trip! It's time to go camping in the Florida Keys. Overall, camping in the Keys offers a wonderful and truly unique experience. Whether you decide to go just for the camping or to enjoy local tourist attractions, one thing is certain. You'll enjoy incredible sunsets, lots of fun, and endless opportunities to snap scenic photos.
Related Article: 5 Amazing All Inclusive Resorts in Florida