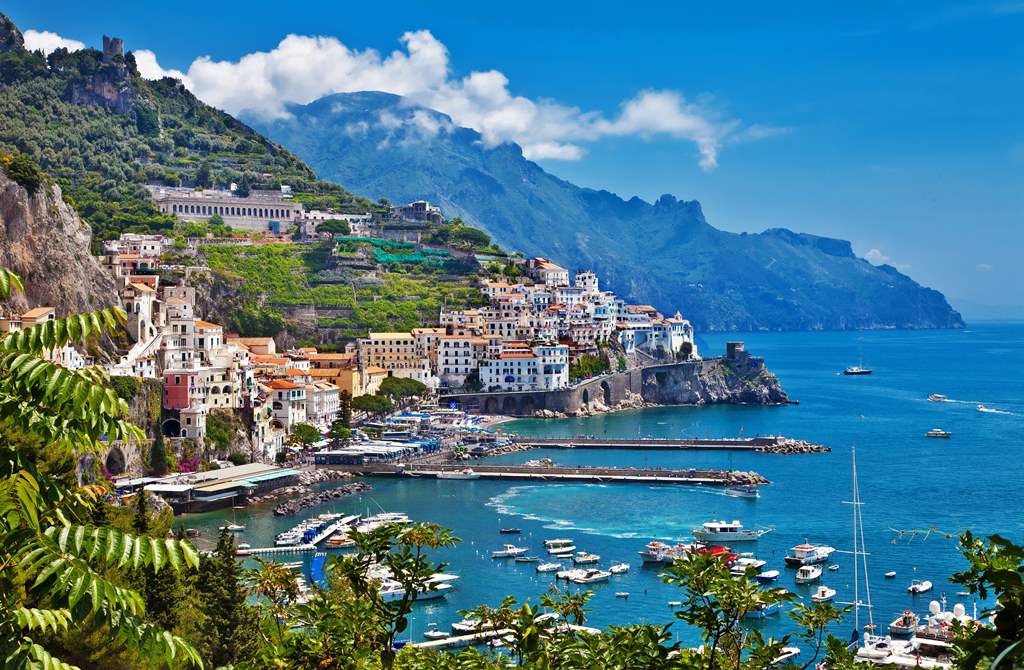 Come fly with us to the Amalfi Coast of Italy. Italian cliffs hug the sea to provide captivating overlooking views around every corner. This picturesque coastline peppered with quaint and delightful hotels will make your stay all the more memorable. Amalfi guests could stay in a boutique hotel with villa sea views alongside a rooftop terrace made of dreams. Many of these Amalfi Coast luxury hotels are family-run. Travelers can anticipate hotel staff to embody deep and genuine hospitality.
The Amalfi Coast is located between Positano and Ravello. Couples can follow the coast around the scenic Bay of Naples, up the cascading Lattan mountains, and back to the romantic hotels in Amalfi Coast for the loveliest honeymoon. Travelers vacation here from April to October for the paced season, and also from July to August for the livelier months. The hotel season may seem a bit short, but your vacation on the coast doesn't have to cut it close on time.
Here Are the Top 5 Amalfi Coast Hotels:
The chart below displays the top 5 Amalfi Coast hotels along with their ratings.
| Image | Hotel | Rating | Our Review |
| --- | --- | --- | --- |
| | | 5 out of 5 | |
| | | 4.5 out of 5 | |
| | | 4 out of 5 | |
| | | 5 out of 5 | |
| | | 4.5 out of 5 | |
QUICK NAVIGATION
Why Visit the Amalfi Coast?
Ideal Place for Honeymooners
The Amalfi Coast sings romance. There are many hotels sprinkled along the coastline that are tailored specifically for honeymooners, newlyweds, and anniversary trip-takers. The low-key, intimate villages of Praiano and Vietri Sul Mare provide great examples that couples are bound to enjoy while visiting the coast. Whether you are recently married or married for 30 years, something magical happens to partners where they fall deeper in love on the Amalfi Coast. If you and your half desire to spend devoted time in a beautiful setting, then consider doing so on the Amalfi Coast.
Ideal Place for Beauty-Seekers
The Amalfi Coast flows steeped in art, architecture, culture, and lovely natural surroundings. There are many nooks and crannies to explore in the area. Survey the buildings, hike the cliffs, visit the beaches, enjoy the views from a boat tour. The beautiful building called, Villa Rufolo, nestles within the heart of the historic center of Ravello. Explorers overlook onto the breathtaking front of the cathedral square here!
When you stay on the Amalfi Coast, you can choose to have a laid-back moment of rest at the beach, or one could decide on a jam-packed schedule full of site seeing. Active visitors will love trekking along the Sentiero Degli Dei; this marvelous mountain path contributes to the overall beauty of Amalfi. Explore all that this coast has to offer! The choice is yours. Whether you are sitting on the beach or wandering different places, there will be beauty to behold all around you.
Common Features of Amalfi Coast Hotels
Amalfi Coast hotels share many things in common. For one, they are all charming inside and out. From the décor to the amenities offered, all Amalfi Coast hotels are beautiful and provide impeccable service. The hospitality and family values that are rooted in so many Amalfi Coast hotels are appreciated by travelers. The hotels along this coast strive to make you feel at home during your stay.
How to Choose the One for You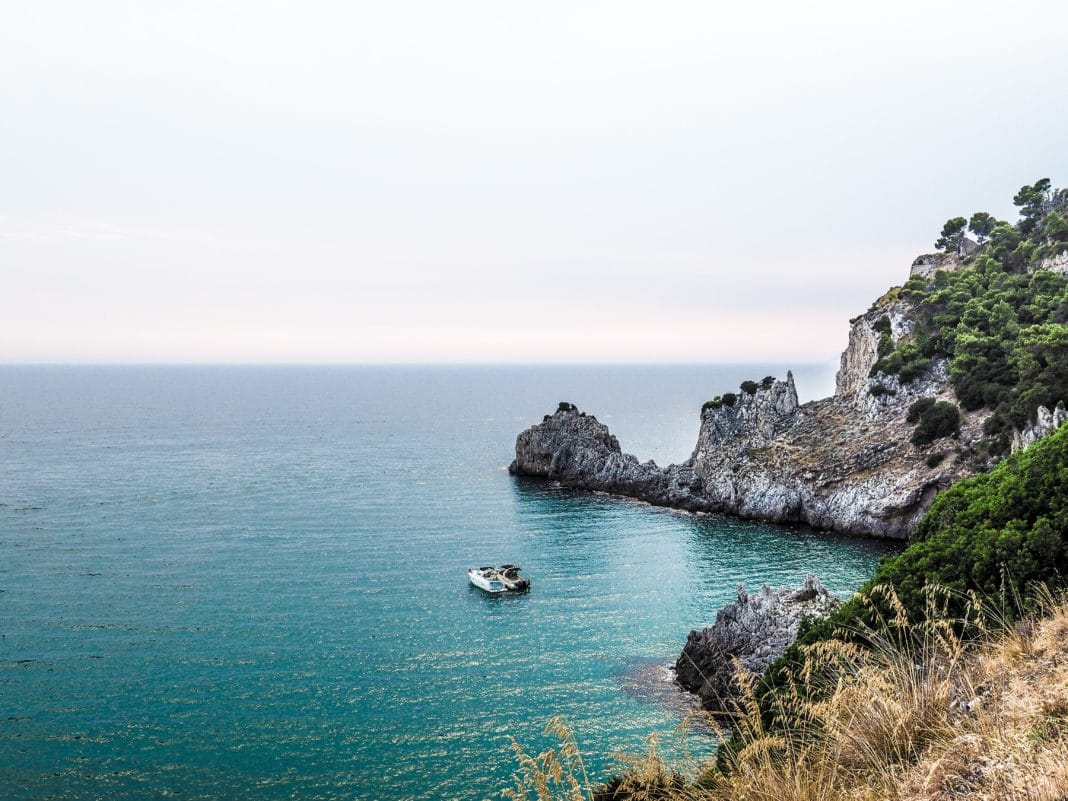 Questions to Ask Yourself Before Beginning Your Search
If you need help starting this hotel selection process, then here are some questions to ask yourself. These questions will help to point you in the right direction.
What atmosphere do you prefer?
The town you decide to stay in will determine a lot. Are you looking for a lot of nightlife? Are you wanting a more quiet and peaceful stay? Are you on your honeymoon? Or, are you traveling with kids? Do you want to be in a bustling area? All of these questions will be necessary to ask to find the town you want to stay in.
If you plan on doing a good amount of exploration, we suggest staying in Positano or Amalfi because of the transportation offered in these cities. From Positano and Amalfi you will be able to wander the whole coast. Stay in Sorrento if you desire a more upbeat atmosphere. Stay in Maiori and Minori if you are traveling with kids. If you appreciate art, culture, and architecture, stay in Amalfi or Atrani. One of the best things you can do in the preparation stage of your trip to the Amalfi Coast is find out what type of atmosphere you want around you. This will determine the town you stay in, and, subsequently, the hotel you stay in.
How much are you willing to spend?
Knowing your budget will be huge in determining which Amalfi Coast hotel you choose. Amalfi Coast hotels range in prices. Of course, the hotels nestled on the coast with panoramic views will be more expensive than say, the hotels located more inland.
Things to Consider Before Booking Your Stay
In addition to the questions provided, here are a couple things to consider before booking your stay at an Amalfi Coast hotel.
Consider the Types of Amenities and Services Available
Do your research beforehand and determine which amenities and services you are not willing to compromise on. Do you want a hotel that has a spa? Do you want beachfront access? Is free wireless internet connection a non-negotiable? Do you want a hotel that serves complimentary breakfast? One that has an on-site restaurant? Free parking available? Considering the types of amenities and services you want in a hotel will help to narrow down your search.
Consider the Cost and Location
As mentioned previously, cost and location are the main two things to consider when choosing your Amalfi Coast hotel. Depending on your itinerary, what you plan to do, and how much you are willing to spend, there will be different options available for you. We suggest creating your itinerary first–listing all the things you hope to do on the coast–and plan where you will stay according to your itinerary.
5 Best Amalfi Coast Hotels
In the beginning of the article, we shared a chart listing the top 5 Amalfi Coast hotels. There, you can find out today's current price for hotel, along with the hotel's rating. If you want to see a pros and cons breakdown for each accommodation, here it is:
Le Sirenuse
Positano, Italy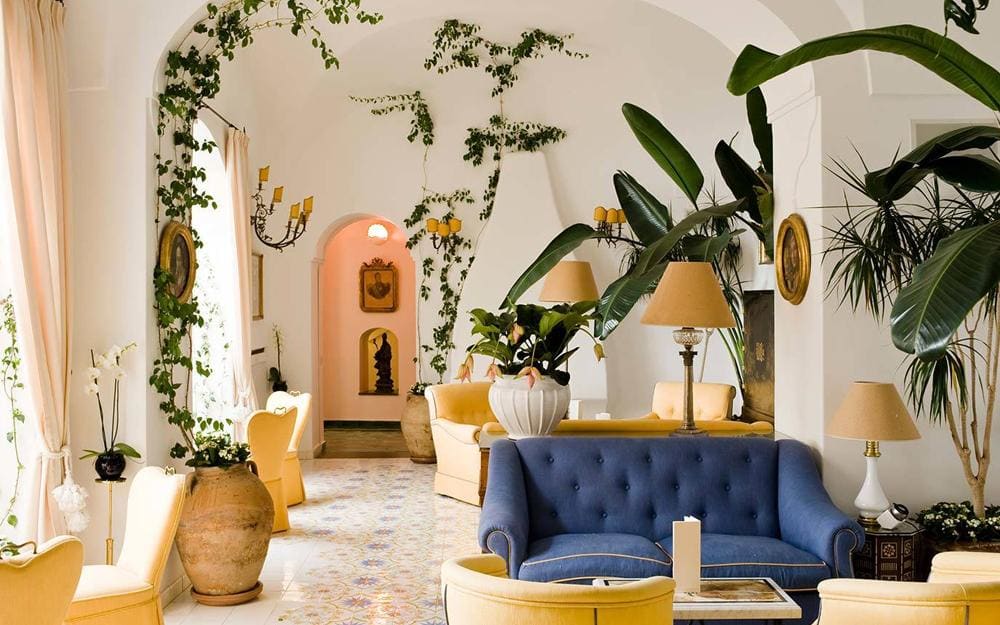 Credit: Le Sirenuse
Pros
plus

Spotless and comfortable rooms

plus

Free wireless internet connection and complementary breakfast (they serve superb food)

plus

Lovely ambiance inside and outside the hotel
Cons
close

On the pricey side. However, majority of travelers gave this hotel 5 stars. If you are willing to indulge yourself and pay the cost, your stay will be worth every penny
Monastero Santa Rosa
Conca dei Marini, Italy
Credit: Monastero Santa Rosa
Pros
plus

A 20-room, five-star hotel and resort laced with history. This hotel is a refurbished 17th-century monastery

plus

Free WiFi, breakfast included, free parking

plus

Heated infinity pool & spa services
Cons
close

Not the best place for families with kids. This hotel is tailored more towards those on a romantic getaway
Punta Regina Positano​
Positano, Italy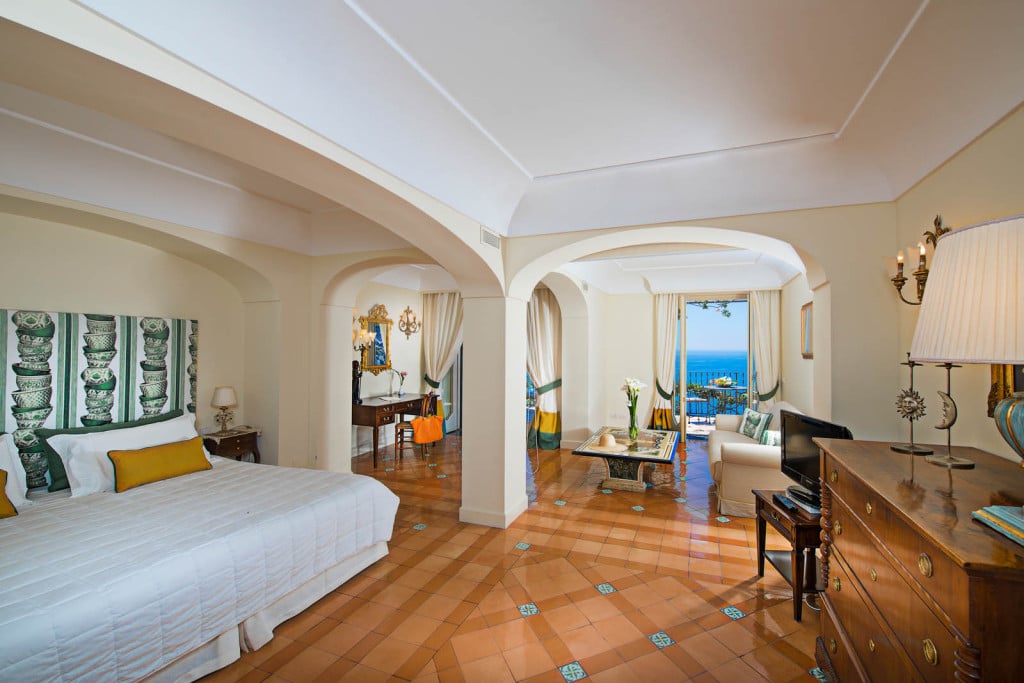 Credit: Punta Regina Positano
Pros
plus

Free WiFi and breakfast is included

plus

Family-friendly hotel that has 18 rooms

plus

Convenient location to restaurants, activities, and Positano attractions
Cons
close

Steep walk to the beach

Located in the pedestrian center of Positano

close

The is no on-site restaurant. However, breakfast, drinks, and snacks are served at the hotel
Belmond Hotel Caruso
Ravello, Italy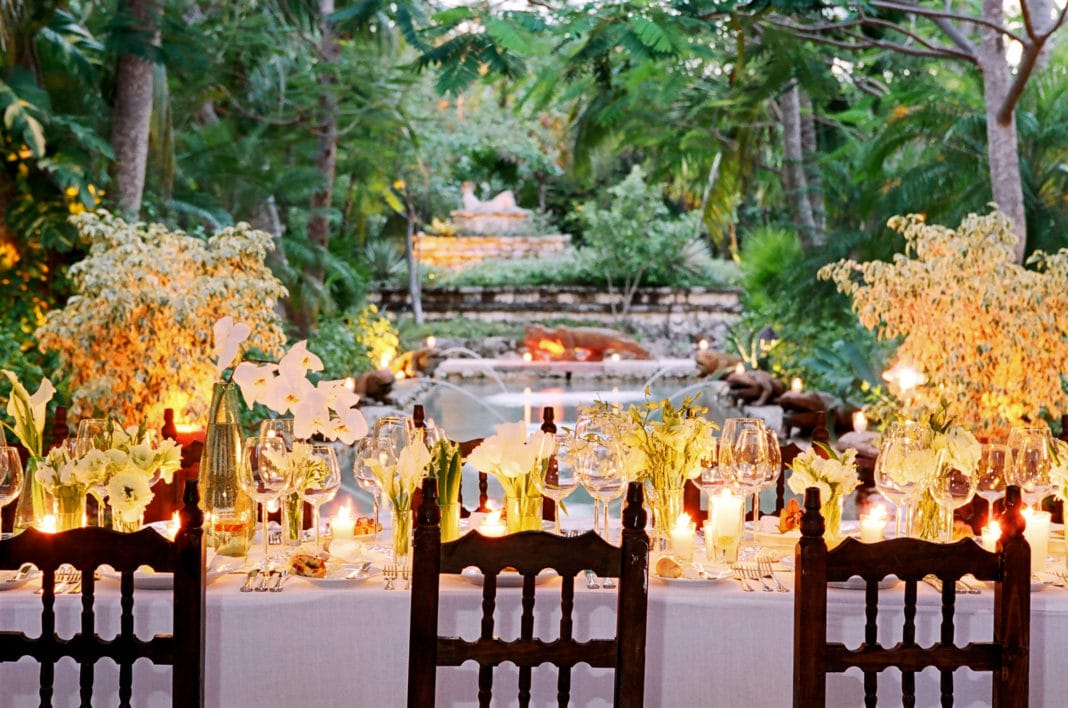 Credit: Belmond
Pros
plus

Impressive and very romantic hotel

plus

Spa services and wellness center

plus

Many on-site dining services, including the Belvedere Restaurants, a cocktail and piano bar, an outdoor garden bar, a pool snack bar, and private dining options.
Cons
close Expensive hotel to stay in​​​​​​

Fitness center and spa are a short walk from the main building
Grand Hotel Convento di Amalfi
Amalfi, Italy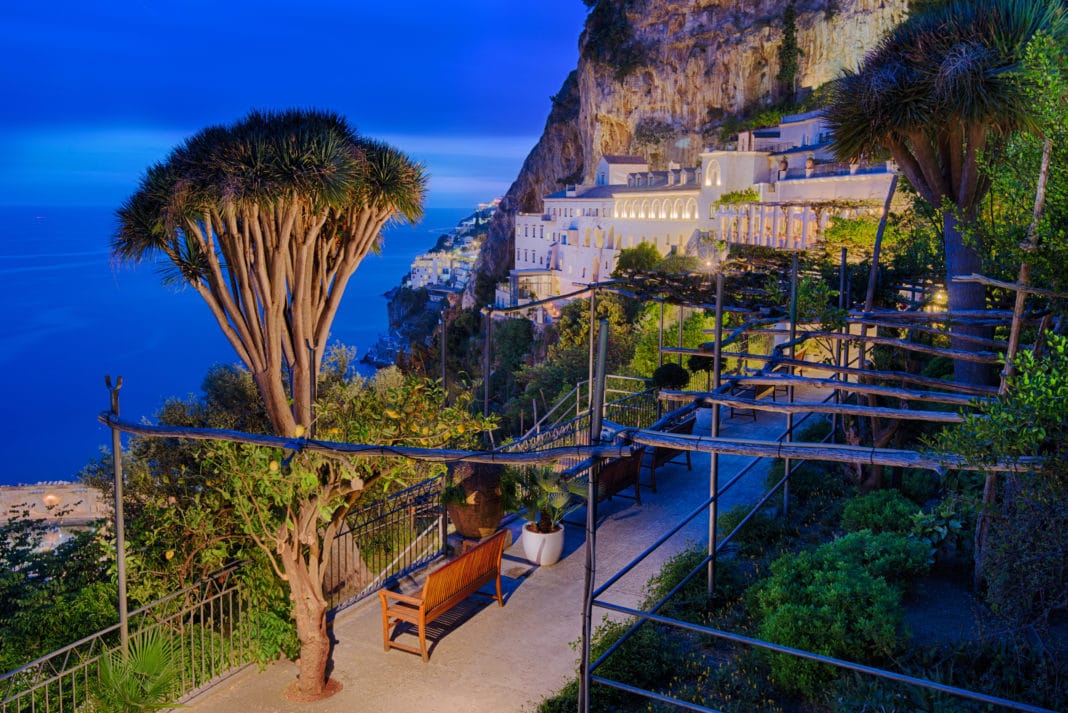 Credit: Grand Hotel Convento di Amalfi
Pros
plus

Clean, fresh, and airy interior

plus

Enchanting atmosphere

plus

Infinity pool with panoramic views
Cons
close Expensive hotel to stay in​

Pool area is small
When in Italy…
While in Italy, consider visiting the Sorrentine Peninsula and other top destinations in the country! In fact, turn your vacation into a road trip around the country so you can catch all these hot-spots:
Conclusion
Now that we've covered the best Amalfi Coast hotels and how to go about picking the right one, it's time to make your decision. So, which one will you choose? Let us know when you do! Happy traveling to this picturesque Italian coast!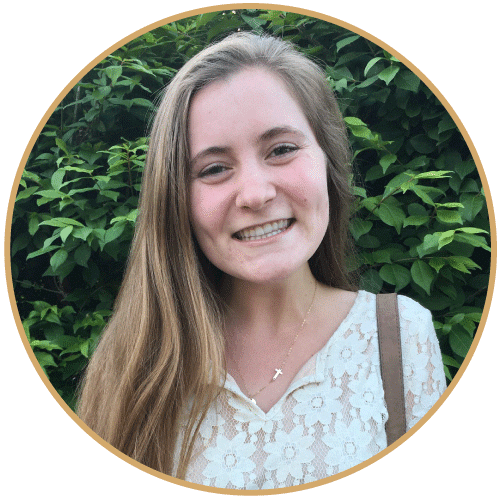 Riley Loftus
Riley is a creative who is fascinated by the details of life. She feels most at home in an airport and cares most deeply about culture, exploring the world, and global justice. Riley also believes in the power of storytelling and in a love that has no limits. Keep up with Riley on her Instagram page where she contemplates grace and writes her raw thoughts on life, faith, and the world around her.