Elegant. Lavish. Magical. Romantic. These Are the Only Words to Describe a Stay at Belmond Hotel Caruso
Situated in Ravello, Italy on the Amalfi Coast is the wondrous, romantic, and extravagant Belmond Hotel Caruso. Actually, this hotel isn't just in Ravello, it is seated high at the top of the city. The Belmond Hotel Caruso property weaves its way down the hill, providing numerous accommodations, activities, and amenities for guests to enjoy. The views of the coastal cliffs and the Mediterranean are awe-striking. The cuisine prepared at the on-site restaurants are exceptional and served with the finest, freshest ingredients. The service is attentive, friendly, and very helpful. And, have we mentioned the extraordinary beauty both inside the hotel and outside its walls?
Though pricey, the Belmond Hotel Caruso is one luxurious hotel to consider if you have the means to afford it. In our full review of this Amalfi Coast hotel, we will be talking about all things accommodations, dining, amenities, and activities. In addition, we will be discussing what fellow travelers are saying about their stay on the property. Stay tuned!
Let's Talk Accomodations
Guestrooms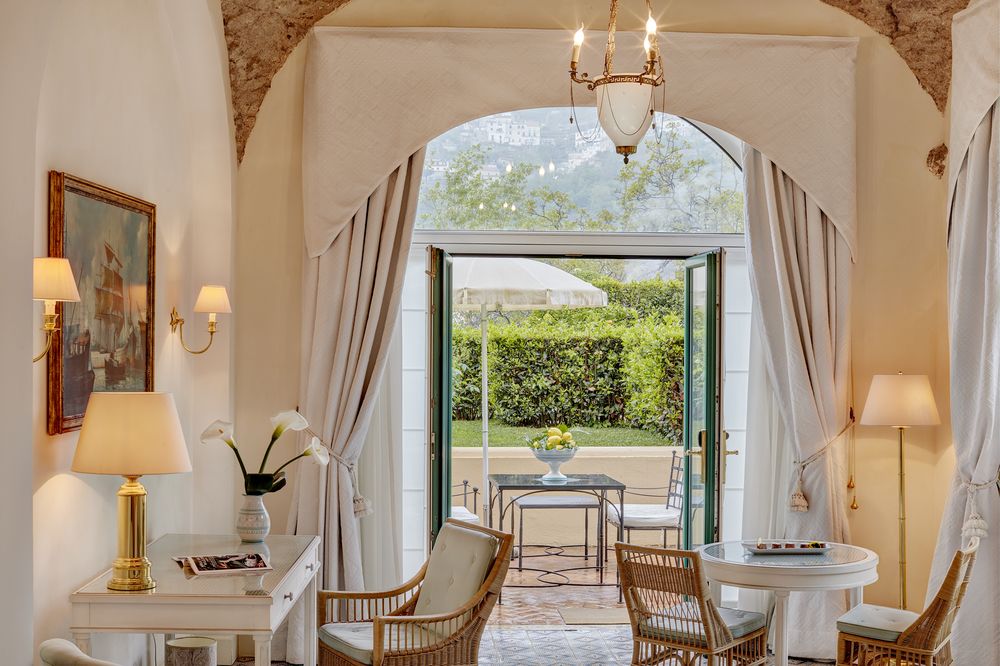 Credit: Belmond
There are 50 bedrooms and suites on the Belmond property. The vast majority have views of the sea from just outside their window. Yet, even the rooms without a sea view still have beautiful views, mainly of the gardens. The first guestroom option includes the Double Rooms. Double Rooms have classic Italian décor, marble floors, plenty of natural lighting, and a view of either the sparkling sea or thriving gardens.
The Deluxe Sea View Double Room has its very own balcony/terrace that offers a place for guests to relax and be refreshed by the breathtaking sea. The Superior Double Room overlooks the well=manicured gardens. When enjoying a drink or an appetizer on your Superior Deluxe Room terrace, you are also likely to catch a lemony aroma. The scent of lemon groves carries in the wind to greet guests who stay in the Superior Double Rooms. The Village Double Room is the final Double Room option. This accommodation option has a bright interior, many amenities, and a private terrace or private garden.
Suites
Credit: Belmond
In terms of suites, Belmond Hotel Caruso offers Junior Suites, Suites, and Exclusive Suites. All options can come with either King-size or twin beds. The choice is yours, depending on your needs. Cloaked in comfort and elegance, Junior Suites are 484 square feet rooms. The Superior Junior Suites provide guests with wonderful views of the Bay of Salerno, whereas the Deluxe Junior Suites provide views of either the sea or gardens from its very own private terrace/balcony. The Executive Junior Suites offer a furnished terrace (some even have a private garden!).
Suites at Belmond Hotel Caruso are larger than the Junior Suites. Suites are approximately 592 square feet. The Italian décor found in the Superior Suite and Deluxe Suite is charming and timeless. Both options have spacious marble bathrooms. The Superior and Deluxe Suites can also be combined with one another to create a large two-bedroom accommodation.
The final, and by far most spacious and luxurious, accommodations are the Exclusive Suites. Exclusive Suites have a private garden that guests can take a walk through, a fully-furnished terrace, an extravagant marble bathroom, and more. This 968 square foot suite can also be connected with a second Exclusive Suite to provide a two-bedroom residence. In terms of special amenities, the most stand-out feature of Exclusive Suites is that guests receive a butler service during their stay.
Let's Talk Dining
Belvedere Restaurant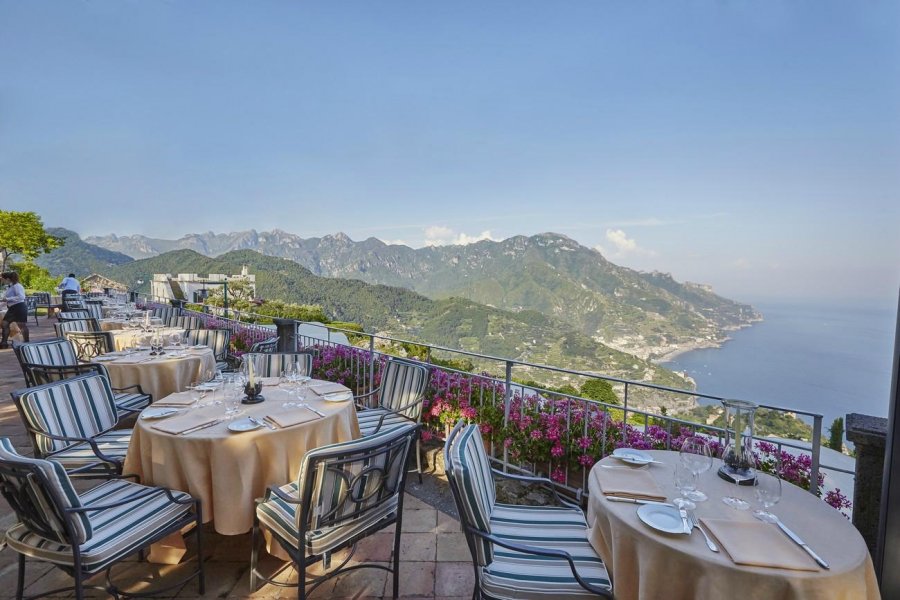 Credit: Belmond
Open daily from 6 am – 10 pm, the Belvedere Restaurant is the largest on-site restaurant at Belmond Hotel Caruso. Serving fresh and flavorful meals that are inspired by Mediterranean favorites, Belvedere Restaurant is a tasty place to eat from breakfast to dinner. Guests are welcome to dine inside the sophisticated dining room or on the outdoor terrace that overlooks the sea.
Cocktail and Piano Bar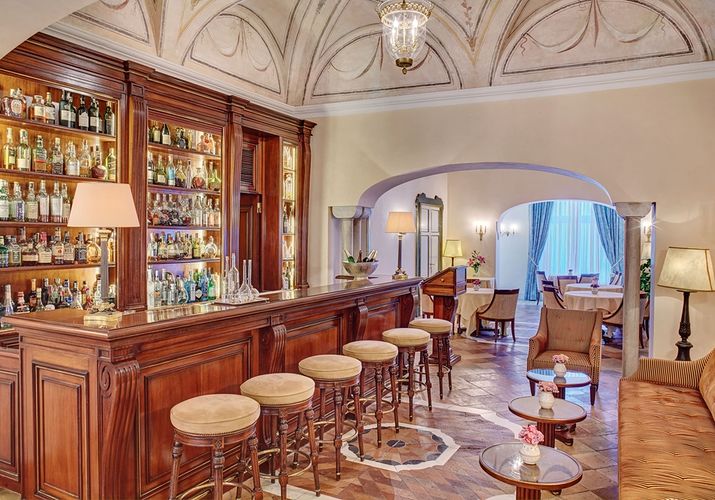 Credit: Belmond
Open daily from 10 am to midnight, the Belmond Hotel Caruso Cocktail and Piano Bar is a place that takes guests back in time. Serving drinks and dishes with an 18th-century ambiance, the Cocktail and Piano Bar is the ideal space for guests to unwind after a full day of exploring. From cocktails to wines to champagnes, the Cocktail and Piano Bar is a favorite among those who have traveled to the Amalfi Coast.
Infinity Dream Dinner (Private Dining)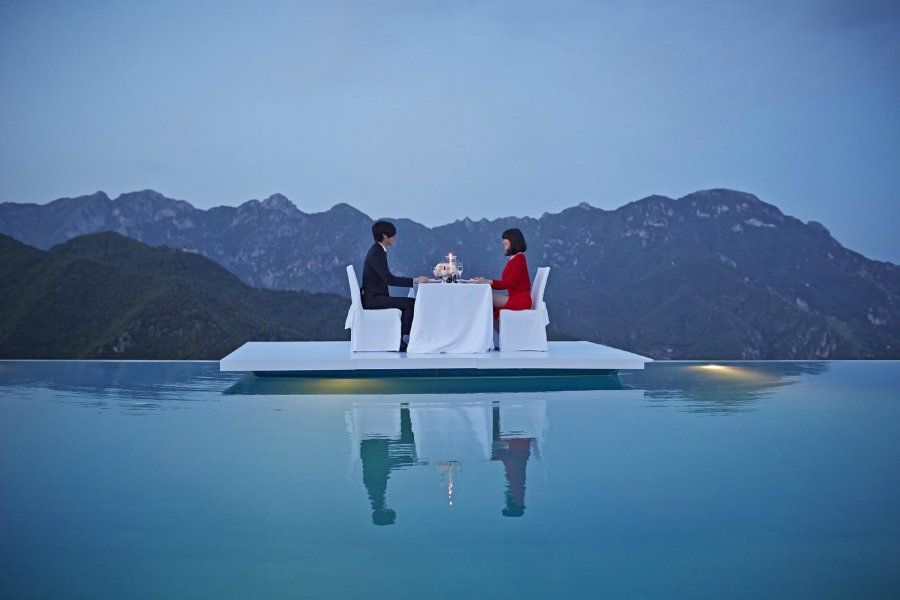 Credit: Belmond
Private dinner anyone? A romantic, candlelit dinner next to the hotel's infinity pool will be nothing short of memorable. Under the stars, couples can dine from off a tailor-made menu. Attentive service, scrumptious meals, and live music in the background will create an unforgettable experience dining with your significant other.
Bubbles Bar
Credit: Belmond
Bubbles Bar is open from 6:30 – 11 pm every evening. Situated in the gardens of the hotel, Bubble Bar is a casual and comfortable atmosphere where guests can order a drink and meet other travelers. With the lush gardens surrounding you and soft music playing in the background, Bubbles Bar is a beautiful space and unique feature of Belmond Hotel Caruso.
Pool Snack Bar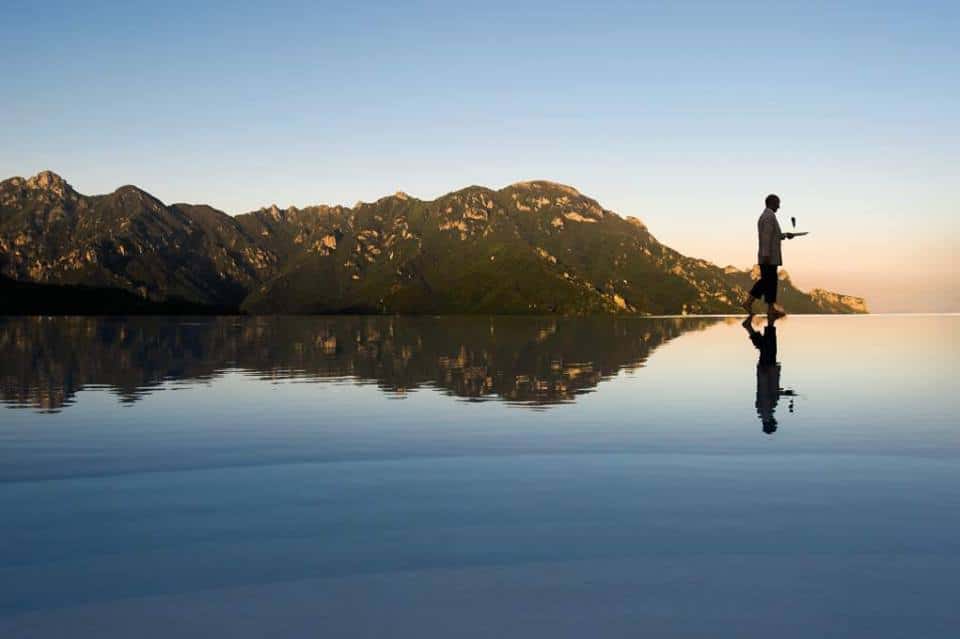 Credit: Belmond
The final dining option is the Pool Snack Bar. Located around the hotel's infinity pool, guests can order snacks throughout the day and cocktail in the evening. From 10:30 am – 7 pm, guests can order drinks of their choice. Light lunches are only offered from 1 – 4 pm. Some of those light lunches include fresh and crisp salads and wood-fired pizzas.
Let's Talk Amenities and Activities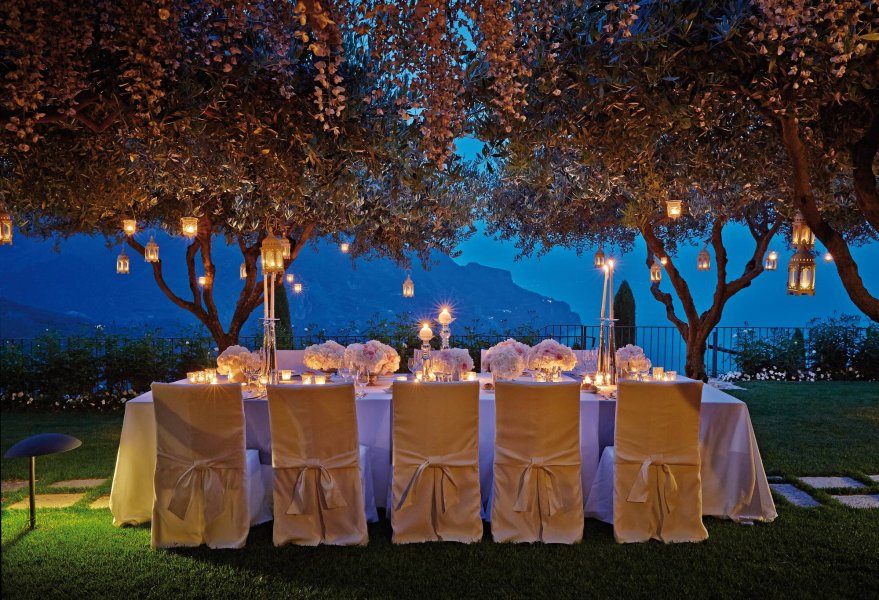 Credit: Belmond
On the Belmond property, there is a private garden, a spa, and an infinity pool. The wellness center, which houses the Belmond Spa, invites guests to rejuvenate with a range of spa treatments. Open daily from 10 am – 8 pm, guests can receive massages, body treatments, facial treatments, and more. Treatments for children and pregnant women are also available, should you be traveling with little ones that want to join the fun or have a little one growing inside you. Individuals and couples can even enjoy treatments in the private garden area. In addition to the spa, the wellness center has a fitness area and hairdresser.
In terms of Amalfi Coast activities, travelers staying at the Belmond Hotel Caruso have many options available to them. Travelers can go on a Lemon Tour, where they will explore, taste, and smell the region's greatest lemon groves. Unique boutiques also line the coast, offering handcrafted art, jewelry, and more. In addition, boat excursions are numerous on the Amalfi Coast. Whether you decide to take a morning cruise or a sunset cruise around the sea, travelers are sure to create several special memories while boating in the Mediterranean. Another popular activity to take part in is renting a Vespa and zooming along the seaside.
Take a helicopter tour, listen to live music in Ravello, tour the gardens, stargaze, and pop into Italian cafés & bakeries during your stay on the Amalfi Coast. Since the Belmond Hotel Caruso is in a central location, you will have many opportunities to adventure and partake in these activities.
What Travelers Are Saying About Belmond Hotel Caruso
Belmond Hotel Caruso is a very family-friendly place. The large connecting rooms and suites allow families to have enough space for each person to rest and sleep comfortably. Past travelers have loved this about the hotel. What's more is the hotel will provide child-sized slippers and robes upon request. Also, when kids arrive they will find toys waiting to be played with on their beds! If and when your kiddos get tired of the toys and swimming pool, they can sign up for Belmond Hotel activities, such as pizza-making lessons and painting lessons with a local artist. Parents appreciate how kid friendly this hotel is. Also, couples on romantic getaways have appreciated how intimate this hotel is.
A stay at Belmond Hotel Caruso may be expensive, but travelers cannot say enough positive things about their experience. The hotel has mastered the blend of elegance and comfort. If you have the means to pay for a stay at the Belmond, then past travelers highly recommend doing so. Honeymooners, in particular, have raved about their romantic experience at this hotel.
Treat Yourself to a Stay at Belmond Hotel Caruso
When traveling to the Amalfi Coast of Italy, consider lodging at the Belmond Hotel Caruso. You are sure to feel pampered at this hotel, from the attentive service to the refreshing spa treatments. The natural scenery will refresh your soul as well. Seated on the edge of a cliff, the Belmond Hotel Caruso reveals the beauty of the sea as well as the beauty of the hotel's very own private gardens. There are many guestroom and suite options at the Belmond Hotel, in addition to many dining options available on the property. If you are willing to splurge and can afford a stay at the Belmond Hotel Caruso, then, by all means, we say go for it.
What do you like most about the Belmond Hotel Caruso? Share with us in the comments section below!
Related Article: Amalfi Coast Hotels: Guide To Finding The Best One