Bring Your Dream to Life on the Disney Cruise Ship
Let us know if this sounds like you… You've been dreaming about going on a cruise for some time now. Dreaming, dreaming, dreaming of the day when you can hit the high seas and venture off to places like the Bahamas. You wake up dreaming, you go to sleep dreaming, you twiddle your thumbs at work dreaming about the family vacation you're ready to go on. Does this sound like your story? If you are ready to stop daydreaming and instead bring your dream to fruition, then there is no better place to do so than on the Disney Dream cruise.
Why the Disney Dream Cruise?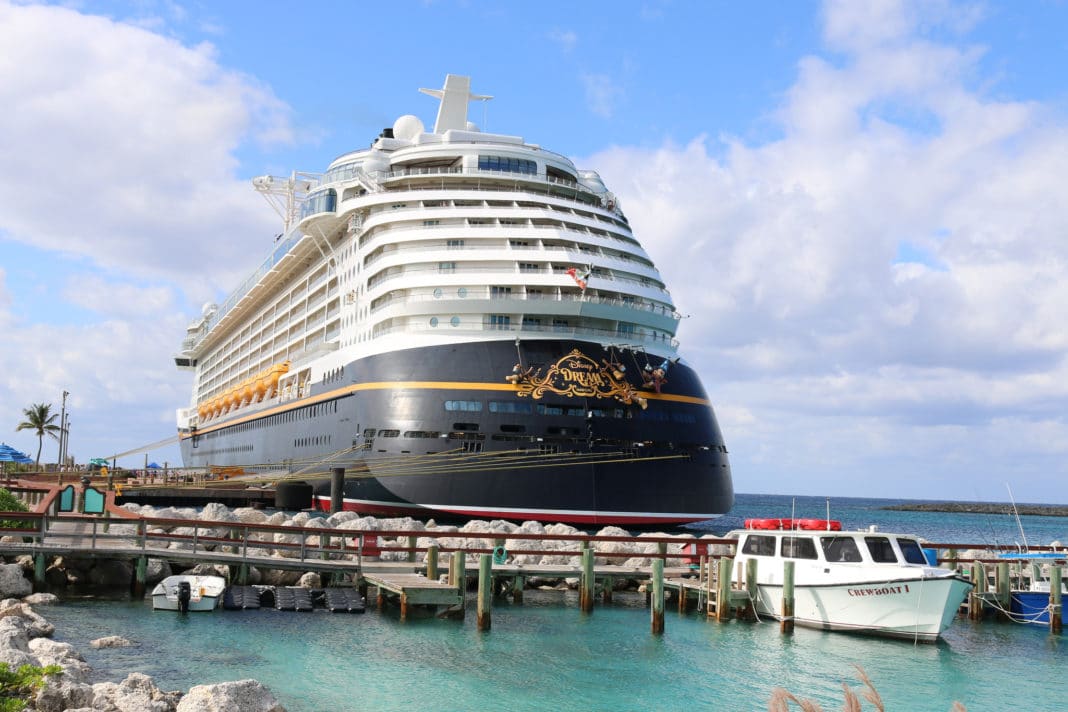 Credit: Flickr
When most people think of Disney, they cannot help but smile. On the Disney Dream cruise, you are sure to be smiling too. This ship debuted in 2011 and holds 2,500 passengers. If you have checked out our review of the Disney Fantasy, you will find striking similarities between the two ships. In fact, they are nearly twins. However, the Disney Dream cruise ship offers several different restaurants and entertainment options in comparison to its twin ship.
When aboard this cruise ship, all days are fun-filled and family-focused. Parents can spend their days relaxing while children whirl down waterslides, exhaust themselves on the basketball court, and splash into the pool. Classic in design, the Disney Dream cruise ship holds limitless possibilities within its structure. We cannot wait for you to see just how "Disney" the Disney Dream is.
Features & Benefits
Disney Staterooms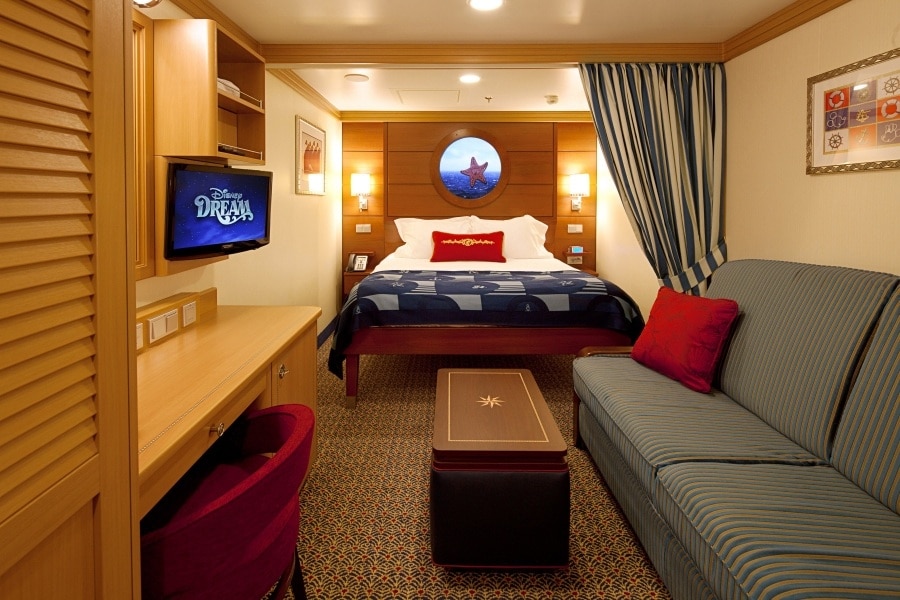 Credit: Disney
Stateroom options onboard the Disney Dream cruise ship include inside staterooms, oceanview staterooms, rooms with an additional verandah, and spacious concierge suites. Whether you choose a standard or deluxe room size, you will have plenty of space to relax and get comfortable in your stateroom. That is because Disney offers some of the largest standard rooms at sea. No more crowding yourself into tight cabin corridors. Rooms have a good amount of closet and storage space, and well as a TV and a mini-fridge (at least). So, choose your option of deluxe or standard, then choose your view (inside, oceanview, or veranda).
For the most extravagant suites on the Disney Dream, look into the concierge suites. Concierge suites can hold as many as 5 guests, so large families may find this option to be the best accommodation for them. Concierge suites also all have a verandah with patio furniture. The Concierge Royal Suite even has a whirlpool tub on the verandah!
Dining Options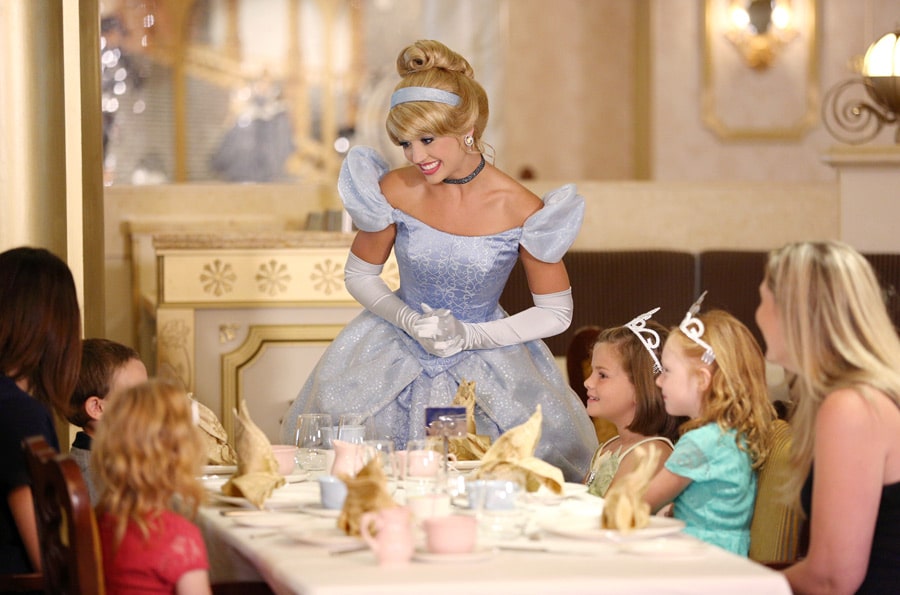 Credit: Disney
When you dine on the Disney Dream, you are bound to see (and eat) Disney-inspired dishes. You may find Mickey Mouse waffles, Donald Duck funnel cake, and cupcakes frosted with even more Disney characters. The creative dishes will keep your kids smiling, and the fact that the dishes are tasty too will keep both kids and parents smiling. On the Disney Dream, there are many places to eat.
If your little ones tend to get fidgety during dinnertime, one great option is to dine at Animator's Palate. At Animator's Palate, guests are served dinner and a show featuring their favorite Disney characters. Cabanas is another casual restaurant that provides fresh food and stunning views from the restaurant's floor-to-ceiling windows. Flo's Café is the place to grab speedy fast meals around the pool. Flo's Café has all of the typical poolside delights—burgers, salads, sandwiches, pizza slices, french fries, and more.Enchanted Gardens and Royal Palace and two large dining rooms that are sophisticated, yet also kid-friendly. Your kids will feel like princes and princesses when they enter these dining rooms. It will be like walking into a fairy-tale feast!
Parents, when you are desiring a quiet kid-free meal, check out Palo for Italian cuisine and Remy for French cuisine. Both Palo and Remy are adult-exclusive restaurants, meaning you have to be over 18 to enter. If you are on vacation with another family or two, we vote for couples to take turns dining in these intimate adult-only restaurants.
There is no shortage of sweets onboard the Disney Dream. Eye Scream Treats, Frozone Treats, and Vanellope's Sweets & Treats are three places dedicated to all things sugary and scrumptious. From soft-serve ice cream and Mickey frosted cupcakes to hand-scooped gelato, fresh waffle cones, and warm cookies, the Disney Dream is where all your foodie dreams can come true too.
Amenities & Activities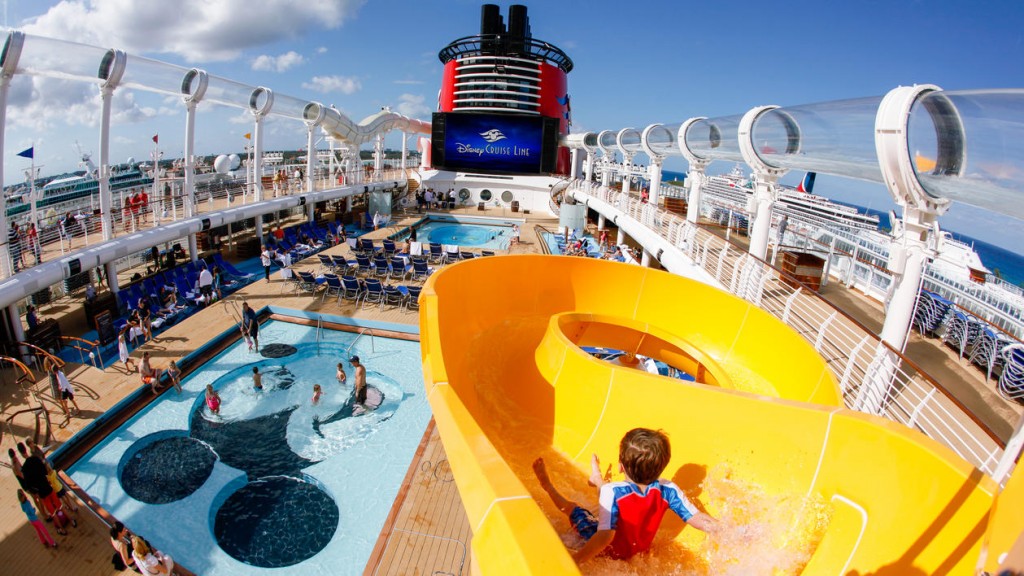 Credit: Disney
Speed down the AquaDuck waterslide. Play miniature golf. Shoot basketballs on the basketball court. There are many activities for kids to unleash all their energy on the Disney Dream.
Princesses-in-training, ages 3 to 12, are formally invited to join Cinderella and others for a tea party at Royal Court Royal Tea. Little princess will choose from an array of herbal teas and two tasty courses. We should note that dining with the real Disney princesses is a true honor. Therefore, it will cost children and adults an additional fee to attend this royal tea party.
Another activity for princess-in-training and princes-in-training is taking a trip to Bibbidi Bobbidi Boutique. At this salon, girls can get the full royal treatment with hairstyling, makeup, and a manicure, all done by your Fairy Godmother! When boys enter, they leave look like a knight in shining armor or a sea captain. Everyone will leave Bibbidi Boddibi Boutique transformed, special thanks to the help of your Fairy Godmother.
Adults, there are also amenities designed specifically for you. Visit Currents, the open-air bar on Deck 13. Attend beverage tastings that range from Amari tastings and beer tastings to Bourbon tastings, Champagne tastings, chocolate & liquor tastings, and so much more (check the daily onboard events for times and location for each). Visit Promenade Lounge for live music within a casual/classy atmosphere. Exercise at the fitness center. Find rest at the spa. Sit poolside at the adult-exclusive Quiet Cover Pool and Satellite Falls whirlpool. We are just scratching the surface when it comes to things to do on the Disney Dream cruise. To get a better sense of what's on deck, you'll have step onboard yourself.
Entertainment
Credit: Disney
Be… Our… Guest! Be our guest! Beauty and the Beast fans will be squealing with delight to find out that the musical production of Beauty and the Beast is taking center stage at the Disney Dream theater. Remember to pack your princess costumes because in the theater (and really anywhere on the ship) you and your royal attire are always welcome.
Depending on your itinerary, there may be a Pirate Night during your time on the Disney Dream cruise. If that is the case, remember to pack your eyepatches, hats, bandanas, and other pirate attire. You will be singing, dancing, and eating is jolly fashion during Pirate Night. For more singing and dancing, there are a number of youth clubs onboard the Disney Dream where kids/teens can let loose and have a great time meeting other cruisers.
What Travelers Are Saying About the Disney Dream Cruise
What are travelers saying? 5-stars. Not necessarily because the cruise is inexpensive or top-of-the-line in elegance, but because the kids love it. And if the kids or grandkids love it, parents and grandparents love it too. Travelers in the past have enjoyed the food, found comfort in their staterooms, and appreciated the adult-exclusive areas when they needed space away from all the noise. Many travelers also talk about how the ship may feel overcrowded and chaotic at times with kiddos in every direction, but that's what most expect on a Disney cruise. For some, the laughter of kids is music to their ears. For others, it is bothersome. Knowing which you are will inform you whether the Disney Dream is the cruise for you or not.
Alternative Cruise Ships
Disney Dream
The Disney Fantasy is the twin ship of the Disney Dream. The two are mostly the same, except for a few different restaurants and live productions at the theater. Itineraries and cruise destinations differ as well. If you like the sound of being on a Disney cruise, you may wish to consider the Disney Fantasy as well.
Allure of the Seas​​​​​
In comparison to the Disney Dream, the Allure of the Seas offers a more balanced blend of adult and kid activities. If the Disney theme sounds like too much of an overload for you, the Allure of the Seas may be a better option for you.
Regal Princess
Regal Princess is another alternative cruise ship that is much larger at a 3,560-passenger limit. That is without the 1,346 crew members. Needless to say, this ship is massive and offers many amenities and activities for the entire family.​
Stop Dreaming About the Disney Dream, and Go!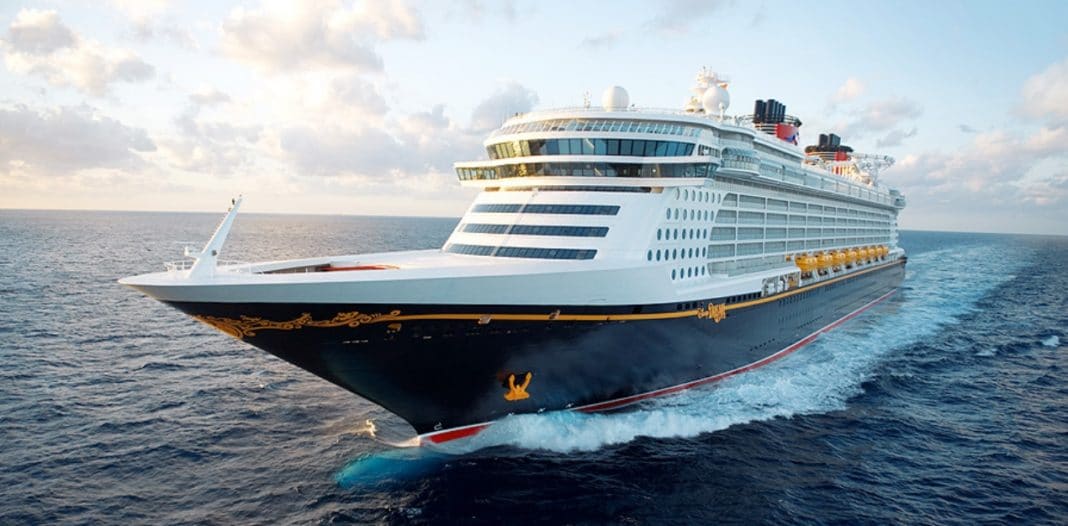 Credit: Disney
Are you ready to get your head out of the clouds and start planning your trip on the Disney Dream cruise? Whenever you are ready to commit, the Disney Dream will be waiting to make your dream come true. For Disney-loving children and Disney-loving adults (or parents willing to endear the festivities for the sake of their kids' enjoyment), consider sailing on this impressive, fun-filled ship.
Have you been on the Disney Dream cruise ship before? Share about your experience in the comments section below!
Related Article: ​Oceania Marina Review: Cruise Around the World in Luxury!​​​