Elevate your travel experience and stay in one of the best downtown Nashville hotels.
When you're traveling to a new city, you might not know about the best places to stay. In Nashville, tourists will find a huge number of hotels, from luxury to boutique accommodations. The city plays host to some of the top accommodations around the country. If you want to spend most of your time in the heart of the city, you'll want to stay downtown. Accordingly, we've compiled a list of the best downtown Nashville hotels to help you plan your trip. Read on below to learn all about these amazing accommodations and their various amenities.
1. Omni Nashville Hotel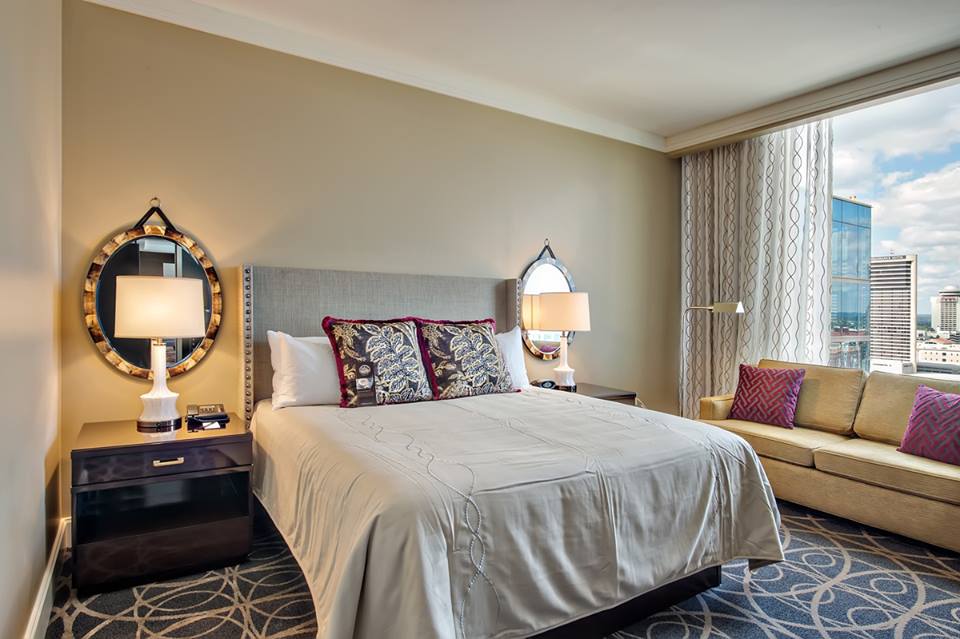 Credit: Facebook / Omni Nashville Hotel
If you're a traveler who loves music, book a room with the Omni Nashville Hotel. As one of the best downtown Nashville hotels, the Omni provides guests with exceptional rooms and amenities. The main draw for guests coming here involves the accommodation's celebration of the musically-oriented culture in the city. When you stay at this hotel, you'll get to be right across from the Nashville Music City Center. The location even remains combined with the Country Music Hall of Fame Museum on three levels.
Inside the Omni Hotel, you'll find the spaces to be modern and filled with Nashville character. Beyond a huge number of luxury suites, the hotel offers guests other amenities, such as a spa and fitness center. If you're hungry, you won't have to travel far either. The Omni contains multiple restaurants, including a gourmet dining location called Kitchen Notes, which serves Southern dishes.
2. Hilton Nashville Downtown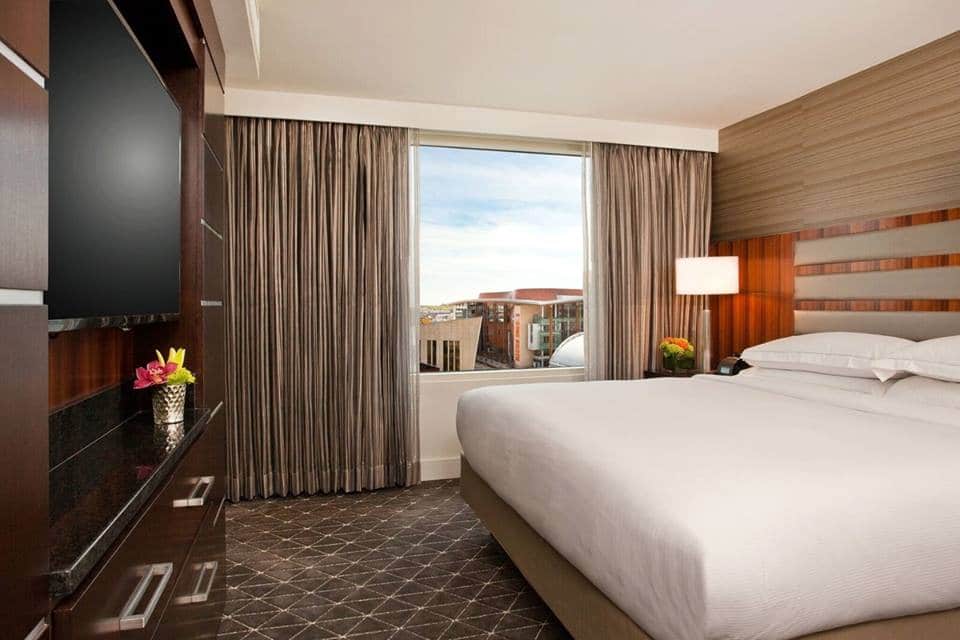 Credit: Facebook / Hilton Nashville
Found in the heart of the city, the Hilton Nashville Downtown allows tourists to experience real excitement during their stay. As far as downtown Nashville hotels go, you won't find another accommodation that's quite so central. Situated next to the Bridgestone Arena, you could easily see a show or performance while staying at this hotel. The Nissan Stadium can also be visited just a few blocks away, making it ideal for travelers who love sports.
The Hilton Nashville Downtown caters to every traveler's needs, whether they're staying for business or a family getaway. Luxury suites, complete with king-sized beds, pull-out sofas, and work stations, provide a great place to rest your head. Executive rooms may be booked for those with more expensive tastes, as the suites include living rooms and private baths.
3. Union Station Hotel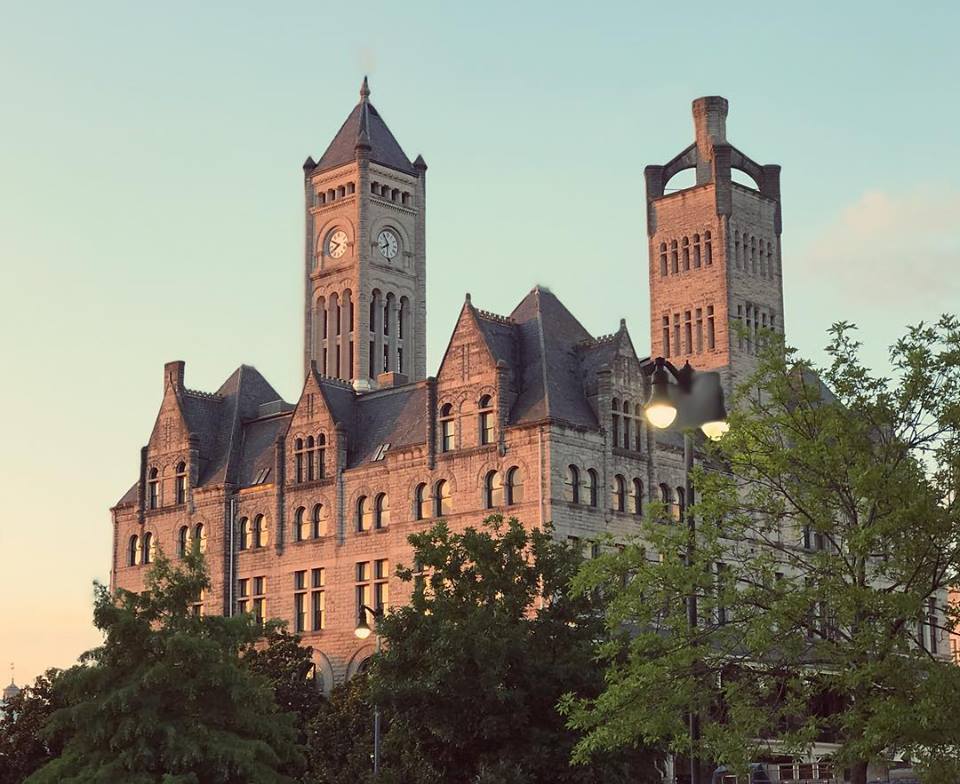 Credit: Facebook / Union Station
Travelers who love learning about history will want to stay in the Union Station Hotel. This accommodation boasts a unique past as the site of a refurbished 1800's train station. The architecture here will awe travelers, with the building's high vaulted ceilings and old stained-glass windows. When you walk inside the Union Station Hotel, you'll feel as if you've stepped back in time.
As one of the best downtown Nashville Hotels, Union Station combines elegance and history with tons of amenities and services. The rooms themselves maintain a classic, 19th century charm, while still including all the necessary contemporary features. When you come down into the lobby, you can order a drink and experience the glamour of the city. Art pieces, created by artists over many decades, also decorate the walls, creating a truly breathtaking appearance.
4. Renaissance Nashville Hotel
Credit: Facebook / Renaissance Nashville
If you're searching for the best Nashville hotels, look no further. The Renaissance Nashville Hotel can provide you with everything you need for an amazing staying experience. Located near the Bridgestone Arena, guests can sleep in cozy beds and wake up late to go see a concert. The Ryman Auditorium also remains in proximity to the hotel, so you may easily witness a great performance there. Once you step out of your hotel, you'll find a vast number of things to do while in Nashville. 
Travelers hoping to enjoy the best that this hotel has to offer should book an Executive Suite. The room provides enough space for large groups of friends to gather and spend time together. Inside the suites, you'll have access to a seating area and an unparalleled view of the city through floor-to-ceiling windows. Any tourists with allergies will be able to book a room that works with their sensitivities. The hotel includes Allergy Friendly rooms that have been especially cleaned and designed to eliminate any allergens for their guests.
5. Hotel Indigo Nashville
Credit: Hotel Indigo Nashville
The Hotel Indigo Nashville has the distinction of being a restructured bank, with its features hinting towards its original designs. One of the most unique downtown Nashville hotels, the Indigo Nashville contains various themed rooms that excite and inspire guests. Take a walk down the hallways, and you'll spot U.S. Postal drops from the original bank. The hotel's lobby maintains a printer theme, while the cool lounge feels reminiscent of a speakeasy.
While this accommodation remains centrally located in Nashville, you might never want to leave. The hotel provides entertainment to guests in the form of performances by local artists every night in the lounge. You don't even have to leave to get food, as the accommodation's on-site restaurant serves three meals a day. This hotel remains especially appealing to travelers who love their furry friends, as the location allows pets.
6. The Westin Nashville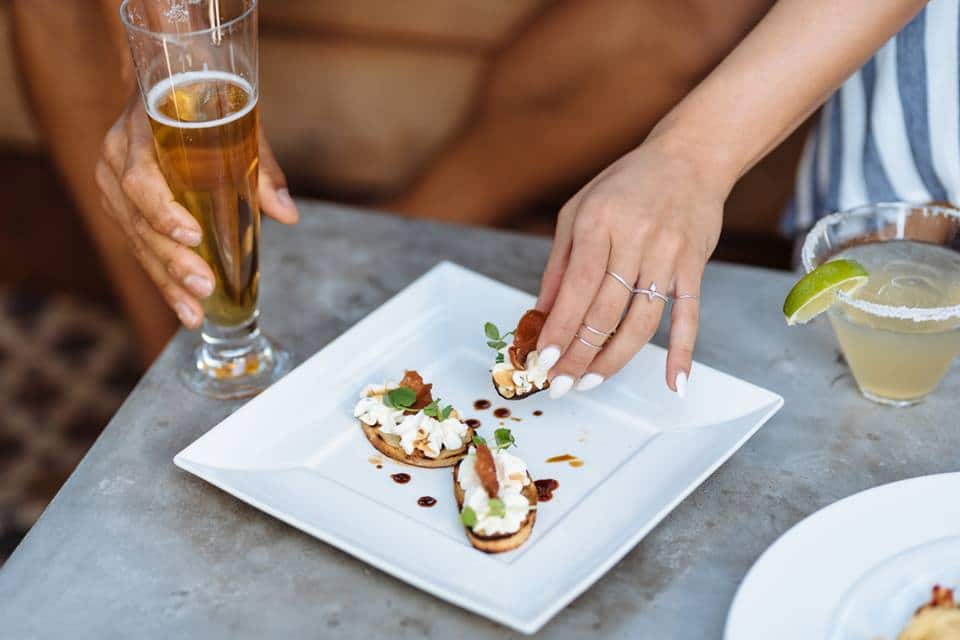 Credit: Facebook / The Westin
At the Westin Nashville, travelers will find themselves surrounded by some of the most beautiful spaces they've ever seen. The elegant décor and designs found at this accommodation provide the perfect backdrop for relaxing or gaining some Nashville inspiration. When you stay at this spot, one of the best downtown Nashville hotels, you'll get to experience real luxury.
Since this hotel stands nearby the Music City Center, guests can leave their rooms and be surrounded by music immediately. Travelers can feel a part of this musical city's glamour as soon as they step through the hotel entrance. If you want to truly pamper yourself, though, make sure to spend a few hours in the hotel's spa. The on-site, resort-style Rhapsody Spa will help you rejuvenate after long days of exploring. After your spa treatments, enjoy a bite to eat on the Westin's rooftop lounge. You'll get an amazing view of the city while eating some truly delicious meals.
7. The Germantown Inn
Credit: Facebook / Germantown Inn
Those who want to completely entrench themselves in Nashville's history may want to book a room at the Germantown Inn. The inn remains situated in one of the oldest buildings in the city, originally constructed in the 1860's. Now, the accommodation boasts six suites, each with a luxurious feel and enough space for guests to stretch out. As you look upon this building, you'll get to appreciate the charming brick exterior and high glass windows. While this hotel doesn't have the spaciousness of other accommodations, it still remains one of the best downtown Nashville hotels.
Apart from the quaint rooms with tall windows overlooking the city, the Germantown Inn also contains outdoors spaces to explore. The courtyard, filled with lush vegetation, will provide a retreat from the hustle and bustle of the city. Despite this accommodation's old origins, every room here maintains updated features and services. This means you won't feel slighted or lacking in necessary amenities when you stay here.
8. Hutton Hotel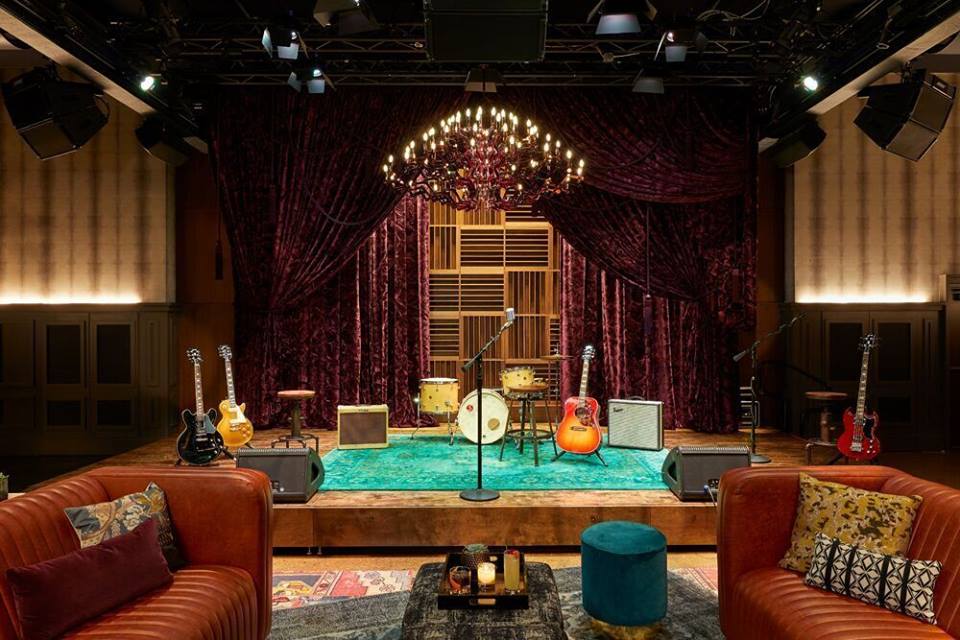 Credit: Facebook / Hutton Hotel
Situated nearby the famous Music Row, this Nashville hotel remains a music-loving traveler's dream accommodation. Guests can simply leave their hotel and walk straight into the heart of the city and its musical culture. Since the Hutton Hotel has a connection with the most renowned musical region of Nashville, they also host musical performances. You can attend live shows, performed by local and non-regional artists, almost every day of the week. Travelers won't even need to leave their hotels in order to experience Nashville's exciting musical talents.
The Hutton Hotel additionally provides a refuge for creative travelers, such as those who write music or other written works. Writers Studios inside the accommodation allow creators to work on their craft in peace during their stay. This hotel even takes Southern hospitality to another level by providing an on-site restaurant that serves authentic Southern dishes. If you want to experience real Nashville culture, do make sure to stop by the city's best restaurants as well. Once you visit this spot, you'll understand why it's one of the top downtown Nashville hotels.
9. Thompson Nashville
Credit: Facebook / Thompson Nashville
Perhaps the most luxurious accommodation on this list, the Thompson Nashville makes guests feel sophisticated and pampered. If you're searching for the best boutique hotels, choose to book a room at this location. While staying here, guests will feel embroiled in the fascinating, vibrant culture that runs rampant in the city. Rooms at this location feel warm and rich, due to the use of deep wood features and plush furnishings. You may just want to stay in your hotel and sip a few drinks instead of exploring the city.
Any travelers who prefer to remain in their hotels for meals will have no trouble finding sustenance while here. At the Thompson Nashville, visitors may choose from multiple on-site restaurants, depending on their specific tastes. With Marsh House, guests will receive plates of fresh seafood and dishes that combine traditional and contemporary Southern flavors. If you want a breathtaking view of Nashville, head up to L.A. Jackson, the hotel's rooftop bar. Once there, guests may sip refreshing cocktails and share plates of yummy bar snacks with friends and family. You'll definitely want to consider staying at this location, as it represents one of the best downtown Nashville hotels.
10. Downtown Nashville Sheraton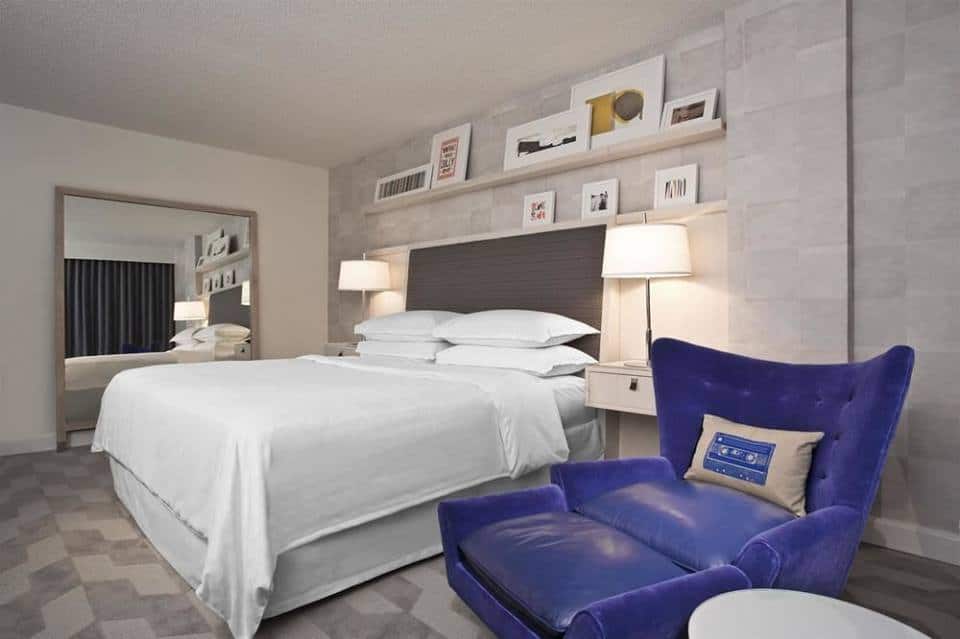 Credit: Facebook / Nashville Sheraton
When you book a room with the Downtown Nashville Sheraton, you'll get to retreat to an elegant, vibrant space. As one of the top downtown Nashville hotels, the accommodation offers a huge variety of amenities and services to guests. The massive lobby, with bright walls and lots of light, allows family and friends to spend time together in peace. Travelers who enjoy exercising during their vacations can work out to their heart's content in the hotel gym. Or, take a relaxing dip in the indoor pool and cool off from the heat of the city.
The rooms found at the Downtown Nashville Sheraton look attractive, yet simple. Calming colors like gray remain key features in these spaces, so you'll find it easy to get some rest. Massive windows offer lovely views of the downtown area, letting you see the city from a whole new perspective.
Book a room or two with the top downtown Nashville hotels.
If you're looking to visit Nashville, finding the best hotel for you can be a challenge. Those who want to stay in the center of the city should book rooms with the top downtown Nashville hotels. This will ensure that you'll be right near the action and the best shops, restaurants, and bars in the city. Depending on your specific wants and needs, different hotels provide a vast array of amenities. The best downtown Nashville hotels offer lots of services, features, and perks to tourists. Wherever you go in the city, you'll find an accommodation that fits your tastes. Hopefully, our article has helped you discover your ideal Nashville hotel.
Related Article: 9 Best Hotels in Chicago