We've found the best hotels in Chicago with all the amenities you could hope for. Now this is something worth writing home about.
The best hotels in Chicago span a wide spectrum. Whether you want the VIP treatment complete with spas and swanky rooftop bars or something more simple like a unique boutique stay, you'll find it all. Nowadays, you're not restricted to just staying in downtown or smack next to the airport.
With so many great choices, it's easy to feel overwhelmed in your search for the right place to stay. That's where we come in. We've scoured the Windy City for the best places to stay. You'll find spacious rooms, excellent restaurants, attentive service, and more. Let's go.
Here Are Our Picks for the Best Hotels In Chicago
All of these hotels offer something unique and special for the guests. We're going to be exploring luxury hotels, boutique stays, and everything in between. We're sure the perfect fit for you is on this page.
1. Kimpton Hotel Allegro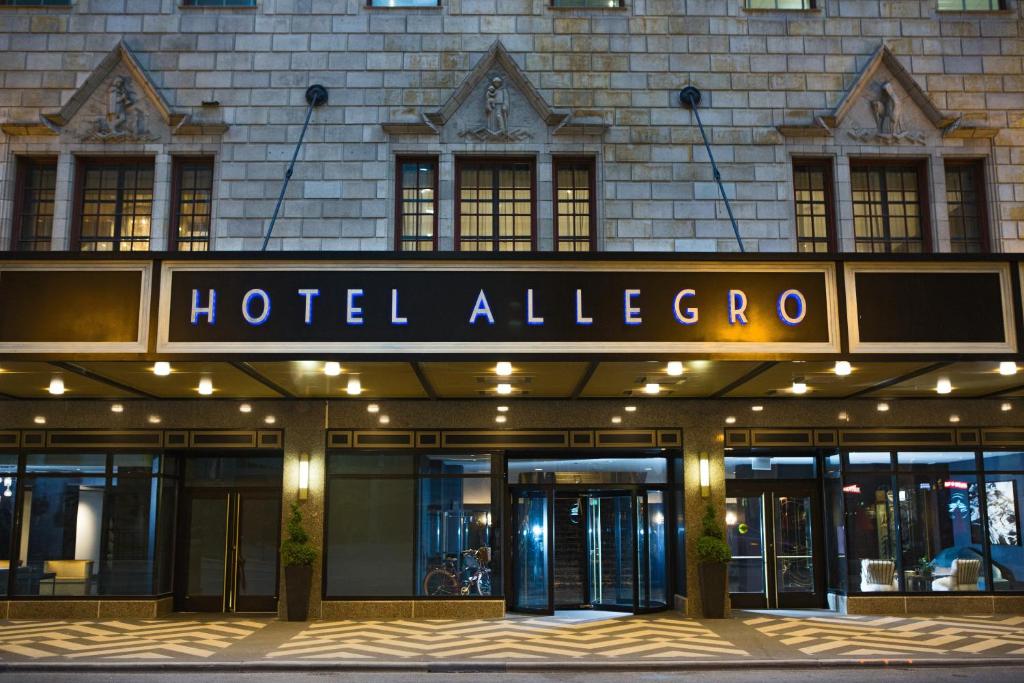 Credit: Hotel Allegro
Come and enjoy this gem in the heart of the city's Theatre District. Luckily for you, the Kimpton Hotel Allegro is surrounded by the Loop's and Downtown's best activities and events. Take a step through their doors and you'll be instantly transported to an old world feel of elegance and glamor.
This Chicago Loop hotel offers the perfect place to rest your head. Comfy rooms offer a chic Art Deco design and vintage ambiance. They are the perfect place to unwind after spending a day roaming the city and taking in the views. With the addition of ample suites and the cruise ship-inspired Queen Deluxe and Double Double Deluxe stays, you've got yourself a recipe for one of the best hotels in Chicago. Choose from three type of guest rooms or three types of specialty suites. As if that wasn't enough, the hotel also offers a fitness center, in-room spa services, and is pet-friendly. What more could you ask for?
2. Omni Chicago Hotel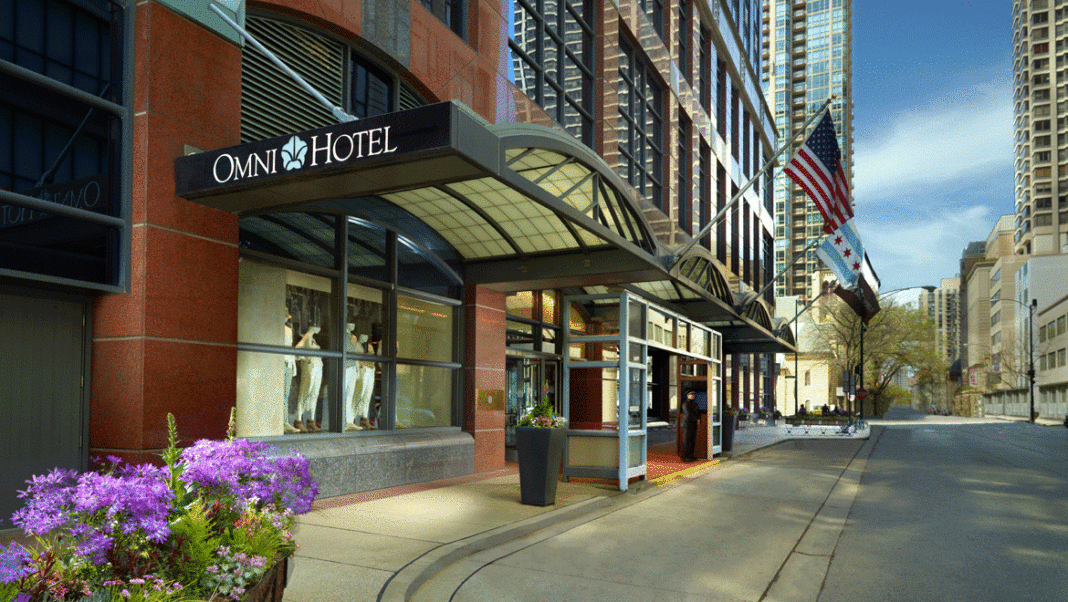 Credit: Omni Chicago Hotel
Now this is luxury. Elevate your travel routine in the heart of the city with a stay at the Omni Chicago Hotel. Check into the only all-suite luxury accommodations on Michigan Avenue.
Following an $11 million renovation, the hotel offers upgrades to all public space as well as newly appointed guest suites. They've also reimagined 10 specialty suites for travelers who desire even more space to spread out. Choose from six different types of suites as well as ADA accessible rooms.
While you're in the city, take advantage of Omni's prime location. Shops, parks, museums, and music venues are just a stone's throw away. Dine at the critically-acclaimed 676 Restaurant, famous for its dramatic views of Chicago's Magnificent Mile; the 676 Bar and Lounge is amazing too. Explore the Art Institute of Chicago or take a stroll along the scenic lakefront. Everything is at your fingertips.
Channel your strength and wellness at the fitness center. When you're ready for some true R&R, take a dip in the indoor swimming pool or soak up some rays on the two outdoor sundecks. A walk in the rooftop garden is always a lovely way to end the day. Omni is truly one of the best hotels in Chicago.
3. Sofitel Chicago Magnificent Mile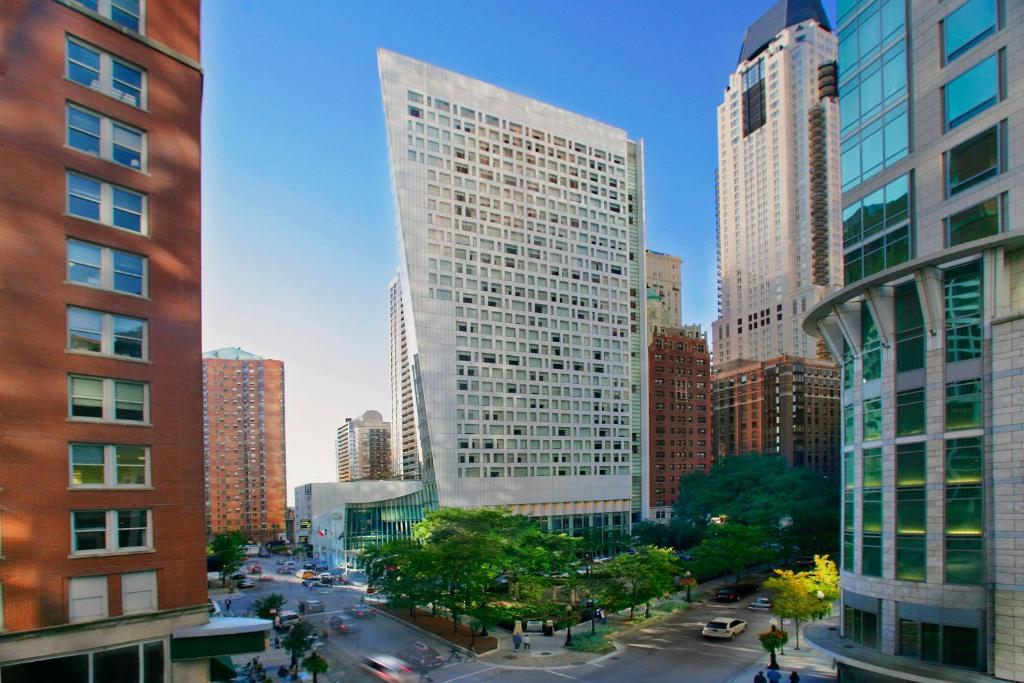 Credit: Sofitel Chicago Magnificent Mile
Upscale accommodations await you just minutes away from the the Magnificent Mile, Navy Pier, Museum of Contemporary Art, Lake Michigan, and many affordable boutiques and restaurants. Come and see the real architectural star where skyscrapers were invented. Discover the finest the Windy City has to offer.
Sofitel is one of the best hotels in Chicago. Designed by French architect Jean-Paul-Viguier, this 32-story prism of glass features stunning views of the city skyline and Lake Michigan. Choose from 415 rooms on 32 floors including 32 suites and one presidential suite. When you're ready for a bite, head on over to the hotel's restaurants and bar. Here, you'll enjoy a taste of France. From designer decor to housemade charcuterie, Sofitel brings Parisian fare to Chicago.
4. Silversmith Hotel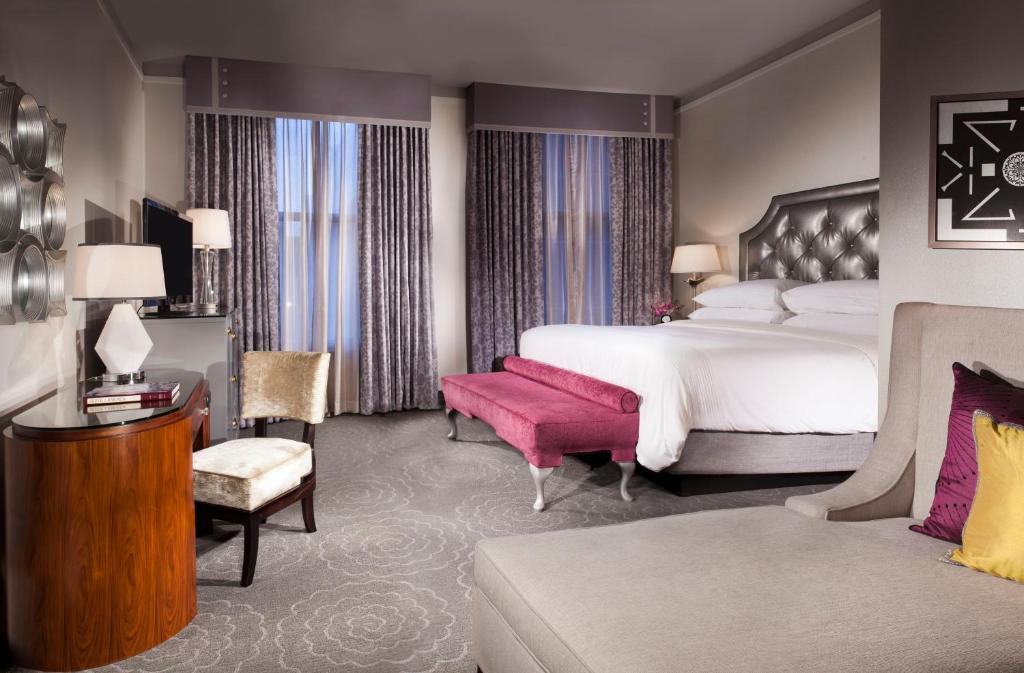 Credit: Silversmith Hotel
Come and partake in an alluring experience for the sophisticated traveler; Silversmith is one of the best hotels in Chicago. Just steps away from the city's big attractions, Silversmith Hotel's central location makes it a great choice for those seeking nothing but the finest in art, culture, and sports. Here, contemporary designs are juxtaposed with contemporary architecture. Each of the spacious rooms feature 12-foot high ceilings and free wifi.
An attentive staff are ready to meet your every need from 24 hour parking to lounge service in their popular restaurant, Adamus. Book your stay at the Silversmith Hotel and take part in exciting local events like Lollapalooza, Chicago Jazz Festival, Chicago Blues Festival, Taste of Chicago, and the Chicago Air and Water Show.
5. Wyndham Grand Chicago Riverfront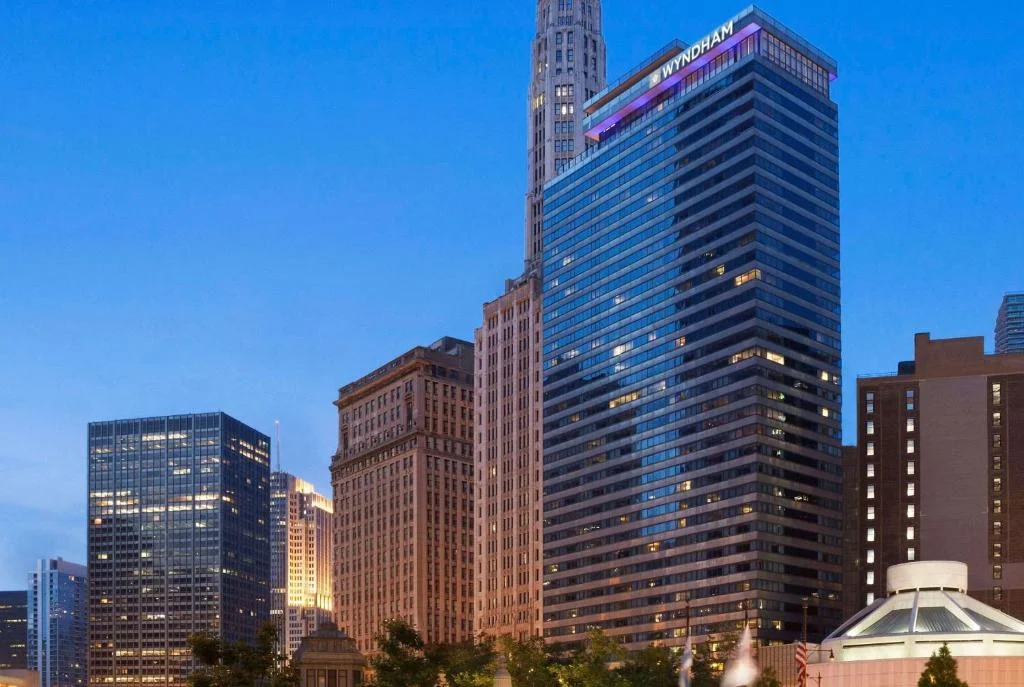 Credit: Booking.com
Grand memories await you. Plan your perfect escape at Wyndham Grand Chicago Riverfront. Ideally located by all the action, this lovely hotel is the perfect home base to explore the city. Sweeping skyline and river views are available throughout the hotel – from spacious guest rooms to the Grand Ballroom. An experienced tavern cuisine with a twist is the perfect place to grab a bit and some drinks in the evening.
Escape the hustle and bustle of life with thoughtfully-appointed rooms. Refined decor, custom hardwood finishes, and fine furnishings come together to combine elegance and comfort. Flat screen televisions, iPod/iPhone charging stations, and complimentary wifi, are all ideal touches. For ADA accessible accommodation, please visit the hotel's website. Choose from two types of suites, five guest rooms, and pet-friendly rooms.
Stunning views, elegant spaces, and unparalleled service are just a few reasons why you should choose this hotel for your next stay in the Windy City. Exciting attractions like the Magnificent Mile, Navy Pier, and Millennium Park are just a short stroll away from their front doors. Grab yourself a cup of coffee at one of the local joints and go make the most of your day.
6. Club Quarters Hotel Wacker at Michigan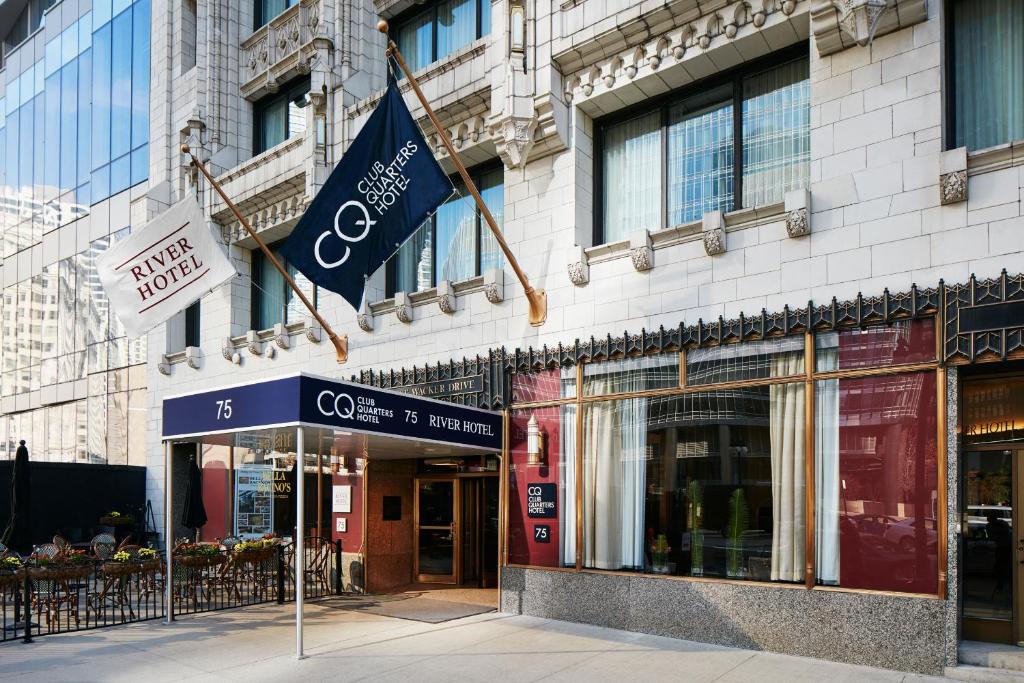 Credit: Booking.com
Have you ever seen a more fantastic riverfront location? Just one block south of the Magnificent Mile, the Quarters Hotel location mixes modern accommodations with a lovely historic setting. You'll find the Club Quarters Hotel Wacker situated in the Neo-Gothic Mather Tower. Guests love being just steps away from Grant Park, theaters, the Museum of Contemporary Art, and Willis Tower. Choose from three types of guest rooms, one suite, and one deluxe studio.
When you're ready to wind down after a day chalk full of exploration, options abound. Dive deep into Italian cuisine at the classic Italian cuisine, Bella Bacino. The Club Living Room also offers wine each evening from 5 PM to 6 PM. Chardonn-yay! Do you prefer to stay in? You can order food directly to your room from local restaurants via Seamless, an online delivery service. It's easy to see why Club Quarters Hotel Wacker is one of the best hotels in Chicago.
7. Kinzie Hotel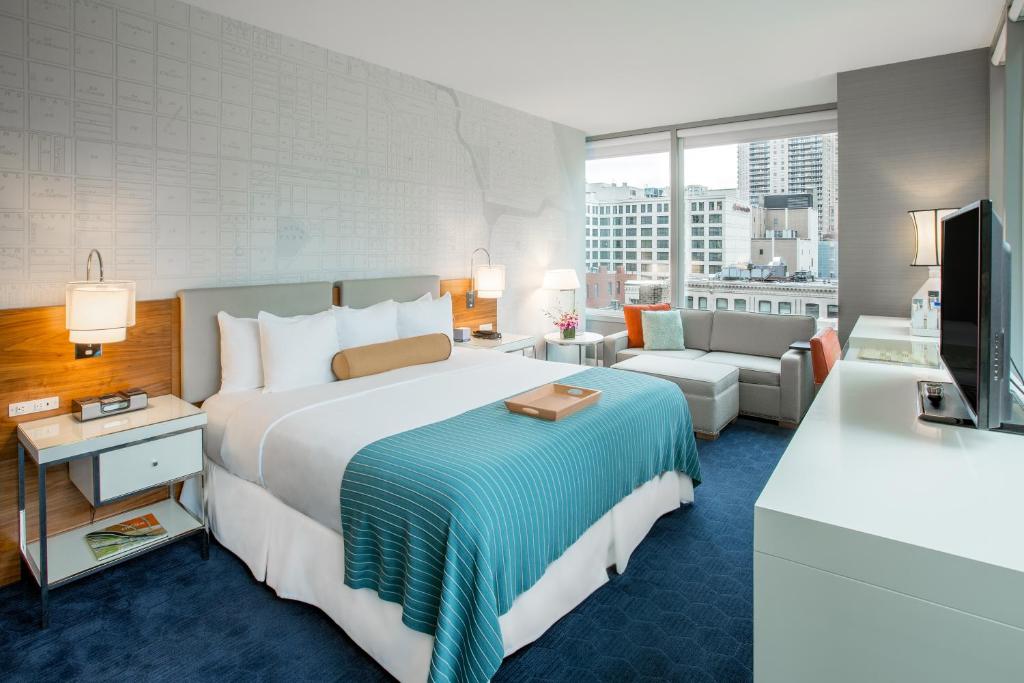 Credit: Booking.com
Chicago starts here. Nestled among an iconic skyline, Kinzie puts guests front and center in a lovely hotel and dining scene. Just outside, world-class museums and landmarks await. Whether you're coming for urban exploration, high-end shopping, or to catch a ballgame, Kinzie Hotel offers the perfect place to start planning your city excursion. It's both family friendly and pet friendly.
Let's take a look at the rooms, shall we? Retreat to the style and comfort of this urban sanctuary during your stay. Kinzie offers inviting, modern accommodations complementing the city's bold, adventurous, and unique aesthetic. Enjoy the casual luxury of your boutique inspired rooms, take advantage of a myriad of thoughtful amenities, and refuel with some locally-roasted coffee. Each of their room styles offers something unique, tailored to guests' needs. Choose from three types of guest rooms, one suite, and ADA accessible accomodations.
Last but certainly not least, Kinzie Hotel offers a great variety of in-house dining options that embrace River North's famous restaurant scene. During your in the neighborhood's premier boutique hotel, you'll enjoy:
Deluxe Continental Breakfast with Fresh-Baked Pastries, Locally-Roasted Coffee, Fresh Fruit, and more

Chicago-Brewed Beer, Great Wines, and an Assortment of Salty and Sweet Bar Snacks at the Double Cross Lounge's Nightly Manager's Reception

Refined, Inventive Room Service from Public House Chicago

check

Late Night Room Service Menu with Craveable Midnight Snacks
Breakfast hours and lounge hours can be found on the hotel website.
8. Virgin Hotels Chicago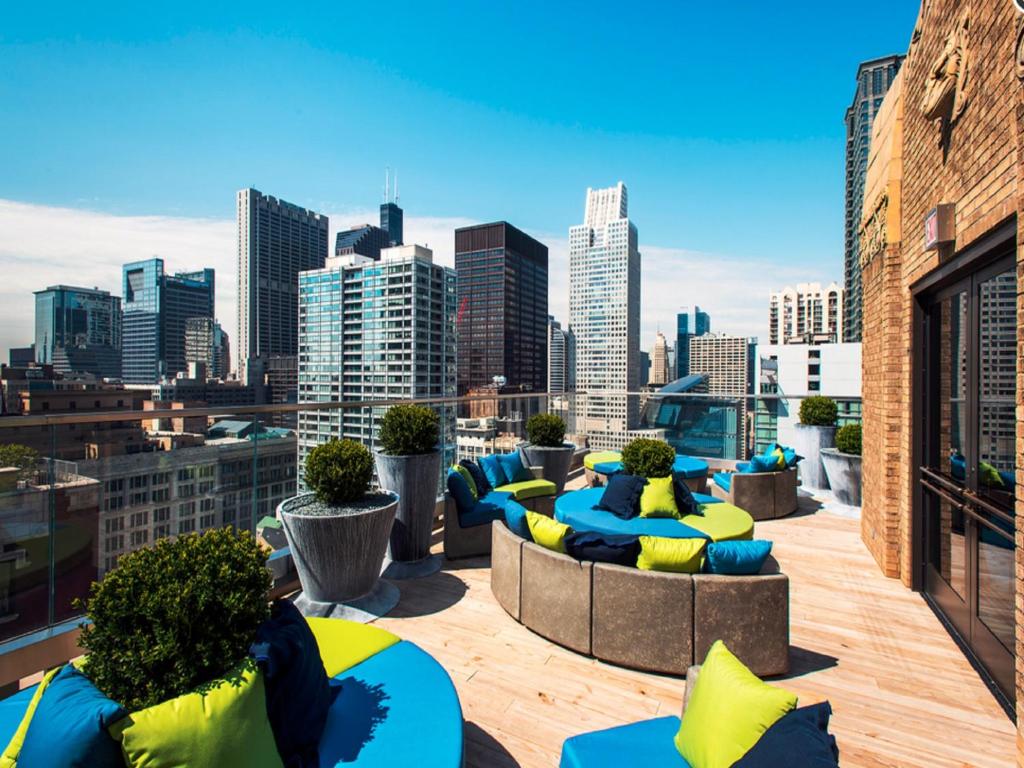 Credit: Booking.com
Let's be real here. Most of the best hotels in Chicago are in the Loop. Find your place in the city. Virgin Hotels are here to bring back the fun; they've reimagined not only what a boutique hotel should look like but also what it should do. This stay offers a rare combination of Virgin's unrelenting dedication to the guest experience and a new standard of hospitality and heartfelt service among the local hotels. Want to know the best part? They're just getting started.
Slip into something a little more comfortable with Virgin Hotel's rooms and luxury suites. They might be the new kid on the block but we swear they have one of the best hotels in Chicago. What sets them apart? Virgin focuses not only on how their accommodations look but also on how they work. Moreover, they've created two lifestyle rooms in the Dressing Room and
Sleeping Lounge. Choose from either Chambers (1 king or 2 full beds) or Suites (a bit of extra space and extra brilliance).
9. The Peninsula Chicago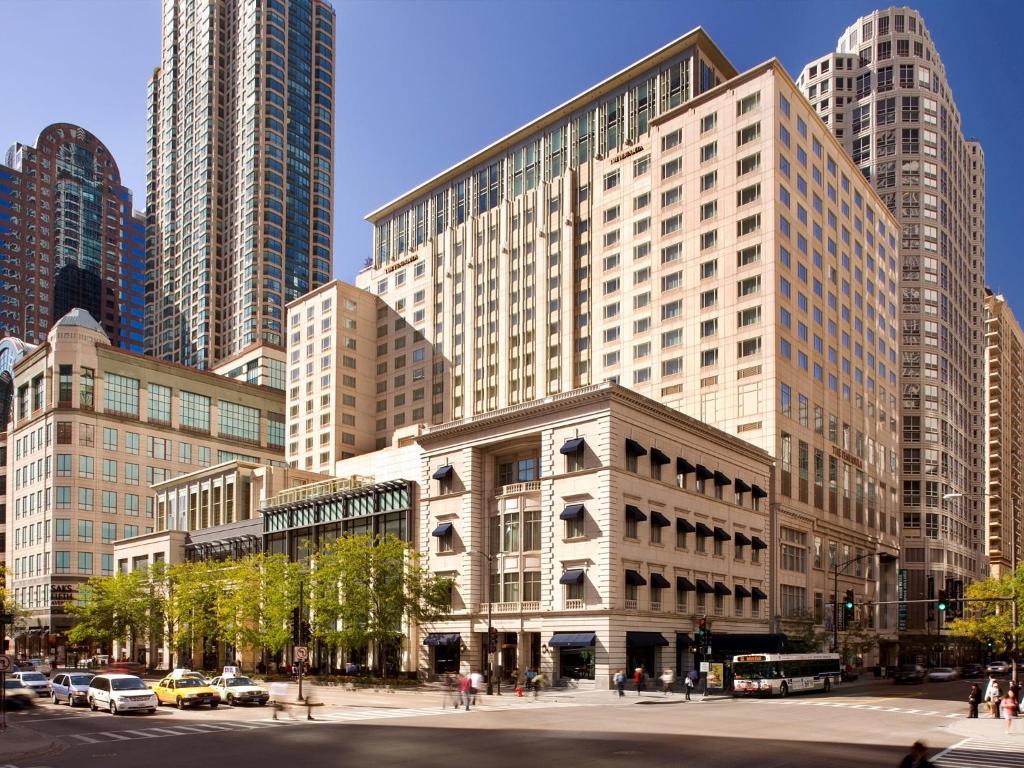 Credit: The Peninsula Chicago
This five-star hotel introduced traditional Asian service to a city renowned for its hospitality. The Peninsula Chicago has become an integral part of the city, considered a top choice from everything from accommodation to celebrations and everything in between. The hotel credits its strong links to the local community and international heritage.
Since opening their doors in 2001, the Peninsula Chicago has received numerous accolades including the prestigious Forbes Five Star and the highly-coveted AAA Five Diamond awards every year. The hotel's prime location, service, and luxurious rooms and suites make it among the finest hotels in the country.
When it's time to choose your accommodations, you'll have plenty of options. Choose from five types of rooms and seven suites. The magic doesn't end there. Dining offers nothing short of exceptional service at three award-winning restaurants. From classic European food to Chinese fare, this hotel's cuisine runs the gamut of delicious options. The food and service are so delightful, they'll keep you coming back for more. The Peninsula is one of the best hotels in Chicago.
Book Your Stay At One of the Best Hotels In Chicago
We hope you enjoyed reading our feature on the best hotels in Chicago. This city truly has so much to offer guests. Whether you're seeking adventure, urban exploration and some good drinks, or simply some R&R, the Windy City offers it all and more.
Do you have any favorite hotels in Chicago that were not featured on our list? Perhaps, you have some questions or comments for us. Whatever's on your mind, we'd like to hear it. Let us know your thoughts in the comment section below.
Related Article: Best Hotels In Las Vegas For Luxury, Partying, And Relaxation