Where White-Washed Villas Meet Cobalt Blue Seas
There's no question as to why Santorini is a must for travelers and adventurers alike. The sky and sea are literally the limit to opportunities to be had on this romantic island. Santorini's white-washed Cycladic houses will take your breath away, and the food is a whole different story. Santorini's capital, Fira, offers some of the best views you'll find on the whole island. With everything ranging from high-class bars to bougainvillea draped coffee shops, boring has no place in Santorini. With so many fun things to do and see, you'll certainly get tired and will be looking for a place to stay that's just as exciting. Look no further than Aria Suites, as they offer just about as much as a gorgeous 5-star Cycladic hotel in Santorini could. After just one look at Aria Suites, you'll be hooked.
Let's Talk Accommodations
Suites
Tosca Suite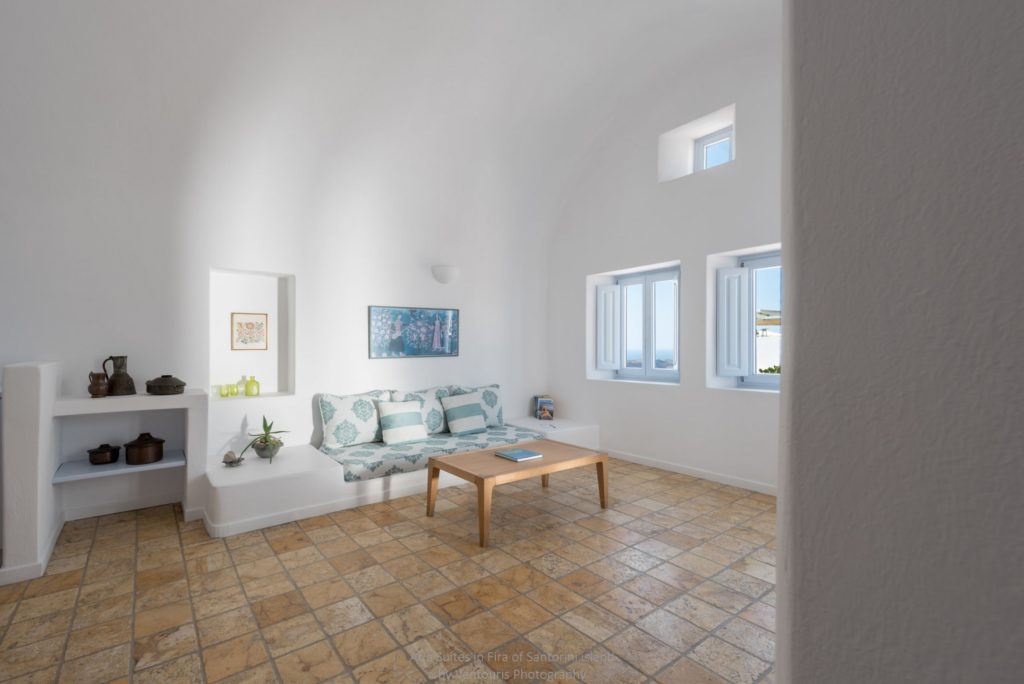 Credit: ​Aria Suites
Ranging from small to large, Aria Suites offers suites of all varieties. The Tosca Suite has a bedroom and features a massive king-sized bed. You'll also find a large living space and a bathroom with a shower and bath, as well as a fully stocked mini bar. And of course, no Santorini hotel would be complete without your own private terrace with a breathtaking view of the Aegean Sea. The sofa also sleeps one full-sized adult, so a total of three adults can share this suite. One of many cool-factors that Aria Suites offers is their A-La-carte American Champagne breakfast served from your own balcony. You'll be hard-pressed to find such a unique breakfast experience outside of Aria Suites.
Norma Suite
Credit: ​Aria Suites
Stepping things up a notch, Astra Suites' Norma Suite has not one, but two bedrooms both complete with king size beds. There's also a living room, full bathroom with shower and bath as well. And for all of you that are constantly hungry, a fully equipped mini bar is available for the snacking. Going the extra mile ensuring Astra Suites takes care of every guests' need, you'll find bathrobes and slippers in the bathroom. This suite is perfect for accommodating four adults, or even a small family.
Aida Suite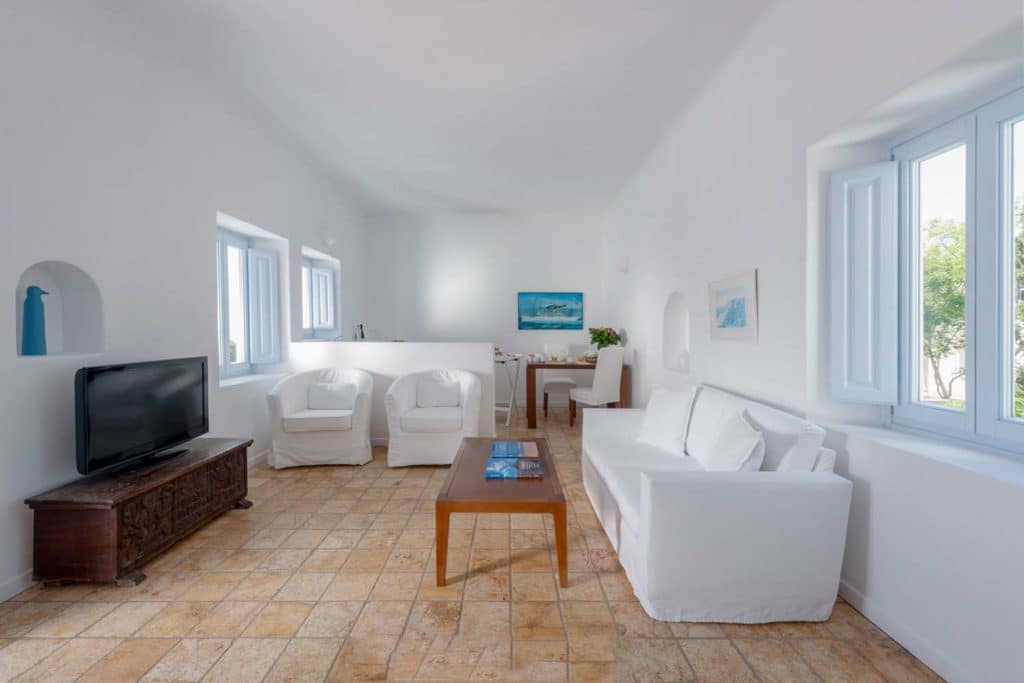 Credit: Aria Suites
Slightly more furnished yet smaller, Aria Suites' Aida Suite has one bedroom with a king size bed, yet a massive living space. The private terrace offers stunning views of the volcanic Caldera, and the turquoise walled en-suite bathroom offers ultimate relaxation. While the king size bed is fitted with luxury cotton-satin bed linen with a microfiber duvet, the sofa sleeps another adult.
La Boheme Suite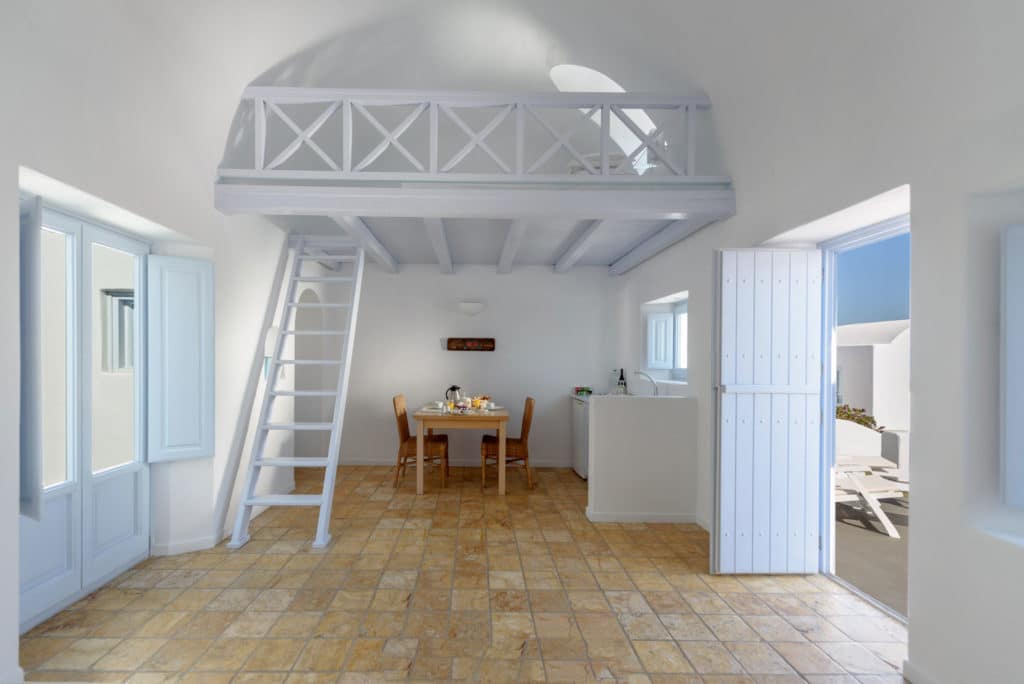 Credit: Aria Suites
Boasting two bedrooms, one with a king, and one queen situated in a loft, Aria Suites La Boheme Suite offers a more exuberant vibe. The La Boheme Suite has a private terrace that has chairs and a table for the A-La-carte breakfast. This suite is perfect for a group of friends or a family, as it comfortably sleeps 4 people.
Rigoletto Suite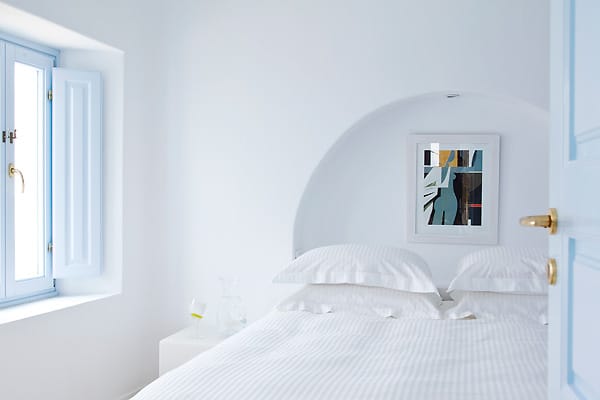 Credit: Aria Suites
While the Rigoletto Suite doesn't differ much from the rest of Aria Suites, it does offer an impeccable view from its private terrace. While there is one bedroom with a king size bed, the Rigoletto Suite can also sleep a child up to 7 years old, Aria Suites says.
Carmen Suite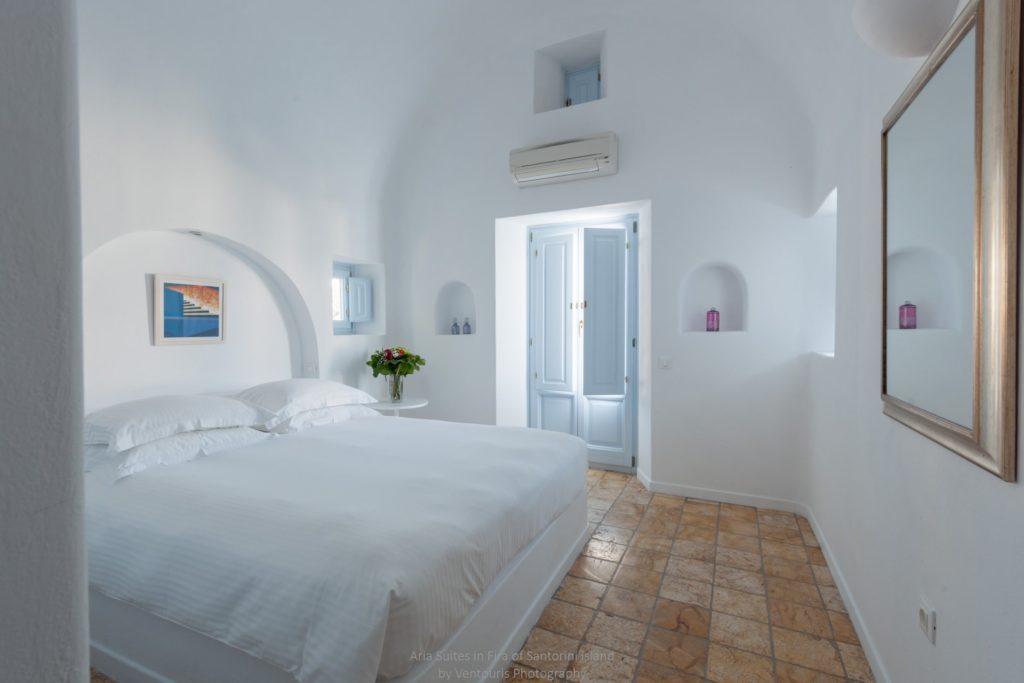 Credit: Aria Suites
The top of the line of all Aria Suites is the Carmen. With two bedrooms both with king size beds, the Carmen suite offers the maximum space. While the suite does have a private terrace, it's situated right in front a pool that offers impeccable views of the Aegean Sea. Of course, you'll find the same luxuries in this suite as the others. You'll find luxury cotton-satin bed linens, Korres bathroom amenities, bathrobes and slippers, a fully stocked mini-bar, fridge, and countless others. One small touch that Aria Suites added that made all the difference was the completely sea-blue bathroom. While all of the other suites feature vibrant tones, the Carmen Suites' bathroom really stands out.
Villas
Fidelio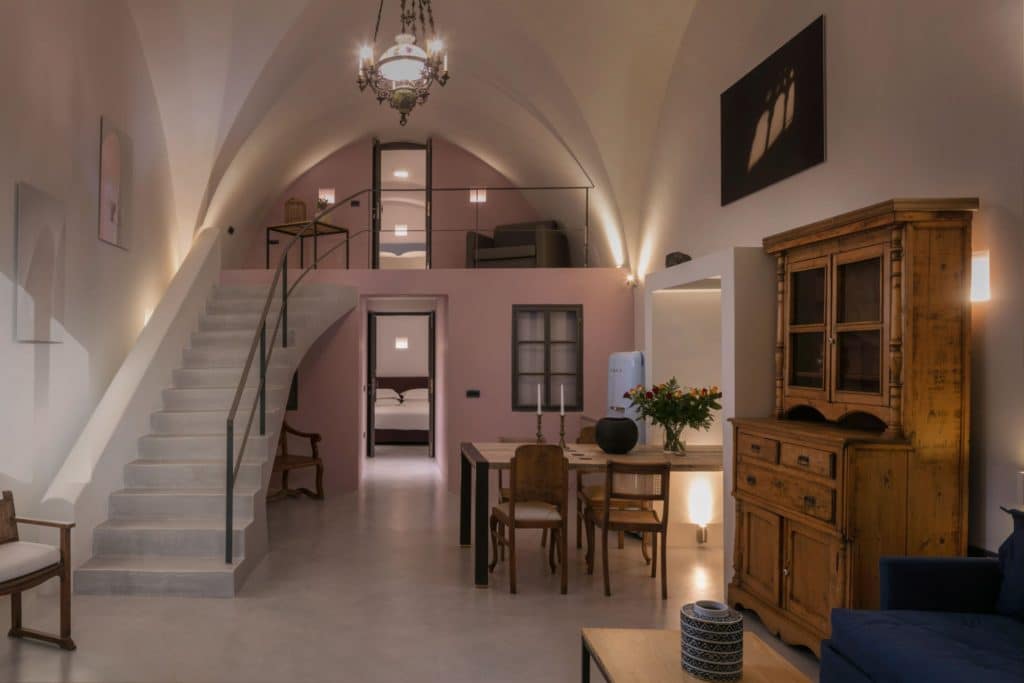 Credit: ​Aria Suites
For those looking for the best bedroom views in Fira, don't overlook the Fidelio Villa that Aria Suites has to offer. The Fidelio Villa is also the most decorated, with fine accents, like its central chandelier. The Fidelio has a private heated jacuzzi outdoors as well as its own private patio. If you're looking for the most exquisite experience that Aria Suites has to offer, the Fidelio Villa just might be for you.
La Traviata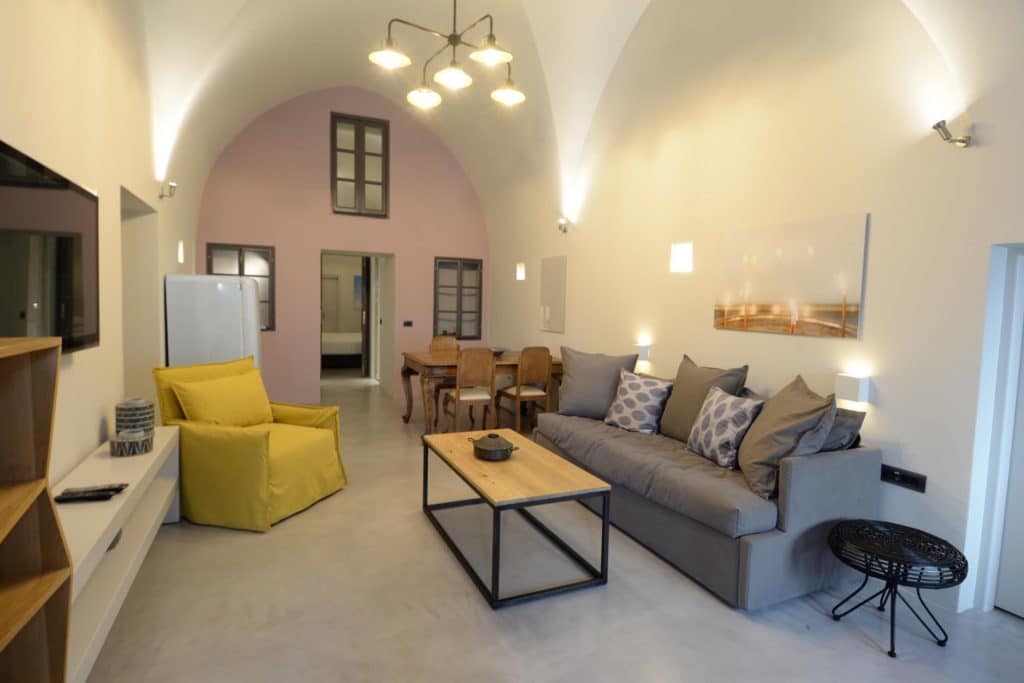 Credit: ​Aria Suites
Showcasing Santorini design at its finest, Aria Suites hit a home run with its La Traviata Villa. This villa boasts two heated Jacuzzis, one inside and one outside. The indoor Jacuzzi is located inside a cave with dimmable color-changing lights. The en-suite bathroom also impresses with its uniquely shaped interior. The La Traviata Villa sports modern furniture which pairs perfectly with its Cycladic interior.
Dolce Far Niente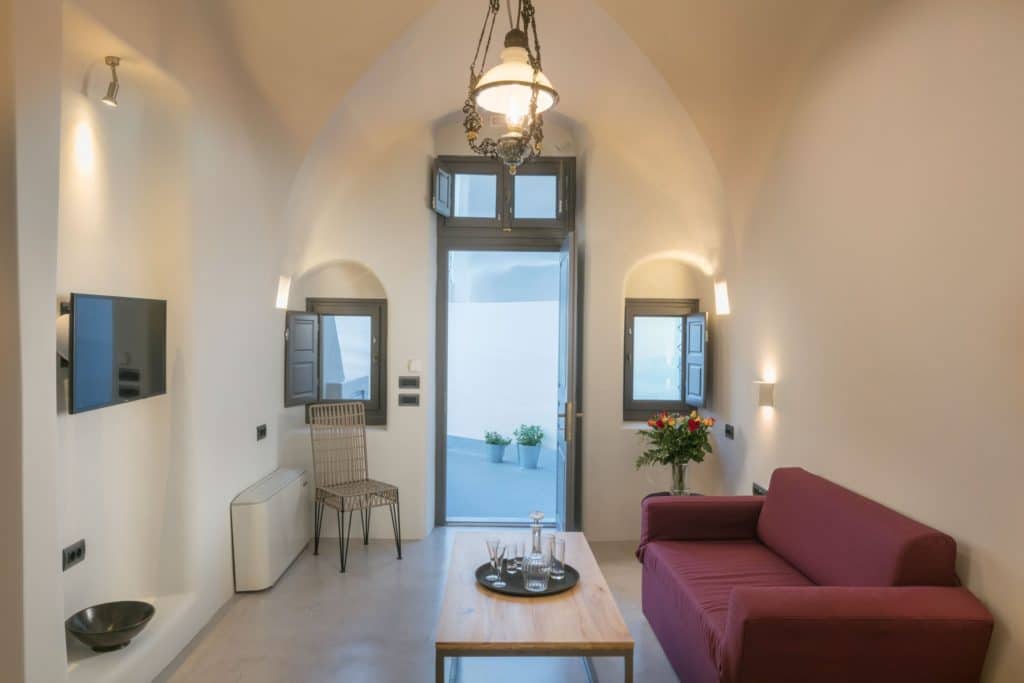 Credit: Aria Suites
This Villa may be smaller in size but certainly doesn't lack personality. Its private heated Jacuzzi and terrace make for an idyllic laidback afternoon. You'll find two bedrooms in this Villa, as well as a full sized sofa.
La Vida Breve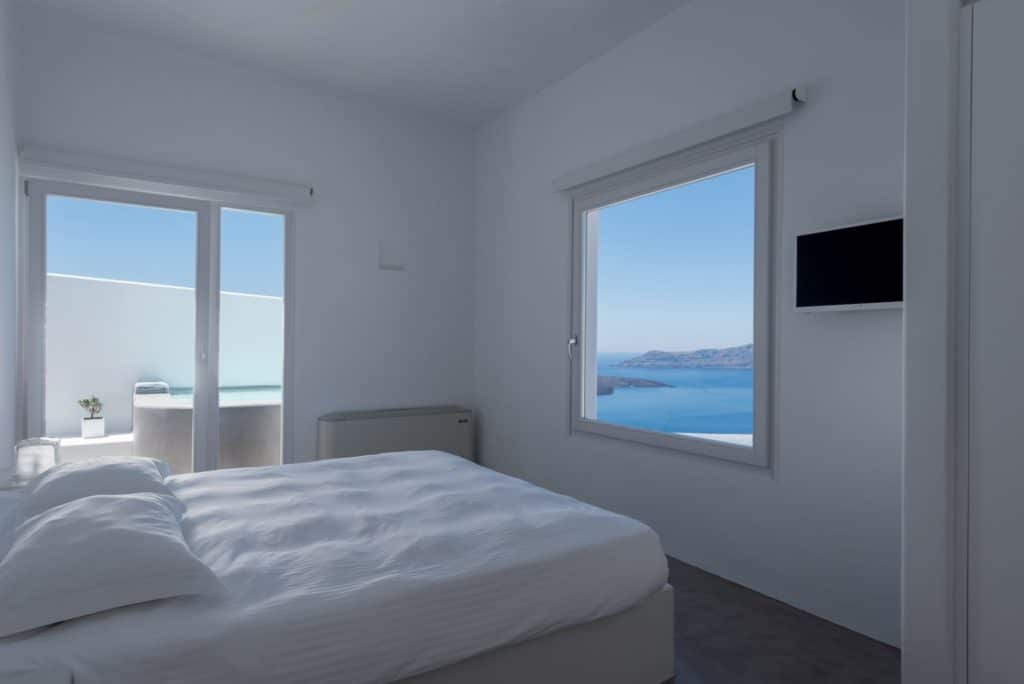 Credit: Aria Suites
Opened only a couple years back in late 2016, La Vida Breve approaches a fresh take on the Cycladic hotel scene. At a whopping 60-sqm, this villa is located just around the corner from the Aria Suites. With complete privacy, you can enjoy unobstructed views of the volcano as well as the sea. The bedroom also features a panoramic window which brings the island scenery to a new level. In the La Vida Breve, you'll be spoiled with a private heated Jacuzzi, ceiling fans, a private terrace, and of course all the drinks and snacks that you could ever wish for in a mini-bar. And of course, the A-La-carte American Champagne breakfast is available to all guests of any of the villas.
Rooftop Jacuzzi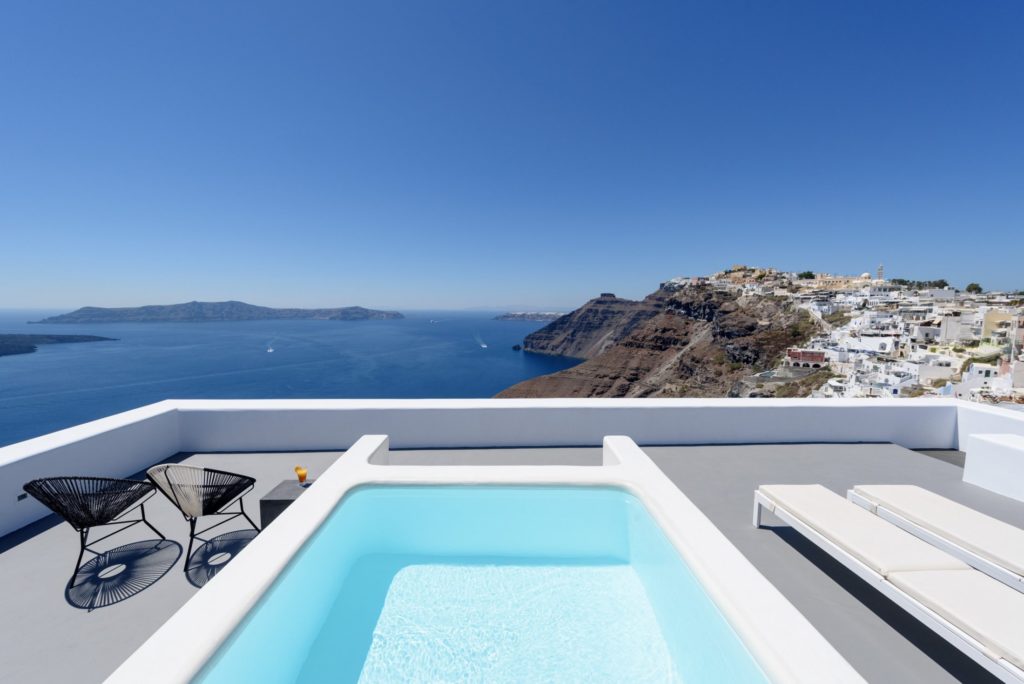 Credit: Aria Suites
Exclusive to the guests of the La Vida Breve Villa, the rooftop Jacuzzi makes for unmatched relaxation as well as romance. Positioned straight in the direction of the Caldera, the views are stunning and Fira's white village lights up in vibrant color when the sun sets. Nothing truly compares to views such as the one you'll find from the rooftop Jacuzzi.
Let's Talk Dining
A-La-carte American Champagne Breakfast
I'm sure that we would all prefer having breakfast served to us, instead of making it ourselves (or at least the thought of it). While its contents still remain a secret, you can look forward to being surprised by this breakfast every morning, served to you on your balcony. What better way to start the day than to enjoy a full course breakfast overlooking such a stunning view?
Candlelight Dinner
"Experience the ultimate romance having a private candlelight dinner. A privately prepared dinner, just for two, served by your personal waiter in the most romantic place ever, in your own balcony! From the "Summer delight" to the ultimate "Sunset experience", five different menus available offer you a wide choice in order to satisfy all preferences and tastes." -Aria Suites
Let's Talk Amenities and Activities
Swimming Pool & Bar
Credit:​ Aria Suites
Aria Suites' swimming pool is fully equipped with a bar to keep you refreshed while you enjoy basking in the sun.
Honey & Romance Packages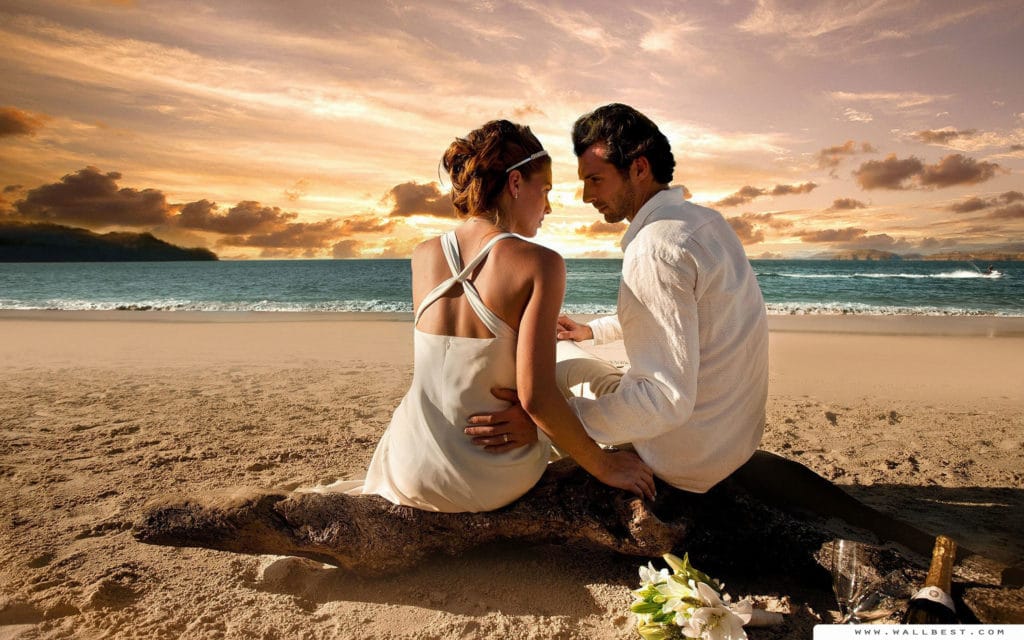 Credit: Aria Suites
"Whether you are spellbound from the Aria of Love or you want to keep forever your Sparkling Romance. Or even if you are ready to be seduced by our Magical Experience, we are offering you three different packages that will add value to your precious Honeymoon vacations. If you want to make your oath renewals an unforgettable romantic experience, our Honey & Romance Packages are for you." -Aria Suites
Arias of Love
The Arias of Love package is an additional sale separate to accommodations cost but is worth it considering what's included. Not only will you get a candlelit dinner on your balcony, a bottle of Santorini Wine, but a VIP Limo transport to and from the airport. You'll also be offered a free mini bar refill along with Moet Champagne on arrival.
Sparkling Romance 
The Sparkling Romance package includes all of the following as well as a car rental for two days and a romantic sunset cruise out on the Aegean Sea. Aria Suites promises to help you "Create memories to cherish for life" through not only their romance packages but their hotel as a whole.
What Travelers Are Saying About Astra Suites
Being awarded several certificates of excellence, Aria Suites certainly deserves their spot in the top 5 hotels in Fira. One satisfied customer said, "Our room suite was very clean and comfortable. The staff of the Aria suites could not have been more gracious and accommodating. The view from the pool deck is stunning and we loved watching the sunset there every night. This was our favorite hotel in Greece and possibly the most beautiful place we have ever stayed. We cannot say enough good things about it – it was perfection!"
Another guest who visited recently brought light to both positives and negatives. "We loved our stay at Aria Suites. We had a spacious two bedroom suite that was simply yet tastefully decorated although the bathroom was on the small side with only a shower. Our room opened up to a terrace next to the swimming pool with a beautiful view. Every morning the staff brought breakfast to our terrace and we thoroughly enjoyed starting the day in such a relaxing and serene way. There is no restaurant although there is a bar at the pool that serves some light food. The staff is incredible. They arranged everything for our transportation, excursions and dinner reservations."
While pictures surely don't do Aria Suites justice, you'll have to check it out yourself to see why guests love this hotel.
Experience Mediterranean Luxury For Yourself
Santorini is truly a place like no other. With so much to see and do, you'll easily find yourself lost in a mystical world of Cycladic homes and marvelous sunsets like no other. Do yourself a favor and stay a while at Aria Suites if you truly wish to experience Santorini for all it's worth.
Been to Santorini or Aria Suites? Let me know in the comments below!
Related Article: 8 of the Most Luxurious Hotels in Santorini