Make these Santorini Beaches Your Bucket List for Greece!
Ever since you've watched Mama Mia, those beaches in Greece have been calling your name. Those deep blues juxtaposed with white-washed buildings are out there waiting for you! The islands of Greece offer lots of coastlines to explore. If you're headed to Santorini, be prepared for some absolutely incredible sights. Now, the beaches here are different than others around Greece. Here, you'll find the black sand beach Santorini and the red sand beach. Santorini sand beaches offer a variety of colors against some beautiful backdrops.
Since the area of Santorini was impacted by the volcanic eruption in the 16th century, you'll even find a volcanic beach! Santorini beaches are unlike others out there, and definitely worth a visit. Fly right in to Santorini National Airport and spend your days on the Santorini beaches! We'll show you the beaches in Santorini Greece where you'll want to swim, lounge, cliff-dive or just stroll.
Top 7 Santorini Beaches
#1 Kamari Black Sand Beach Santorini
Here's a famous Santorini black sand beach! Kamari is a beach town on the east coast of Greece. It's nice because it's close to the airport, and easy to get to. You can rent chairs and relax under an umbrella. Watch the blue waters lap gently up against the black sand while the mountains drop dramatically into the sea to your right. The stretch of sand here at Kamari Beach isn't super wide, so we suggest beginning your day early to help ensure a spot. When you're not on this Santorini beach, the town offers some fun vibes. It's family-friendly and offers some great places to shop and dine. Kamari hosts many resorts and hotels. Therefore, it is a popular destination (for good reason) for vacationers headed to one of the best Santorini Beaches.
Kamari Beach is arguably one of the best beach towns to stay in Santorini. Because of its proximity to the airport, its great local dining options, and the beautiful black sand and mountain backdrop, we vote Kamari Beach as one of the best Santorini Beaches!
#2 Perissa Beach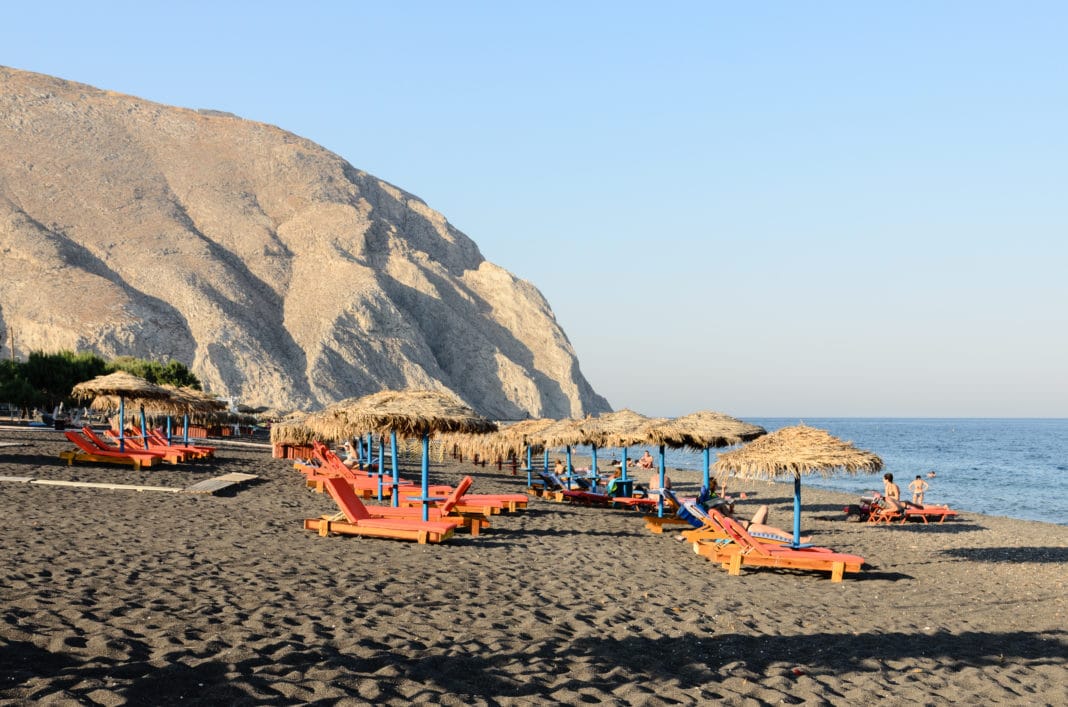 Perissa Beach makes our best Santorini beaches list for many of the same reasons as the others. Here, you'll find the black sand with beautiful waters amidst a spectacular backdrop of mountains. However, Perissa Beach offers a unique sight: Mesa Vouno. On top of this rocky mountain lies an ancient city called Thira. The ruins spread out on top of the mountain, and you can climb up a zig-zagged rocky path to get there. Mesa Vouno separates Perissa Beach from Kamari Beach, another of Santorini's best beaches. So, while you're relaxing on this beach, you'll get the view of Mesa Vouno.
The beach itself features the dark sand, a not-so-wide coastline, and small waves lapping the shore. When you're ready for a lunch break, the village of Perissa offers some good local shops and dining. Additionally, Perissa Beach can throw quite the party! You'll find a great social atmosphere with frequent live music, drinks and some fun. It's definitely worth it to visit Perissa Beach, climb Mesa Vouno, and then relax on one of the best Santorini beaches!
#3 Perivolos Beach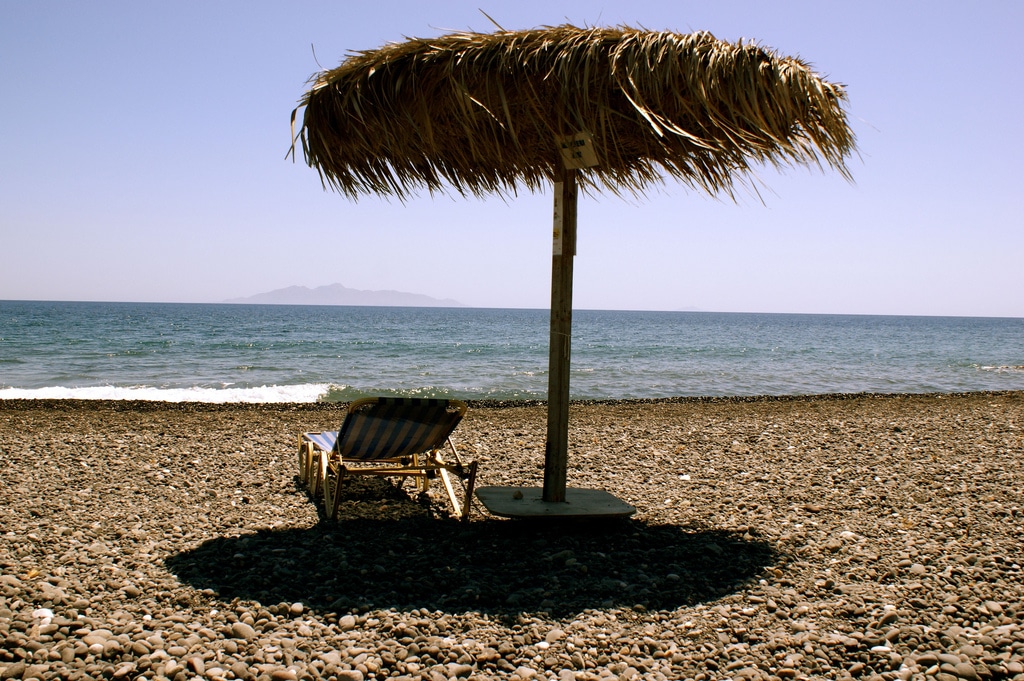 Another of the best Santorini beaches, Perivolos, is a bit more off the beaten track in Santorini. It's generally less populated than Kamari Beach. Perivolos Beach Santorini boasts dramatic coastlines with deep blue waters and a black sand beach. Perissa and Perivolos Beach have both earned the informal titles of "The Santorini Black Beach" because of the dark colored sand. This beach is located three kilometers away from Perissa Beach. You can access by car or bus, but the better option is to walk, in our opinion. There's a path through the countryside and that walk (around 1.5 miles) will make the glistening waters even more inviting.
Perhaps you're not the type to want to lounge on the beach all day. Perivolos Beach is a great destination since you can explore this natural coastline without feeling like you're stranded somewhere distant. That's because Perivolos Beach still offers some amenities and activity options like watersports. Perivolos Beach refers to the part of the shore that extends to Perissa Beach, too. Therefore, both of these beaches in Santorini Greece make our favorites list!
#4 Red Beach Santorini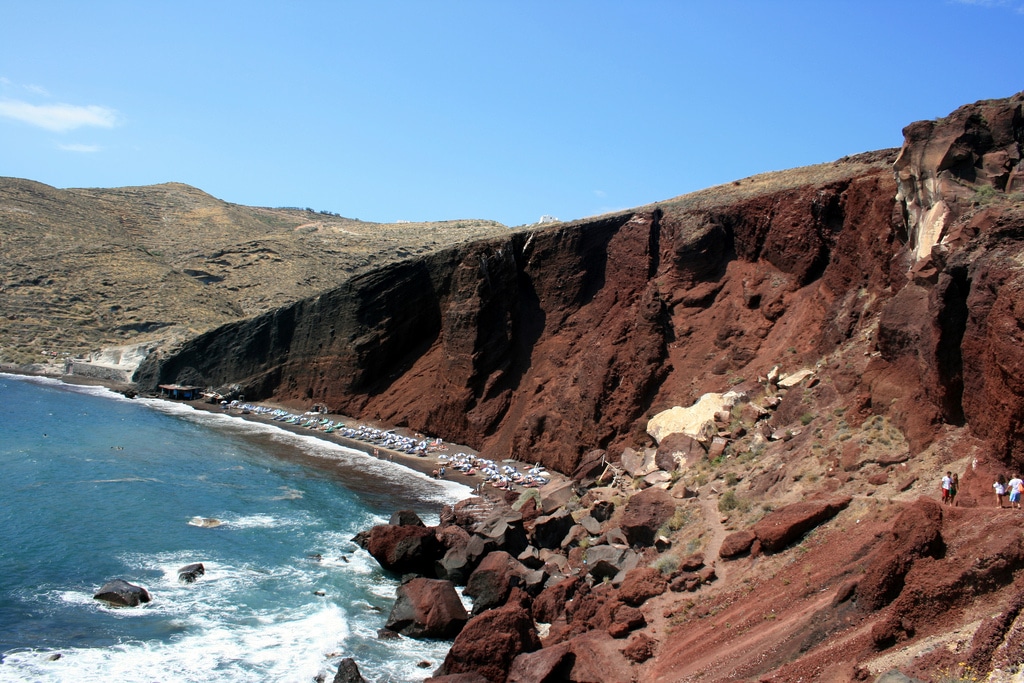 If you're up for an adventure (or you just want to see something cool) head to this red beach in Santorini. This beach is perhaps one of the most iconic beaches in Santorini, with its deep red and orange cliff sides as well as the black volcanic rock. Huge red rocks seem to have tumbled right off the top to permanently rest in the waters (making for a great spot to swim out to). The beach itself is pretty small. Therefore, the draw to this area are the richly colored cliffs and great swimming. You'll need to park at the top and walk down (about two minutes) to the water.
Hence the name, this red beach has red, sand with small pebbles. The section of the coast appears to be cut out of the red cliffs. Snorkeling here reveals some spectacular underwater scenery. Red Beach is located near the ancient village of Akrotiri, which is also worth a visit. Some visitors to this red beach choose to view just from the top rather than climb down to swim. Because of its unique red features and plummeting cliff border, Red Beach is one of the best Santorini beaches!
#5 Monolithos Beach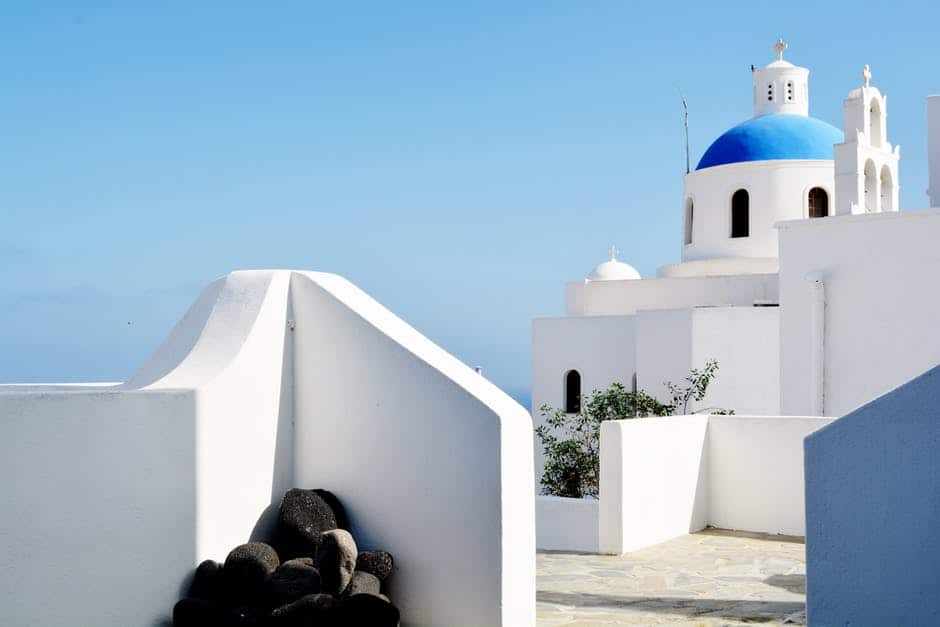 Monolithos Beach provides some variety for your days spent at Santorini beaches. Unlike the other black sand beaches, this one offers the soft, lighter sand and plenty of space. Monolithos Beach is off the beaten track. While some might describe this as "dead," others might appreciate the solitude and natural beauty of the area. The landscape is more open here; there isn't a cliff or mountain encroaching on the shore.
This Santorini beach is located on the south east coastline of the island. The shallow waters are gentle and calm, with no steep drop-offs like the other beaches. Therefore, it's a good beach for children, with lots of space for playing games in the sand and wading in the water. If you don't have a rental car, you can catch a bus from Fira to get out to Monolithos Beach. The village itself offers a few fish taverns, but is relatively quaint and quiet. The village (and beach) got its name from the large rock where a neat old church rests.
#6 Vlychada Beach
The unique landscape here at Vlychada Beach means that you'll feel almost like you're in a moon crater while you relax on the shoreline. Erosion in the steep, high cliffs has created some fascinating designs which line the coast behind the shore. The beauty here is natural and untainted by shops, restaurants or bars. The crazy-looking geography here is worth a visit and the beach is nice to relax on. Vlychada Beach reveals hints of the volcano eruption, with imprints and layers of the white rock.
The town near this Santorini Beach offers only a few options for restaurants and hotels. If you are able to travel to Vlychada beach, it'll be one of the least-touristy ones you'll likely get to. The beautiful blue waters gently crawl up the sand, and the contrast with the white cliffs is pretty awesome. Therefore, Vlychada Beach makes the list for best Santorini beaches!
#7 Amoudi Bay
So Amoudi Bay isn't quite a beach, but we're still counting it as the bonus one for the best beaches in Santorini.  To get to Amoudi Bay, you'll descend from the city of Oia, following the signs. Here at Amoudi Bay, you'll find a lovely cove of shops and restaurants that drop right off into the bay below. The red rock cliffs tower above, and the expanse of blue water continues as far as you can see. The waters around here are beautiful. You'll want to dive right in, and the swimming here is great. The sunsets here are truly stunning, and you can find a great traditional tavern to enjoy some fresh seafood on a patio.
Additionally, once you actually descend from the town above, Oia, you'll have a whole new perspective on that city of blues and whites when you view it from down below. And lastly, if you're daring enough, you can swim out in Amoudi Bay to the rock to cliff dive. Check out more details for how to reach that Amoudi Bay cliff jumping spot here.
Plan your Santorini Vacation around these top Santorini Beaches
Make this your bucket list for your vacation to Santorini. Visit a beach a day, and you'll be met with some fantastic views, azure waters, great swimming, and black sand beaches of Santorini. Additionally, the Santorini beaches featured in this list have great local towns where you can grab some local food, drinks or souvenirs. The Santorini Beaches offer a beautiful palette of rich colors: deep blues in the waters contrasted with the whitewashed buildings. The black sand of these Santorini beaches might burn your feet a bit, but it makes for a majestic landscape with the red rock cliffs rising from below. Head to these top seven Santorini beaches to enjoy the beauty of Greece!
Related Article: ​8 of the Most Luxurious Hotels in Santorini​​​