The Leica Q could very well be the best travel camera ever used. Want to know the best thing about it? You can pick it up, point, shoot, and know the image that comes out will match what you see with your eyes.
While it's small, the Leica Q is definitely substantial. For travelers and outdoor photographers, it is an effortless all-day companion. Better yet, it's durable. Take it around on a motorcycle or moped in Bangkok, expose it to the elements – pretty much do anything but run it over and it should be fine. It captures everything you throw at it.
While the Leica Q was announced in June 2015, it has been so popular that it stands the test of time. Even three years later on the market, it is still one of the most popular camera models out there.
Leica Q Frame and Body
Credit: Amazon
The Leica Q offers a full-frame 24.2 megapixel sensor within an exceptionally portable and beautiful exterior. Leveraging the power of the Maestro II series image processor, incredibly high resolution, low noise imaging at ISO levels up to 50000, and a continuous rate of 10fps, this camera is nothing short of incredible. The camera also utilizes a Summilux 28mm f/1.7 ASPH lens. This allows users to dramatically separate the subject from their background, even in low light conditions.
A simple design complements the Leica Q's aesthetic. The body presents easy-to-read engraved lettering, numbers, and dials. Designers certainly opted for durability when they chose a matched aluminum plate and magnesium alloy body. On the back, it has a large thumb rest. At the front, a diamond grid pattern allows for a firm, comfortable grip on the camera. Furthermore, the Leica Q has a built-in 3.68 megapixel LCOS electronic viewfinder which provides the user with a live through the lens image. The handling is similar to that of a rangefinder.
Design and Handling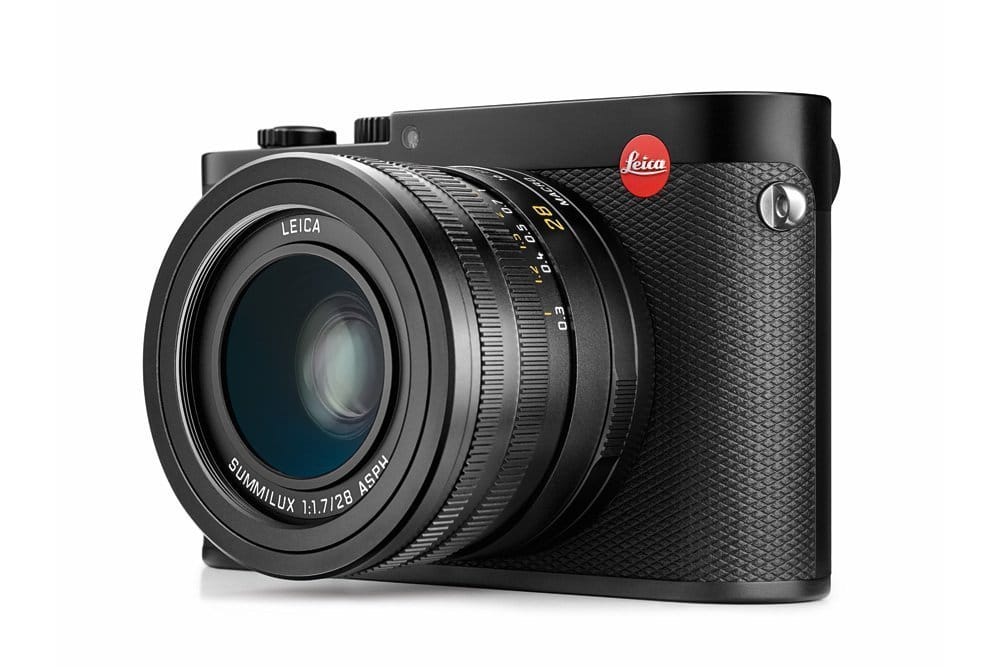 Credit: Amazon
When you pick up the Leica Q, you'll get just a small sense of just how much high tech is crammed within one compact, beautiful camera. While the body isn't as compact as say a Sony Cybershot, it's still relatively small, like a shrunken version of the Leica Q flagship series. Despite its size, the body and controls are wonderfully uncomplicated. In fact, compared to most cameras of its nature, it looks practically barren.
Along the left side of the LCD, you will find the buttons for accessing the full menu, ISO speed, playback options, and a customizable function button. Like any other camera in the Leica M-series, the control scheme is laid out in such a way to give you everything you need and nothing that you don't. It's a beautiful thing. Just worry about the basics: compose, focus, and shoot. Worth noting, the camera also brings together autofocus and exposure, just like a point and shoot. While past Leica cameras offered autofocus, this usually came at the expense of the manual control that users desire. This isn't the case with the Leica Q.
The Lens
Credit: Amazon
This is as sharp and well-designed as a well-tailored suit. Let's give credit where credit is due – the beautiful 28mm f/1.7. The Summilux lens pairs perfectly with the Leica Q. Like a DSLR, the lens is definitely an equal partner here. It certainly differs from a point and shoot, where a lens is just one of the many pieces of a puzzle. Without question, the lens is the big star of the show.
From a strict design perspective, the Summilux looks just like any other lens. It is wonderfully crafted, offering supreme quality and impeccable attention to detail. With three main control rings, it offers specifically-tailored functions – one is for aperture, the others for control and range. An adjustable scale focus sits on all of the dials.
The wonderful thing is you don't have to physically alter aperture or focus directly with each dial. Automatic updates are sent to the camera. So, when you turn the aperture ring when the camera is off, nothing will happen and you won't have to reset it when you turn it back on.
Designers of the Leica Q have done an incredible job of designing a precise focus motor so the ring will be incredibly smooth and responsive. It is honestly one of the best ones we have ever seen. This is absolutely essential for the adventurous photographer. Even though the Q offers fast and accurate autofocus it is designed with manual shooters in mind. If you would like to activate autofocus though, it is very easy. Just hold a button down and turn a dial all the way to one side.
Features & Benefits Of the Leica Q
Listing the features of the Leica M-Series camera was more simple. They don't have that many. However, the Leica Q has tons. Readers, buckle your seatbelts. In addition to the physical hardware including the 3-inch LCD, 3m dot EVF, and the gorgeous 28mm f/1.7 lens, there are plenty of other features we need to discuss.
First, we need to talk about WiFi integration. Like several of the recent Leica camera models, the Leica Q also comes fully-equipped with WiFi and NFC. This allows the photographer to use their smartphone as a remote viewfinder control. You can download the photos right to your phone from your camera for easy social sharing to sites like Instagram, Facebook, and Flickr.
Second, the Leica Q comes with a full suite of video controls, allowing you to make adjustments on the fly, all the while recording video at 1080p at 24 to 60 frames per second. The video is not quite on par with similarly priced 4K video options, but it is nice to have. It even comes with optical image stabilization that is active during both stills and video. By far, our favorite features are reserved for shooting stills, though. Manual focus, in particular, has been given some nice enhancements through focus peaking and magnification.
Third, for fast-moving subjects, you can switch over to autofocus. This system is entirely based on contrast. The Leica Q even offers 10 frames per second maximum burst speed, letting you snap off a bunch of photos when necessary.
Performance
You really can't beat a 24.2 MP sensor. The Leica Q has excelled every test thrown its way. The combination of a sharp 28mm f/1.7 lens coupled with the image sensor and Maestro VII processor is incredible. You can shoot in almost any type of situation with absolute ease.
In still image tests, the Leica Q showed amazing dynamic range at 13 full stops. This is nearly on par with a Nikon D810. Images offered a soft, warm look that you would expect from Leica glass, while still managing to offer color accuracy in most of its shooting environments. In large part, this is due to an amazing white balance system, which nails color temperature in pretty much everything but a warm tungsten lighting.
Further yet, the Leica Q offers an amazing performance with the aforementioned 10 fps shooting. It excelled even when RAW and JPEG images were shot together. While the capacity isn't infinite, it is enough to capture short bursts of action with ease. This is helped along by the snappy and accurate autofocus system.
In the video aspect, the Leica Q didn't do as well as other similar cameras it tested alongside. It had a predictable success in low light scenarios but the maximum 1080p resolution limited peak resolution to only around 650 line pairs per picture height. To put this in perspective, this is only about half as efficient as the standard cameras offering 4K video resolution. Video looks nice and smooth in 1080/60p. You can achieve a slightly more dramatic look shooting in 1080/24p if that's the look you are going for. Add it all up and you have a camera that offers stellar photo image quality but could be a lot better in the video department. Whether or not this matters all depends on what type of content you want to use this camera for. You decide.
Related Article: ​Travelers, Are You Looking for the Best Camera for Vlogging?​​​
What Travelers Are Saying About the Leica Q Camera
We found many reviews by travel photographers praising the Leica Q for its image quality. In the past, they claimed to have owned numerous digital cameras including one DSLR (I also owned several film cameras but they are only tangentially relative to this discussion). Several were very nice cameras but for a variety of reasons they did not keep them. Within the Leica brand, they have owned the M8, the X-Vario and the T. None of those met their needs or expectations in entirety.
Their Consensus on the Leica Q Camera
This is the first digital Leica that has actually met and in some ways exceeded traveler's expectations to this level. First, it is quick, second AF is really-really fast, the fastest measured, beating out the Olympus EM5-II and several Panasonics. That is saying something considering the size and resolution of the sensor. The AF is very accurate with one of the lowest miss rates to be encountered. It is up with the best camera or even better.
The Firmware of the Leica Q Camera
This camera has exhibited the best software out of the box of any Leica. Fewer bugs is a good thing. The flaws it has can mostly be remedied in firmware and that is the one area Leica is slow to remedy so it is a good thing that most of these are minor irritations and not deal breakers. Leica needs to learn to listen better to their customers. Photographers have been clamoring for years for a smaller fast AF camera similar to the CL. While it would be nice to have interchangeable lenses and more profitable to Leica in the long run, a good single focal length can suffice for many of us not using the camera in a professional setting.
Ergonomics of the Leica Q Camera
The ergonomics are the best of any camera on the market. The simplicity of operation is excellent though not perfect. There are a few operations requiring diving into a menu that should be more readily available to be useful. For example, AF mode is buried in a menu and not assigned or assignable to a dedicated button. Further, one cannot toggle a feature like a touch focus to be on or off while still being able to use one point. Logically touch AF is one point with the point selected by the user rather than the camera.
Therefore, it would make sense to enable or disable the touchscreen as desired but not disable the shutter button from activating AF. The same can be said for face detection. In many systems, you can activate or deactivate face detection separately from the other AF selections and the camera will use face detection if it can and if not revert to the other selection if the feature is activated. The result of making these deeper menu items is that they get used less frequently.
Image Quality Review of the Leica Q Camera
The image quality is simply outstanding with a crispness that is a Leica signature that people really love. As good as the XV and T were, when you compare shots taken of the same subject under similar light conditions there really is no comparison. We haven't seen a camera that produces any better image. Additionally, the dynamic range is very good and the files are very malleable in LR with both highlight recover and shadow recovery matching or beating any other camera, including the Sony A7II.
Minor Things Leica That Should Address For Future Camera Development
check

Provide a higher resolution JPG for image review so that at maximum magnification one does not obtain a poorer image than at one below maximum.

check

Offer a means to scroll through multiple images at magnification without having to first reduce to standard view size.

check

Allow for DNG only and an optional lossless compression.

checkLet

use of the video record button as an assignable function button.

check

Add the focus mode to a button.

checkPermit u

se of touch panel for a quick menu like the T's.

check

Use the LCD only for menu and playback functions.
All of these are minor and not deal breakers for me though they might be for others.
Here's the Bottom Line
This is a great camera worthy of the Leica name and one you should actually plan to keep for a while. Travelers are really enjoying using it and like the results they are obtaining. We highly recommend this camera to anyone that can live with a single lens at 28mm focal length.
Alternative Travel Cameras
While the Leica Q certainly offers a dynamic camera with ergonomic design, we get it if you aren't ready to make a commitment just yet. Perhaps you are seeking a camera with better video options or looking for something in the mirrorless camera department. Not to worry, here are some alternative camera choices to browse through. They come with very high recommendations.
Fujifilm XT-2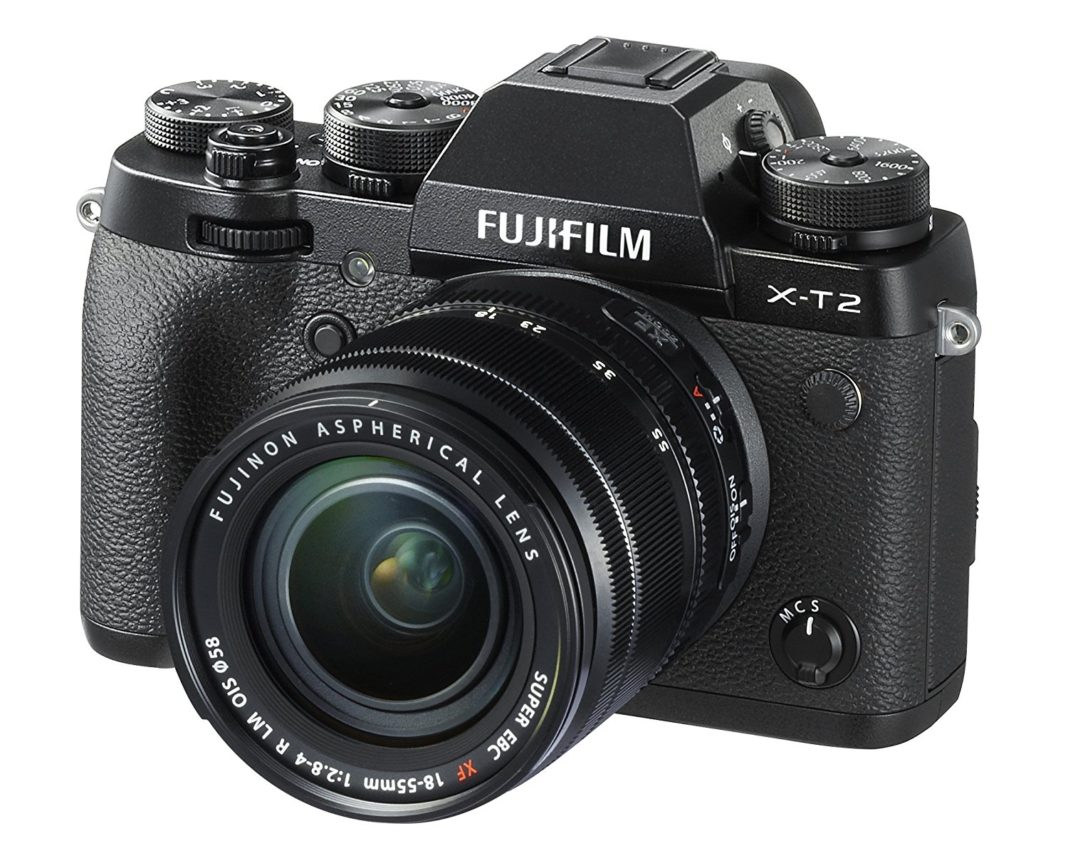 If you're considering in investing in a Fujifilm camera, this is a solid choice. We're sure you've heard a lot of talk among photographers about the X-Pro2. There's a reason. So, what's different about it? It's all about your personal preference for cameras.
In regards to its predecessor, one of the most obvious differences is the hybrid optical/electronic viewfinder featured on the X-Pro2 and the 4k video on the X-T2. While the LCD screen on the X-Pro2 offers a higher resolution, it doesn't articulate the way the X-T2 does. The X-Pro2 still relies on an older USB connection but buyers can work their way around this with a card reader.
If you're a street photographer, this is a great camera. It offers a minimalist design and optical viewfinder for those who enjoy slower forms of photography. Which camera is right for you depends more on you than it does on the camera.
Canon 5D Mark IV
Here's a heads up. If you're looking for a camera with amazing 4K video quality, this DSLR offers it. As one of the top full-frame DSLRs on the market, it is a favorite among social media and travel influencers, including Gypsea Lust, DoYouTravel, and the staff over at Beautiful Destinations. It is definitely geared towards more advanced photographers who occasionally dabble with videography. So if you're looking to expand your skill set, maybe it's time to expand your toolset too.
If you've ever owned the Canon 5D Mark III, you will find the controls very similar. If you're familiar with the older Mark series models, you will find you are able to use it easily without having to reference the control model. This is great because you will save yourself a lot of time and energy from having to read through and understand a new camera model or brand.
In terms of image quality, you can't beat the extra resolution. For those times you don't need it, the camera offers lower resolution RAW modes. Another reason to consider purchasing this camera is the dynamic range. Shadows are so much cleaner than before and at base ISO, the noise level read half of that of the Mark III.
One useful thing to do is set your camera's aperture and shutter speed to DOF. If you do this and shoot at a lower ISO, you will not overexpose highlights and can easily recover a 3+ stop under amplification of darker regions without a noise penalty.
Olympus E-M1 Mark II
If you're looking for an action camera to come along on all of your adventures, consider the Olympus E-M1 Mark II. The designers of this model definitely geared it more towards action photographers than for still photographers. What sets it apart from the pack? We'll tell you.
This little beauty can capture frames up to 60 frames per second (fps). You can bring it anywhere too because it has a durable body. Just invest in a solid, waterproof camera case or backpack to carry it around in. When you're ready to shoot, the 20 MP Live MOS Sensor offers accelerated processing and your images will be sharp and pure.
Just wait, it gets even better. You can be out and about roaming the streets all day. The lithium-ion battery can last for more than 440 shots without the need to stop and re-charge. So head on out there and capture the shots of your dreams. You won't need to stop and miss a single moment of it.
What's Our Take on the Leica Q Camera?
Leica's cameras have always been about the ergonomic design and practical use. The Leica Q offers much more customization than its predecessors. It is geared towards experienced, high-end photographers.
While it is definitely the most full-featured camera the company has put out, it is still lacking in video experience. If you are strictly a photographer, this is a fantastic camera for you. If you are considering dabbling in videography, you will probably be better off with a camera that offers crisp 4K video resolution and in-body image stabilization.
So, should you buy the Leica Q? In short, yes. The 24.2-megapixel sensor offers incredible image clarity. It is clearly a step up from its predecessors and the control panels are simple and straightforward to use.
While this camera is definitely designed for more advanced photographers, ambitious beginners shouldn't have too difficult a time picking it up. The only downside of this camera is the price.
Weighing in at over $4,000 photographers should really make sure this is the piece of equipment they want before taking the financial plunge. We recommend going to your local camera store first and testing it out before you buy it. Bare in mind, that it will be more affordable online. So, in a nutshell, if you're a photographer looking to up your photo game, nothing can compare with the crisp, clean, beautiful quality of the Leica Q.
Related Article: 10 Best Travel Cameras For The Adventurous Photographer