Fall is coming and that means it's time to plan for your next camping trip. Stay warm and cozy with the right tent heaters. Camping is one of our favorite ways to get back to good old fashioned simplicity. But as much as we enjoy connecting to nature, there are a few items you just shouldn't do without.
Camping in the fall brings with it so many wonderful things. The leaves change to a gorgeous kaleidoscope of colors, the parks are less crowded, and you can scope out that special spot all to yourself. With this said though, it can get a little chilly without the right gear. And that's where having one of the best tent heaters comes in handy.
| Image | Product | Rating | Prices |
| --- | --- | --- | --- |
| | | 4.5 out of 5 | |
| | | 4 out of 5 | |
| | | 4 out of 5 | |
| | | 4 out of 5 | |
| | | 4 out of 5 | |
| | | 4.5 out of 5 | |
QUICK NAVIGATION
Types of Tent Heaters
Have you ever heard of portable tent heaters? These little things are magic. Instead of shivering and tossing and turning in your sleeping bag, you can sleep peacefully throughout the night. But you're probably wondering what types of heaters there are and which one to get. Lucky for you, that's why we're here. Let's check out the various types of tent heaters.
Gas Tent Heaters:
Generally speaking gas tent heaters are the cheapest ones on the market. They will eventually end up costing you more in the long run, though. As you may have guessed, gas needs to be refilled often and could pose some serious safety risks if it's knocked over. All in all though, they provide the best heating experience as they reach the highest temperatures. Just exercise extra caution when you use them.
Electric Tent Heaters:
This is the most expensive of all the tent heaters. Plus, you will need to get some kind of electrical connection. You could use a campsite hook-up, car, or a generator. These heaters will never run out of gas and the auto shutoff feature is made to prevent a fire hazard if they fall over.
Battery-Powered Tent Heaters:
While these tent heaters may not be the most powerful, they are extremely portable. Since they are so versatile, you can take them literally anywhere and everywhere without having to worry about a power hookup. Just make sure that the batteries are fully charged before you embark on your trip. It doesn't hurt to have a few extra charged batteries on hand too.
Safety Tips for Using Tent Heaters
Alright, before you start using your new tent heaters, there are a few things you should keep in mind. These safety tips could make all the difference, so pay attention. You don't want to start a fire. Here are the top tips that you should keep in mind:
Keep the heater at least 3 feet away from any objects that could burn or catch fire at all times

Never use an oven in the places of tent heaters; this is dangerous

The heater should be sturdy, easy to control, and easy to keep in place

check

Make sure you are always using the right gas with the heater to control any problems
How to Choose the Best Tent Heater for Your Trip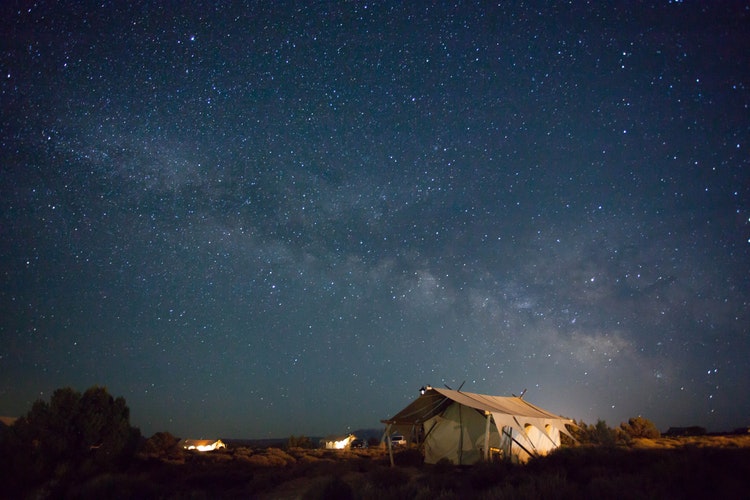 Now that you have a good sense of what the best types of tent heaters are, here are some tips on how to choose the right one. Understanding these factors will lead to an overall more comfortable and enjoyable camping trip. Here are the main things you should consider when choosing from a tent heater.
Weight:
If you're going to use these tent heaters frequently, then you should keep the weight in mind. In the event that you have to hike a ways, having a heavy space heater to carry can really slow you down.
Power Usage:
Do you mind having a tent heater that is an energy hog or are you looking for something more eco-friendly? This is one of the most important factors to keep in mind due to costs too.
Noise:
Are you a light sleeper? Some of the portable tent heaters can be a bit noisy. If you're looking for something a little more quiet, we recommend investing in an electric heater.
Safety Features:
Safety should be number one when you're choosing the best tent heaters for the job. Many of our picks already have safety features incorporated into their design. With this said though, you shouldn't take these features for granted. Always make sure you are exercising caution when you decide where to place your heater and how long to run it for. Auto shut off is a great option.
Coverage Area:
Try to find out how much space the heater covers. You'll want to make sure the coverage area is as large as your tent is.
Here Are Our Picks for the Best Tent Heaters
Mr. Heater Bug Buddy Heater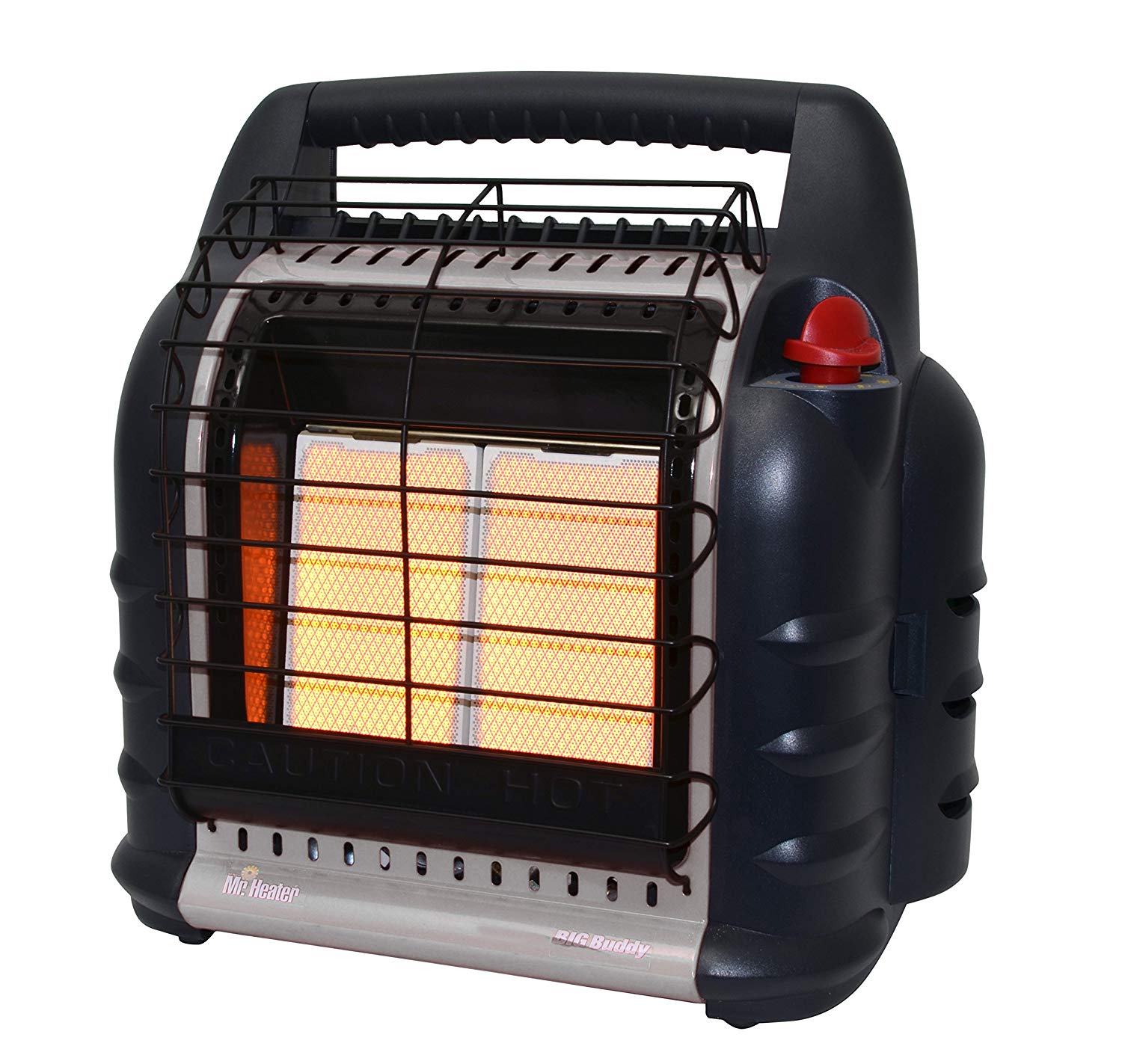 We're sure you've heard of the Mr. Heater brand before. After all, it's the most popular brand for tent heaters in North America. This particular style is a 4,000 -18,000 BTU Liquid Propane heater. It connects directly to two 1 lb. cylinders and can heat enclosed spaces up to 450 square feet. The integrated fan feature increases the heating capacity through convection. Two swiveling regulators allow you to adapt from disposable cylinders and channel it into a remote gas supply. All you need is a single hose and filter.
When it comes to lighting the unit, all you need to do is push and rotate the knob. After that, you can sit back and let the built-in Piezo sparking mechanism fix the rest. Our favorite feature, however, is the Oxygen Depletion Sensor. In the event that you accidentally tip over the unit, you can rest easy knowing auto shut off will kick in. Last but not least, it is important to know that the company is not able to sell this portable heater to Canada and Massachusetts.
Tech Specs:
4,000 to 18,000 BTU

Heats spaces up to 450 square feet

Clean-burning

check

May shut off automatically when operating at altitudes 7,0000 + feet above sea level

check

Heat controls: low, medium, and high
Pros
plus

3 different heat levels

plus

Auto shut off

plus

Low oxygen detection

plus

Good for indoor and outdoor use
Cons
Mr. Heater Little Buddy Heater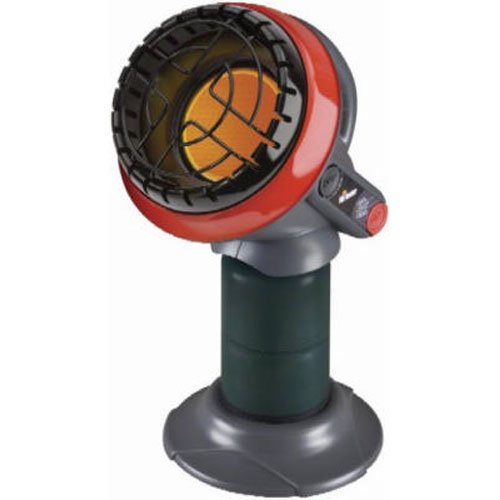 We love the size of this Mr. Heater style. It offers a large heating surface area, easy to start control, fold-down handle, and a swivel-out fuel connection. It's easy to see that this company has set the bar high for portable radiant heating comfort. Thanks to a low-oxygen shut off feature and tip-over safety features, you can get a good night's sleep knowing it provides reliable heat whenever you need it. This heater is indoor safe for spaces up to 95 square feet. So, you won't have to worry about a thing. To calculate how much heat you need, measure the space's dimension and calculate cubic feet.
Tech Specs:
Indoor-safe

Portable propane heater

Heats rooms up to 95 square feet

check

Maximum elevation: 7,000 feet

check

Simple on and off buttons

check

Low oxygen sensor with automatic shut off system

check

Auto shut off

check

Accidental tip over auto shut off
Pros
plus

Indoor safe

plus

Continuous odor-free heat for up to 5.5 hours

plus

Simple on and off buttons

plus

Low oxygen sensor and auto shut off in even of unit being tipped over
Cons
close

No throttle: Either all the way on or all the way off
Texsport Portable Outdoor Propane Heater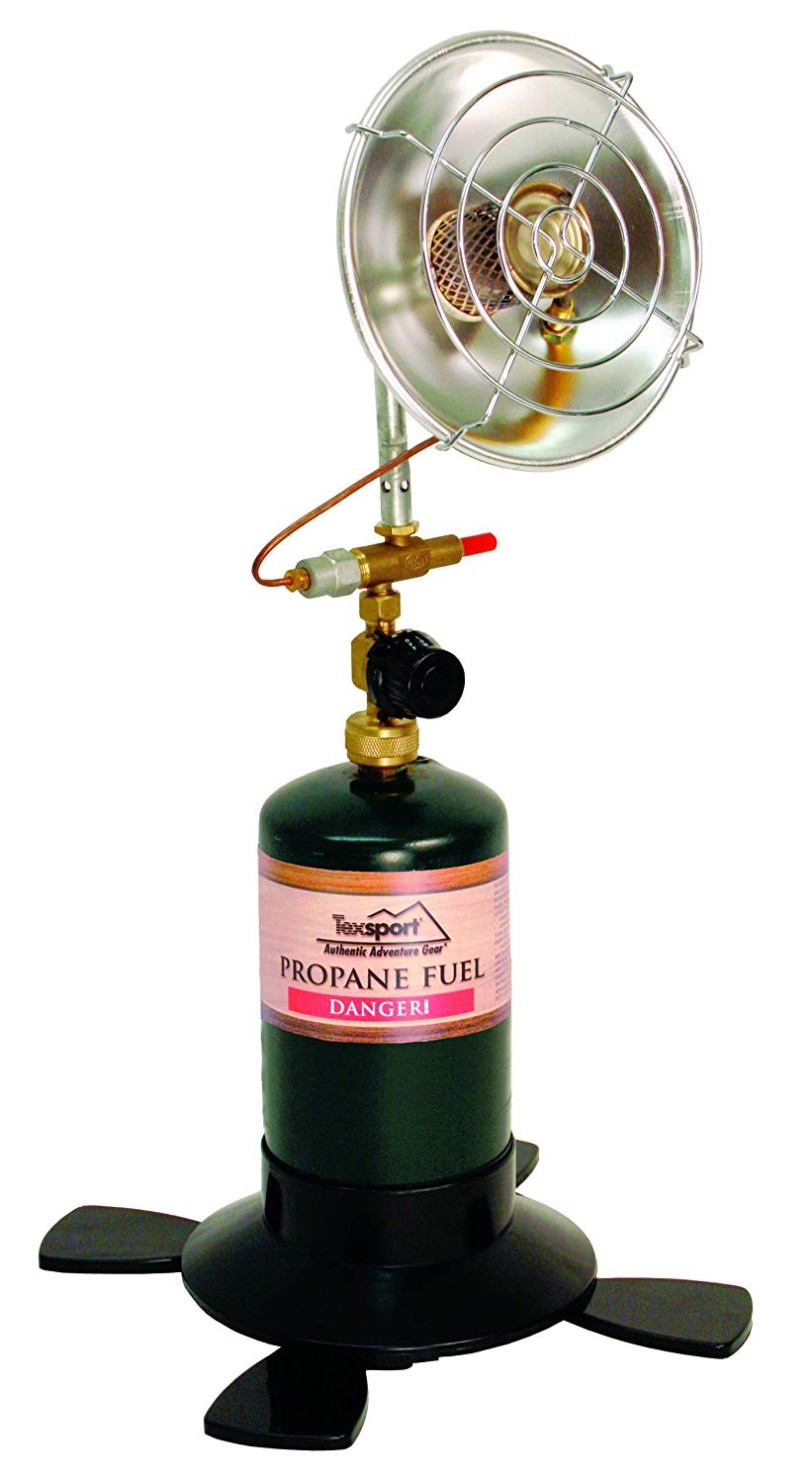 The Texsport Portable Outdoor Propane Heater is the ultimate camping accessory. It can adjust up to 2,890 BTUs. Better yet, it is super easy to use and transport. It is compatible with both a 16.4 oz or 14.1 oz disposable propane cylinder. Like the other portable tent heaters we mentioned, it too has an auto-shut off fuel valve. In addition, it has a high-quality stainless steel burner, on and off control knobs, an auto shut off valve, large plastic base for stability, a carry handle, and aluminum reflector with safety grid.
If you haven't heard of Texsport before, it's about time you did. This company really does live up to its name. This company has been making outdoor adventurers happy for the past forty years. Within its collection of gear, you will also find some of the best quality hammock sets on the market. This tent heater is estimated to go through one pound of fuel every four to six hours.
Tech Specs:
Stainless steel burner

Auto shut off safety valve

847 watts

check

Uses standard one pound disposable propane tanks

check

Large plastic base for stability
Pros
plus

Quick heater

plus

Works well

plus

Lightweight and easy to pack

plus

Does not require a ton of propane
Cons
close

Loud

Does not have a built-in starter
Honeywell 360 Surround Heater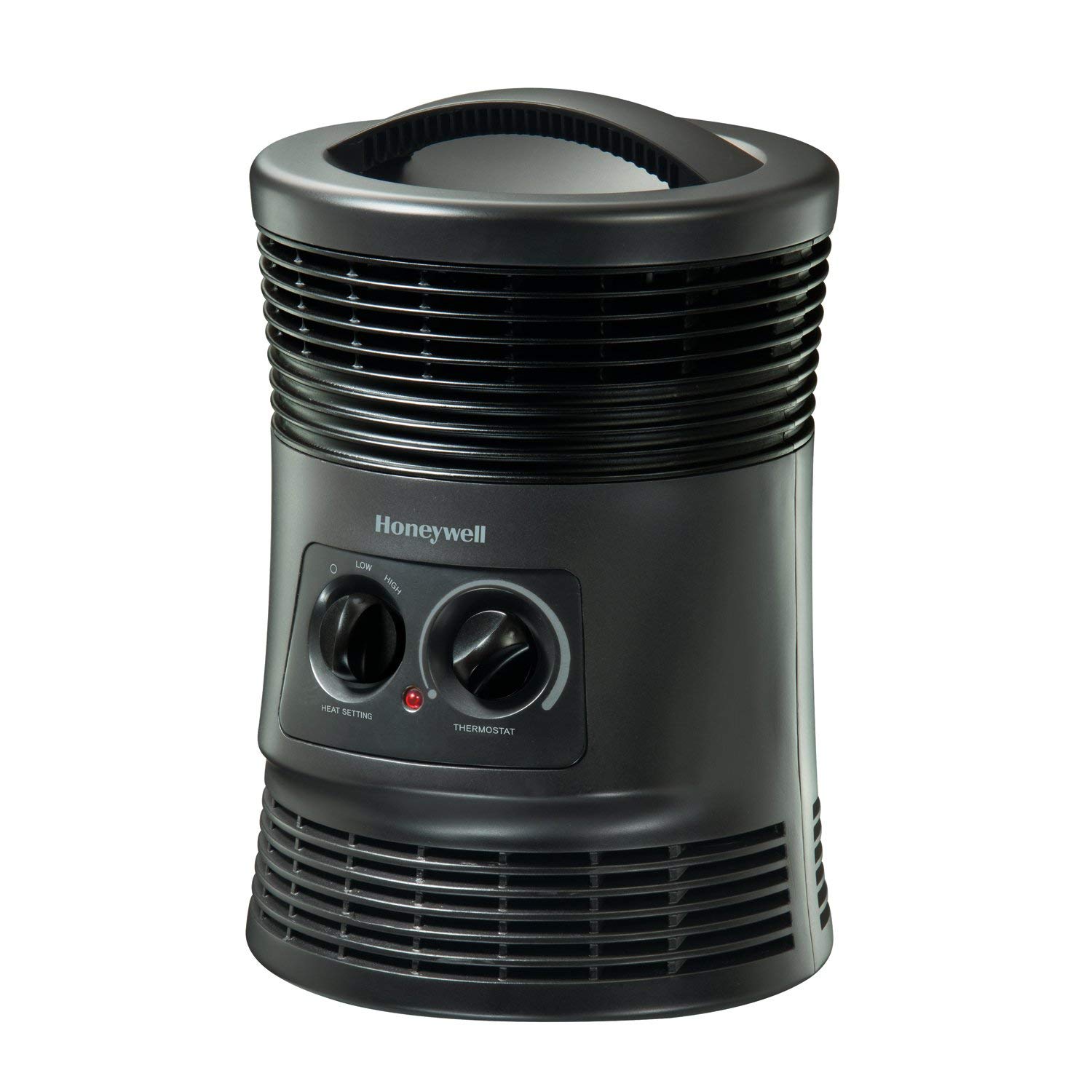 As one of the best tent heaters, this style from Honeywell checks all the boxes. Excellent safety features? Check. Energy savings? Check. Designed to provide all-around warmth? Check. And get this… the 360 Surround Heater offers this all at a reasonable price. It is perfect for camping and even small to mid-sized rooms.
Safety features include the 360 degree Safety Tip. This means that if your heater falls over in any direction, the auto shut off mode kicks in. Last but not least, there are two different heat adjustment modes. So, you have complete control over the temperature adjustment process.
Tech Specs:
360 degree safety tip

Adjustable thermostat

2 different heat settings

check

Auto shut off if unit tips over

check

Cool touch handle

check

Exceeds safety standard tests

check

Overheat protection

check

1500 watt output
Pros
plus

Easily portable

plus

Adjustable thermostat settings

plus

Cool touch carry handle

plus

Auto shut off and tip over protection
Cons
Lasko 754200 Ceramic Heater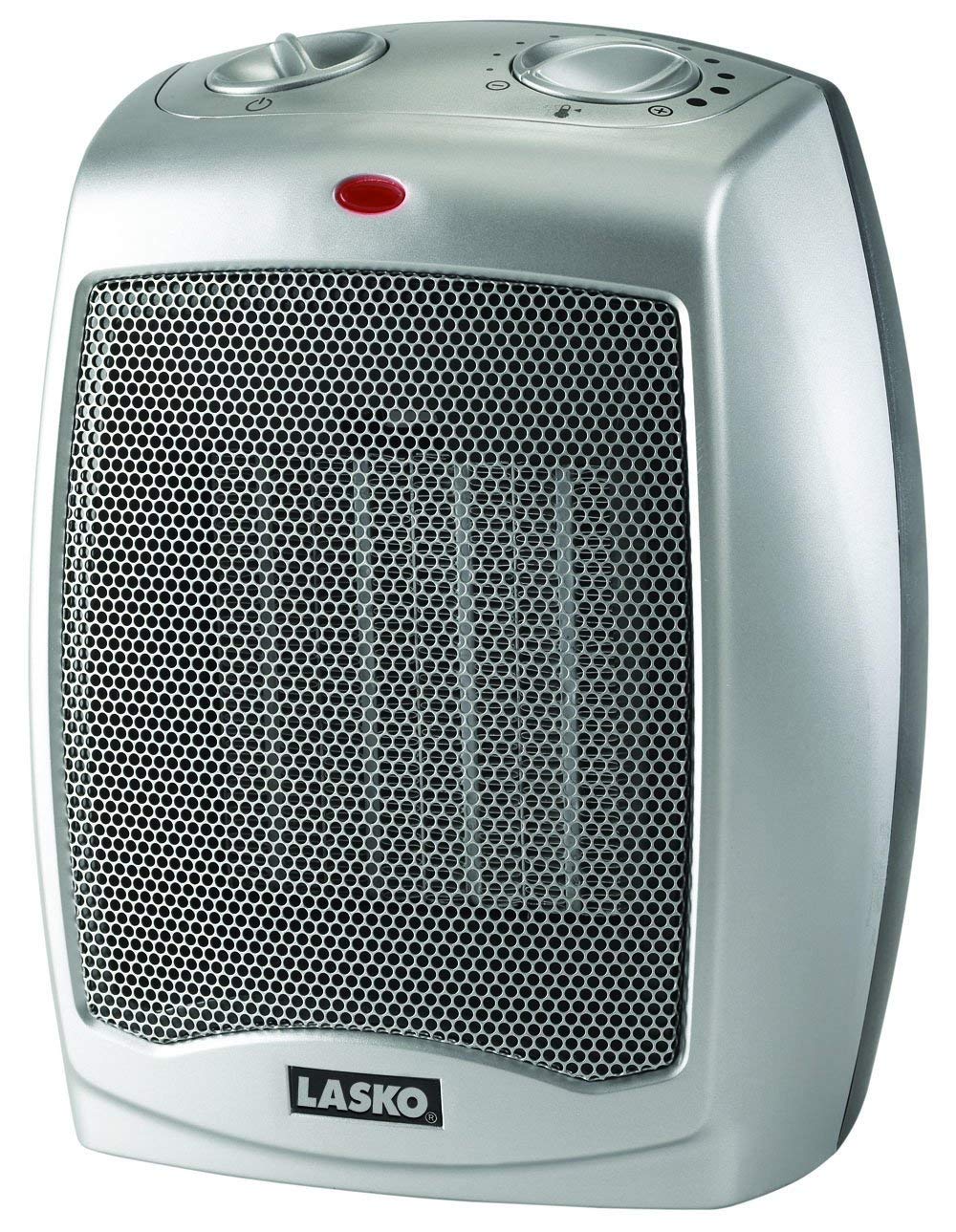 This brand stands for quality and comfort. Offering 1,500 watts of warmth, this small heater packs a punch. It comes fully assembled with a 3-year limited warranty and easy to use controls. Simply set the thermostat to the temperature you would like or choose from 3 quiet settings. There's high heat, low heat, or fan only, options.
Remember that safety comes first. The Lasko Ceramic Heater offers protection from overheating and a cool-touch exterior. This should go without saying but do not use it in places with high humidity. Now, whenever you are camping, you have warmth when you need it. The built-in handle allows for easy relocation. Just plug it into an outlet and cozy up. You'll never enjoy a better night's sleep.
Tech Specs:
Three heat settings: 1,500 watts, 900 watt, and fan-only

Manual control system

Quiet operation

check

Automatic protection from overheating

check

Cool-touch exterior and handle

check

Dimensions: 5.75″ X 7″ x 9.2″

check

Comes fully assembled

check

1,500 watts of warmth at max power

check

3-year limited warranty
Pros
plus

3 settings for heat

plus

Manual controls

plus

Quiet

plus

Carry handle

plus

Fully assembled
Cons
OPOLAR Ceramic Space Heater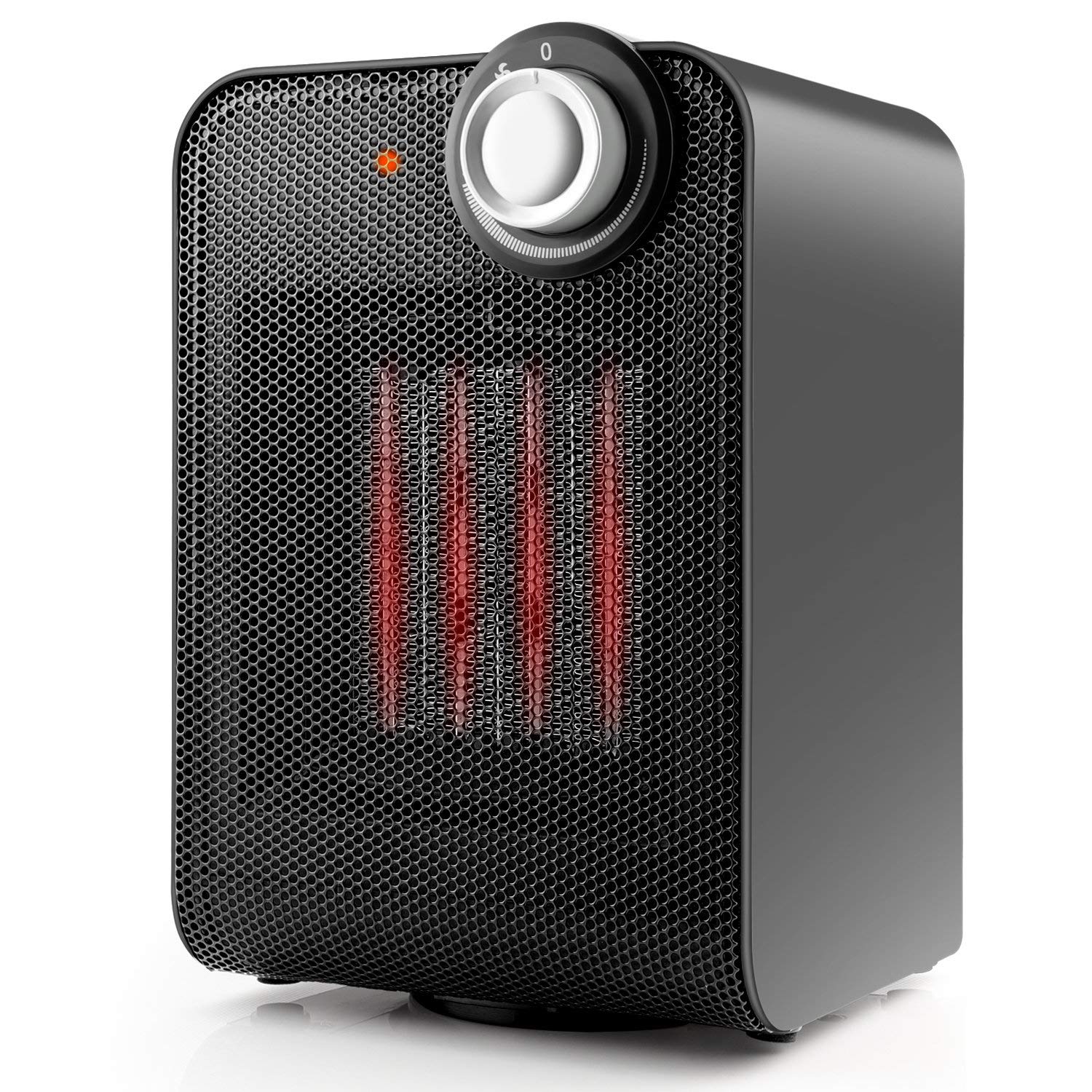 While fall and winter certainly are lovely, no one loves being cold. That's why you should invest in the best portable tent heaters. The OPOLAR Ceramic style is one of them. You'll find that it looks and operates a lot like the thermostat on your wall at home. Weighing in at only 3.9 pounds, it's lightweight enough to lug around with all of your other gear. Place it in the corner of your tent (away from the wall) and let it work its magic.
We're sure you've noticed a common theme among all of the tent heaters we've listed. It's also equipped with tip-over protection, meaning it will auto shut off when knocked over. A quiet but powerful heater, it can produce up to 1,500 watt output. The noise will not disturb your sleep. Even if you crank the thermostat control up high, it is very responsive and will immediately heat up for you. Last but certainly not least, it also offers over heat protection.
Tech Specs:
Portable heater with handle

Mini size (easily portable)

Dimensions: 9.3" x 6.4" x 5.7"

check

1,500 watt output at max

check

Auto shut off mode

check

Tip-over protection

check

Adjustable thermostat

check

Protective gears

check

Heating in just three seconds

check

Auto-oscillating
Pros
plus

Lightweight and easily portable

plus

Packs a punch for its size

plus

Takes 3 seconds to heat up

plus

Tip over protection
Cons
Common Questions
Check out these other camping tips and tricks to make your life easier on the road:
Invest in One of the Best Tent Heaters for Your Next Camping Trip
As we make our way through the first week of September, fall is just around the corner. For avid hikers and campers, this is an exciting opportunity to enjoy the new season – and less tourists. It's also a great time to refresh your travel gear collection. If you've been camping before, you must know that having the right gear can make or break your experience.
Just like you would invest in a great sleeping bag and tent, choosing the right tent heaters is just as important. We hope that this guide gave you some insightful information into the best products for the job and what difference they make for campers everywhere.
Danielle Dougall
Danielle Dougall is a photographer, avid writer, and traveler. Hailing from the rainy city of Seattle, WA she now lives in southern California where she enjoys longboarding, hiking, coffee shop hopping, and dreaming up destinations for her next international trip.