Save yourself a camping crisis by first learning about tent waterproofing.
It's the ultimate camping nightmare. You plan your outdoor excursion only to get caught in a rainstorm. Trudging through the damp earth, you attempt to assemble your tent and turn in for the night. Unfortunately, the tent is not waterproof, and you and your companions wake up with your sleeping bag in a puddle of water. Weather conditions change quickly, so it is important to be prepared. Waterproof your tent ahead of time so you are ready for whatever the wilderness throws your way. It is a common assumption that tents come fully waterproofed, but often this is not the case. Tents require regular maintenance, and with this comes waterproofing. Before you step outside, do some research on the type of tent you have so you know just how to treat it. Doing this keeps your tent in good shape and your sleeping bag (and toes) dry.
Check out these practical tips to help you with your tent waterproofing.
1. Know your tent's material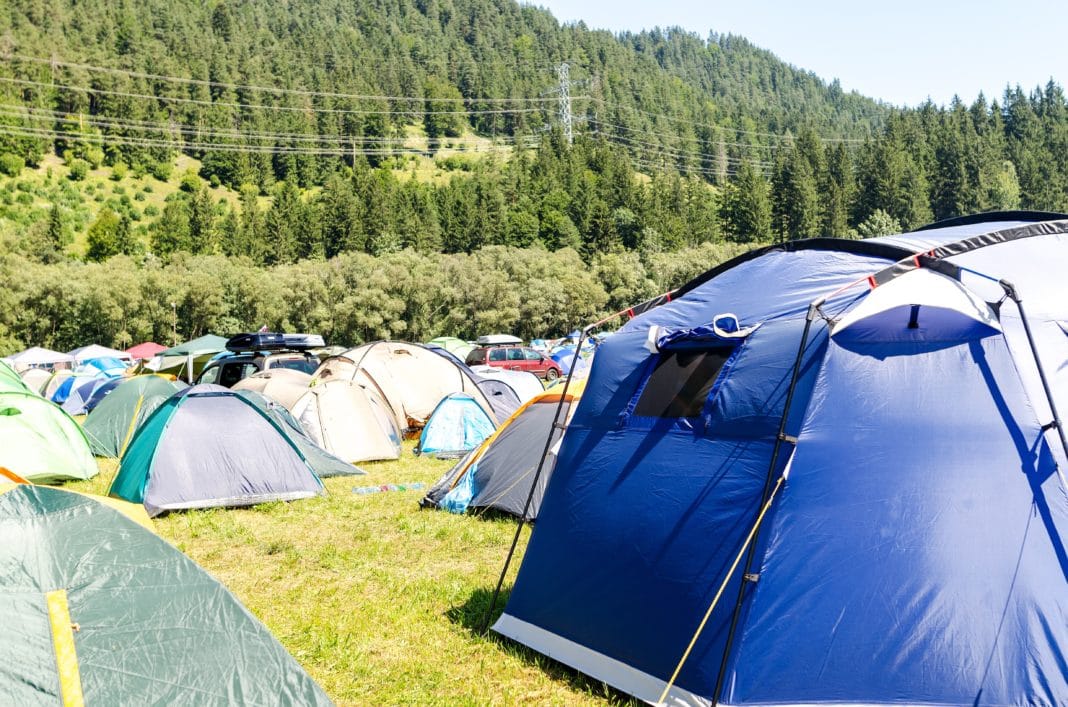 Each tent is made out of different material; so don't forget to check this before you begin waterproofing. The type of fabric your tent is made with directly impacts its durability and waterproofing requirements. When purchasing a tent, keep an eye out for ones made from man made materials. These fabrics generally come with some kind of coating purposed for water and UV resistance. If you recently bought a tent, you might recall seeing something known as Hydrostatic Head. This is a system of measuring used to rate a tent's level of waterproofing. Ranging from 1,000mm to 5,000mm the Hydrostatic Head measuring scale directly ranks just how much water the tent can withstand. For example, 2,000mm is 2,000mm of water, and so forth. Purchase the highest Hydrostatic Head level you can find if you anticipate needing significant waterproof coverage for your tslent.
2. Seal the tent seams.
Sealing tent seams is a good practice to utilize in regular tent maintenance. Tent seams often are the first parts to experience wear and tear, so by routinely sealing these seams, you protect against potential damage. The seal type varies depending on your tent material, so check with the manufacturer prior to purchasing tent sealer. Once you have the right brand of seam sealer, get a rag and rubbing alcohol. Next, set up your tent in a well lit area so you can get a good idea of the state of its seams. Turn the tent fly inside out, as that is the side in which you apply seam sealer. Use a paintbrush or a rag to administer seam sealer across all of the seams inside of the tent.
Refresh the tent's urethane coating.
Urethane coating might sound like a foreign substance, but it is an integral part to waterproofing your tent. A good way to know if your tent needs a coating update is if there are pieces of it flaking off. Once you start to notice this, then refresh it immediately to avoid further damage. Keep in mind that this kind of tent sealer is different from seam sealer. You need both to fully waterproof your tent. Silicone-treated fabric and polyurethane-coated fabrics both use a different type of urethane coating, so of course check your tent's fabric before. Once you procure the proper tent sealant, lay the tent flat and scrub off any pieces of flaking sealant. Then simply follow the directions on the bottle, typically applying it to the whole fly or tent floor.
3. Use a spray on tent waterproofing treatment.
Another way to make sure that your tent is fully protected against water is using a spray on waterproofing treatment. This is an especially good idea if your tent is getting a significant amount of exposure to the sun. Waterproofing treatment doubles as a UV ray protection for your tent. Nikwax, Scotchguard, or Coleman Seam Sealer are all ideal brands of spray on tent waterproofing treatment. You can also find these waterproof sprays at any sporting goods or outdoor adventure stores. If you can, apply at least two coats of this spray before you take to the great outdoors.
Repair any damages.
If your tent has any preexisting damage, it is important to address this beforehand. Check if the seams need more sealant and add it if necessary. Tent seams are often where the damage first shows, as they experience a lot of wear and tear. Also if your tent has any tears or holes, be sure to assess the level of severity. Significant tears might require you to replace a tent, or bring it in for professional maintenance. Any unneeded tears or openings in your tent can potentially create more opportunity for water to get in.
Now you are fully ready for that next camping trip.
Now that your tent is all doctored up, you can step into the woods with confidence. Keeping your tent waterproof helps keep unnecessary moisture out of it. It also maintains the tent's longevity, so you can use it for a greater amount of time without needing to replace it. Check your tent's material so you know just what products are best for this. Once you do your research, go ahead and purchase what you need and get your tent ready for the next camping trip. If you need help with future tent waterproofing, simply refer back to this list of helpful tips. These bits of advice are here to aid you in preparing for the great outdoors.
Related Article: The Best Pop-Up Camping Tent: The 5 Top Options