The Vapur Element collapsible bottle defies water bottle "rules."
Space is a precious commodity when packing your luggage. Maybe you've tried to shove some extra things inside your water bottle to make use of that hollow space. Or, perhaps you've just experienced the frustration of trying to shove your rain jacket in your packed carry on. Other clothes squish in, but a plastic or metal water bottle won't work with you. The foldable water bottle is a great solution for travelers, and the Vapur Water Bottle is the way to go. Perhaps you're heading out for the day and want to bring a daypack or a small purse. A regular water bottle would mean you might have to bring a larger bag just to accommodate your water bottle. This won't be a problem with the Vapur Element Water Bottle. Throw this collapsible water bottle in your crossbody bag and head out to sightsee.
A Little About Vapur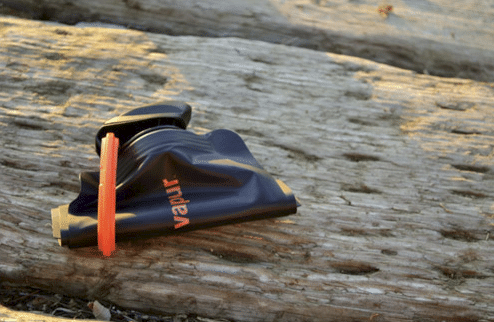 Credit: Vapur
Based in California, Vapur first began in 2009. The company sought a goal of creating a product that aided active lifestyles and helped reduce the excessive amount of waste. Therefore, a group of three outdoor adventurous created a water bottle that was incredibly portable and protected the environment from extra plastic bottle waste. Vapur prides itself as a leading designer of foldable water bottles. These "water bags" are 87% lighter than a typical, rigid water bottle. They call this water bottle the "anti-water bottle," since it's a bit different than the regular vessel. It can roll, fold, and flatten to take up a minimal amount of space. You can take a quick sip from the flip top cap (no unscrewing necessary) Or, if you want a larger opening to fill or clean, you can access the wide mouth by unscrewing the top.
Vapur creators set out on a business quest to save the environment from plastic bottles. In addition to creating their reusable water bottle brand, they've also initiated a program to encourage reducing waste from disposable bottles. The Vapur Hydration Program began in 2012 with a goal of keeping fresh water available for refilling water bottles. Vapur water fountains and bottle-filling stations have popped up around the country, including college campuses and national parks. According to their statistics, they've saved landfills from over 2.8 million single-use plastic water bottles.
Vapur Water Bottle Features and Benefits
Roll and Fold
The side profile of the Vapur Element Water Bottle is incredibly thin. Plus, the pliable plastic (BPA free) is thin, but durable. This all means that you can literally fold it. Fold it in half, roll it, or just flatten it: whatever shape fits best in your bag! Once you roll it up, you can pull the included carabiner over to keep everything wrapped up nicely. When not filled with water, this Vapur water bottle stays very compact. The top sip lid isn't too big, so the water bottle rolls up to be very small.
Dishwasher Safe
This is an extra bonus that other water bottles might not offer. Cleaning is super easy with the Vapur Water Bottle. Simply inflate the bag and place it in the dishwasher. You won't have to worry about any melted or otherwise ruined plastic.
Freeze it
You can place this water bottle in the freezer! Before a trip, freeze some water so you can have a chilled drink throughout the day. When it's all melted and gone, you can roll up the collapsible water bottle and stash it away.
Lightweight
Credit: Vapur
This is precisely what makes this Vapur Water Bottle so spectacular. It's 87% lighter than a regular water bottle. The water bottle itself weighs only one ounce, which will feel like virtually nothing! Because it's so lightweight and compact, it's so easy to always bring with you. And because of that, you're less likely to purchase disposable plastic water bottles. And that is the goal of Vapur: to help conserve the environment.
Color options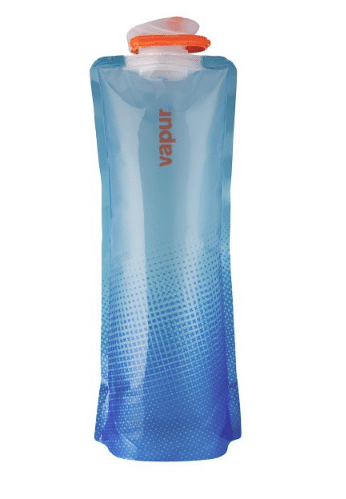 Credit: Vapur
The Olive Green and Night Blue Eclipse water bottles have an interesting matte finish (different from other Vapur water bottles). Other options include a great assortment of colors and patterns. You're sure to find a neat color combination that helps you easily identify your Vapur water bottle! The main difference between the Vapur Element and the Vapur Eclipse lies in this choice of colors and surface finishing.
Other Vapur Products
Vapur "After Hours"
Credit: Vapur
Don't bother with glass bottles on your camping trip or vacation. Carry your liquor, wine or beer in the "After Hours" products available by Vapur. Choose from the 700ml or smaller 300ml. For the larger size, your options also include the "Vintage Wine Carrier" and the "Wandervino Collection."
Filtration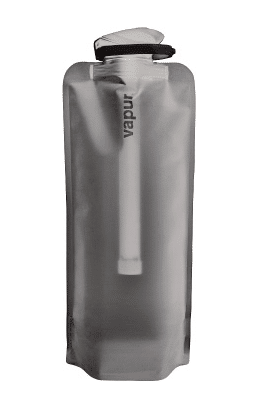 Credit: Vapur
Vapur offers an excellent filter that can accompany their water bottles. The Vapur Microfilter is lightweight and chemical free. It safely removes 99.9999% of waterborne bacteria. The bottle and Microfilter weigh only 2.7 ounces. This is a great option for camping and backpacking trips since it is incredibly lightweight and the bottle rolls or folds up nicely when not in use. To use, you will fill the bottle with water, insert the Microfilter top and drink straight out of it. Or, you can squeeze into another bottle. You can purchase just the Microfilter or the Microfilter bottle set.
Drinklink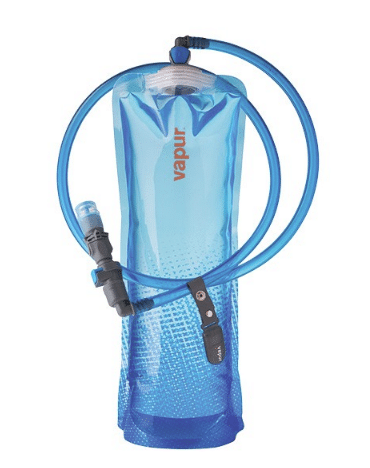 Credit: Vapur
The Drinklink allows you to convert your bottle into a hydration pack. The tubes include a bite valve, so you can set the bladder in a backpack and sip while in motion. You can screw the bite valve with the tube on, for the purpose of drinking while the water bag is on your back. Or, you can choose to forgo the tubes and just screw in the bite valve. This gives you a different option for sipping on water. No need to flip open the cap; the water won't come through unless you bite down on the valve.
What Other Travelers are Saying About Vapur Water Bottles
Vapur Water Bottle customers can't stop raving about this collapsible water bottle. For those looking for collapsible water bottles, Vapur customers are extremely satisfied with their purchases. Even those who weren't intentionally seeking a foldable water bottle are so grateful to have found the Vapur Water Bottle. People generally love how easy this water bottle is to have around. It makes international travel super easy. Pack this back in your purse or carry-on, and fill up in restaurants and hotels as you're touring around. The compact folded size means that you won't have to carry a larger day pack just to accommodate your water bottle throughout the day.
Customers also appreciate the durability. This does require a certain amount of trust; since it's so lightweight, it might feel flimsy. However, travelers are generally satisfied with the durability of this collapsible water bottle, even after extended use. This water bottle reportedly survives swinging around on its carabiner all day every day, slamming up against things, or even being sat on. On the other hand, some report leakage after a few years. The common spot for a tear is the top corner. When you hold the bottle at the top of the bag, to unscrew, you end up applying pressure at the corners. You can minimize the wear here by making sure to grip the hard plastic (rather than the bag's corners) when you are unscrewing the top.
Travelers appreciate how easy it is to take a sip from this Vapur water bottle. You can grab the top, flip open the cap and take a sip all with one hand. In addition, reviewers are thankful that the bottle doesn't leak when filled and in a bag or purse. The cap stays on securely, and the flip top doesn't open unintentionally.
Alternative Water Bottle Brands
Nomader Collapsible Water Bottle
This bottle is made of silicon that maintains a shape much like a regular water bottle. However, it is collapsible and rolls up to a small size. A black banded support gives the body of the water bottle extra support when filled with water. When you want to collapse the water bottle, you can roll it up and secure it under this piece. The wrist loop serves two roles: it helps keep the rolled-up water bottle compact, and it can also offer a handle when the water bottle is full. It's BPA free, safe for use in the dishwasher, and able to be frozen. The mouth is nice and wide (easy for filling with ice cubes). This water bottle comes with a flip top cap over the mouth that is leak proof.
Baiji Bottle Collapsible Water Bottle
ValourGo Collapsible Water Bottle
A Vapur Water Bottle is the trick for packing light.
Overall, the Vapur Water Bottle opens up a whole new world for packing water bottles for trips. The rollable, foldable plastic means that you will most definitely have room to bring this water bottle along with you. When you're ready to fill and sip, you'll find that Vapur hasn't compromised. It's easy to flip open and take a drink, and you can grab it with one hand. Help join Vapur's mission and cut down on the waste caused by single-use plastic water bottles. The relatively inexpensive Vapur collapsible water bottle will tuck nicely into your backpack.
Related Article: 8 Cool Water Bottles for Your Next Adventure