Backpacking sleeping bags are all about portability. If you're trying to find the best sleeping bag for camping, it's another story. We'll show you what to look for.
Choosing the best sleeping bag for camping is no joke. Pick the right one and you'll spend an evening under the stars, enjoying your time. Pick the wrong one and you'll wake up every two hours throughout the night with a backache and goosebumps. Then, you'll have to put three layers of clothes on and look like a puffy snowman. Been there. Done that.
We've Done the Work for You
Whether you're a first-timer or a camping pro, you'll find some great buys in this article. We've done all the internet searching for you. All you have to do is kick up your feet and read. Let's go.
Camping Sleeping Bag Lingo Can Be Confusing
Let's be real. Camping and all the lingo that comes with tech specs can be incredibly confusing. Lucky for you, we're here to help. Here's a glossary of terms to help get you started.
Draft Collars – A tube of insulation to keep drafts off your neck

Draft Tube

–

A tube of insulation running the length of the zipper to keep a draft out

Baffle

–

Sewn pockets to distribute insulation evenly

check

Differential Cut

–

A sleeping bag with a smaller inside than outside to minimize cold spots

check

Side-Block Baffle

–

A piece of fabric sewn into the side of the bag to prevent the movement of down
So How Exactly Do You Pick the Best Sleeping Bag for Camping?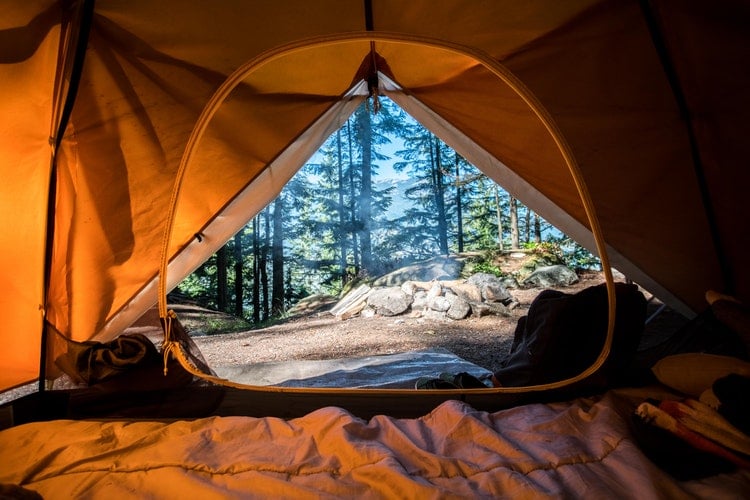 There are several important factors that go into making a sleeping bag high quality. In addition, the kind of sleeping bag you'll need depends on the season, location, and duration of your trip. First, let's take a look at the reasons why you need a good sleeping bag. Then, we'll look at the factors that make the best sleeping bag for camping. This will help narrow down which one's the right choice for you.
Why You Need the Best Sleeping Bag for Camping?
A. You'll Need to Keep Warm
Have you ever been kept up at night because your feet were too cold and you couldn't sleep? Imagine your whole body being that cold. Even in the summer, temperatures can drop down a lot at night. This happens even in the most dry, arid climates like Joshua Tree National Park in California.
What Keeps You Awake At Night
Well, your body temperature is the most likely factor to keep you awake. When you're too hot or cold, you can't fall asleep and recharge. And believe us, after a long day of camping and hiking – that's all you're gonna want to do. Pay attention to how companies advertise their sleeping bags. Do they help you keep cool or warm? What temperatures are they made to endure? Is the insulation type listed?
Good Things to Consider
These are all good things to consider among sleeping bag components. Down and polyester are the two most common materials in sleeping bags. These fillers affect temperature ratings and the quality of sleeping bags.
B. You Can Travel With a Lighter Load
Let's say you have to hike to your campsite. If you're traveling during the summer, you're going to want a quality, lightweight sleeping bag with good insulation properties. It's a pain to carry a lot of weight on your back. Focus on two factors: weight and warmth.
The best sleeping bags for camping always depend on these two factors at the very minimum. If you're spending time in the great outdoors, you'll likely be in areas that drop temperatures at night, too.
C. Find Features That Match Your Sleeping Preferences
Let's look beyond weight and warmth for a moment. There are other factors that go into making the best sleeping bag for camping. Are you looking for the best sleeping bags for couples? Maybe you want a sleeping bag with ventilation for your feet?
Some sleeping bags even have a hood for varying degrees of comfort. Others yet offer extra fabric to form a pillow. There is a lot of variety on the market when it comes to the best sleeping bag for camping.
Common Features of the Best Sleeping Bags for Camping
Down or synthetic Material

Temperature ratings to keep you warm in 0, 15, 20 degrees Fahrenheit

Full or half zippers

check

Waterproof or water resistant material

check

Quality, YKK Zippers for a smooth glide getting in or out

check

Easy to clean (some machine washable)

check

Lightweight and soft material

check

Zipper guards, so the metal doesn't touch your face when fully zipped
How to Choose the Best Sleeping Bag for Camping
Here are some questions you should ask yourself before beginning your search.
1. What Temperatures Will I Be Sleeping In?
You know where you want to go. Now, it's time to check that weather app. What season you're traveling in makes a big difference. Make sure you know the lowest temperatures you'll be sleeping in. Unless you enjoy the cold, make sure you get a sleeping bag equipped for the locale you're in.
2. What Shape Sleeping Bag Do I Want?
Do you want a mummy-shaped sleeping bag or a square one? A mummy sleeping bag offers  snug, tight fit, whereas a square one allows for more space. Since it's closer to you, a mummy sleeping bag tends to retain heat better. What do you prioritize more – warmth or more leg room?
3. Do I Want A Down or Synthetic Filler?
We're not gonna lie. Premium goose down works very well to provide warmth. However, we understand if you would like to opt for something more animal friendly. Synthetic down is more affordable too. Material like polyester offers a solid alternative.
4. What Else Will Influence Warmth?
Think about it. What else could you bring or buy that would help you have a more comfortable camping experience on your trip?
Sleeping bag liner:
These liners are separate slips that fit inside your bag and can add up to 15 degrees of warmth to your camping bag. You can find them available in both silk and cotton. Besides  increasing warmth, they also protect your sleeping bag from the oils on your skin. This reduces overall wear on the bag.
Sleeping Pad:
First timers, listen up. This makes a huge difference in your sleep. Say goodbye to back pain and get yourself a sleeping pad. These magic products add a layer of insulation between you and the ground. Just a heads up – some sleeping pads have higher insulating capabilities than others. Make sure you pay attention to what your sleeping pad is rated to. This figure is indicated with a R-Value, the higher the R-Value the more insulation it will provide.
Tent:
Are you sleeping in a tent? If so, you have another piece of equipment meant to keep you warm. However, if you opt for sleeping under the open sky, you will be subject to the elements. Good luck warding off mosquitoes too.
Clothing:
This is an easy one but it's still worth mentioning. Bring flannels and thick pajamas with long underwear. Bring an extra pair for that friend who always forgets their own. You know who you are. * cough cough *
Hydration:
You probably didn't know this but if you go to sleep dehydrated, your body will not be able to be able to keep as high of a temperature through the night. Make sure to stay hydrated. This is good to practice anyway.
Here Are the Best Sleeping Bags for Camping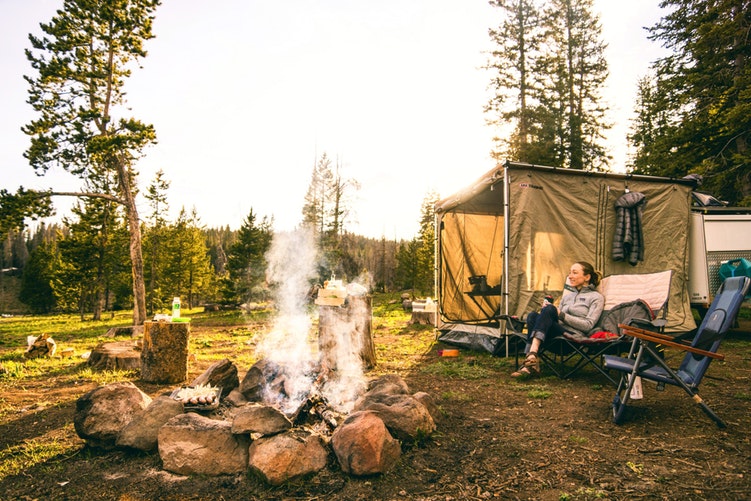 1. Winner Outfitters Mummy Sleeping Bag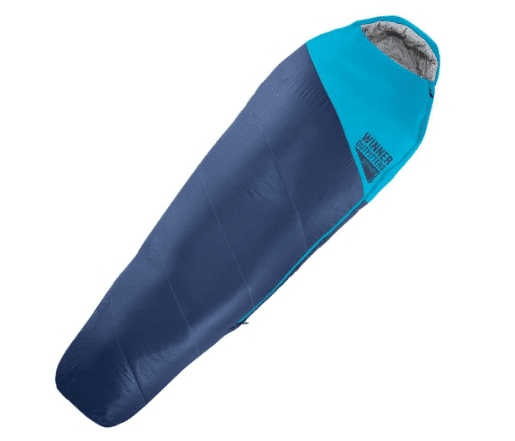 If you're looking for a mummy-shaped sleeping bag, consider this one from Winner Outfitters. It has scored excellent reviews online, most notably for keeping users warm. Made from polyester, it's a cruelty-free product, weighing in at only 2.8 pounds. This sleeping bag is best for slightly above freezing temperatures.
What We Love About It
We particularly appreciate the hood and the draft collars (we told you that weird camping jargon would pop up). The draft collars help to regulate your temperature by keeping your head warm, while still giving you ample space to breathe. Furthermore, the double-zippers allow you to zip open the bottom for ventilation if needed.
2. Teton Sports Mammoth Double Sleeping Bag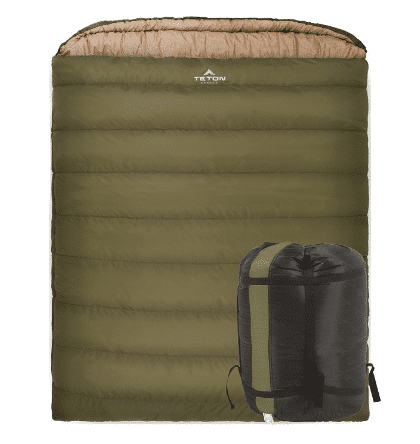 This is the perfect sleeping bag for two. The Teton Sports Mammoth Double Sleeping Bag allows plenty of space for you and your significant other. It's extra wide, so you won't be squished either. We love that it has three zippers, so you can regulate the temperature from either side.
3. Hyke and Byke Goose Down Sleeping Bag
There's a reason this one from Hyke and Byke earned itself a spot as a best sleeping bag for camping. It's incredibly durable and lightweight. The down filler means that the bag will keep you warm without being heavy. Furthemore,, Hyke and Byke offer a lifetime warranty on the product. Last but not least, you can choose between the regular or long size. The YKK zippers work smoothly and the outside is water repellant.
4. Coleman North Rim Mummy Sleeping Bag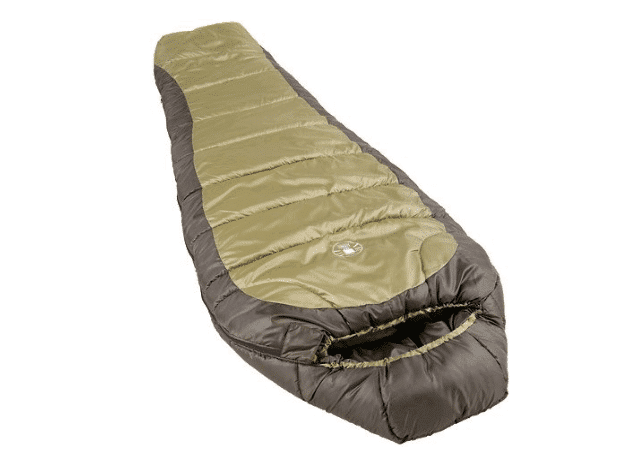 Here's another great mummy-style sleeping bag for you to consider. Coleman is a widely recognized brand you know you can trust. The Coleman North Rim Adult Mummy Sleeping Bag keeps you warm while you sleep–even in temperatures as low as 0 degrees Fahrenheit. Designed to accommodate most people up to 6 feet 2 inches tall, this adult sleeping bag features a mummy-style design with a box-shaped foot for extra wiggle room.
What We Love About It
Able to keep you warm from head to toe, its thermally efficient quilting construction eliminates potential cold spots, and its Thermolock draft tube helps prevent heat loss through the zipper. Designed with versatility in mind, this sleeping bag allows you to personalize warmth and ventilation. On warmer nights, keep the adjustable, semi-sculpted hood loose and use the two-way zipper to ventilate the bag.
Care
On colder nights, tighten the hood using the drawstring to lock in heat. This rugged, machine-washable sleeping bag features a ripstop-reinforced polyester cover that resists tearing and a patented ZipPlow zipper system that plows fabric away from the zipper to prevent snags and frustration. This backpacking sleeping bag comes with a stuff sack for easy packing, toting, and storing.
Tech
All Coleman sleeping bags are designed with ComfortSmart technology to keep you comfortable. The North Rim's ComfortSmart features include: ZipPlow (prevents snags), Fiberlock (increases durability), Thermlock (reduces heat loss), Zipper Glide tailoring (allows smooth zipper operation), and a Certified Temperature Rating. This Coleman sleeping bag is designed to provide the most comfortable overnight stay in cold weather.
5. Marmot Trestles 30 Mummy Sleeping Bag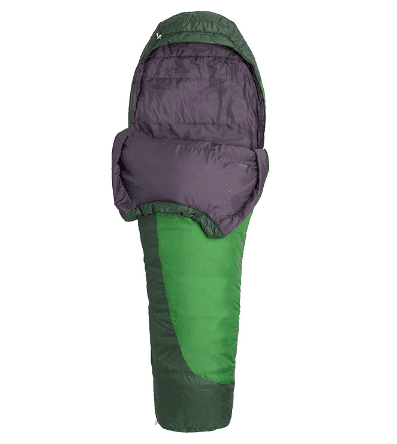 Marmot knows their way around outdoor gear. That's for sure. It's no wonder the Marmot Trestles 30 has earned a spot on our list as the best sleeping bag for camping. Sure, many companies advertise extreme temperature ratings. But Marmot always delivers.
What We Love About It
You know you won't be caught in below-freezing temperatures. And thanks to the SpiraFil insulation, you won't get too hot either. Another bonus is the footbox is shaped to allow for extra wiggle room. We really love appreciate the plush feel in the lower part of this sleeping bag.
6. Abco Tech Envelope Sleeping Bag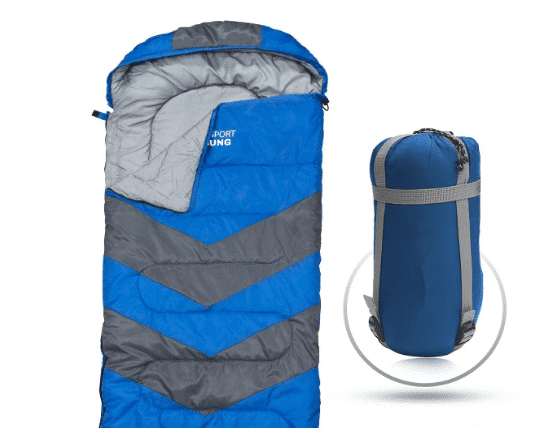 This is one of the best sleeping bags for camping, hands down. The price is just right too and it's great quality. Thanks to dual layers and synthetic fill, this bag will keep you warm even down to 20 degrees Fahrenheit.
Abco's innovation doesn't end there. This sleeping bag includes a carry bag and is pretty easy to wrap up when you're done with your trip.
7. Mountain Hardwear Women's Laminina Z Spark Sleeping Bag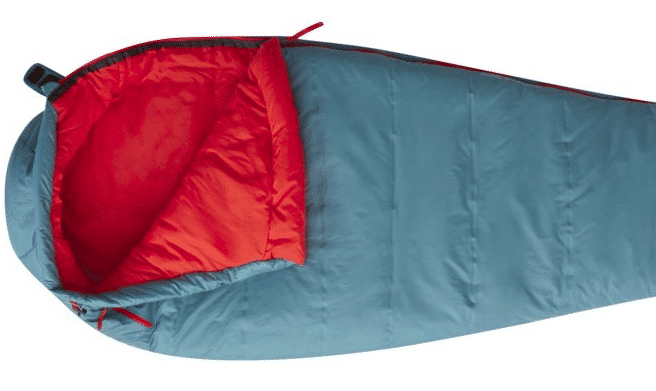 Ladies, this one's just for you. This is a top contender for the spot of best sleeping bag for camping. Why? We'll tell you. Mountain Hardwear is a top company and the Laminina Z Spark is a top-notch product.
The bag is intended for degrees down to 34 degrees fahrenheit. We'd say that it's ideal for spring climates. We love that it's especially made for women. Since this bag is for women, Mountain Hardwear too extra measures to make sure it's lightweight and no fuss.
Note
Be aware that this is another mummy shaped bag. The design draws your feet in close to your body to preserve warmth. However, you're not completely trapped in. You'll still have a good deal of wiggle room.
Design
A patented construction promises to keep cold drafts out and pleasant temperatures in. The bag features a soft polyester interior. We also love that the sleeping bag's exterior isn't totally shiny, so it's not slippery on your sleeping pad. It's a really compact size, and weighs under three pounds. Of the women's bags we've tried, we really love this Mountain Hardwear sleeping bag.
Invest In the Best Sleeping Bag for Camping
We hope you enjoyed reading our article on how to choose the best sleeping bag for camping. Do you have any favorite brands or sleeping bags. Let us know in the comment section below.
Related Article: Best Sleeping Bags For This Year's Adventures