Bodum products have been enjoyed for decades and we know why.
Life is too short to drink bad coffee. Or at least that's what I tell myself. I have experienced the missed-alarm-clock-rush to work only to realize I'll be having a Keurig cup of coffee that morning. Or worse, no coffee at all. My attempts to plan ahead and prepare my coffee grinds and tumbler the night before are far and few between. Let's be honest, no one should have to experience a coffee-less or tea-less work morning. This travel press is just what I am looking for. Functionality and quality become one in this travel french press. Take a look at our Bodum Travel Press review and see why this should be every coffee lover's new morning necessity; it's the king of espresso machines.
A Little About the Bodum Company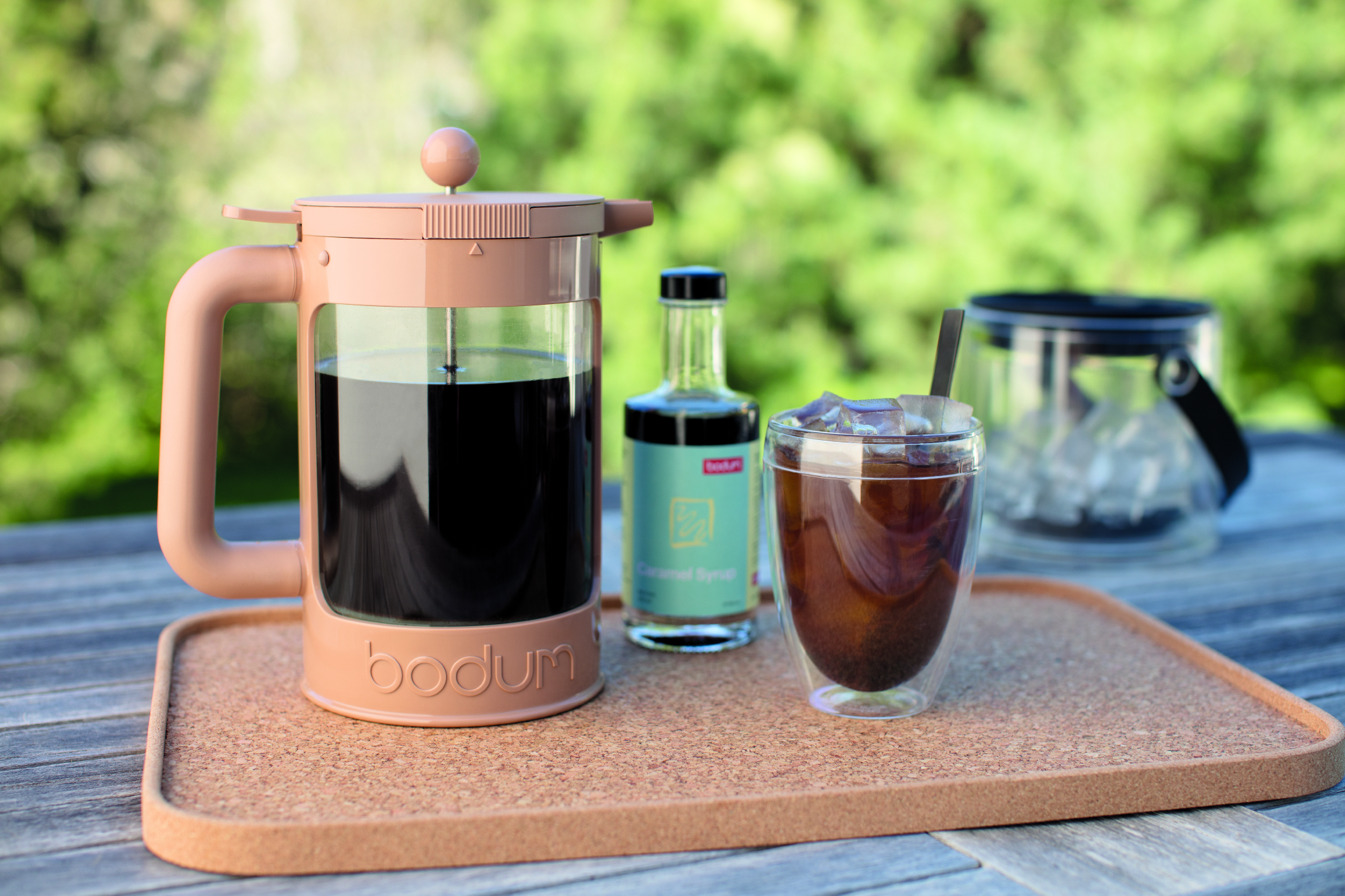 For decades the Bodum company has been crafting beverage accessories as well as sophisticated kitchen tools. Founded with the idea that form and function should work hand-in-hand, Bodum kitchenware continues to please aesthetic and practical purposes.
In 1958, Bodum released their very first vacuum coffee maker. Nearly two decades later their first french press coffee maker was released. Although the form has changed, the Bodum Travel Press highlights the company's cornerstone: functionality. Formerly, the french press was simply an eco-friendly way to make a cup of cafe. Now, their travel press is a way to take your favorite coffee or tea on-the-go. Pour your friends a glass in some beautiful Bodum Pavina glasses.
Bodum Travel Press Features & Benefits
A good cup of coffee or tea is always at your fingertips with the Bodum Travel Coffee and Tea Press. Made of vacuum-sealed, double-wall stainless steel with a colorful, silicone, non-slip grip, this travel press lets coffee lovers enjoy their daily fix on the go. It's quick and easy to use: add coarsely ground coffee, pour in hot water, seal the lid and take it to go.
After 4-minutes, regardless of where you are, press down on the plunger and enjoy. For those that prefer tea, the Bodum Travel Coffee and Tea Press works equally as well. The Bodum Travel Coffee and Tea Press keeps beverages hot or cold for several hours while maintaining the aroma and flavors of a freshly pressed cup.
It looks hot and stays hot. Enjoy a single-serving of French press coffee or loose leaf tea on the go with Travel Press Coffee Makers and Travel Mugs! Brew and drink or use in the place of a traditional 3 cup French Press. The stainless steel double wall design with a vacuum seal maintains heat for hours while remaining cool to the touch.
A Grande On-the-Go
Credit: Bodum / Facebook
For all us coffee connoisseurs and tea sippers taking their beverage on-the-go, we know one cup is never enough. This 3 cup french bistro press provides you with a substantial portion of coffee wherever life takes you. Of all the French presses on the market, this one is one of our favorites. In detail, the travel press holds up to 15 ounces, nearly a pint of coffee or tea goodness. You will find the 15 ounce coffee press at bodum.com as well as Amazon. Specifically, Amazon features a 12 ounce version as well. By and large, there are Bodum sizes for all consumers!
Keep the Heat
Presently, the Bodum insulated french press offers two versions of insulation. First, the clear, double-walled Bodum tumbler seals in heat with a vacuum seal. The double wall designs allows users to hold the cup as it is cool to the touch. Second, the stainless steel, double wall design keeps coffee or tea hot for hours. Again, the vacuum sealed, double wall keeps heat in while keeping the outside cool to be handled. The Bodum online shop features both the clear and stainless steel double wall design. Visit Bodum online to explore the different color options!
Features for Ease
Credit: Practical Caravan
There are several features that make this travel press easy to use. First, the Bodum coffee and tea maker keeps your beverage pure with a silicone and mesh filter. Sediments are trapped at the bottom of the tumbler instead of floating around in your drink. Next, a rubber base and silicone grip band manage to keep your Bodum french press cup in place. Notably, the Bodum thermos is versatile with the ability to function as a regular tumbler instead of a french press. An additional regular tumbler lid comes with the device to carry pre-made beverages. Last, the Bodum french press cup is dishwasher safe. No matter how you use the press, you can be sure it can fit your active lifestyle!
How to Use the Bodum Travel Press
1. Put 3-4 tablespoons coarse coffee grounds or tea leaves in the bottom of the tumbler.
2. Add hot water to the tumbler.
3. Stir contents.
4. Replace lid and wait 4 minutes.
5. Press plunger down.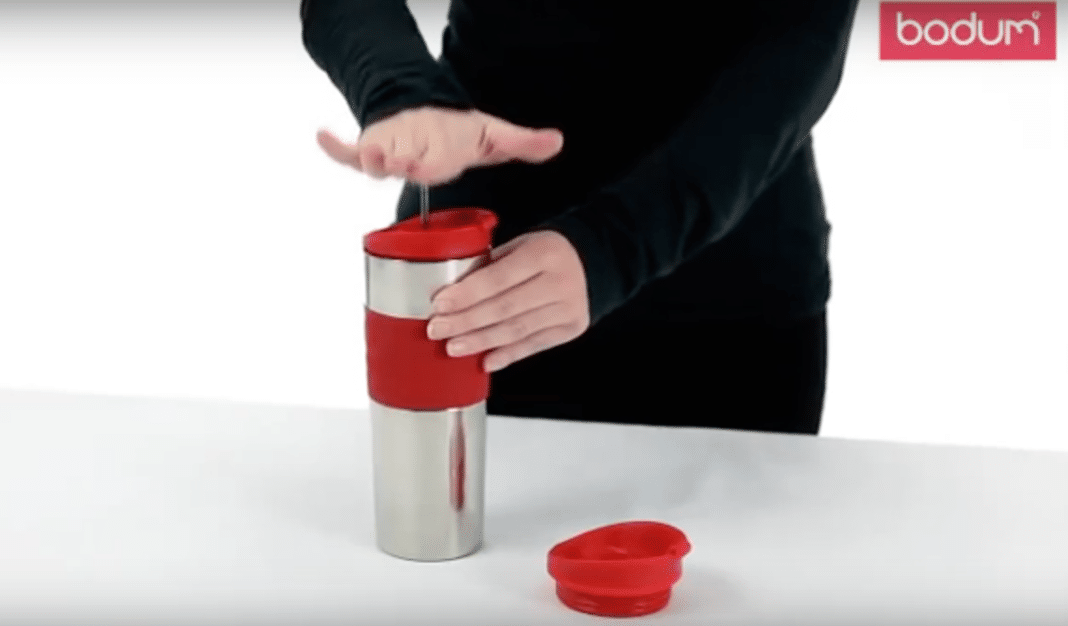 Your coffee is ready to enjoy!
Here's the full how-to video:
What Travelers Are Saying About the Bodum Travel Press
Overall, coffee and tea drinkers love their Bodum Travel Press. Many users consider the french press perfect for commuting. On-the-go users report that the travel press makes a quality cup of coffee. Reviewers can't imagine using another low-quality cup again. According to product users, the travel press is easy to clean and reuse. By far the most consistent report was, indeed, the temperature of the coffee in the tumbler. Each travel press user reported anywhere from 2-5 hours of hot coffee in their tumbler. In fact, some users felt the coffee was perhaps too warm to drink for an extended amount of time.
Although there were a majority of positive Bodum Travel Press reviews, some travel press reviewers had some misgivings about the product. Some observed excessive coffee at the bottom of the tumbler. These reviewers suggest a longer plunger to remedy the issue. Some reviewers experienced difficulty adding cream, milk, or sugar to their coffee or tea. Other reviewers suggest adding these items before plunging.
Alternative Travel Coffee Makers
Handpresso Wild Hybrid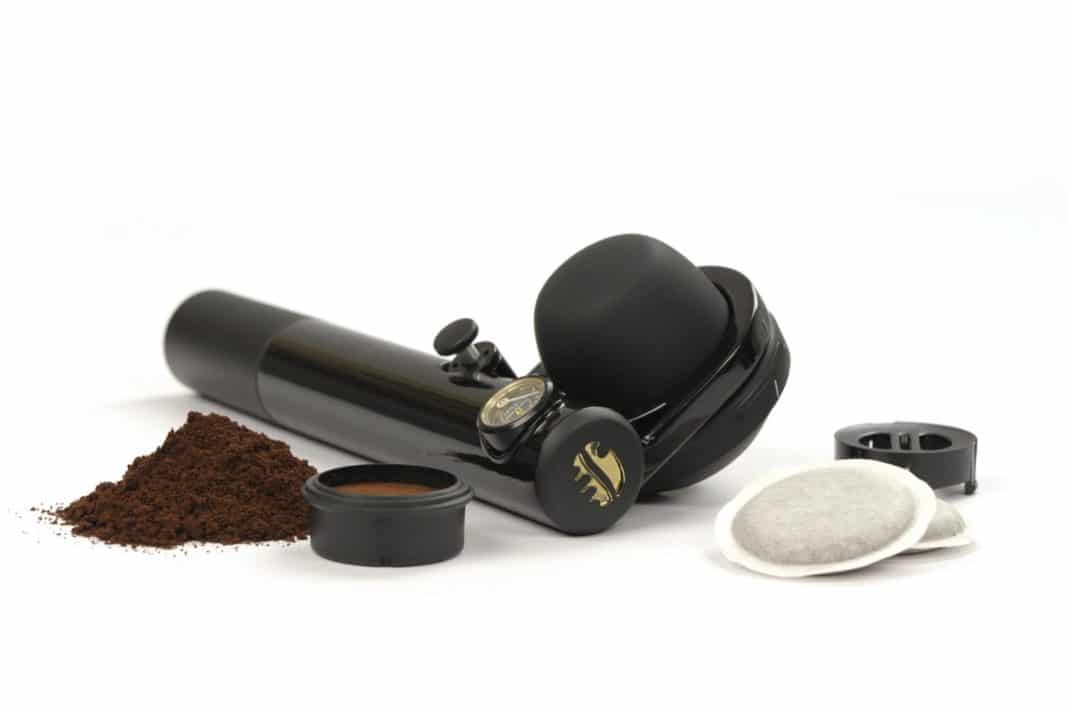 Credit: Amazon
This portable espresso maker will have you caffeinated on-the-go. The Handpresso Pump operates similarly to a bicycle pump. The device uses coffee grounds or espresso pods. Add hot water and espresso to the pump, press the dispensing button, and hot espresso will pour from the spout! The Handpresso is ideal for campers, hikers, and on-the-go espresso drinkers. The device does not require any batteries or electricity, just hot water! Similarly, the Bodum Travel Press simply requires hot water to brew a delicious cup of coffee! Yet, the Handpresso requires a separate cup or tumbler for drinking. The Handpresso Wild Hybrid would make a perfect alternative for the Bodum Travel Press. Take a look!
Espro Travel Coffee Press
This coffee press functions very similarly to the Bodum Travel Press. The device brews a coffee in the same way as the Bodum press. Coffee grinds and hot water are added to the tumbler and later pressed down by a filter. Yet, the Espro Travel Coffee Press uses a double filter system, reducing grit in the cup of coffee. Specifically, the design of the Espro press allows users to pour their coffee into a separate mug if they wish. On the contrary, the Bodum press requires users to drink from the travel tumbler. Overall, the Espro Travel Coffee Press is a highly comparable alternative. We recommend you check it out!
Primula Single Serve Coffee Brew Buddy
Some of us coffee drinkers value that cup of morning coffee in a mug. For those of you who love making your own coffee and tea while traveling, but aren't crazy about the tumbler, try the Primula Brew Buddy. This single serve coffee maker is ideal for those that want a travel accessory that requires minimal space and is easy to clean. Coffee grounds are placed in a fine mesh filter that sits on top of your mug. In pour-over-style, users pour hot water over the grinds. Hot coffee drips into the coffee mug. Voila! Your hot cup of coffee is ready. The Primula Brew Buddy is perfect for loose tea as well! This alternative is quite different than the Bodum Travel Press, but we think for some of you, this is exactly what you're looking for!
Bodum caffetteria
This 8 cup French press coffeemaker allows you to brew flavorful coffee in just 4 minutes. The French press coffee maker is the simplest of all brewing systems, where coarsely ground beans meet hot water right off the boil. The right temperature (92–96 °C, 195–205 °F) brings the optimal extraction power for the essential oils in the beans to develop their full flavor profile in just four minutes. An easy press on the plunger locks the grinds at the bottom of the glass carafe and stops the brewing process.
Bodum Pavina Double-Wall Insulated 12-Ounce Glasses, Set of 6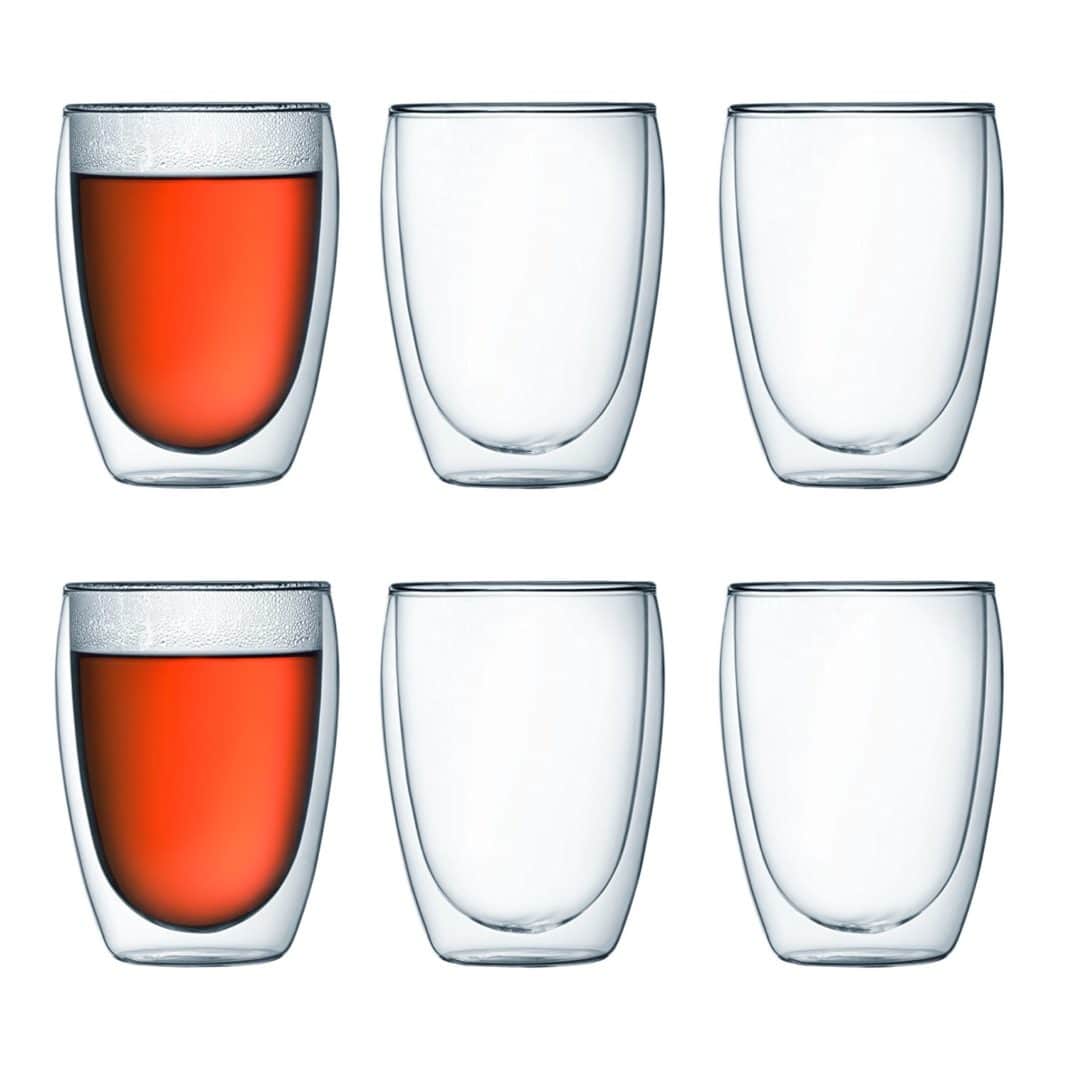 Aren't these gorgeous? The bodum pavina double wall glasses are individually handmade by expert artisans. Because this glass is mouth-blown, each one may have slight differences in height, thickness and weight. These glasses will help to keep hot drinks warmer and cool drinks cooler, while also protecting your hand from excessive heat or condensation. Because they are double wall, they don't sweat, eliminating the need for a coaster.
Liquids appear to be floating on air. Use them as wine glasses to keep you hands from transferring heat to the wine. For warm beverages and optimal heat retention, pre-heat the glass before adding hot liquids. Dishwasher and microwave safe. Please use care when placing ice into the glass to avoid fracturing the inner layer. We suggest adding the liquid first and then the ice. Please also avoid using metal spoons or placing the glass into a crowded dishwasher.
Chambord French Press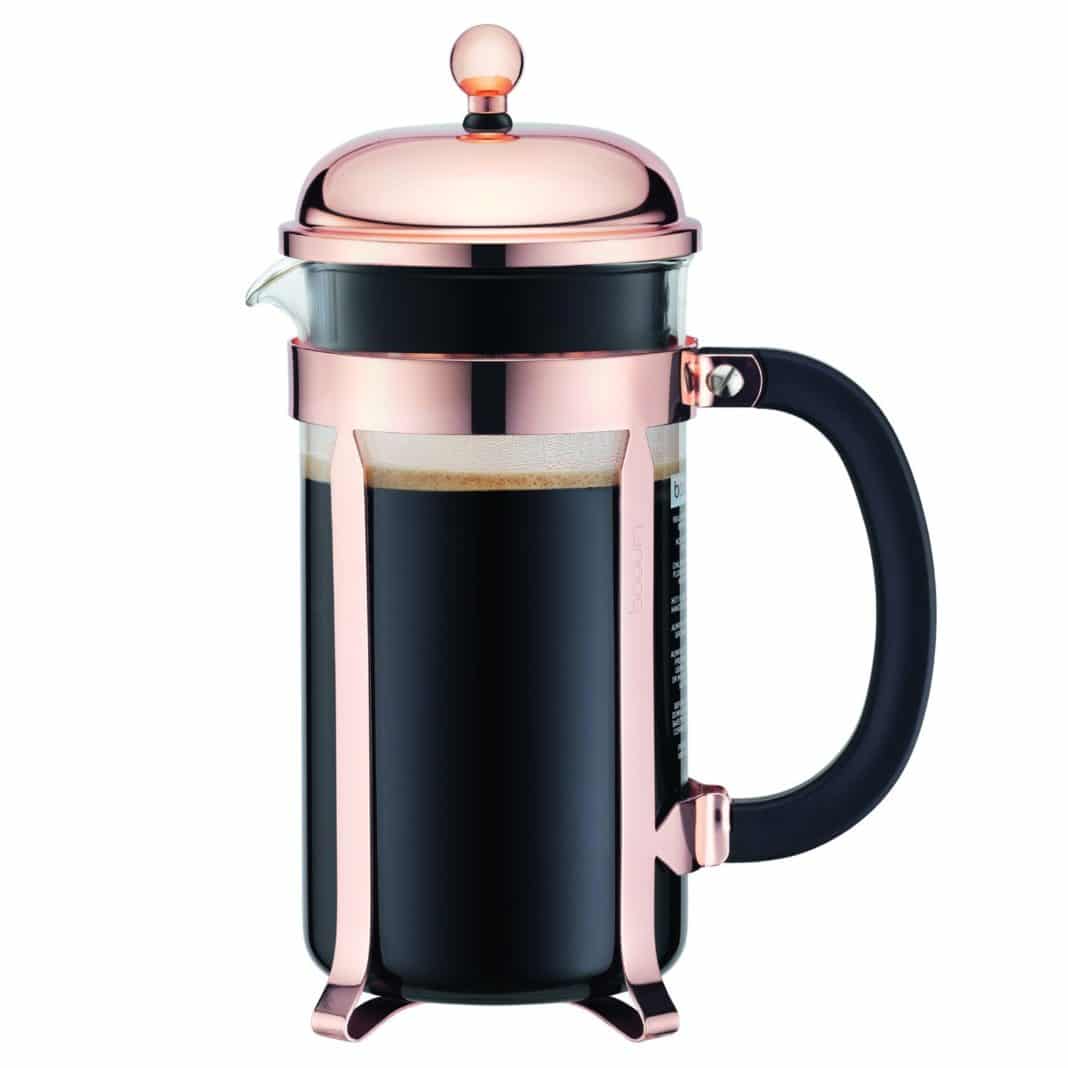 The Chambord French press brews a premium cup of coffee in just 4 minutes, simply add course ground coffee, hot water and press. This 3-part stainless steel plunger has a mesh filter that helps extract your coffee's aromatic oils and subtle flavors instead of being absorbed by a paper filter. Thanks to a durable design, the Coffee press features Bodum's patented safety lid to keep contents from spilling and is dishwasher safe for easy cleaning.
Pressed coffee extracts the perfect amount of essentials oils and acids from the coffee bean for maximum flavor; the preferred method for brewing for coffee enthusiasts everywhere. This premium French press coffee maker makes 8 cups of coffee, 4 oz. each.
Bodum Pebo Vacuum Coffee Maker
No other coffee maker has fascinated passionate coffee drinkers like the Pebo (former Santos). Its exceptionally effective vacuum brewing method extracts all precious oils of your favorite coffee.
The vacuum brewing process is entirely sealed off so no aroma can escape. In addition, the brewing time and temperature are perfectly calibrated, ensuring a perfect cup of coffee with each brew. Monitor the eye-catching brewing process through the two firmly attached glass bowls! Depending on the amount of water used, the Pebo (former Santos) can brew delicious coffee within 5 to 11 minutes, serving anywhere from 4 to 8 cups.
Our Take on the Bodum Travel Press
Bodum coffee makers are excellent. The Bodum Travel Press is no different. Where some users report the lid not fitting properly when the contents are at room temperature, mine secured firmly right out of the box and maintained that seal when hot. It is not 100% leak proof however, it was never designed to be. This is done to facilitate the press.
Do not expect to fill this full of hot water and coffee and just toss it into a duffel bag without making a mess. It will however hold up to bumpy car rides and even bicycle rides assuming you have a holder for it. Should it be knocked over on your desk while closed you will have ample time to recover it and avoid liquid disaster all over your pants.
This model is also quite a bit better at retaining heat than the plastic version. It's almost too good at it in fact. You'll find yourself unscrewing the lid just to get the coffee down to drinkable levels. Once it's at an ideal temperature, it will stay there for hours if you happen to be a slow coffee drinker. If you want some coffee more immediately then you had best be a good judge of water temperature when you but the kettle on.
The only thing we miss about my old plastic one was it's transparency. There was never any question if we had added too much water or if the coffee was done. We could see it quite easily. But if that's all we have to give up for longevity then so be it. We imagine it would be hard to add cream or sugar as well but if you drink it black that's a non-issue.
If you want quality fresh black coffee or loose leaf tea on the go without the cost or waste of a coffee shop then look no further. Convenient, sturdy and environmentally friendly, that's this press/mug combo.
Stop and Smell the Coffee
We can hear the coffee and tea lovers rejoicing!  No longer will you settle for a bad cup of morning joe, or worse, no joe at all. For a quality cup of coffee that will stay warm until lunch time, the Bodum Travel Press is your one-stop-shop. Just pick a size, a design, and your favorite color. Cheers!
After reading our Bodum Travel Press review, what do you think? Will you give it a try, or will you opt for another travel coffee maker? Tell us below!
Related Article: ​​Travel Coffee Makers For The Traveling Coffee Lovers​​​