Traveling Doesn't Have to Mean Sacrificing a Good Shot of Espresso
Whether on a road trip, on holiday, on a business trip, on the ski slopes, or at the office, most people think that being on-the-go means sacrificing their high-quality espresso shots. In the past, you did have to give up this luxury, but not anymore with the Handpresso Pump. This device is small and therefore portable. It is a convenient way to make quality espresso while on the road or in the mountains. Campers, backpackers, and other explorers will be very fond of this travel espresso contraption. Plus, this espresso pump requires no battery or electricity (though you will need hot water).
If you enjoy espresso, then consider investing in the Handpresso. In this review, we will be espresso-ing all the key features and benefits of the Handpresso. In addition, we will be sharing what fellow travelers are saying about this travel espresso maker. How does it stack up against comparable products? Continue reading in order to find out.
A Little About Handpresso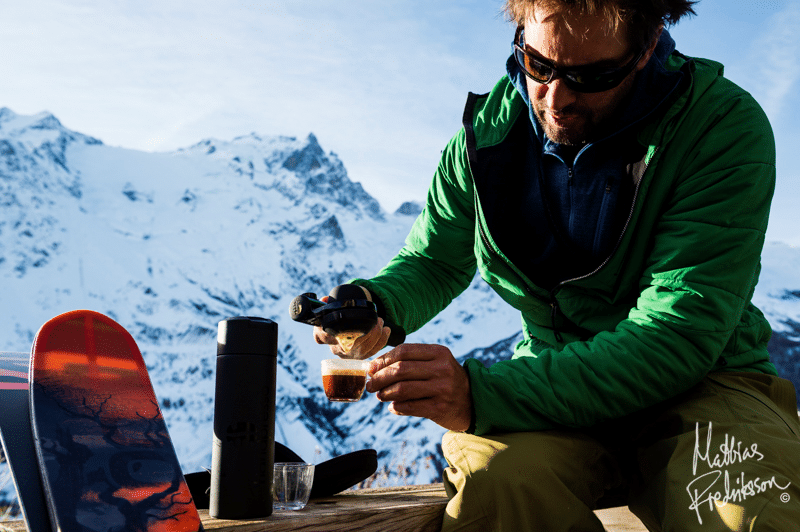 Credit: Facebook
Handpresso makes products that can be taken anywhere. They can go with you on the road, outdoors, on the water, on business trips, at the office, and on holiday. The light and simple design of Handpresso products allow for them to be easily packed in your backpack, purse, carry-on, and checked luggage piece. While there are plenty of travel espresso makers on the market, none are quite as compact as the Handpresso Pump. Not only is this espresso maker compact, but–the most important part–it can make a great shot of espresso.
Traveling does not have to mean settling for low-quality coffee. Also, when you are working at the office, you don't have to settle for low-quality coffee either. If the coffee options in the break room are a tad sketchy, then you can bring the Handpresso to work with you and create your very own tasty espresso. From on the road to in the office, the Handpresso Pump is a travel accessory to consider.
A common question with the Handpresso Pump is, "can it be used to make a regular cup of coffee?" The answer is, it depends on. It depends on how adventurous you want to get. The Handpresso is specifically designed for espresso shots, but it is possible to make coffee. It will require creativity and patience, but you can still make a decent cup of joe with this product. The water reservoir doesn't hold much water (nearly 2 ounces which is standard for an espresso shot). So, the way to make a regular cup of coffee, is to just keep adding water into the reservoir.
Handpresso Pump Features & Benefits
Handpresso Pump Specification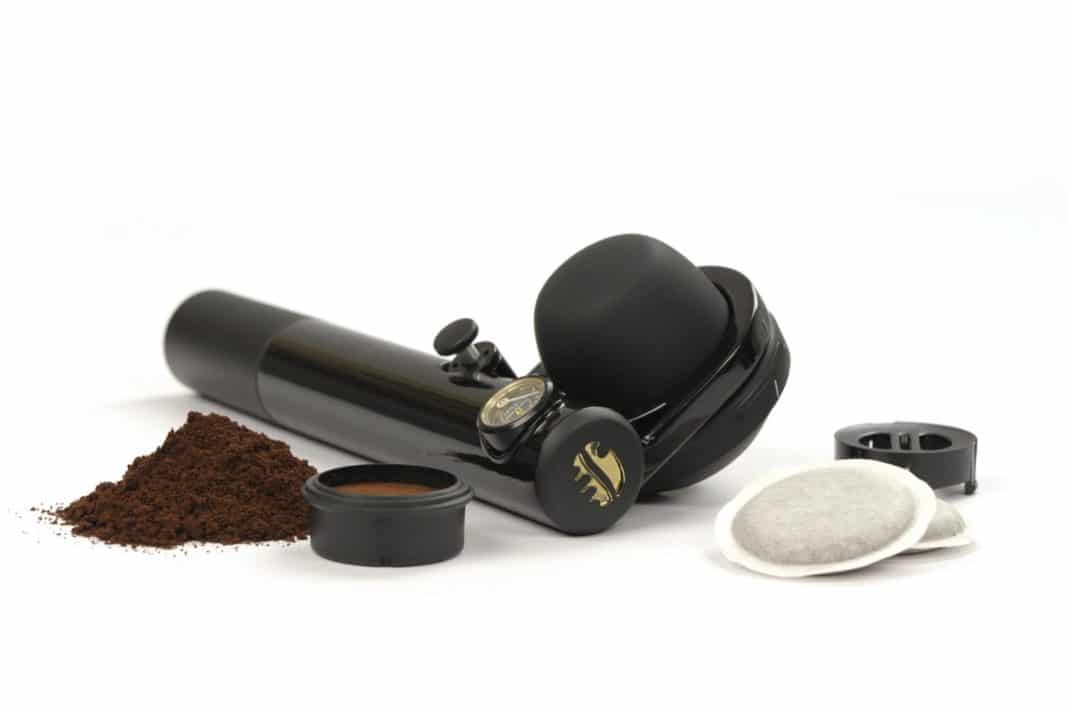 The dimensions of the Handpresso Pump are 11 x 6 x 5 inches and the product weighs in at 1.1 pounds. The water reservoir is 1.69 ounces. Clothed in all black, this product is compatible with ground coffee and E.S.E. (Easy Serve Espresso) pods. However, black is not the only color this product comes in. Travelers can choose from a white/blue combination, white/pink combination, white/green combination, and white/black color combination. The Pump does not require batteries or electricity. The only additional item you will need it hot water, which can be from a kettle of a thermos flask. That said, be sure to remember that this product does not heat water. Water must be heated separately.
E.S.E. Pod or Ground Compatibility ​​​​​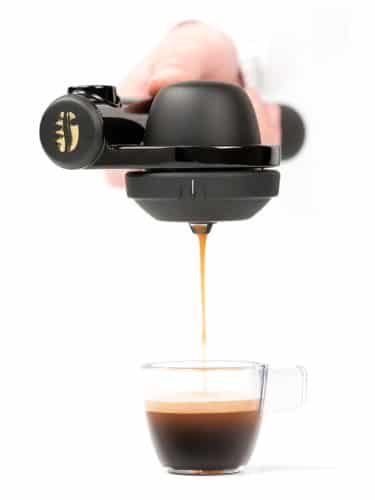 The Pump functions with E.S.E (Easy Serve Espresso) pods or coffee grounds. That means that travelers have options. And when traveling, options are a blessing. There are loads of coffee brands that make E.S.E. pods. With E.S.E. labeling on the package, you will be able to easily identify the espresso pods that are compatible with the Handpresso. When you are traveling, you can either purchase these pods or bring along your own coffee grounds to use with this product.
Extremely Easy to Use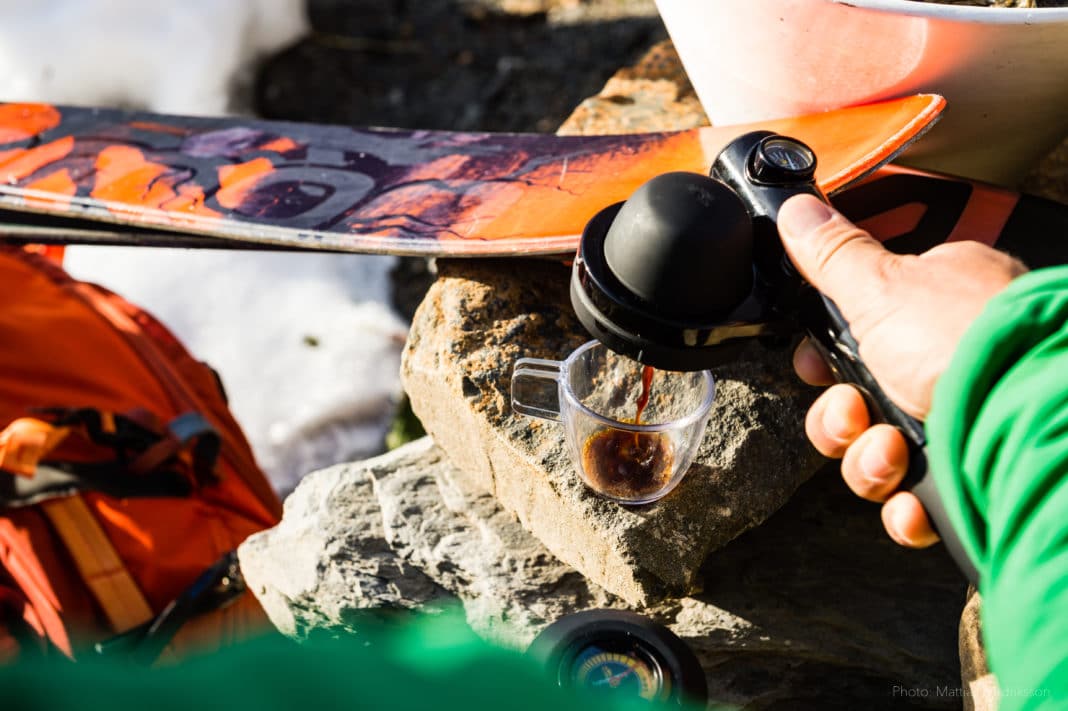 It is very easy to serve espresso with the Pump. The first step is to increase the pressure to 16 bar with the pump. This process is similar to using a bicycle pump. The next step is to add hot water and close the lid. The bottom of the Handpresso has a black spout. This spout is where the espresso is dispensed and therefore should be placed over your cup. Finally, add an E.S.E. pod or coffee grounds of your choice, press the dispensing button, and voila! You have espresso!
When it comes to the hot water, travelers can pour in hot water from a kettle or a thermos flask. If looking for a thermos that can keep water steamy hot until you are ready to use it with the Handpresso, consider investing in a Hydro Flask water bottle or a S'well water bottle. Both water bottles double as a thermos. They are made of insulated stainless steel to keep hot drinks hot for hours.
Pro Tip: Do you want espresso with a fine and smooth créma? The finer the coffee grounds and the hotter the water, the creamier the froth will be.
What Travelers Are Saying About the Handpresso Pump
Campers and explorers near and far appreciate the portability of the Pump. Travelers are quite shocked by how such a small and light contraption can make such a delicious shot of espresso. 5 stars were given by most travelers. 5 stars were even given by those who reported having issues with figuring out how the device works. Speaking of how the device works, there are specific instructions to follow. As long as the instructions are followed thoroughly, you will be able to make a smooth shot.
Overall, travelers rave about this travel espresso maker and many say that purchasing the Handpresso will cause espresso envy among those you travel will. Customers mentioned how they even like to use the Handpresso Pump at home! From the home to hotels to hostels to the outdoors, customers have shared that the Pump can make a decent shot. It may not be Starbucks, but this compact device will surprise you by the quality of espresso it can serve up.
Alternative Travel Coffee Makers
Handpresso Auto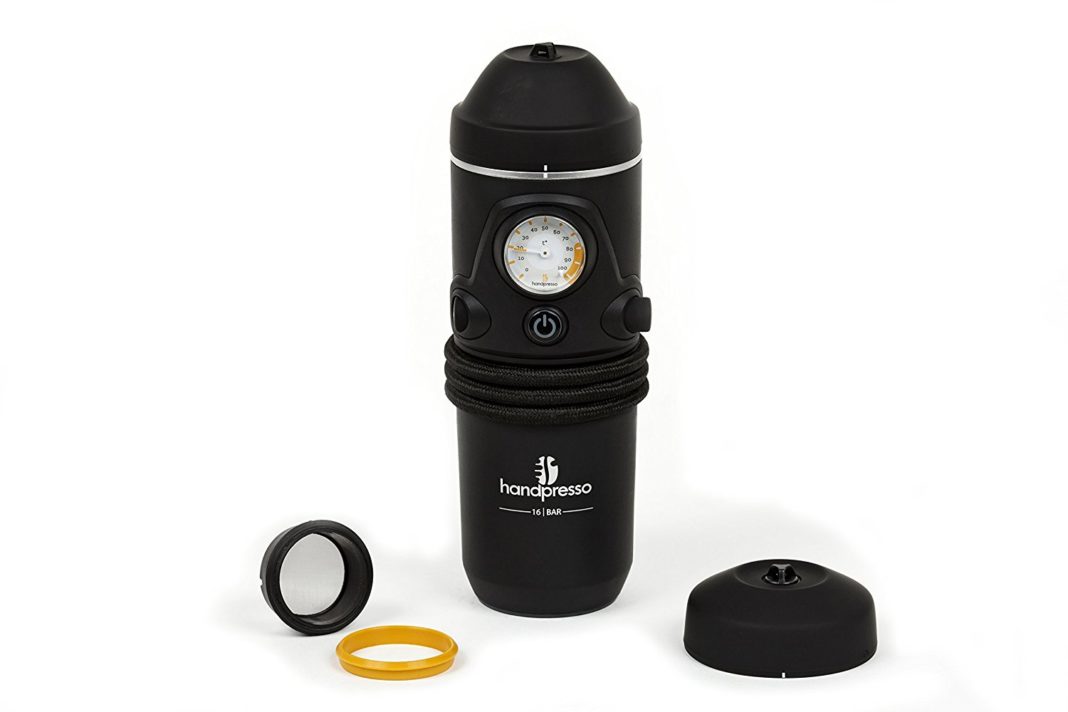 The Handpresso Pump is a manual-use product. The Handpresso Auto–as the name states–is automatic. This product is also unique because it can make espresso in your car using a cigarette lighter (12v). In other words, the Auto is the ideal travel espresso maker for road trips. Another big difference between these two espresso machines is that the Auto can heat water. When you are on-the-go, all you need to do is simply plug the machine into a cigarette lighter, add water of any temperature, add an E.S.E. pod or coffee grounds, press the "on" button, and let the rest to the Handpresso Auto. In less than 2 minutes customers will have a satisfying and hot espresso shot. Whether you are into road trips or have a long commute to work, the Handpresso Auto is the best way to brew barista-like espresso from the convenience of your car.
The Handpresso company sells many other products too that may be worth considering. They sell Thermo-Flasks that come with a built-in thermometer. In addition, they sell travel coffee grinders, travel cases to store your Handpresso pump, espresso cups, and small cases to keep ground coffee. Consider looking into some of the brand's other products if you are intrigued by the Pump.
Presto MyJo Single Coffee Maker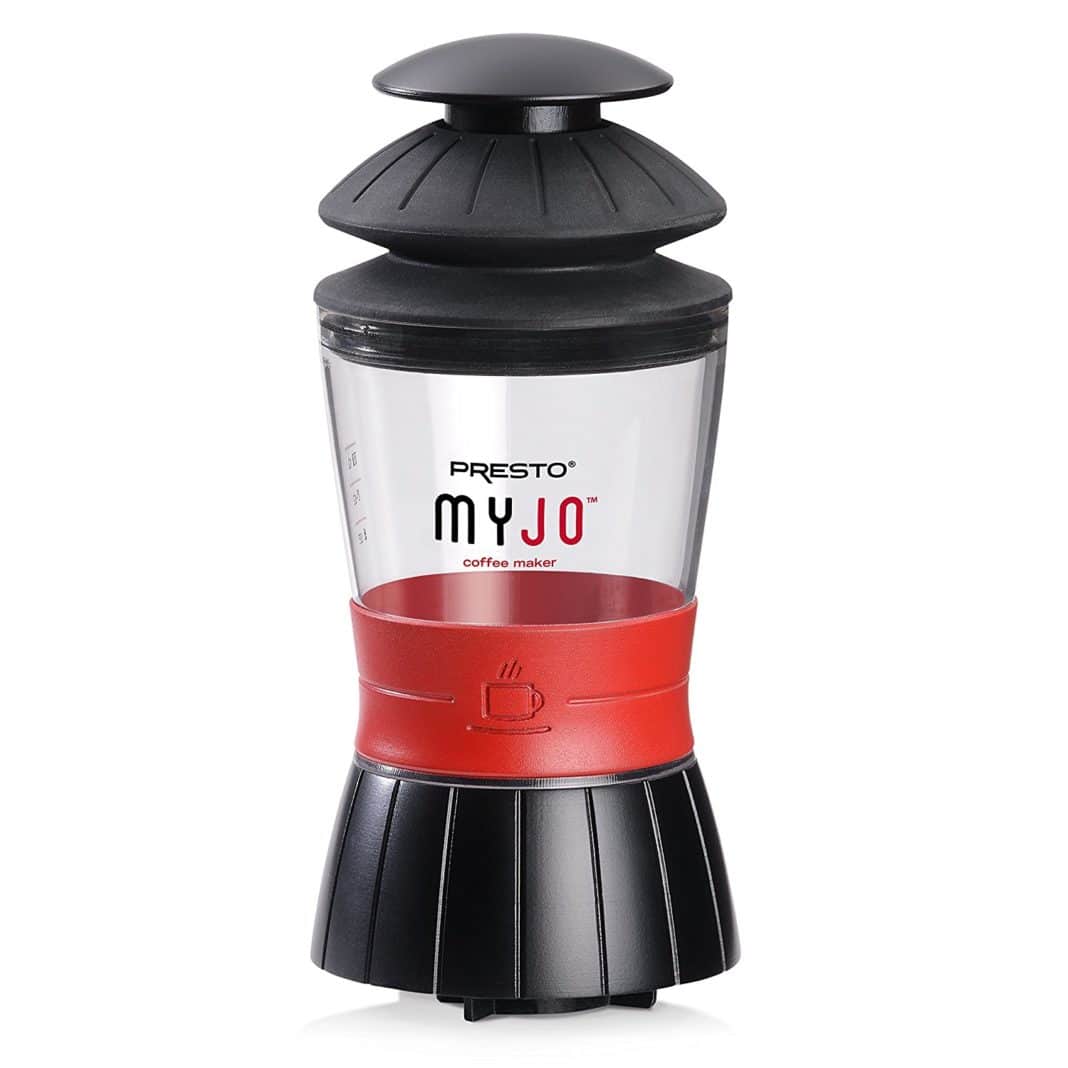 Maybe espresso isn't your thing. Maybe you're one that enjoys a regular cup of coffee. If that's the case, consider the Presto MyJo Single Coffee Maker. This travel coffee maker alternative is affordable, easy to clean, k-cup compatible, and microwave-safe. Also, the Presto MyJo works without electricity, much like the Handpresso. Whereas the Handpresso is very small, the Presto MyJo Single Coffee Maker is much larger. Though, most travel coffee makers will naturally be larger than espresso makers. They brew a larger cup, after all. With all that said, this product is one to consider if you are in the market for a travel coffee maker and not a travel espresso maker.
We Cannot Espresso How Much We Like the Handpresso
The Pump also makes a wonderful gift for the travelers in your life. Treat yourself, or someone you love, with the gift of the Handpresso. From the ski slopes to the beach to the urban hostel you're staying in, you can always have access to quality espresso shots. We cannot speak highly enough of this product. There simply is no other handheld, lightweight, and portable travel espresso maker out there and for that reason, we are very impressed with the Handpresso Pump. We have a feeling the traveling espresso lovers out there will be too! Consider the Handpresso if looking for a travel coffee maker that is compact and functional.
What do you think about the Handpresso Pump? If you have given this travel espresso maker a try, then we want to hear about your experience in the comments section below!
Related Article: ​Travel Coffee Makers For The Traveling Coffee Lovers​​​