Leave your smartphone by your bedside. The Samsung Gear S3 Frontier Smartwatch has got what you need.
If you haven't heard of this watch before, it's about time you had. Since it's Bluetooth connected, you can get all of your calls, texts, emails, and more without having to dig in your pocket for your phone. Since it has a built in speaker and microphone, it's never been easier to take that call when you need it.
The Samsung Gear S3 Frontier Smartwatch also has its own LTE, heart monitor, Wifi, and GPS. Did we mention you can make payments through voice control? There's plenty more to explore with this trendy device.
Samsung Gear S3 Frontier Smartwatch Features & Benefits
Design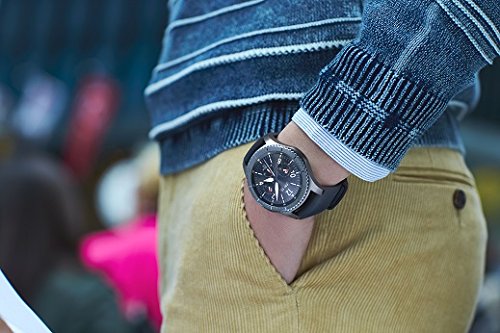 Credit: Amazon
So most smartwatches are built for people with larger wrists. That's easy to see. The Samsung Gear S3 Frontier Smartwatch is no exception to the rule. So if you're thinking about picking one up, just know that it tends to run on the larger side of the spectrum. The face measures 46 by 49 millimeters and without the band, the watch weighs in at 2.2 ounces. That's just a little more heavy than some of the Apple Series watches.
We like that it has a simple aesthetic; it's not big, bright, or flashy. Serrated marks on the watch's rotating bezel not only look great for style but also make it easier to turn. The silicone band can also easily be swapped out if so desired. On the right side of the S3, you will find a series of buttons. The upper one works as a universal back button, while the button serves to take you to the home screen or the app menu.
Last but not least, gear that Samsung makes lasts long. The face of the watch is protected by Gorilla Glass, meaning it should withstand drops of up to 5 feet. It is also somewhat water resistant, able to withstand being submerged in about 5 feet of water for up to a half hour. So, take it swimming or snorkeling – just not diving.
Display Screen
Credit: Amazon
One of our favorite features about the Samsung Gear S3 Frontier Smartwatch is the bright amoled screen. The resolution of 360 x 360 pixels is so bright that you can easily see the screen day or night. Colors are incredibly vivid too. When you go to pick your brightness settings, you have the option to set the S3's display screen as always on.
After all, the dimmed setting doesn't differ much from the full brightness anyways. The only exception is that the second subdial is gone and replaced with a white tick mark that moves around the screen. The only downer to setting up the display to be 'always on' is it really cuts into the battery life.
User Interface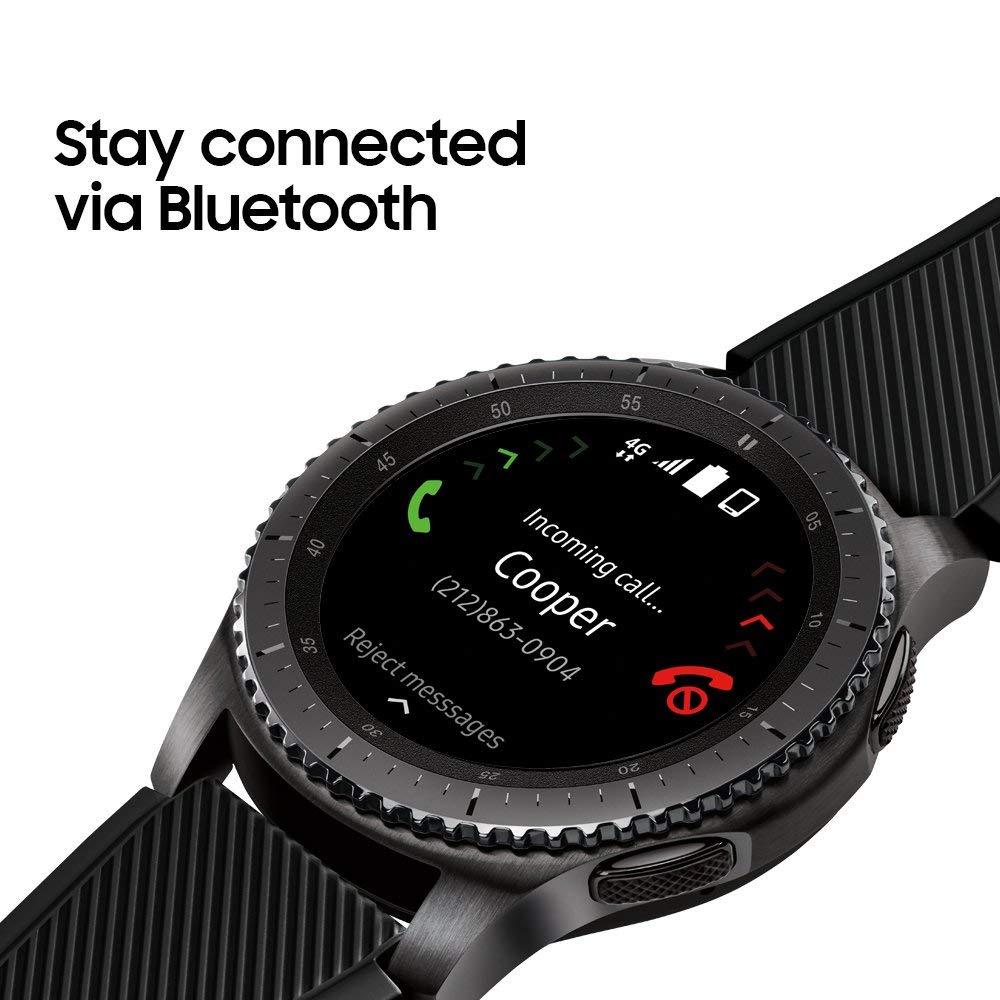 Credit: Amazon
Unlike most smartwatches that employ android wear, the Samsung S3 opts for its own Tizen operating system. In a lot of ways it looks like a mesh of something of Google and Apple's operating systems. What does this mean for most of us who aren't super tech savvy? Well, from the home screen, you can swipe left or right to get notifications and use your apps. You can also create reminders for yourself, check what the weather's going to look like, and more.
Press the bottom button on the side. The screen will switch over to Tizen's app menu. The circular icons are arranged around the edge of the display screen. You can view up to 8 apps per page. However, as you install more apps, more pages will appear to accommodate them.
Navigation and Communication
Credit: Amazon
Similar to its predecessor, the Samsung Gear S3 Frontier Smartwatch has a rotating bezel. This allows you to quickly and easily scroll through menu items, apps, and more. It won't go too fast. Each click of the bezel is met with a slight resistance, slowing down your scrolling speed to a steady pace.
When it comes to messaging and notifications, there are a myriad of ways you can handle this. While there is no Facebook messenger app, if you receive a message while you're connected to Bluetooth, you could respond with a pre-written reply or type in a message. You can also trace letters on the screen to write out your responses if you'd like. While this isn't a great way to compose an email, it's fun to try out for a quick message.
Battery Life
Did you know that you can go nonstop for days on just one charge? When it's time to juice up again, you don't even have to plug the S3 in. how great is that? The only thing we should let you know upfront is that the Samsung Gear S3 Frontier Smartwatch is only compatible for Android smartphones. If you desire full connective functionality, you need Bluetooth pairing with a wireless network-connected phone.
Issues
While we love the Samsung Gear S3 Frontier Smartwatch overall, we really do miss contextual awareness. For example, it would be great if it would automatically remind you with calendar reminders for appointments, display directions for your home route when you're getting ready to leave, etc.
The Apps
Credit: Amazon
So where do you find the apps? Here's the biggest issue with Samsung's home operating system. They have to convince others to design apps for the S3. As much as Samsung has been trying to develop an independent home operating system with separate apps, it will never get on the level of Apple or Google. For example, instead of being able to download MyFitnessPal or Sworkit, you are limited to only S Health.
Since the launch of the S3, Samsung claimed that apps were in the works for Twitter, Groupon, and eBay. Of the three, the Samsung Gear S3 Frontier Smartwatch is only able to host eBay. Although the Spotify app was featured on Samsung's homepage for the S3 before, it has yet to make it onto the watch's list of available apps.
Maps for Gear (the navigation app) is surprisingly clear given the small screen size. Use the bezel to zoom in and out. You'll be able to see everything from marked bus stops and subway stations to individual streets. With this said, you can't count on the navigation unless you're paired to a phone. This seems like another area where Samsung could have done a lot better. It seems like a given, granted the S3 has built-in data and a GPS.
Okay, so those are the only two criticisms we have of the S3 app system. Here's the plus side. You can install apps directly through your Samsung Gear S3 Frontier Smartwatch as opposed to having to download them through your smartphone first and sync up.
Fitness
What the Samsung Gear S3 Frontier Smartwatch lacks in a broad selection of fitness apps, it makes up for in tech. Did you know it features an altimeter and barometer in addition to GPS and a heart rate monitor? With this said, you can still sign up for the Pear app, which provides training or the Gear Fit app. The S3 can track a wide variety of activities – anything from elliptical to rowing machines, squats, lunges, and cycling. The altimeter measures your elevation; this is very useful for avid hikers and climbers.
So, the S3 has two physical buttons. To start and stop workouts though, you will need to touch the display screen. You'll run into a problem here if your fingers are sweaty, as the screen won't always immediately recognize those touches. If you want to rotate the bezel to switch between distance, calories, speed, heart rate, and music controls, you can do just that.
S Voice
The built-in speaker in the S3 is surprisingly loud. This means that the Samsung Gear S3 Frontier Smartwatch is not only capable of listening to your commands but also responds to them. Just like you'd say "Hey Siri" with an iPhone, you can say "Hi Gear" and your S3 will respond to you. Ask it to send an email, call your friend, or check the forecast for rain in the afternoon.
With this said, Samsung's voice assistant is nowhere near as sophisticated as Amazon's Alexa or Apple's Siri. For instance, you can't get Gear to rap "Apologies in Advance to the Sugarhill Gang" – much to our chagrin. Or it can't respond to "get me directions home." It will tell corny jokes though and that definitely scores some points in our book.
When it comes to translating your voice to text, the S3 Frontier was very accurate. However, like Apple's Siri, it is also delayed in responding, so you have to wait a few seconds before you give a command.
4G LTE Data Speed
Unleash the power of a truly smart – well, smartwatch. Even if you leave your smartphone at home by accident, you can still make calls, send texts, respond to emails, get news and weather updates, and even download apps. The best news is that the Samsung Gear S3 Frontier Smartwatch handles voice calls very well. When you make a call, you can easily hear the person on the other end and they can hear you equally well.
If you use AT&T as your smartphone carrier, you can take advantage of NumberSync. This lets you use the same cell phone number on the S3 as your smartphone when you receive texts and calls. SOS is a good safety feature. If needed, you can send an emergency distress signal from the watch to preselected contacts and allow them to track your location for up to one hour. After activating the feature in the Gear manager and choosing an emergency contact, all you have to do is press the home button three times and a text message will be sent along with your GPS location.
Samsung Pay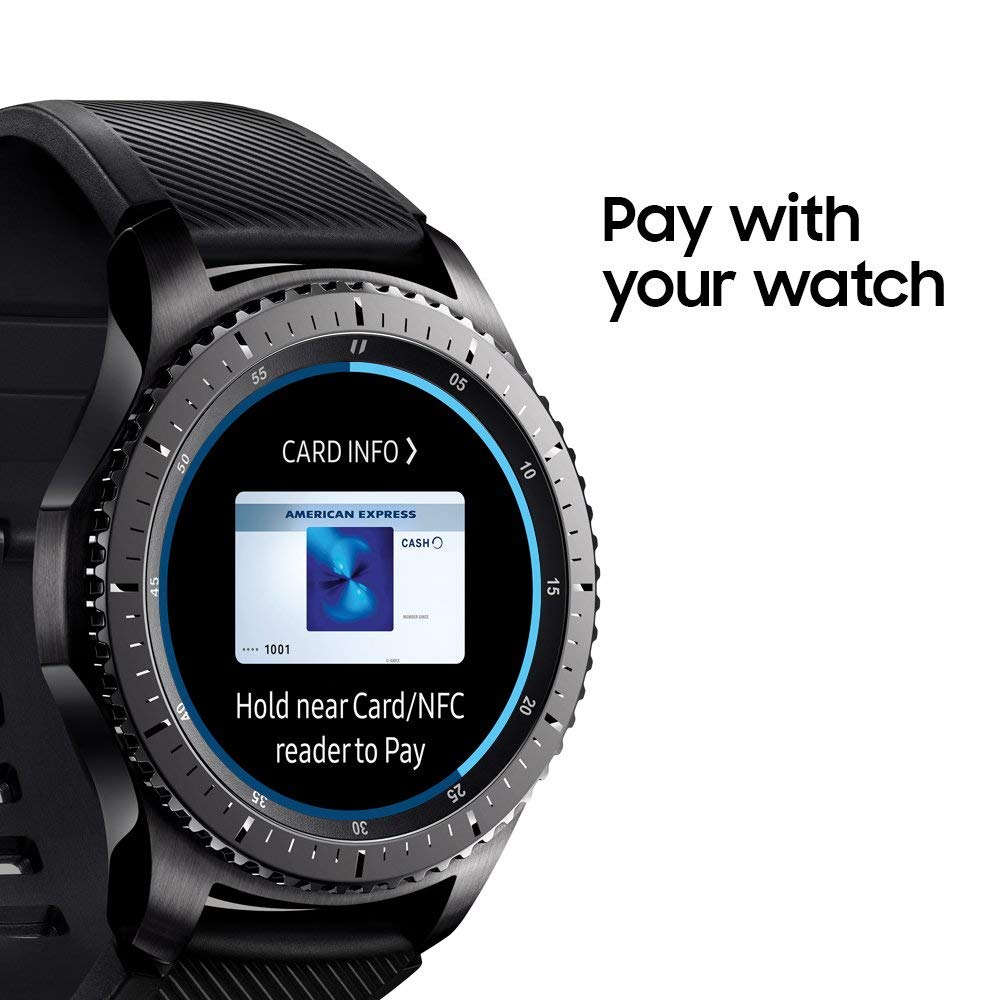 Credit: Amazon
Leave your wallet at home. Register your cards in the gear app on your smartphone. All you have to do is press and hold the back button. Then, tap the "pay" button on your S3.
Gear S3
The Samsung Gear S3 Frontier Smartwatch is available with LTE service from either AT&T or T Mobile. If you choose this, you can add it onto your wireless plan (we highly recommend doing so). If you go through AT&T to get it set up, it will cost you an extra $10 a month to add the S3 to your existing plan.
Battery Life
We lightly touched on the battery life of the Samsung Gear S3 Frontier Smartwatch. But it's certainly worth another mention. According to Samsung, this little wonder can last for up to three days on a single charge. Even with the display lights on bright and a bunch of notifications coming through, users were able to get 24 hours out of it without needing to stop and recharge. We learned that using GPS drains the battery life very quickly. Using it for just 30 minutes ate away 10% of the overall charged battery.
Tech Specs:
Steel bezel to access apps and notifications

Text, call, and send emails directly from your watch

GPS navigation

check

Apps

check

Military-grade performance; resists water, dust, extreme temperatures

check

Compatible with Android and iOS smartphones
What Travelers Are Saying About the Samsung Gear S3 Frontier Smartwatch
Overall, the watch is geared more towards everyday practical use than use abroad. If you're going to be doing road trips or traveling domestically, it would work great. Just make sure that your data service plan covers where you are roaming.
Alternative Travel-Worthy Watches You May Like
SKMEI Men's Digital Sport Watch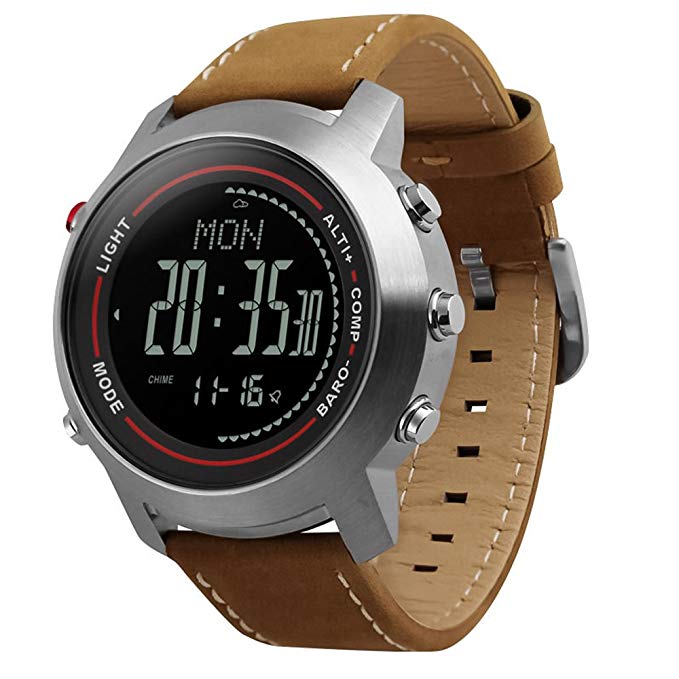 If you're looking for something both fashionable and functional, you've found it in the SKMEI men's digital sport watch. As an outdoor sport and casual fashion brand, they provide the best products you can use and wear just about anywhere.
This digital display led wrist watch offers such precision and has an elegant appearance. Even better, it's durable and supports long time use. It's one of the best watches for men on the market. Perhaps the best news of all is it won't break the bank.
All types of travelers will enjoy the features on this watch. An altimeter, pedometer, and memory storage are all available to use. At your location, when the air pressure rises, the weather maybe fine; the air pressure drops and the weather would be cloudy and rainy.
Track your moving steps with the pedometer. You will know how far you walk and how long between you and destination. The memory storage records the last 7 days data in the watch and the sequence of screen display is in step of distance, calories, sports time.
Tech Specs:
Imported

Multifunctional: The altimeter measures the altitude on a graph and the barometer shows air pressure

Track your steps

check

Digital sports watch: Use a countdown and two independent alarms

check

Waterproof watch: Waterproof up to 164 feet
Here's the Bottom Line
Before we tell you what we think, you have to ask yourself a question. What do you want out of a smartwatch? It seems that the main idea behind the Samsung Gear S3 Frontier Smartwatch is to be an easy substitute for your phone. If you forget your phone at home, you can still get by with a lot of the basic functions you need – think texting calling, emails, GPS, and more.
If you're an android phone user, this is probably the best smartwatch on the market to date. Generally, it serves better as a stand-alone device than than any other Android wear watch would. While the design is certainly large, it's a little more attractive than Apple's designs. And the crisp display from 4G isn't bad either.
Just like the Gear 2, the Samsung Gear S3 Frontier Smartwatch doesn't have enough apps. While it certainly would be more convenient if it did, you can't consider it too much of a pitfall. After all, how long are you going to be using apps on a watch screen? Overall, it's a great, reliable little device and we like it.
Common Questions
Looking for more travel-related accessories? Check out these articles for some of our favorite picks:
Questions and Comments
Do you have any questions or comments for us? If so, we would love to hear them. Feel free to leave a message for us below. We will be sure to get back with you soon.
Related Article: The Best Watches For Fashion-Minded Travelers