Style isn't reserved to what you wear. The Solo Everyday Max Hybrid Backpack goes to show just that.
When you're on the go, you want to look as pulled together as possible. This solo backpack helps you to do just that. Versatility and portability come together to create a dynamic travel accessory. Geared towards millennials with an affinity for minimalism, the Solo Everyday Max Hybrid Backpack has quickly become a best-seller.
So why do we love this solo backpack so much? First off, it has plenty of holding power. Measuring 21" x 13" x 8", the interior is quite spacious. With padded straps and back support, you will feel comfortable carrying your load. When it's empty, the Solo Everyday Max Hybrid Backpack weighs in at two and a half pounds. But that's not all. There are quite a few additions that set it apart from the rest.
About the Brand
Founded in 2008, Solo New York was brought about with a commitment to shake up an old industry. Their goal is to keep you moving in style with cool, durable travel accessories. As one of the world's fashion capitals, the streets of NYC provide endless design inspiration. Thus, every product they make is uniquely crafted, sparked by the sights, sounds, and soul of the city that never sleeps. While the folks of Solo call New York home, their products carry that dynamic spirit everywhere in the world.
Solo Everyday Max Hybrid Backpack Features & Benefits
Traveling is like a game of Tetris. You want to see how many things you can fit into a small space. Whether that's packing activities into a day or just trying to get that extra shirt to fit in your bag, it's a game of balance. It's also important to remember not to overload yourself either. This is where the Solo Everyday Max Hybrid Backpack comes in handy. It's the perfect travel accessory. Let's take a closer look at its features and benefits.
The Aesthetic
There's no doubt about it. This backpack is sleek and cool. While there is certainly more than one great solo backpack on the market, the Everyday Max Hybrid kicks it up a notch. When we travel, we like to stick to neutral color palettes and minimalist styles that don't attract too much attention. Sure, you should never leave your bag unattended. But a bright, flashy style just screams "steal me!" You don't want to draw unnecessary attention when you are trying to navigate your way around a new city.
We love the subtlety of the dark blue and gray fabric. Yellow detailing on the zips and handles adds just the right amount of color pops in the mix. In addition, the bag holds its shape very well. You won't have to worry about it collapsing or even looking overstuffed or lumpy. When you're on the plane, it fits well into the overhead compartment or under the seat in front of you.
Design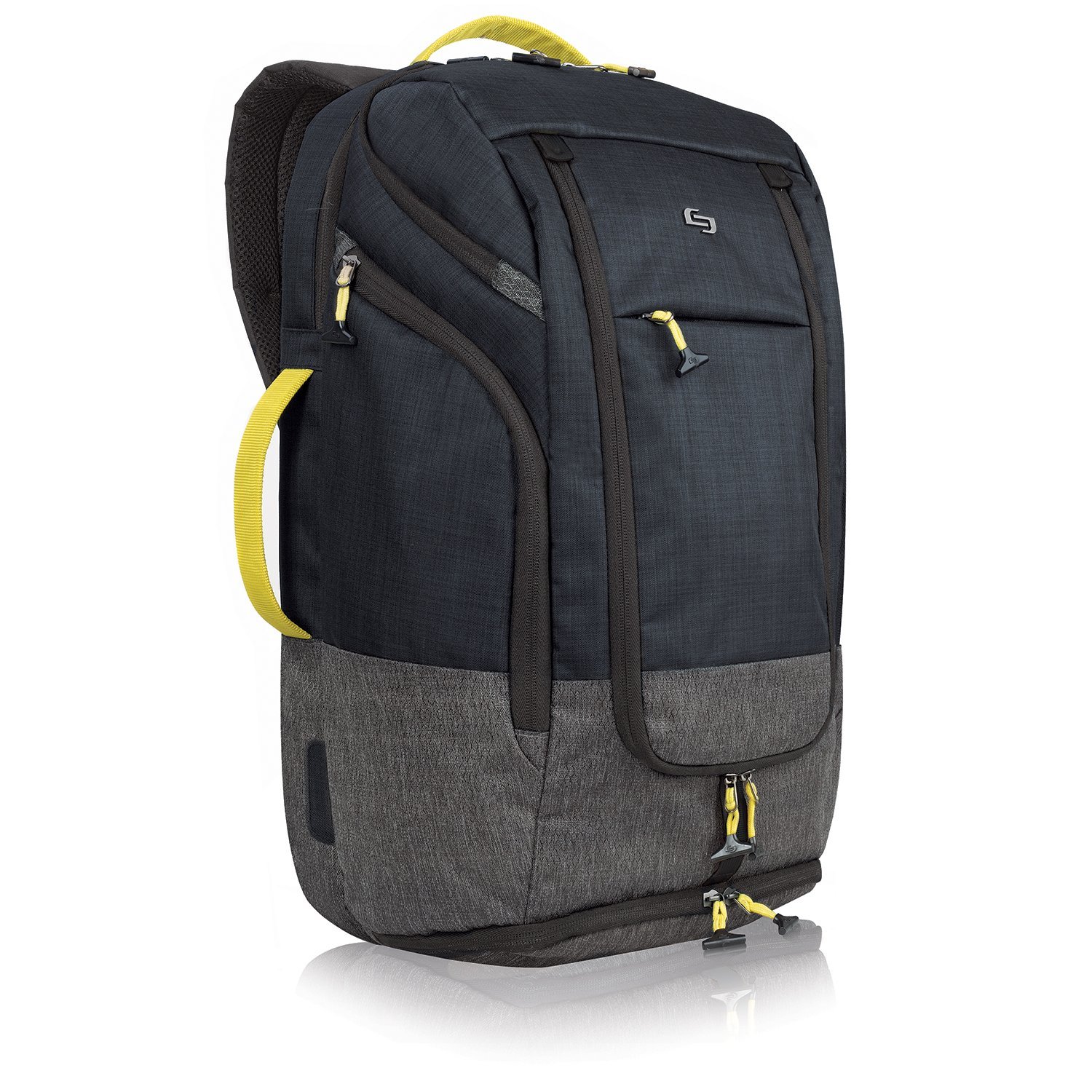 This is when the Solo Everyday Max Hybrid Backpack really shines. The large main compartment offers plenty of space for extra clothes, shoes, and accessories. For easy access, there are openings to it from the front of the pack as well as on top.
When you need to find that one item without tearing your bag apart, this is so helpful. We've literally seen people have to stop in an airport and take everything out of their bag. No bueno. Having multiple access points is such a helpful feature of this solo backpack.
But that's not all. Another great feature is the lined toiletry sections. If you've ever had your shampoo leak out all over the lining of your bag, you'll appreciate this. There is also a separate pocket where you could store another pair of shoes or even dirty laundry if you need to. This pocket is accessible from the bottom of the bag, ensuring that muddy pair of shoes or dirty shirt will never touch your clean stuff. Brands like Herschel and Fjallraven have this feature in a lot of their bags.
Moving on to the more technical side of design, there is also a laptop pocket. This section is entirely separate from the main compartment and has its own point of access. While there isn't anything particularly special about it, we appreciate that we have a place for our laptop if we need it. At the front of the pack, there is another small pocket you can use to store your charger, headphones, and iPod. Sure it will be a little snug but it's doable.
Comfort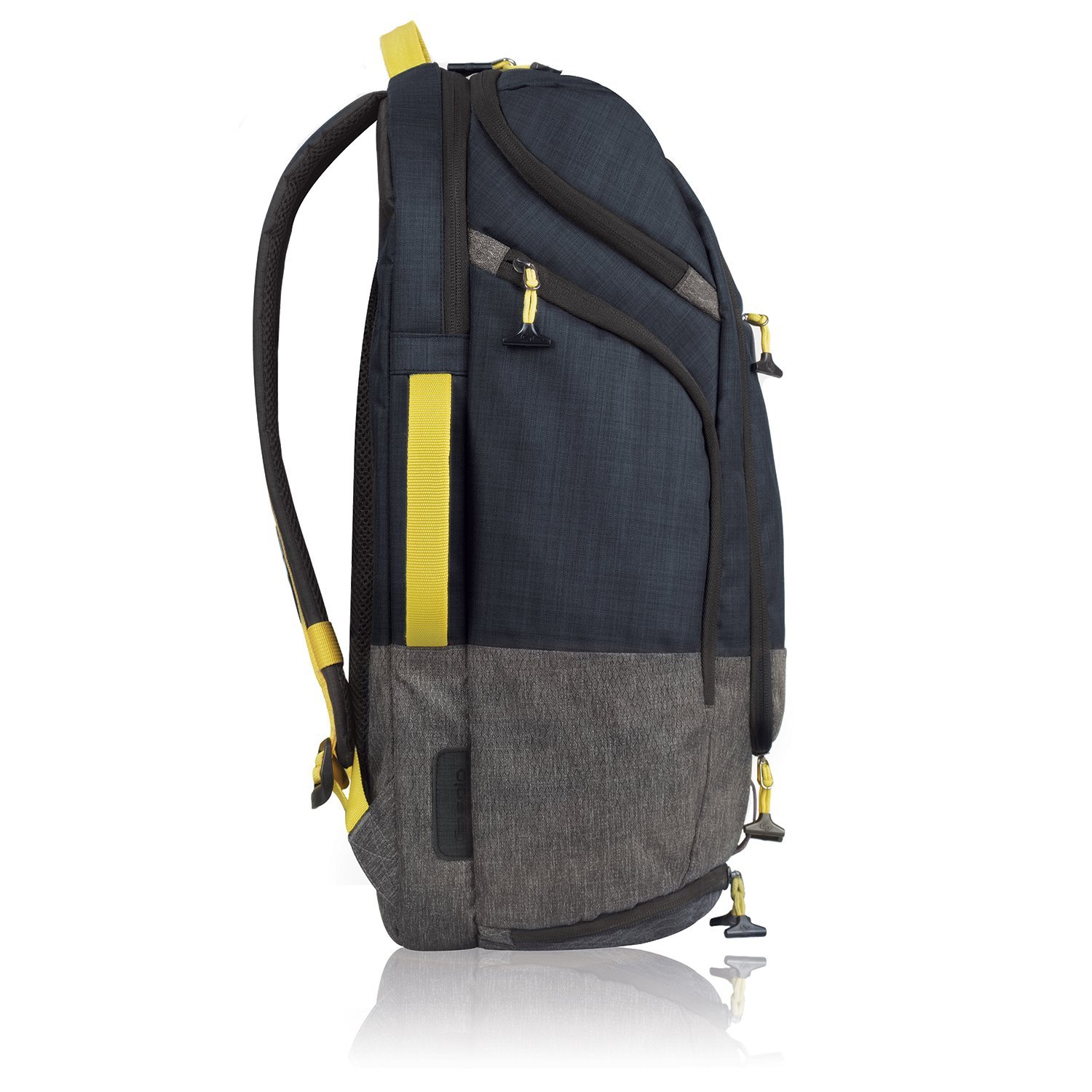 This is a big feature. When you're running to catch that flight, train bus, or whatever it may be, you don't need extra stress. Having a backpack that hurts your back can make or break your experience on a trip. Take it from someone who loaded up so much, she looked like a Teenage Mutant Ninja Turtle.
We love that the Solo Everyday Max Hybrid Backpack has padded straps. So, the bag won't cut into your shoulders and leave those embarrassing red marks. Having handles on the side is also super helpful should you get tired of carrying it on your back. When you're going through TSA checkpoints, it's a particularly useful feature. Having a place to stow the straps when they're not in use would have been a helpful addition though.
Overall Quality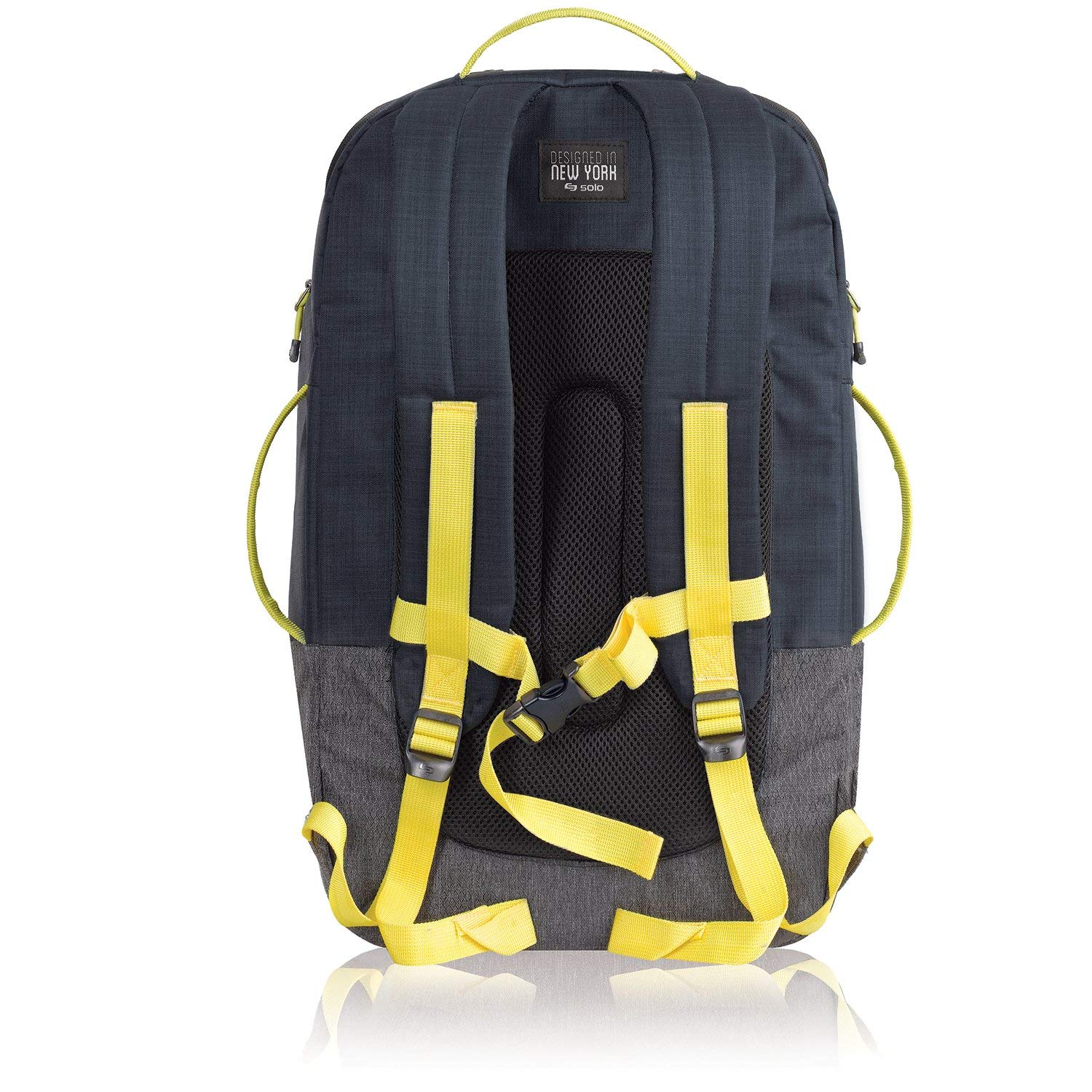 We have broken this bag in a fair share. And it holds up well. The exterior and interior are both wonderfully simple to clean. Toiletry sections are made from plastic and sealed off which makes them super simple to clean if anything busts open or spills out. We have zero complaints when it comes to the quality of the Solo Everyday Max Hybrid Backpack.
Tech Specs:
Stylish
Plenty of interior space
Multiple access points
checkCarrying handles on sides
checkLaptop pocket
checkEasy to clean material inside and out
checkLined toiletry pockets
What Travelers Are Saying About the Solo Everyday Max Hybrid Backpack
Overall, travelers love the Solo Everyday Max Backpack. Among the top listed features was storage. The front compartment can be used for storing large items and is accessible either through a top zipper or a zipper from the side. There are five zippered pockets inside this compartment for securely storing smaller items. You will also find two side zippered pockets for storing water bottles and a bottom zippered pocket which can be used for storing shoes.
At the back of the backpack, you will find a padded storage area for laptops up to 17″. There is even a sleeve for putting a 10″ tablet. This backpack also has a carrying handle on all four sides so we can hold it in any orientation we like. The inside materials also seem to be water resistant and help prevent exterior moisture. If you are looking for a backpack with lots of storage space and zippered pockets, this is one to consider.
Another Laptop Backpack You May Like: the TYLT Energi Pro Power Backpack
Are you looking to shop around a little more? Don't sweat it. We've got you covered. Here is another laptop backpack that covers all the bases.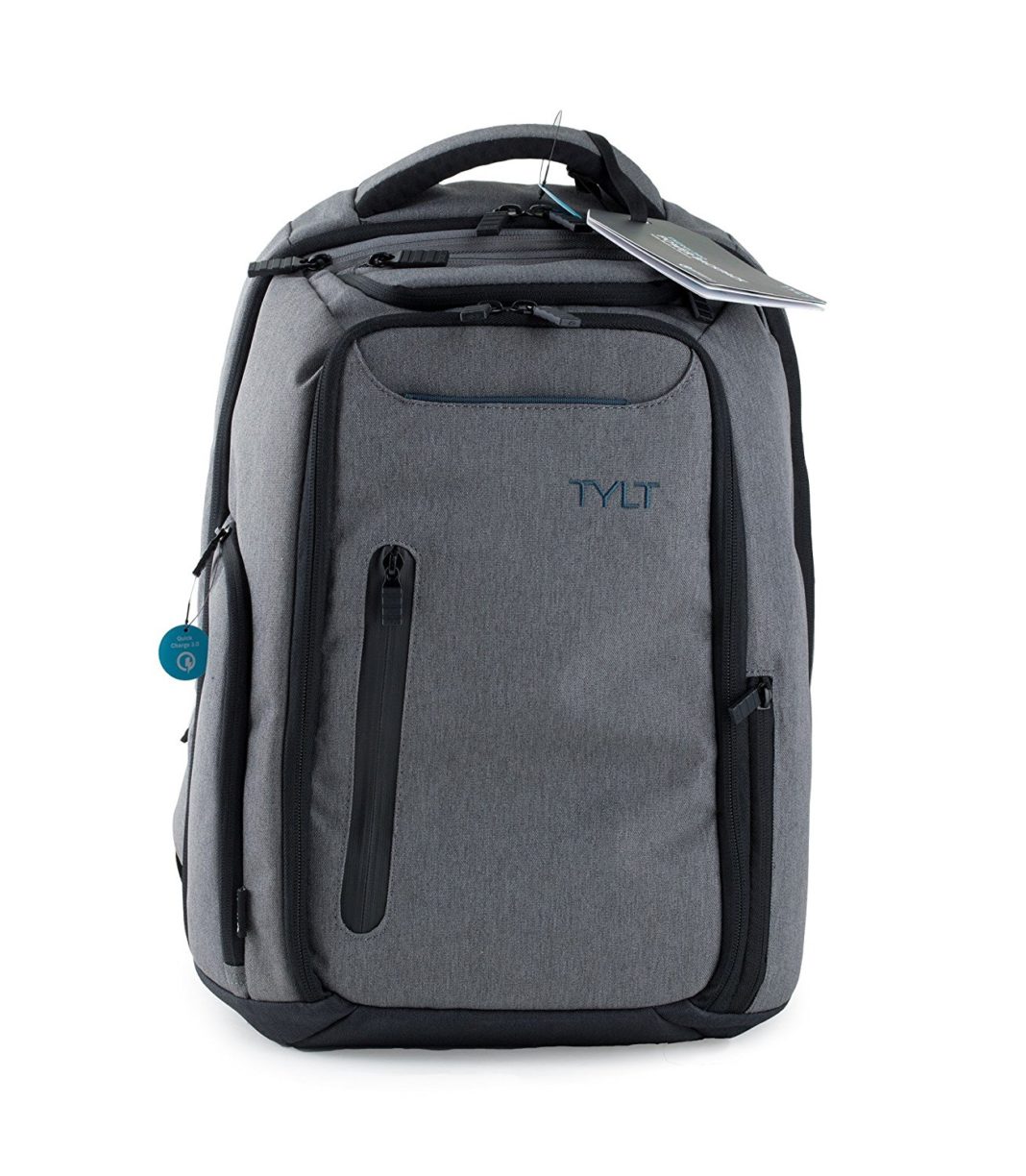 It's all in the name. We swear that TYLT has thought of everything. Their designs are groundbreaking and the Energi Pro Power Backpack is no different. What better way to remove the stress of traveling than helping to better connect you and your devices? Your phone never has to die in the airport again. Since their founding in 2011, their goal has been focused on the mobile world and to provide high-quality designs, in easy to use devices, with exceptional value to our customers.
Did you know that it can provide a full charge to your phone, tablet AND your next-generation type-c laptop? The Pro Power Backpack is built to be future-proof, with the ability to charge the newest USB and USB Type-C devices at the fastest speeds possible. Made from a strong, 210D Polyester, this backpack is strong enough to handle your entire load – including your 15″ laptop. The twelve internal pockets provide enough storage space to ensure all of your needs are covered. So, you can pack everything you need to bring in your backpack.
Tech Specs:
Provides a full charge to your phone, laptop, or tablet

Charge up to 3 devices at once via a USB Type C port

12 weather resistant pockets

check

TSA approved

check

RFID anti-theft and fraud protection

check

Built to last

check

Space for 15" laptop

check

Durable 210 D polyester fabric

check

Ergonomic straps
Invest in the Solo Everyday Max Hybrid Backpack for Your Next Adventure
We can't say enough about this solo backpack. If you're on the market for a great travel accessory, the Everyday Max Hybrid has so much to offer. A spacious interior, well-placed pockets, and multiple points of access make organization a breeze. That is so important when you're on the go. You'll never have to tear your bag apart again to find that one item you need.
Even better, it is equipped with thoughtful details like easy to clean material and lining for spills in the toiletry compartments. Little things like this really do make all the difference. We always say that if you can invest in something that makes life easier, do it. And the solo backpack is definitely one of those things.
Related Article: 12 Best Laptop Backpacks And Messenger Bags For The Efficient Traveler