Every great adventure begins with a great backpack.
Backpacks are the perfect travel satchel. Their compact size, copious amount of pockets, and versatility make them an ideal option. Of course, as with most products these days, there are plenty to choose from. This makes for a better chance of getting exactly what you need. It also can be challenging to navigate all the brands out there. Some people need a professional style backpack, one that they are able to take on those business trips. Others prefer the sporty backpack, to bring to both school and on adventures.
Fortunately, there is something out there for everyone. We have researched the best backpack brands, from chic to sporty. Check out this comprehensive list of a number of various backpack types to choose from. Any of these best backpack brands are worthy to bring along on your next adventure.
These top eight best backpack brands are sure to spice up your next adventure.
1. Fjällräven
You have likely spotted one of these iconic bags on the streets or in an ad. These hard to miss backpacks are a classic Scandinavian design. The timeless style and chic look certainly gives the Fjällräven backpacks their Pinterest worthy reputation. Beginning in 1978 as a classic school pack in Northern Sweden, Fjällräven has since expanded to international markets. They now offer a variety of colors and styles, but the original Kanken Classic Pack remains the most popular. You can't go wrong with this literally perfect backpack design. Take this backpack back to school with you or use it as a personal item when embarking on your latest trip.
2. JanSport
Is it even possible to write about the best backpacks and not mention JanSport? If you didn't sport one of these bad boys in middle school, I can guarantee that you wanted one. The fun colors and patterns of the JanSport backpacks make them certainly eye catching. And oh the pockets. As a grown up, who is to say that you can't still rock a JanSport? This versatile style and variety of designs make the JanSport backpack perfect for all of your activities even now. Take this JanSport backpack to university, or even with you to your various business activities. Everyone is sure to still be a little envious of these cool cats of the backpack world.
3. Mancro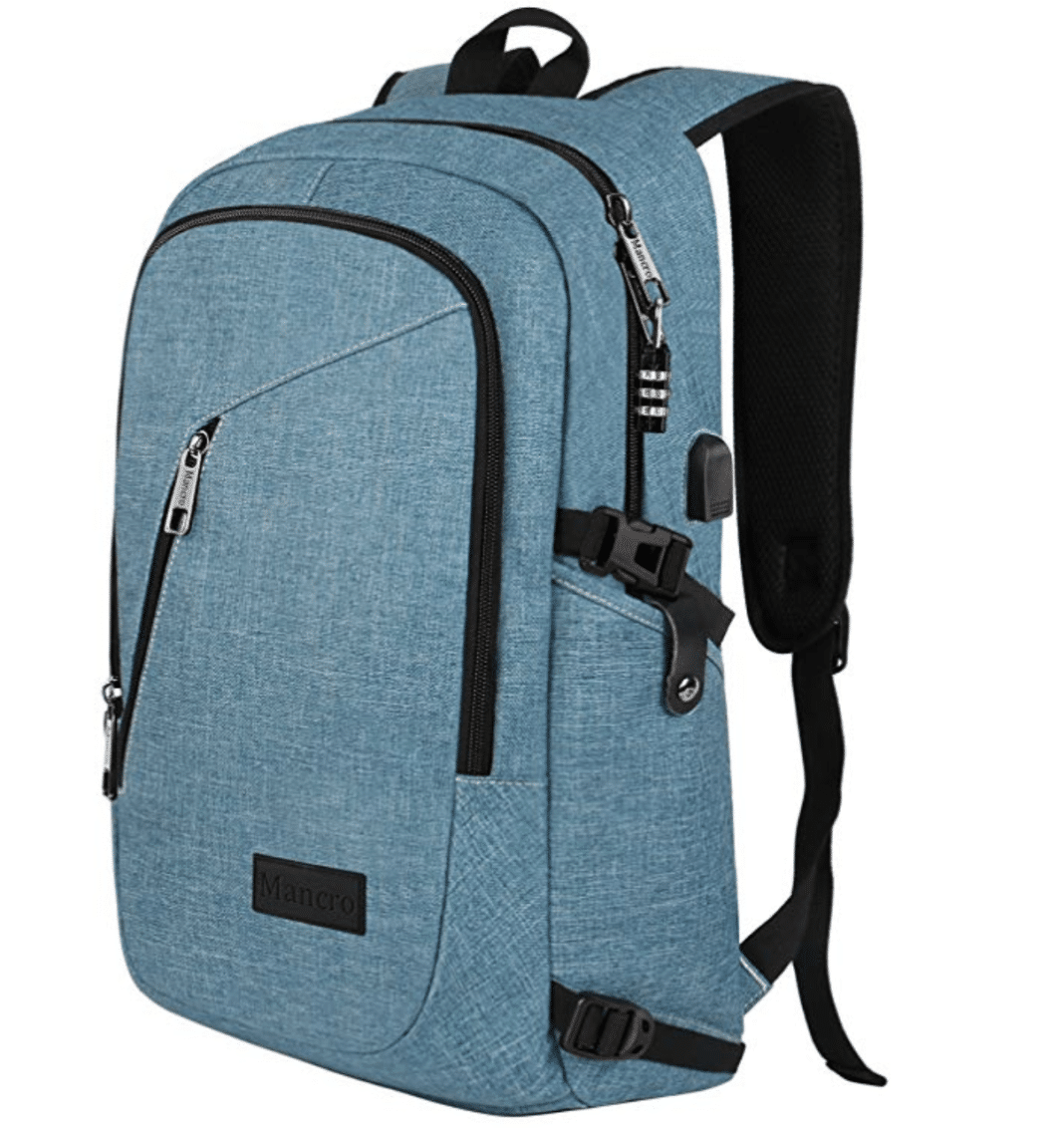 Slim and compact, the Mancro backpack is ideal for your active lifestyle, and even a few top secret missions. If you've got a thing for pockets, then this is just the bag you need. The Mancro backpack has no shortage of mini compartments and tiny spaces to store all of your gadgets. There is also a USD charger interface, for an easy way to thread your electronics charger through. Made with eco-friendly nylon fabric, the Mancro backpack is just as comfortable as it is practical. Choose from grey, black, or a few shades of blue when you pick out your backpack. The best feature might just be the anti theft combination lock on the bag zippers.
4. Kaukko
Kaukko's backpack brands never disappoint with their bag versatility and comfortability. This rucksack backpack is the perfect bag for a weekend trip or a day adventure. Besides being simply adorable, the Kaukko backpack is also extremely practical. Its high quality nylon interior is roomy, with enough space for everything you need to pack. The side pockets are the perfect separate compartments for sliding in your laptop computer and other electronics. Kaukko backpacks also have air mesh padded shoulder straps for less strain when wearing. This vintage style is also sure to match any of your outfits.
5. Modoker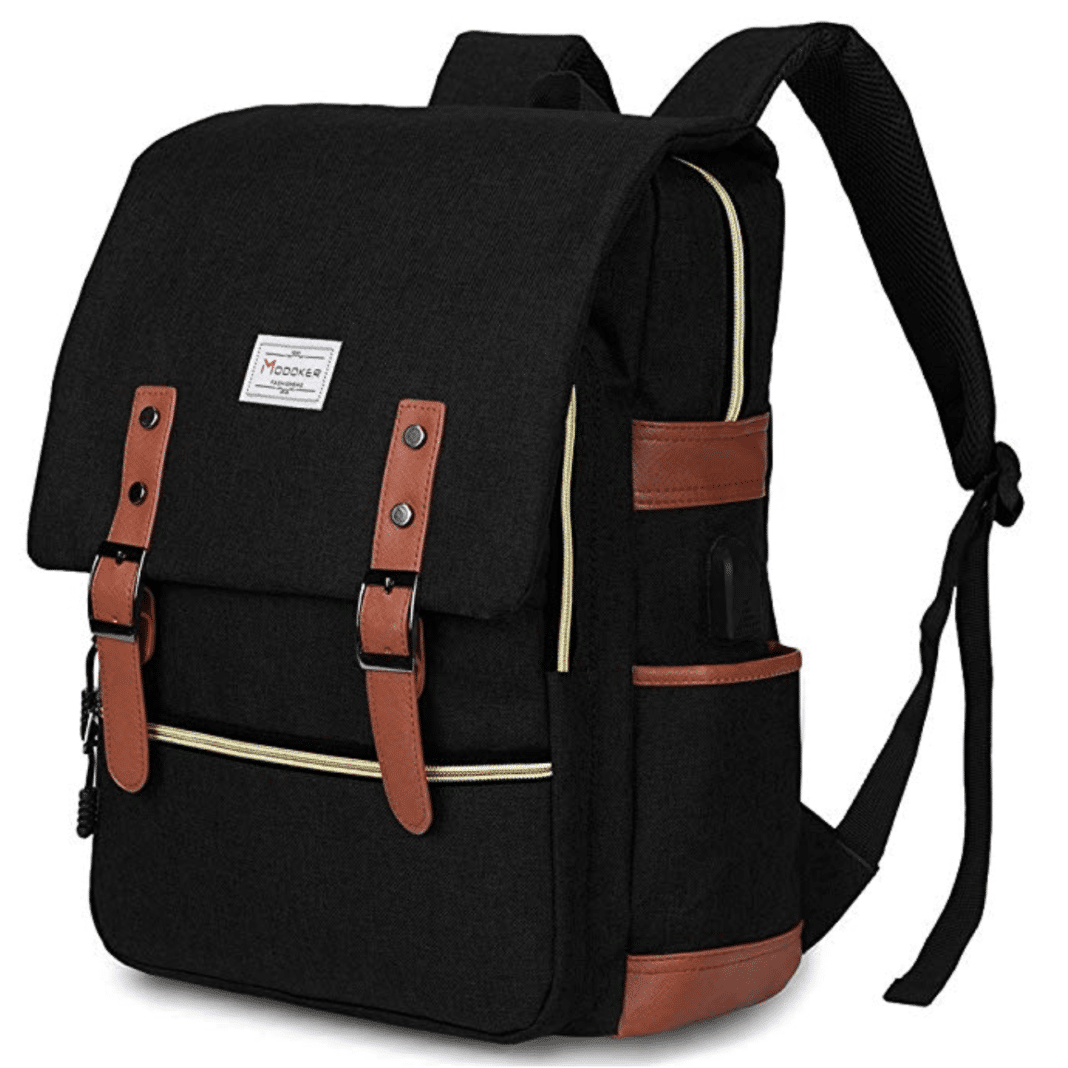 The Modoker vintage laptop backpack is a classy backpack that works in a number of settings. The versatile coloring and design make it ideal in both a school, business, or travel setting. Its six pockets are perfect for storing all of your necessities throughout your journey. There is also a padded interior sleeve for keeping your laptop extra safe. It also boasts an external USB charging port with set-in charging cable. This is helpful for charging your electronic devices virtually anywhere. Never get caught again with a dead cell phone and no charger in sight. Take the Modoker backpack with you as a personal item or carry on for on your next flight for an organized way to keep all of your valuables safe.
6. Kate Spade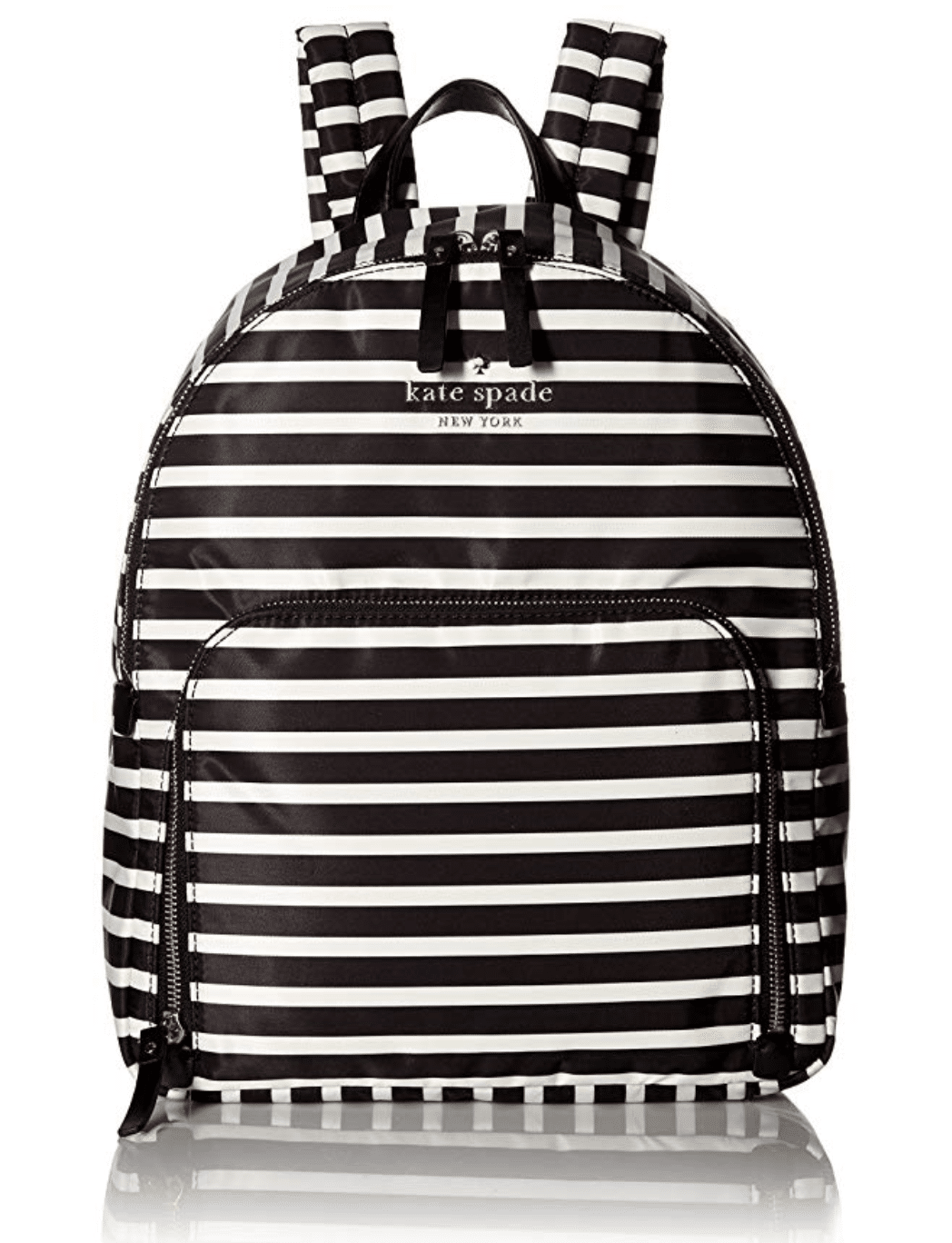 The classic Kate Spade brand is known for a lot of things, and believe it or not, even backpacks. Obviously with Kate Spade you should expect a classy and chic look to pair with your perfect outfit. Of course, these backpacks are both durable and fashionable. Choose between the cute black and white striped style or pick a solid color, depending on your preference. There is so much variety within Kate Spade bags, so you are sure to find just what you are looking for. Rock a Kate Spade backpack on that next shopping spree in the big city.
7. SwissGear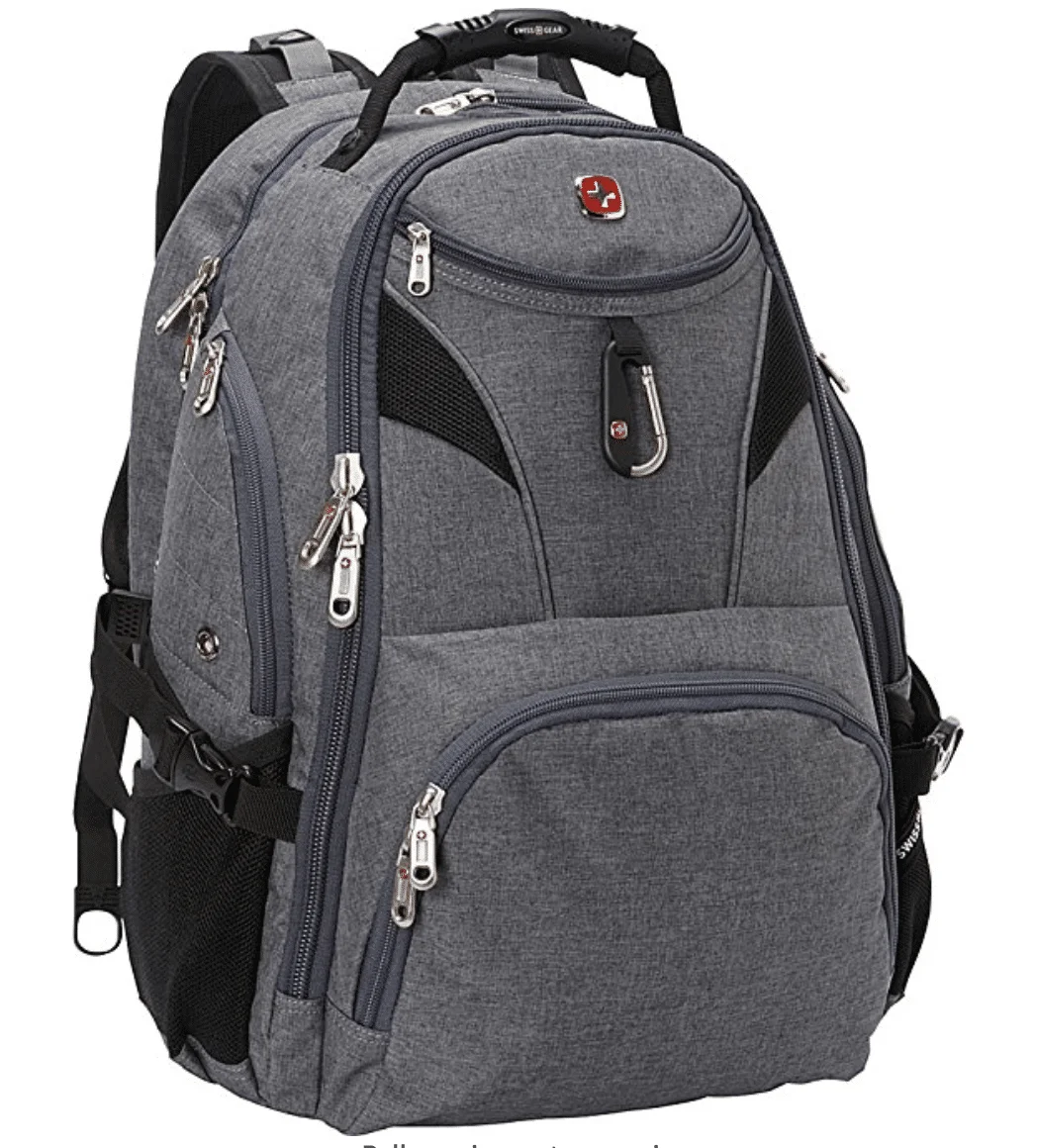 A little more on the masculine side, the SwissGear backpack stands the test of time. This reliable European brand gives you the extra support you need. This is just the backpack for you, especially if you live an active lifestyle and travel frequently. Enjoy the padded laptop and iPad compartments, which keep your electronics secure and separate. SwissGear backpacks have a lot of padding throughout, which keeps everything else safe as you are on the go. The numerous sections within this backpack organize all of your belongings, leaving plenty of room for all of your travel items. SwissGear's backpack size certainly makes it an option to consider when choosing your perfect carry on bag.
8. Adidas
Last but certainly not least, the Adidas backpack is another great sporty find. If you like these types of backpacks, then this is an ideal option. Perfect for your on the go lifestyle, this bag stays clean and in shape. The XXL size is spacious and ready to store everything you need for school or play. The mesh outside material keeps the Adidas backpack clean and dry in any weather condition. Take this tote with you on your next journey and enjoy the perfect amount of room and safe keeping of your valuables.
Shop only the best backpack brands as you prepare for your trip.
Backpacks are the perfect piece of luggage for any number of settings. Take one of these best backpack brands along to college, to a business trip, or on your next adventure. The wide variety of backpacks out there on the market today make it nearly impossible to not find just what you need. If you are trying to practice travel minimalism, try and find a roomy backpack to use as a carry on for your travels. You might be surprised by just how much you can fit into a small backpack. These eight best backpack brands should help you get started as you attempt to find the tote of your dreams. Don't be afraid to branch out and try something new.
Related Article: 12 Best Backpacks and Messenger Bags For the Efficient Traveler