Breaking your back is no fun.
It seems that all too often, carry-on travel backpacks just don't cut it. AmazonBasics to the rescue! If you've ever attempted to fit all of your belongings in your backpack only to find that it bursts at the seams, this one is for you. Or if you've experienced the painful ache of your backpack straps cutting into your trapezious muscles, this is also for you. 
Despite Amazon.com's reputation for selling the goods of popular manufacturers, they have cornered the market with their AmazonBasics line. The AmazonBasics Carry-on Travel Backpack is one of several quality luggage investments that will impress even the most frequent of fliers. Get ready to donate your old bag, because we've collected all of the pertinent details you need to affirm your selection of this backpack.
A Little About AmazonBasics and its Backpack: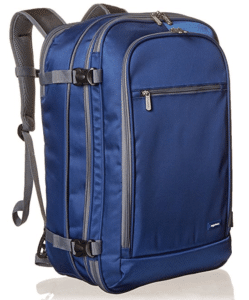 AmazonBasics is only about the greatest thing EVER! Amazon.com, founded by every online shopper's hero — Jeff Bezos, introduced AmazonBasics in 2009. The still lesser-known brand began with only about 3000 products. However, the line has now expanded across 27 of Amazon's departments, and is only one of the site's popular private label brands.
Sure, Amazon.com is a great place to purchase name-brand goods. Thus, you may be wondering why AmazonBasics products are worth your support. Well, the answer is simple. The line allows Amazon to directly manufacture, sell, and distribute basic commodities at prices lower than the likes of others found on their site. In fact, the line has grown so much that it has surpassed sales of the aforementioned name-brands for items like batteries and diapers.
You should think of AmazonBasics like you would the pharmaceutical industry. Amazon carries all of the big players of course, but they also have an affordable, generic brand for us peons. Enter, AmazonBasics. Now shoppers purchase quality items directly from the source — one of those being the AmazonBasics Carry-on Travel Backpack.
The bag itself:
If you still aren't sold on AmazonBasics, perhaps our review of their carry-on travel backpack will do the trick. Amazon's brand managed to identify several of the common complaints of airport backpackers. The end result is a quality item that addresses most, if not all, grievances of travelers. To illustrate, further inspection of the product reveals that key consideration has been placed upon the following areas:
Price (obviously)
Comfort
Capacity
Size
Craftsmanship
Customization
While this brand is considered a generic off-label, the backpack is anything but! Whereas most travel backpacks sacrifice comfort for capacity, or vice versa, AmazonBasics covered all of its bases. As a result, travelers rest assured knowing that their purchase will survive the trials and tribulations of international travel, without driving them bonkers with discomfort.
Trekbible has done the heavy lifting (pun intended) for you by reviewing the AmazonBasics Carry-on Travel Backpack. We gave no lee-way in our evaluation. Read on to discover the bag's features, advantages, and even disadvantages. 
Features and Benefits
In our quest to review the AmazonBasics Carry-on Travel Backpack, we were pleasantly surprised. Although there are plentiful options for travel luggage, not all are affordable, nor are they all well made. While some bags are stylish and sleek, they lack the functionality of more practical choices. Others offered spacious capacity, but lacked the comfort we feel is necessary for a reliable carry-on travel backpack. AmazonBasics checked each of the following boxes to earn this glowing review:
Price
First and foremost, if you are like me, the first question out of your mouth is, "How much is this going to put me out?" Surprisingly, not that much. As mentioned before, the AmazonBasics line truly aims to offer competitively priced goods. The Carry-on Travel Backpack is no exception.
While we won't actually list the exact price, as these things are subject to change, we can let your know that you can expect to spend around $50. This is comparable with other travel backpacks from mid-priced retailers such as Hynes Eagle and Swiss Gear. AmazonBasics proves that a great product needn't come with a hefty price tag.
Nonetheless, price alone cannot be the deciding factor. Who says you have to choose on this singular element though? With AmazonBasics Carry-on Travel Backback, a reasonable cost is simply the cherry on top! Check out the many other awesome features of this product.
Comfort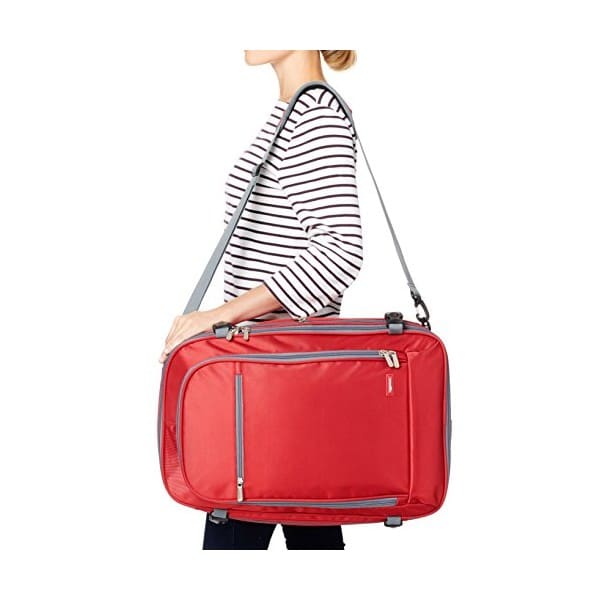 As you may have noticed with your previous travel backpacks, you rarely can have it all. Other retailers promise their product will hold everything but the kitchen sink, however, this comes at a cost to your posture. No longer will you be faced with potentially missing your connecting flight because your bag is too heavy and you need a break. Retrain your thinking, because AmazonBasics makes it easy to treat yo self (and yo back)! 
AmazonBasics Carry-on Travel Backpack truly takes your comfort to heart. The padded shoulder straps make toting your belongings a restful experience. Nobody likes the feeling of your shoulders being sliced off due to a poor carry-on design. No longer will you face this. 
On the other hand, if you find that carrying this bag on your back is not ideal, the shoulder straps can be easily disconnected. In fact, they even have their own zippered pocket on the back of the bag. The backpack can then be transported with the convenient exterior handles.
In the effort of total comfort, AmazonBasics added several measures. This carry-on includes a removable sternum strap, waist belt, and shoulder strap. These features allow you to adjust each strap as needed to comfortably situate the backpack on your person. If the shoulder straps don't suit you, try carrying the bag by the shoulder strap, similar to a messenger bag. Either way you choose, your posture will thank you!
In sum, the AmazonBasics Carry-on Travel Backpack is one of the more cozy options on the market. You will surely be impressed with your newfound ability to tote your souvenirs with ease.
Capacity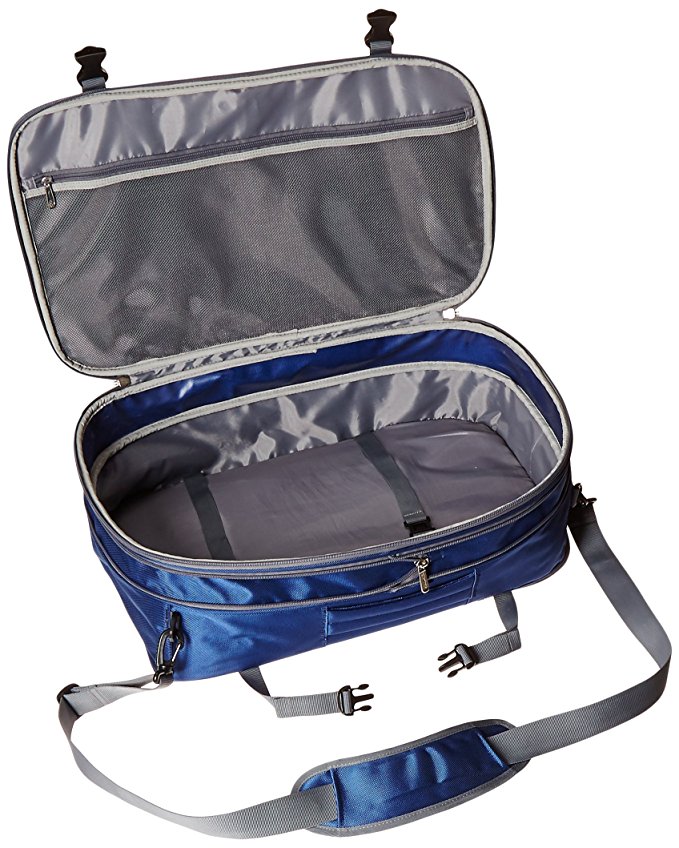 Capacity is one area in which AmazonBasics shines brightly. Compartments abound with the Carry-on Travel Backpack! Travelers no longer have to sacrifice packing an extra set of tighty-whities over their laptop. This bag makes it viable for you to bring everything (maybe not EVERYthing, but you get our point). AmazonBasics' backpack can be broken down by its cavernous crevices:
Front Pocket
The front pocket is a life-saver for travelers on the go. The zippered compartment allows for easy access to frequently used possessions such as travel documents, liquids, tissues, or gum. The sound of "front pocket" is rather deceiving. In all actuality, this compartment is greater than the size of a pocket. It is its own distinct vestibule that assists in keeping travelers organized.
Main Compartment
The main compartment is as spacious as it gets in a carry-on travel backpack. Depending upon your previous gear, you may be thinking this isn't enough. However, nothing is further from the truth. Measuring in at 5.5 x 13-14 x 21.5 inches (L x W x H), this bag is ready and determined to hold all of your belongings! 
The main upper packing compartment comes complete with an organizer, expandable storage space, a key clip, a hide-away water bottle pocket, and a tuck-away ID pocket. Along the upper lid of the main compartment, a zippered mesh holder offers storage for items you want separated from the masses. An optional midway shelf allows travelers the opportunity to further organize travel necessities. This, coupled with a full expansion zipper, create 10% more packing space than your average travel backpack.  All of the extra souvenirs you bring home can be kept in place with internal/external compression straps.
Laptop Sleeve
For those who travel often for work, the laptop sleeve is a must! Above all, for worker bees on the go, protection of valuable electronics is essential. The AmazonBasics Carry-on Travel Backpack keeps this in mind. In fact, the bag claims to be able to fit any size laptop in its handy sleeve, due to an adjustable sling system. To further protect valuables, the sleeve itself is a zippered compartment. If you aren't using the bag for work and need the space of the laptop sleeve for more packing room, AmazonBasics provided a solution for this as well. The main compartment's expansion system encompasses the laptop sleeve, thereby eliminating wasted space.
Regardless of what you use the AmazonBasics Carry-on Travel Backpack for, it is clear that this bag is cavernous. The spacious interior allows travelers the leisure of packing as much as they need, while still being able to meet airline regulations regarding the size of carry-on bags.
Size
Not only is the AmazonBasics Carry-on Travel Backpack spacious on the inside, it's also fairly large on the outside. In spite of this, the bag still only weighs a meager 4.6 lbs. The outer dimensions ring in at  15 x 7.9 x 20.1 inches, giving the bag some extreme packing area. What is more is that AmazonBasics designed the Carry-on Travel Backpack to function as an "unstructured suitcase" that converts to a backpack. 
At any rate, this travel backpack can be carried just about anywhere. Travelers note that the bag fits in the overhead compartments on most airlines, as well as under the seat in front of you on other airlines. Cars, planes, trains, buses, and boats will surely have room for AmazonBasics' product.
Craftsmanship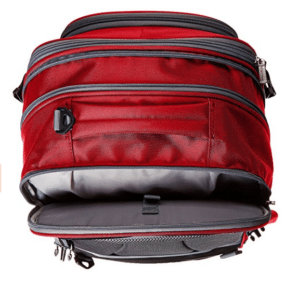 One of the most important considerations to make before purchasing the Carry-on Travel Backpack is the quality and craftsmanship with which AmazonBasics manufactured the product. After all, even with its great price, a bag is nothing if it doesn't withstand the test of time. That being said, you will be pleased to know that AmazonBasics is comparable in quality to name-brand competitors.
This bag is made of durable polyester. Whereas some luggage products are stiff and heavy, AmazonBasics thoughtfully crafted this pack to be ultra-flexible and lightweight. Travelers have successfully taken this bag on a number of treks, noting that it is able to stand up to the test of international travel, baggage carousels, and the likes.  As you can see, this travel backpack is not short on amenities or quality. Does it get any better?!
Customization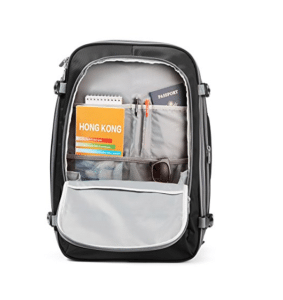 Let's be real — nobody likes being told what to do. Perhaps you are wondering how this relates to your travel backpack; just stick with me here for a second. Many packs only have one style, one way to wear them, or one option for organizing belongings. How boring! AmazonBasics shakes things up by offering an unprecedented level of customization without sacrificing size, capacity, price, or craftsmanship.
Travelers choose several areas in which they make the pack their own. For instance, choose from black, blue, or red for your bag. Additionally, trekkers are able to make adjustments to how they organize the carry-on. The optional midway shelf assists in separating belongings. The expandable packing area allows you bring more along if you wish. The detachable straps provide a variety of means by which the bag can be carried. 
You name it, and AmazonBasics has thought of it! Their Carry-on Travel Backpack is no exception.
What Travelers are Saying about AmazonBasics Carry-on Travel Backpack:
There is much to love about AmazonBasics Carry-on Travel Backpack. The best testament to the practicality is of course reviews. We've scoured each review to pull out the most pervasive pros and cons. Here are what trekkers had to say:
Pros
plus

​Functional design.

plus

​Ample storage capacity.

plus

​Multiple pockets and dividers for organization.

plus

​Comfortable shoulder straps.

plus

​Cushioned back.

plus

​All straps are detachable and can be stowed within the bag.

plus

​The exterior handles allow for the bag to be carried by hand when the shoulder straps are not in use.

plus

​Padded laptop sleeve. In addition to this bonus, travelers enjoyed that this compartment is nearest the wearer's back, which helps distribute the weight.

plus

Expandable storage.

plus

Adjustable closures ensure the pack does not come open.

plus

Carry-on size. Fits most, if not all, airline regulations.a
Cons
close

​Some reviewers noted that the version of the product they received did not include the hide-away water bottle compartment or key ring clip.

​"Backpack is an understatement," noted one reviewed. If you are looking to strictly use this for day-to-day carrying, this is not the bag for you. This bag is designed for travel.

close

Minor stitching snags that may not occur with higher-end brands.
Overall, the majority of reviewers were pleased with this backpack and would purchase it again. When confronted with alternatives, travelers chose this bag for its amazing price, and were not disappointed by the many functional amenities. 
Alternative Travel Backbacks
If the AmazonBasics Carry-on Travel Backpack is not quite what you need out of a travel pack, we've got a few alternatives lined up. Read on for other best sellers within a similar price range.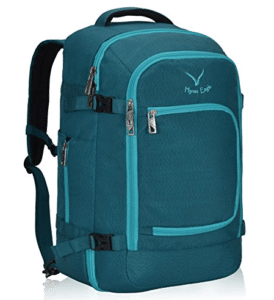 The 40 liter version of Hynes Eagle's travel backpack is a great choice for trekkers on the move. Hynes Eagle created this carry-on approved pack with water repellent polyester and features the ability to convert the bag from a duffel with shoulder straps to a true pack in a matter of seconds. Two compartments offer the maximum capacity allowed while still ahdering to regulations. Although this is a great alternative, you will need to check your laptop size, as this bag only fits computers up to 15.6 inches. Nonetheless, the Hynes Eagle Travel Backpack can be yours for a reasonable price!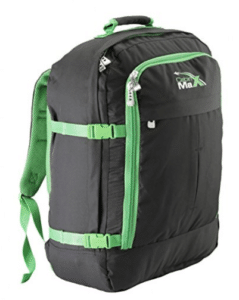 This flight approved carry-on backpack from Cabin Max makes traveling easy. With 3 main zippered compartments and 44 liters of capacity, you will have enough room to pack your whole closet (not really, but close). Perfect for excursions, Cabin Max crafted this bag from lightweight, high strength composite waterproof nylon. Ringing in at under $50, the Cabin Max Metz Backpack is a steal!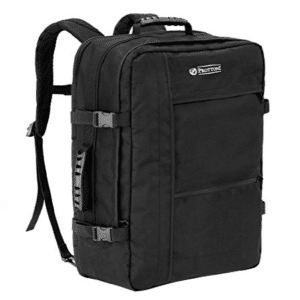 The Prottoni Carry-on Backpack is sure to please seasoned travelers. Trekkers revel in the 45 liters of capacity and separate zippered laptop compartment. The brands seeks to cover all the bases. Coupled with high quality zippers, Prottoni sealed the deal with a hidden mesh pocket to protect valuables while abroad. They also crafted the bag from heavy-duty polyester with a PVC lining to make it waterproof. This model allows you to travel with peace of mind.
AmazonBasics has your back.
Don't be fooled by high prices and grandiose claims that name-brands make. AmazonBasics Carry-on Travel Backpack is a suitable and competitive product that will give even the most polished brands a run for their money. Never again will you be subjected to uncomfortable shoulder straps and minimal packing room. Combined with its affordable price, options for customization, and airline-approved size, the Carry-on Travel Backpack is a worthwhile investment. 
Let us know what you think of the AmazonBasics pack in the comments.
Happy travels for you and your back!
Related Article:  ​​10 Best Travel Backpacks of 2018 for Your Next Adventure​​​