Lighten your load with the Minima Carry-On from Chester Travels.
If you've ever been on a backpacking trip to Europe – or anywhere else for that matter, you appreciate packing a lighter load. Not only do you save money if you skip checking a bag but you can also rest easy knowing your belongings are safe and sound with you. Bags like the Minima Carry-On offer a lightweight, durable option to keep you light on your feet and your belongings safe.
Sure, carry-on luggage has to meet certain requirements. For example, airlines have sensitive policies as to what items you can bring aboard. In addition, the dimensions of your bag (height, width, and length) come into play as does its weight. Make sure your bag meets the airlines requirements before you decide to pack a carry-on. You should also make sure you don't over stuff it. You'll want the bag to be easily able to slide into the overhead compartment. With the The Minima Carry-On, you won't have to sweat the small stuff.
A Little About Chester Travels
Luggage helps you get just a little closer to your destination. With that said, you want to invest in gear that will make that trip as easy as possible. No one knows that better than the folks over at Chester Travels. It's important that the bag be just as unique as the contents inside of it. Constructed from the strongest and sleekest materials, their carry-on luggage makes all of the difference when you're on the go.
Before you even step foot on the plane, train, or in your car, your trip starts with packing your luggage. Inspired by international travel, the Minima Carry-On guarantees easy portability, a lightweight feel, and durability in even the most unpredictable of circumstances. You deserve better than just having the average bag. While we've been taught to think that high costs means better quality, it rarely translates that way. Chester Travel's minimalist elements paired with traditional carry-on design ensures a beautiful simplicity in all of their designs.
The Minima Carry-On Features & Benefits
Lightweight, Ergonomic Design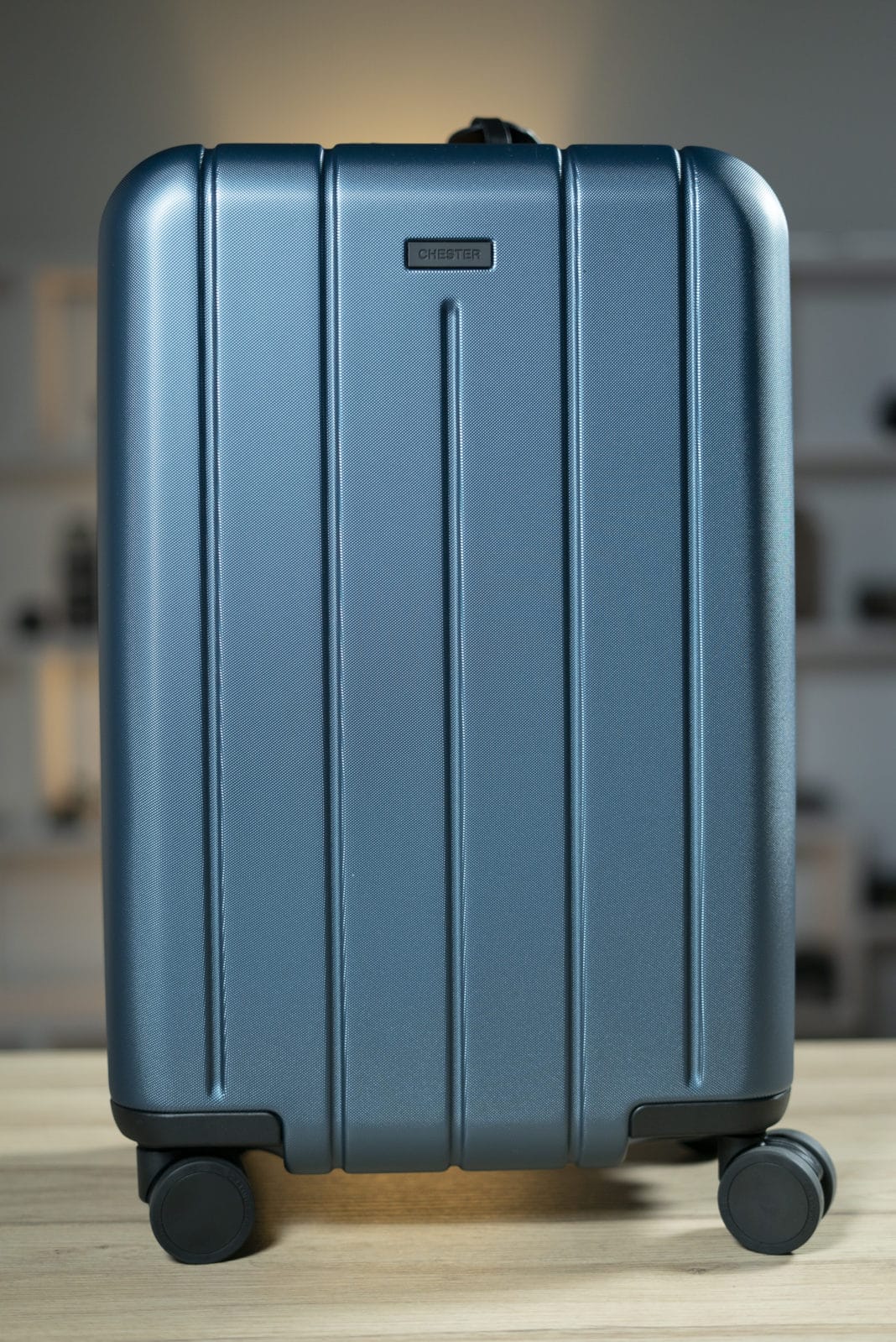 Are you a frequent flyer? If so, you know the significance of having a good carry-on bag. This type of luggage is not only great for weekend trips but longer ones as well. The trick is to know how to pack like a minimalist. Carry on luggage gives you a space to keep your belongings safe without having to hassle with a large, heavy bag. This way, you can get from point a to point b quickly. The lightweight, ergonomic design is just one of many reasons why we love the Minima Carry-On.
The Minima Carry-On holds a lightweight design, making transport a breeze. Travelers who want to carry their belongings this way will never feel weighed down. You can fit clothes, shoes, toiletries, and more in this bag without it being too heavy. Weighing in at only 7 pounds, this is one of the more lightweight styles on the market. Finally, the bag is also durable and water resistant. Composed of a purely makrolon polycarbonate hardshell, it is lighter than aluminum and more durable/flexible than most plastics.
Meets Carry on Requirements for Airlines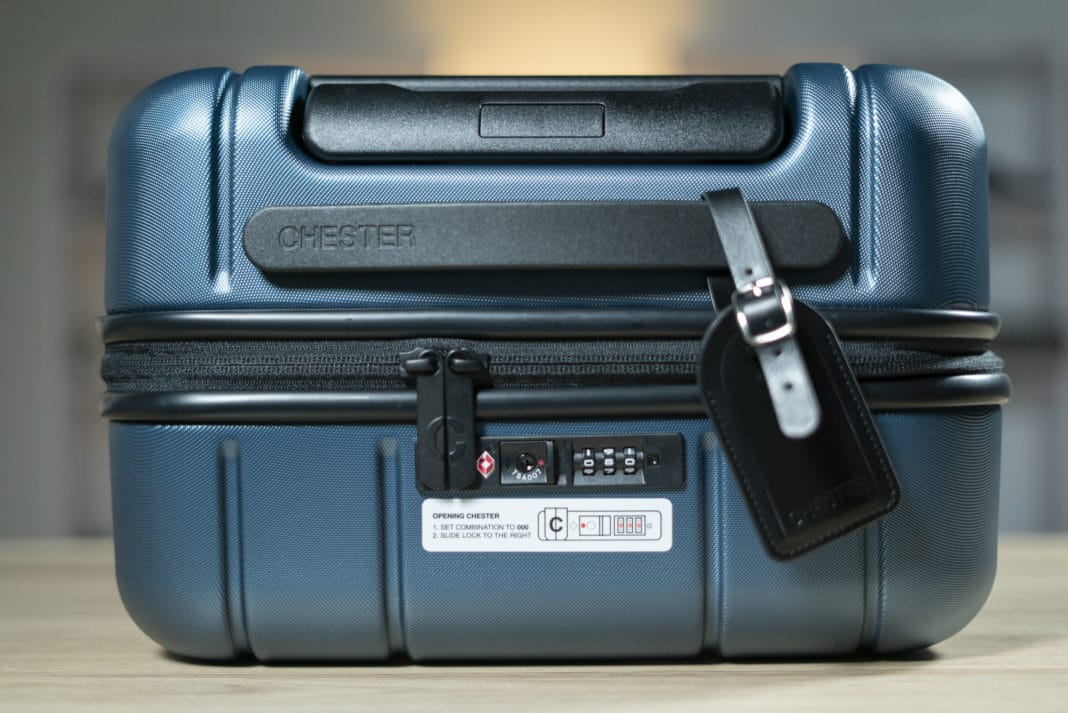 Traveling on a budget can be tricky. But one of the biggest (and most obvious) ways to cut costs is by skipping out on a checked bag. You don't want to add to your expenses. Traveling carry-on only is such an easy way to cut corners. Chances are, you won't end up using or wearing all of the items in your bag anyways. If you've compared your luggage's dimension and weight to the airline's policies, you are in good shape.
Thankfully, the The Minima Carry-On has been made in accordance with most airline's carry-on restrictions. With TSA and IATA approved exterior dimensions, you can relax knowing that your bag will meet both domestic and international airline requirements. Plus, it will easily fit into the overhead compartments of both small and large planes. The exterior dimensions measure as follows: 21.5" x 13.5" x 8.5. Interior dimensions measure at 20.0" x 13.5." The capacity it holds is 38 liters – (aka 3 to 5 outfits). Lastly, the The Minima Carry-On comes equipped with a TSA approved lock set by a combination code.
Durable Construction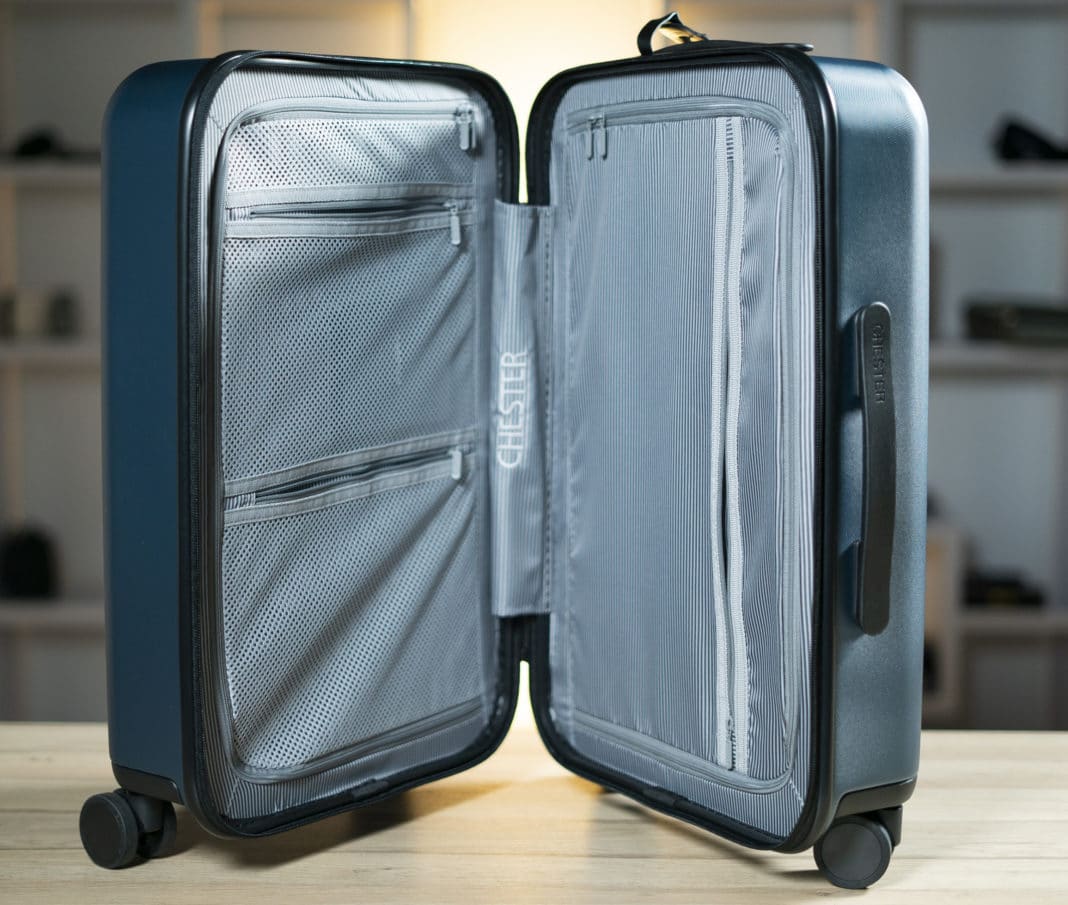 When you are investing in a piece of luggage, you want it to last for years to come. The best carry on bags offer durable construction, ensuring hold up well and perform after multiple uses. Thankfully, the Minima Carry-On is made from a strong makrolon polycarbonate hardshell. Not only does this construction prevent denting or rips but it is also very easy to clean.
The hard shell exterior of the Minima Carry-On prevents major damage. Even if you drop the suitcase or it falls over, the exterior will not dent. Moving on to the interior, you will find two spacious compartments for storage. There are also interior organizers where you can put smaller items. We particularly appreciate that there are removable nylon laundry bags where you can separate your clean and dirty clothes.
Effortless Handling
When you're running through the airport to catch that connecting flight, you want a bag that will keep up with you. Many carry-on bags come equipped with spinning wheels and a retractable handle for easy maneuvering. With cheap luggage, wheels can get easily stuck, leading to frustration. Some wheels only move back and forth, limiting the bag's range of motion.
The Minima Carry-On is one of the easiest bags to handle. This luggage uses silent, multi-directional wheels for a smooth ride in any direction and on any terrain. Plus, it reduces the weight and strain put on your arm. An aluminum telescoping ergonomic handle offers two positions for ultimate control. There are top and side easy grab handles as well.
Style Choices
Leave boring or gaudy suitcases behind you. The Minima Carry-On offers a sleek and stylish look sure to suit any traveler's refined taste. This luggage is offered in three different colors: black, dark grey, and ocean blue. You won't have to sacrifice fashion for function when you make this purchase. Even as trends come and go, these bags will always remain in style. That's the beauty of simplicity in design.
What Travelers Are Saying About the Minima Carry-On
Travelers who purchased the Minima Carry-On couldn't say enough about the durability and lightweight structure. This carry-on has it all. What really stuck out in reviews, however, is that the exterior and overall construction are flexible. Users found they could compress a lot of items into the two sides with the zippers closed. If you are still needing to fit more items in, you can also sandwich things into the middle and compress the bag again when it is shut. We're impressed.
One traveler noted that she was able to fit 1 pair of low boots, 2 pairs of shoes, underthings, bathing suit, cover up, 4 shirts, 1 pair of jeans, 2 dresses, leggings, 1 leather jacket, a curling iron, and non-liquid toiletries. The covers zipping up the sides are cool and keep everything organized. Packing cubes are definitely useful in getting everything to fit well.
Users also found it to be really easy to roll and had no problems at all changing direction, rolling it the "skinny" way up the airplane center aisle, etc. The handles on the side and top functioned well, as did the lock. I really like the exterior material. It's got a texture to it and it's a bit flexible, so it stands up to a lot and does not seem prone to cracking. The telescoping handle functioned smoothly.
A lot of people bought this bag based on its dimensions — it will comply with any airline's carry on requirements — it's lightweight, and the fact that it has the double wheels (8 vs 4) is helpful. For most, roller bags without double wheels seem too flimsy once you're on any kind of non-smooth surface. As a new company, Chester really stands behind their product. We can't wait to see them come out with additional sizes and new offerings.
Tech Specs:
Durable and lightweight

7 lbs.

Construction: makrolon polycarbonate hardshell

check

TSA and IATA approved dimensions

check

Organized compartments

check

Easy handling

check

Aluminum telescoping handle

check

10-year limited warranty
Alternative Lightweight Carry On Luggage You May Like
Eagle Creek Expanse International Carry On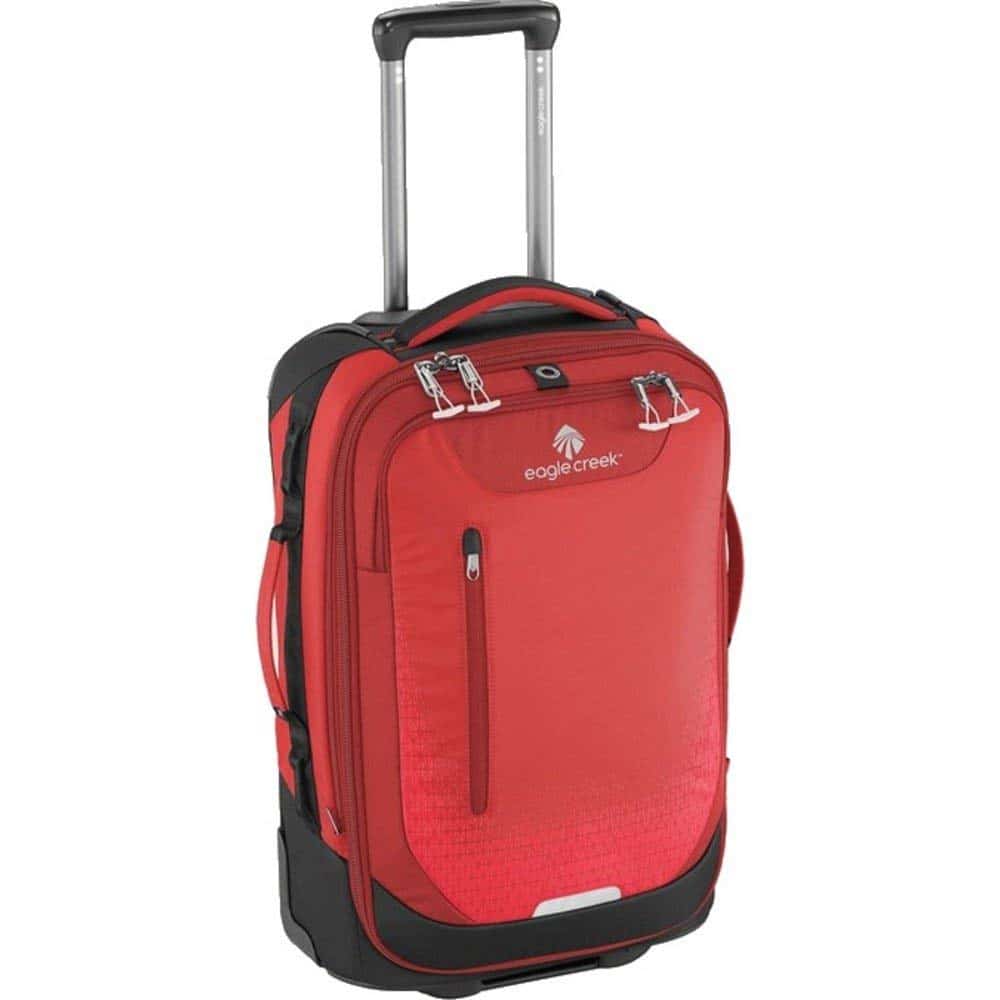 If you're looking for something like the the Minima Carry-On but a little smaller, you will find it in the Eagle CreekExpanse International Carry On. Offering 33.5L of storage room at its normal size and 36.5L at its expanded capacity, it's easy to maneuver and still has space for your stuff. It's important to note that while this bag is lightweight, it is not flimsy.
The durable structure offers peace of mind that your possessions will be safe. Bi-Tech Armor Lite makes for a damage-resistant exterior. It is also strategically equipped with more durable material on areas of typical high wear. One of the coolest features about this bag are the self-repairing zippers. They ensure that the zipper glides back and forth smoothly; they will never get stuck. Last but certainly not least, a padded tablet sleeve offers the right place to store your electronic devices.
Tech Specs:
Bi-Tech Armor Lite

Padded tablet sleeve

Durable construction

check

Heavy duty wheels

check

Extra durable material in areas of wear
Hartmann 7R Global Spinner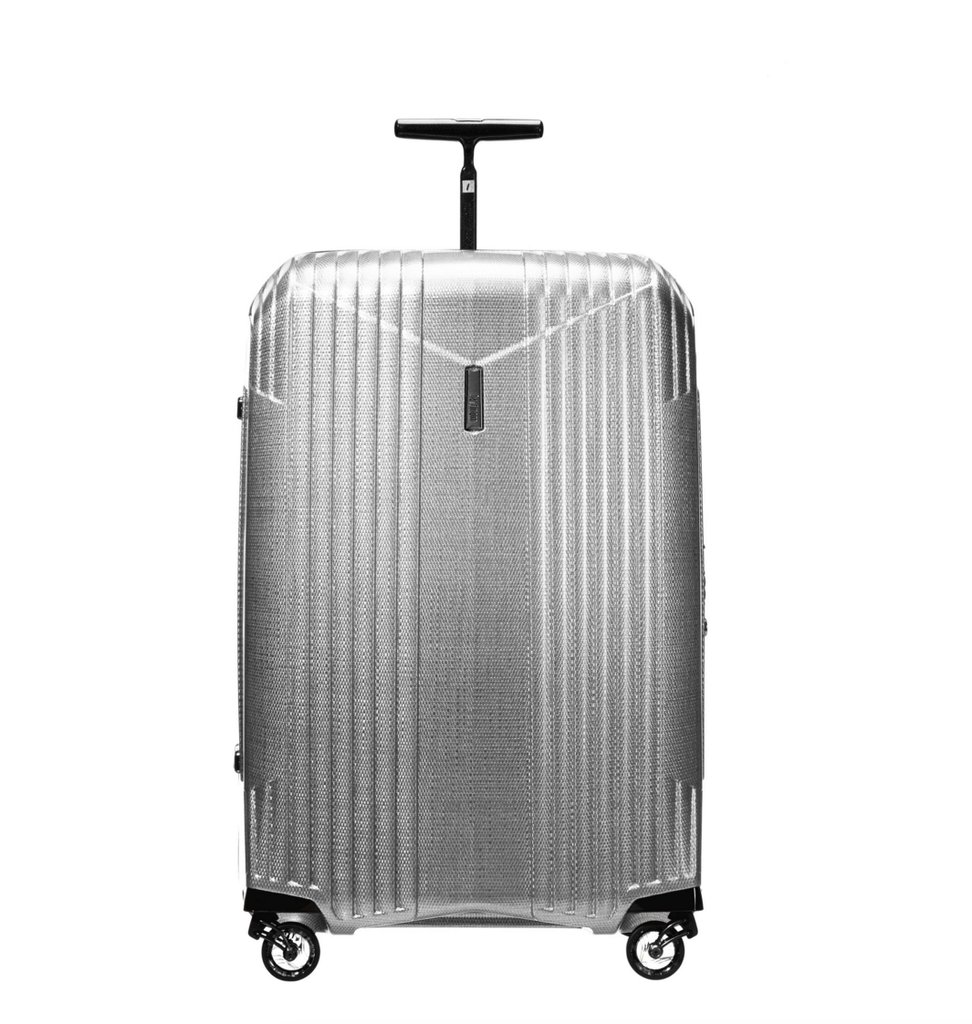 This bag from Hartmann is a great alternative to the Minima Carry-On from Chester Travels. Constructed from woven polypropylene, you'll find the exterior to be incredibly sturdy. We love that you can forget all about dents and scratches. With a lightweight body and 360-degree movement, you'll find you can take this bag anywhere and with ease.
In addition, the leather handle atop the suitcase makes it easier to pick up when you can't roll it. In the event that you want a suitcase with additional features, you should consider the Hartmann 7R Global Spinner. Did we mention it has multiple inner zip pockets and even a removable zip pocket?
Tech Specs:
Woven polypropylene exterior

Spinner wheels for 360-degree movement

Retractable handle

check

Top leather handle

check

2 interior zip pockets

check

1 interior removable zip pocket
Samsonite Omni PC Hardside Spinner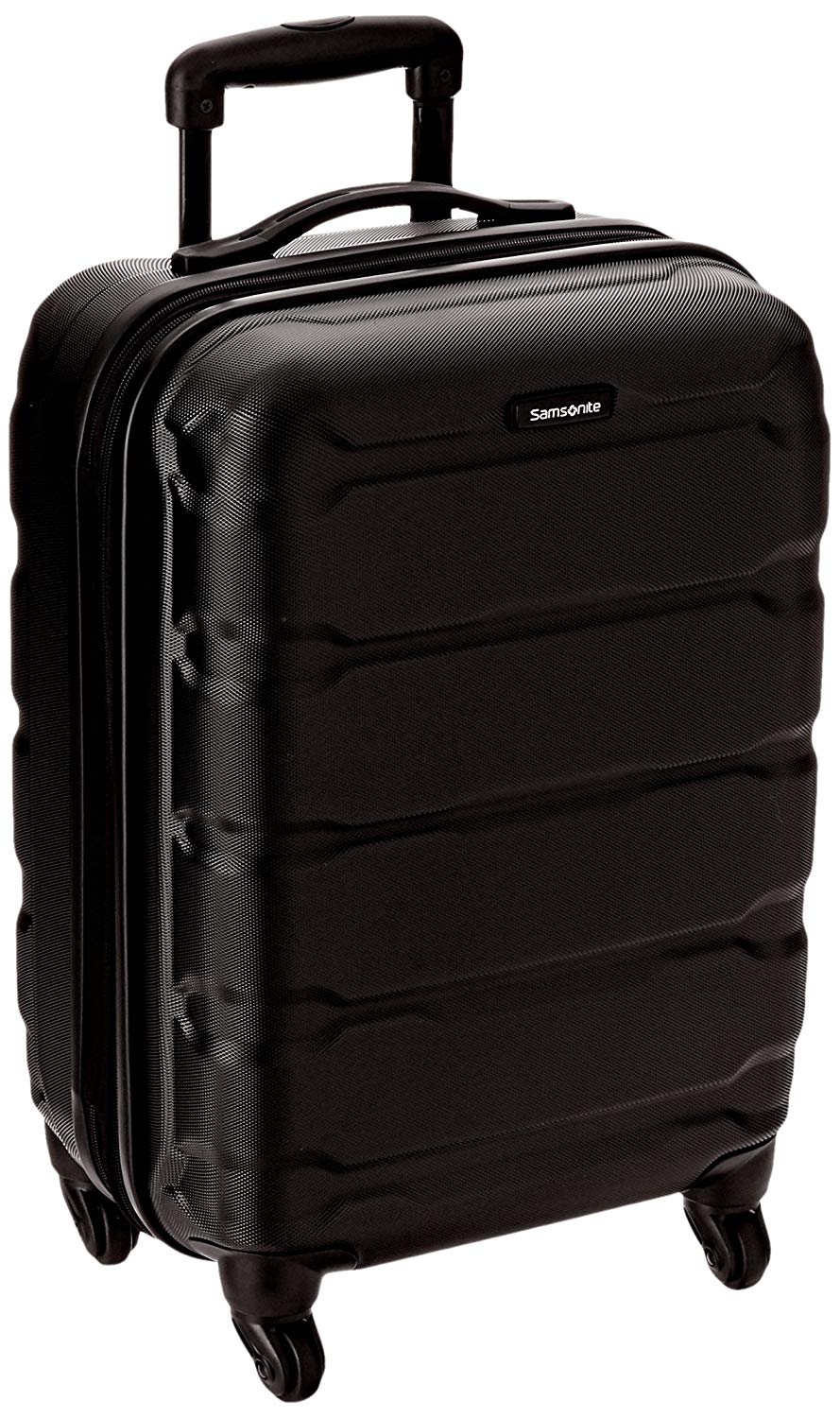 Enjoy portability on every journey with the Samsonite Omni PC Hardside Spinner. Similarly to the other styles we mentioned, travelers will have a great bag for every journey. Rotating wheels allow for easy mobility wherever your travels may take you. In addition, the micro-diamond texture on the suitcase ensures the bag will remain intact despite any rough terrain or bumps along the way that you might face.
Moving on to the interior, you will find a divider and cross straps. These are so useful when you are packing. You can easily organize your things inside of a carry-on bag. Travelers should take note that the bag may be too large for airline restrictions should it be overstuffed. When you pack correctly, the carry-on should fit into most airline overhead compartments. Samsonite is a brand we all know and trust.
Tech Specs:
24-inch hardside spinner

Protective hard shell

Fully-lined interior and divider

check

Expandable up to 15% of its capacity
Kenneth Cole Reaction Out of Bounds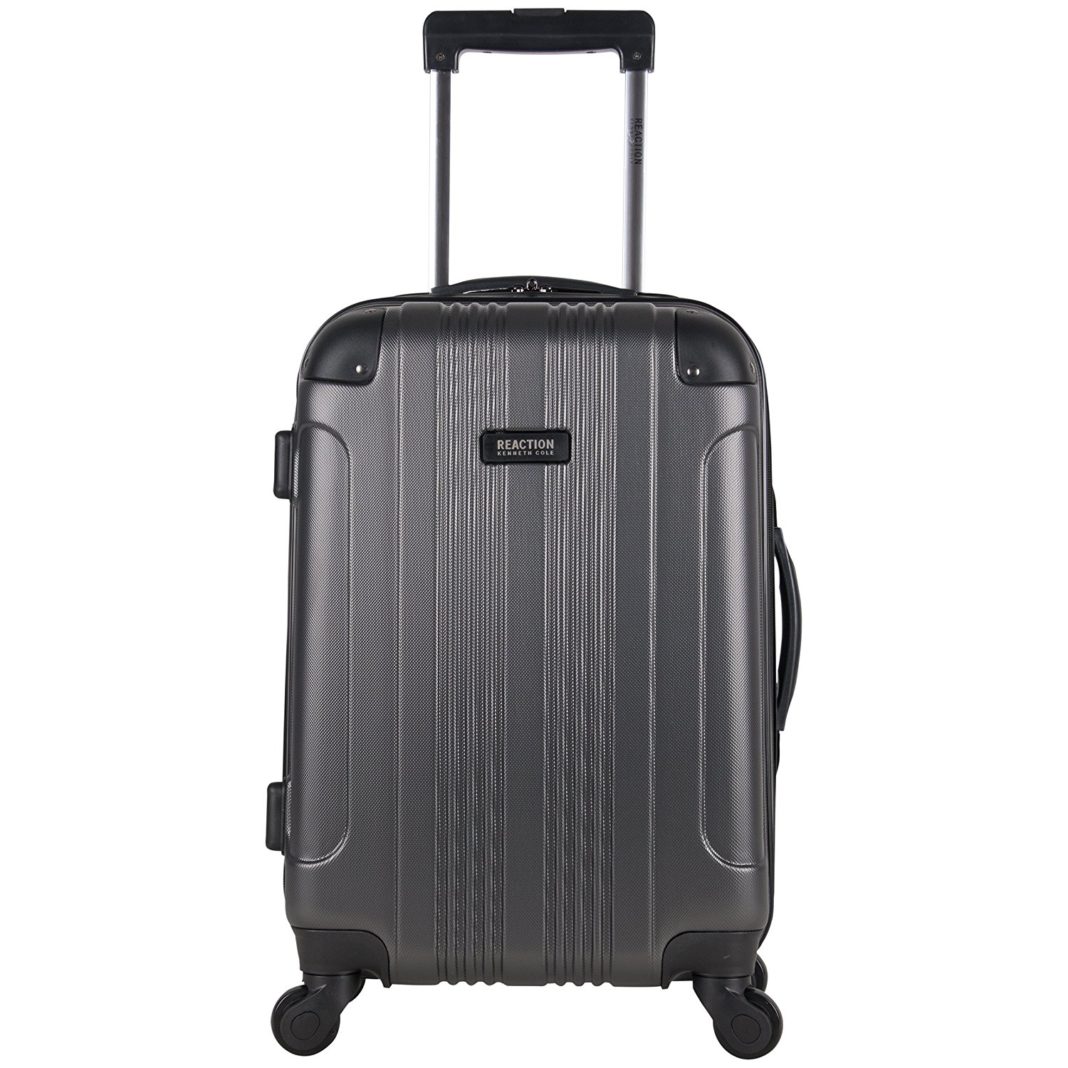 We know how hard it can be to find the right luggage for travel. More often than not, carry on luggage can be too small. You need adequate space for your belongings. While carry on bags are made to fit into overhead compartments, they often lead to frustration when it comes to packing. But with that said, you do have to meet airline requirements.
You'll find everything you need in this design from Kenneth Cole. The Kenneth Cole Reaction Out of Bounds both offers enough space for your things and meets all of the major airline requirements. It's not every day that you come across a piece of luggage this good. Furthermore, this bag comes with multi-directional spinners, allowing for 360-degree movement. In addition, you will also find convenient and flexible side handles for easy maneuverability.
Tech Specs:
Molded upright carry-on luggage

Multi-directional 4 wheel spinners

Self-repairing coil zippers that won't catch on the lining

check

Molded side feet for stability

check

Meets most major U.S. airline requirements

check

Weight: 6.25 pounds

check

Garment restraint straps to hold your items in place

check

Large zipper accessory pocket

check

Flexible top and side handles for easy carrying when you can't roll it
Never Travel without Your Minima Carry-On
When it comes to airline travel, you need a good bag. There's no questioning that. The type of luggage you bring can make or break the ease with which you travel. Some bags can be too heavy when packed or uncomfortable to carry on your shoulders and back. Oftentimes luggage might appear to be spacious on the outside but have a small interior space.
We highly recommend the Minima Carry-On. With a lightweight, durable exterior, plenty of space, and easy maneuverability, you really can't beat this style. And if that wasn't enough, it's affordable too. We have to say we're big fans of Chester Travels and their design aesthetic.
If you're looking to travel lightly, the Minima Carry-On is just what you need. Chester Travels excelled at making a good product with a lightweight design. So, you can easily transport your belongings. The next time you travel, be sure to bring this bag with you for the ride.
Related Article: Best Luggage Sets For The Fashion-Minded Traveler