Travel lightly with the Kenneth Cole Reaction Out of Bounds Carry On.
It can be difficult to find the right luggage for air travel. Often, carry on luggage can be very compact, and not provide the proper space you need for your belongings. While these types of bags fit inside overhead airplane compartments, they lead to frustrations when you're packing. On the other hand, carry on luggage has to meet airline regulations. Not every piece of luggage you find will fit those standards. With the Kenneth Cole Reaction Out of Bounds Carry On, you'll have luggage that's spacious and compliant with airline standards. Check out our article below to learn all about the Kenneth Cole Carry On and its awesome features.
Kenneth Cole Reaction Out of Bounds 20 in. 4-Wheel Carry On Features & Benefits
Lightweight Design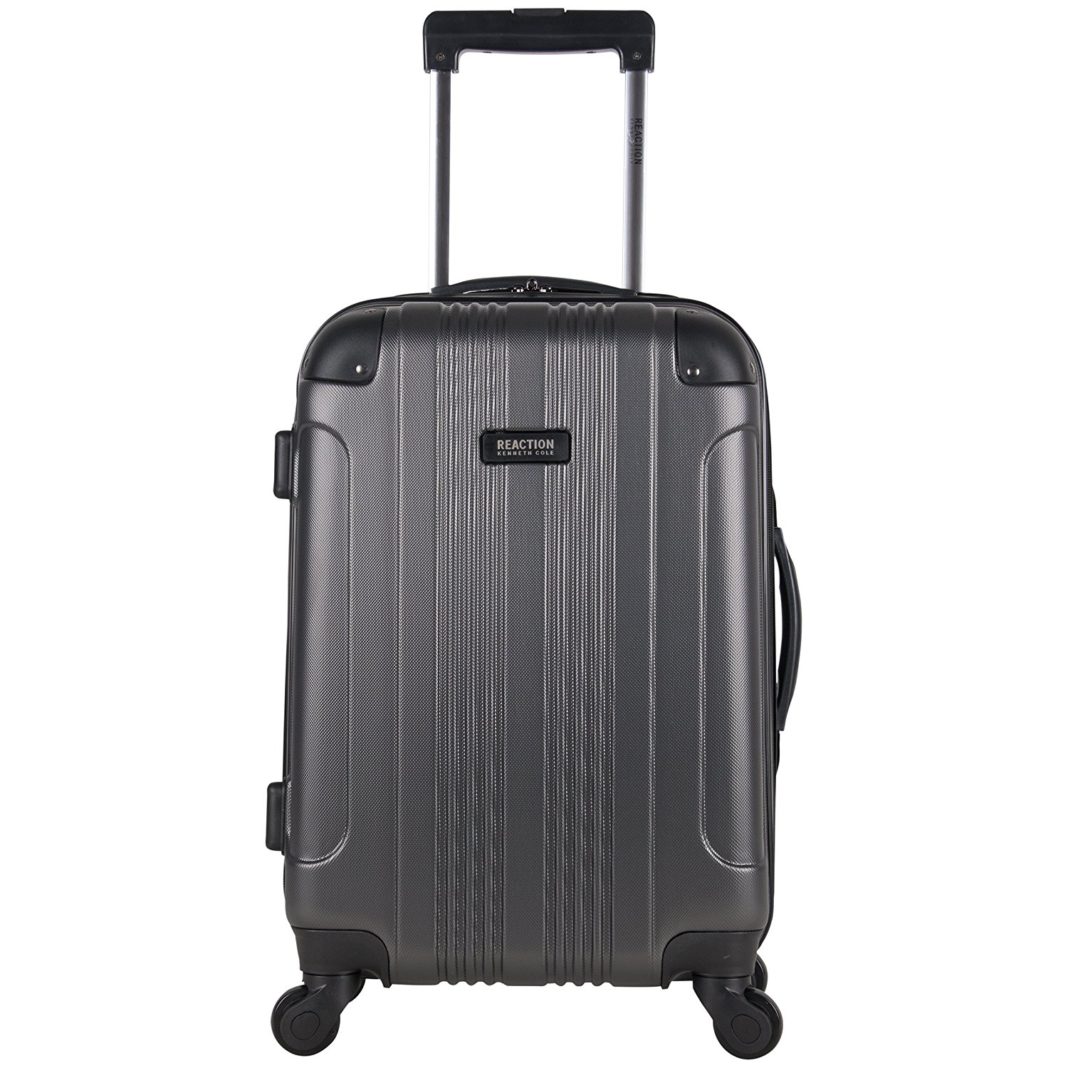 Travelers who fly often know the importance of having a decent carry on bag. This specific kind of luggage remains important when you're taking short trips, like a week-long vacation to Paris. These bags should feel easy to carry on your shoulder or roll on the ground without much effort. Additionally, if you're planning a quick weekend getaway, you don't want a massive, hefty suitcase. Carry on luggage provides space to hold your belongings but won't weigh you down. This ensures you can move quickly when you're in a hurry or simply don't want to carry a heavy bag.
The Kenneth Cole Reaction Out of Bounds Carry On bag maintains a lightweight design, allowing for breezy transport. Travelers who want to travel light can carry their belongings inside this case, and never feel weighed down. Clothes, shoes, electronics, and toiletries may all fit inside this bag, and you won't even notice a difference in weight. Whether you roll the bag on the ground or carry it by hand, you'll never have to strain yourself. At the same time, the lightweight nature of the Kenneth Cole Carry On also helps you pass airline regulations. When you weigh your suitcase, you won't have to worry about paying extra due to heavy baggage.
Meets Airline Carry On Requirements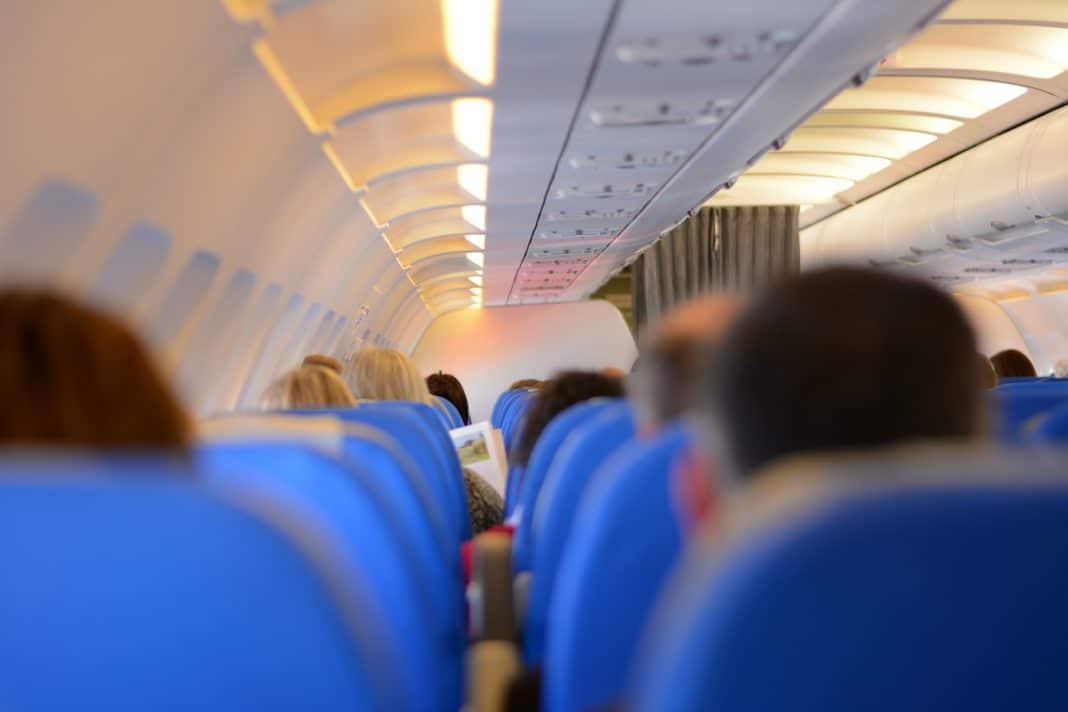 If you're traveling on a budget, avoiding checked baggage fees remains a huge priority. Any trip can be prematurely soured by having to fork over funds in order to ship your overweight luggage. You don't want to add to your travel expenses before your trip has even started. That's why having the proper size for your carry on luggage can make or break a journey. If you've found luggage with the right dimensions and weight, you'll be able to travel stress-free.
Luckily, the Kenneth Cole Reaction Out of Bounds Carry On has been crafted in accordance with airline carry on regulations. For the most part, when you bring your belongings in this bag, you won't have to worry about baggage fees. This suitcase will fit in almost every overhead compartment, ensuring travelers will never pay to ship their bags. Since the suitcase has a lightweight design, you'll also be adhering to airline weight restrictions. Luggage fees remain a thing of the past with this carry on suitcase. When you pack your items in a carry on bag, you can save your hard-earned money for other travel experiences.
Sturdy Structure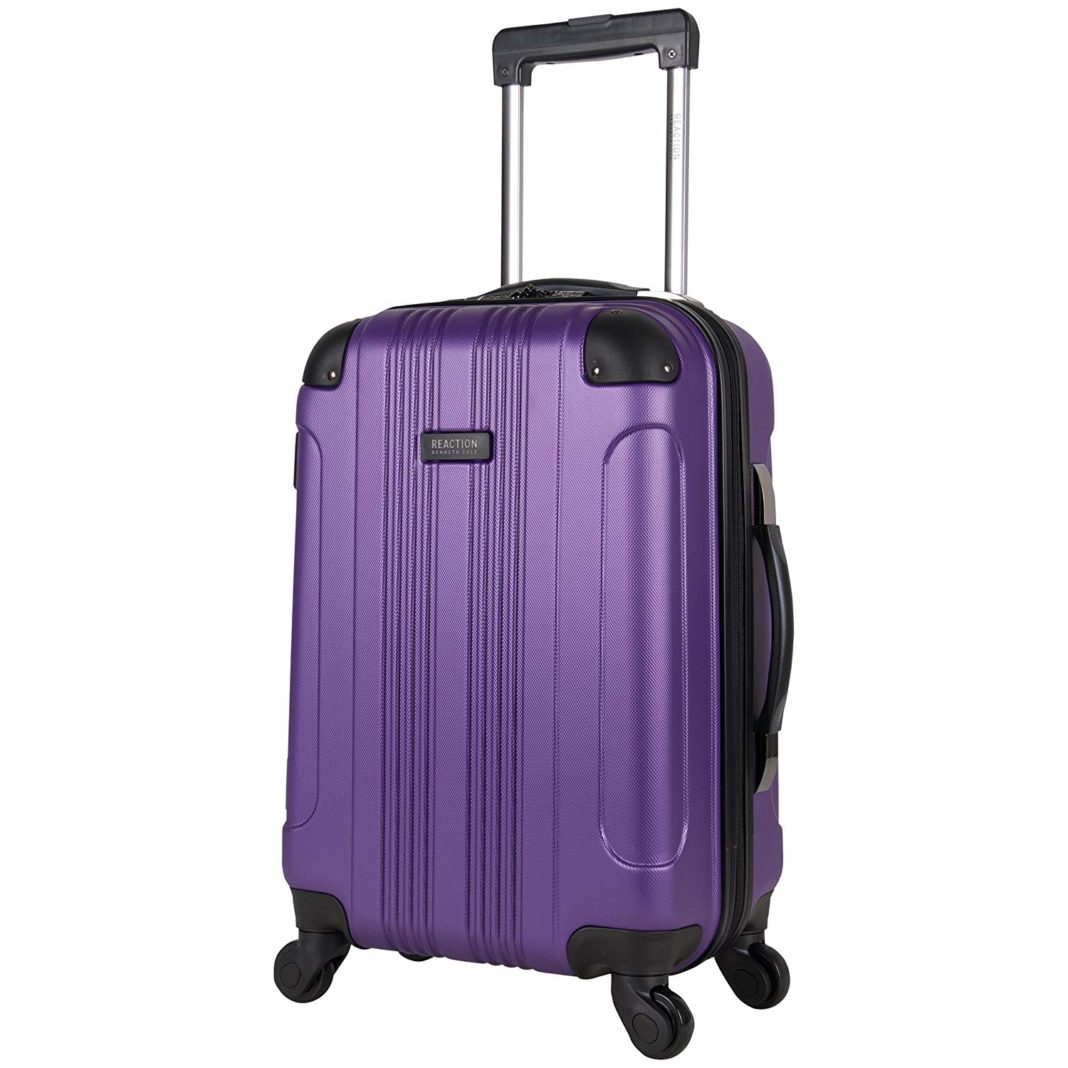 When you're buying a piece of luggage, you want it to last through more than a few journeys. The best carry on bags maintain durable structures, ensuring that they remain intact after multiple uses. It would be annoying to buy a suitcase, only to find a tear in its fabric a day later. Thankfully, many suitcases have been crafted using highly damage-resistant materials to prevent scuffing and rips. With the Kenneth Cole Reaction Out of Bounds Carry On, travelers will never have to worry about denting their suitcase.
A hard-shell exterior on the Kenneth Cole Reaction Out of Bounds Carry On prevents major damage from occurring. Even if you drop the suitcase from major heights, the bag won't be dented or bruised. Molded corner guard reinforcements help reduce the shock and damage upon impact. Self-repairing zippers ensure that you can zip the bag smoothly, rather than having it get caught. The push-button retractable handle also locks into place while its in use, so it'll remain completely stable. A fully-lined interior additionally helps the suitcase's insides remain free from damage. Your belongings won't scuff up the interior, so you can pack your belongings without fear of damaging the inside. Overall, the Kenneth Cole Reaction Out of Bounds Carry On will keep its shape throughout countless journeys around the world.
Easy Maneuvering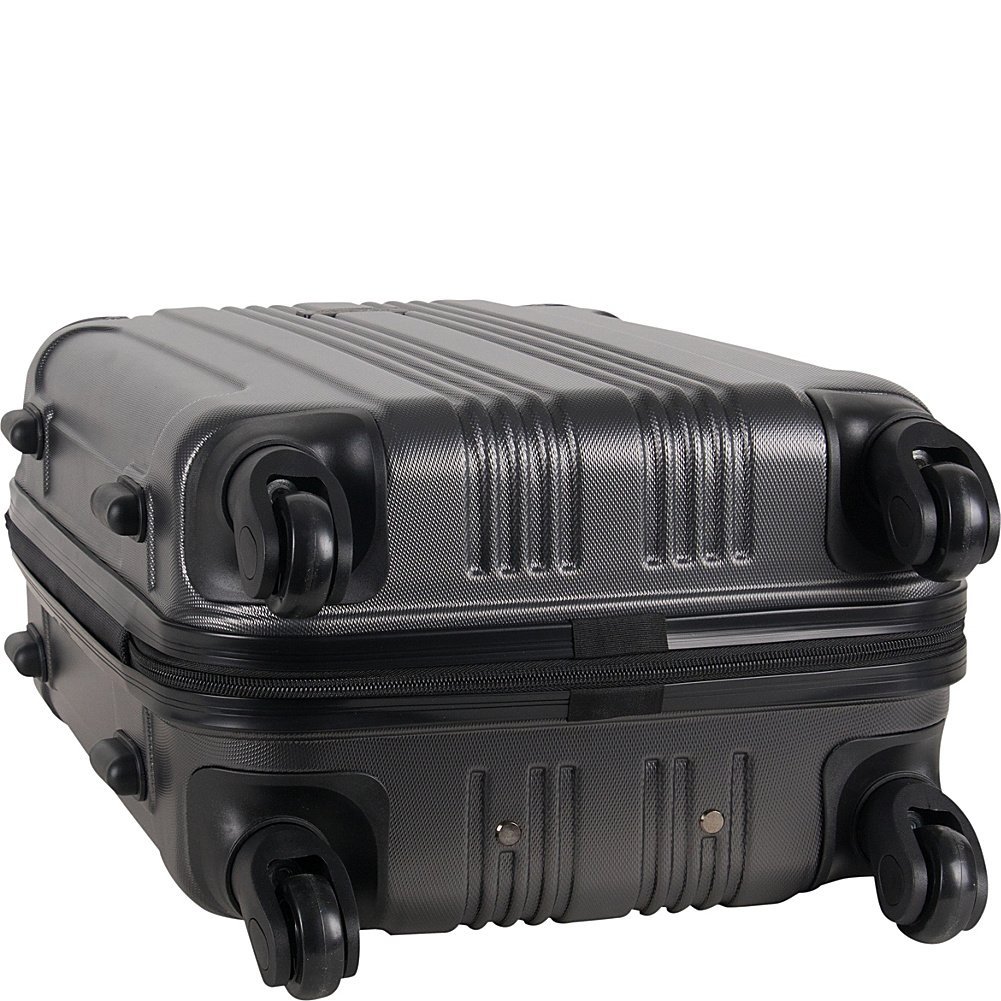 If you're trying to get somewhere in a hurry, you need a suitcase that doesn't drag you down. Many carry on bags utilize wheels to enable ease of movement as you go from place to place. However, a majority of these carry on bags fail to provide the mobility you desire. Wheels can get stuck, causing you to trip over things or end up rolling over your own feet and ankles. Some wheels only move back and forth, meaning you'll struggle to turn the bag when you want. Other features, like handles, fail to feel comfortable or easy to use. These things can all add up to produce an underwhelming traveling experience when you're transporting luggage.
The Kenneth Cole Reaction Out of Bounds Carry On remains one of the best carry on bags for easy mobility. This piece of luggage utilizes four wheels that move in all different directions, enabling simple maneuvering. The 360-degree movement on these wheels ensures that you won't get stuck while trying to turn around. A retractable push-button handle also lets you roll the suitcase when you want, eliminating strain on your arms. Top and side handles on the suitcase even allow travelers to pick up the suitcase if they can't roll it.
Style Choices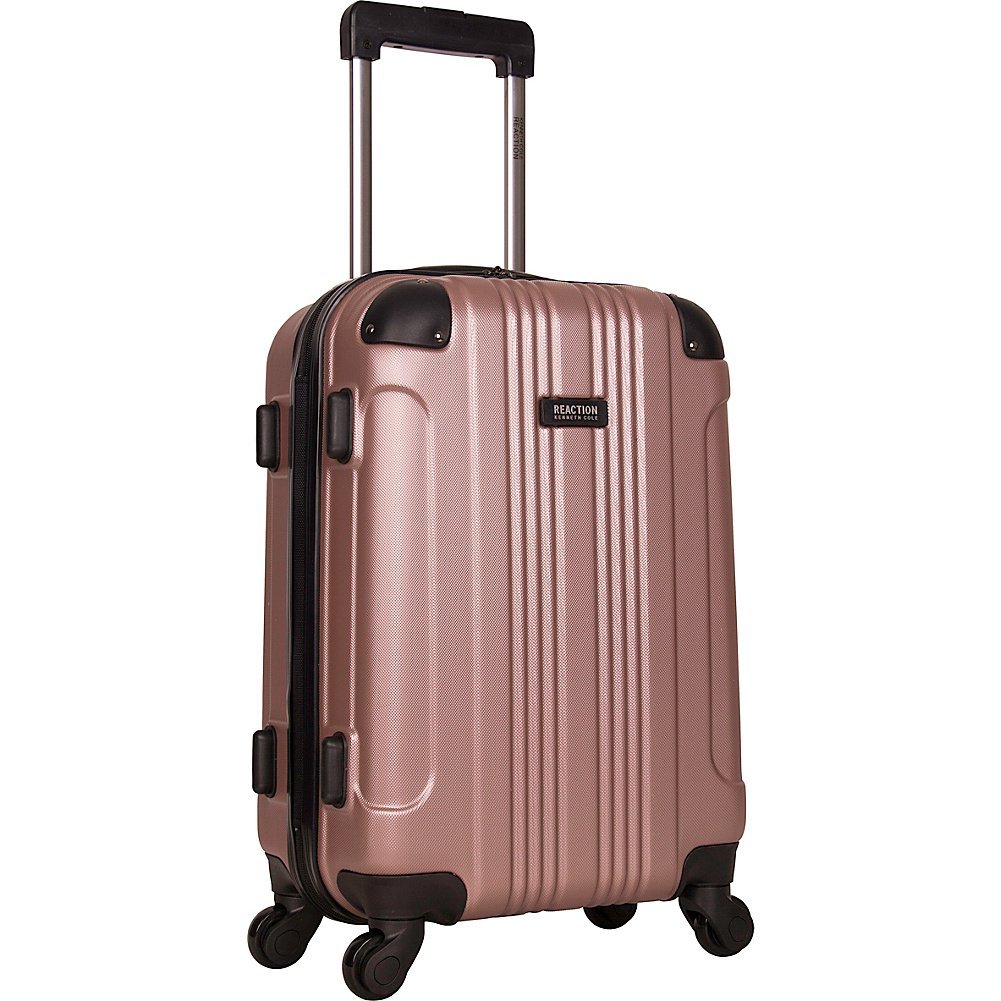 Forget about boring suitcases that all look the same. Carry on bags should look fun and exciting as you wear them on your shoulder or roll them along. Most carry on luggage appears neutral, coming in shades such as black or gray. Though these shades may appeal to some travelers, others might find this monotonous after a while. You also won't stand out from other travelers, as most people have similar-looking carry on bags. At the end of the day, if you enjoy bright and vibrant accessories, your bag should match your style preferences.
With the Kenneth Cole Reaction Out of Bounds Carry On, travelers will get to pick from a variety of colors. Shades like purple, teal, pink, and red include just some of the fun choices available to customers. Metallic choices, like rose gold and silver, will help you shine in comparison to other travelers. If you prefer simpler colors, don't worry. The Kenneth Cole Carry On also comes in shades such as black, charcoal, and navy for a more subdued appearance. You won't have to sacrifice style for functionality when you purchase the Kenneth Cole Reaction Out of Bounds Carry On.
What Travelers Are Saying About the Kenneth Cole Reaction Out of Bounds 20 in. 4-Wheel Carry On
Travelers who purchased the Kenneth Cole Reaction Out of Bounds Carry On raved about the product's lightweight structure. The carry on felt very light and easy to hoist onto shoulders as they moved from place to place. Most of the travelers who bought the bag said that it fit well in the overhead compartment. Additionally, the reviewers found that the bag could hold a huge number of items within the interior. Clothes, toiletries, electronics equipment, and souvenirs could all be packed inside the bag in a cinch. The reviewers also loved the wheels on the carry on, as it enabled the users to move around effortlessly.
A few reviewers thought that the Kenneth Cole Reaction Out of Bounds Carry On could have been more durable. The zippers on some suitcases got stuck, while the fabric tore easily after a few usages on others. Some travelers also discovered that the wheels on their suitcase broke during a journey to the airport. Overall, the reviewers considered the Kenneth Cole Reaction Out of Bounds Carry On a great bag for quick trips.
Alternative Lightweight Carry On Luggage You May Like
1. Eagle Creek Expanse International Carry On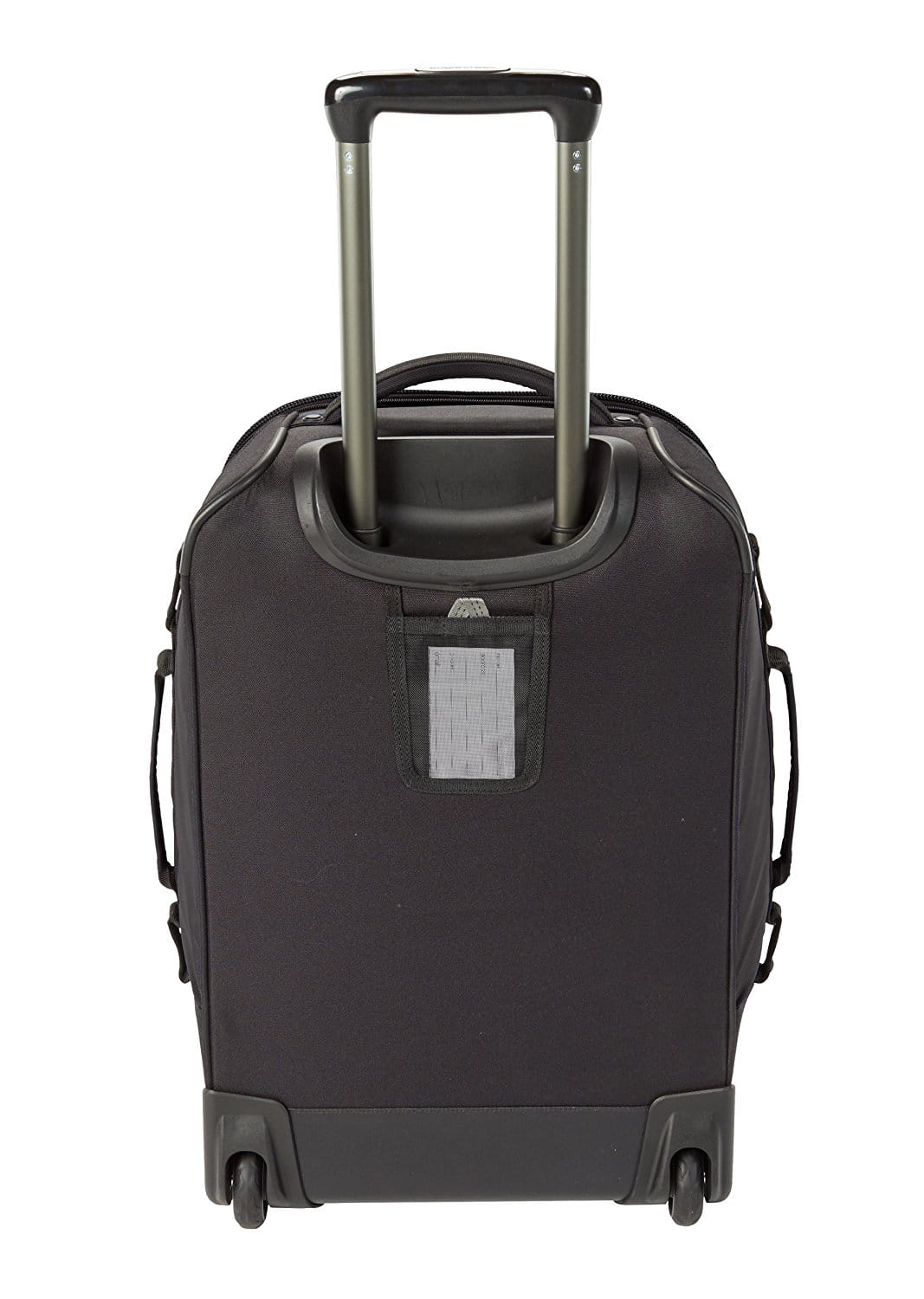 Travelers who aren't interested in the Kenneth Cole Reaction Out of Bounds bag should consider the Eagle Creek Carry On. This lightweight suitcase provides travelers with the perfect carry on for all kinds of adventures. If you don't want a heavy-duty piece of luggage, this bag might be the ideal product for you. However, while the bag remains lightweight, it's not a flimsy carry on. The Eagle Creek Carry On maintains a durable structure, utilizing Bi-Tech Armor Lite for a damage-resistant exterior. Due to the durable material on high-wear areas, like the corners of the suitcase, you won't find scuff marks. Self-repairing zippers on the suitcase's main compartments ensure that the zipper glides smoothly, instead of getting stuck. A padded tablet sleeve on the front of the carry on provides a safe place to store your electronic devices. Heavy duty wheels with traction also enable travelers to roll the suitcase on all types of terrains.
2. Samsonite Omni PC Hardside Spinner
With the Samsonite Omni PC Hardside Spinner, travelers will have an extremely portable bag for every journey. The maneuvering features on this carry on, like the spinner wheels, allow for super easy mobility in every situation. A retractable handle on the suitcase means that you can roll the bag on the ground or carry it. The micro-diamond texture on the exterior of this spinner suitcase ensures that the bag will remain intact despite travel wear-and-tear. This case will continue to look sparkly and brand-new long after you've made your purchase. On the inside, you'll find a divider and cross straps, which assist travelers when they're packing. You can easily organize your belongings with the interior features on this carry on bag. Travelers should take note that this bag may not comply with airline regulations if you've overstuffed it with items. However, if you pack properly, the carry on should fit in most overhead compartments on airplanes.
3. Hartmann 7R Global Spinner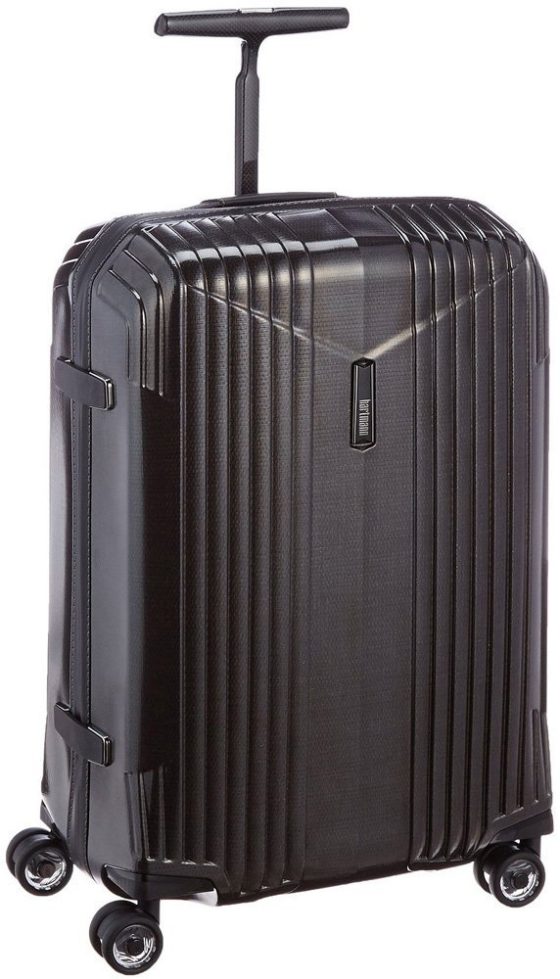 The Hartmann 7R Global Spinner represents another great alternative to the Kenneth Cole Reaction Out of Bounds Carry On. With layers of woven polypropylene on the exterior, this suitcase remains an incredibly sturdy product. You won't have to deal with nicks, scratches, or dents after bringing this suitcase on multiple adventures. Like the Kenneth Cole Carry On, the Hartmann Spinner also feels lightweight, so you can carry it without hurting yourself. Spinner wheels on this suitcase enable 360 degrees of movement, which means you can move in any direction. This bag will go where you want to go, instead of holding you back. The multi-directional capabilities of the wheels even ensure that you won't have to put much weight on the handle. A leather handle on the top of the suitcase additionally lets travelers carry the bag when they can't roll it. If you want a suitcase with organizational features, definitely consider purchasing this spinner. The product has multiple inner zip pockets, as well as a removable interior zip pocket.
Never embark on a flight without your Kenneth Cole Reaction Out of Bounds Carry On.
When you travel by plane, you really need a good carry on bag. The luggage you bring can make or break your trip, especially if the luggage doesn't meet your standards. Certain bags can be heavy and uncomfortable to carry on your shoulders or back for long periods of time. Other carry on luggage may appear spacious but provide little room for your items. If you want to travel lightly, bags like the Kenneth Cole Reaction Out of Bounds Carry On remain ideal. This product combines spaciousness with a lightweight design, so you can transport your belongings with ease. The next time you fly somewhere, be sure to bring a Kenneth Cole Carry On along for the journey.
Related Article: Best Lightweight Carry On Luggage (Plus How to Make the Best Choice)