Gear up and get out with the Osprey Exos 48 Backpack.
This award-winning bag has excellent features, carries a medium-sized load, and is comfortable to wear for extended periods of time. Reasonably-priced, it scores well in all of the major categories. It's by far the most versatile, affordable hiking bag we've come across and it checks the necessary boxes. Did we mention that it's much lighter than a traditional frame pack? We're in love with the Osprey Exos 48 Backpack.
Osprey Exos 48 Backpack Features and Benefits
If you're still new to traveling light in the backcountry, the Exos 48 Backpack from Osprey is a great option for you. This is one of the most popular lightweight backpacking styles on the market and with good reason. While it is lightweight, it still offers great suspension and ventilation.
Load Capacity and Comfort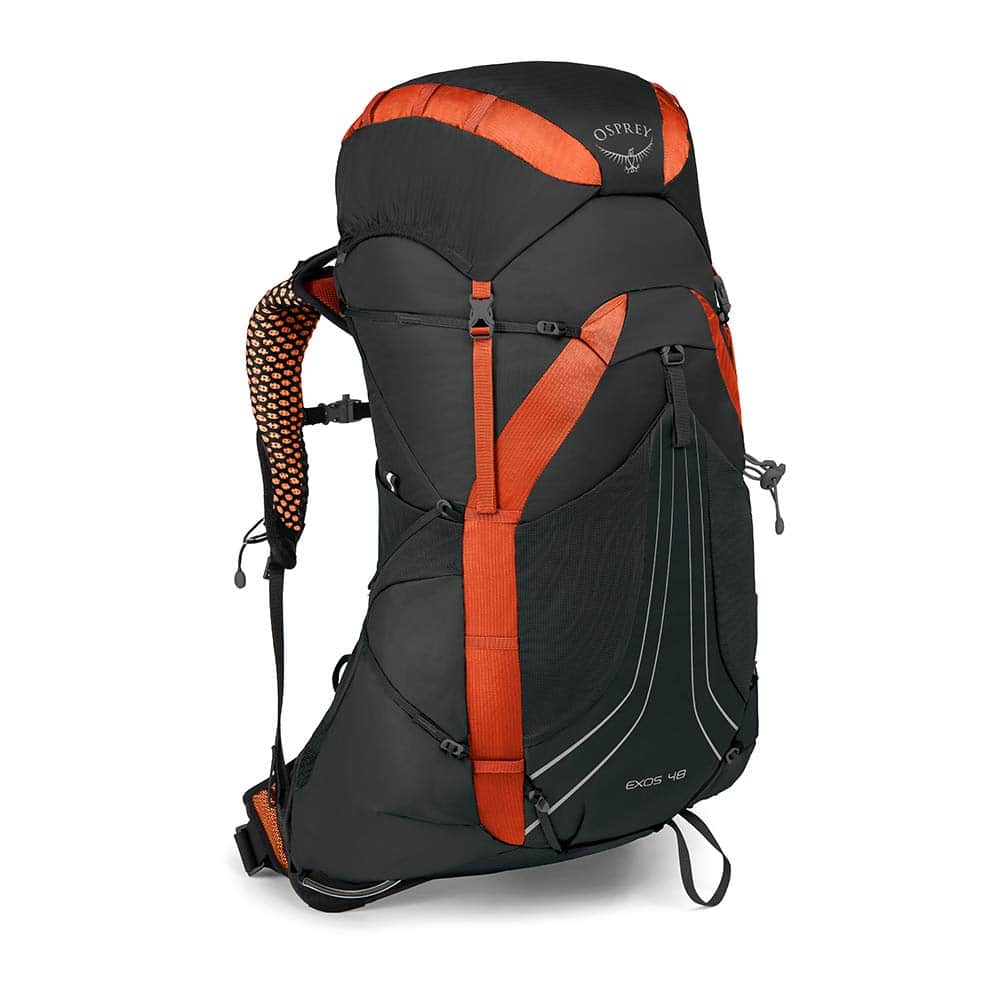 Credit: Amazon
Many reviewers say that the Osprey Exos 48 Backpack comfortably carries up to 30 pounds of gear and we agree. The tensioned frame structure is what makes it so easy to carry. This frame distributes the weight of your gear with ease, transferring the weight from your back and shoulder to your hips. When you're on the go, this is an important feature to have in the bag, Hiking in the backcountry is strenuous enough. You want your backpack of choice to be as comfortable as possible.
Features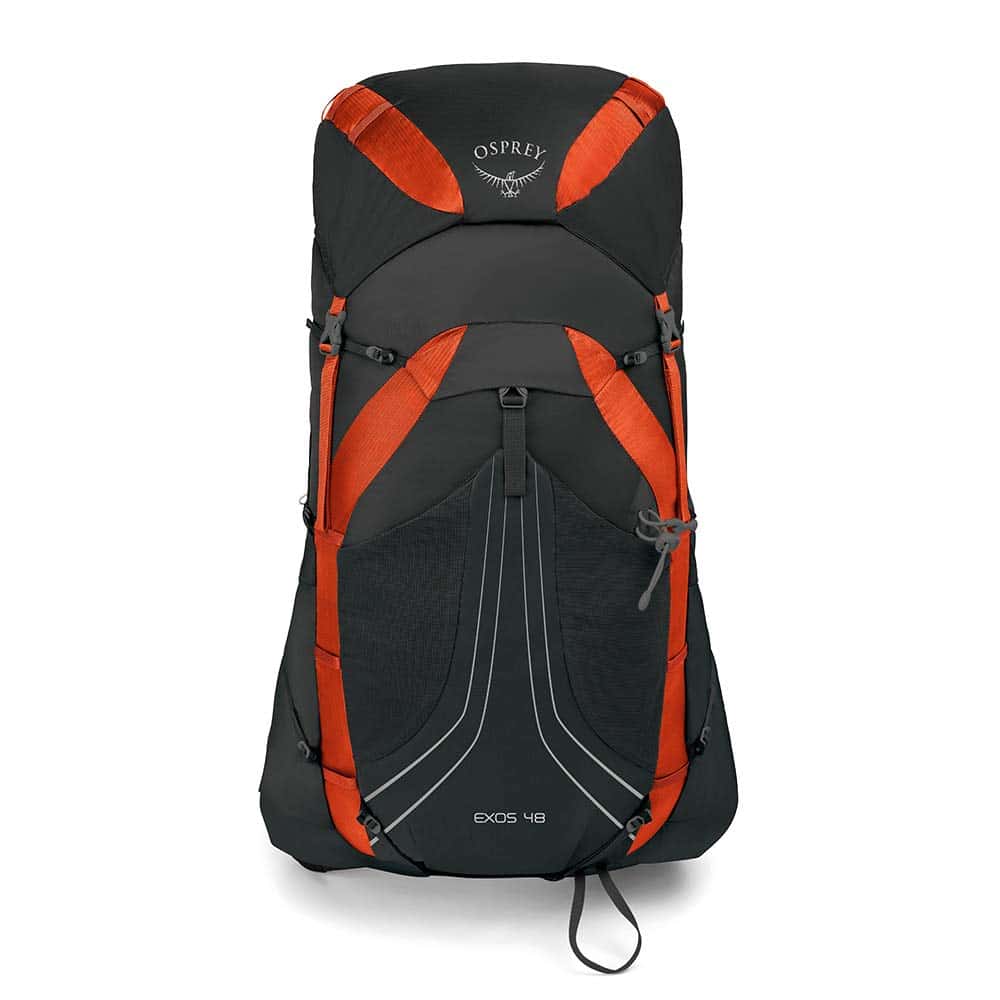 Credit: Amazon
We can't say enough good things about all the features of the Exos. It's rare that a product completely sets itself apart from market competitors in our book. But this case is different. The Osprey Exos 48 Backpack is definitely in a league of its own with all of its standard features. Not only does this tensioned frame bag have a floating lid but it also offers a flapjacket tip closure. The exterior's stretchy pockets hold a large volume.
Looking at the side of the bag, you will find large hip pockets and small elasticated pockets on the shoulder. These smaller pockets are super handy for holding items you need to access quickly. Store your wallet, keys, iPhone, sunglasses, or keys in there. Compression straps run alongside the bag and can be stored inside or out of the pockets. In comparison to its predecessor, the Osprey Exos 48 Backpack is more streamlined. It's also easier to use and in sync with popular ultralight backing models.
Adaptable
Out of all the bags we have tested, this one earned the highest score in adaptability. You can strap bulky and small items to the outside of the pack to maximize storage space inside. Let's not forget about the floating lid and the stretchy main pocket. To top it all off, there are also sewn webbing loops along the back. These are helpful if you want to attach bungee cords and they are large enough to clip a carabiner onto.
Durability
Comparing the Osprey Exos 48 Backpack to its predecessor, one of the most notable differences is the design of the durable stretch mesh pockets. In the previous design, the Exos fell short in our book. The stretchy pockets on the backside used to be prone to catching on the brush and snagging. Now, Exos has a strong, ripstop nylon fabric which is still somewhat stretchy to accommodate your storage needs.
Best Use
As we mentioned earlier, the Osprey Exos 48 Backpack holds up well with a 30-pound load and can be stretched up to thirty-five pounds. It's a perfect crossover between ultralight backpacking and simply lightweight backpacking trips. This makes the bag an excellent choice for hikers who like to bring plenty of food, snacks, and water.
The Overall Value
We're happy to say that the Osprey Exos 48 Backpack is a great buy. For the price tag, you are getting a significant amount of solid features. While there are several more affordable packs in this review, none of them perform quite as well as the Exos. Sure, the sticker price is a little steep but you will get a pack that lasts for years to come and performs well on various types of adventures. Hiking backpacks are one of the travel items where you get what you pay for most of the time. You don't want to skimp out here; Osprey is a brand we all know and trust.
Tech Specs:
Ripstop nylon fabric

48-liter internal storage capacity

Internal sleeve with clip attachment (can accommodate up to 3 liters of hydration)

6065 aluminum alloy frame

Exoform sewn-in hip belt

Removable floating top pocket

Multiple cord tie points for additional gear

Mesh ventilation for your back

Compression straps

Water bottle pouch
What Travelers Are Saying About the Osprey Exos 48 Backpack
We've been through our fair share of packs. And believe us when we say you won't find another one quite like the Osprey Exos 48 Backpack. Travelers love it too, swearing it's by far the lightest pack they own.
Do you ever find yourself constantly readjusting the weight fo your pack to make sure shoulders and hips to stay comfortable? You won't have to do that here. The hip belt and internal frame shift the weight of the backpack off of your back and shoulders to your hips on its own.Another great thing about this pack vs. a duffle bag style is that with frameless packs, you don't need to use any padding between your pack and back. This offers you a lot more options for sleep pads and sleep systems. It's also nice knowing that you won't be sweating through the material of my pack because it doesn't ride directly against my back.
The ventilation of the mesh helps your back breathe better.You can easily fit all my gear, food, and water for 6-7 days in this pack. Anything over 6-7 days would require a resupply. For weekend backpackers, day hikers and car campers we could see where this pack could be sufficient. However, if you aren't a minimalist this pack isn't going to be big enough to get you through a week. We encourage people to consider buying a smaller pack challenge yourself to limit what you can fit in this pack.
Really experience nature, leave all the technology and comforts behind. Before you pack it, ask yourself am I really going to use this? Trust us. You'll love backpacking with 30 pounds of gear on your back and cover more ground rather than trudging through the miles hating life.
While users love this backpack overall, there were a few minor complaints. One was from a user who likes to wear lightweight moisture-wicking tank tops when he backpacks in warmer seasons. The padding on the shoulder straps are very thick but the outer layer is also very rough to the touch on bare skin.
Another complaint about this pack is if you have belongings in it it will not sit up straight without toppling over. This is because of the stays. So while going through your pack, you will have to brace it against something or try to hold it upright with one hand while digging through it with another.
All in all, though, these are minor issues. In comparison to how many great features the Osprey Exos 48 Backpack has to offer, they seem inconsequential. Over, travelers are happy with their purchases and consider this investment to be money well spent.
Alternative Internal Frame Backpacks You May Like
TETON Sports Oasis 1100-2 Liter Hydration Backpack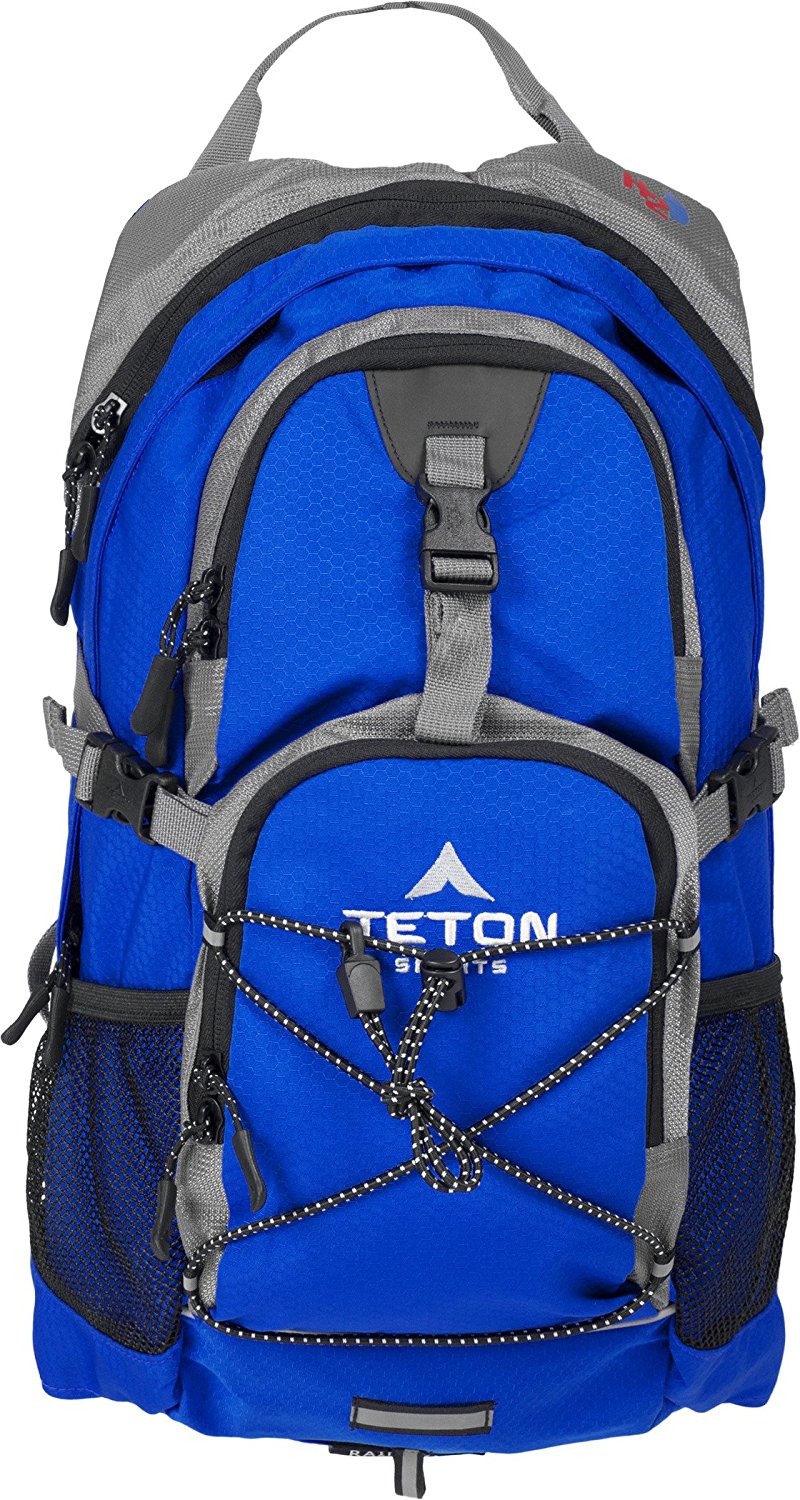 The Oasis 1100 from Teton Sports is perfect for all your day hikes. This 18-liter daypack comes with its own 2-liter hydration bladder and so much more. Since it's designed with a low-profile cut, it fits comfortably just like the Teton Sports Explorer 4000 does. If you're looking for a lighter bag, this is the style you need. The shock absorbing chest strap works with the rest of the design to reduce bouncing of your pack. Take this little day pack hiking, camping, backpacking, bicycling, or simply exploring a new city. It's geared up to become your favorite.
Tech Specs:
2-liter hydration bladder included

Compression straps

Sewn-in rain cover

Comfortable to wear

18-liter storage capacity

Durable, kink-free sipping

Plenty of internal space
Don't Go on Your Next Trip without the Osprey Exos 48 Backpack
The Osprey Exos 48 Backpack gives you so much bang for your buck. While the initial purchase is a little steep, Osprey is a great brand. These features will last you for years and years to come. As you take this bag on all your adventures (big and small), you will appreciate the thoughtfulness of the design and integrity of the quality. We highly recommend the Osprey Exos 48 Backpack. Now make a packing list for your gear, bring the best backpacking tent, and head out for some exploration.
Related Article: The Ultimate Backpacking Checklist for All Your Adventures