Upgrade your camping experience with the best backpacking tents.
You're hiking in the heat of summer to get to your dream camping destination. You're going to need to pack in a way that won't weigh you down; that's why you need the best backpacking tents. Luckily for you, we've curated a list of the top ones on the market for durability, the lightweight factor, price, and more. Let's take a look at each and see what they have to offer.
1. Coleman Sundome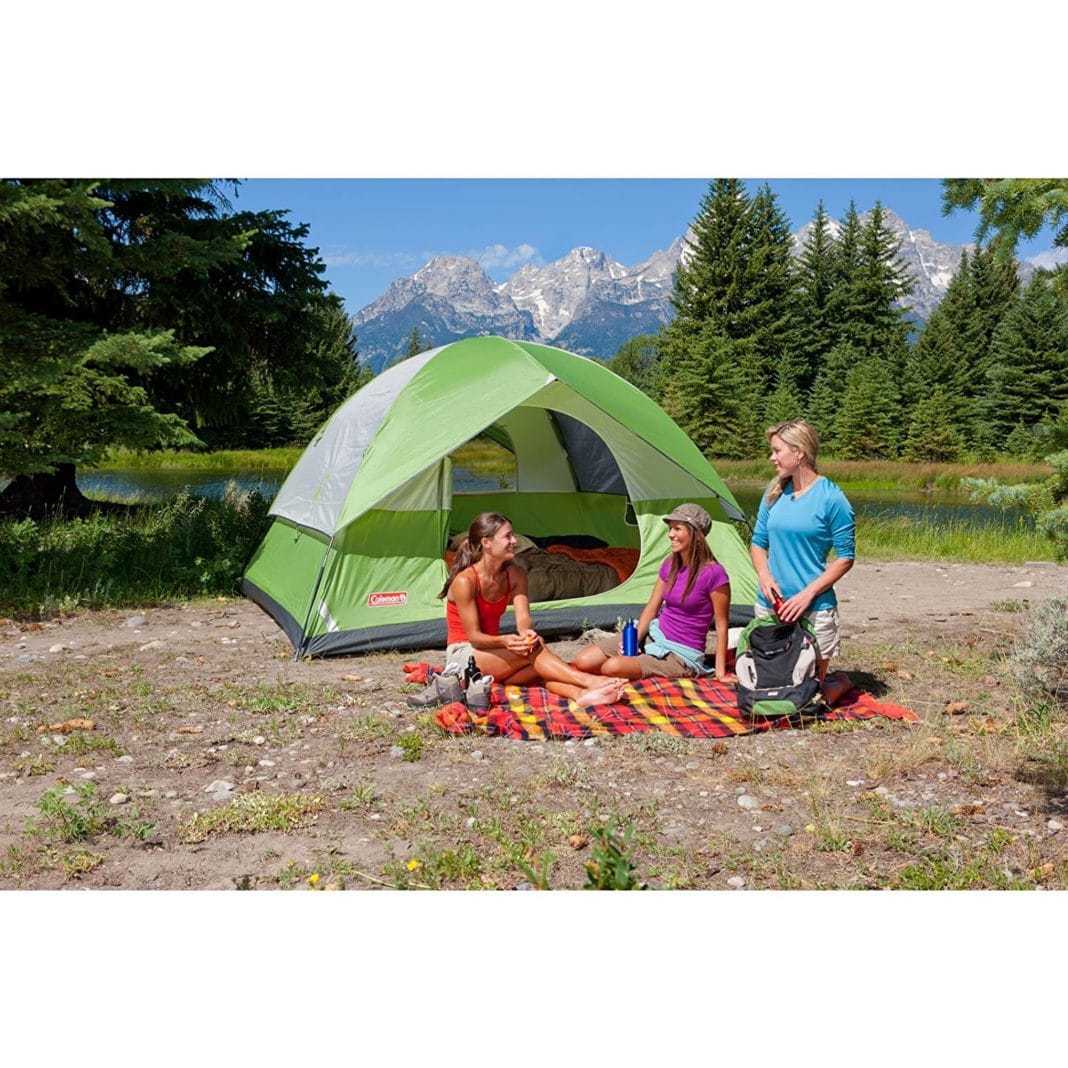 As advertised, the Coleman Sundome measures 10 feet x 10 feet with a 6 ft. center high. This means you can easily fit two queen-size airbeds inside. It's also available in 2-person, 3-person, and 4-person tents. It's just as spacious as it sounds, so you don't have to worry about squishing yourselves in to fit while trying to make room for your gear as well. There is also a little mesh gear pocket on the inside of the tent where you can store things like your wallet and phone to keep them off the ground.
About Coleman
Coleman has brand recognition in the world of camping. Generally speaking, their products are pretty high quality and very reliable. They make nothing but the best backpacking tents. The Coleman Sundome doesn't seem to be any different. Even better, it's not going to set your bank account back too much (college students, we're talking to you here). While there may be a few tents on the market that are better in size, they come at a higher price. However, if you're not looking to do some heavy camping and just want to take an escape for a four day weekend or so, this is definitely the right choice for you. Here's why.
Setup
Travelers love the simplicity of the Coleman Sundome, aptly calling it a no-nonsense tent. For setup, all it really requires are two poles to hold the tent up and one extra pole to hold the rainfly up. Some albeit more skilled users managed put the tent up in a Florida thunderstorm in less than 5 minutes (talk about mad skills). This is why it's one of the best backpacking tents.
It only took another 5 minutes to set the 7 guy lines. Even if you don't get the opportunity to spray and seam seal the tent when it is raining, it won't leak much – even through some very powerful Florida rainstorms. Travelers who took it out in the worst of elements only managed to find a few raindrops around the electrical port zipper.
If you want a tip from us, you should seal that spot. When the wind was rough, travelers love that it stood its ground and didn't move around too much. You can pack a lot into it too.
Taking the tent down was just as simple. Just fold in half twice, then fold into thirds and roll up. It fit right into the bag with no problems. Users say it is the easiest tent they have ever dealt with!
We would highly recommend a 10×10 tarp to go under the tent and a 10×20 tarp to go over it. There are two huge mesh panels on the top of the tent, which are great for ventilation, but bad for sideways rain that can sneak under the rainfly. We recommend putting the tarp longways over these vents and it kept out the sideways rain but there was still plenty of ventilation. There is a hook at the top to attach an LED light/fan.
All in all, travelers say the Coleman Sundome is one of the best backpacking tents for warm/hot weather camping. You'll be hailing it as one of the best backpacking tents. While there might be too much ventilation for late fall camping, perhaps you can figure out a way of blocking those mesh panels.
Who the Tent Is a Good Fit For
If you've found your camping skills lacking as of lately (aka haven't pitched a tent since your scout camping days), then this is the perfect tent for you. Why? It's virtually foolproof. Tent assembly has never been so painlessly simple. The standard shock-corded fiberglass frame and freestanding tent design offer plenty of room for people to have a little wiggle room and store some small amounts of gear inside too.
In addition, the Coleman Sundome has been known to withstand hours of wind and rain successfully. That means even if you didn't set it up flawlessly, it won't collapse on you and your family in the middle of the night. Luckily for you, the wall and fly fabric are made from a solid polyester along with a thick 450 mm coating.
Furthermore, the strong 1000D polyethylene tent floor (similar to a bathtub that wraps around all sides), provides total protection against water leaking. While this is a perfect option for summer camping, you might want to consider another tent or packing tons of winter sleeping gear when the temperatures drop a bit lower.
This tent is light, airy, and easy to set up. Here's another plus, it shields you and your stuff from all those bugs floating around in the wild. Even amidst the seemingly worst of elements, you'll stay cozy and dry. Cool summer evenings will be particularly wonderful. Thanks to the hooded rainfly on the window, you can enjoy fresh air from the great outdoors.
The electric point allows you to use AC current and rechargeable electronic gadgets like your phone, camera, LED lamps, etc. Last but certainly not least, the tent can easily be rolled up into a small package. For this reason, it is extremely easy to carry around anywhere during camping without feeling weighed down.
2. MSR Hubba Hubba NX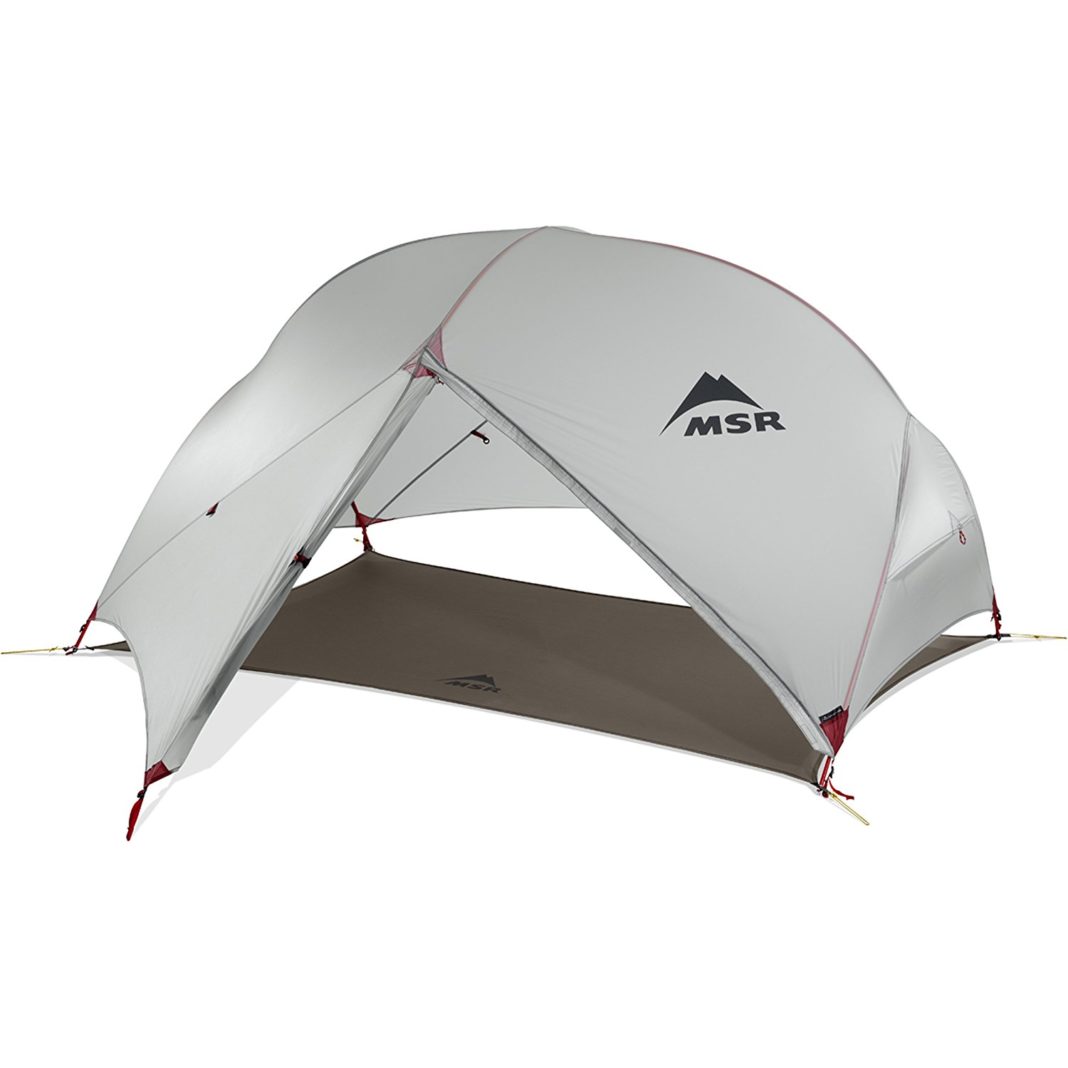 Your hiking prayers have just been answered in the form of one of the best backpacking tents – the MSR Hubba Hubba NX. It's time to pitch a tent and go camping. While this may sound silly, just listen. It's incredibly easy to set up. It's not one of those annoying ones that keep collapsing as you fumble around in the dark muttering to yourself like a madman and scaring all the other campers. It's incredibly easy to set up, lightweight and has two doors, so you can come and go as you please without disturbing your partner. While it may look smaller on the outside, the pool configuration creates a roomy interior with nearly vertical walls and excellent livability.
About MSR
A pioneering outdoor company evolved whose innovations have revolutionized the way people experience the outdoors worldwide. Today, they're a close-knit team still obsessed with designing the most reliable, high-performance gear possible, using their knowledge of engineering and science to find better solutions to the challenges of the mountains.
At MSR, they are engineers, tinkerers and passionate outdoor users–each with strong perspectives on how a product should work based on our own experiences in the wild places we love. But collectively, they believe that innovative solutions are bred by challenging convention, and that functionality, simplicity and reliability are the governing elements of enduring design. Today, many MSR products are still hand-built on manufacturing lines just a floor below where they concept them.
Setup
All in all, this setup is quick, painless, and you probably won't even have to read the instructions to set it up – even though you kind of just did. If you need to take a look though, they are attached to the sack the tent comes in. So even if you wanted to lose them, you can't. It's foolproof. That's what makes it one of the best backpacking tents.
Next, you're going to want to drape the exterior cover over the skeleton of the tent. There are color codes in grey and red to ensure you match the fly corners in the right direction. Once that's done, go ahead and stake the corners and tighten the webbing straps. After that, stake out the tent vestibules. The MSR Hubba Hubba NX requires two or more tent stakes for the vestibules. We recommend staking out the corners with at least four or more stakes. Over the vestibule doors, there are additional guy lines you can employ to give the tent additional stability in windy or stormy conditions.
Who the Tent Is a Good Fit For
This is a two person tent plain and simple. Don't try to squeeze that third friend in. The interior isn't tapered at the ends but rather, rectangular, giving the interior a very spacious feel (aka you don't have to be pressed right against your partner as he snores at night). The ceiling is high enough so you can comfortably sit up in it, measuring 34" at the ends and 40" at the center. Last but not least, the nearly vertical walls make it easy to move around without constantly bumping into the ceiling.
Amazon cites the measurements at 84 x 50 x 39 inches. We think it might feel just a tad roomier. Either way, the width of the tent can be a bit snug if you're sharing it with a partner. Most backpackers carry 20" width sleeping bags to reduce weight and crowding. We think this is a pretty good idea. Don't try to fit a bigger one in here; it's not going to work comfortably.
The tent's internal storage is pretty sparse. However, the interior is long enough that you can store a small amount of gear for easy access. In addition, the side vestibules are large enough to store high-capacity packs without blocking ease of door access.
3. Nemo Losi LS 3P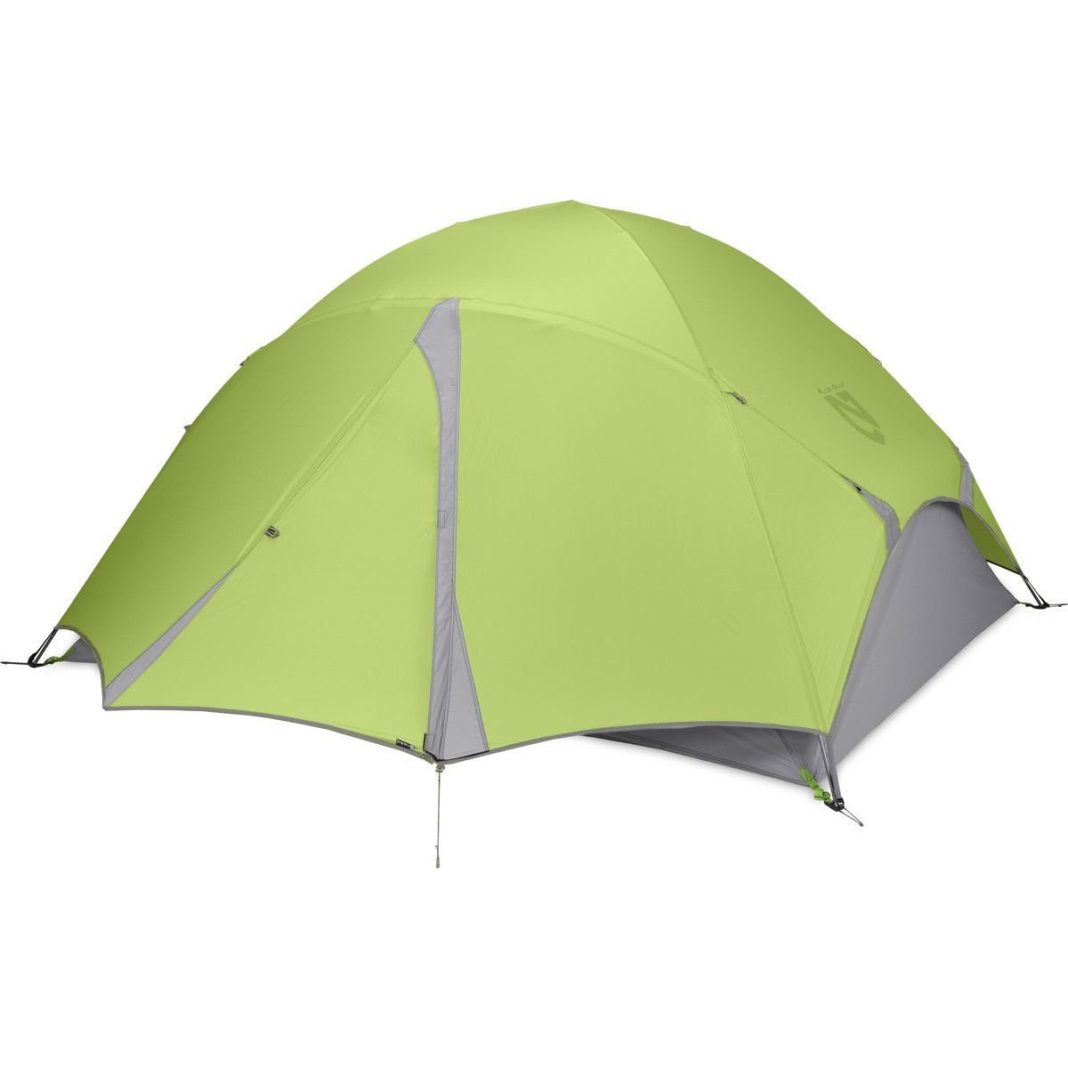 Do you want to go camping? One thing you should really consider is how much space you need. Some tents only provide room for a few people (* cough cough* – we see you. Stop trying to squeeze that third friend in). Others yet allow up to eight people to fit inside. In the event you're traveling with a large group, you will need a tent that can provide the extra space required. Many tents boast loads of room but fail to live up to those claims. Tent shape matters. Conversely, you don't want to spend money on a massive tent that you don't really need.
Lucky for you, Nemo tents provide traveling campers with the perfect amount of shelter space. NEMO's bestselling tent of all time just got even better. The completely redesigned Losi LS™ 3P tent shaves off nearly a pound of weight yet still offers the ultimate in livability, durability, and packability. Losi LS™ 3P has more livable space and superior strength to any other freestanding backpacking tent on the market thanks to a unique pole configuration. Top shelf details set Losi™ tents apart, like Jake's Feet corner anchors, Light Pockets™, DAC poles, and our unique roll-up stuff sack with organizing pockets. The Losi LS™ 3P is the perfect one quiver Adventure Anywhere tent.
The Nemo Losi LS 3P Backpacking tent provides room for three without anyone feeling cramped. Or, if you're part of a smaller party, the tent can fit two twin-sized airbeds, allowing for a cozier sleep. Since it's four feet tall, you can semi-stand straighter inside the tent. Travelers will find this the ideal camping tent for their space needs. It really is one of the best backpacking tents.
About Nemo
NEMO is founded on a commitment to adventure – to the fearless pursuit of uncharted paths, in everything from the equipment they build to the way they run their business. Bravely exploring new directions opens our minds, brings them closer to the people they depend on, sharpens their wits, and lifts their spirits.
Adventure gives us purpose and perspective. It makes us humble and proud. They believe meaningful adventures are possible for everyone, anywhere. Possible, that is, if you bring the will, the imagination, and the right gear.
They're motivated by this mission on a daily basis, and they have a lot of fun along the way. Here's a peek into their company.
Setup
Whether you're an expert a newbie, a simple-to-build tent should be a priority. Nemo tents fulfill the desire for a shelter that can be set up in a flash. The Nemo Losi LS 3P contains designs specifically for helping to lessen tent building struggles. A symmetrical pole structure enables a simple setup, while a corner anchor system locks these poles into place. The included roll-up stuff sack also aids with repacking the tent.
Who the Tent Is a Good Fit For
This tent is definitely geared towards more advanced backpackers and campers. If you're a traveler who doesn't know a lot about camping, finding a tent that's easy to build might be hard. Many backpacking tents come with a lengthy and confusing set of Ikea-esque instructions, which needless to say can be a pain to follow. You don't want to waste hours trying to figure out how to set up a tent.
Sometimes, you just want to build your tent fast and go take a nice nap. Sometimes, a fast setup can be necessary in climates that quickly become harsh, such as on mountaintops or in deserts.
Invest in One of the Best Backpacking Tents for Your Next Big Adventure
We hope you enjoyed reading through our quick list of the best backpacking tents. We narrowed it down to our top three picks we felt really stood out on the market in terms of durability, lightweight structure, and price. Do you have any favorite best backpacking tents that didn't make it on our list? Feel free to let us know in the comment section below.
Whatever's on your mind, we would love to hear all about it. Feel free to leave us a message in the comment section below. We will be sure to get back with you soon.
Related Article: 5 Best Camping Tents For Outdoors Adventurers